DAY-2 HUNTING – HIKING/TRACKING
While the second day of the hunt had perhaps less exciting highlights, we did considerably more actual hunting, putting on quite a few miles over the course of the day. This was the "Lets stretch our legs" portion of the hunt! For some PH's, this is also the time to reset the clients trophy expectations.

We picked up tracks early and began walking at 7am, following a herd of cow elephant. Initially spoor seemed fresh, with warm dung, damp snapped branches and bits of still pliable chewed mopane leaves indicating that the herd was feeding. But as the morning wore on, we seemed to lose ground, as the elephant marched in single file along a path to some pre-determined destination. Later in the hunt I would come to realize that being early season, this was their pattern. Feed at night, and hit the safety and coolness of thick green bush early morning thru the afternoon, before coming out early evening to again feed. This was somewhat opposite of what our plans were, which was to hunt elephant in the cool mornings, and spot/stalk and bait crocs in the afternoon until dark.
At around 10am, we ended the walk at an area known as Red Cliffs, for obvious reasons. Dalt radioed camp, and PH's Shaun and Pierre scurried to meet us via boat. This was really cool and a first for me. Although tired, I could see the longing in the eyes of Shaun and Pierre, who were chomping at the bit for their hunts to begin. This energized me, and after a short ferry we were off again walking an area known to hold a lot of elephant.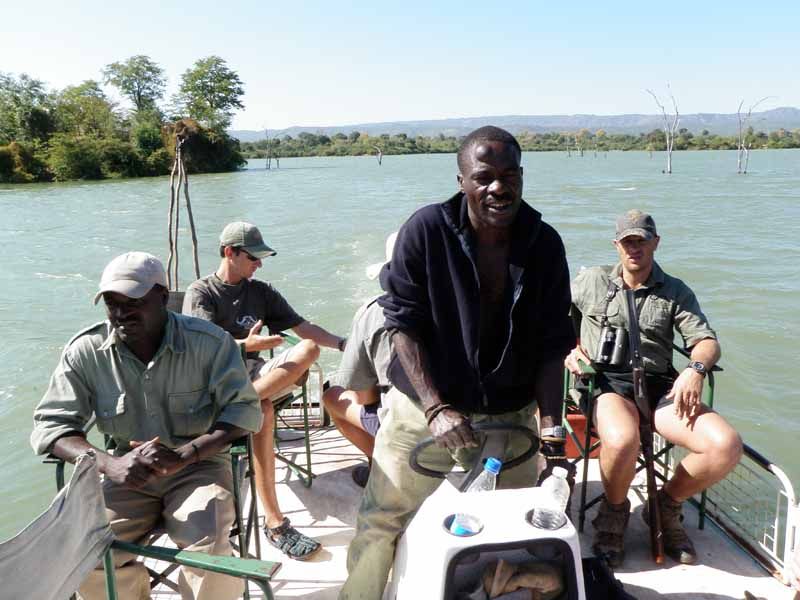 We walked until around 1pm, to a favored area for late-day rides as it holds a lot of game that can be seen from the truck. We jumped some waterbuck cows, which were far too fast for pictures. As typical of an early season hunt, on a whole we did not see a lot of plainsgame. Spoor was everywhere, but the animals are clever and with the bush thick and green, they either see or smell you long before you bump into them. Mart had sent Dalt back for the Cruiser before the boat ride, which now met us at the "hollowed out baobab tree" with our coolbox of packed goodies and cool drinks. While being subtle, this level of coordination demonstrates the level of planning and micro-engineering that takes place over the course of a hunt by an experienced PH. After lunch and a short siesta, we walked another 3.5-4hrs without seeing much.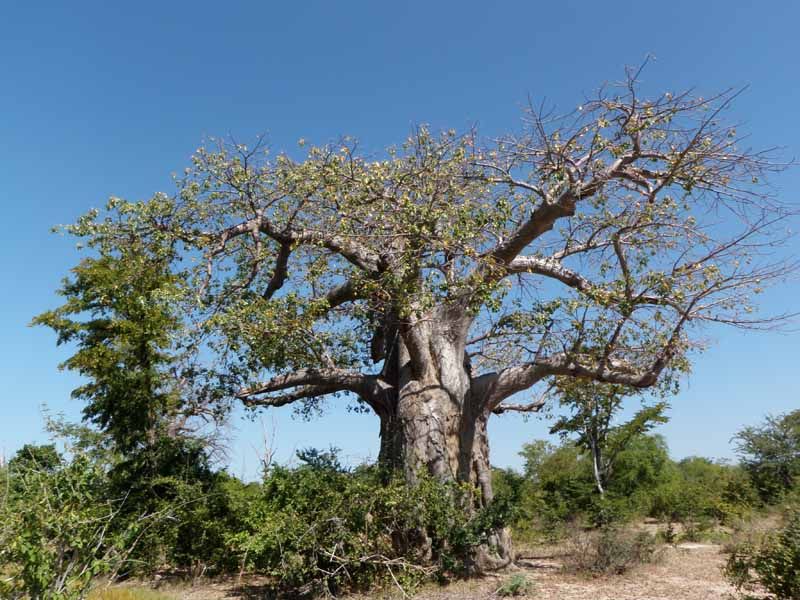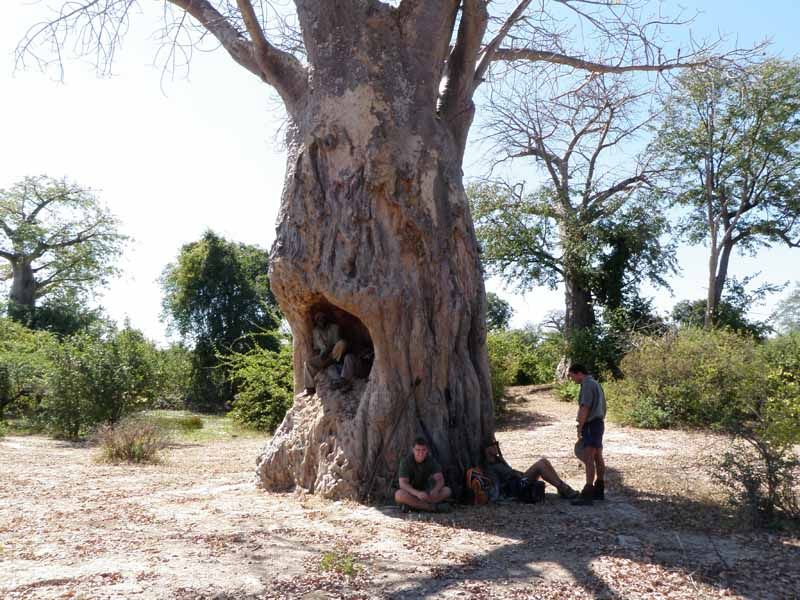 DAY-3 HUNTING – MORE HIKING/TRACKING
I slept maybe 5hrs, and woke at 4am a bit groggy. Camp had been very hectic last night, bustling with excitement and activity. We were out by 6:15am, driving towards the Mackenzies camp to walk a pretty valley known to have good numbers of elephant plus other game such as sable. Please note that due to the time of the year and my personal preference, this was not a "drive and stalk" hunt. For us to be successful, we would need to be either on foot tracking elephant, or glassing and walking areas looking for sign. As there was water everywhere, pans and springs that could be hiked to most of the year were not as reliable, and on occasion our walks although enjoyable were unproductive. This applies to buffalo also in the early season, and while it is possible to spot herds via the truck or boat, the most productive way is to tighten up the boot laces and head into the bush.
Compared to last year when it was still raining, the sticky black cotton soil and slick fine red mud was dry, and looking at the same sections of trail it was hard to convey to Brett the degree to which we struggled to get around, by vehicle and at times on foot. At least until Dalt pointed out our tire marks and rocks/logs now buried in the tracks from last year!
Typical village encountered during our drives around the concession
This day proved to be very enjoyable, despite not shooting anything. The valley we walked was pretty, with lots of spoor including buffalo and a few sable bulls which would have been great to happen across as Mart had one license available and I have yet to shoot a sable, which I am saving for a free-range area such as this. We crossed elephant spoor and tracked them to a wooded area where they were feeding. There were no tuskless in the herd, so we left them unaware of our presence. To me this is the ultimate in elephant stalking, to be close enough to shoot, yet to be able to leave them in peace.
On a walk-about in search of whatever we might find!
We continued walking towards the rendezvous location with the truck at the other end of the valley, crossing more elephant tracks on the way. We followed this herd into a large patch of jesse, where they got our wind and began playing a potentially deadly game of cat and mouse (not sure who was the cat and who was the mouse!). The herd kept circling, which I suspect was because they were getting whiffs of our scent but as the winds were also circling, they were unable to pinpoint our location. We eventually got downwind, and in one of the more open areas (picture below) we were able look over enough of the herd to determine that there was most likely no tuskless. Rather than burning more time trying to get a look at the few unseen cows, and maybe getting into a dangerous situation as a result of pushing them too hard, we backed out and continued our walk.
At a full pan of water, Steven noticed fresh tracks and wet mud hanging clinging to the leaves, an obvious indication that a group of elephant had just departed. We picked up the trail and in relatively short order caught up to the tail end of the group. Following the satellite bull, we gained ground as they walked at a leisurely pace, snatching bits of mopane leaf as they went. The group of eight elephant turned and one by one we confirmed that there were no tuskless, allowing us once again to back off unnoticed.
Water pan where we picked up fresh elephant spoor
At this point I should probably describe my approach to carrying my rifle and assorted gadgets when on foot. I enjoy carrying my own rifle, and for about 80% of this hunt I was able to do so. The only times that I handed the rifle over to Steven were on a couple of marches back to the truck, where we were very unlikely to encounter any elephant. This being said, I think one must approach the hunt intelligently, and realize that we all have only so many steps in us. For me, abusing my hip for no reason meant that I might need to go slower the next day, when perhaps it would matter. As time marches on, I realize that having somebody carry my rifle will be the prudent thing to do, but for now, I was happy to carry it. And there is something that just feels right in the world with the Lott over the shoulder. Sort of like good biltong, a mopane campfire or the sound of hippos a night, not imperative, but I would miss it.
I also wear a "culling belt" with approximately 10 rounds of solids. Other than this and a bottle of rewetting drops for my contacts, I am empty except the times when the compact camera is in the pocket for shots while on the hoof (which is how many in this report were taken, and why they are not always lined up properly). Carried by one of the trackers or sometimes the Scout, in a backpack which I would supply if need be, I always make sure we have the following:
(1) Plenty of water, and this I verify throughout the hunt specifically when everybody is gearing up at the truck, as the time that you leave dry is the afternoon you'll be walking for 5 hours in the heat...I speak from experience here. Make sure there is more than you need, as all PH underestimate the quantity of water a visiting sports hunter needs, especially during the first few days of the hunt and for those of us who are not from warm climates. Before you leave the truck, chug a bottle of water, regardless of time of day or expected length of walk. At night and at breakfast, drink water, within reason of course. My rule of thumb is if I am not peeing, and/or it is bright yellow, I am not drinking enough. Brett and I had no problems this trip.
(2) NUUN hydration tablets in a very convenient plastic tube. They are simply wonderful, much easier than powder and a refreshing treat when walking. Simply drop one in a water bottle, wait a few minutes, and enjoy.
(3) A compact Olympus shock/weatherproof camera in a case with spare memory card and fresh battery (always take at least one new battery).
(4) Toilet paper in a wrapper or Ziploc.
(5) Small bottle of sun block. In the mornings while getting dressed, I apply lotion to all exposed areas except my legs which tend to not burn. Being a contact wearer, most lotions bother my eyes, and I frankly hate the smell of anything scented or oily. For this trip my wife picked up two small bottles of Neutrogena Sensitive Skin unscented sunblock which worked wonderfully.
(6) A few Clif Bars for energy on extended walks.
Others in the group had multifunction pocket knives, and some guys who wear contacts may want a spare pair. A headlamp thrown in a bag is not a bad idea if one expects that they might get caught in the bush after dark, especially when the moon is thin. Of course if you want to take more along, it is your hunt and you should go for it.
My "essentials"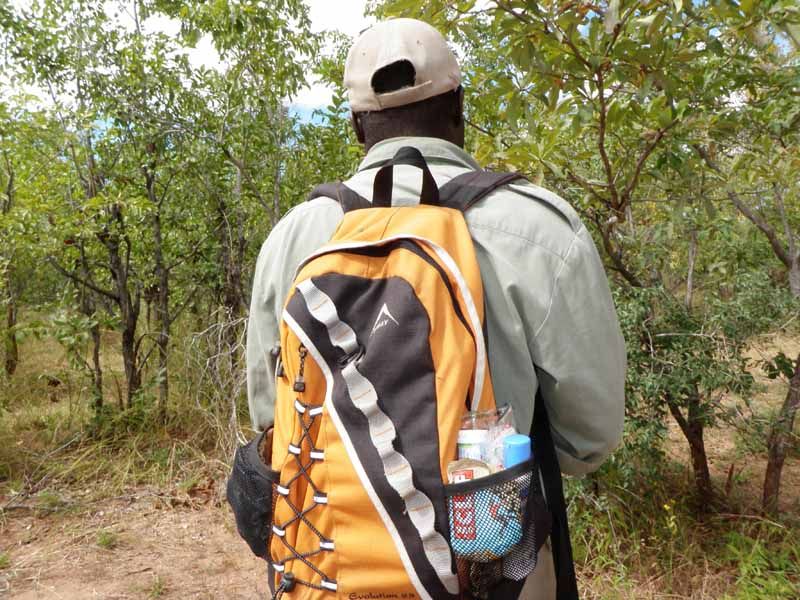 NUUN Hydration Tablets at REI:
http://www.rei.com/product/791943
Neutrogena Sensitive Skin SPF 30 Sunblock - Available at CVS or online
One last general thought regarding "walking" on safari – don't let the PH kill you on the return trip to the truck! Time is important of course and one cannot mope along and expect to be successful, but 5-10 additional minutes here and there is not going to make or break a safari. Many times I have raced back to the truck, literally at a jog in order to keep up with the fast-walking trackers, only to arrive exhausted requiring 15 minutes of sitting in the truck to recover. The tracker will lead the way once the stalk/walk is called off, and at a pace that is often too fast for most hunters. Adjust the tips as necessary!

After another bush lunch (sausage and peanut butter sandwiches, plus some sadza with the guys who invited us to join them), we walked a very picturesque stream bed hoping to jump something as we wound our way along the mostly dry river bed. I struggled a bit in the wet sand with the additional push-off required aggravating my gimpy right hip.
Lunchtime for the guys, sadza and meat with sauce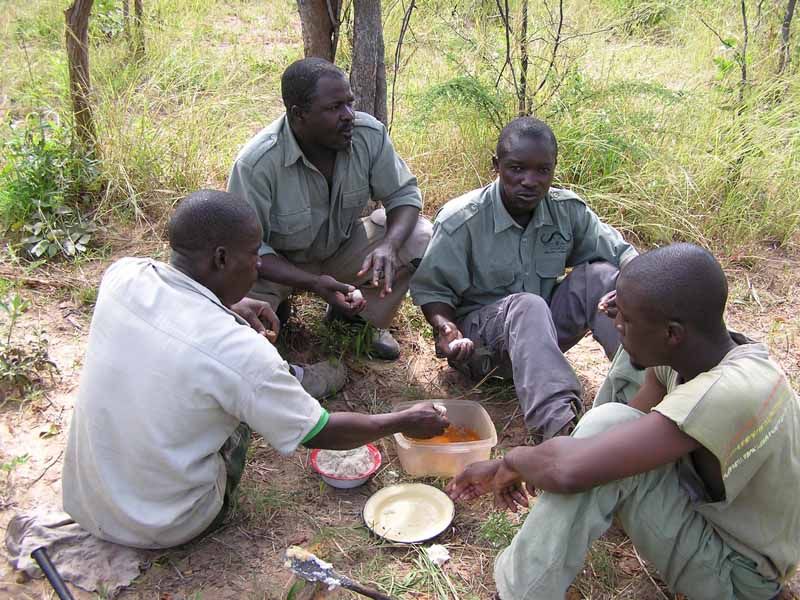 Streambed still with water walked in the last afternoon
Camp was relatively quite as most of the guys had departed for the other camp, and we enjoyed a nice T-bone steak. That night, despite some wonderful time in the field, I began to question the wisdom of not shooting that tuskless on Day-1. I reconciled that we had lots of time, and eventually good things would happen, and even if I went home empty-handed as I had done before, that would be okay. Who can argue with days spent in the field with your son, and a group of great guys who too are all enjoying themselves on a slightly more physical hunt than the norm (afterwards, Roy was very pleased with his new "slim figure", and I too lost about 8 pounds from the mid-section).
MONDAY - DAY-4 HUNTING – ELEPHANT COW CHARGE
With my body systems getting in sync with the new time zone and schedule, I slept pretty well. Brett had no problems adjusting, oh to be 19 again. This morning we added a few fried eggs to our standard breakfast, and Mart commented how funny it is to watch the hunters as the days go on. The first few days, breakfasts are light, but by half-way thru the hunt they are pounding down huge volumes of cereal, toast, eggs, bacon, etc.
The plan for the day was to continue our quest for croc bait, specifically tuskless elephant. We drove to Masampa area, checking the dirt track for fresh elephant sign as we drove. Mood on the truck was good; our group too was now in sync. The guys checked several groups of tracks, but all had signs of animal/insect activity over top of the tracks, and given our knowledge of the elephant movement, they were too old to follow. Finally we found fresh spoor, and after confirming the direction they were heading, we "kitted up" and began following. The herd was estimated at 8-10 elephant, and based on the tracks did not contain any young calves.
It was a nice tracking pace thru the mopane scrub, with the air crisp and temperatures pleasurable. After an hour or so, Mart and Stephen spoke and it was relayed that they were headed for a block of thick bush, known as the Masampa Jesse. I thought "Here we go again, they will get there before we catch them and it will be game over". After another 30-minutes of walking we reached the jesse, and the tracking pace slowed. It was not long until we heard sounds of the group feeding; snapping branches and stomach grumblings. Our movement slowed to a crawl, and Steven lit a cigarette, to keep track of the wind as well as to calm his nerves. Everyone else switched gears too, senses heightened. Move, check wind, freeze, listen...over and over again. The challenge becomes staying focused, and this includes the guys in the back of the line as they need to watch for elephant coming from the sides that we might have walked right by. The elephant crossed paths with a herd of buffalo, and for a period of time we followed their sounds until we realized that we were on the wrong animals.
With tensions high, Steven joked that the elephant and buffalo had become friends. Not terribly funny now as I write this, but we found it hilarious at the time. There was little crunch to the ground, and given the size of our group, what would have sounded like a freight train was virtually silent. My Lowa's proved to be the quietest boots that I have ever worn, and by placing each step outside foot first, I was able to avoid too many rearward glares from Mart. Finally we got a glimpse of the rear of the herd, which had stopped to feed and mull about. We saw only one elephant, a large tusked cow, but could hear more off to our right. Although the bush was not terribly thick when looking at distances of 10-20 feet, when trying to see further it all blended into a sea of green, and somehow the elephant's large olive outline disappeared perfectly. The only way to evaluate the herd is to get low and look under the bush. For me, my hearing proved to be excellent and often I heard and pinpointed the exact location of an animal before even Stephen. However, I struggled to see the elephants until they moved. I tail flutter or a trunk movement was all it took, but otherwise and even with prompting I often was unable to see a particular animal a mere 30-40 yards away.
Unable to see the other elephants, but pinned in place by the cow at the rear, we waited at a reasonable distance for a few minutes. As the cow was at ease, Mart coaxed Steven out of the way and he and I moved up a few feet, in the hopes of getting a clear view of the rest of the herd. Mart squatted, gun resting on the ground in front of him and the barrel pointed in the air lying on his shoulder. Not having binoculars, I hunched and tried to minimize my profile as much as possible (I was later told by Roy that this was impossible!). Roy was behind us a few feet, filming as is his job, while the rest of the group including Brett and Dalton waited behind yet further. The cow was calmly feeding, and this was no different than dozens of other approaches that I had done before on previous tuskless elephant hunts with Mart and in Chewore North, Deka Tail and Makuti with Buzz Charlton. Mart continued to check the wind and glass, and we eased up another 5 yards, to the point where he could begin to make out feet and knees. As it was pointless for me to try to see these other elephant, I focused my attentions on the cow feeding some 20-25 yards in front of us, head and trunk to our left, tail to our right, body just about parallel.
What happened next was fast, and surreal. The cow, without warning or hesitation - not even a flick of the tail or a curling of the trunk or a shift of the ears - exploded from behind the bush and came straight towards us. I had a solid hold on my rifle, and recall thumbing the safety from the second position two clicks as I brought the rifle up. Things began to slow, and somewhat in disbelief my first thought was "Is this a real charge?" It was immediately apparent that it was indeed, she was coming straight and determined. The next thought was, "I am going to shoot if Martin does not". With this, Mart's gun fired and as she continued to lower her head I saw the top of her forehead, and knowing the brain was right underneath, shot. According to the guys it was literally "boom-boom", it is amazing how the mind slows and the thoughts flow clear. This all happened in seconds, counting it back, before I can get to a third "Mississippi".
Entrance hole of my .450gr handloaded Barned flat point solid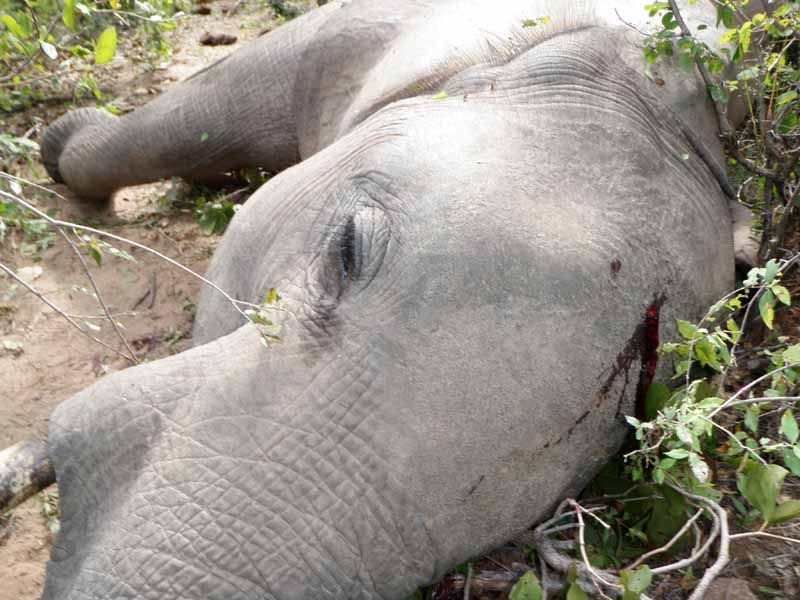 Out of the corner of my eye I saw Martin to my left go backwards and down. The cows eyes were fixed on mine, I can still see her right eye clearly, as she fell, momentum carrying her to within 5-6 feet of our position. With Mart down, and without thinking, I cycled another round and moved forward several steps, parallel to the downed cow's head, muzzle pointed at where I expected her brain to be. Sensing movement and approaching elephant in the bush in front of us at about two o'clock, I stepped forward another right then left foot, and aimed the rifle at the head of a closing gray mass. Mart had regained his feet, and was to my right rear. He poked the cow in the open eye with the end of his double to confirm she was dead. There was no reaction, just more movement in front and to our right. "BACK BACK BACK!" We retreated several steps, first backpedaling then turning and running a few steps. I can actually recall thinking to make sure my rifle stayed skyward, finger on the trigger guard.
I had no fear until I turned my back, and as I found before, I would much prefer to stand and face whatever than turn and run, as this is truly terrifying…especially if you are a slow runner like me! After retreating a modest distance we turned and faced forward again, exchanging "What the shit" glances in the process. I did not see it, but Brett and Dalton both watched as a cow, probably the matriarch, rammed into the rear end of the fallen elephant in an attempt to left her off the ground, which as Mart later said to have meant "Get up, didn't you hear those shots, we must go!". Our group assembled but the elephant were now getting angry, screaming and busting brush, perhaps deciding whether or not to come for us.
We moved back again to the far edge of a clearing, and took up a line with 4 guns (458 Lott, .470NE.458 Winchester, .375 H&H – oh yea - and one HD camera!) ready for whatever came. Fortunately nothing did, and after 10 minutes Brett fired a .375 round into the air and the remaining elephant departed.
Shortly after the shooting, trying to put the pieces together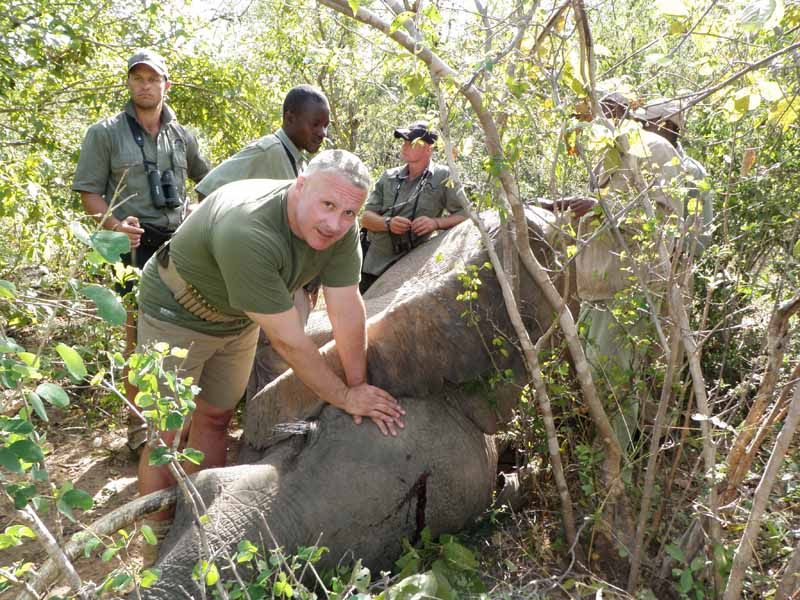 The reason for the charge is perplexing, and the suddenness of it astounding. There have been times in the past when I was expecting, or at least ready for a charge, where I had an opportunity to gather my wits and think thru what my plan will be. Numerous times my PH and I have flicked off our safeties and shouldered our guns, in the end not having to fire. What was impressive about this charge was that she went from totally at ease to an all out charge in one fluid, seamless movement. Obviously after detecting our presence, she instantly decided that we were too close for comfort, and who knows perhaps having a bad day or with the memory of an encounter with a poacher or previous hunter still haunting her, she came. I do not resent her or her decision, in fact, in some strange way I admire them.
The cow charged from behind the bush in the center of the picture, standing with her rear to the right of the last/largest dung pile, head/trunk on the left. The picture was taken from where I was standing when I shot.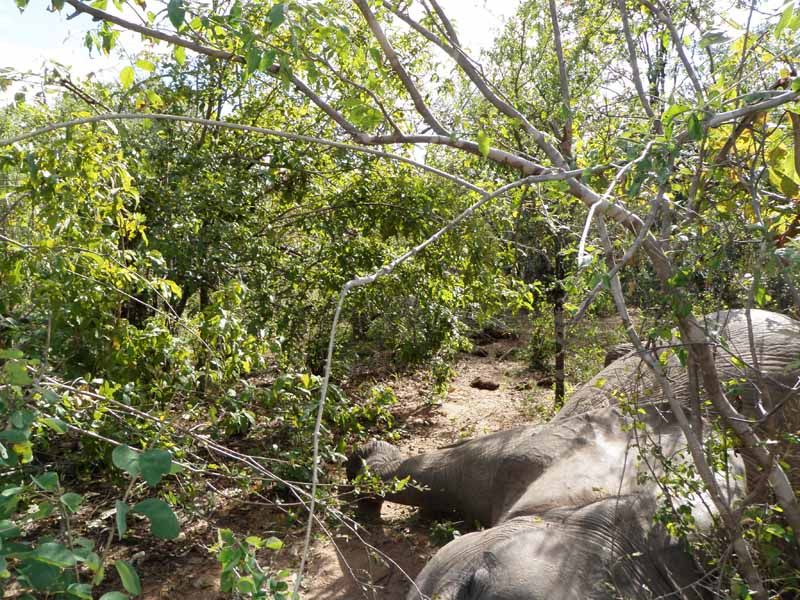 With no time for "shouting down" the cow, Mart did a great job getting one shot off from his squatting position. Shooting up, and hoping to at the very least just turn the charge, his shot entered low and broke her neck at the base of the skull. Her head was coming down as she approached, but what I last saw when I shot was probably the rapid drop resulting from the impact of Mart's bullet. In the end, we both did our jobs, and although unfortunate for the elephant, nobody was hurt (well except for the cuts on the back of Mart's legs from the scrub he landed in), and having witnessed it from a distance, the Game Scout agreed completely that the shooting was unavoidable. Looking at the bruise on my upper inside bicep, I never did get the rifle shouldered.
A few other interesting notes beyond the obvious that we can take away from this: (a) it is not always possible to get two shots off even with a double; (b) one needs to be very familiar with ones rifle, be it bolt action or a double, as muscle-memory may be all that one has to rely on, noting that had I bought that beautiful 450NE VC double that I had been jonesing for in January and given my hectic work schedule, I don't know that I'd be here writing this story; and (c) a .~500gr + bullet, preferably carried in two guns (PH and hunter), is a very good idea if one is going to be hunting elephant in anything but open country.
Unfortunately, we were unable to capture this on film. Although ready and filming for the majority of time, given the delay in time, the disposition of the elephant, and assuming that we would be dictating the next move, Roy had turned around to film the guys to our rear. He said he heard a commotion, but by the time he swung around the elephant was already going down. No worries, as the scene is forever burned into my mind, and I do have witnesses!

Having read Ian Nyschens "Months in The Sun" more times than I care to admit, and fantasized about what I would do if such a situation were to occur, I was shocked that afterwards it was pretty much business as usual. No trembling hands, no shakes, no flashbacks...nothing. Weird.
Hey, we're still here!!! (either that or Roy cut another joke!)
We retrieved the Cruiser and ate our packed lunch and sadza, sharing some with an old man who happened to be walking by. Whenever I see somebody of his age, I wonder about all the changes and amazing things they must have seen and experienced in their lifetime.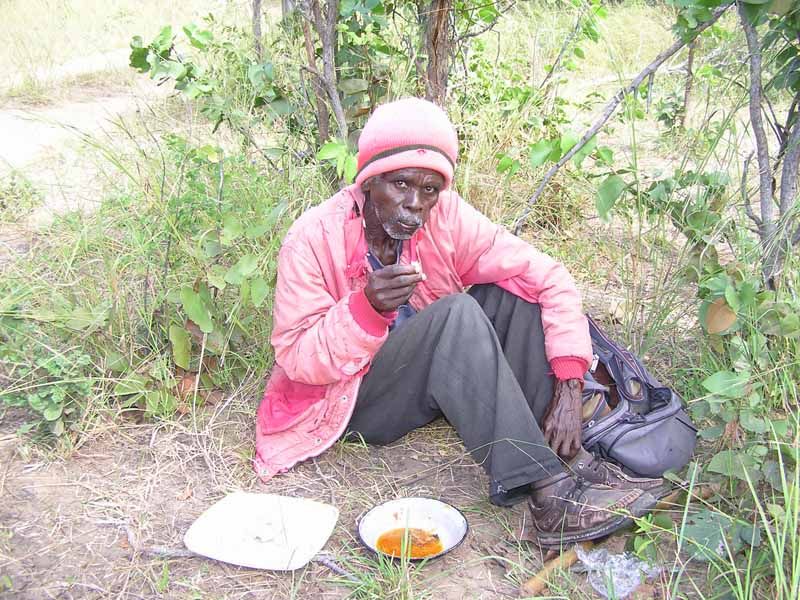 With enough excitement for one day, instead of letting the appy's perform the recovery we decided to do it ourselves. Too, I thought this would be a great experience for Brett who has never seen an elephant processed by the villagers. We drove to the nearby villages to pick up some "strong oaks" for the skinning and quartering, putting word out along the way. In one of the villages, the men were away, but the women were present, one taking quite a liking to Brett which we all found very, very amusing.
With the help of a dozen or so men from the village, we (and when I say "we", I mean "Dalt") cut a road from the main dirt track to the kill site. The recovery was somewhat chaotic, and in the darkening late afternoon sky, a bit eerie. Dalt takes control of the process, making sure it is done in as orderly a fashion as possible, at least until the masses are allowed in to begin hacking at the carcass. At this point, we departed, best to not be present, as all too often somebody loses a finger (for any of you hunting with or in camp with Mart, ask him about the time he sort of "sewed" the thumb back on a guy in Botswana). Brett, who desperately wants to become a doctor and has a real caring for others especially those less fortunate, remarked afterwards that after seeing the impact the meat had on the people, he had virtually no remaining remorse regarding the death of the elephant, and that if people could only experience what we had just witnessed and participated in, they would understand. Yes, indeed.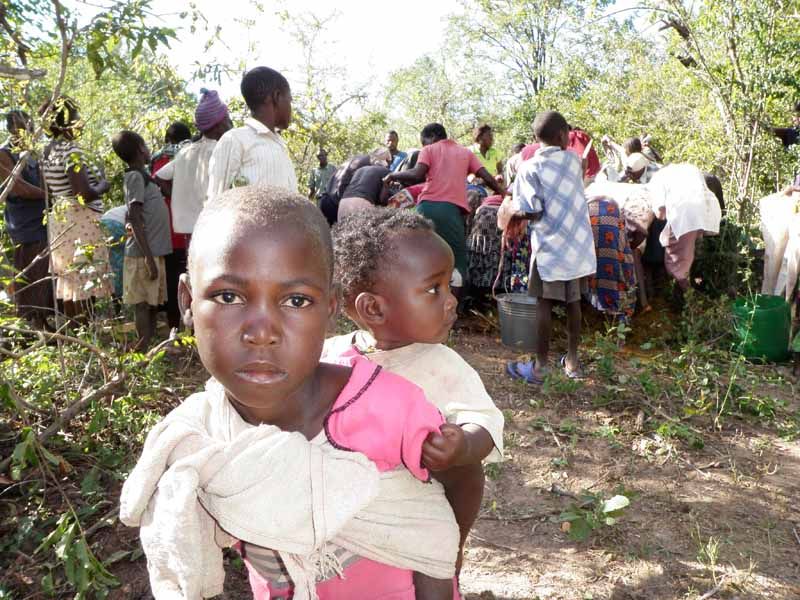 That evening we took a boat ride, telling ourselves that it was to look for sand banks for croc baiting, but in reality I think it was necessary to unwind from the day's events. Roy was a sport, and agreed to have a few beers on my behalf! The sunset was glorious.
DAY-5 HUNTING – HIPPO AMBUSH
Shrugging off the excitement of yesterday, our plan for the morning was to walk a valley, starting at the Ume River and ending at an area referred to as Eddy's Spring, which would be about 6k's. On our way, we encountered a small group of feeding elephant, all tusked. I guess looking to stretch the legs and/or take a nature break, Mart stopped the truck and he and Roy (who was the copilot this trip as I preferred to stay on the back w/Brett, Dalt and the gang) got out. The rest of us stayed on the truck as they walked towards the feeding elephant, not getting any closer than perhaps 75-yards.
I was standing on the back, casually observing, not paying them or the elephant any particular attention, when I heard "WHAT!?!?" and looked up to see Mart and Roy running towards the truck with an angry cow elephant in hot pursuit. I wished I would have looked at Roy's expression, as I am sure it was priceless. Instead, I fumbled with the zipper on the case containing my Lott (which from here on remained slightly open). Dalt took over, and handed me the rifle. I cycled a round and thought "Oh crap, here we go again". The guys had fortunately left their doors open, and they jumped inside slamming them shut. The cow was still coming fast, almost at us, and I mentally drew a line in the air which if she crossed, I was going to shoot, as given her lowering head it sure looked as though she had every intention of ramming the side of the Cruiser where I stood. Just then Mart started the truck and she locked them up, literally skidding to within feet of us. She threw up her head and ran off, yelling as she departed.
Now fully awake, we continued to the Ume River and the starting point for our walk. The area had gotten rain overnight, which is very unusual for the end of May, and the grass was soaking wet. The hiking was brisk and enjoyable, as we worked our way up and down and around the valley floor. Some fresh tracks of kudu, sable and buffalo, but no game was seen. After about two hours, we stopped in a clearing to take a break.
I didn't ask, but could tell from experience that given the relaxed atmosphere, we were nearing the end of the walk and that the likelihood of encountering game was low. I had thrown in the backpack before we started walking a Ziploc bag of Jolly Ranchers, and this was the perfect time to hand some out. Actually, over the course of the safari, I found that there is never a bad time to hand out Jolly Ranchers and the guys came to look forward to the daily treats. Dalt had lost a screw in his Model 70 the day before, and was carrying Roy's latest acquisition, a "FAB NAT D'ARMES…" in .458 Winchester. In light of recent events, we studied the safety mechanism, looking for a way to replace the factory system with a more familiar unit that Roy could operate using his right hand. Any information on this rifle, and specifically available modifications to the safety, would be appreciated and passed along to Roy.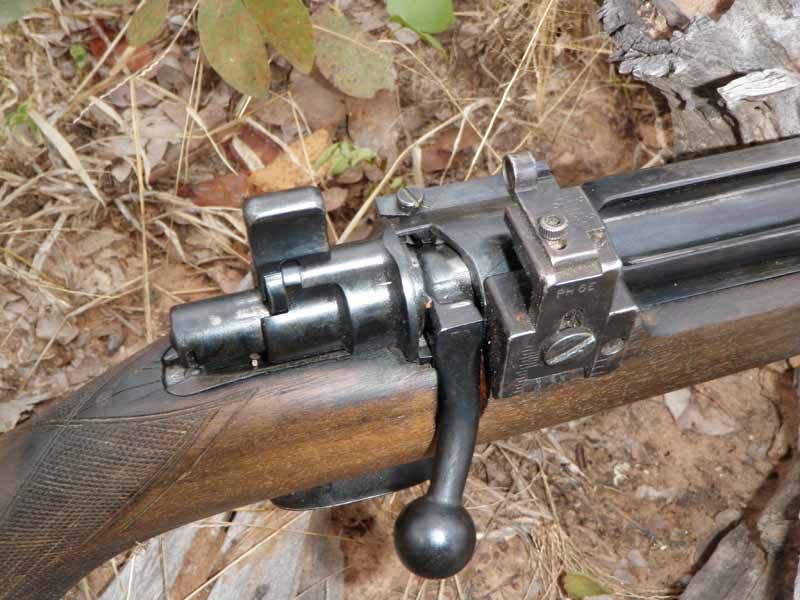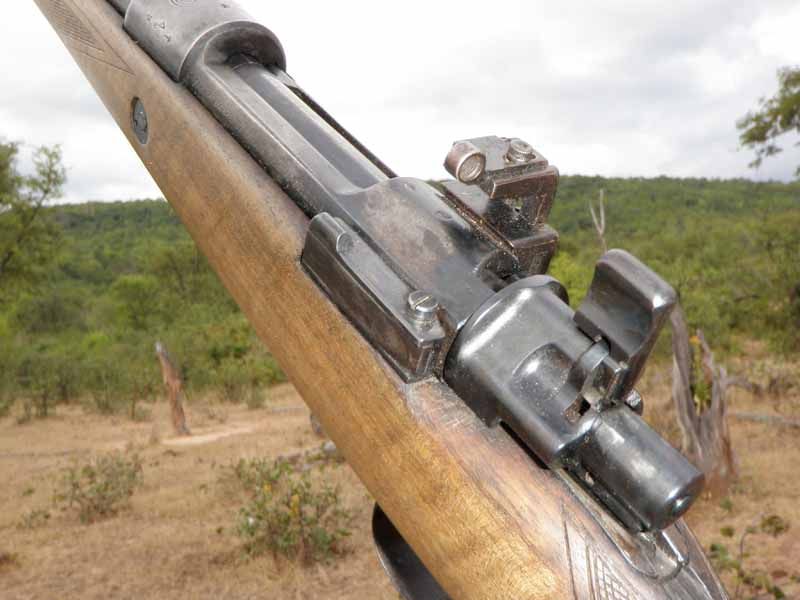 A few yards from the area where we were relaxing was a small mud wallow, with porcupine quills scattered all over. Still in a relaxed mood, we began collecting them to take back to town for Mart's kids. Interspersed among the thick stout black and white quills were long thin ones, a foot to a foot and a half long, which I had never seen before. The trail of quills led away from the mud wallow, along a path, and naturally we followed, Mart and Roy in the lead. (We later surmised that a croc had taken the porcupine, and dragged it off to deeper water.)
I lost interest in the quills, and focused my attention on the steep drop-off created by running water during the wet season, which with my tight hip, caused me to fall slightly behind the guys. Successfully navigating my way down the drop, as I rounded a corner in the trail, I heard a commotion ahead and something to the effect of "RUN". Mart, Roy, Dalt and Steven came racing toward me, so I thought it best to join them, not sure at this point what we were running from. One of them yelled "Hippo", which was apparently all the incentive I needed to somehow jump back up the drop-off. At the top, we turned around facing the direction that we expected the hippo to come from, and my thought was "What the Hell are we running for, we have the guns".
With this, there was a crashing in the bush to our left at about 10-o'clock, and everybody took off again. So bringing up the rear, I followed down the trail. As with the elephant, I thought to myself how much I hate turning my back, and recall thinking that at any moment I could be chomped from behind, but humorously what a great decoy I was making. We ended up back at the clearing where we had been relaxing and regrouped. Brett said he heard the action ahead, and he actually passed the trackers. Good boy!
The bull hippo launched his first attack from the pool of water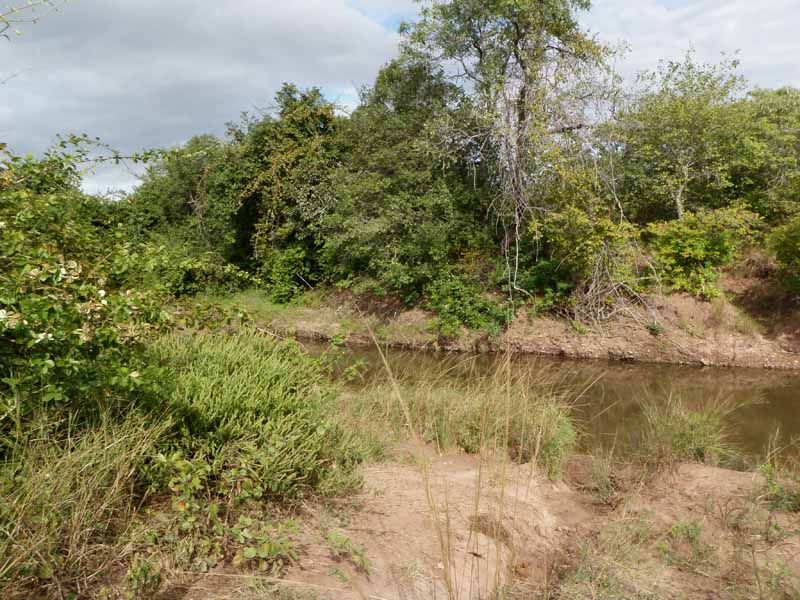 We caught our breath, and laughed about what had just happened, which seems to be a universal, naturally hard-wired reaction, probably the same way our ancestors calmed their nerves after a close encounter with a saber toothed tiger! I am not sure if I even saw the hippo, but having come across the one days earlier in the jesse, I had no problem imaging exactly what the guys had encountered. After about 5 minutes, Dalt tip-toed into the grass to the left of the trail, trying to get a different angle just in case the hippo was hiding where we last left him. Of course, this was the perfect opportunity for Roy to launch an elephant dung ball his way, and we busted out laughing at Dalt's reaction, hands and rifle in the air covering his face, just like the zombie move in the Michael Jackson Thriller video, certain that he was about to be eaten.
Another 5 minutes tick by, everything is quiet, so Mart says "Ok, lets go". The assumption was that the hippo had moved back into the water, or most probably buggered out of there. We were going to follow the trail and retrieve all the stuff that the guys had dropped when the charge came (Roy lost a hat, Dalt his Leatherman, and Steven his radio), and if possible cut a path to the right before the water thereby avoiding another confrontation. Stephen and Mart went first, followed by Roy who was eager to film whatever might happen.
I followed, but something was just not right. I cannot explain it, but as I walked I kept the rifle at the ready in front of me, scanning the bush. Brett said that I looked back at he and Dalt, motioning with my head and eyes to the scrub and grass to our left. Dalt, who was in front of Brett at this point, slowed his pace.
As I turned around and took another couple of steps, the hippo busted from behind a thick patch of green brush, not more than 25-feet away. He came boiling straight for me, and my only thought this time was to "SHOOT", saving valuable milliseconds. Once again, time slowed. I recall bringing up the gun and clicking off the safety, watching him approach with amazing speed and agility. I saw his forehead, and thought "Right there, easy shot". By the time I pulled the trigger, he was at about an arm's length from the end of my barrel, and I could see his eyes looking directly at mine. From a ready position, gun held in both hands in front of you, swing the rifle up but don't shoulder it, clicking off the safety, and pull the trigger – all as fast as you can. This is how long it took. Mart said later that in his 17 years, he has never been involved in or witnessed a faster, more determined charge.
He slid towards me, just as I expected him to, and I remember thinking how graceful it all was. Unconsciously I jumped out of the way, allowing him to slide past where I was standing, his neck ending up about where I would have been. I cycled another round and pointed the muzzle of the rifle at his ear, but he was dead. As he was charging centered on me, and being right-handed, the .450gr Barnes FPS entered slightly to the right but angled left, going straight thru his brain. His legs were tucked backwards, having gone limp while the momentum kept him going after the lights went out.
Mart was there in seconds, with a panicked look on his face that broke into a huge smile of relief as he realized that I was in one piece and the hippo was dead. The boys came from the other direction, and it took a few seconds for them to comprehend what had happened, and that the hippo had charged and that it was me that had shot it. Everybody was braced for action, eyes wide, guns at the ready. Thankfully it was over, as a lot can go wrong when the lead starts flying.
I do not know what the bulls plans were, if he intended to bowl me over, or open his mouth and chomp at the last moment, or both. He was coming dead-square on me, and behind me was a wall of green riverine bush, so I am 100% certain that had very bad intentions on his mind. I am also under the belief that it was a pre-meditated ambush, as he seemingly allowed the first wave to pass by before launching his attack. He was standing behind the bush, obviously well concealed, facing the direction from which we were coming. I am just thankful that he came at me, and not the boys.
Bull hippo that ambush charged from 25-feet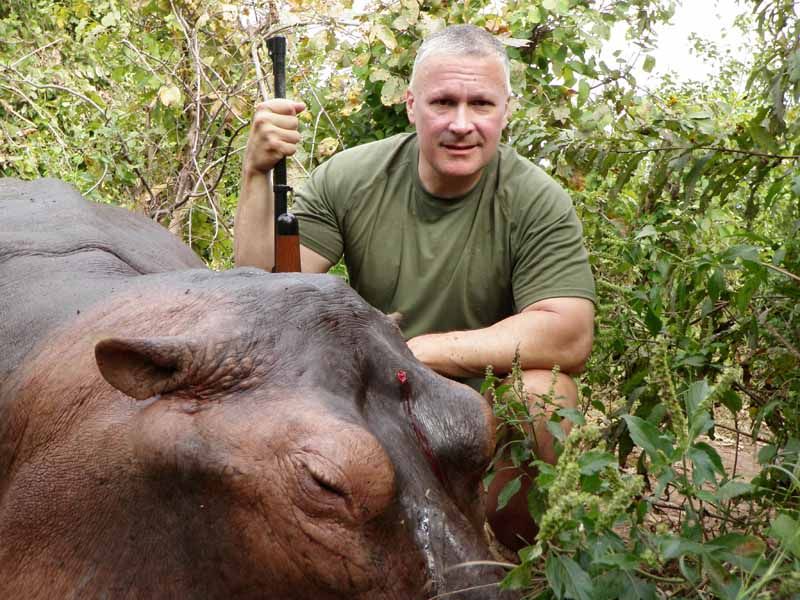 Shot thru the brain, fired arms length from the end of the barrel



Note his neck is middle of the trail where I was standing when I shot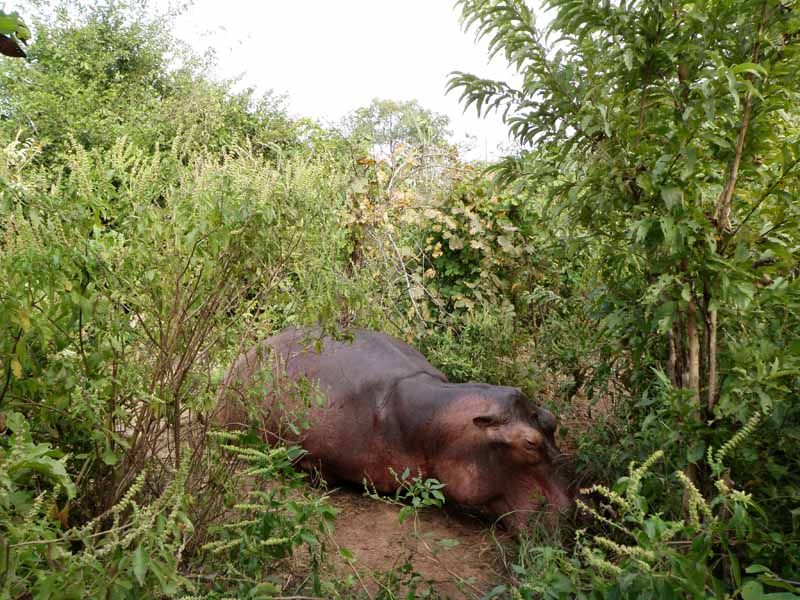 The thick bush behind me would have prevented retreat, not that this was an option



Note how his legs are tucked behind him, and the slide marks on the ground from his head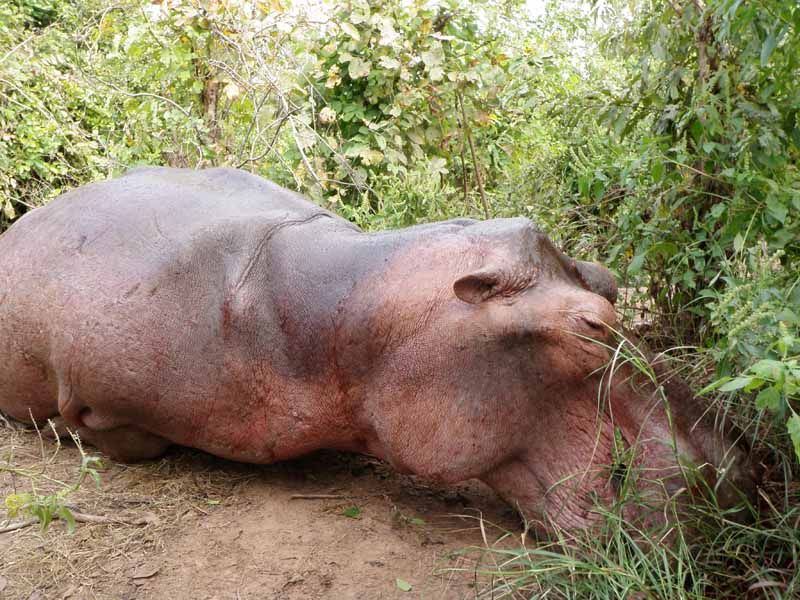 The gang, still in disbelief…the looks say it all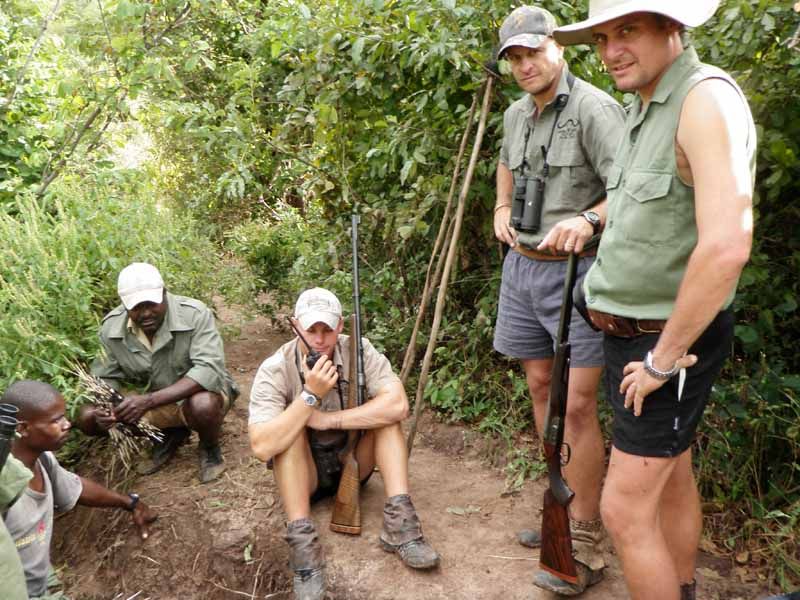 My Ruger Lott on the bottom, notice the "hippo snot" which covered both me and rifle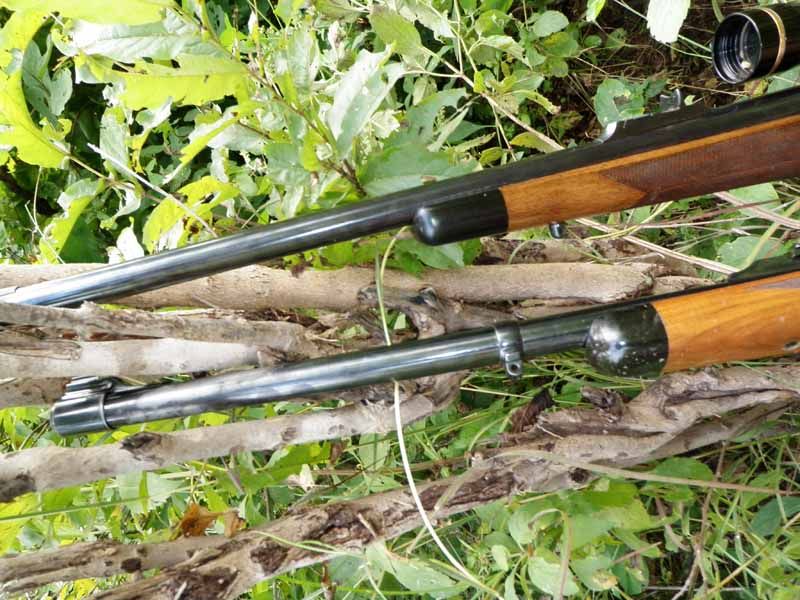 Why this hippo bull attacked we will never know. Piecing it together, it is easy to come up with a likely scenario. He was mature and full-sized but not an old bull, probably pushed out of the pod by the dominant male. Until he was able to challenge a herd bull and take over the females, he found refuge in the deep pool of water, some 5k's from the Ume River. Three weeks earlier, while working on the roads, Dalton and Reward followed human footprints from the dirt track down the stream, figuring they were fish poachers. In a deep pool of water farther upstream from our encounter, they saw bubbles, and thinking is was a croc got closer to inspect. A hippo exploded from the water and gave chase. Unarmed, Dalt said he never ran so fast in his life.
Without question this was the same hippo, and eventually he would have caught somebody. Most likely he had been harassed by the local fisherman, who throw stones and run, trying to get them out of the pool of water where they want to fish or net. If I were a lonely and celibate hippo getting pelted with rocks, I think I would be aggressive too. What is impressive was his cleverness, he did not just want to chase us away, he wanted to make somebody pay.
Dalt radioed camp, and Reward was dispatched with some guys to perform the recovery. Although the majority of meat had to go to the villagers, we were able to retain the innards and feet to use for croc bait, plus a few chunks of meat that we would make into biltong (I have to admit, I really enjoyed eating him). This, plus some of the guts from the cow elephant, gave us enough scraps to bait one area, now it was just a matter of letting it ferment a few days so as to be irresistible to the crocs!
Camp guys on their way to recover the hippo (note the shirt on the guy in the back)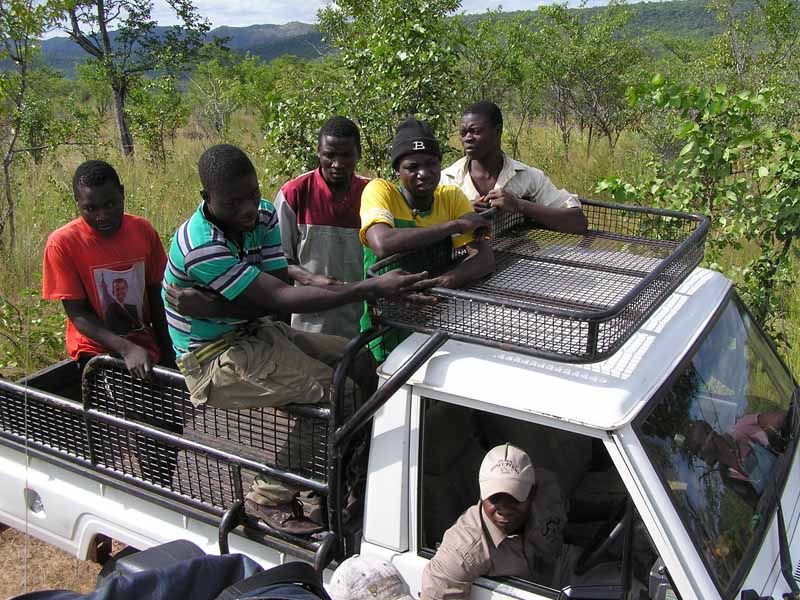 On the way back to camp, we passed Gerhard, camp manger and head of anti-poaching for Martin (per my report from last year, Martin reinvests considerable money back into anti-poaching). In his vehicle were several well-armed and ready for action National Parks Scouts. Having worked in the SAVE Conservancy for the past 6-years doing anti-poaching, Gerhard brings a lot of experience to the table. And while he is new to camp management, his main focus is in organizing and refining the anti-poaching activities of Martin's 25 men, as well as coordinating efforts and sharing intel with the National Parks Scouts, who are armed and with a "shoot onsite" policy should be considered "dangerous" by any poacher found carrying a firearm. They were happy to pose for pictures, and as we parted, I wished them "good hunting".
National Parks Scouts - armed and ready for action
Later that afternoon, we went to see the local "Prophet". I don't have the full story on this man, but from what Dalton said, people come from all over Zimbabwe and as far as Botswana to see him and ask for his help and guidance. He is not a "witchdoctor", but Christian or at least some derivative thereof (he wore a cross), and capable of removing spells, dispelling evil spirits, and all sorts of other amazing feats including using magic to determine who is lying (useful when stuff gets stolen and the thief, rather than bursting into flames breaks and confesses).
It was not important if we believed, what mattered was that the trackers do, and they were quite shaken by the events of the last two days. They needed to see the Prophet so that whatever was plaguing our group could be removed, and we needed to get Steven and Witness back into the game. Anyone familiar with the beliefs of the rural Africans knows how engrained into their culture "black magic" is, and it was important for us as outsiders to not disrespect it.
We may have been the only Americans to ever visit this Prophet, I don't know. But our ability to jip in front of a long line of believers says that he was eager to have us as his guests, errr, patients. We all crammed into a small mud hut, and as the "old man" (hey, it's a sign of respect in Africa!) I was given the only stool. In the other half of the rectangular hut was chickens. The Prophet was not dressed as I would have expected, instead of a traditional robe or other African garb, he wore a faded Champion shirt and a pair of Adidas shorts. Well at least he didn't bring his cell phone with him.
Picture from inside the Prophet's lair
I won't detail every aspect of the session, but suffice to say that it involved water, fire, smoke, and chants in a foreign (as in from another planet) dialect that included an elephant "bbbrrrurrrr". Martin and Roy (with his wild eyes and sh*t-eating grin) were no help in maintaining composure when things got whacky, but the Prophet seemed to have a good sense of humor and none of us caught fire so it must have been ok.
However, watching Steven and Witness (who was literally trembling, look at his expression in the picture above) made me appreciate how real it was to them. The Prophet told us that two curses had been placed on MP Safaris, one by a staff member who "wanted to ride on the truck with us", and another by an man who was angry that Martin would not hire him (weird thing was that the previous day, Mart "filed" a hand-written résumé from somebody looking for employment). He said, "Someone was meant to die!"
The Prophet could temporarily remove these curses, but Martin would need to return to have them permanently dealt with. We needed to supply him with the tip of the elephant's trunk, which we had with us to deliver to Chief Mola, and Martin needed to gather and bring back several additional things including lion dung. Our assumption was that although not necessary to remove our spells, down the road they would be just the ticket to help some poor sole solve their problem.
The Prophet had me state my wishes for the hunt, and gave me a small plastic wrapped bag of something fibrous (goat crap, hashish, I don't know) that I was to carry in my pocket for the duration of the hunt. This would keep us safe, although it could not guarantee success on the hunt. Sounded fair enough to me, and each day I dutifully carried the "good mojo", showing it to Steven before heading into the jesse or anything remotely dangerous. At the end of the hunt, Roy returned the bag of mojo, as instructed by the Prophet, with another 50lb bag of salt that his village uses to dry fish. The strange thing is that after three charges in ~ 24 hours, it all stopped. Hummm.
As all watched, we got back in the truck and drove down the dirt path leading away from the Prophet's village, and stopped to get a drink and gather our thoughts. Looking back, Mart commented that "the hills have eyes". We dropped off the ele trunk, throwing candy (including a couple of Fire Balls) to the kids as we went by.
Delivering the elephant's trunk to Chief Mola who was the Mola Primary School
Not yet done with the day, we drove and then walked to an area along the Ume River where there was known to be a lot of crocs, as well as some exposed sand banks. A few weeks prior, Pierre had taken a 14.5 foot croc with a client from this area, which was considered to be the dominant croc at the time. It was possible that another big croc moved in, or #2 would be good enough. I was not after length as much as age, and made it clear that an old croc missing an end of his tail would be a fine trophy for me. There were croc's everywhere in the water. We spread some gore on the sand bank and threw chunks into the river (when I say "we", I mean "Dalt"), and built a basic blind. It did not take more than 20-minutes for the first crocs to begin slithering up on the bank. There are so many that they compete aggressively for food, and after shooting one it is not uncommon for the others to return within minutes of the Cruiser departing. We saw one 13.5 footer, which while being long, looked young with a narrow head. There was another older croc, with a fatter head, pronounced horns, and funky teeth. He was also missing a good bit of tail. We would be back.