Hello All,
11/28/19" - ** UPDATE ** - SEE PAGE 6 -
MOVED TO HERE - FIRST, 700NE BRASS - THEN, THE 700NE DOUBLE RIFLE BUILD - THEN, MAKING BULLETS & RELOADING THE 700NE
As you may know, I've been pleading on various forums for anyone to help me obtain some 700 NE brass.
I needed about 30 pieces of the brass for a custom 700 NE double rifle that I'm having built.
I had ordered some Lathe-turned 700 NE cases and was promised an 8 - 10 week delivery - that was 20 weeks ago.
And now I've been told those cases would be another 10 weeks, "at best".
The only extruded cases made are from Bertram, and they cost about $40 each from several sources.
I have these on back-order from 2 distributors, with no idea of delivery. One said it could be over a year.
Even at these high prices, I could not find even a single 700 NE Bertram case for sale - "anywhere in the World".
I asked several custom Gun Builders that make their own lathe-turned 700 NE cases for help.
I asked them what brass stock they use so I could have a local machine shop make cases for me.
They all ignored my emails and did not respond.
Finally after 3 months a fellow forum member,
hubel458
, came to my rescue with a suggestion and some 50 BMG brass.
So, I set about making my own 700 NE cases from 50 BMG brass.
Here's how it went. Perhaps this will help others in need.
Fortunately, the 700 NE case is ever-so-slightly smaller at the head, than the 50 BMG case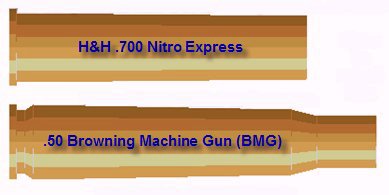 I purchased 32 pieces of 50 BMG brass for the transformation.

1st, the 50 BMG case is trimmed to 700 NE length.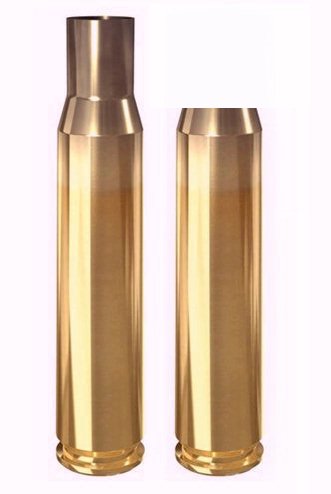 2nd, the mouth of the 50 BMG is annealed and opened up to 700 NE size.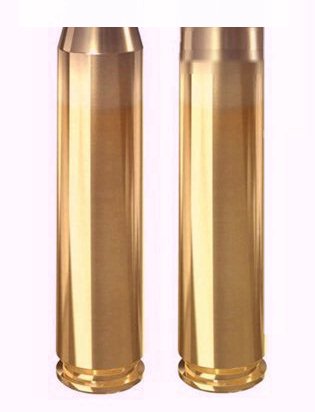 3rd, the head of the 50 BMG case is turned down by 0.024" to .780" dia.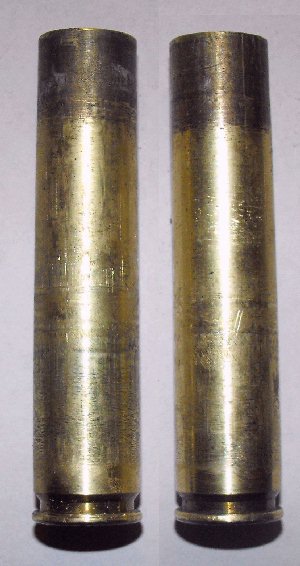 4th, the heads of the 50 BMG cases are threaded to 5/8-24 for about 5/16"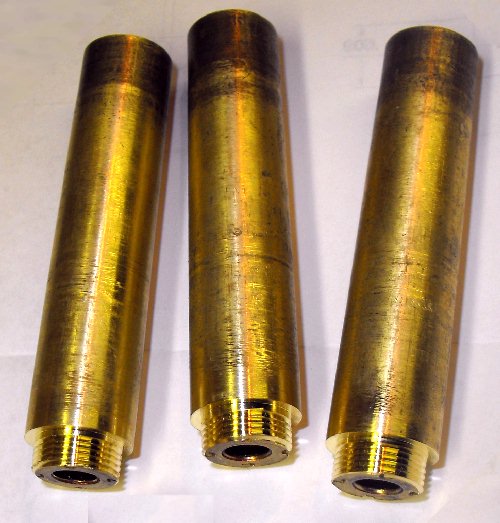 5th, using brass bar stock, 0.890" dia. x 3/8" thick brass washers are made with a 5/8-24 internal thread.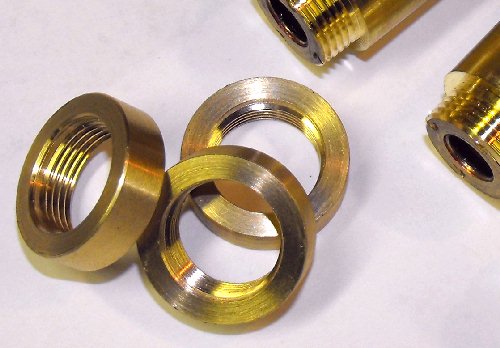 Up to this point I had to pay others for the precision machining that was required. Now I took over.
6th, the thick brass washers are permanently attached to the case head with high torque and red loctite.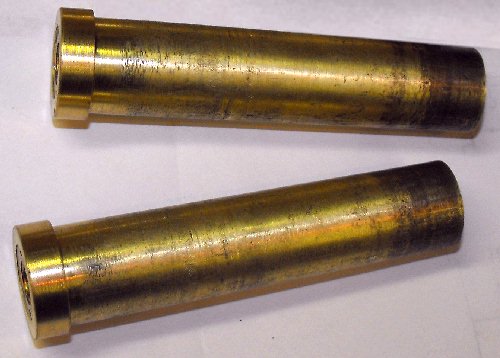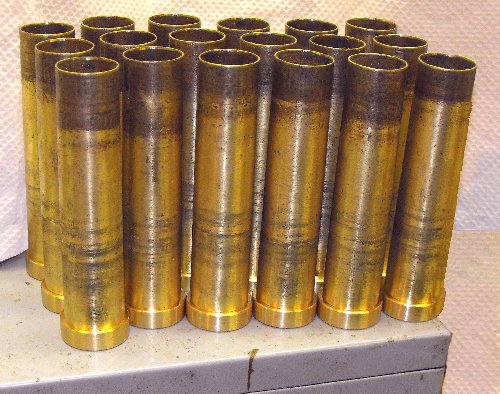 7th, the brass washers are faced-off flush with the case head. (700NE FL resizing die is used to hold the case)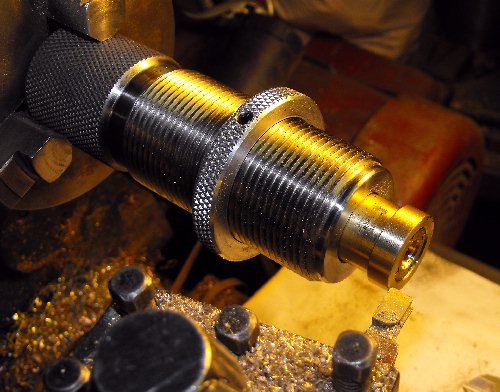 8th, the brass washers are back-faced (flush with the case body) to the rim thickness of 0.080" thick.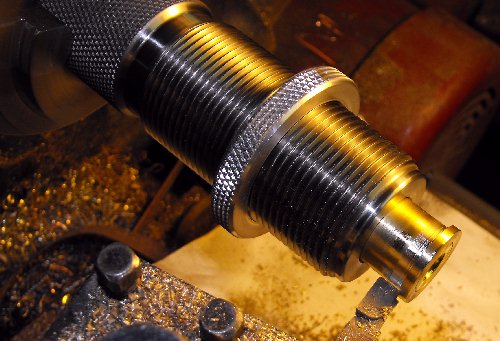 9th, the first 3/4" of the case mouth is precision thinned to .015" thick by turning over a mandrel.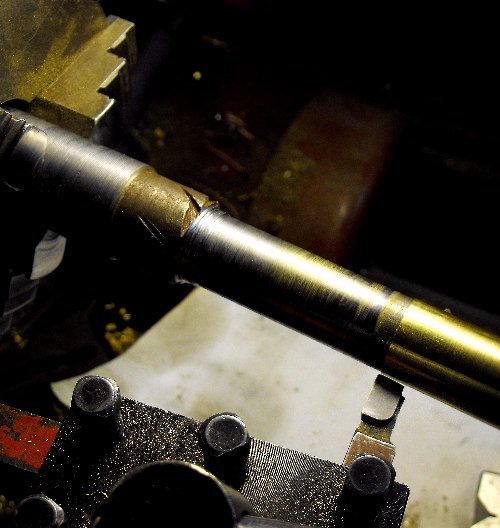 10th, the prepared cases are polished with emery paper
However, 50 BMG cartridges us a special 50 BMG primer. They are much larger than Large Rifle Primers. Also, the cups of large BMG primers are very thick, much firing pin force is required to ignite them.
This is not a problem with BMGs, or bolt action rifles, but it is a problem with the lesser firing pin force of a double rifle.
To solve this problem, bushings must be made to reduce the primer pockets down to standard Large Rifle Primer size.
11th, the heads of once fired 300 Win Mag cases are turned down to make the LR Primer bushings.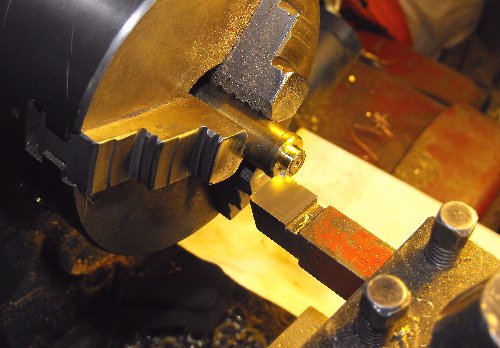 12th the finished bushing is cut from the 300 Win Mag case.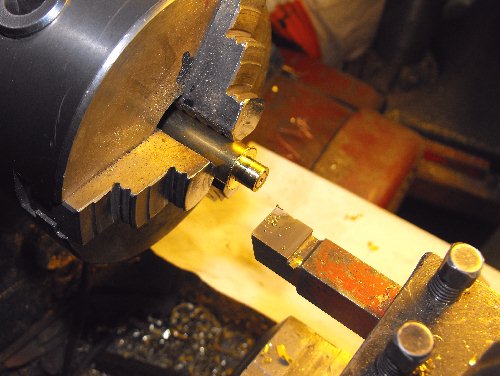 the 300 Win Mag case head, before and after machining to isolate the primer pocket.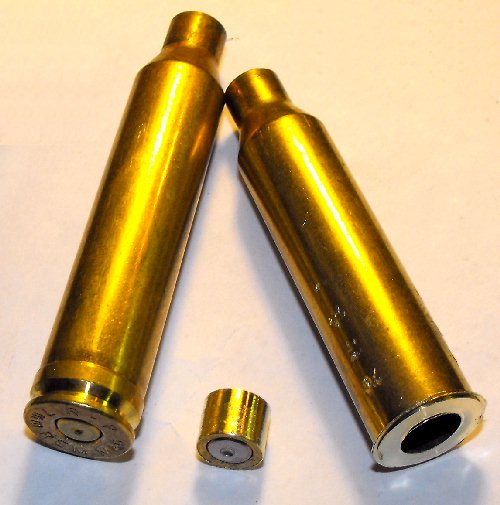 13th, the primer bushing length is machined to the same depth of the 50 BMG primer pocket.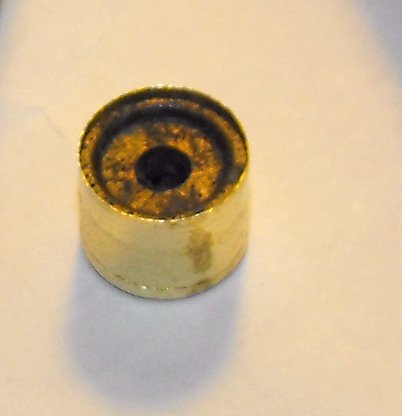 14th, the LR Primer Bushing is "press-fit" (with 4 blows of a 3 lb hammer) into the BMG primer pocket ( 0.001" interference fit)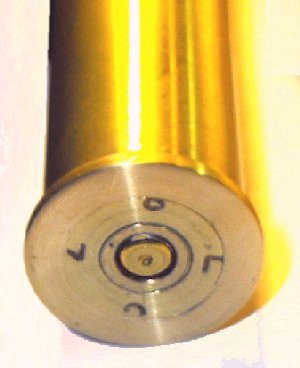 15th, the case is de-primed and re-primed with an F215 Magnum Large Rifle Primer.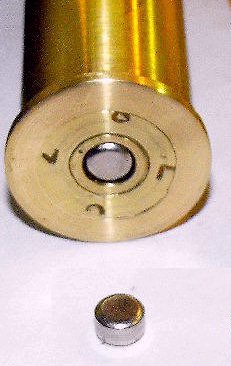 All 32 manufactured 700 NE cases are now ready to be loaded.
Total paid to others = $660 = $20.65 per case. (+30 hours my machining time = $620 saved over retail)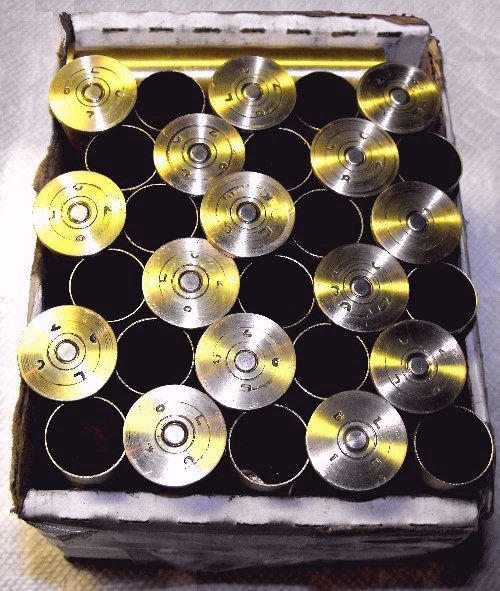 Federal F215 Magnum Large Rifle primer - inserted into the bushing - compared to a 50 BMG primer.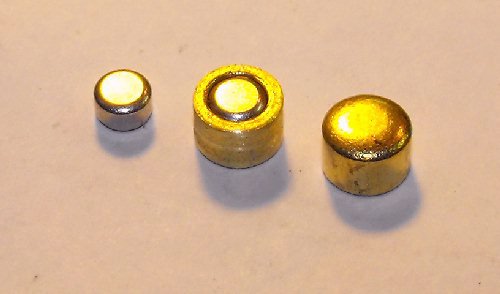 Case primed with F215 primer in bushing, along side case primed with 50 BMG primer.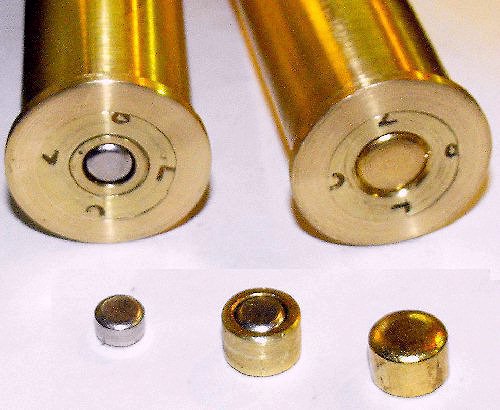 FINALLY... Although a lot of work, in the end, these cases made from BMG brass are far superior to lathe-turned cases.
I plan on making another batch in the near future, so if I can help someone in need, drop me a note.
.
.
Well, its time to detail how the custom 700NE build is coming along.
The Custom Gunsmith doing this project is Aaron Little, from Newark, Texas.
Aaron contacted me back in October 2015 in answer to my want ad for a 700NE rifle. He inquired if I would be interested in a custom build. After a brief discussion, the project was started.
background: I had purchased a Larona 10 gauge some time earlier as an intended donor gun for a 600NE custom build project.

As it turned out, Ken Buch is an excellent salesman for Verney Carron and he convinced me that I should own a "genuine" 600NE. You may have seen the post:
http://forums.accuratereloadin...031018312#2031018312
Since the Larona was no longer required for the 600NE project, I inquired to Aaron if it would be suitable as a 700NE donor. Aaron asked for some initial measurements and a description of the Larona.
This particular Larona was actually built by a high quality Spanish builder, Pedro Gorosabel, and imported by Frank Clark Jr., Cheyenne, Wyoming, back in 1957. Researching this fine 10 gauge double resulted in the following information being found.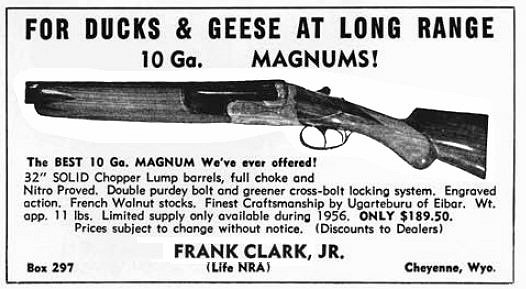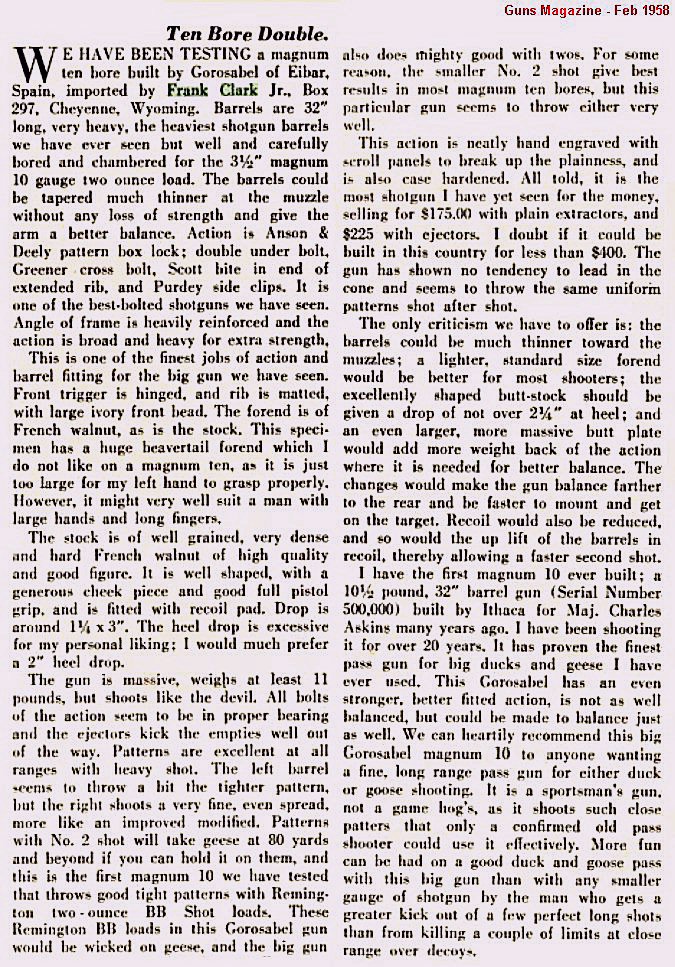 This double was in MINT condition with 100% remaining case color. It is a virtual unfired "safe queen" with some very desirable features suitable for a custom double rifle: Anson & Deely pattern box lock - Reinforced Frame - Chopper Lump Bbls - Greener Cross Bolt - Scotts 3rd Bite in Rib Extension - Purdey Side Clips- Vented Firing Pins, Hinged Front Trigger - 11-3/4 pounds - and best of all, it only cost me $580.
When Aaron received it in hand, he was impressed by the size and quality of the piece.
Its only negative was the recoil pad which was crushed and crispy from standing in a safe for nearly 60 years.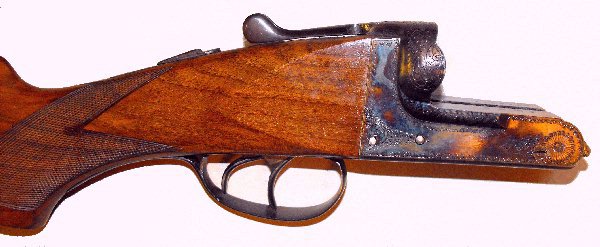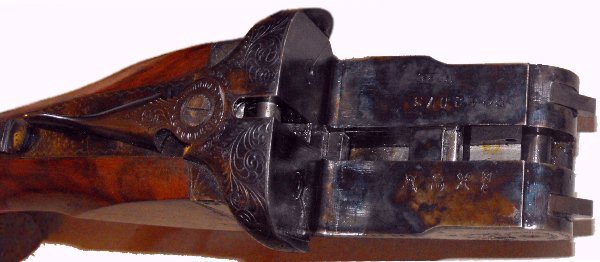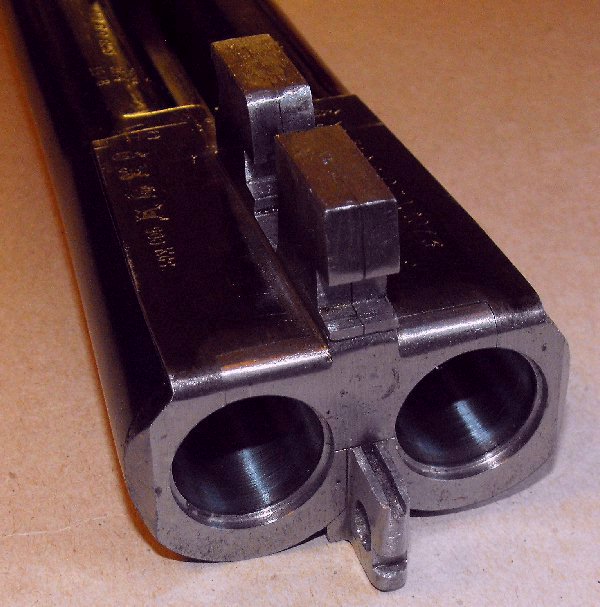 Here are a few step-by-step pictures of the transformation.
To start the project, the original 10 gauge barrels were cut-off leaving the breach intact for mono-blocking the new barrels.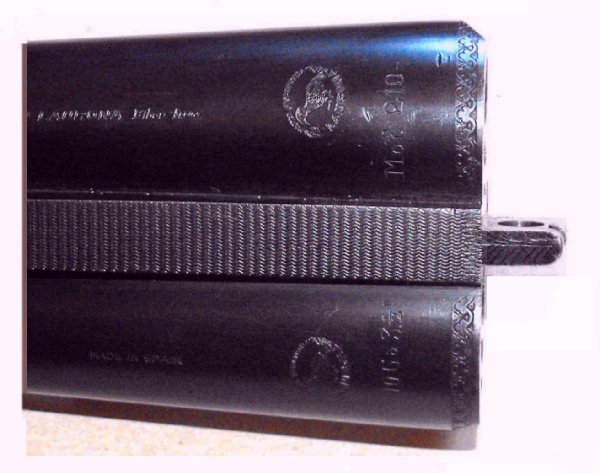 Two .700 caliber barrels were purchased from pac-nor. The cartridges along side the barrels are: 700NE, 500NE, 450NE and 338 Win Mag.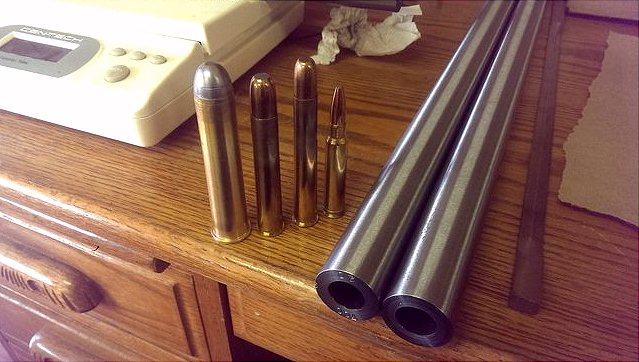 That's a 500NE in the bore and a 700NE on top.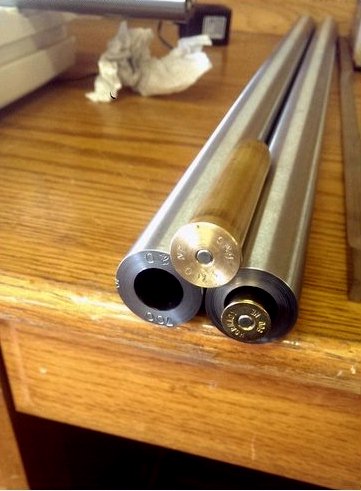 After cutting off the shotgun barrels, the breachblock/monoblock is clamped in the mill vice and indicated. One hole is indicated and bored out, and then the second hole is indicated and bored out. The bores are not parallel with each other and the mill head must be angled accordingly.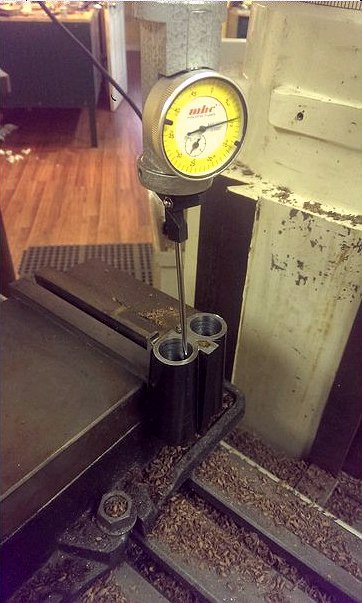 Boring out the first hole with a boring bar.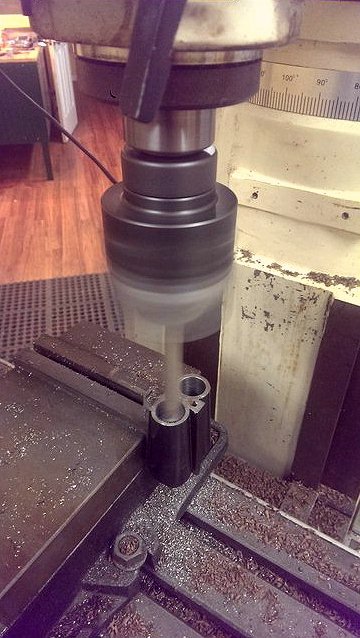 Facing the breachblock after boring (not terribly important since the barrels will be smoked onto the breachblock face)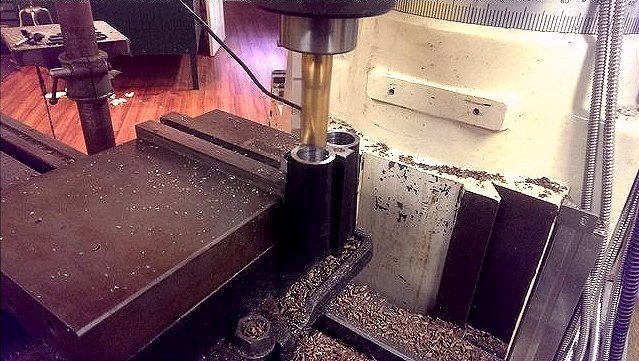 Turning the first barrel to fit into the monoblock - tight fit.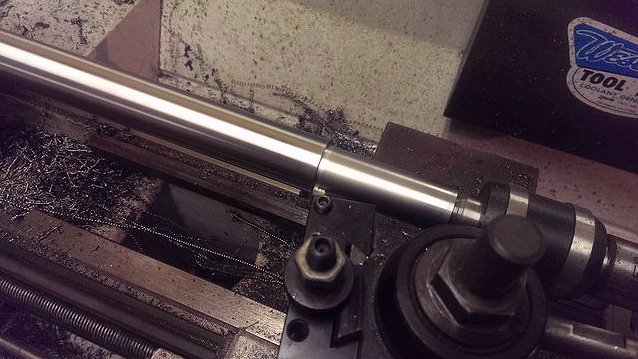 First barrel into the monoblock.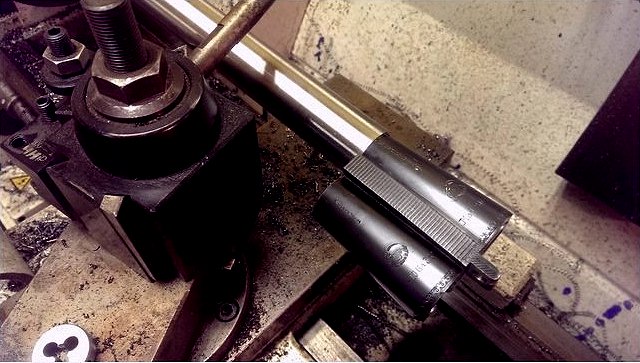 Turning down the barrel outside diameter.
With both barrels now in place, Aaron started optimizing the weight for proper balance. To off-set the 28" barrels, 3 pounds was added to the stock, bringing the total weight of the rifle to 18 pounds, with the balance point to just in front of the hinge. With 2 loaded rounds in the chamber, the carrying weight will be a "pleasant" 18-1/2 pounds. As was expected, the original recoil pad could not be removed without damage, so it has been replaced with a new one.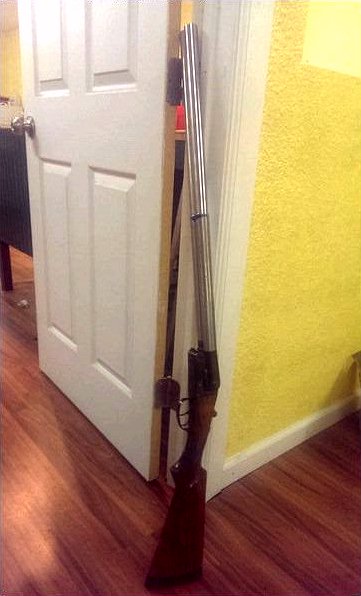 As the project continues, the new extractor has been made and fitted, and a new forend hanger has been made and installed.
Next, Aaron will be making the top rib, and installing it, & the bottom rib. Front and rear sights will also be added. Then, he will be refitting the forend wood to match the new barrel contours.
When all this has been completed, the rifle will come back to Wisconsin for my load delelopment and testing. Once the desired load has been established, the rifle goes back to Texas (with 40 rounds of loaded ammo) for regulating. I'm sure Aaron is looking forward to that day. And after regulating, the rifle will receive final finishing.
While Aaron has been busy on his end, I too have been preparing. In addition to manufacturing the 700NE brass, a dummy chamber is in the works to serve as a "go-nogo gauge" so I can check my loaded rounds while waiting for the rifle. Finally, I've purchased an Italian Leather Case, and designed an appropriate Trade Label.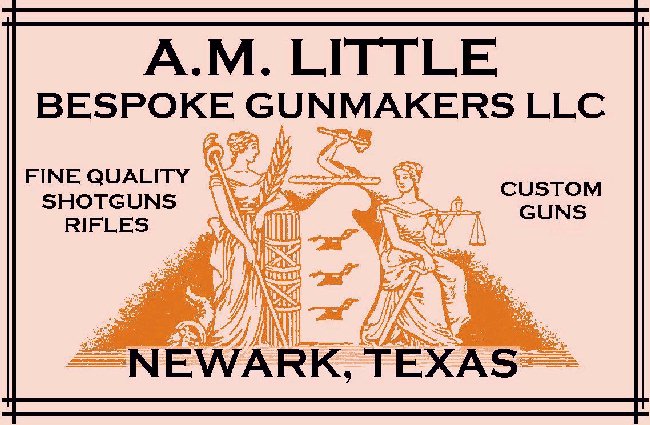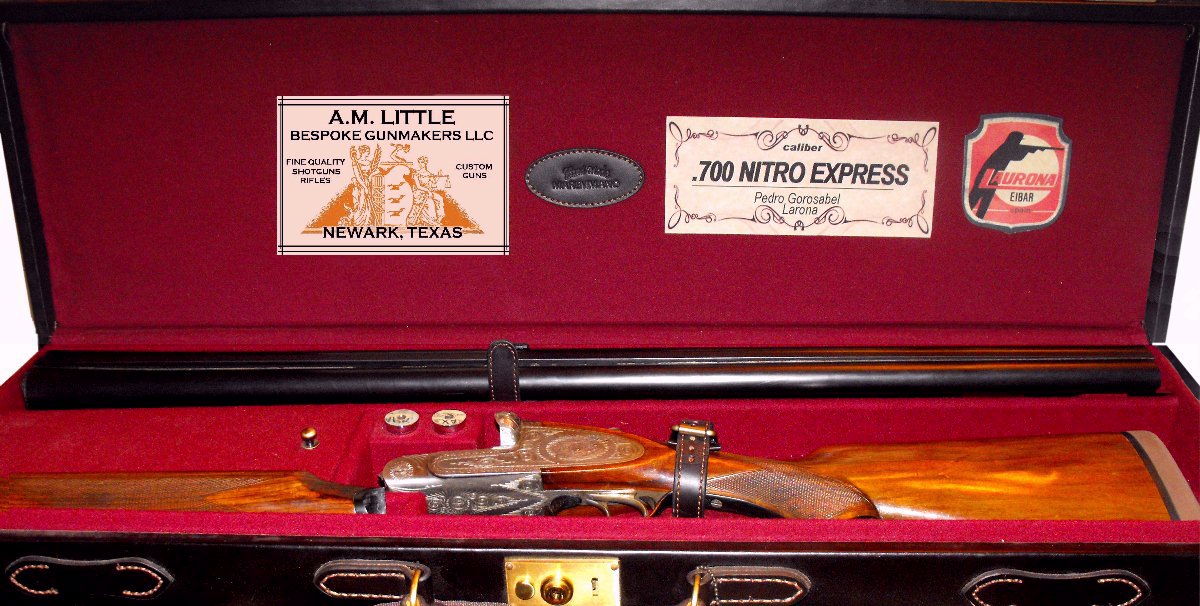 ( Hey Aaron - The shotgun shown in the case is a side-lock 10ga that will be a donor gun for my next project - maybe a 577NE - I've always wanted a side-lock double rifle)
(It is made by another top Spanish maker - J. J. Sarasqueta - it too has; Chopper Lump Barrels - Scotts Hidden Bite - Purdey Side Clips - Vented Firing Pins, - 9-3/4 pounds )
** August 2017 update - As it turns out, instead of sending Aaron the J.J.Sarasqueta, I sent him my High-Grade Bernardelli Side-lock 10ga double for transformation into a double rifle - a 600 Nitro Express.

here's that story:
http://forums.accuratereloadin...0101804/m/3141016532
More updates to follow as the project progresses.
For those interested; here is Aaron's contact info:
http://www.facebook.com/profil...p?id=100001646464847
A.M. Little Bespoke Gunmakers LLC
682-554-0044
Michael08TDK@yahoo.com