Desert Bighorn Hunt, Southern California - Mojave Desert. Unit 510.
Hunt Dates: December 26-January 5
Rifle: Custom built .264 Win Mag, based on Pre-64 Model 70 action. Shot 127 grain Barnes LRX @ 3,230 FPS, Leopold VX-5 in 3-15x with fire dot reticle and CDS custom trajectory turret.
Optics: Leica Geovid 10x42 range finding binoculars, Swarovski 15x56 binoculars. Guides also had Swarovski spotting scopes with binocular eyepiece (game changer!)
Outfitter & Guides: Dry Creek Outfitters. Matt St. Martin, assistant guides were his father, Cliff and Brooks Stiltz, Nate Lang.
I didn't get to go on but one hunt in 2020, but what a hunt it was! After 34 years of applying for a Desert Bighorn tag in California, I was finally drawn. I hired Dry Creek Outfitters to guide me and they were simply excellent. Matt St. Martin and his crew spread out over the unit and we collectively covered a bunch of country right from the first morning. A big highlight for me was having my two adult children join me for the first two days of my hunt. We found a bunch of sheep on our own and my 30 year old daughter found out how much fun we've been having on hunts all these years. While it was my 33 year old son's first sheep hunting experience, he's been going on hunts with me since he was 7 years old.
On my 4th day of hunting, December 30th, I had my crosshairs on a nice ram at a bit over 300 yards. But, the bigger ram he was with earlier had disappeared, and my rest wasn't very good; so I put my gun down. The next morning, December 31 was New Year's Eve. We found our 'target ram' early in the morning, the same one we'd been trying to kill for a couple days. Up the mountain we went, through tons of rock and cactus, till we arrived at a rock outcropping overlooking where our target ram had been with 4 other rams a bit earlier. After waiting for about 2 1/2 hours, the target ram got up and fed back into view. But, there were a few problems... First, he reappeared in the worst possible spot that was visible for a shot. He was further up the ridge and I had to re-adjust my rest and would have to shoot through a notch between a couple big rocks that were about 75 yards in front of me and would only have about 6" of clearance. Second, my rest now sucked due to having to readjust and wasn't nearly as steady. Third, he was about 325 yards out, facing directly away and it was blowing about 25 mph, gusting over 30. He never turned broadside and the shot didn't feel right, so I stayed off the trigger and watched him walk over the ridge, taking 4 other ..rams with him. I very nearly forced a shot, but my better judgement prevailed. There would be another opportunity if we were patient and kept after it.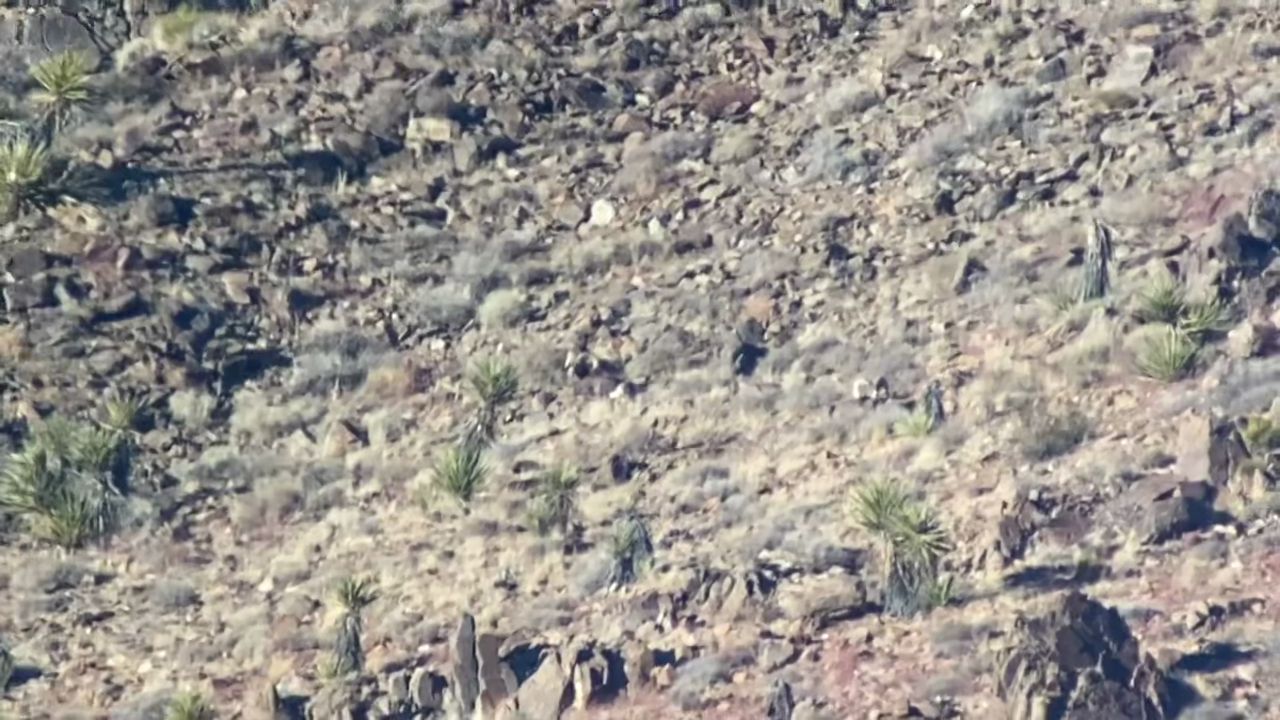 This is a PhoneSkope picture, taken through a spotting scope at over a mile distance from these two rams. This was The first time we found the 'target ram', on the right. While not positive it's the same ram, the dark ram on the left looks nearly identical to the ram I shot. Probably the same I shot a couple days later.
I should note that I was having terrible difficulty with both knees on this hunt. I've torn the meniscus in both knees, had stem cell therapy performed on both knees in July and, while both knees are better than they were in summer, they're still giving me great difficulty. I made it through this hunt with lots of Advil, Voltaren, prescription 'unloading'knee braces, a hiking staff and lots of determination. ...And Percocet. A couple days ended by taking Percocet when I went to bed early and I did feel much better the next day. The key, for me, was to go slow, pick routes carefully and just never give up.
After we'd come down off the mountain following the disappearance of our target ram, I was pretty whipped. My knees were killing me. It was after 3:00 and we were talking about heading back to camp for an early dinner and good night's rest. But then we got a call from one of the assistant guides, Brooks, advising us that he'd found a heavy ram that we nearly shot a couple days earlier. He was with 5 other rams, up in a canyon near where we'd set up to shoot him earlier. That shot would have been easy as I had a great rest, he was bedded with 2 smaller rams 250 yards away and they weren't aware of us. Unfortunately, the light breeze that morning took a brief switch as I was settling in for the shot, sending our scent directly to them. In an instant, they were up and gone. But now we'd found him again and he was in a spot where Brooks thought we'd be able to get a shot with a minimum amount of walking. Off we went, driving up an old mining claim two-track. We knew the rams were near where the trail ended, just a few hundred yards beyond. As we got to the end of that trail, the 6 rams became visible. It was almost sunset, the crosswind was blowing about 25 mph and I had a bad rest, not as steady as I wanted for a 260 yard shot. But, he was a very heavy ram, broadside and while the group was aware of us and getting fidgety, he hadn't started moving yet. I got as good of a rest as I could and, with the ram facing to my left, quartering slightly toward me, I touched off a shot. The ram was hit hard but a bit back. He stood for perhaps 5-10 seconds and then slowly started walking to my right. Matt St. Martin thought he was going to go down, so asked me to hold off from shooting again, which seemed like the right thing since it was blowing so hard. The ram walked about 20 yards and stopped and we could see a large bloodstain on his right flank, where my bullet exited. I fired again, shooting just over the rams back. That got the ram moving straight away from me and my next shot, at about 300 yards, resulted in a loud 'crack' sound and the ram went down like a ton of bricks. He was on his side with his legs sticking straight out and stiff. Matt congratulated me and I unloaded my chamber. A bit after I set the gun down, he got up and started walking out of sight! I couldn't get on him for another shot before he disappeared, but he didn't go far. He bedded down in the bottom of the canyon, out of sight behind a huge Boulder. We had a quick discussion and both felt he'd die there and we could recover him in the morning. However, I told Matt that I couldn't in good conscience leave him to suffer till he died, and Matt whole heartedly agreed. Off we went to near where the ram had bedded. As we neared, the ram got up and climbed onto the adjacent slope, where a final shot anchored him for good.
When we examined the rams horns, we found a chip missing out of his right horn, near the base. We looked around the back side and saw a very small mark where my bullet entered on the shot with the loud 'crack' sound that had put him down. He'd been going straight away and my shot had gone a bit high, hitting him at the base of his horn and knocking him out cold! That explained why he went down suddenly but got up a minute later to wander out of sight. It was getting toward dark, so the ram was quickly gutted and jackets left on the carcass to discourage scavengers till we could return in the morning for pictures and the pack out. The entire crew would come up in the morning to make short work of packing him out. My final steps that evening were pretty tough. Both hamstrings were cramping badly, my knees were killing me and getting back into the pickup never felt better. The guys knew I was uncomfortable, but I never let on to how much pain I was in until we were back in camp, enjoying a New Year's Eve dinner of elk enchiladas.
I had finally fulfilled a long held dream of taking a Desert Bighorn Ram! I cannot fathom a better way to end 2020 than what we were doing as the last light of day faded to darkness. We were all in bed by 8:30 that night. Our New Year's celebration happened up on the mountain, not with Champagne and a midnight celebration.
The next morning, our entire crew was up early and back at the ram before the sun rose over the mountains to our east. We took tons of pictures, laughed a lot about our experiences and then packed the ram off the mountain. It was great having a couple teenagers with us, as they sent this old man back on my way to the truck while they loaded the sheep into packs and they still beat me back to the truck even though I got a 10 minute head start.
To be continued...