Trip report – Roe deer and Muntjac in Oxfordshire, UK
Booking Agent:
Sam Farrow, who posts here as Hunt Inter. We never met in person, but Sam took excellent care of all the details, so that I had the skulls ready to be brought home 3 days after I finished hunting.
Guide:
Alex Nielsen. Alex guides for deer and culls deer for a living. He knows where the deer are and is good company.
Dates:
September 13 (afternoon); September 14 (morning), 2019
Location:
Oxfordshire. I killed both deer within about 5 miles of the Oxford city center!
Rifle:
I borrowed Alex's Sako in 243 Ackley Improved. It was fitted with a bipod and a suppressor.
Having a work-related meeting on September 16-18, I decided to leave the Thursday before, bought my airline tickets, and then checked to see if it would work for me to hunt roe deer and muntjac on the weekend before. Having previously seen
hunt report on AR
covering muntjac and Chinese water deer I contacted Sam Farrow who posts here as Hunt Inter.
His deer hunting guide, Alex Nielsen, was available to guide me on Friday afternoon and Saturday morning, which was ideal for me, as I was also hoping to spend the day with friends on Sunday, also.
Sam arranged a hotel in Steventon, near Abingdon and Alex met me there at 3:30. The weather turned out to be glorious: warm (66F/19C) in the afternoon, cooling down to around 45F/7C overnight, dry, and sunny.
We visited several different properties – farms with mixed woods and cut grain fields. We walked through the woods and tried calling; we stopped various places and glassed for deer. We saw a number of roe deer, including a couple roe bucks that vanished into thick cover. Like whitetails, roe deer tend to come out of cover near dusk. At dusk, in the last place we stopped, a large cut bean field next to a busy road, there were two roe bucks pushing each other around and eating beans that the combine had missed. We watched them through binoculars and after deciding that one was suitable for me – a representative buck rather than a record book buck – I lay down and shot prone from about 150 meters with Alex's Sako in 243 Ackley Improved.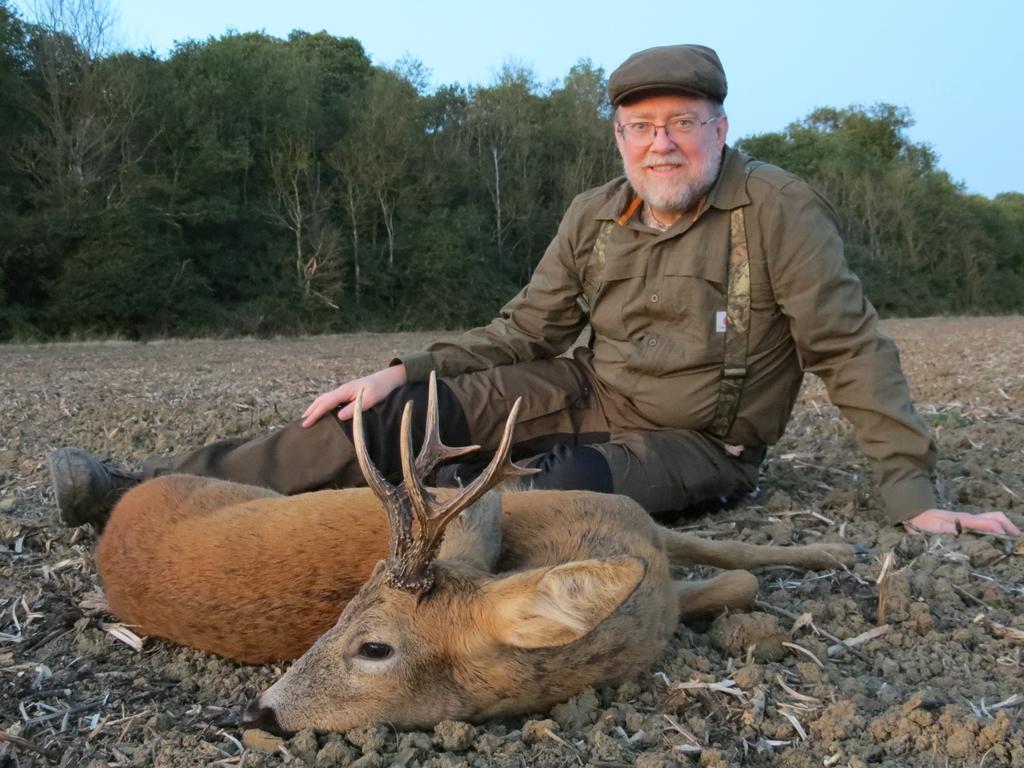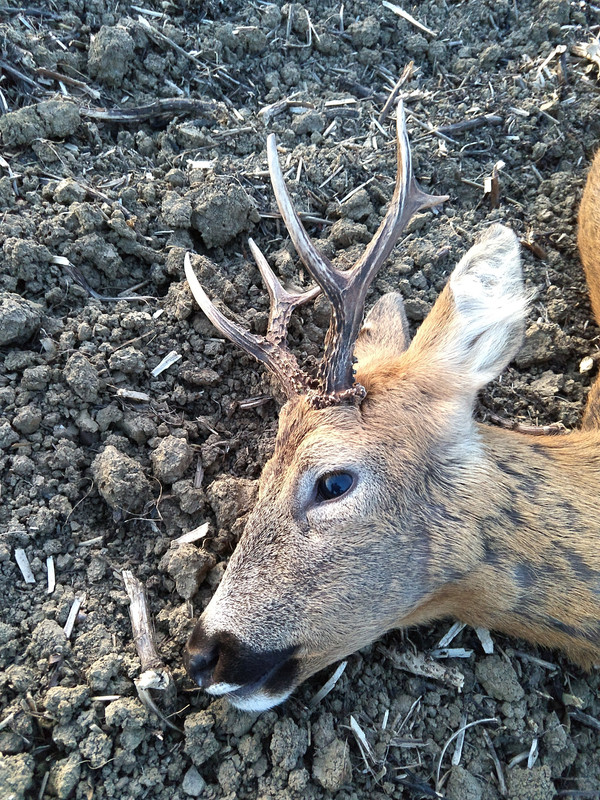 The next morning we went out again and looked for a muntjac. We spotted several muntjac and three foxes in one field. I shot the muntjac ram that was marking its territory – they have scent glands near their eyes and they rub it in the grass and stubble. This time I used sticks. Alex suggested I shoot a fox also, which I did.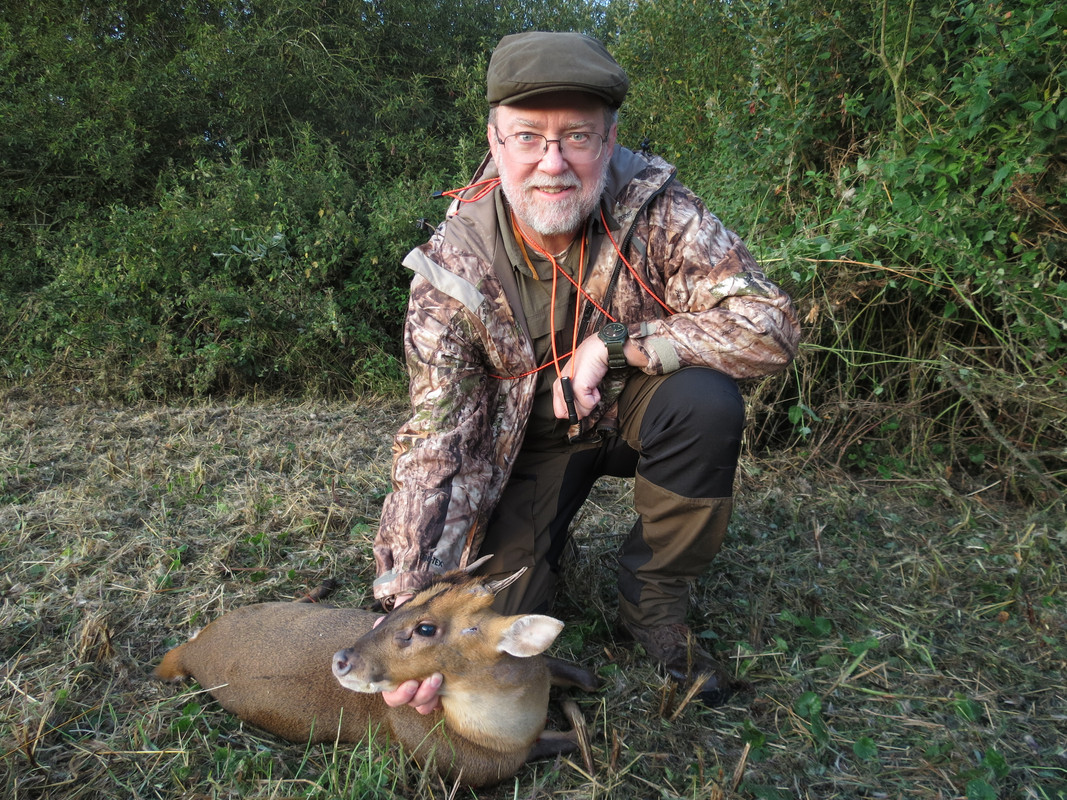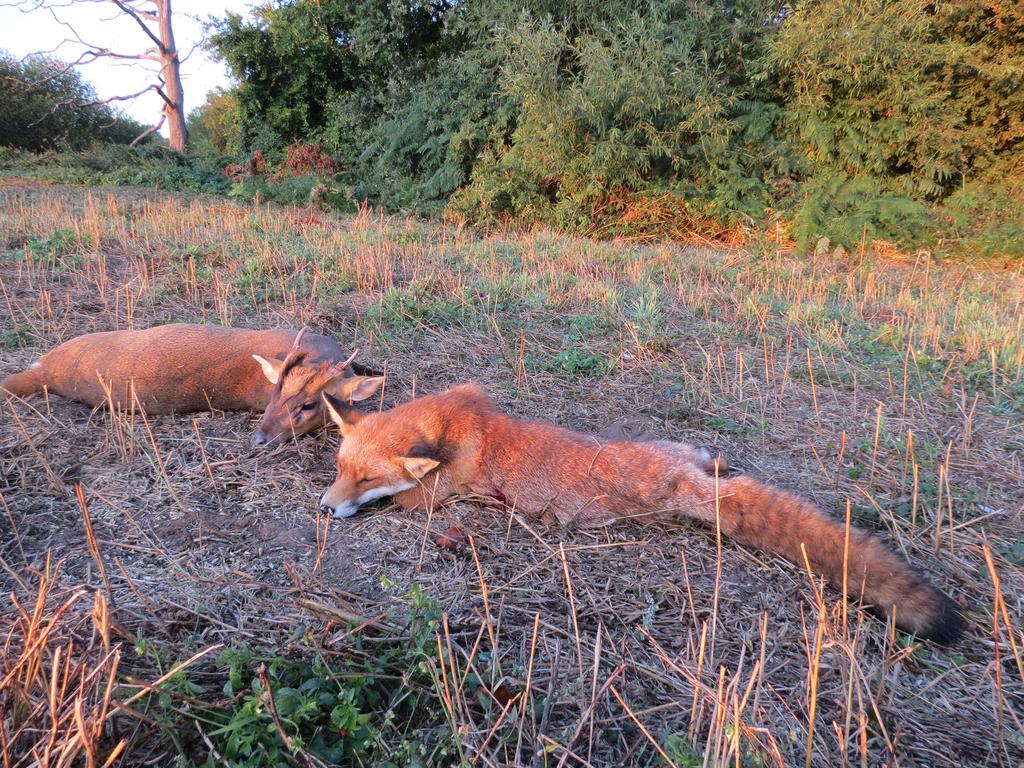 After that, we spent a couple more hours looking around, taking photographs, and attempting to stalk a larger muntjac.
Sam had the skulls boiled, bleached, and sent to my London hotel by Tuesday mid-day. They were nearly but not completely dry. I cleared them myself through customs. I had previously emailed the US Fish & Wildlife Service (as they requested) and read the USDA Animal Products Manual. My interpretation is that two or less sets of antlers should go through as long as they are dry. And, that there should be no requirement for additional documentation beyond the USFWS 3-177 form. Nevertheless, the Ag Inspectors asked for proof that they were legally hunted and a copy of my hunting license (not required for deer in the UK). I showed them an email from the guide and told them in a very friendly way that my interpretation of their manual was that I didn't need that. They muttered that there was still some damp tissue. Finally, after an hour, they let me go with no further hassles. This was similar to my experience clearing moose antlers through Atlanta. I really think they are just not that sure about what to do in an unusual case.
Summary:
For me, this was an excellent opportunity to combine work and hunting. If I'd had more time, I'm sure Alex would have found some larger deer. But I was more interested in taking representative mature bucks than holding out for record book.
I'm posting this from Dallas, so still have one more leg to go before I get them home. I'm hoping that the baggage handlers don't destroy the skulls between here and Oklahoma!
Miscellaneous photos below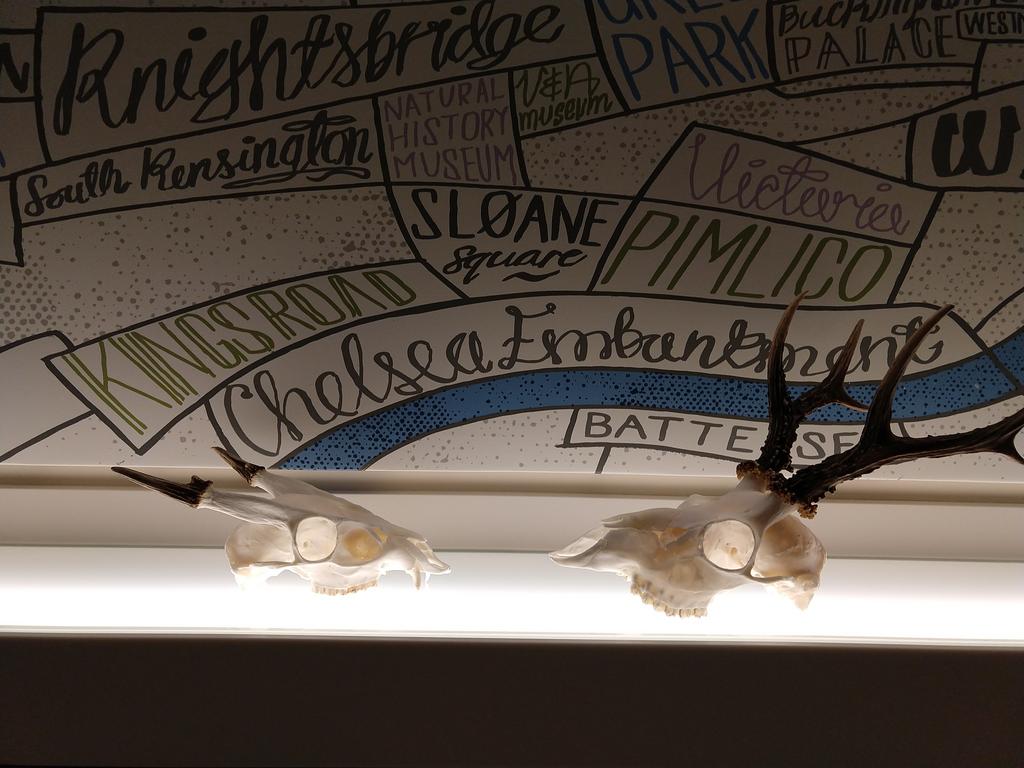 Skulls in my London hotel room.