Muskox Hunting in the Pandemic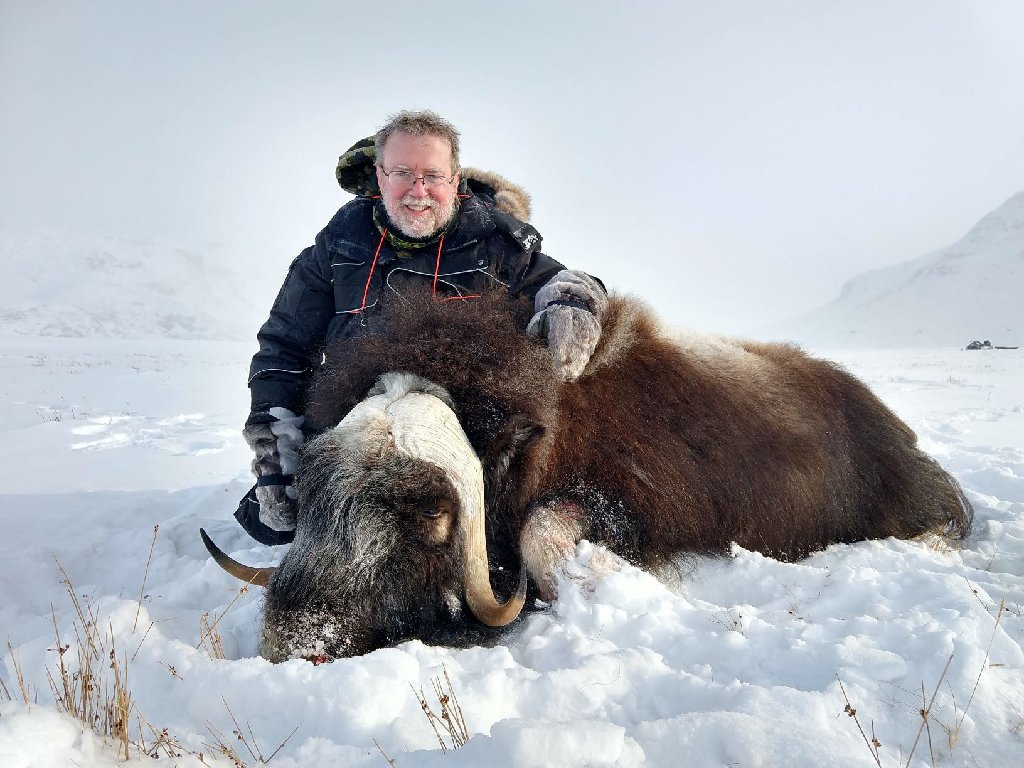 This trip report is probably as much about traveling in the Pandemic as it is about actually muskox hunting. The Pandemic had a significant effect on the travel and the degree to which I could "relax" in camp. Also, this trip report is light on photos, as it was just too cold to keep fishing out the camera!
Trip report – Muskox hunting in Greenland, near Kangerlussuaq. On the side – hunting for Arctic hare, Arctic fox, and ptarmigan; ice fishing for cod.
Booking Agent:
Sam Farrow, who posts here as Hunt Inter. Sam had previously arranged roe buck and muntjac stalking for me in England. He posted this hunt here as a "special".
Guides:
Carl-Jørgen Enoksen and Stephen Diegidio.
Dates: March 13-16, 2020. Originally planned to leave Greenland on the 17th, but travel chaos due to the Pandemic made me decide to leave a day earlier.
Location:
Near Kangerlussuaq. We stayed in a cabin about 15 minutes' drive from the airport; the muskox hunting was about 2 hours away by snowmobile.
Rifle:
I borrowed a Tikka 308 for the Muskox, and a .22LR and a .22WMR for the Arctic hare.
Original Ad:
http://forums.accuratereloadin...2100588/m/6261049452
Having flown over Greenland many times, and having looked down from seven miles high a number of times, Greenland has been on my bucket list of places to visit. And when Sam posted his ad, I decided to inquire if the dates would work out to go right before a meeting scheduled in Germany for March 19-20. It turned out that I could return from Greenland to Copenhagen late on the 17th, giving me a day to get to Germany. So in late October of 2019, I decided to go. I also planned to do some work in Lund, Sweden (30-minutes by train from the Copenhagen airport) beforehand and booked flights leaving the US for Monday, March 9.
In the days leading up to my trip, COVID-19 had gotten out of control in China, and was starting to have a significant effect on Italy – 7400 cases on March 8. By the time I left, there were more cases cropping up in Sweden (200 on March 8) and Denmark (35 cases on March 8). Germany was worse (1000 cases) but it seemed most of them were in the south. In any case, I was not going to let that stop me! Probably brave or foolish, depending on your perspective.
About the time I arrived in Lund, my employer (a large state university) instituted an international travel ban, but since I was already gone, there wasn't too much I could do. I looked carefully, and didn't see any statement compelling me to come home. In fact, I didn't hear from my employer until Friday the 13th, at which time I was already in Greenland, when they asked me to come home "at the earliest possible occasion."
On Wednesday night the 11th, the meeting in Germany was cancelled, as many of the participants had employers that revoked permission to travel. So that night I also changed my travel to come back from Copenhagen on the 19th, allowing an extra day in case there were any problems getting back on Air Greenland.
I awoke on Thursday the 12th to find that Trump had "banned" travel from the Schengen region (where I was in Sweden at the time) and was closing the borders to the Schengen region at midnight on the 13th. I seriously thought about coming straight home, but I could not reach American Airlines all day on the 13th. I was on hold for an hour when the call was dropped. The second time I tried, they promised I would not lose my place in line if I chose the option that they would call me back. They never did, so… I decided I would go to Greenland anyways. There seemed no point to sitting in Copenhagen hoping I could get a flight out.
When I arrived in Kangerlussuaq, I met another hunter from Pennsylvania (Jesse) that had previously hunted with Carl and was back. Jesse has hunted all over the world, so had a lot of interesting stories.
The first day, after settling in, Carl took Jesse out muskox hunting, while Stephen and I went ice fishing and hare hunting. Living in Oklahoma, I haven't had too many opportunities for ice fishing, but on both previous outings in Sweden, I caught exactly zero fish. So I had low expectations. Kangerlussuaq is at the end of a fjord, and we drove out on the fjord in a Landcruiser. We fished through about a meter/yard of ice in saltwater. We drilled a hole, tried it for 10 minutes or so, then moved and drilled another hole. Five holes were drilled, tried, and given up on. On the sixth hole, after we drilled it and I let down the line, Stephen said that this was quite deep and would likely be a good spot. Sure enough, in about a half hour, I had five Greenlandic and Atlantic cod on the ice. Nice to have finally caught something ice fishing!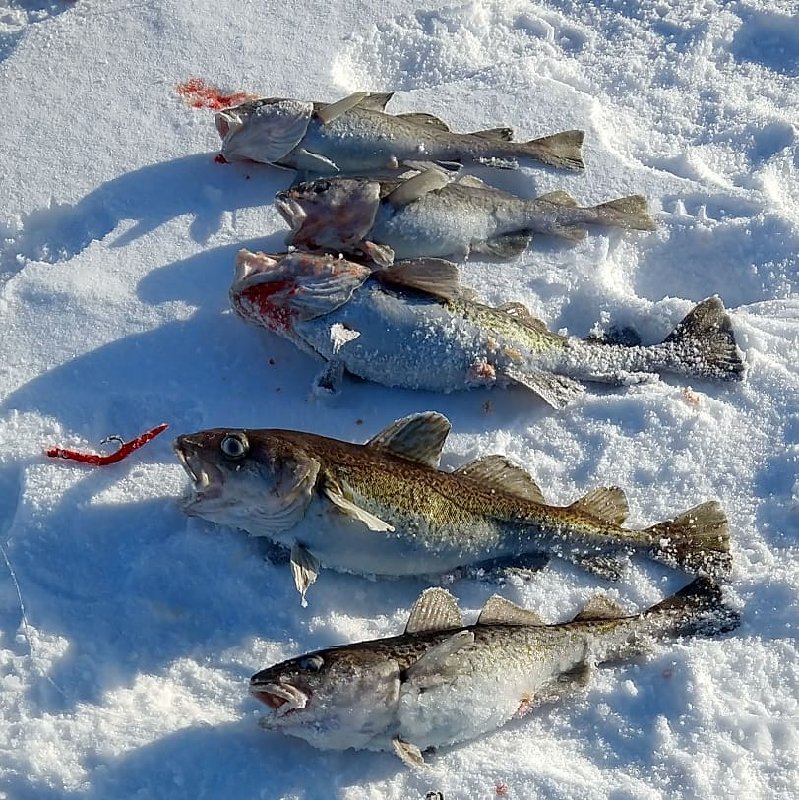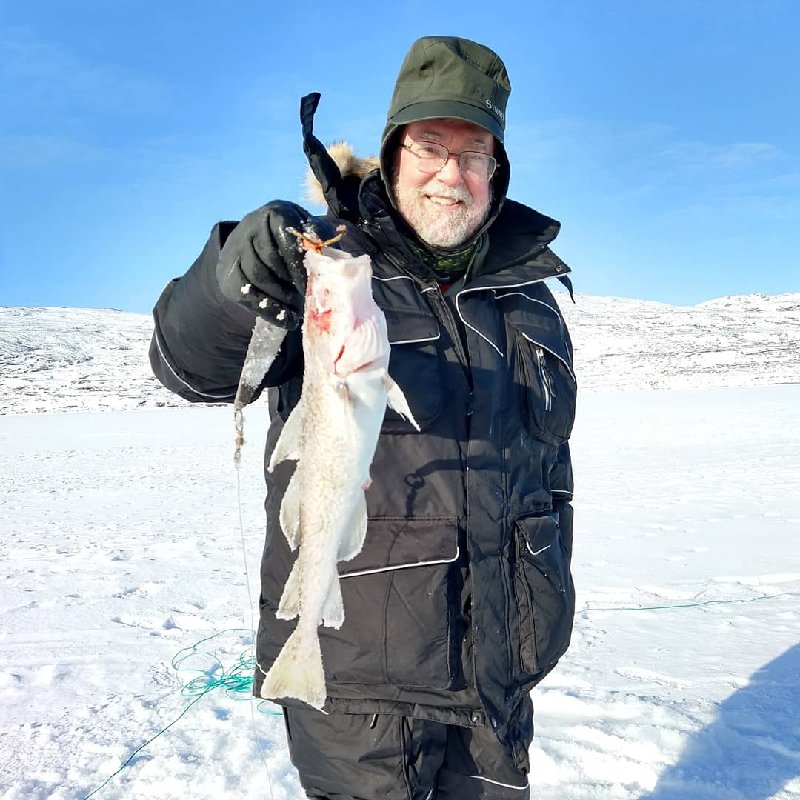 We then took an ATV out about 30 minutes from the cabin and walked some hillsides looking for Arctic hare. We saw lots of tracks, but no hares. After a few hours tramping around through foot-deep snow, we gave up and returned to the cabin. When we were about 200 yards from the cabin, we spotted a hare, but we didn't pursue it. Later, hunting with Carl, I shot an Arctic hare, and had the opportunity to shoot more, though I didn't see a good reason to do so.

View from a hillside while out hunting hare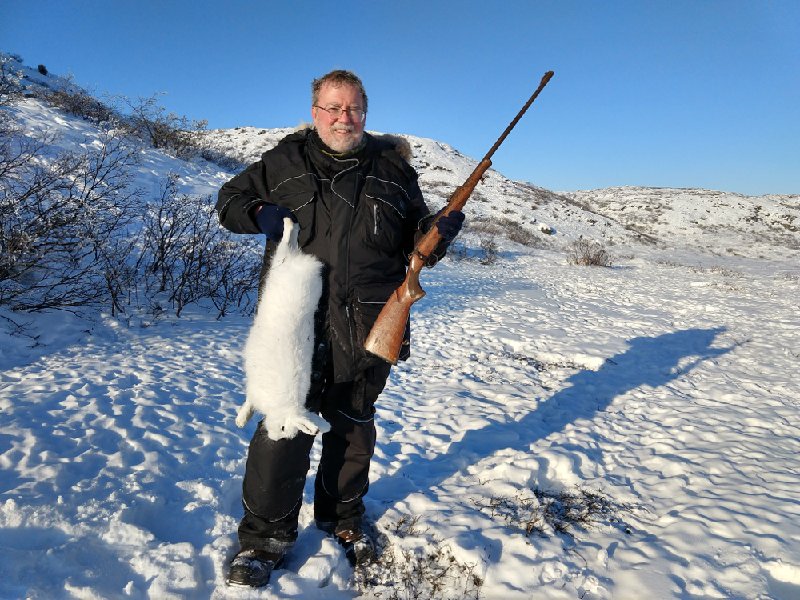 Elmer Fudd gets his wabbit!
The cabin is heated continuously with fuel-oil; electricity is provided intermittently with a generator.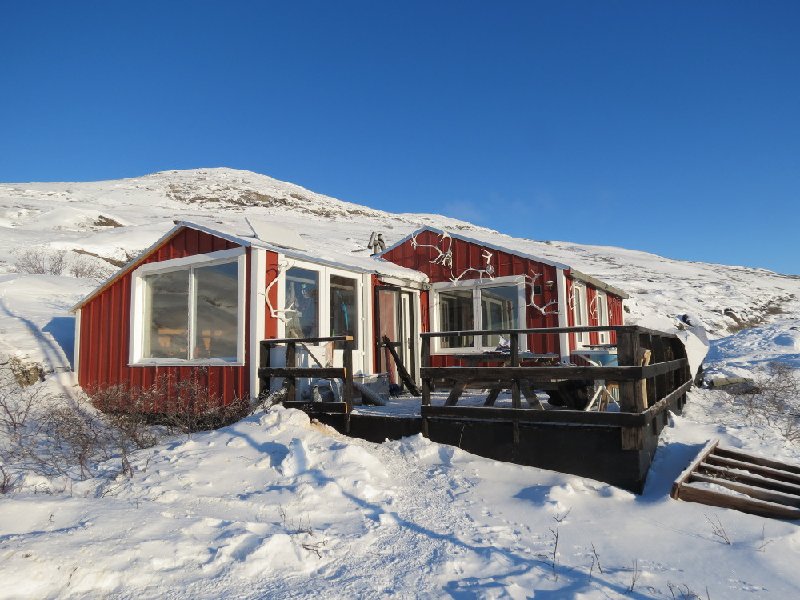 The cabin.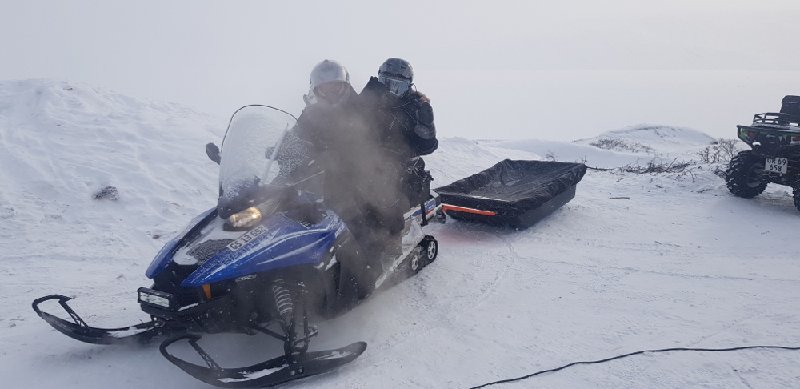 Me, behind Carl, getting ready to leave for some muskox hunting. (Photo courtesy of Stephen)
The next day, it was my turn to go out muskox hunting. We traveled about two hours by snowmobile and started looking around. Carl spotted a herd of about 20 that I think he had seen the day before. They were on a large flat plain, eating vegetation below the foot of snow. We watched them through binoculars for awhile, then got back on the snowmobile and took a long way around to some higher ground. We than snuck down as close as we could get, which was still a long way off. Carl estimated it at 500 m. We watched for a few minutes before Carl urged me to shoot the one with the light-colored boss. I won't regal the reader with tales of my outstanding shooting, but I did with (too many) multiple shots succeed.
Under warmer circumstances, I would have taken some photos of the herd and our vantage point… but it was just too cold to fish out the camera!
That evening, we ate muskox and continued listening to the news, and Carl made some contacts to ascertain the situation getting back to Denmark. Greenland is a territory of Denmark, but it wasn't immediately clear if the border closing applied to Greenland. My wife sent me some news stories about travel, including accounts of people waiting 5 hours in a packed line to get their "health screening".
The next morning, we went to the airport, but they couldn't change my ticket, and suggested that I come back Monday morning. We had a good meal that evening with a variety of Greenlandic foods, including narwhal blubber. The fat was OK, but the skin was awfully hard to chew.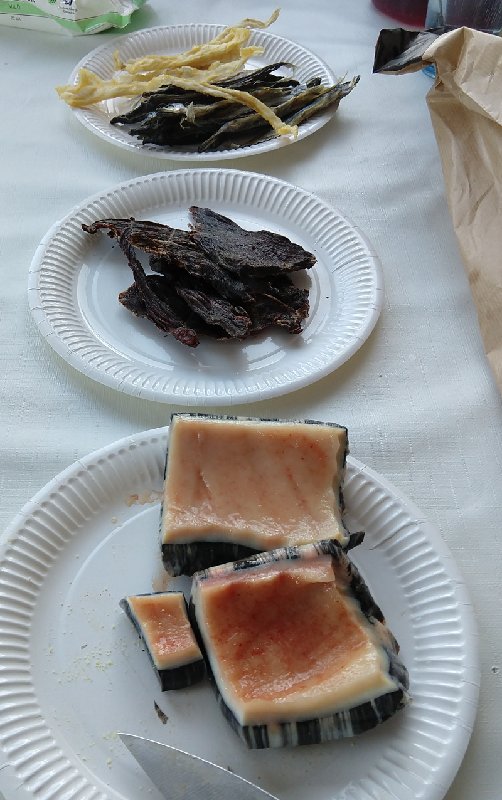 Some Greenlandic foods; top-to-bottom: dried fish, caribou jerky, narwhal blubber
Later that evening, we had a fantastic show of the Aurora Borealis, though I left my good camera at home, so don't have any great shots to show.
Then, the next morning, I packed up, and went back to the airport. They couldn't change my ticket at the airport, either, but let me use their phone to contact their customer support center. After holding for 20 minutes, I got through, and was able to change my ticket for $300. That seemed a bit steep, given that they had already told me there were 275 open seats on the plane! But I paid it, and flew back to Copenhagen. That night, I was able to get right through to American Airlines, and they changed my flight to go back Tuesday instead of Thursday. They could not change it to Wednesday, because the BA flight from Copenhagen to London was canceled.
So, I came home Tuesday, and everything was smooth – the Copenhagen airport was nearly empty; the flight to London was nearly empty; Heathrow was very quiet; the flight to Dallas was a little more crowded, smooth and on time; the health screening took maybe 10 minutes. I was told there to self-quarantine for 14 days. The only hitch was the last flight, to Oklahoma – it took off, but a large thunderstorm prevented landing, so we flew back to Dallas, stayed overnight, and I got back mid-day on Wednesday.
So, the trip to Greenland, was great, but not exactly a restful break from reality! For one thing, it was between -40°C and -30°C (-40°F and -22°F) the whole time I was there, and, secondly, we had to keep listening to the news, hoping that Greenland wasn't going to close its borders. So, the Pandemic took its toll on the trip enjoyment, even though, in the end, it amounted to a minor inconvenience.
To answer dogcat's question: would I go again? Yes, to Greenland, to hunt with Carl for caribou. I doubt at this point I would go back to hunt muskox in March again, having done it once. I think it's probably one of those experiences for me where once is enough. But who knows? Maybe I'll change my mind.
Regarding the travel experiences during the Pandemic- the worst part was the uncertainty and the run for the exits when first Trump, then Denmark, closed their borders. That created a situation where American Airlines could not keep up with the phone queries. However, the fact that I didn't get through on Thursday may have been a blessing in disguise, as it allowed me to go to Greenland with a "clear conscience"- I tried to see if I could get home sooner, but couldn't get through. My other interactions with American Airlines, changing my flight twice, were both very good. They were very helpful both times.
Air Greenland is not quite so well organized, and I thought the $300 was a bit high, given the circumstances, but on the grand scale of things, it wasn't that much. Their flight actually used a rental plane, which was an older Airbus-330 with no amenities, but it was reasonably comfortable and I had enough room to work both ways.
Written on Day 4 or my 14-day self quarantine!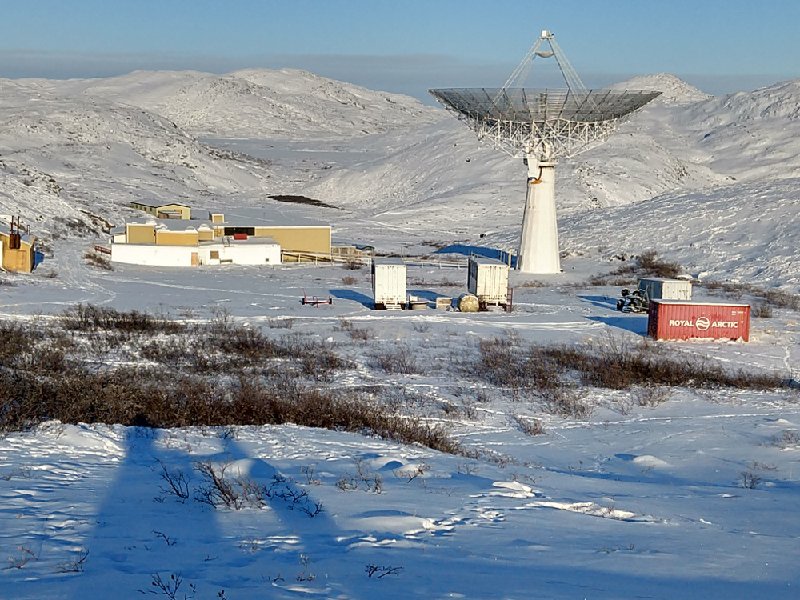 Ex-USAF installation: Satellite tracking? Distant early warning?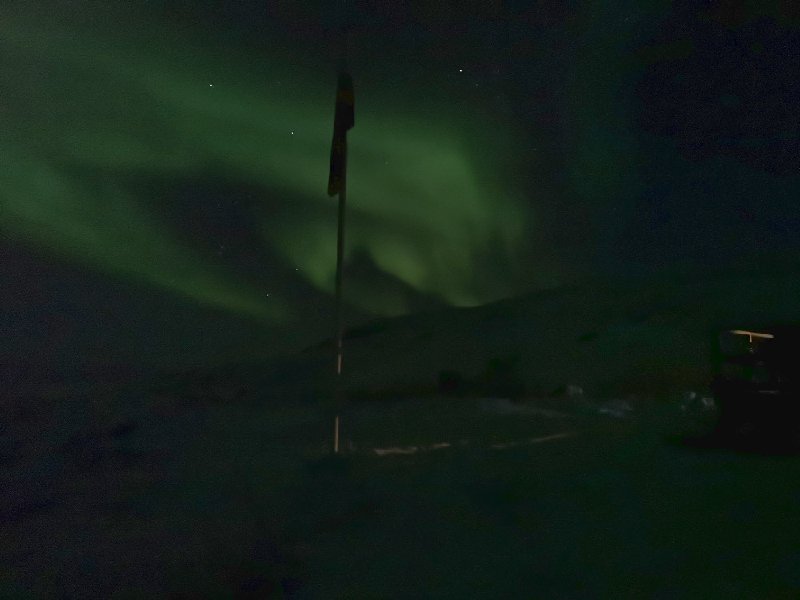 Aurora Borealis, last night. (Photo courtesy of Stephen)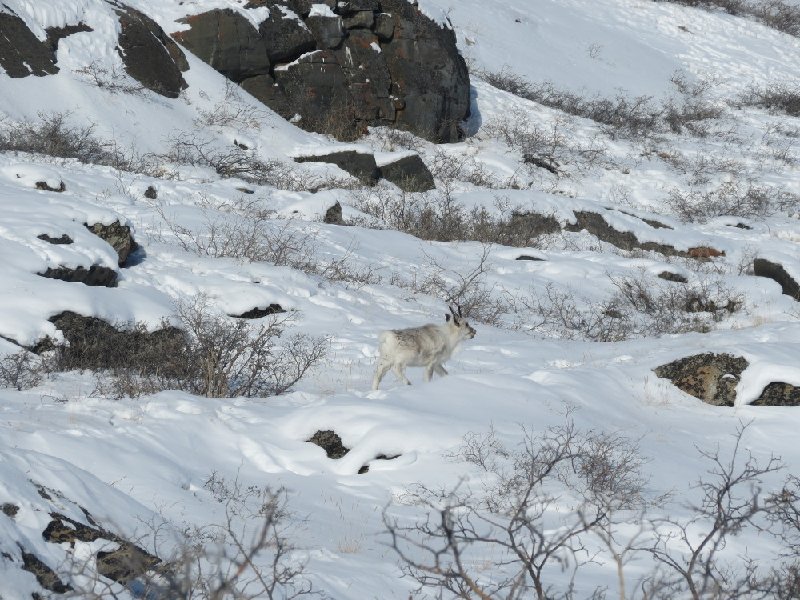 A caribou calf, near the cabin.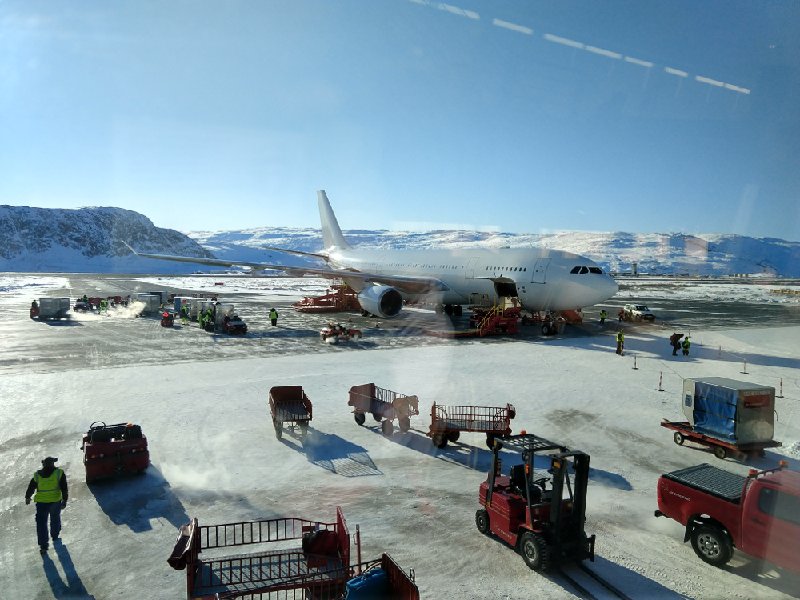 Getting ready to go