Brooks Range DIY Sheep Hunt 2013Location:
Northern Brooks Range (That's as specific as it gets)
Outfitter:
Self Guided with Brett Barringer and fiancé Jena
Dates:
Flew in Tuesday August 6th, flew out Friday August 16th
Rifle:
Tikka T-3 Superlite in 7mm Rem Mag shooting Federal Factory 160 grain accu-bonds. Swarovski 3 -10 with BRH reticle. Total weight 7 pounds, 2 ounces unloaded.
Animals hunted:
Dall 's sheep!! (targets of opportunity) Grizzly, Caribou, Wolf.
Animals taken:
Dall's Sheep
Animals seen:
Dall's Sheep, Caribou, Grizzly
The plan for this hunt grew from some Scotch one night at my house talking with Brett after his successful Brooks Range Sheep hunt in 2011
http://forums.accuratereloadin...281016161#9281016161
The more we talked the more I realized, with 60 (Brett is exactly half my age) rapidly approaching I had better decide seriously about doing one in my lifetime. I just have always been "too busy". Pretty lame excuse considering I've made time to kill many animals in Africa.
I don't recall exactly when we cemented the plans but I do remember when I started training for this epic adventure.
The date was November 23, 2012. That's the first day I walked into a Crossfit "Box" (gym) here in Anchorage. I was 188 pounds and close to 30% body fat. Rather disgusting thought to me at present.
www.youtube.com/watch?v=mlVrkiCoKkg
I've always been goal oriented and having the committed plan for the hunt meant I would regain the level of fitness needed to pull this off. The day we left for the hunt I weighed 157 pounds at 17% body fat. Hunt report aside one of the major benefits to this hunt was my joining that Crossfit Box. Not to sound like an infomercial but my wife and I both became active members of a fitness "cult" that is incredibly supportive. We started eating Paleo/Primal as well. I will continue to Crossfit regardless of what else I do down the road.
I spent the better part of a year buying newer lighter gear with the goal of getting that pack weight down as low as possible. I carried in 57 pounds including my rifle, 7 days of food, and 3 liters of water. The only way to shave it lower would have been to take only one spotting scope between the three of us.
As mentioned a 206 dropped us off with an 800 pound limit (including our body weight) on Tuesday August 6th. The season opens at 12:01 AM on the 10th.
We set up a base camp of two larger tents with two extra sleeping bags, thermarests, and food. That way should we drop two Rams at the same time Brett and I could beat feet back to base camp with the meat, have a place to crash, and return to the mountains for number three. All three of us held harvest tags.
We stayed the night of the 6th in base camp and headed out in the morning with 7 days supplies.
That far mountain ridge was our objective in order to access the next valley over.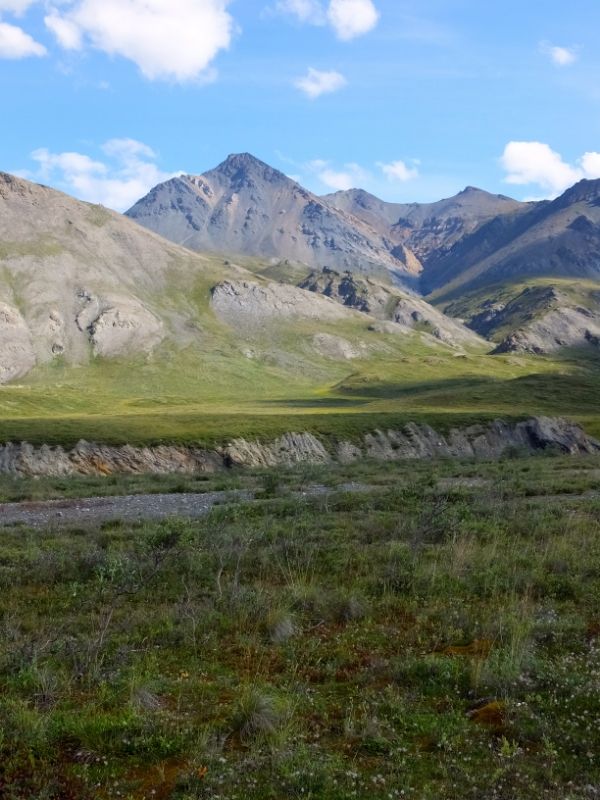 After crossing the knee deep river and after going about one mile the climb began. Brett had hunted the exact same route in 2011 so he knew what was in store.
We made it to the same location as he did in 2011 for our first spike camp, with the plan to continue on to the ridge tops the next day. I managed to get a couple of leg cramps during the night but there was no lasting effect in the morning and thankfully that was the last time I cramped on the trip.
We were already into Ewes and Lambs at that first location. Brett had us take a short hike without packs to look at the route for the next day. The route went across a scree field of shale and at the angle from which we were looking and the lighting it looked like a vertical wall with a 12 inch wide sheep trail across it. I never had a problem with heights as a youth but later in life the fear of falling has occurred to me. I did not want to lock up in the middle of that crossing. I think about that now and laugh.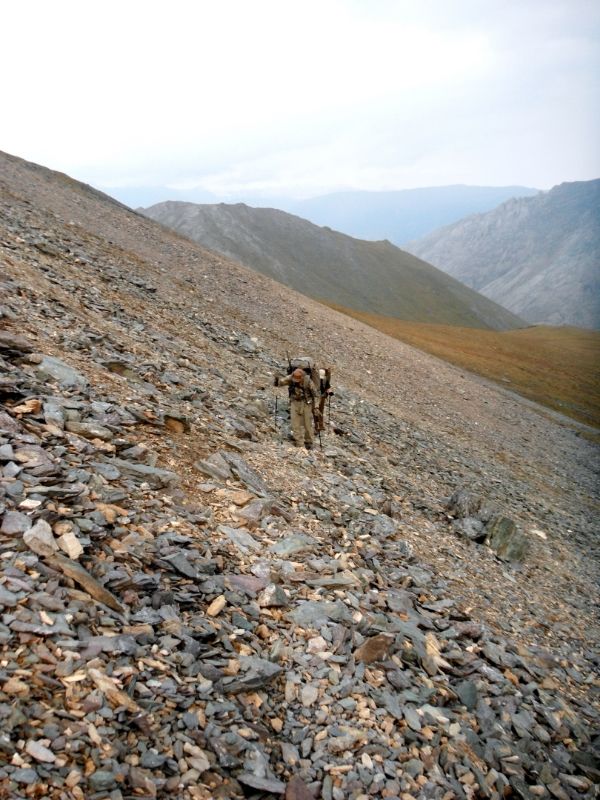 It really was no big deal and I made much more of it in my mind than the challenge was in reality. Many thanks to Brett and Jena for the support and encouragement.
The next day found us at our goal, a 6,400 foot elevation saddle overlooking a prime Sheep valley. This must be what a bird of prey feels like looking down on their food chain.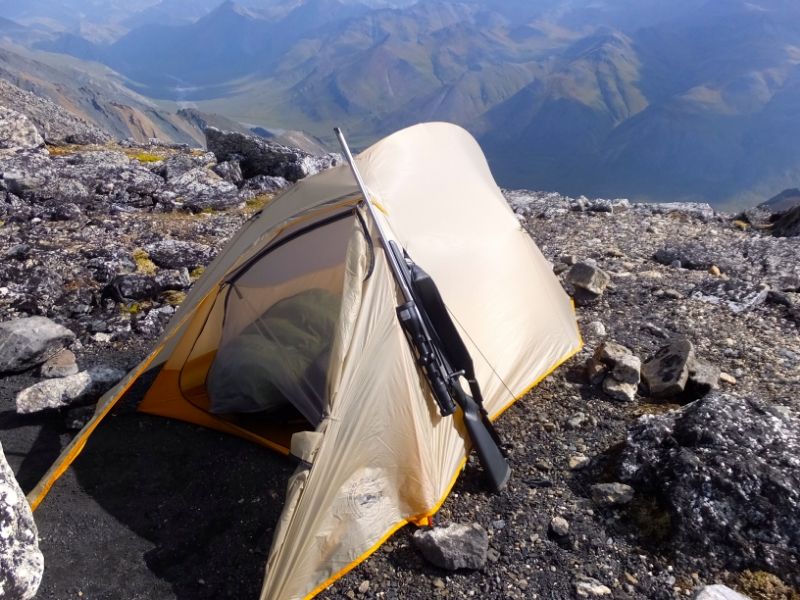 We now had two days to get onto some legal Rams.
There were many Sheep in that valley but only one likely legal full curl. I kept an eye on it while Brett scooted up onto the ridge line and scoped some other adjoining valleys. He did not come up with any legal's. Meanwhile we lost track of the one in our valley when he fed behind a small hill and never reappeared.
One of the pre-hunt "dreams" was for Jena and I to both drop a Ram at 12:01 and 12:03 out of the same group. Nothing wrong with dreaming. 12:01 brought horizontal rain and winds in the 40 MPH range.
Later on the 10th the weather cleared enough to emerge from the tent without worrying about it blowing away and we scanned the valley. No legal Rams were volunteering so we broke camp and preceded up the same ridgeline Brett had scouted, solely because it gave us access to multiple other valleys.
We found a questionably legal Ram across a ridgeline on a rock pinnacle with no stealthy approach possible. We watched him. He eventually left the pinnacle and started feeding in a sparse patch of green. After a time he took to a Sheep trail side hilling his way across some scree in our direction. The spotting scope had him as just sub-legal at maybe 7/8ths curl. Brett and I decided to lay an ambush on his approach and if at close range we could be sure he was over 8 we may consider a shot. The plan was for him to pop up about 200 yards from us as we lay prone and out of sight behind a rock pile. We waited…..
Brett finally slowly stood to get a location and just as suddenly dropped to the ground. At that point a White periscope with horns popped over the edge a short 50 yards away. We froze. The sheep starred at us for a full five minutes. He eventually lost interest and slowly walked up onto the ridge. Unfortunately we could not make him legal as much as we wanted too. He would walk twenty feet stop and stare and then walk again. After he was gone I walked out to the nearest point that he stood to us and Brett ranged me at 19 yards. I now know how bow hunters get these critters.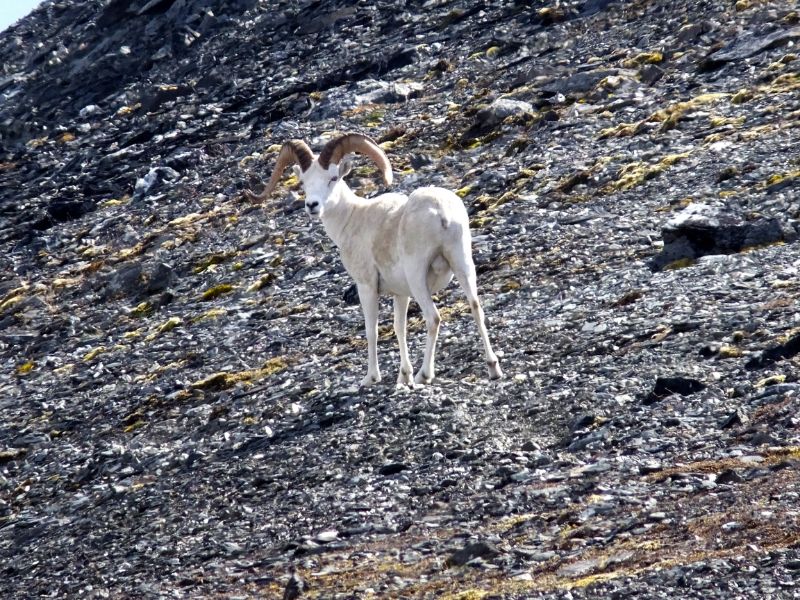 A short time later we glassed a group of seven Rams. Five we very obviously too young, the other two were iffy at best. We had plans to descend into this valley anyway so the route chosen, though not the easiest, did allow us some cover and the chance to get a potentially closer look at the group.
We followed the same sheep path our earlier close visitor used to approach us. This put a large bouldered area between us and the group of seven. After some precarious side hilling on a rock slide we got a view of the group from about 500 yards. Two Rams appeared legal. We dropped back off the side of the ridge and slithered our way slowly in the last known direction of the group. What we didn't realize was the group was feeding towards us.
The hope was to get 200 -300 yards away. As I first peered over the ledge I had crawled up to I realized they were much closer. Brett was already glassing them. I was laying prone with a very sharp down angle. I only had view of two Rams. Brett decided the right one was the legal Ram that was broomed on the right and recommended I shoot. What he didn't realize was that with the down angle the prone position placed a large rock directly in my line of fire. The Sheep was a mere 115 yards away with his head down feeding. I got up on one knee, resting my elbow, and acquired my target. Brett began quietly urging, "Take a better rest, take a rest, take a rest". BANG!!
I've killed many animals that died in their tracks but usually with a bit of nervous system twitching. This was the first time I ever recall actually hitting the "off switch".
The Sheep went from standing with his head down and feeding to instantly falling with his feet under him as if he chose to abruptly lay down. I suppose this one was the epitome of a DRT.
The look on Brett's face was priceless.
The Sheep was hit high just behind the right shoulder with the Accubond going through both lungs and the heart. It did not exit and I found the misshapened bullet just below the skin on the lower left side when caping him.
This picture shows the bad weather in the distance about to overtake us.
The weather then turned for the worst and we had the pleasure of quartering, caping, and packing up the sheep in a driving cold rain.
We almost had the chance of putting Jena on another legal Ram in the group since the others did not flee. Unfortunately that did not work out. I'll let Brett describe those details.
Another Sheep picture...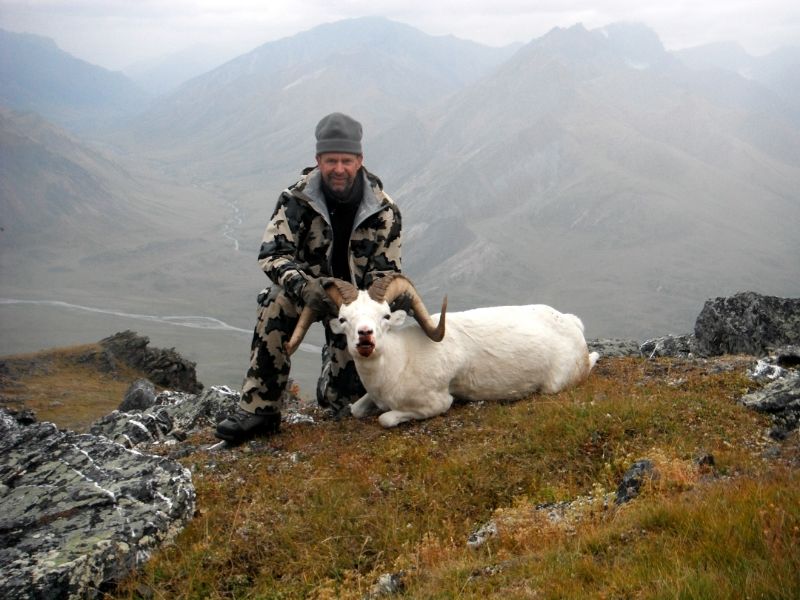 I love this picture taken later on the way back to base camp…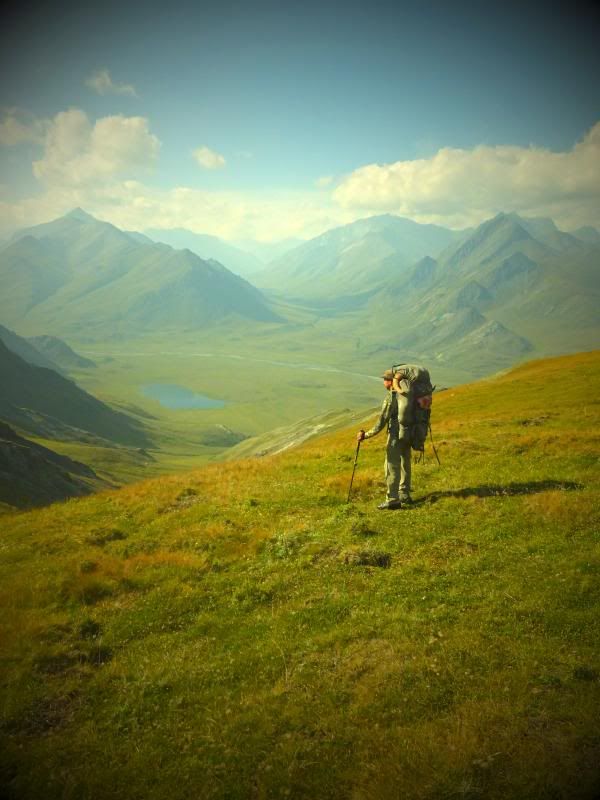 Two days later we were in camp with our gear and meat. The hunt was physically difficult but very doable, especially considering I had two very good friends who selflessly put my needs first. Always great to hunt with good folks!!
Many thanks to Brett & Jena.