Country - Kyrgyzstan
Dates - August 16-28, 2014
Animals hunted - mid Asian ibex (4x4)
Animals seen but not hunted - Marco Polo, wolf (x2)
Area - Naryn river near the China border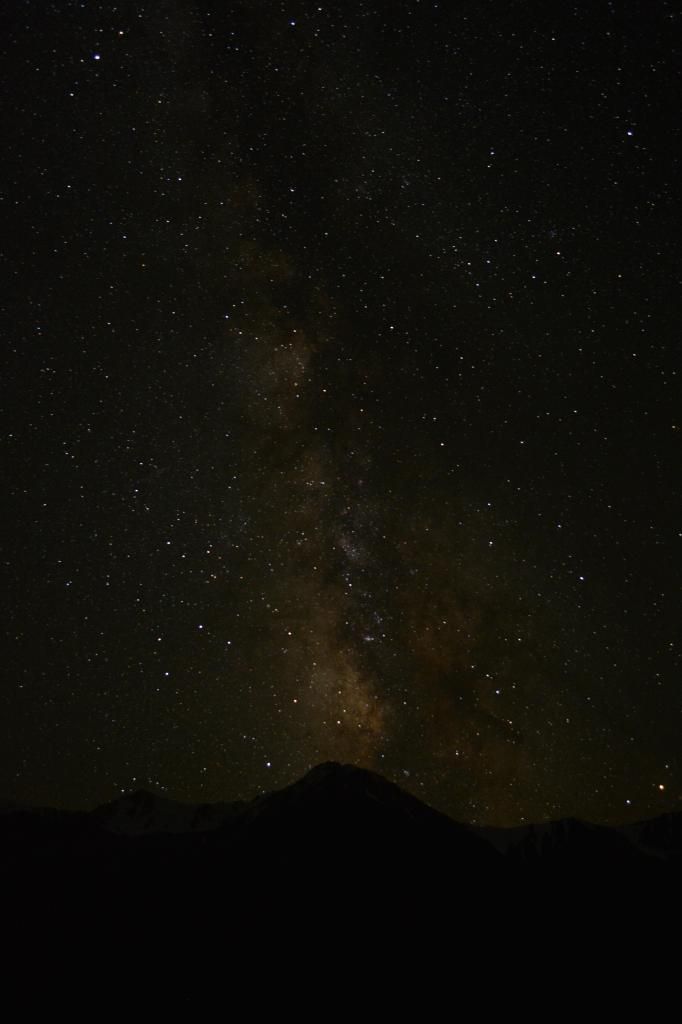 Milky Way over the Tian Shan Mountains
I've finally had time to sit down and get the photos uploaded to photobucket. Hope you enjoy.
We started planning this ibex hunt 18 months ago when I got home from a Tajikistan Marco Polo hunt with a client. I'd chased mid Asian ibex on the day
we had to leave camp in Tajikistan without success (though saw many), so it fueled my desire to go back and get one. When I got home I had 3 friends eager
to book with me, and we all decided Kyrgyzstan was the best option for what was in our price range. We were booked to hunt a special area near the lake, but
after the restructuring of the areas last February it was uncertain if we'd be able to hunt that area. Two weeks before we left we had the permits to hunt the
special area, so all was in order, all we needed was our gun permits to get into Issikul, which has never been an issue. Fast forward to getting off the plane in Bishkek, and the interpreter says the governor of Issykul would not issue gun permits, and that we would be going to Naryn...
Obviously not the way you want to start a hunt, but we were already there and decided to go to Naryn regardless. Anyone who's been there knows Naryn isn't
great for ibex until late October - November when the rut begins. Knowing it would be a challenge to hunt August but that billies would be grouped together,
we thought it was best to split into two groups and hunt 2x2 for our best chance of success. My hunting partner Sean, the same guy from the moose/grizzly report, and I rode 8.5 hours by horse one way while the other two hunters went 2 hours by car then 5 hours by horse the other way.
Some photos of the ride in: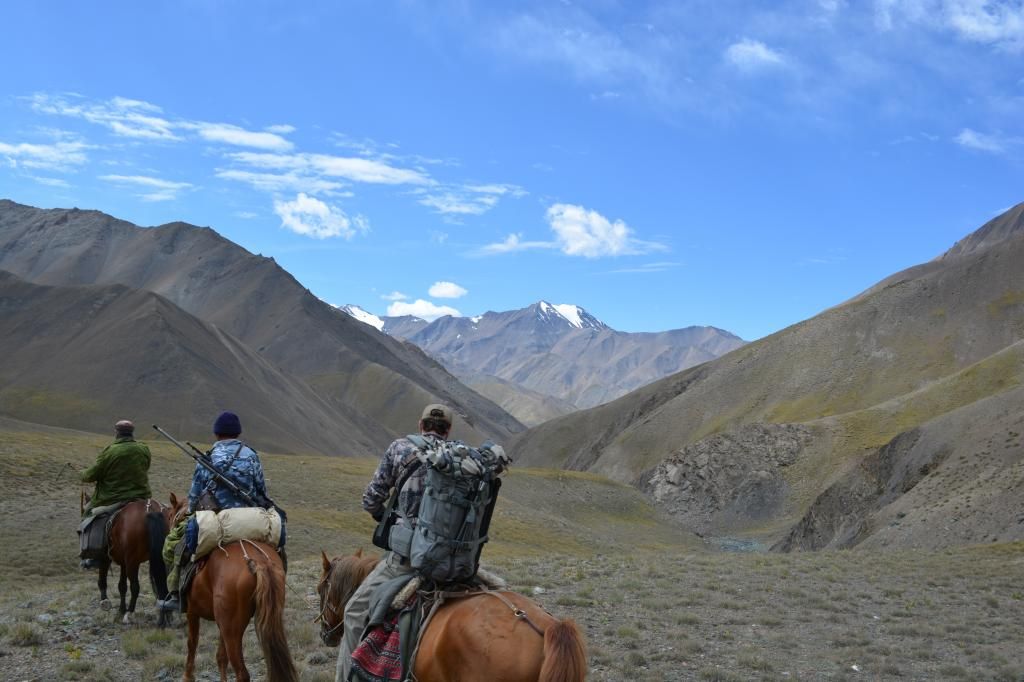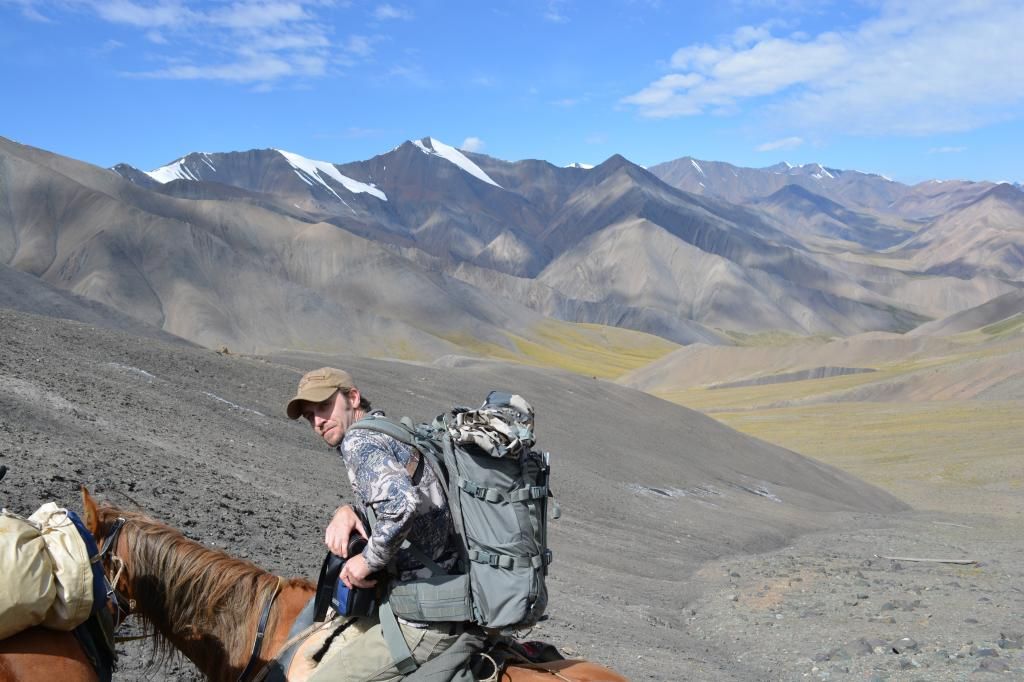 Old home we rode by about 3.5 hours into the ride: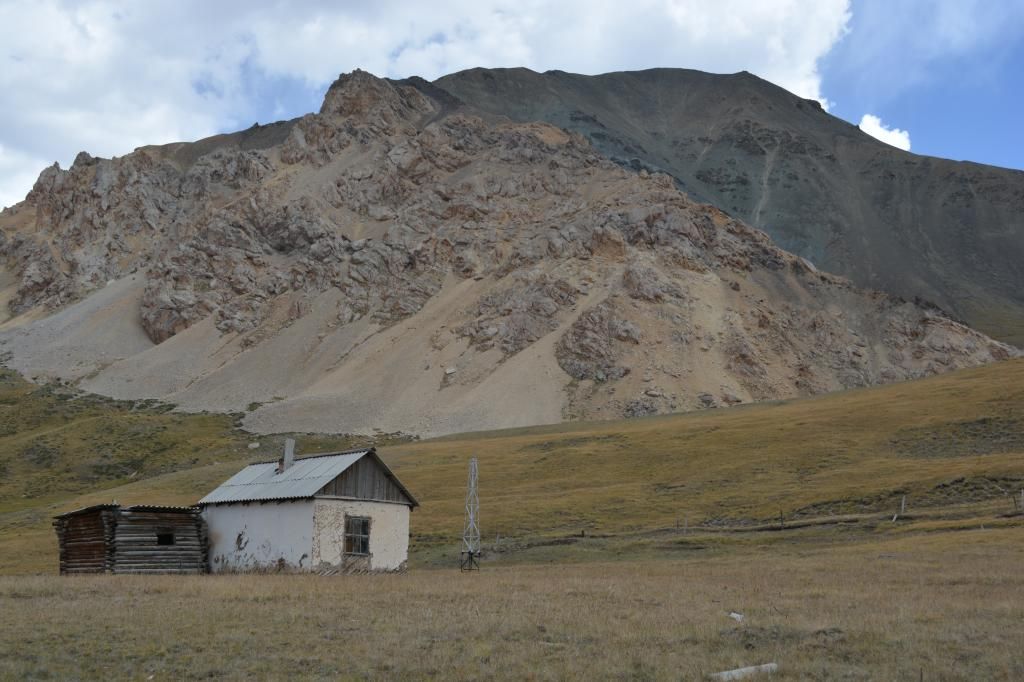 Me trying my best to smile after being on a horse for 6 hours. It's the best I could do.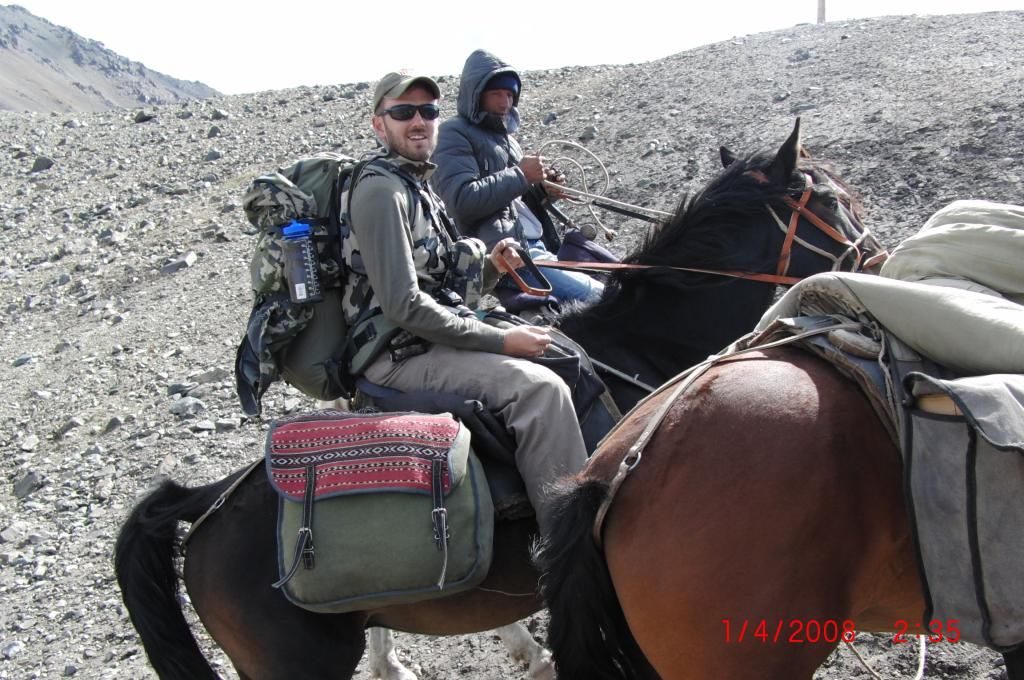 The first two days was spent hiking a lot, maybe 8 hours a day of climbing and glassing. We saw a ton of sheep and small ibex, but no Mature billies. After a couple days in that area, we rode back 5 hours in the direction we'd came from and looked at the other side of the mountains. This area seemed to hold more promise as the ground was a lot more broken up and seemed like it would be easy to get within 400 yards for a shot. We spent the night in a comfortable trailer and woke up early the next morning to ride into the mountains. We took the horses up some incredibly steep terrain and they preformed flawlessly. I know it's been said before, but these horses were honestly the most incredible animals I've ever seen in my life. They really made our lives easy. I will say that I hate horses. I grew up on a ranch where at one time we had 19 horses, so I have been around them my entire life and still cannot stand them. Having said that, I would love to ship a herd of the horses we used in Kyrgyzstan for hunting in the US. They were really, really special animals. Below is a picture of my horse. He was a lazy and slow, the perfect horse for someone who doesn't like horses.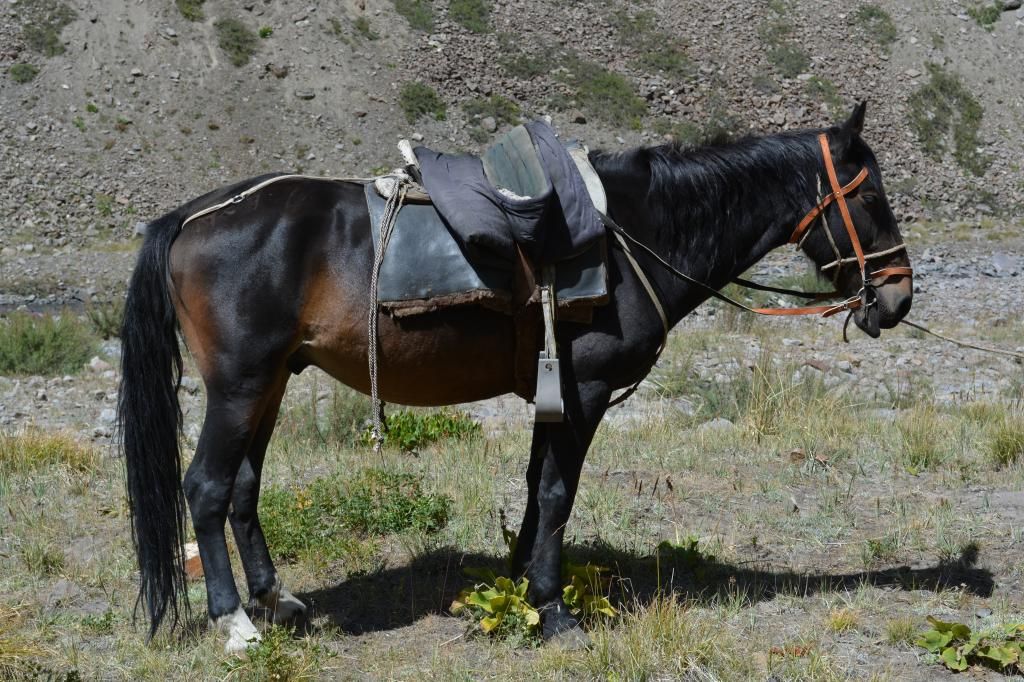 That morning we rode to a large saddle between two mountains where we'd spotted ibex the evening before. After about 3 hours on our horses going over some of the craziest terrain I've ever ridden, we got to the top and immediately spotted ibex. After looking the area over, we found a total of 5 billies, with two of them looking promising. I spent several hours going back and forth on which one I thought was biggest, and decided that if we had a chance to shoot them both I would let my friend shoot the larger of the two and I would take the smaller one with more curl. Can you spot the ibex?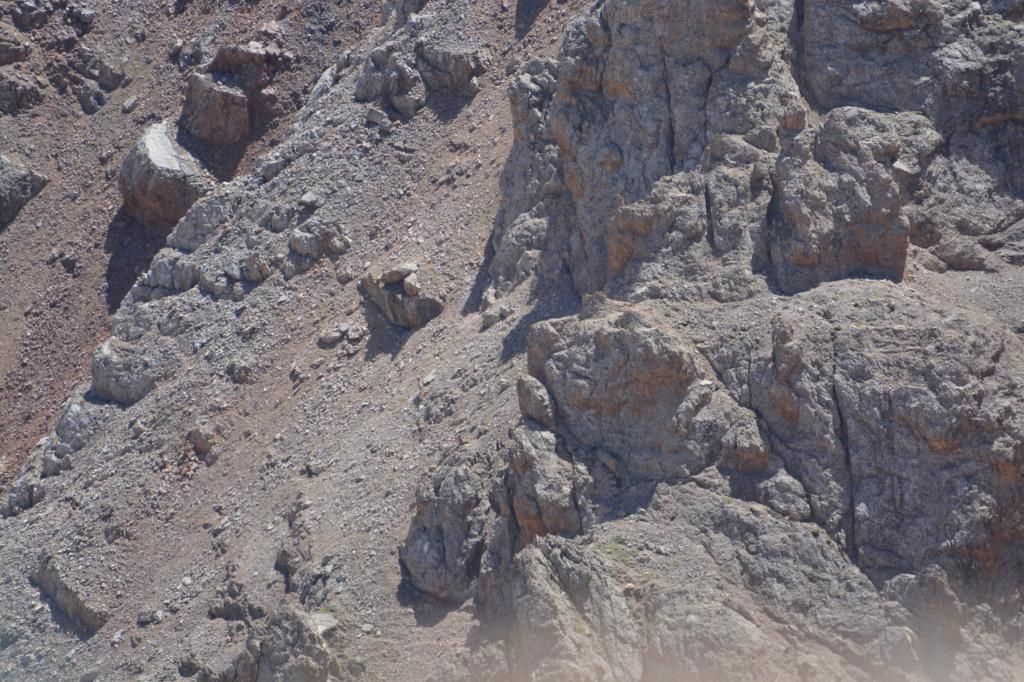 Sitting on top of the mountain for 8 hours in the hot sun can wear on you, and we began to get a little restless when the ibex finally stood up at 6pm and began to feed over the nearest ridge. As soon as they crested the ridge we made a move, hiking about a mile and a half to get to that point in under 30 minutes (hoofing it in the mountains!). Once we got to the crest of the ridge, there was a little confusion as to where the ibex were because there were 40-50 different ibex feeding now that we hadn't seen from our all day vantage point. I spotted the group of 5 billies at the bottom of the ravine at 415 yards, with the two biggest billies being the lowest in the group. With both billies rubbing their horns on cactus and standing still, we decided to try to shoot them both at the same time. We've done a lot of cull hunting for deer together, but never shot at 400+ yards at the same time. Nevertheless, we were comfortable and had a good rest, so on his count we both shot and dropped both billies in their tracks! Being at a nearly 30 degree angle, we had to compensate by shooting them for about 365 yards in order to keep from shooting over their back. I hit mine about 4" higher than I would have liked, but got the lungs and he was dead at the bottom of the hill before we got to him. Sean shot his perfectly through the shoulder and got heart and lungs and his didn't move once he settled in at the bottom of the ravine. We made our way down to them and found them laying about 5 yards apart, which was a cool feeling to get two at the same time and have them both land that close together. My ibex was 41.5" on both horns (one horn chipped on his fall), which I was happy with given the difficulty of finding a big billy in Naryn this time of year. Sean didn't measure his ibex, but it was probably 2" larger than mine.
My Billy: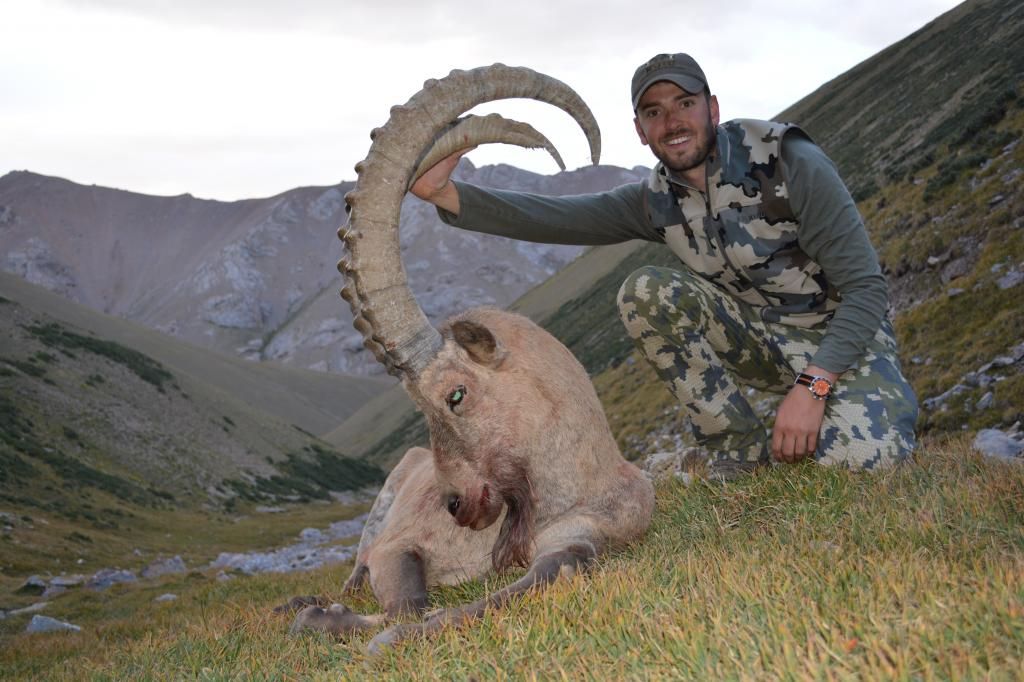 Sean's Billy: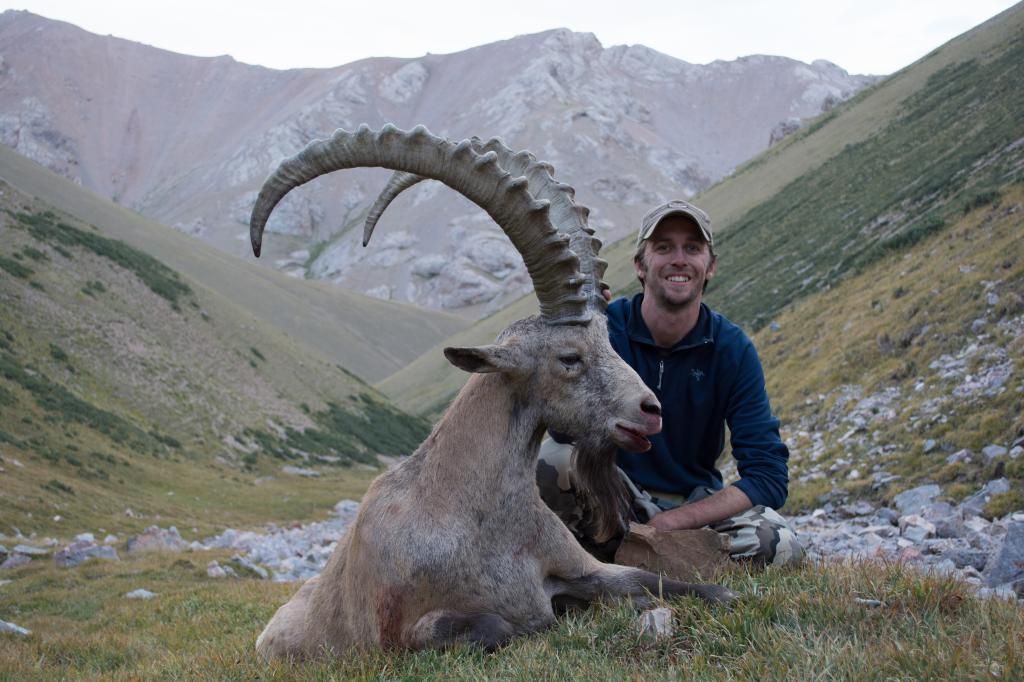 After getting the ibex caped and quartered, we rode back to camp and found that one of the other hunters, BJ, had taken his ibex on the 2nd hunting day and was in camp enjoying the local culture. We were invited to a local Yurt the next morning, and though Sean was feeling ill BJ and I went for a feast. We had some fry bread that was delicious, watermelon and 4 bottles of vodka before the main course, so I wasn't exactly in the mood to eat. The main course was boiled goat, which if you've never tried it, DON'T! I ate it to be polite, but wow... It smelled and tasted like a, well, boiled goat. Fantastic cultural experience while waiting on our 4th hunter to tag out.
Photos from that day:
Traditional Yurt: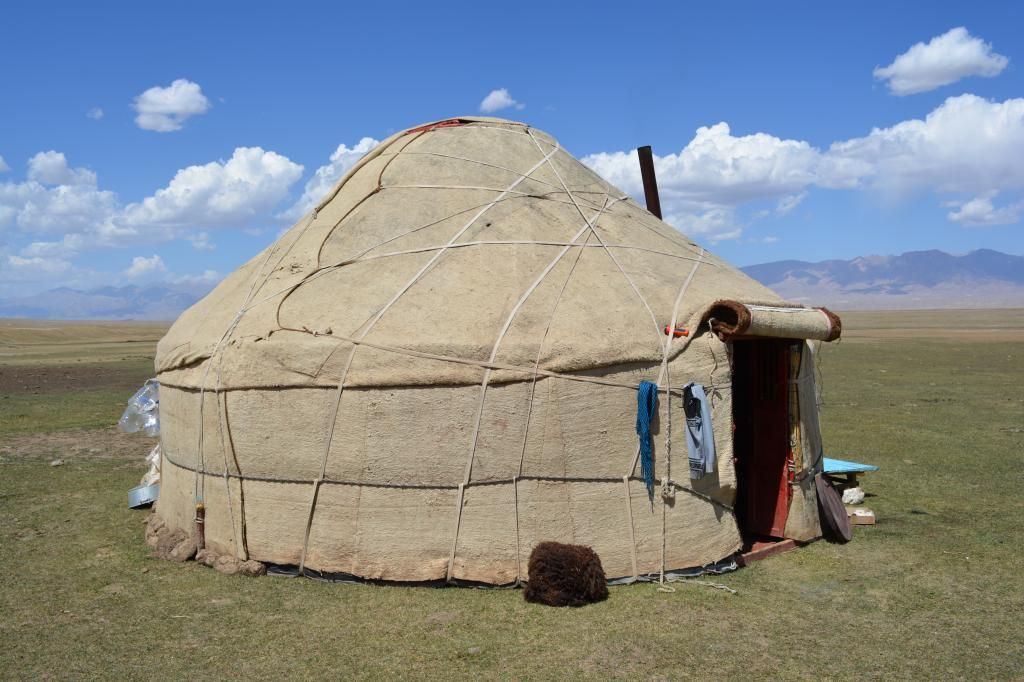 The daughter of our hosts. Possibly the cutest little girl on earth:
Me, BJ and some of the locals. The guy to my right, Bill, was one of my guides. He was incredible in the mountains.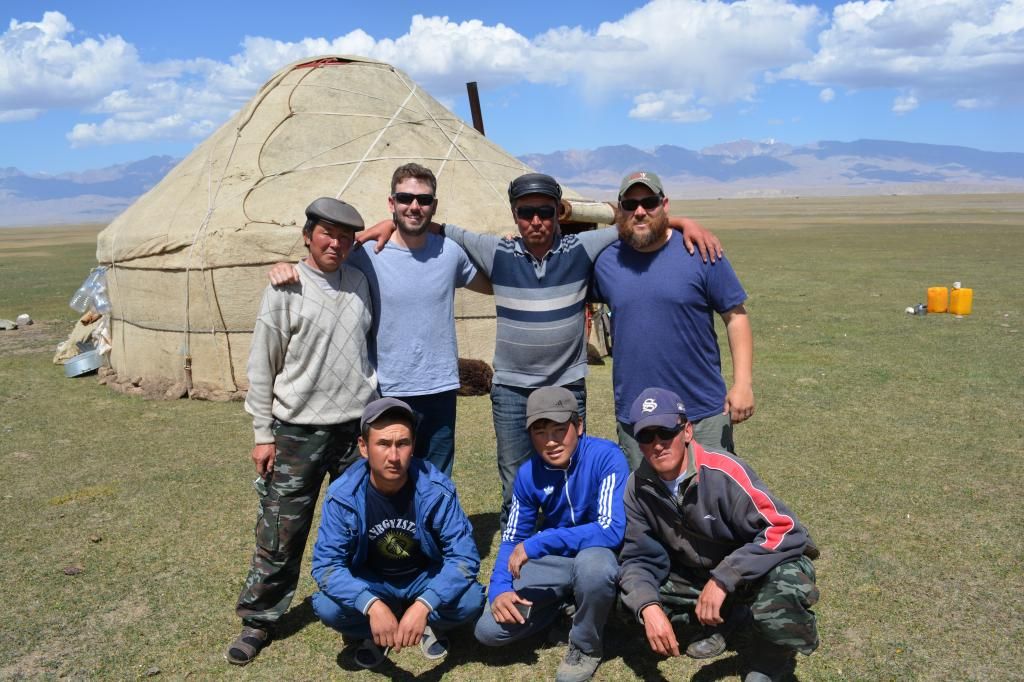 Me with the host and his daughter.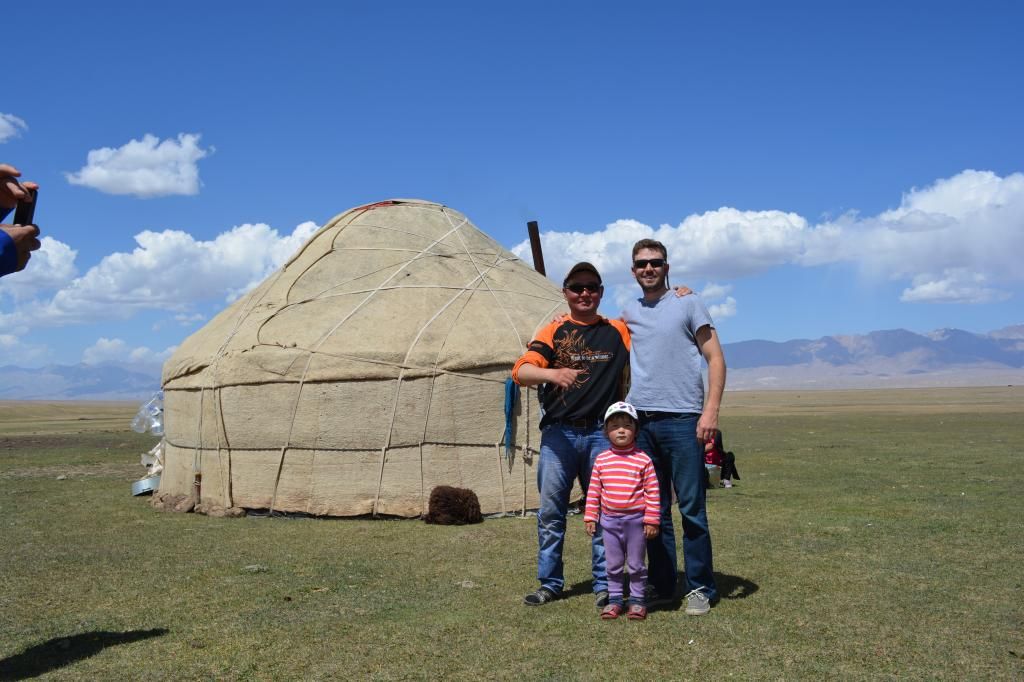 We got back to camp, played soccer with some local kids and had dinner that evening. Late that night we got word that our other hunter had missed an ibex at 300 yards and wanted to quit on his hunt. This was a surprise to us because he was the one who was looking forward to this hunt the most, so something didn't seem right. He got back to camp that night at 11:30 pm and came into my room to tell me the story. As is common on these hunts, the language barrier got to him. He didn't want to quit, the guide said "hunt over" and he assumed it was a statement rather than a question so he just said "Okay..". Being that tomorrow would be the final full day of hunting, I went to the head guide and arranged for him to send some guys out the following morning to look for ibex, explaining that he would literally shoot any billy they found. This was his first international hunt and likely his last for a long time, so he couldn't stand the thought of going home empty handed. The guides came back late the following morning saying they'd found some small billies just about 2 hours ride from base camp, so we made a plan and he set off after them hoping to connect on his final day.
5 hours later they came back with his billy, and though it wasn't big he was probably the happiest hunter out of the whole group! We celebrated that evening, then made the long drive back to Bishkek the following day for a farewell dinner and some touring around before flying home.
All in all I'd give this hunt a 7 out of 10. Not hunting the area we were originally booked kind of put a damper on things, but putting it in perspective we went 4 for 4 on ibex in an area that typically isn't good until later in the year when the big billies move in from China with the rut. They pulled a rabbit out of a hat to get us into another area, having only 2 days to get ready for us after we weren't issued gun permits for Issykul. I'd go back to this area in a heartbeat, just wouldn't go in August!
Below are some other photos taken on the hunt:
Me on the ascent up the mountain our first hunting day: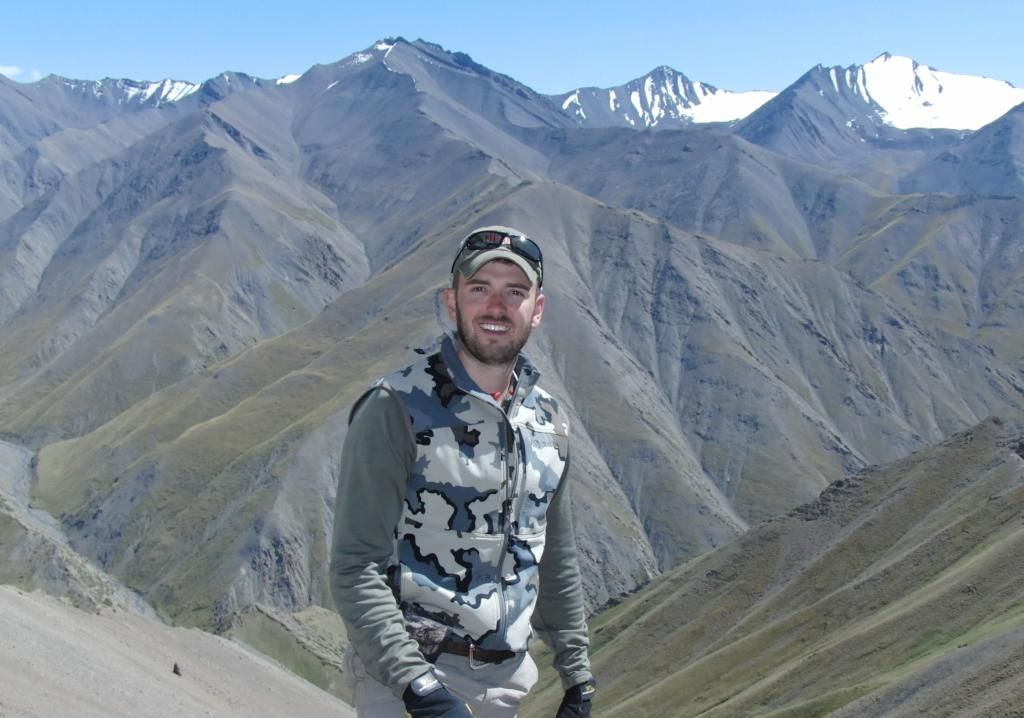 Sean glassing for ibex (his camera had a time stamp unfortunately, which was wrong as well):
The reason why these guys are so good on horses is they start young. Here's a 4 year old on a miniature donkey. He rode it all day!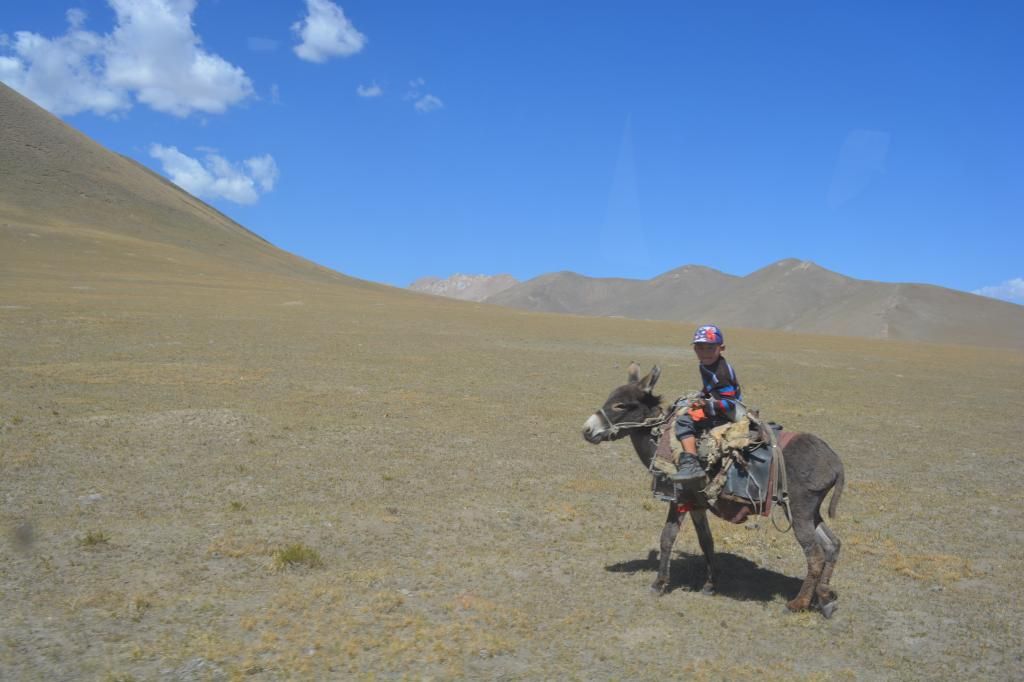 Me glassing our group of billies before they got up.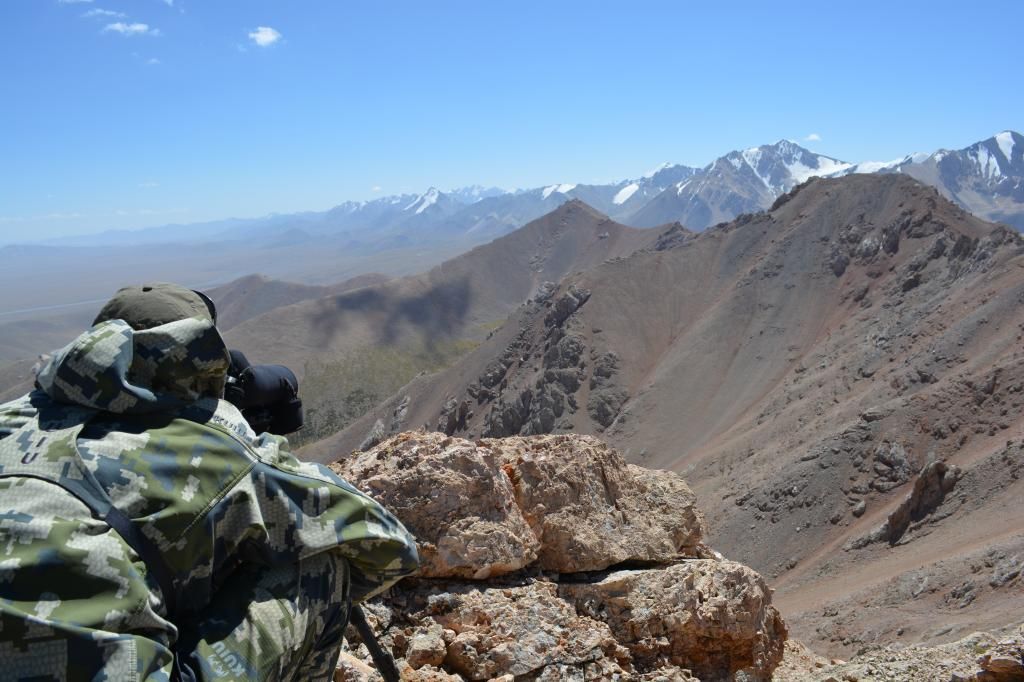 Some of the rougher terrain I've ever hunted in: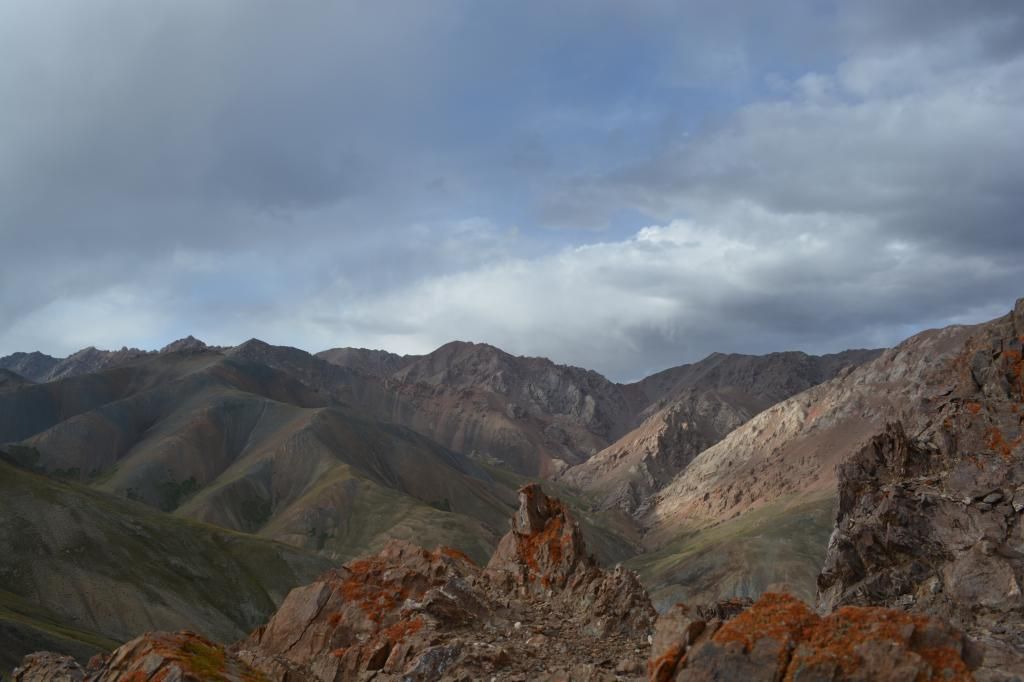 Base camp in Naryn - comfortable and clean.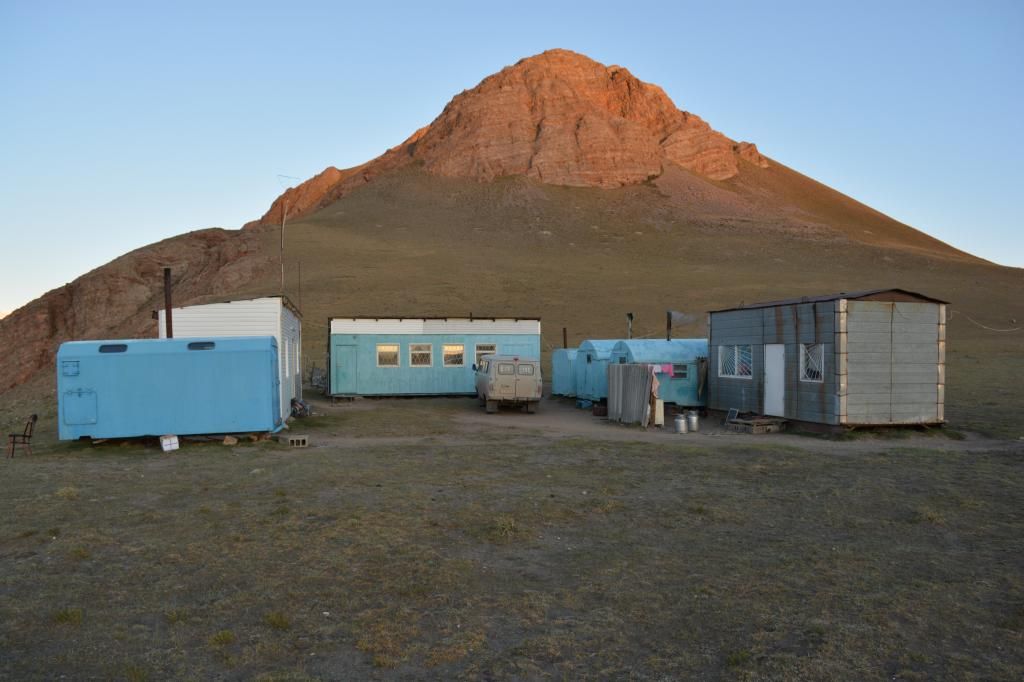 This little girl loved us. She used me as a protector and would antagonize BJ, after which would hide behind me. She didn't get the concept that he outweighs me by 50 lbs, but it was a fun time anyway.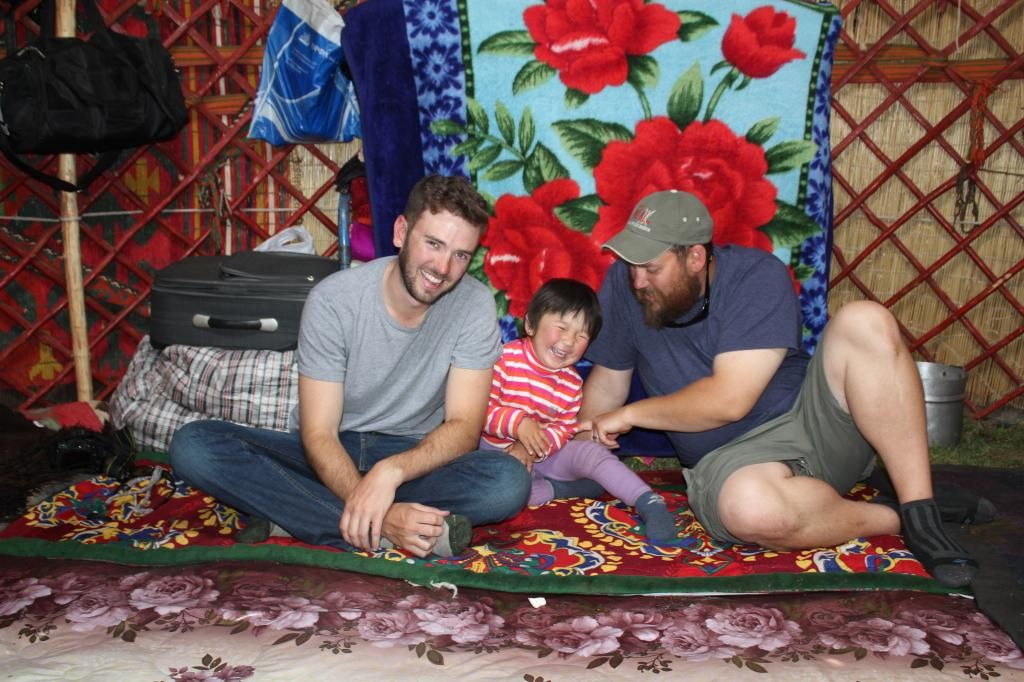 I hope you enjoyed it!
Greg