PART 2 - DAY'S 3-5 (MARCH 19-21)
Day 3
started even earlier than the day before with us being up at 4:45 and having breakfast at 5:15. Towards the end of day two it became apparent that the snow was rapidly thawing out and getting very, very soft after about 11:00 am, so we wanted to get to the top of the mountains as early as possible in an attempt to avoid falling thigh deep in the snow with every climbing step. We left the village house before 6:00 and drove a 10 miles or so down the road to the next town. Parking at the edge of town, we had a plan to walk the 4 miles to the top of the mountain, glassing the entire trip up as we walked. About halfway up the climb, the game scout spotted some Ibex high up on the mountain heading for the top to lay in the sun for the day. Upon closer inspection, we found there to be 2 good billy's in the group - One we thought would be around 45/46" and one that looked a touch bigger, maybe 48/49". This really got my blood pumping, and I was ready to go, but the position they were in was impossible to approach because the entire herd of approximately 60 animals could see our entire approach. We elected to move on up the mountain looking for anything bigger and let these settle in for the day, and decided if we didn't find a better animal that we'd come back down around 2:00 pm and start glassing this group again. We climbed higher, and low and behold, this is all we saw...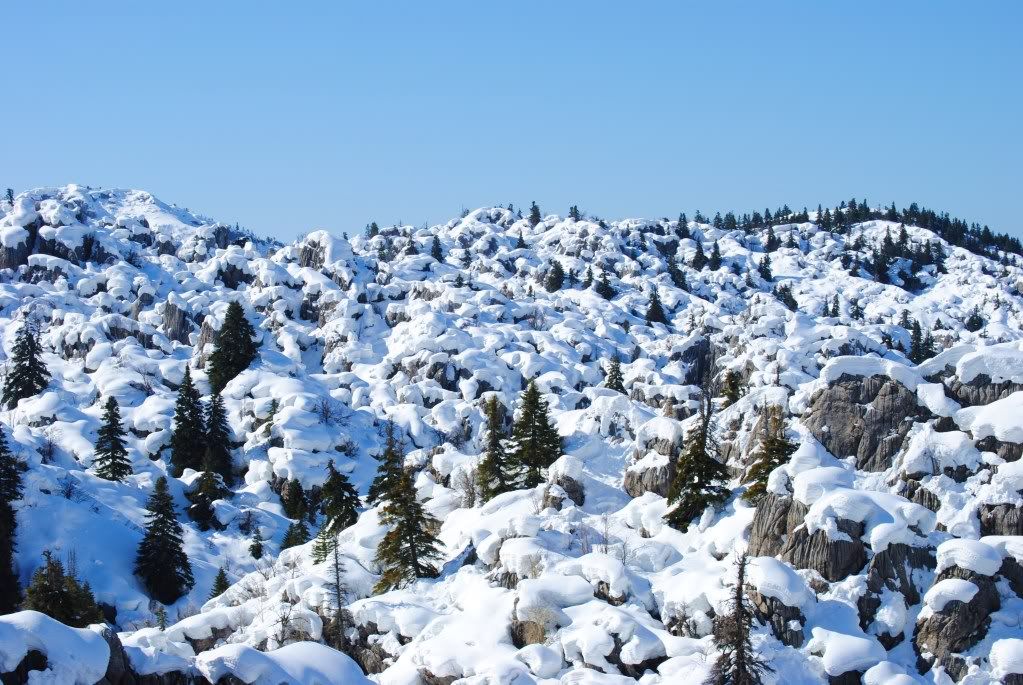 We did see this little fox hunting critters of some sort, but no male Ibex higher in the mountains: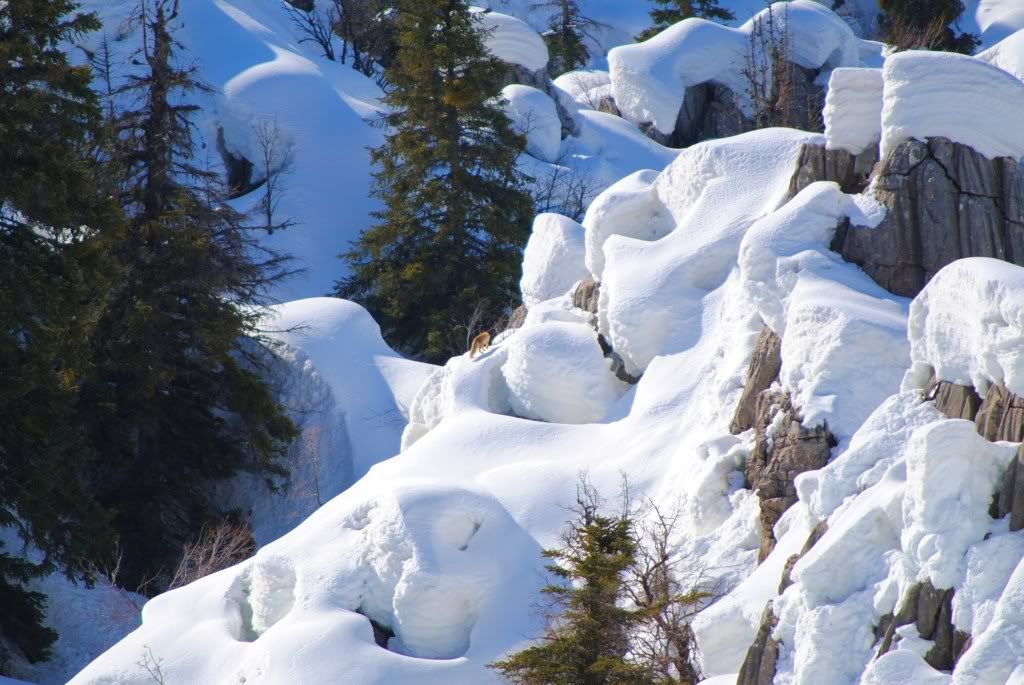 We got to the top of the mountains and made a fire under the trees (to make our tea...). All of us who had binoculars or a spotting scope tore that mountainside apart and only came up with a hand full of female Ibex and one wild boar. Alper explained to me that this area was generally loaded with Ibex and you could sit here all day and watch different groups, but the snow had pushed them out. We decided to make a plan for the Ibex we'd seen earlier in the day, and slowly started the descent back down the mountain towards that group. By this time it was after noon, and with every step our legs were sinking deeper and deeper in the snow. We were a little worried about making our way up the snow covered mountainside because we knew the caves would be impossible to see and the soft snow gave us a pretty good likelihood of falling through if we stepped on one. We got down to the point where we thought we could make the approach and started straight up the mountain towards the group. The snow was now soft enough for us to sink to our waist with each step, and Alper even fell through and caught himself in one of the caves (shallow one thank goodness). At about 450 yards from the summit we were at the end of the line where we could successfully sneak in without being seen, so we decided to set up there and hope they moved down the rocks to spend the night. At first all we could see were the females and younger males, but, having seen this group earlier in the day we knew it was the same group of animals that held the two bigger males. I settled in behind my pack with my rifle rested solidly on it and started ranging different areas where the ibex were laying. 376 would be my closest shot and 453 was the longest, which is right at the edge of my comfortable range even with the rifle I was shooting. As the sun sank lower, more and more Ibex started showing up and moving down onto the rocks, just as the guide said they would. At around 4:30 we spotted a group of Billy's coming down the mountain from right to left, with the young males in the front followed by larger and larger Ibex. Within 30 minutes over 20 billy's had passed through a snow trail that was 427 yards, and with the snow deep enough to slow them down I would have plenty of time for a shot. Still, neither of the two bigger males had made an appearance and I was beginning to think they had gone down the other side of the mountain. At 5:00 "Olzon" spotted the smaller of the two largest males coming down the mountain. He looked VERY nice to me, with wide horns that curled sharply, giving them the appearance of being larger than they were. I knew it wasn't the bigger male, but I was tempted for sure! He stood in my shooting lane for 5 minutes broadside, alone with no possibility for shooting the wrong animal, but I passed just knowing that the larger Billy would be right on his heels. After he moved across the snow bank and up on the rocks, some smaller males and a few females showed but not the larger male. Perplexed, we all sat there until it was almost too dark to climb down the mountain but the big male never showed. We had to move down to a safer spot to walk out, so we left the area and the ibex alone. I was a little disappointed, but again, I was living one of my dreams so was smiling the entire way back to the truck (which was about 2.5 miles in thigh deep snow). We didn't get back to the truck until 4 hours later, and were all completely exhausted. A good day of hunting in the mountains, but I think the guides were getting a little discouraged.
Some photos of the largest Ibex we saw that day and some of his younger brothers (the snow bank to the right of the rocks is where he stood for 5 minutes. He was still only about 440 yards when he was on these rocks):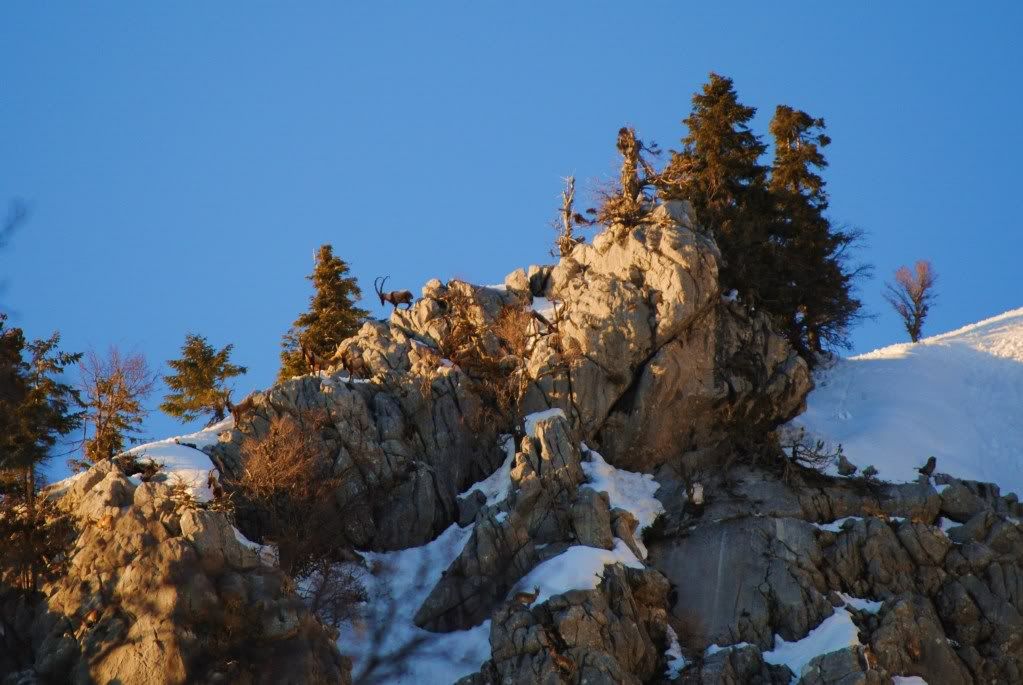 Day 4
we woke up at 5:00 am and discovered that cloud cover in the night had kept temperatures above freezing the entire night. This would make the area we hunted the day before nearly impossible to get to due to the soft snow, so we elected to go to the area where we passed the big Ibex on day 2 to look for another billy the packer, Durmus, had seen the week before while scouting. He said it was a 10+ year old ibex and larger than the one we'd passed on day 2, so I was game. We climbed up to the top of one of the lower peaks that had very little snow on it and started glassing the valley below us. We spotted a group of 6 billy's down lower so climbed down to them and set up. Alper and Olzon sent Durmus across the valley to a higher peak on the other side to see what was there and to call us and let us know. Two hours later Durmus called and told them that he could see all 6 billy's and that one of them looked like the one we'd passed on day 2, but still not the bigger one he'd seen days before. He did say that there was a 7th billy down below them, but he could only see his horn tips and didn't know how big he was. We decided to stay and wait for them to stand just in case the one behind them was Mr. Big. At about 3:00 Durmus called and said they were all standing up, and we looked and could see them coming behind the trees. I got ready and settled in on my pack, watching each billy come through my scope at 250 yards. One by one they came through, with the last one being the one we'd seen on day 2 (tempted yet again..), but none were shooters. They urged me to consider shooting the same ibex from day 2, but me being me, I decided to hold out. We still had a full day of hunting plus the rest of this day and I wanted to hold out as long as possible. This ibex, according to them, was 8.5-9.5 years old and would be a monster in years to come, so I told them I didn't want him.
Plus, I was having too damn much fun! Alper asked me if I had a fever because they were starting to think I was crazy...
We backed off of that spot and moved to a different vantage point to look at different areas of this valley. The entire valley was probably 5,000-6,000 acres and very broken ground, so it would be impossible to see every ibex in the area from one vantage point. Durmus met us on the side of the mountain and we moved lower in the valley to look up, hoping that we were missing some ibex that were on the opposite sides of the hill. The glassing didn't turn up anything special, until right at dark Olzon spotted... Guess who? 3/4 of a mile up the valley lay the Ibex we were in the area for. He had a distinct color of coat that Durmus had explained before and looked to be alone. Problem was, daylight was fading fast. An argument between the guys as to whether we could get there or not ensued, and even with me saying I was game they elected to wait until the next morning to try and find him. I was a little disappointed, but, having a firm belief in the saying
"Don't guide the guide"
, I listened to what they had to say. He was bedded for the night on the rocks and would probably be in that spot or very close to it the following morning, so the plan was to get there bright and early the following day. Down to the wire, but not nervous at all.
Day 5
had us up early and at the hunting area just at sunrise. We quickly got all of our gear on and started the brief, 30 minute walk to the spot where we were to start glassing for these Ibex. We got to the spot as a group, and with the snow frozen and crunchy again we were making a hell of a lot of noise. I was concerned, but seemed to be the only one concerned so I just kept on trying to be as quite as I could and hoping they were doing the same. When we arrived at this spot we immediately spotted the Ibex from the night before, standing near where he was laying. He was moving, so we only caught a brief glimpse of him but were able to discern that this was indeed the ibex I was going to take. We moved up the mountain a few hundred yards trying to close the distance and get a better angle on the area at the same time, peaking over the rocks every 50 yards or so to try and spot the ibex. Getting in position, we could see that there were two smaller males coming down the mountain to bed on the rocks for the day, and could see the horns of a couple other ibex coming as well.
I laid on my pack again and put a shell in the chamber, watching over the top of my rifle with the binoculars and waiting for the bigger male to appear. As is generally the case with wild animals, the big male was last in line and much slower and more cautious than the other animals when he was working down the mountain. I could see him coming and he was on the same path that the other Ibex were on, so I ranged the group I could see. 303 yards, perfect. I got behind my gun and looked through the scope, watching the trail and waiting for the bigger male to come into view. As I was sitting behind my gun, I started hearing some noise to my 10 o'clock, maybe 50 yards away. It sounded like a wild boar moving through the snow until I heard a voice... This was the ONLY point of this trip that I was frustrated. The game scout, Vedot, had sneaked up the hill a little more to see if he could see the bigger Ibex. When he saw the ibex, he decided to try and get our attention by throwing snow balls our way. When that didn't work, he came crashing down the mountain and "whispering" (basically yelling in a raspy voice) to tell us he could see the ibex that I was already well aware of and in position to shoot. The ibex all heard this commotion, and add in the "whispering", all took off for higher ground. I never had a chance at this ibex, but had every single one walk down the trail my scope was pointed at and could see his horns coming. I was going to get an opportunity no doubt, the rest would have been up to my shooting ability.
This really, really pissed me off and they knew it. I know it's important to keep a game scout on your good side for obvious reasons, but this incident was way over the top. For the previous 4 days he was wearing on my by not being quiet, not hiding behind the rocks and had scared a couple of Ibex on other occasions. He was constantly teasing Durmus (who had a stammer in his speech), and would cause a confrontation with him half a dozen times per day. I'd had it, so while they were all arguing over who's fault it was I, not so politely told everyone to "Shut the f**k up". I told the interpreter to tell them they were all making way too much noise and needed to be quieter. Alper relayed a much politer version of what I actually told him to say, and I suggested that from now on, instead of 6 of us walking together, we walk in groups of no more than 3. 3 people make noise on crunchy snow, there's no way around it. 6 people was starting to sound like a freight train coming through the brush and was really hindering the hunt. I could tell by the way they were looking at me that they didn't really agree, but they listened to what I had to say and 3 would stay behind a couple hundred yards until we told them to move up. It worked much better this way, and everyone was much quieter.
Basically knowing this area wasn't going to produce the Ibex we wanted because we scared that group bad enough to defect from Turkey and head across the Atlantic to somewhere in the Appalachia's, we decided to go check out another mountain where we'd seen a large group of Ibex. I decided I'd look for anything that was mature and 45" or better at this point because it was the last day, and we'd seen one that fit the bill in that group a few days earlier. Upon reaching this area, we looked over literally hundreds of Ibex and finally spotted our billy about half a mile up the mountain bedded on the side of a vertical cliff. A plan was made to climb around the opposite side of the mountain and come from above in order to keep from being seen or smelled by the giant group of ibex. We ate a quick lunch then started up the mountain at a reasonable pace. Alper, the interpreter, decided that this area was a little too rough for him to climb and that he would stay behind and watch with the spotting scope. I agreed and told him I'd have the guide call him if I had any questions, because from here on in I'd be the only one who was understanding what I was saying. The "trail" we took up the mountain was incredibly steep, with most areas requiring each of us to "climb" with our hands instead of walking. Not 90 degrees steep, but not far from it. After about 2 hours of solid climbing we (Olzon, my buddy the game scout and myself) had made it to the top, with Durmus about half way down because we told him to start when we got half way up. We were moving across the top of the mountain, which had tons of snow on it still but was thawing quickly in the 60 degree heat (each day was warmer than the last on this trip, spring was almost beginning). At the very top I had another little scare when both Olzon and myself fell through the snow simultaneously and could not feel earth underneath our boots, only air. The game scout pulled us both out with help of a long stick and was back on my good side...
When we got into position, we could see ibex literally everywhere, and some where already moving our way along the side of the cliffs below us. Our billy was about 400 yards out but still bedded and facing us, so all we could do is watch. Olzon got a good look at him through the spotting scope and when Durmus arrived they both concluded that he was between 115-120 cm on the longer horn and at least 10 years old. Now the waiting game. While watching the ibex for the better part of 3 hours, we noticed some of the females on the far side of the mountain looking over the hill as if something was coming. It was about 5:00 and our boy was still bedded, so I was worried we would run out of light before this whole thing worked in our favor. Durmus spotted something coming up the mountains, and sure enough 3 wolves came around on the opposite side of the hill, hunting the same animals we were and probably much more effectively. The females all started scattering, with most of them coming along the side of the mountains to the safety of the cliffs directly below us. The group of billy's our ibex was in quickly stood up and started working along the same trail at a fairly quick pace, but the congestion of over 150 ibex was keeping them from running and making it very confusing to discern which male was which. It was clear that I wasn't going to be able to shoot the ibex from my bag like I planned because where he was headed was literally directly below me. I started to lean out on the rock with my gun and realized it was way to steep to hold on, so I asked Durmush to hold my feet while I shot. He smiled and grabbed my right boot and Olzon's left as we leaned out over the ledge to try for a shot.
Now, if you've never had someone (whom you don't know and don't speak the same language) hold your feet and dangle you over a rock ledge one hundered and fifty feet above a certain, painful rocky death, I'll go on the record and say it's probably not for everyone! Let's just say uncomfortable doesn't even begin to describe how I felt. By this time most of the Ibex had come directly below us and we were looking at about 40-50 billy's in a big wad on the cliffs. I was confused which one was our male because we were now looking at the tops of their backs, so all it was difficult for me (and Olzon) to tell which male it was. Olzon finally spotted our billy, which was the last one in the group and pointed to him. Not wanting to make the mistake and shoot the wrong one, I asked him a minimum of 5 times which one it was, getting the same answer each time. They were all about to head around a tree growing out of the side of the cliffs and about 200 yards below us, so just as he started to round the tree I put my crosshairs where I thought it would exit the opposite shoulder and squeezed the trigger. At the shot he immediately disappeared over the side of the mountain and out of view, with only a fist size spot of blood on the snow trail below where he had once stood. There were Ibex running everywhere, so I wasn't sure if he was one of them, but I assumed he wasn't. We waited about 5 minutes, grabbed all of our gear and started climbing down the mountain. Again, it was strait down for about 150 feet then a slight slope to where they were, so we had to go around the cliff to get to where he was standing. About 20 minutes later we made it to where he had been standing and could see him laying 75-100 yards down the mountain where he'd fallen after the shot. It was so steep between where he'd been shot and where he landed that the snow couldn't stick, so I was worried he'd be busted up pretty bad but amazingly when we reached him he was in good condition.
My shot entered where you see he's been shot in the photos below, and exited between his front legs and, again entered through his right front right leg and nearly ripping it off upon exiting (probably had a lot to do with him falling down the mountain as well). He was a 10.5 year old billy and measured 118x115, so roughly 45x46". For a 10.5 year old billy his horns weren't incredibly long, but he was in good shape and a well earned billy. Most importantly, he was MY Bezoar Ibex, and I couldn't have been happier. I had my Bezoar Ibex after an amazing hunt, and marked another animal off of my top 5!
Great trip, great culture and memories that will last a life time! A hunt I would recommend to anyone!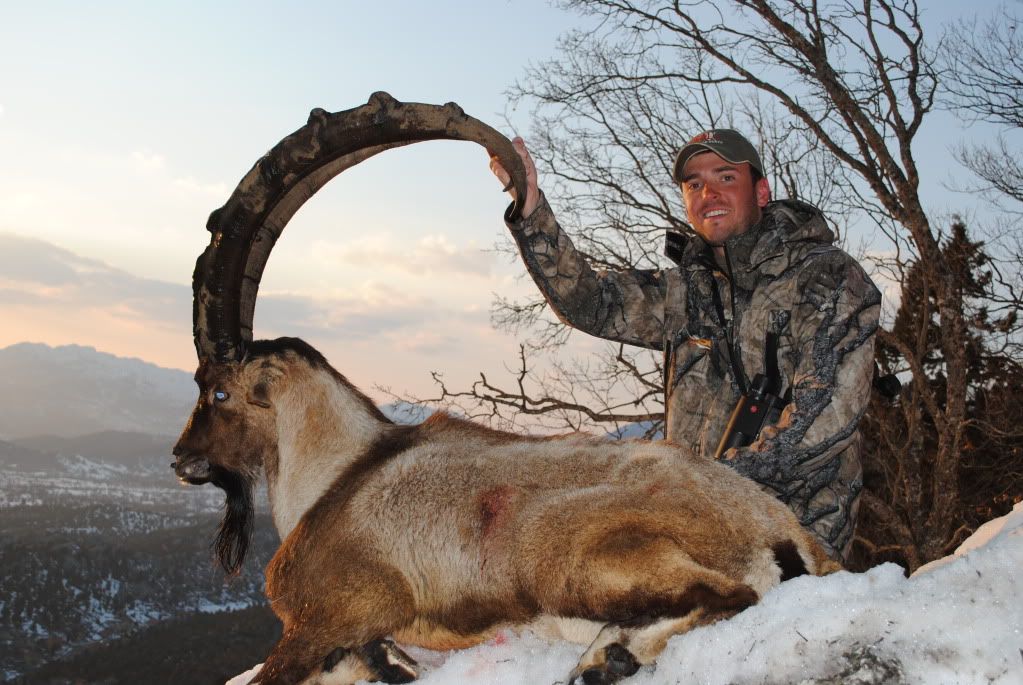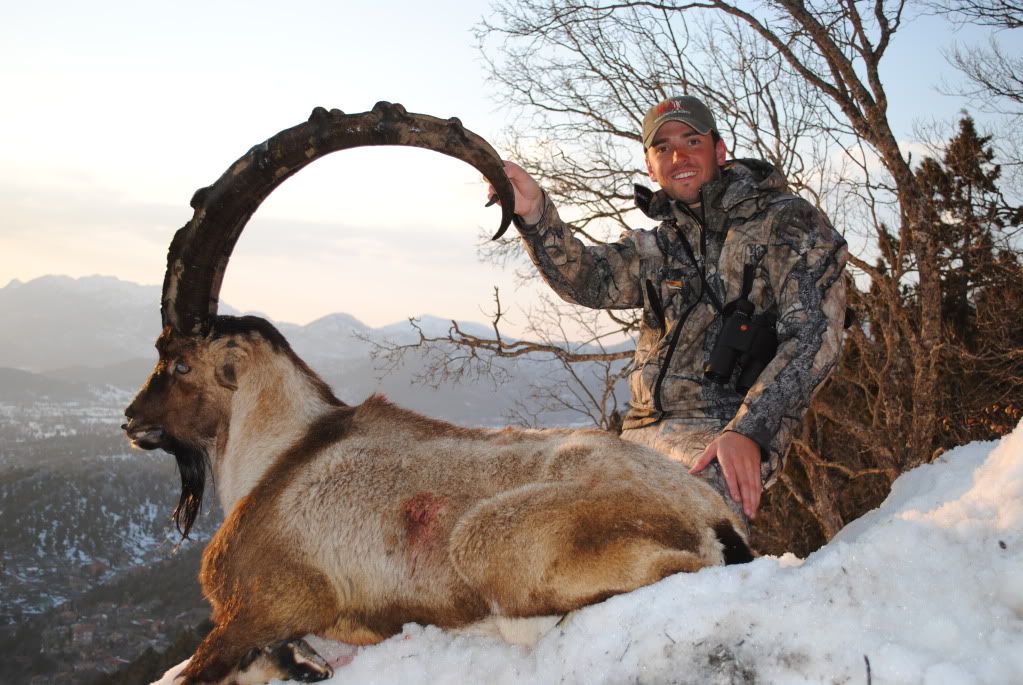 One with the rifle that I STOLE (not literally) in a silent auction at SCI this year: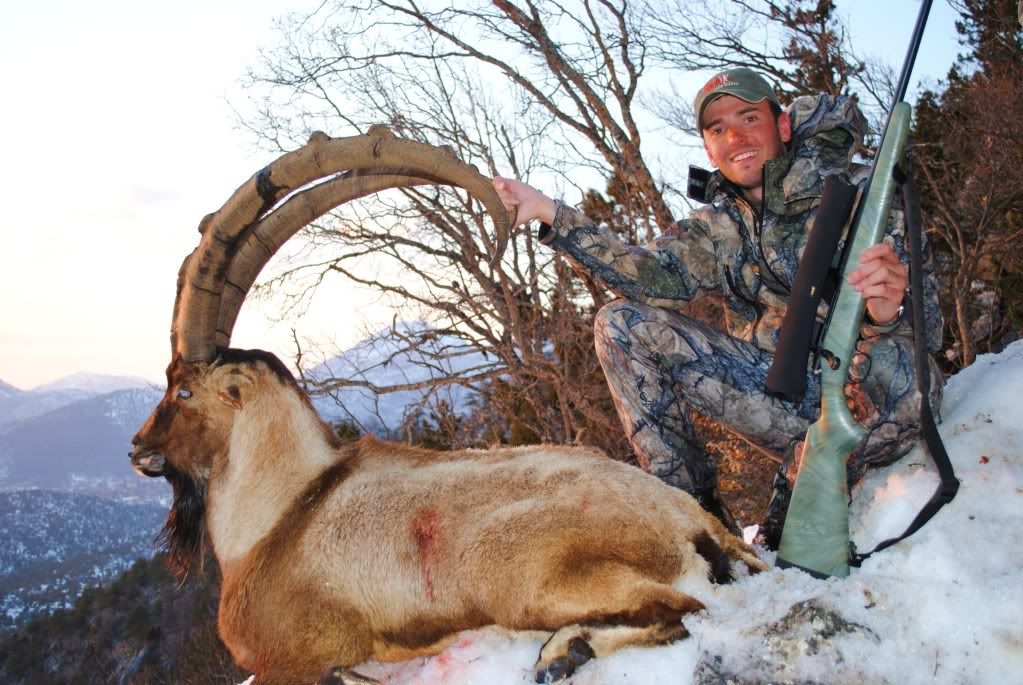 NOTES:
Some final thoughts on this hunt that didn't fit into the story. The gamescout was an absolute asset when he wanted to be. He's lived in these mountains his entire life, and, at 56, was in better shape than most 26 year olds. He's been doing this for a long time, and I think he's getting tired. Alper said he's been guiding and interpreting in this area for over 15 years and said the scout has only recently been getting weird.
The village house I stayed in was clean and comfortable, and the guides son, whom I only know as his nickname of "Harkan" (little ruler or emperor) was my new best friend after I gave him a hat. He brought me an Eff's Pilsen every night. Well trained kid

The packers were incredible and very professional, and I tipped both of them well. Durmus did more work and knew the area better, but he's been doing it for 15 years. He earned a better tip, but I have no doubt that Emre will be great in the future. He's only 22 years old and a very nice man.
Alper, my interpreter, was outstanding and a very kind man. He was patient with everyone and was a very good liaison between client and guide. Anyone who is lucky enough to have him on their hunt will be in amazing hands.
"Olzon" (how his name is pronounced) was a very good guide. He guided the 57"+ world record ibex in 2008 and has guided clients to numerous billy's over 50" each year for the past 7. He knows the area, he knows how to judge them incredibly well and is a hell of a hunter.
Organization - I had less than 2 weeks to organize this hunt due to the nature of the cancellation, so we were crunched for time. I sent all necessary paperwork immediately, and they took care of the rest. Not one single hiccup in this trip and I traveled with a firearm around the country for a week after the hunt on multiple planes, all of which a representative from the company was there to help pass my firearm through customs. A+ organization, and I'm happy we're representing them. It makes life a little easier knowing that when I send my clients over there they're in absolutely great hands.
People who know me but don't know exactly what I do always ask if I'm a professional hunter. I am not a professional hunter, but a professional client as most of you guys are. No matter what specie of game you're hunting or what continent you're on, we depend on these guys to show us their homelands and help us achieve our goals. Without this hard headed team of professional hunters, this hunt could have easily gone the other way. Generally you can access most of this area by vehicle, making is much less difficult. Due to the record snowfall this year, they couldn't access ANY of the hunting area by vehicle, so this hunt was 100% on foot. I liked it that way, but a lazy guide could have really cut corners on this hunt, which these guys did not. We walked everywhere that most people drive, which sometimes was over 6 miles one way in the snow, and all of them had no problem with it.
TOURING
- Side note, after this hunt was over I toured the country for 6 full days. There is more ancient Roman ruins in Turkey than there is in Italy, and I saw A LOT of them but not nearly all of them. Incredible culture here, with the mosques and ancient a archaeological sites. If you do this hunt, plan a tour afterwards and take your wife or girlfriend. It's a cheap addition and a great way to experience one of the greatest cultural countries on this planet.
Another dream come true for sure, and I feel very fortunate that I'm in the position to do this type of thing so young. Definitely one of the better trips I've ever been on, and it'll probably stay in that category for the rest of my hunting days.
Thanks for reading guys!
Greg