We threw the Kudu horns in the back of the land cruiser and went off looking for Buff. Buzz wanted to give me the full experience of tracking dugga boys aswell as working herds. So we snuck off into the side of a fairly large herd and crawled in alittle. Buzz really just wanted to get me close and look over some bulls. We found a decent one but still something we'd pass for Day 2. We worked them twice and checked what bulls were in the herd. It was nice to experience both forms of buffalo hunting and can say without a doubt, tracking bands of old duggaboys is some of the finest hunting I can imagine.
After lunch we went for a nice walk into a special area, this dried mud pan always seemed to hold something new each time we walked to it. You'd walk through the thicker jess and it would open up to a beautiful long clearing. Only a few tall trees in the center and some others elephant had already knocked over. Today, a young bull was mulling around. This was my first real close experience with a wild elephant. They're just so massive and almost unworldly to me. It is one animal I dream of hunting. To me tracking Buff and Elephant are two of the truest forms of hunting. My wife will need a serious amount of coercion to let me hunt an ele. And as a Canadian I know the timing couldn't be better with the export bans. But I've been working on her for a couple years and hope to sway her mind.
Sitting and watching the bull ele on a fallen tree.
At the end of dried and cracked mud pan quite a few impala were working back and forth. We made our way past the young bull ele and got the sticks up beside a tree with a good hide. I had two good shooters just past 100 yards and we decided on the left one. I had Buzz's Brno 7x57, truely a lovely gun and has a great funny story on how Buzz became the owner.
Once again the shot felt good on the sticks. And unfortunately it turned out I pulled it left almost identical to the Kudu first shot.
I've thought about this alot since returning, and the only thing I can even think of is I wasn't holding it down snug enough into the sticks. I did this on my other shots, and as you'll see had great results.
So we tracked the impala and it was almost a repeat of the kudu just a day before. I couldn't believe it. I felt so bad for the guys. And then instead of running out of daylight, even worse it went out of bounds at last light and I knew there'd be no option for retrieval now. Only neat thing was while tracking we came upon a solo duggaboy laying down in the very thick jess. I actually spotted his curl of the horn maybe 60 yards away.
Day 3 we woke early and cut the tracks on a different area. We stopped halfway and sighted in the two rifles. We wanted to make sure it wasn't the rifles for my poor shooting. I put a bullet from the .375 and 7x57 both inside the bullseye and knew they were good. Soon enough we found a small group of dugga boys that we very fresh tracks. It didn't take long and we tracked and got into them. 4-5 bulls. It was great fun working them proper. We got close twice before they finally booked it and we decided to let them have a rest and we continued to look for more tracks.
It was only another 15-20 minutes down the road and we found tracks from the previous night of atleast 6 dugga boys. This warranted a good tracking too. We were barely in the bush and we spooked a waterbuck which in turn spooked the very Buff we were tracking. They ran off and we gave them alittle time and started in on them again.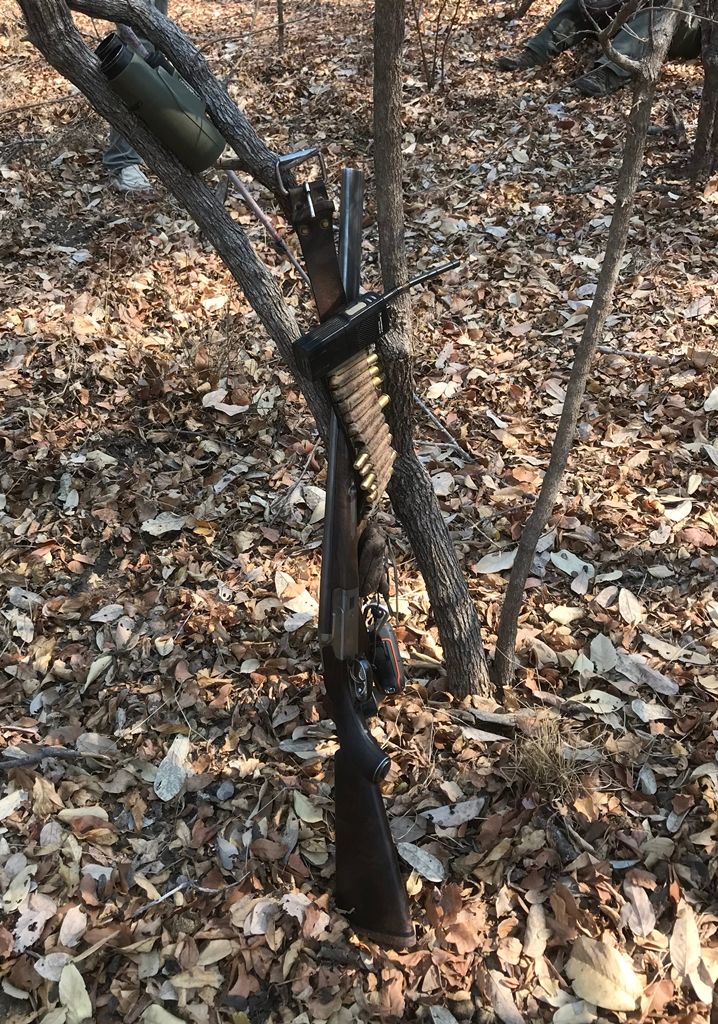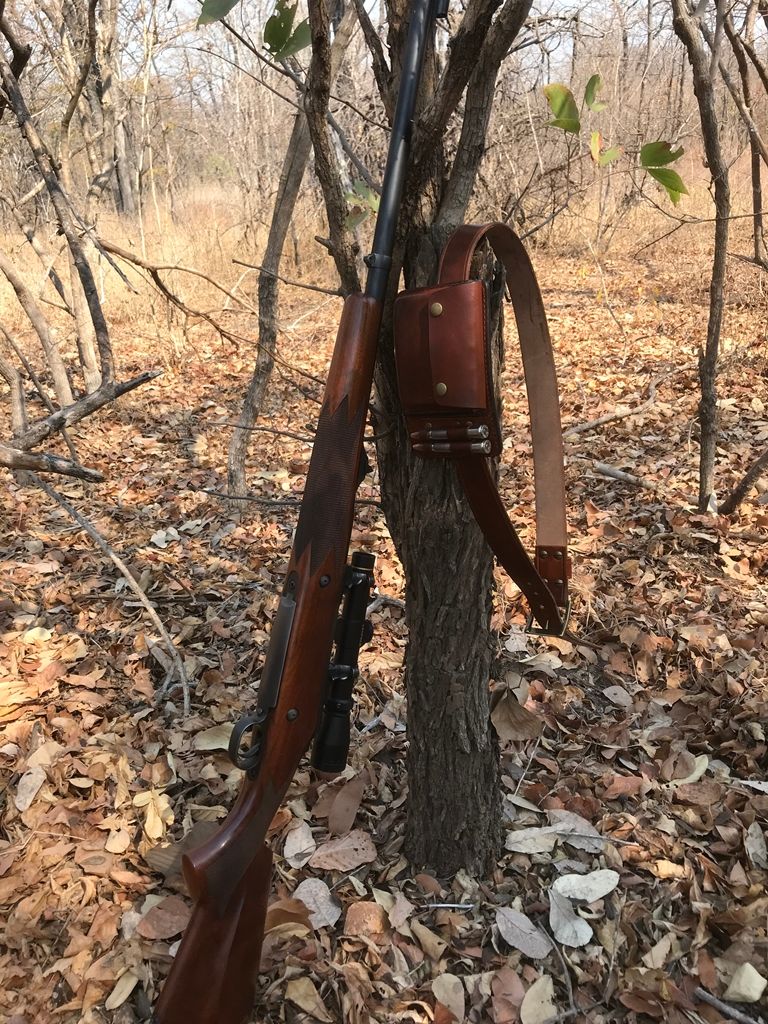 We were able to get 70ish yards and looked at one good bull. They didn't really scent us but slowly they made their way off again and we kept following. Buzz and the trackers wanted to see what caliber of bulls they were. We tracked for quite a distance, through all types of terrain. It was truly a great buffalo hunting day. We came around a small hill on the side, and the buff had been right there and we ran into them under 40 yards. One big bull approached and stood his ground. He was big and wide, not too much drop but a spectacular sight. This is what I hoped to experience!
It almost turned into an freehand shot, but with the trackers slighty infront of us and before sticks could go, the bull decided to run off. We stopped for lunch now and decided to work these bulls again after they get up and start feeding in the afternoon.
We werent too far from camp so we decided to run back and have a nice lunch at camp, and a short mid day nap in the heat of the day. I thoroughly enjoyed the raddlers we had. In that heat, a cold beer mixed with lemonade works for me!
Learnt it was best to dry out my feet at lunch. I had a couple small hot spots from that first day hiking over 16km. But I got out infront of it and just 3 days of some duct tape and all was good. After that I had zero issues. What a view to have a mid day siesta.
We got back on their tracks maybe 2ish hoping to find them just starting to feed again. It was almost two hours of nice hiking through small hills. This is where I find the complete vindication of how good the trackers are. You are following them, they are following the tracks. And soon enough, you notice the buff sign getting greener and greener. You know in this heat, when you see damp ground you're even closer. Spots where they had pee'd. Then we found where the 6 duggaboys had bed. Perfect! We had timed it flawlessly.
We worked our way to the very top of the hill, and everyone quiet following Criton and Nyati, they stopped instantly. Just as we were on the top of the hill, not 30 yards infront, just a head and one horn was broadside feeding. Sticks went up and I was ready.
I wont lie, after my two shots I pulled left I never gave it much thought, but the more I got in close with Buff I started to think alittle, I better make this one count. It was for all the marbles.
We waited for what seemed like forever but really maybe under a minute. We wanted him to take one more step forward out of the bush. And just like that wind swirled and he saw us and bolted.
What can I say, but one of the truly greatest moments I've had, being that close to a shooter. Tracking for 2 hours, and then being that close to pulling the trigger. I wasn't even disappointed. And I knew Buzz wasn't either. We were doing it right. Hunting them the way they should be. And sooner or later, they'd screw up.
Day 4 Started early again, we were going to hit up the two groups of Duggaboys we had been working. We knew both groups had atleast 2 shooters in them. Worthwhile to pursue. We found fresh tracks of the 6 we tracked the previous afternoon and kept going to see where the other group of 5 had gone to.
Coming close to where we saw them before we actually spotted them from the road and drove past them and started stalking them. I dont think we even got out of the trucks, and these bulls made off into the bush. The tracking began. We got back into them not too long after and slowly eased in closer. We thought we'd get lucky and have them just over a ridge and we'd have a good look at all of them. Turned out all but 1 was over the ridge, and that one was only 40-50 yards away before he finally caught us and sounded the alarm. They ran off, this time we got a good look at all of them, such powerful animals, they'd knock over small trees as they ran.
We decided to sit right there and give them alittle time to calm down and try again.
I was sitting quite pleasantly on the tree until Justin started talking about Scorpions coming out of the tree and stinging you on your you know what hahaha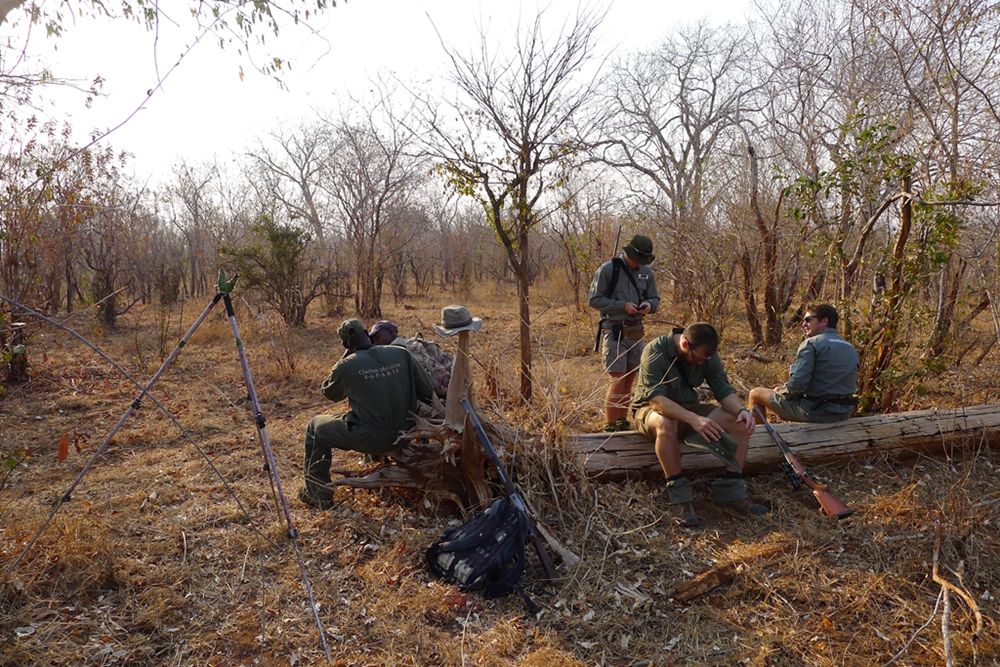 We gave them a solid half hour and started tracking again. Atleast an hour later Criton and Nyati had slowed right now and had spotted the group of Duggaboys. This time we got a view of one we hadn't seen. He was very wide. Probably an easy 40" wide, but he went straight out. He had no drop at all. Buzz had wanted for my first buff to be a good representative bull. I had sent him a couple photos and it seemed I like a good buff that had a good amount of drop and curl.
We started to crawl. If you've ever crawled over sand thats under 100 degree heat, its something I've never felt. It soon became a bum scuddle which wasn't going to leave my knees needing any medical attention haha.
Once we crawled in closer, we found a nice green tree which afforded us the ability to get the sticks up and stand. Now we could see 4 of the duggaboys. Two were younger. One was a scrum cap bull. I love those old boys but for my first Buff I wanted a good set of horns. If I'm ever back for another Buff, I'll be over the moon to take an old warrior scrum cap.
Soon enough we found my bull. He was bedded with the two younger ones. All the bulls were only 40 yards from eachother. But we waited for him to stand. I stayed on the sticks and waited. Soon enough he got up and gave us alittle staredown and was trying to wind us. He only presented a frontal shot at right around 70 yards. He was actually in a little window between two small trees that V'd.
Buzz and I had talked before on frontals on a Buff. Not preferred but we talked about them and I felt good in the situation. He had only stood for maybe 5-10 seconds and I said "Okay"
The shot rang out. It felt just as good as my previous shots. I had threaded the needle so to speak. I had never truly felt worried about the shot, but after my other two shots I had that little nagging thought buried deep in the back of my head.
Buzz had talked about their death bellow, said a vast majority of them make it but not all do. A short while later we heard a short grunt. Appy Peter said "duggaboys not happy" and we heard maybe 30 seconds later another short grunt.
Not a true death bellow but we gave it shy of 5 minutes and started in. We found the blood trail, a very bright bright red. No lung matter just bright red blood. A good amount but not a ton of blood.
We started tracking, single file. Nyati in the lead, Buzz with his Heym 500NE, then me. And Peter and Justin behind. We followed the blood for under 100 yards when we got into some thicker bush. I thought "oh great!! I've now wounded a buff and he's in the thick stuff." Times like that, I never felt unsafe. Probably with Buzz in front I had some false sense of nothing could go wrong but I can now see what its truly like to hunt Dangerous Game. I can honestly attest to having heightened senses or what I would assume it was during those final moments.
As we rounded some thick bush, I saw Nyati in the lead just a couple feet make a hand gesture to Buzz behind him. At first I wasn't 100% of what it meant. I was still trying to learn all the hand signals they use, they`re like a well oiled machine, not having to speak and working so far together then can get by without talking at all during tracking.
Nyati made a motion with his hand where it was standing vertical then he laid it sideways, I finally put two and two together and hoped he was gesturing that he saw my buff on its side. This turned out to be true!!!
Buzz now took the lead with me behind, and we gave it a wide birth and worked our way around till we were right behind it. I could see its tongue hanging out now, and Buzz had me put one insurance shot right through the spine and chest from behind. The buff barely moved from the energy of the shot but we knew it was already done.
There it laid. My Cape Buffalo. Tracked and hunted the right way. The way I`ve always wanted to hunt them. Words cannot describe how the hunt means as much or more to me then the actual taking of this buffalo. I cannot say just how much hunting dangerous game in this form means to me. It has been what I`ve pictured in my head all these years I`ve dreamt of Africa and the adventure of it all.
As it lay
The group minus Peter taking the photo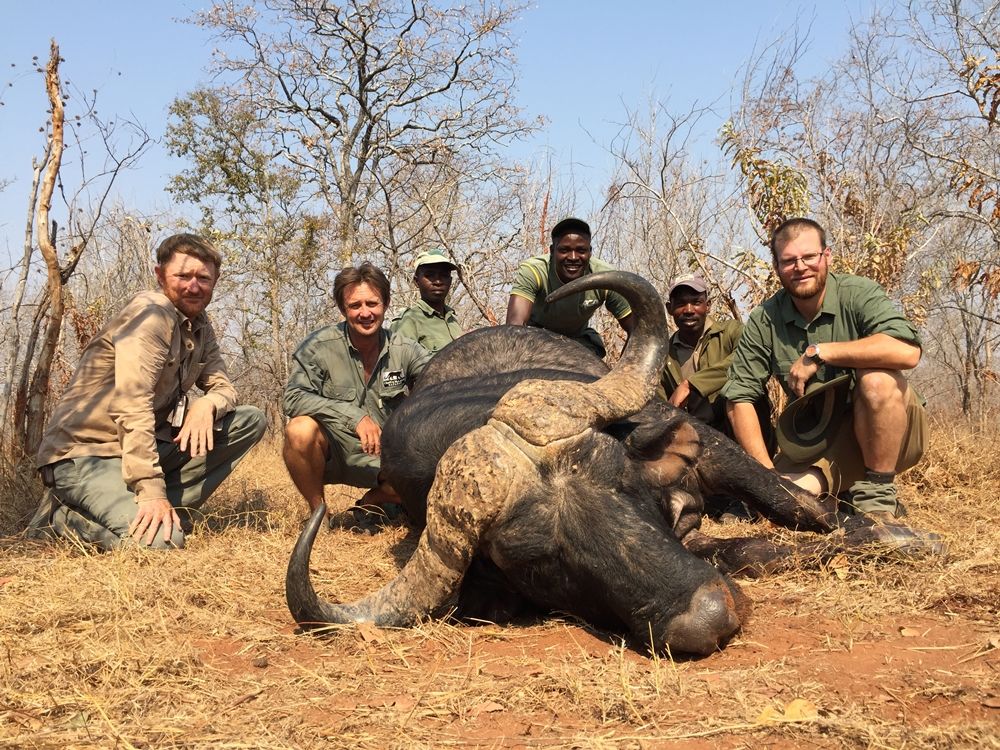 We took a hundred photos probably, all are great. They wanted me to take just one Bwana shot haha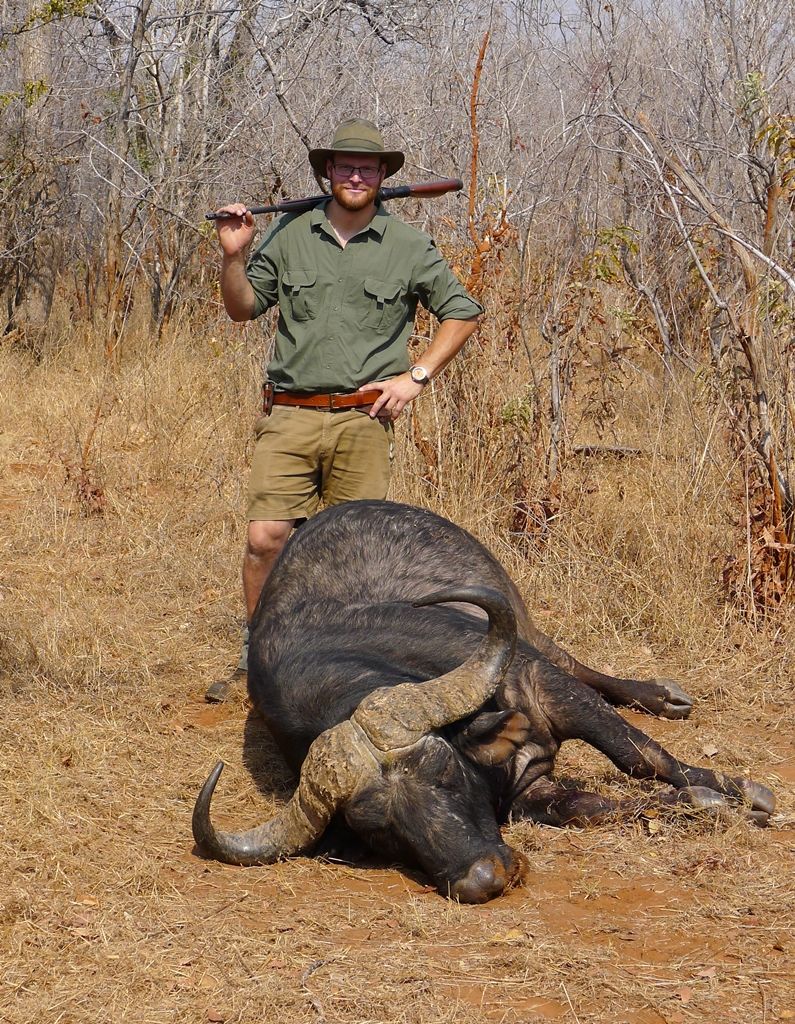 After all the handshakes and congratulations were over we looking to the recovery. We were 2km from the nearest road. It was looking to be a long cut in. On the walk out though we luckily ran into someone elses recovery road that had been expanded in the past. We were able to get to within 200 yards, hit an elephant path, and only cut the last 100 yards in.
Back at the skinning shed, I really wanted to be apart of it. As I didnt get to see my Kudu or Impala worked on I stayed to watch.
As they butchered it, I was hoping to see where the bullet hit and hoped to find the bullet too. It was finally complete vindication of my shot when I saw the giant hole in the heart. And the pedals had sheared off the older barnes x bullet and completely shrapnelled the lungs. The lungs were completely destroyed. I`m surprised there wasnt more blood from the shot, but Buzz said a frontal does make it harder for alot of blood to flow, but that bright red blood was sign it was from the heart. He had called a heart or top of heart shot after tracking and finding the bull. He was right!