The Accurate Reloading Forums
Chuck Norris and Sharks
26 March 2018, 07:52
KY Nimrod
Chuck Norris and Sharks
Sharks can smell Chuck Norris in the water as far as 1/4 mile away....unfortunately for the sharks its usually too late.
Sharks have Chuck Norris week on their TVs.
When sharks encounter Chuck Norris they are taught to remain calm and slowly swim away
Sharks are most active at dusk because that's when Chuck Norris usually calls his mother.
27 March 2018, 08:07
NormanConquest


Never mistake motion for action.
29 March 2018, 02:41
boom stick
Shark Norris is a real thing
30 March 2018, 11:22
KY Nimrod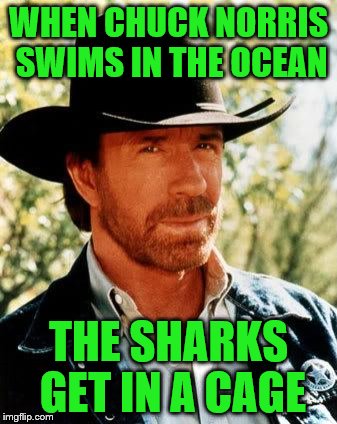 Yep!
02 April 2018, 10:48
NormanConquest
Keep 'em coming,PLEASE! This is much more entertaining than 'cozy kittens',although they can be fun too.Remember that it takes a REAL man to deal with the macho Chuck Norris stuff + still be sensative enough to deal with a soft,purring pussy.


Never mistake motion for action.
04 April 2018, 08:15
Joe from So. Cal.
04 April 2018, 09:18
NormanConquest
I read it + cracked up,then the lady of the house asked what I was laughing about + I told her + she agreed straight face. They are all crazy you know,one just to find the level of craziness that one can live with. Addendum= reread Kipling's "The Female Of The Species"


Never mistake motion for action.