Still a bit jet lagged, so I'll try and keep this brief. After saving up for a few years to do an African hunt, I'd decided I wanted to go for "the real deal" and hunt buffalo in Tanzania. My wife (who'd accompany me) preferred a bit more creature comforts, but being unsure when we'd return to the continent, I insisted that a tent camp in the Selous was what I wanted (vs a ranch somewhere in South Africa).
Our hunt was booked through (Deleted), who set me up in block __ for ten days of hunting. Although my primary goal was simply to have a thoroughly enjoyable experience, my "priority" animals were:
1) A good, hard bossed Cape buffalo
2) A good trophy Impala
3) A nice quality Zebra
4) Some time spent chasing the local upland game birds with my 28 gauge Beretta
5) Fishing for tigerfish and whatever else might be locally available
Steve Turner and his assistant Kathy of Travel with Guns did a great job handling the gun permits and setting up the airline reservations. Out of an abundance of caution, we deliberately stretched out the trip to Dar, so our flight from Amsterdam (KLM) wouldn't be missed if there was a delay leaving LAX. We flew business class from LA to Detroit (4 hour layover), Detroit to Amsterdam (another 4 hour layover) and then on to Dar Es Salaam with a brief stop in Kilimanjaro.
When we reached Amsterdam, I was somewhat concerned after being advised via email that the PH I'd expected to hunt with (deleted) wasn't going to be with us after all. In his place would be a young PH "D" that the outfitter assured me would do a fine job. I need not have worried.
Upon arrival, the outfitter's associate _____ promptly got us through customs and transported to the Sea Cliff Hotel, which was very comfortable. After a delay of several hours (this is Africa, right?), we made it to the airport and flew to the dirt strip in a Cessna 208. Despite warnings from the pilot about rough weather, the ride was very comfortable.
At the airstrip, we were met by our PH, trackers, driver and game scout. Although among them only "D" spoke English fluently, all the staff (including those in camp) were very friendly and supportive. The camp was well laid out and the tent with it's bathroom facilities and large twin beds was comfortable.
Unfortunately, I have sleep apnea and one of the things that was a "must" on this trip was to have electricity available to run my CPAP device all night. "D" insured that a 12 volt battery and converter was in the tent every night and both my wife (who has sleep "issues of her own") and I slept quite well.
During the first few days of the hunt, I learned I could rely on "D"'s expertise and awareness to not only facilitate a good hunting experience, but to keep my sorry ass from getting hurt. On the first day of really working buffalo, his Masai tracker kept on the sign, but failed to see a puff adder which was laying directly on our path, but well concealed within the leaf litter. The tracker just stepped right over the venomous snake, but Deon spotted it, jumped back and pointed it out to me with the shooting sticks.
Until it was prodded with the sticks and moved out of the way, the snake was absolutely invisible to my eyes! I've been hunting and hiking all my life in CA and other states, and have had numerous encounters with local reptiles, including our common Southern Pacific Rattlesnakes. I've never had a problem seeing them first, but this encounter really emphasized how important it was stay on the same path (in his tracks) as your PH! I got a good pic of the adder after it crawled beneath a hollowed out log and a look at the surrounding ground cover will show you how easy it might be to step on one of these. I'm not generally afraid of snakes, but I certainly gained a stronger appreciation of my PH's observational skills.
Why it's a good idea to follow your PH
closely
(a puff adder):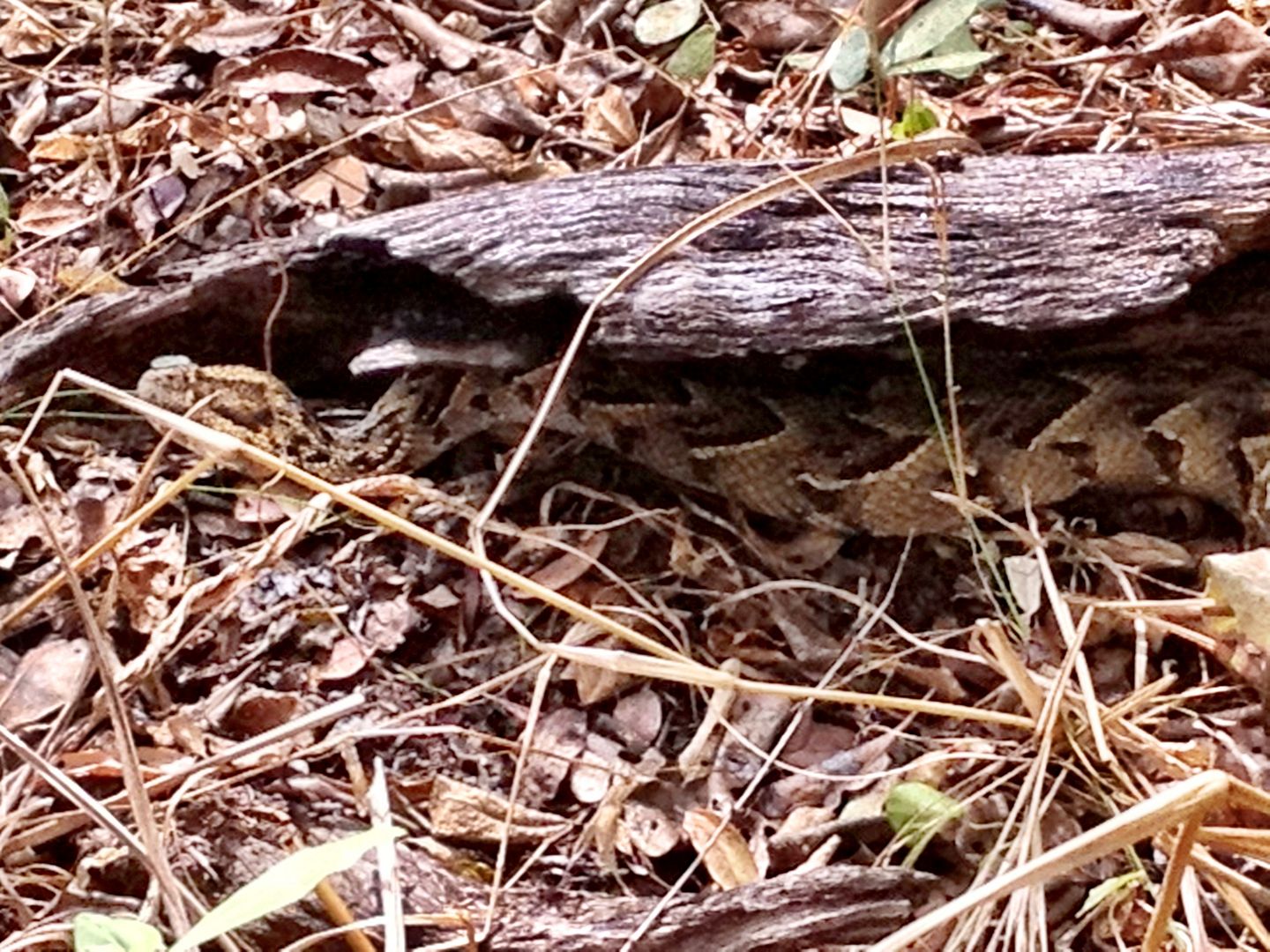 The hunts continued and over the next few days I took a nice Impala ram as we tracked buffalo herds and did several "spot and stalks" without getting a shot at a decent bull. On the third day of the hunt we were driving back to camp after I'd taken some photos of another beautiful African sunset from the back of the Landcruiser when two dugga boys burst out from a dry stream bed not 20 yards from the truck and stood looking at us broadside! I think we were all surprised at their appearance, but I didn't even grab my gun until the PH hurriedly said, "Shoot him!"
Of course by the time the rifle was in my hands and up the bulls had gotten into gear and ran, presenting only a "Texas Heart-shot" on the west end of an eastbound buff. I said I had no shot and the buffalo went on to enjoy their evening. When asked about my delay (after being presented with a great opportunity for either good bull), I explained that:
1) I had believed that shooting after sunset was prohibited (I was wrong-legal shooting time continues for 30 minutes
after sunset
)
2) I was unaware that shooting from a vehicle was legal (It is.)
3) I wasn't going to shoot anything without the go-ahead from my PH, as we'd previously discussed.
"D" was patient with his "newbie", but my wife was far less forgiving. She believed I may have given up the only opportunity for a good bull and my arguments to the contrary, she just couldn't understand why I was actually
glad
I didn't shoot. As calmly as I could, I told her (and later "D") that I hadn't traveled so far and spent so much just to shoot a buff (no matter how nice) from the backseat of a truck. I really didn't mind the long hikes (I'd prepared for them for several months), the blown stalks, the snakes (twice we saw black mambas cross the road in front of our vehicle), the scratches, tsetse flies (numerous enough, but not unbearable), and effort involved in a
real
hunt. I told both that I'd heard one must be prepared to walk 50 miles for their buffalo and I was.
My first African game taken: An Impala ram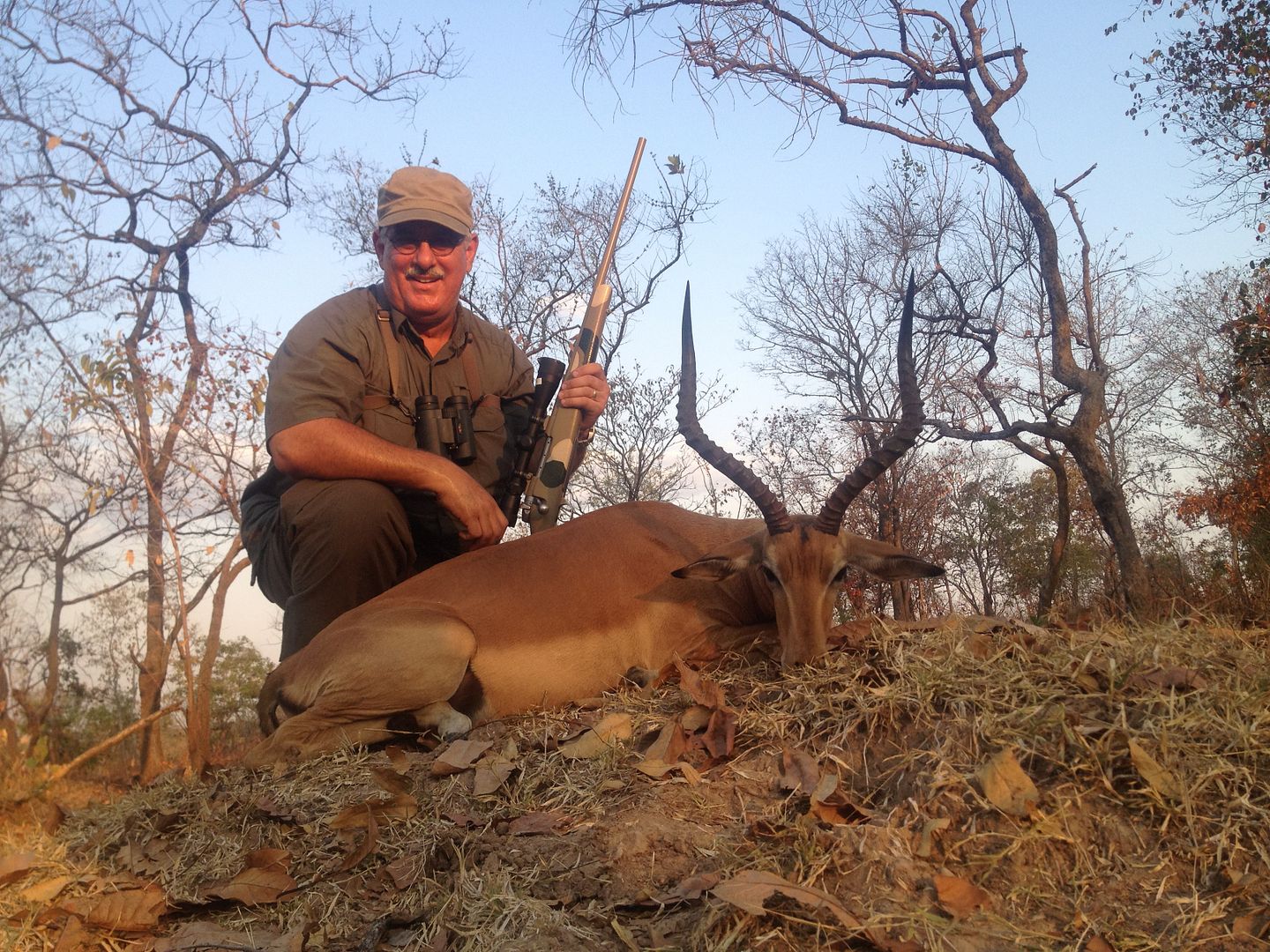 The next day, I felt very optimistic and welcomed the renewed efforts in the Myombo forests, thick dry grasses and dusty tracks. We got busted several times by herd bulls and/or cows, saw hartebeest, zebra (running like all hell!), warthogs, elephant, and numerous other wildlife, before spotting a herd of 150 or more buffalo several hundred yards away across a grassy "flay"(Hope I spelled that right!)
"D", the trackers and I worked our way to the herd using the wind to our advantage and got "busted" by a cow. She ran about 50 yards or so into the thick stuff and most of the herd went with her, then stopped and looked about. After they calmed down a bit, we got within about 70 yards of them and a bull came out, looking for threat(s). "D" said, "That's your buffalo!" and put up the sticks.
I squeezed the trigger on my Winchester Model 70 "Classic" in .375 H&H, thinking to myself, 'Only shoot where you can see', as the tall grass obscured a clear view of where his heart should be. A high shoulder/lung shot would have to suffice and the 350 grain Barnes TSX that a trusted friend had handloaded for me went where I'd aimed. At the shot, the bull disappeared in a mass of running buffalo and confusing dust, but "D" exclaimed that my shot was good and we ran to the spot where the bull had stood when I fired. Even before we found the blood 10 or 15 yards away, we heard brush crashing just the other side of a nearby anthill, followed by the "death bellow" I read about so often.
The trackers started shaking my hand and slapping me on the back and within a few minutes, the "insurance was paid" and I had my first buffalo
exactly
the way I wanted it! The buffalo hadn't gone more than a few yards and it was actually larger than either of the two dugga boys we'd seen the previous night. While not huge ("D" estimated the width to be between 37 and 38 inches), the horns were beautifully symmetrical and the boss was absolutely hard. The bull had a torn ear, that I couldn't help but wonder about (lions?) and I'll always treasure the mount, if I can endure the wait. While I hadn't walked my "50 miles", "D" assured me that I had gone about "40 miles" and he believed I'd properly paid my "dues" for the buff.

My first buffalo: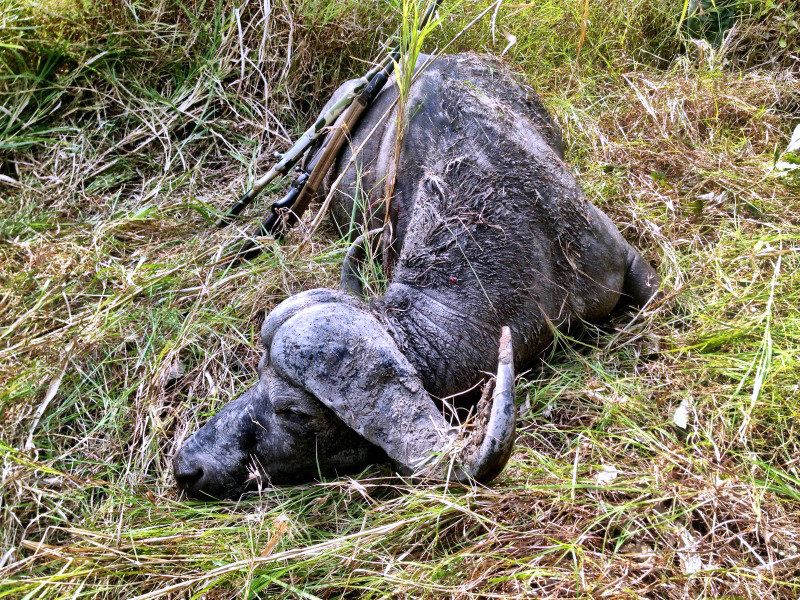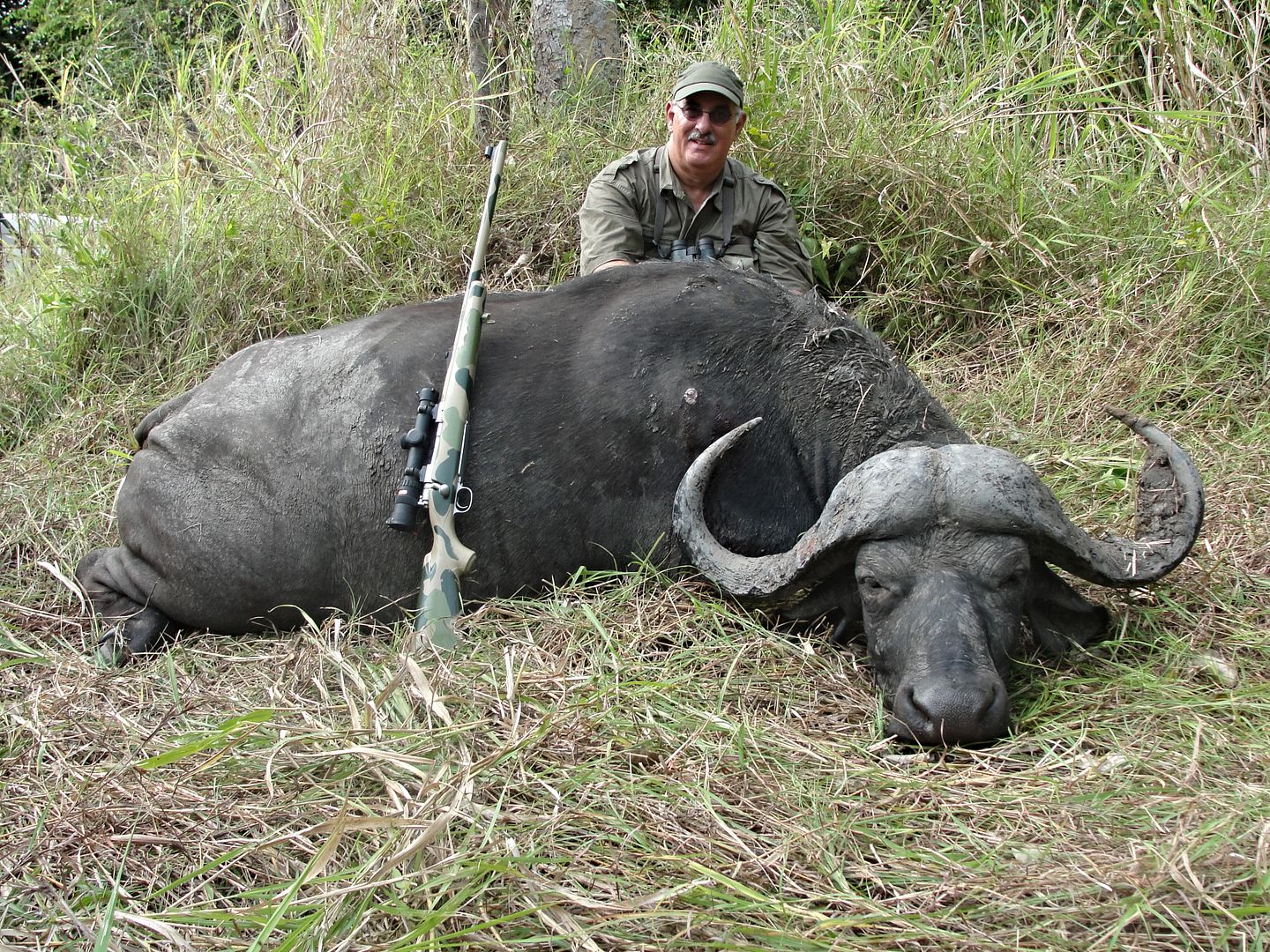 Can't forget Ernest!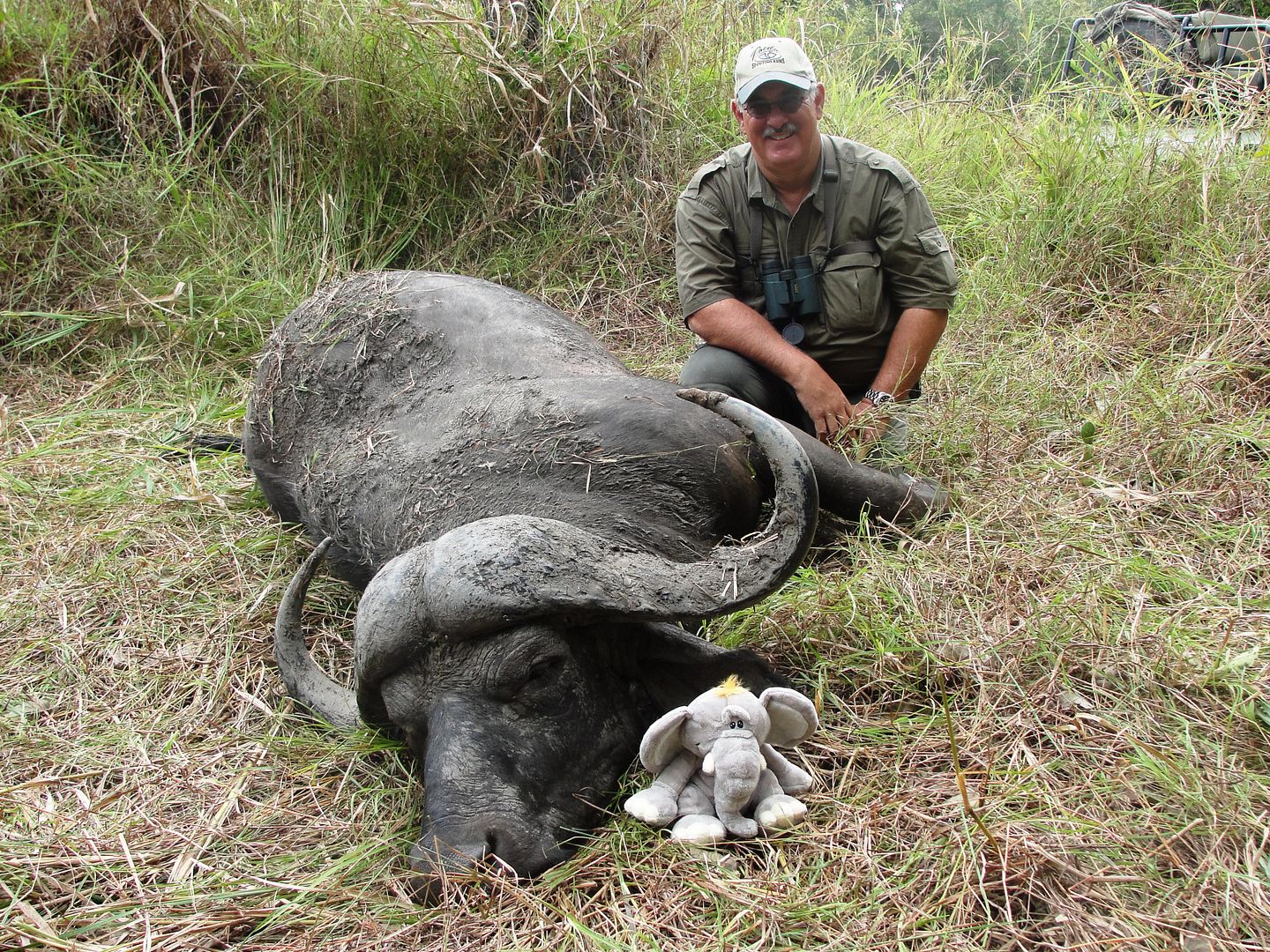 Performance of 350 grain Barnes TSX bullets (The one on the right was the fired at approximately 70 yards, double lung shot recovered on the off-side shoulder just under the hide. The bullet on the left was fired from about 10 yards, through the spine and was recovered less than 1" from the first bullet.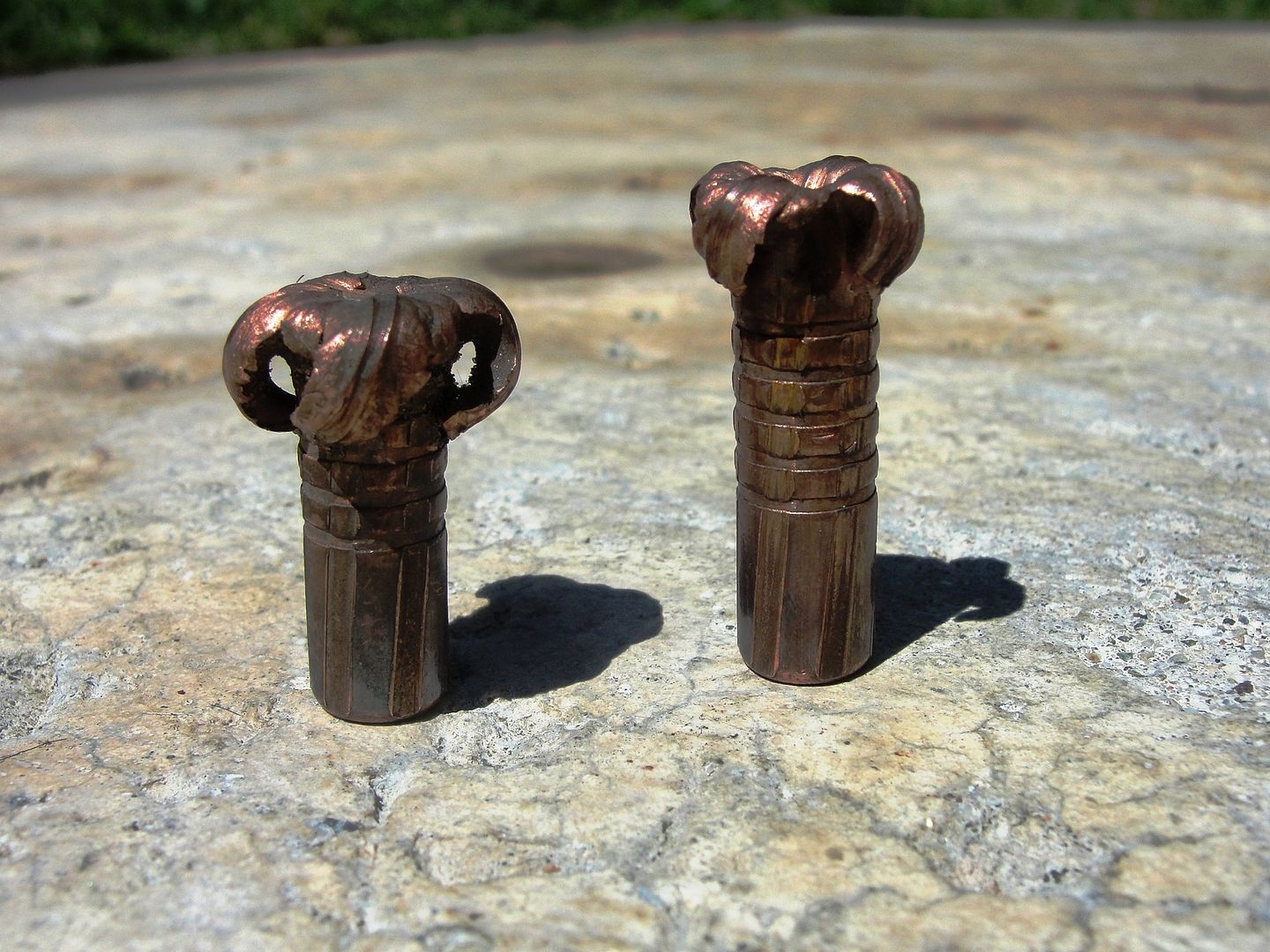 Over the next few days, I took a very good zebra, enjoyed flushing/shooting/dining on Guineas, Francolin and took a beautiful Rednecked Spurfowl. The game scout asked if "D" and I could shoot a couple of non-trophy Impala rams for an anti-poaching patrol's pot and we happily obliged. I fished the Kilombero River and didn't connect with any Tigerfish, but did catch a hard fighting catfish on a Rapala jig.
My Zebra (Boy, they are tough to kill!)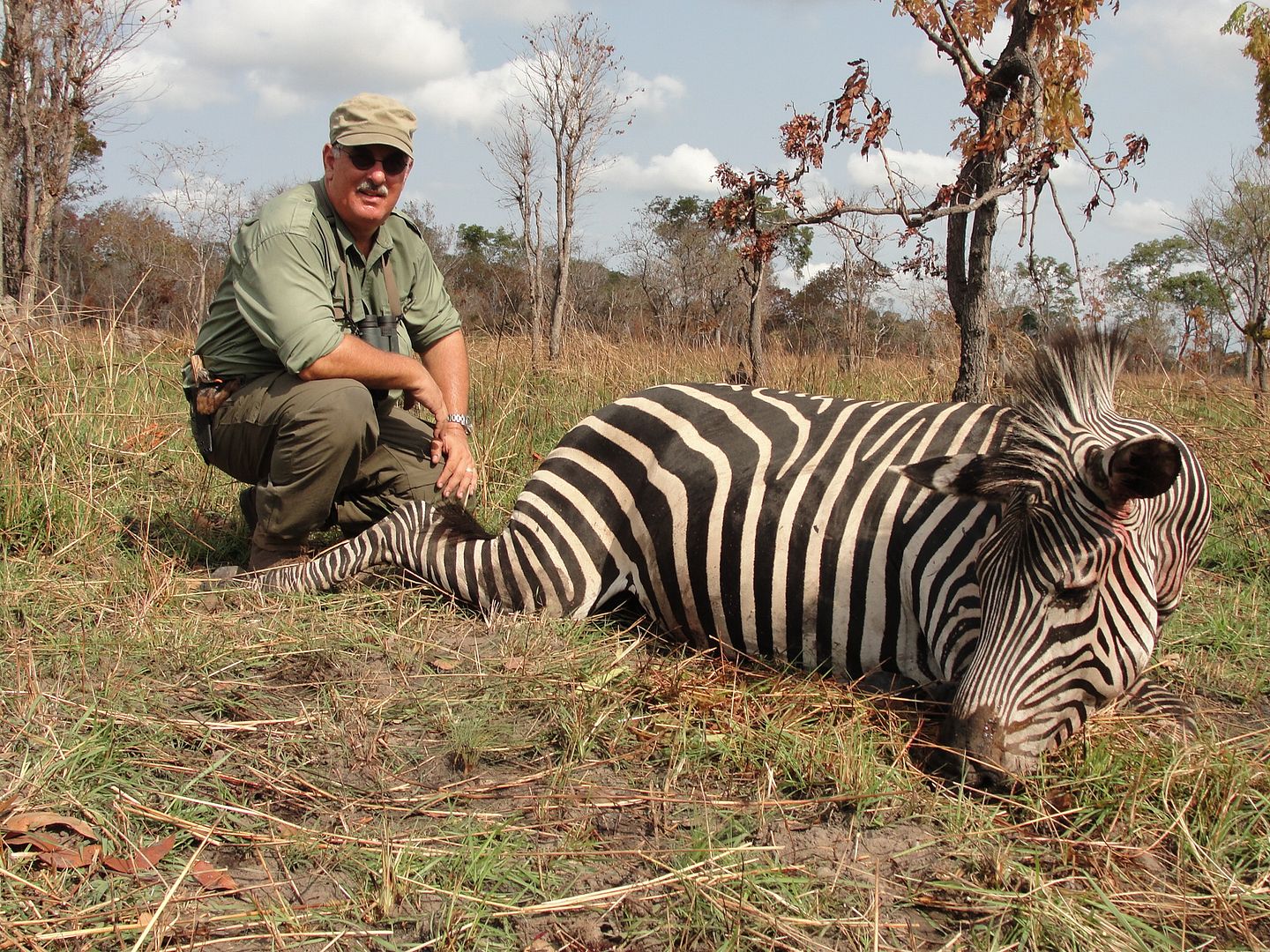 Rednecked Spurfowl and a Beretta 28 gauge Silver Pigeon V shotgun (Perfect combination!)
"D", the trackers and I did look around for a dugga boy (I had two buffalo on my ten day license), but I'd previously stated that I'd only take an second one if it was far better than my first and (to be perfectly honest) I was happy with just one. My home isn't that large (I'm a retired cop) and I don't know where I'd put the second mount anyway. The food we were served was excellent, as much of what we ate were prime cuts from the game collected. Included were buffalo liver and onion (as per my wife and my request), steaks, and thinly sliced tongue as an appetizer during one of our "sundowners", and a fantastic Impala meat spaghetti dish that was superior to any I'd eaten at home.
Lots of interesting neighbors: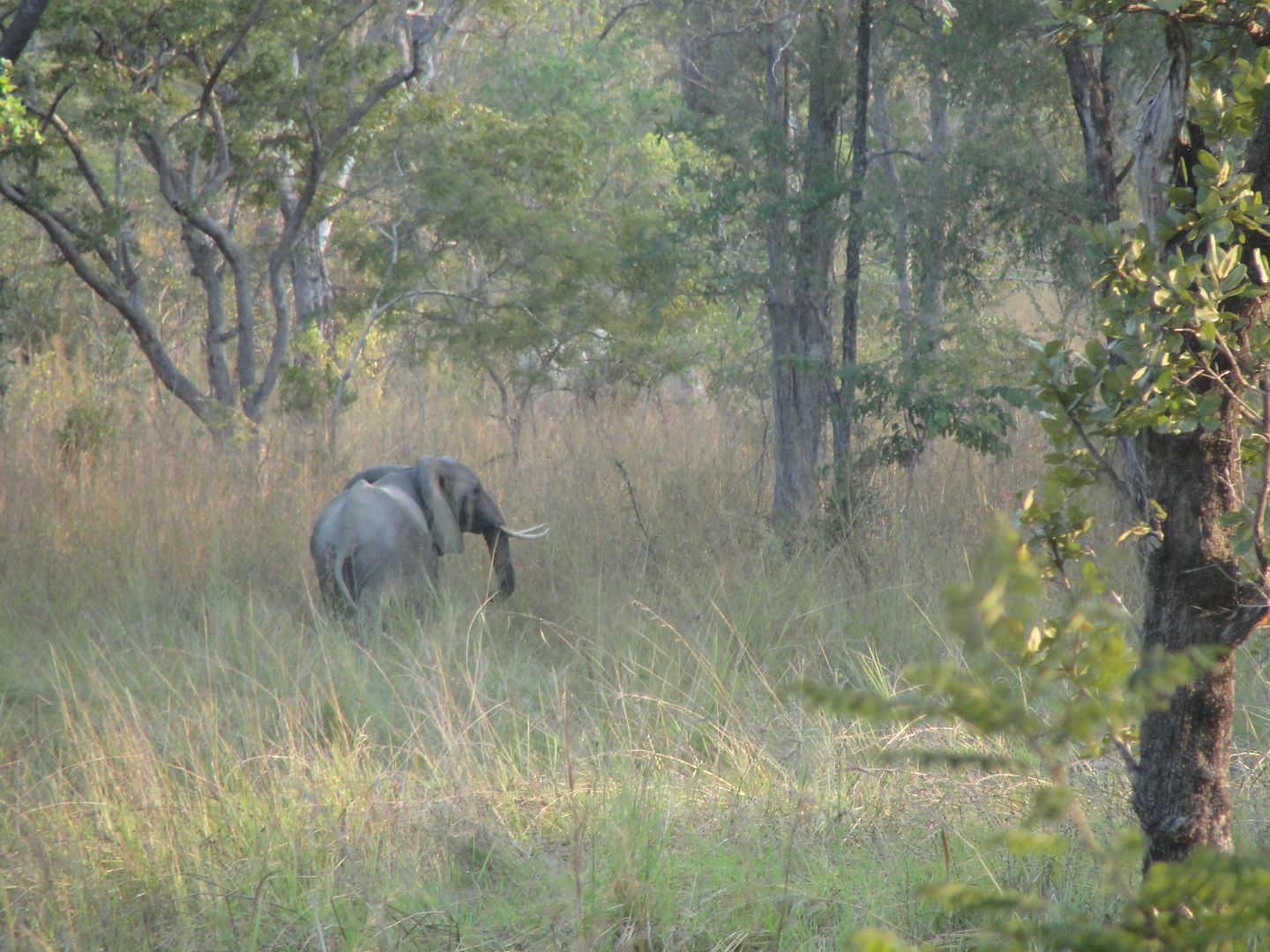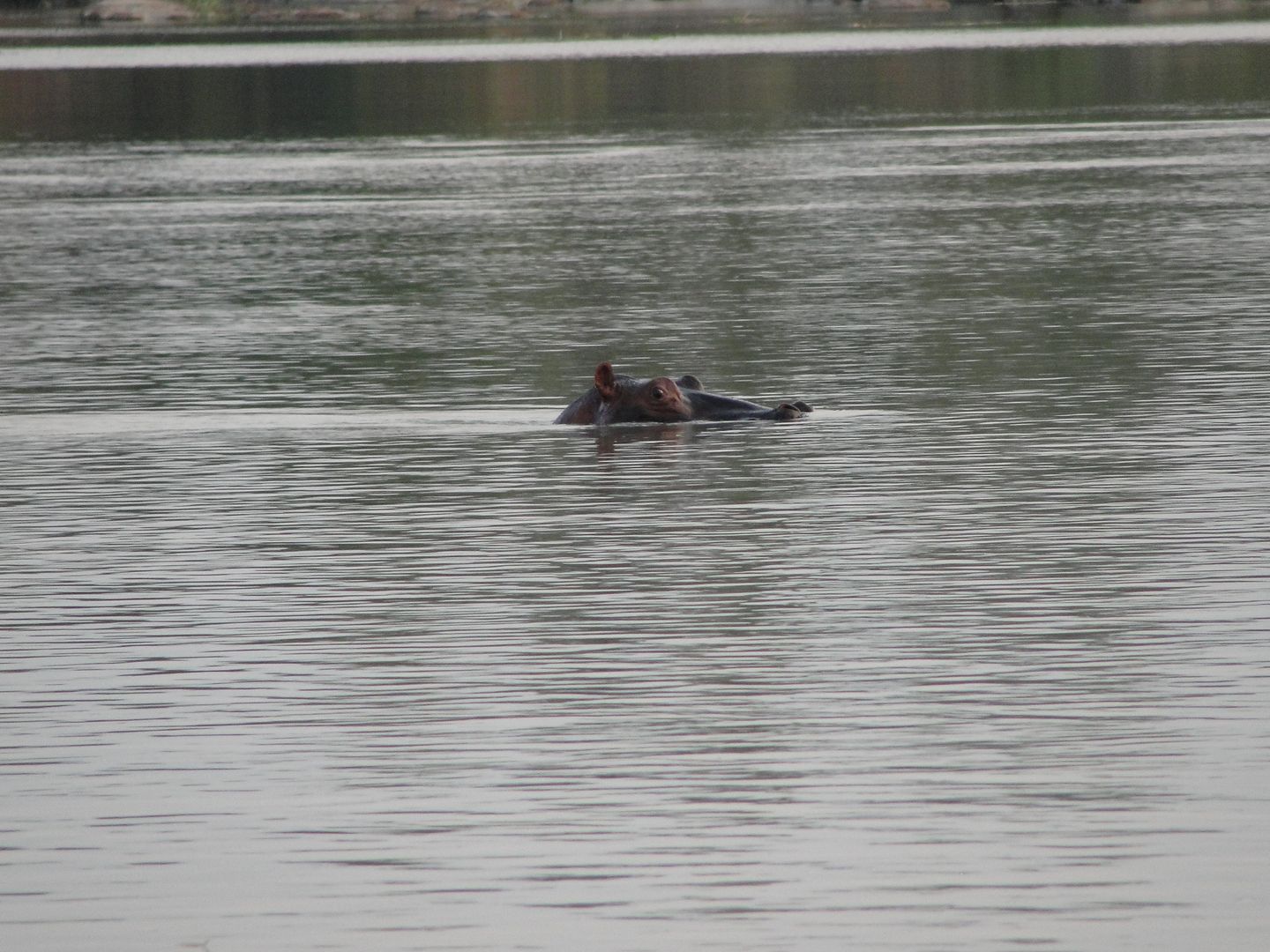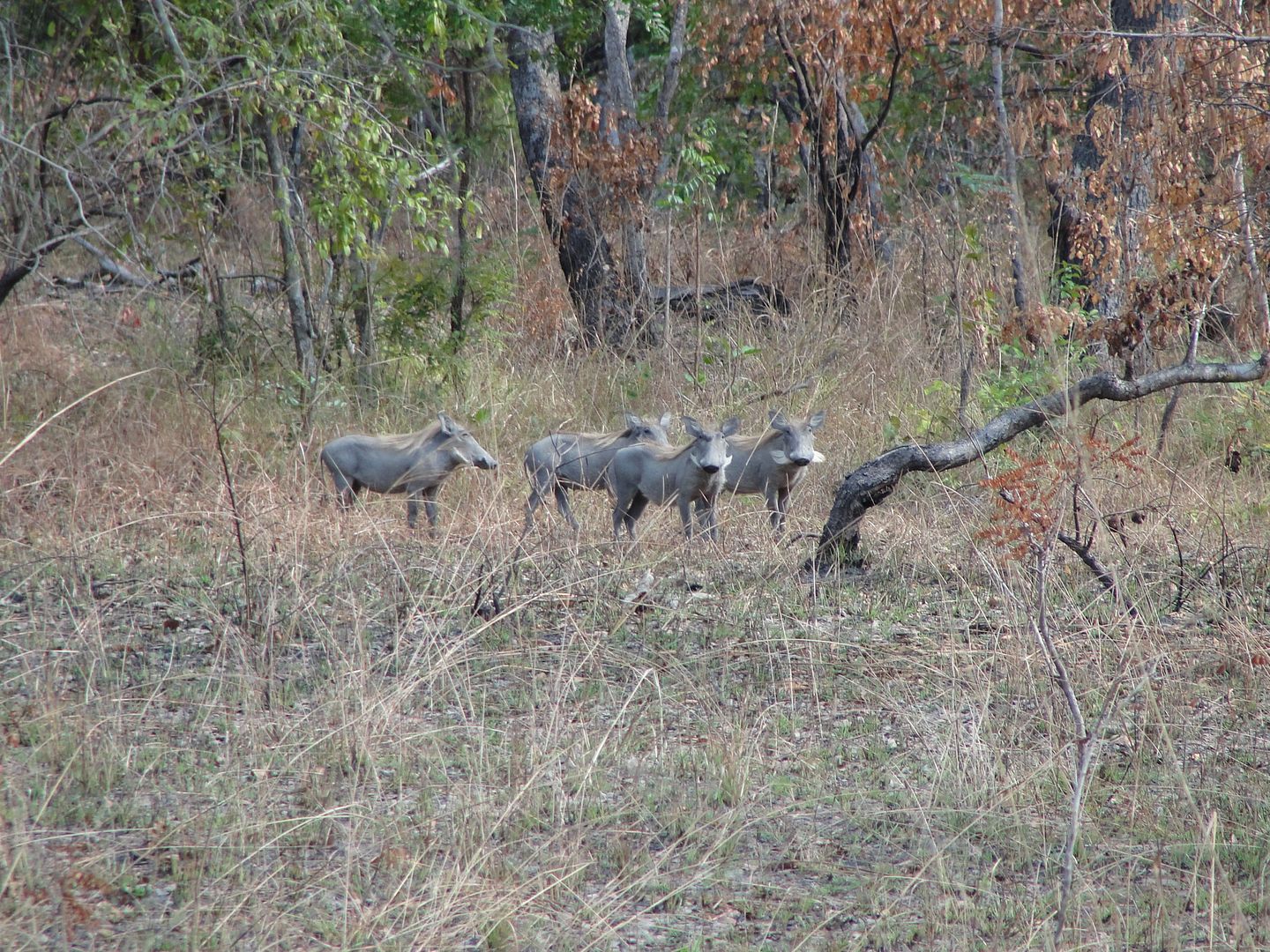 An unexpected pleasure was our encounter with a neighboring PH, who stopped by our camp to invite us to what turned out to be his birthday dinner. The Greek gentlemen (I believe his name was "Pano") was a terrific host who treated us to an incredible amount of great food (including all the lobster one could possibly handle), fine champagne, waaay too many shots of expensive tequila, and a never ending string of hilarious stories. His clients were a group of very attractive young ladies (models or employees of a modeling agency) on a photo safari and they were great company too. (My wife thought they were a "hoot")
Pano handed me his beautiful .577 Holland and Holland double gun (made in 1938) and I found myself getting dizzy even before the tequila had time to enter my system, but I suppose that's what happens when a Winchester Model 70 guy gets too close to a Holland and Holland lifestyle!

We made it back to camp alright, due to the diligence of our designated driver, with the only harm being (a not unreasonable) delay of an hour or two before heading out into the bush the following morning. (My wife decided to sleep in that morning!) Over the next couple of days we checked out the Puku and although we didn't see any that were shootable, it was very nice just to see some young rams and a ewe fairly close up.
Our return to Dar was rescheduled a day early, so my wife and I would have some time to do a bit of shopping. We were glad we did and had the pleasure of meeting another couple that shared our flight home with us after an exceptionally good 21 day hunt (also in the Selous). I didn't learn until after we'd arrived home that the hunter was also an AR forum member, but I suppose I shouldn't have been surprised. I'd brought along "Ernest" (Complements of "JudgeG", another AR forum member) and he certainly had something to do with the good fortune we'd enjoyed on our first trip to Africa.
I don't care how hot, sweaty, tired, thirsty, fly bit, or sore you are, it's impossible not to smile while chasing buffalo in the Selous!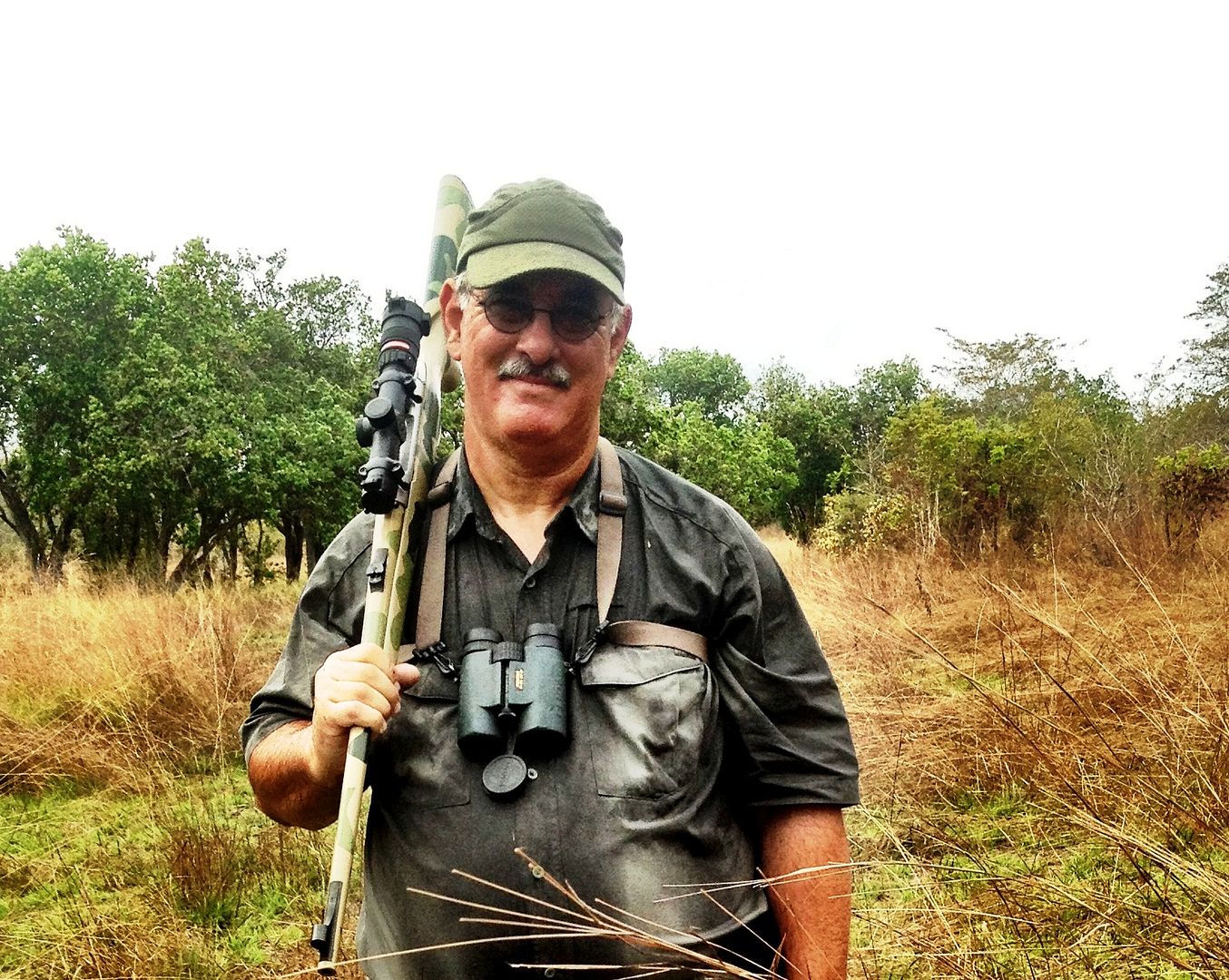 Edited to add: While my first trip to Africa was an extremely pleasant experience, shortly after I reached the states things took a decidedly unpleasant turn with my outfitter over his billing practices.
Fortunately, with the much appreciated assistance of some AR members, a bit of investigative efforts on my own behalf, and the fact that I'd retained all written and electronic communications between the outfitter and I that occurred before and after the hunt, we were able to settle the issue in a face to face meeting at the DSC convention in January 2013.
I'm not going to delve into the details of our disagreement, but I can't in good conscience recommend the outfitter involved and for this reason have redacted his name and attempted to remove all identifying information. I'm not the first person to say he believes his trust has been misplaced and I'm sure I won't be the last, but I will say this and I hope those planning such trips will take heed:
1) Retain any and all records of communications between yourself and anyone connected with your hunting trip.
2) If there are any questions in your mind about any aspect of the hunt, ask the outfitter or agent(s) involved in written communications via email or "snail mail." Verbal assurances or a handshake are subject to possible, "lack of recall" or outright dishonesty and aren't evidence.
3) Should a dispute occur, you cannot expect any assistance from those that recommended the outfitter to you, even if they did so in their capacity as a high ranking member(s) of organizations such as DSC or SCI. You don't know these people and they may have a financial incentive to side with the "professional" that outweighs the concern for what is right or wrong.
Remember: Even if they are a "respected volunteer", they're in a business and there are unscrupulous, lazy, and cowardly people in every vocation, paid or unpaid
.