Hunt Dates: 6/21-6/28/13
Country: Botswana
Safari Operator: Kanana Safaris
Booking Agent: Tom Addleman, Hunting For Adventure
PHs: Jason Bridger, Joop Lewis, JP
Weapons:
Rob: Remington 673 350 Rem Mag shooting 225gr TSX handloads
Tikka T3 Laminated Stainless 30-06 shooting 180gr Partition handloads
Jared: Remington 673 350 Rem Mag shooting 225gr TSX handloads
Ruger 77 Mannlicher 308 shooting 180gr TTSX handloads
John: Bowtech archery, 100gr Muzzy 3-blade broadheads
Species seen: Gemsbok, Kudu, Eland, Impala, Red Hartebeest, Zebra, Warthog, Blue Wildebeest, Black Wildebeest, Springbok, Tsessebe, Ostrich, Jackal, Aardwolf, Cheetah, Waterbuck, Giraffe, Duiker, Steenbok
Species taken: Gemsbok, Kudu, Eland, Impala, Red Hartebeest, Zebra, Warthog, Blue Wildebeest, Ostrich, Jackal
A trip to Africa has been a dream for many years. After doing some research
and getting some helpful input from Justin (Littlejoe) I decided that Kanana
Safaris was the place for me. What's not to love about 100,000 acres of
property that hadn't been hunted for a decade. Jason Bridger and his wife
Claire were great at answering all our questions and helped us plan a trip
that really met all our needs. Our group consisted of myself, my
brother-in-law, Jared, my cousin, John, and my father-in-law, Darrell. Darrell would be coming as an observer and photographer. None
of us had ever visited Africa so this was set to be a life changing
experience. After 11 months of waiting we were ready to go.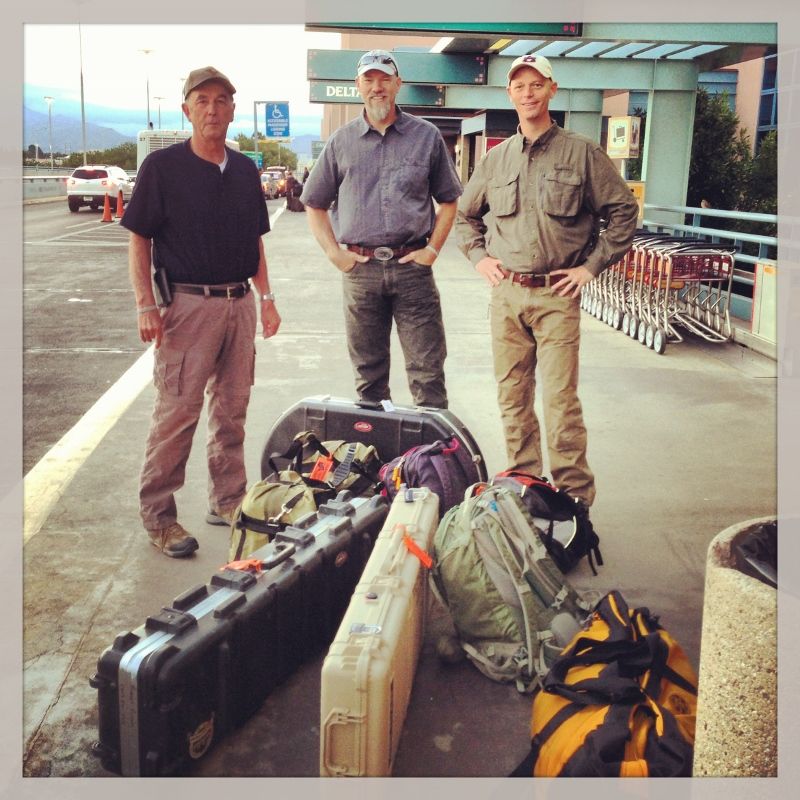 Three of us live in Albuquerque, NM and we met John in Atlanta, his home town. Our
flight over on Delta ATL àJHB went great and I highly recommend Delta
Economy comfort as I'm 6'2" and Jared is 6'4". We were met in JHB by Bruce
and Lucky from Gracy Travel. We were excited to see our gun cases and the
SAPS process was super easy. From there we were off to the City Lodge for
overnight accommodations. We grabbed some dinner in the airport and managed
to get some sleep that night. After a great breakfast, Bruce and Lucky met
us again to get our guns (and John's bow) back on the plane.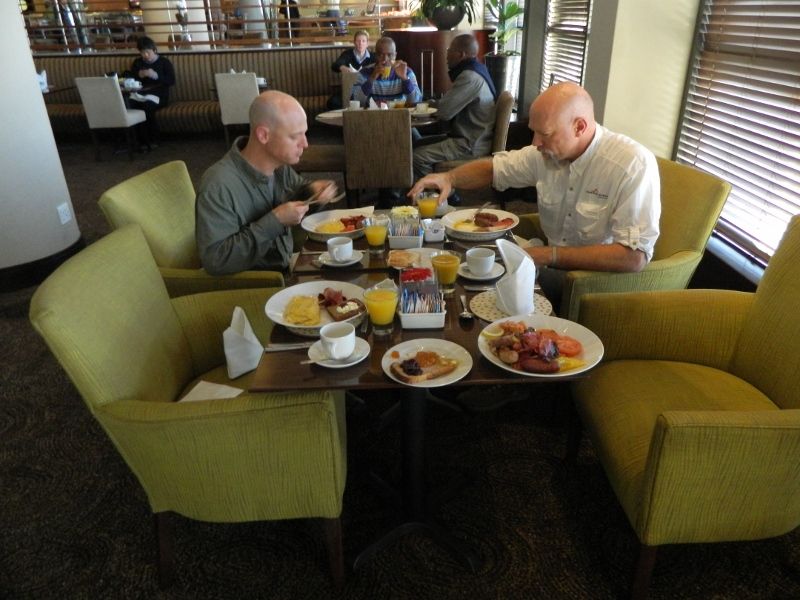 We were met at the counter by a security guy who I think worked for Air Botswana. When he
found out John had a bow inside a large duffle bag, he objected and said the
bag couldn't go. There was much discussion between Bruce, Lucky, and Mr.
Grumpy, but in the end the bag made it on the plane. That was really our
only true scare of the trip.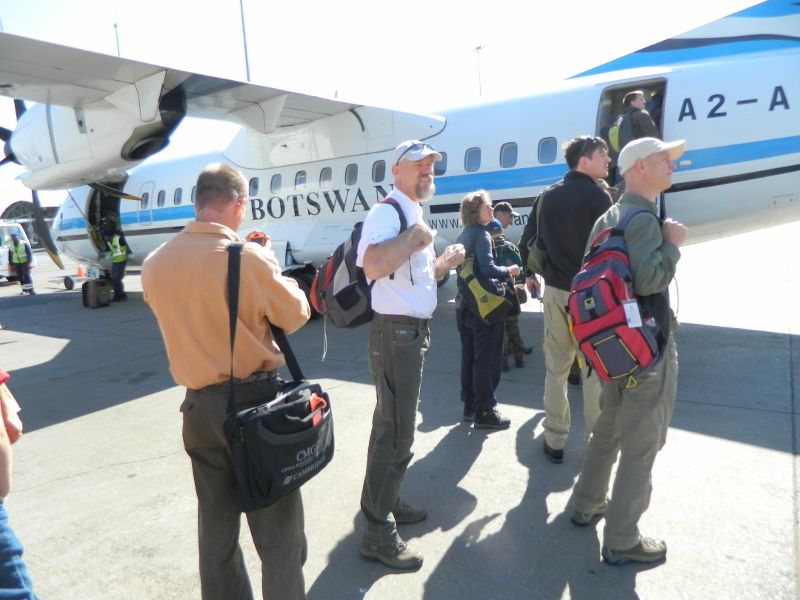 We made it to Maun, Botswana and were met by Will Armitage, the apprentice
PH/intern from Kanana. Will is an Englishman studying wildlife/land
management and spent a year at Kanana. His time there ended just after our
hunt. We got our guns and ammo processed through customs after about 30
minutes. I'm pretty sure we were the first guys to ever bring rifles into
Botswana............
From there it was about a 3 hour trip out past Ghanzi to the Kanana camp
where we were met by our PHs and camp staff. I hunted with Jason Bridger,
Jared hunted with Joop Lewis, and John bowhunted with JP. Darrell wasn't
planning on hunting and was along as an observer/photographer. He spent 6
days hunting with me and hunted with Jared for 2 days. After dinner it was
off to our tents where a hot water bottle awaited us. Being in the Kalahari
desert meant cold nights and hot days.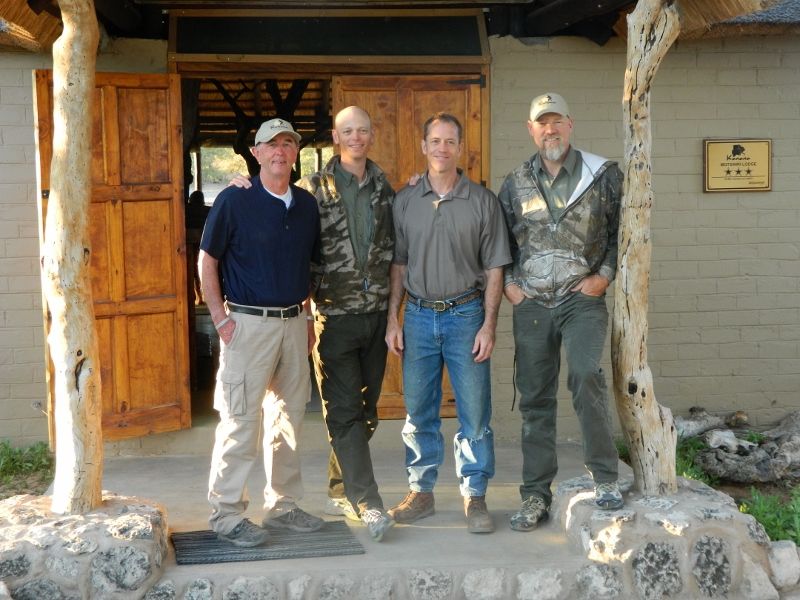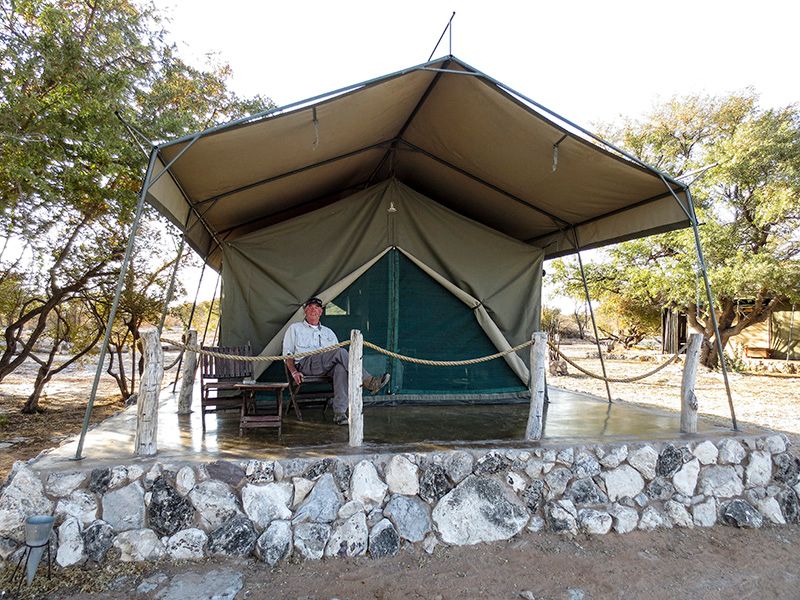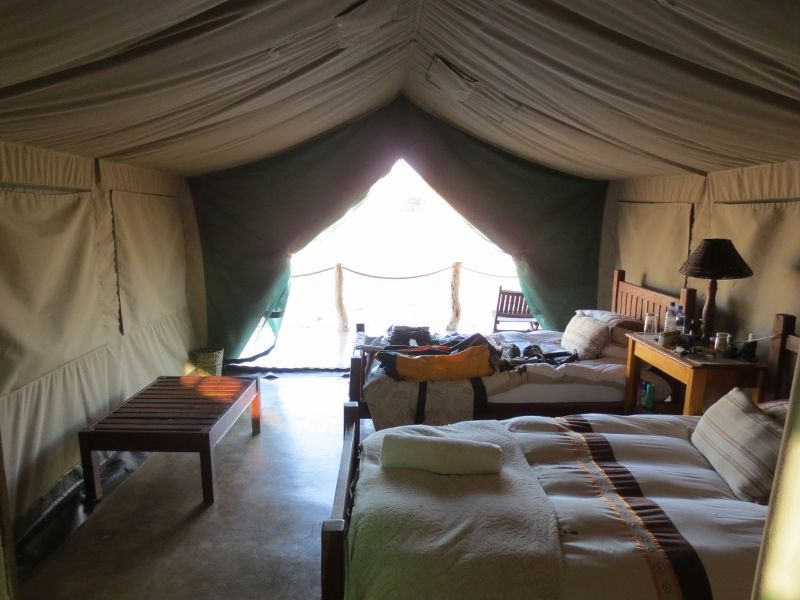 The hunting style at Kanana is spot and stalk although John exclusively
bowhunted from blinds. The hunting vehicles are great and the trackers have
10 power vision built into their eyes and managed to see game that I had to
search for with my binoculars. On day 1, I headed over to the southern
portion of the property and hunted there. I was astounded at the quantity
of game. In the weeks prior to our visit, Jason had spent 31 hours flying
in a helicopter over the entire property doing game counts. They countered
over 10,000 animals in that time. As we approached a pan in the area, we
saw an impala off in the distance. We looked at them for a while and
decided he was worth a stalk. We pulled the cruiser forward out of sight
and circled back in on foot. Fortunately, he advanced in our direction
toward the water. I was able to get up on the sticks undetected at about
125 yards with the ram quartering away. This was my first shot at live game
off of the sticks and luckily I made a nice shot sliding the 180gr Partition
behind the left shoulder and out the neck. He dropped on the spot and the
ice was broken.
Later in the day we put some stalks on red hartebeest but kept getting busted.
Later, we were tracking a group of zebra. As happened on more than one occasion during the
hunt, our focus shifted from zebra when we saw a lone red hartebeest looking
back at us in an open flat. He had heavy bases and was obviously an old
bull. The sticks went up quickly and this time I was shooting the 350. I
made a shot before he turned to run. Fortunately, he only went about 50
yards and was done. I have to admit that the red hartebeest was the species
I was least excited about before arriving, but have to say now that they are
very cool. Here, I am pictured with my PH, Jason Bridger.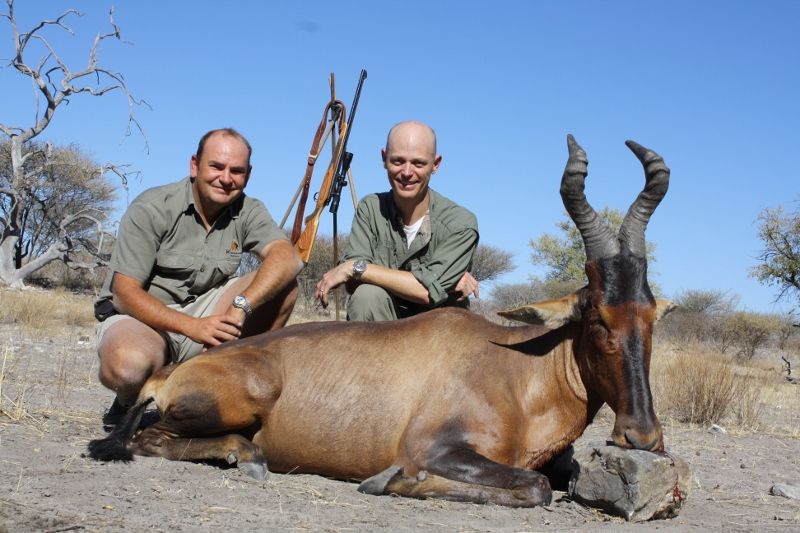 Jared started out day 1 with two great animals. He ate lunch in a blind
overlooking water and ended up shooting a great warthog with his 308.
Later, he shot a wide wildebeest with his 350. Jared is pictured with his PH, Joop Lewis, a native of Botswana.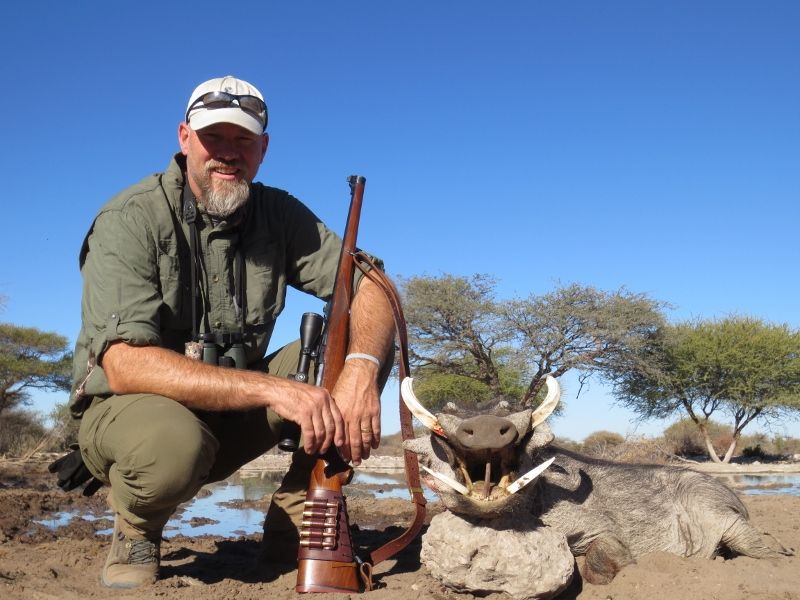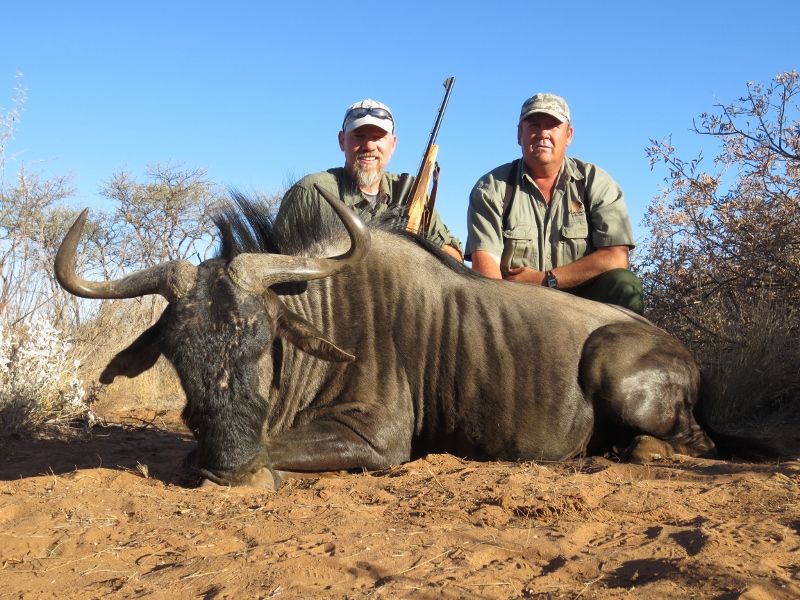 John has bowhunted for years and killed more game than all of the rest of us combined, but his nerves
managed to get the best of him on day 1 and he came back emptyhanded.
On day 2 I again worked the southern half of the property. At one point, we
saw a group of wildebeest down the road ahead of us in the shade. One of
the bulls was quite impressive. I got down from the truck and up onto the
sticks and was preparing for the shot when he spun around. I then moved forward a bit and
watched an opening that they were slowly filing through. We saw what we
thought was the large bull in the opening and I fired. The tracker thought
I'd actually hit him in the front leg, but luckily the bull went down after
about 75 yards. As we approached, we realized he was a great animal, but
probably not the big guy we'd initially targeted. No big deal, he was
awesome with a beautiful skin.
Jared kept us his streak on day 2 and shot a super wide impala as well as a
nice kudu that taped out at just over 55".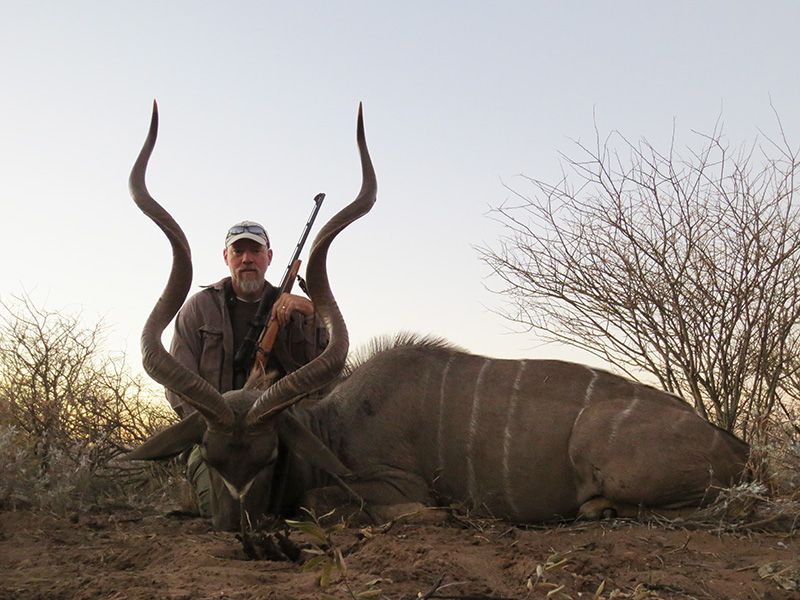 On day 3, John broke the ice with his bow and shot a warthog. He moved to a
different blind where he felt very well concealed and much more comfortable.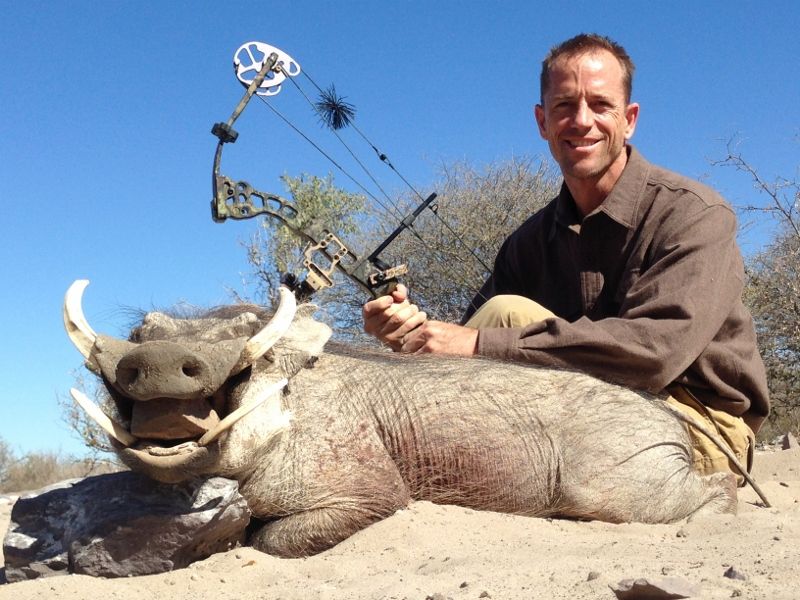 Early on day 3 we stumbled onto another group of wildebeest and stalked in
to take a look. There was a nice bull that was facing us at about 100
yards, but he was only giving a frontal shot. I knew these guys have a
reputation for being incredibly tough and I was reluctant to take a frontal
shot, but I got up on the sticks and felt steady. At the shot, he humped up
and quickly separated himself from the rest of the group. He went about 75
yards and was down. Luckily, I'd made a nice center-chest shot.
Unfortunately, some of my shooting in the following days wouldn't be so
grand. I'm pictured with Jason and my trackers. Happy is a Bushman from Botswana and Morlen is from Zimbabwe. These two men were amazing with their tracking skills and eagle eyes and made the experience an amazing one.
Later that day I had a great experience that you don't see much outside of
Africa. The PH said, let's go find a zebra. We went to an area where we
knew some zebra had been seen and simply got down and started walking.
After about 10 minutes, the bushman tracker, Happy, spotted fresh zebra
tracks and the hunt was on. We followed tracks for about 30 minutes and
actually caught up with a large herd of at least 20 animals. We slowly
moved to within about 150 yards and I got up on the sticks. I felt like I
was very exposed, but in retrospect we were pretty well hidden. At any
rate, I lined up and pulled the trigger which led to zebras running in every
direction. We slowly approached the area only to search for about an hour
and never find blood. My conclusion is that I'd rushed and made a clean
miss. We followed that herd for an hour or so, but never caught them again.
Shortly thereafter, we crossed paths with Jared and Joop who informed us
they'd seen zebra in a neighboring area. We then moved to that area and
took a little walk again. After about 15 minutes, Happy saw zebra off to
our left at about 200 yards. It was a group of about 12 and they were
obviously a little spooked. I got up on the sticks as they slowed down. I
had a perfect broadside shot at the stallion and fired. He spun around and
went down. As we approached him, we realized he was a huge stallion with a
beautiful skin.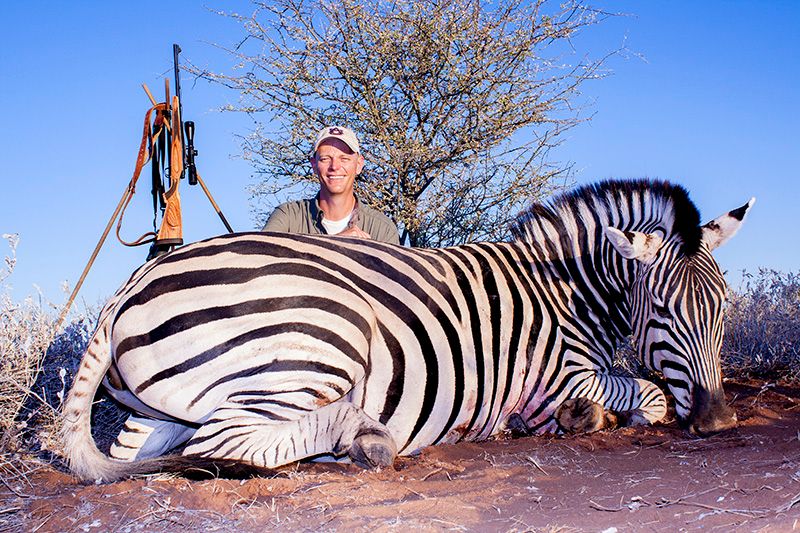 Jared also got into zebra on day 3. As he walked into an open flat, a group
of zebra was walking quartering away from them. This uniquely flat area
allowed him to lay down, sling up and shoot from prone. He made a great
shot and the zebra went down quickly. We've since decided that zebra are
among the hardest plains game to hunt. They're super spooky and run at the
slightest concern. But, they're gorgeous and may be my favorite trophy from
the trip.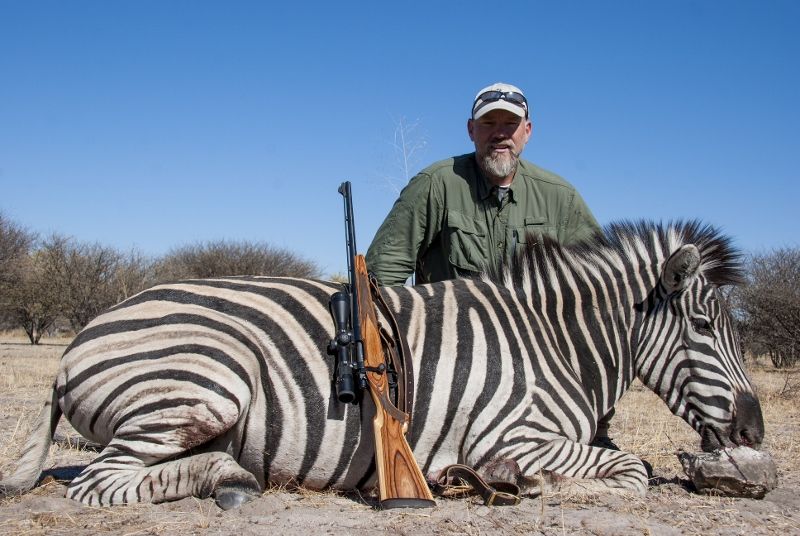 Jared shot his first of NINE gemsbok on day 3. There is a 9000 acre parcel of land on the property at Kanana that is being set up for cattle. They have designed this with much effort and want all game out of the area (at least the non-fence-jumping game). Once the fences were up, they flew that area with a helicopter to push game out. The vast majority of game was successfully driven out, but the gemsbok are especially stubborn I guess. On a few occasions, Jared and Joop drove out there to assist with the "cleanup" efforts. I think you'll agree it had to have been hard work. At least we had plenty of gemsbok meat. (Whatever doesn't get used in camp gets sold in nearby Ghanzi).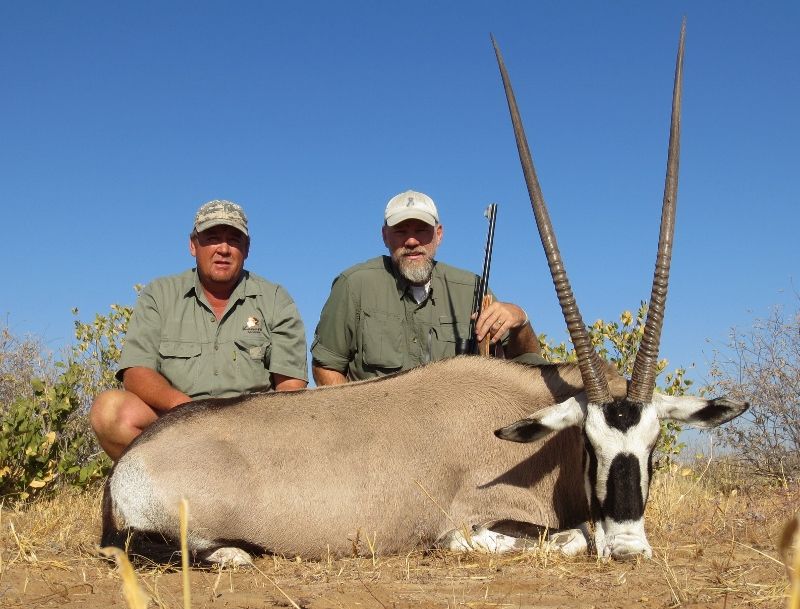 Day 4 for John was when he finally hit his stride and boy did he! He sat on
a waterhole called Sampson. A beautiful wildebeest came in and was rolling in the sand getting flies off of it in front of them before his shot. In response to the shot, the massive bull ran straight at the blind and nearly ran into the blind and made a loud roaring grunt as he ran 2 feet past them as John stood at the window. John is pictured with his trackers, Assi and Martin.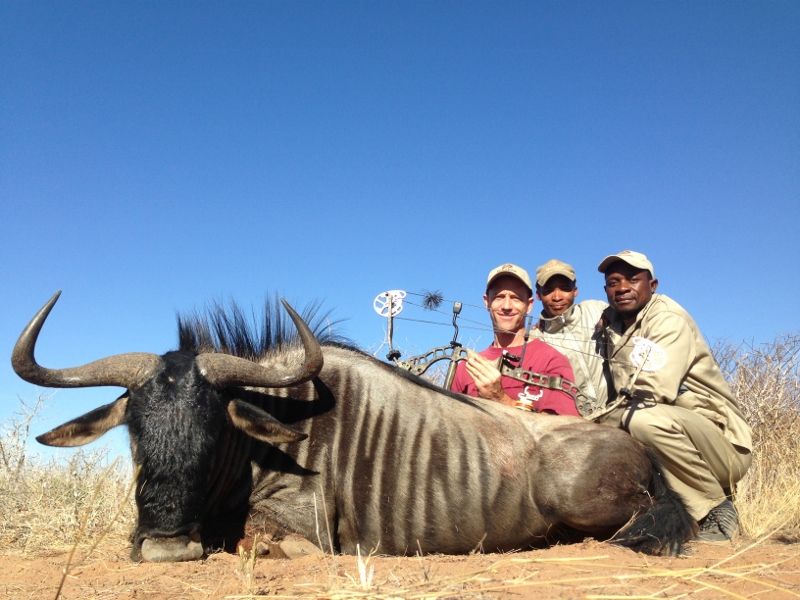 Not long after getting the wildebeest loaded up, the action heated up again as a kudu bull strolled in. John made a great shot and had his first kudu.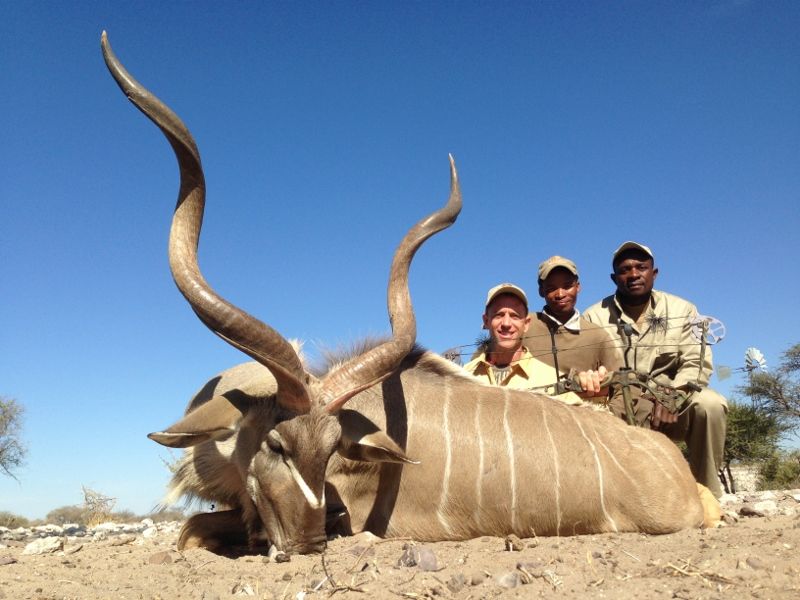 They stayed in that blind until about 90 minutes before sunset. The wind changed so they moved to a different blind closer to camp. Not long after arriving, a lovely gemsbok cow came in and again John made a great shot. She ran about 150 yards and tipped over as the sun was setting.
Jared spent day 4 hunting on the southern property. His trackers saw a
bunch of fresh bull eland tracks and set off through the brush after them.
After 2.5 miles of walking, a wide-eyed Joop looked at Jared and pointed to
a bull that was a mere 30 yards away in the shade of a black thorn. Jared
got down on one knee and squeezed one off with the 350. After a finishing
shot he had his eland that had a great pompom of fur on its face. This photo shows Jared and Joop as well as Jared's trackers and our father-in-law, Darrell.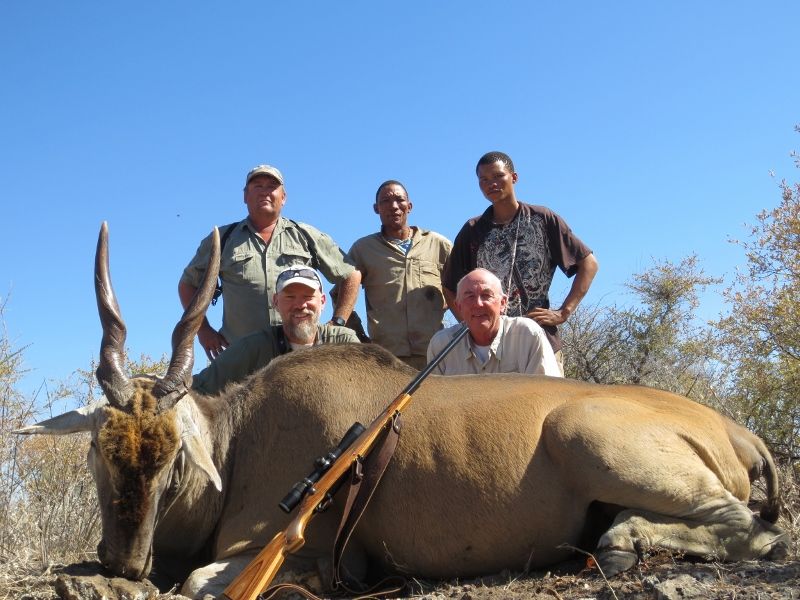 On day 4, we drove to the northern portion of the property and found a
couple of nice gemsbok that seemed worthy of a stalk. We starting walking
up the road paralleling them and noticed a couple kudu cows that seemed to
be keeping a close eye on us. As fate would have it, they managed to blow
our stalk, but just a few seconds later we noticed a large group of about 15
eland bulls run across the road about 300 yards ahead of us. We shifted our
attention to them and followed their tracks which happened to lead through
some thick nasty thorns and briars. They stayed on the move for a little
while and the wind wasn't perfect, but we eventually got to where we had a
shot and a nice mature bull stood broadside about 200 yards out. I got up
on the sticks again, maybe a little cocky after my great zebra shot, and
squeezed the trigger on the 350. Lots of dust flew with the massive animals
scurrying and we actually thought we heard the old bull fall. The rest of
the group actually stood around for several minutes and then slowly walked
off. As we approached, we again found no dead eland and no blood. We
searched for about 5 minutes before I moved a little farther back near a
property fence line with a road. I looked down the road and saw a single
eland, maybe 500 yards out. I called to Jason who came to look and agreed
that was probably our guy. We found his tracks on the road and eventually
found blood. He was obviously hurt, but not down for the count. We veered
off the road and walked through the bush to conceal ourselves. Once we got
to about 200 yards, the sticks went up again offering me a quartering away
shot. Just as I was about to shoot, he looked back and prepared to move. I
fired again as did Jason who by this time was carrying his 416 Rigby just in
case. Well, the eland took off through the brush and we both thought we'd
missed. We followed him for another 200 yards or so and eventually saw him
again. Both of us fired again and this time he was down. He was a fine
old specimen. When we loaded him in the cruiser, his tail was against the
cab and his tongue on the ground. I can't believe how big these things are.
Days 5-8 to follow......