Company: CMS
Agent: None
Area: Dande North
PH: Richard Tabor
Trackers: Norest
Taddius
Cameraman: James Peters (Osprey)
Weapons: Win Model 70 .458 Lott
Win Model 70 .375 H and H
(I am bolt trash)
Species Sought: Elephant Bull, Buff and come what may.
Species desired but nary a whiff: bushpig
Hunt Dates 30-Sept-2013-11-Oct-13
Airline: Delta
Hunt Companions: Larry Shores and Buzz Arthur
"There is no creature among all the Beasts of the world which hath so great and ample demonstration of the power and wisdom of almighty God as the Elephant."
Edward Topsell, The history of Four Footed Beasts and Serpents. 1607
We arrived Joberg and connected to Harrare with very little Drama. Myles McCallum met us in Harare and of course clearing guns was good humor as usual. We were shuttled off to a lovely B and B called the Amanzi where I promptly decline sleep as I stayed up sweating the Alabama/Ole Miss Football game. Real football not that girlie footsie game. Oh and Roll Tide! Up and out for a quick one hour charter flight to Pedza Pasi camp. This would be home away from home for the next two weeks. Met Buzz Charlton and Richie Tabor. Larry's PH was Buzz and I drew Richie. The other Buzz (2 weeks of coversation confusion) was to have Blake Wilhelmi for a PH. The most nerve wracking shots of all were taken and all weapons were deemed satisfactory.
The social and dining area at Pedza Pasi. Elevated with good drainage for all the after dinner BS that tends to roll.
Close up of the refreshments and the lovely painting completed by Richie Tabor's mum.
Dining area with the Ele Bull painting by Richie's mum.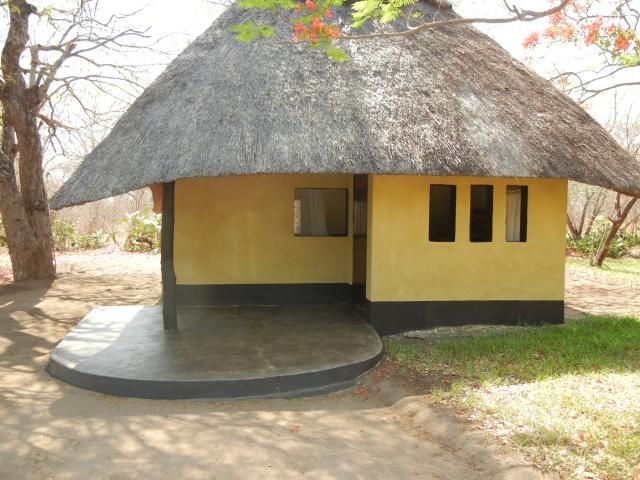 My bungalow.
Day One was spent trying to cut the spoor of an elephant bull worthy of tracking. I was able to take a lovely klipspringer.
Late in the evening we came across a wounded ele bull baby. Richie contacted the authorities by cell phone and we received permission to put the poor guy down. His right front leg was puss filled and after he was dispatched the right shoulder leg jucture was found to harbor a muzzleloader ball or rebar rod or whatever they shoved down the damn thing. The poor juvie ele was all skin and bones. There was absolutely no joy from any in our group. Apparently the poaching in Mozambique continues to be an unchecked nightmare.
Day Two found us on a buff mission. The morning produced two beautiful stalks and two small herds of buff with no shootable bulls unfortunately. Apparently my duck walking while trying to follow Richie while in close quarters leaves a bit to be desired. We found a cracking Impala that was too good to pass so we added him to the larder.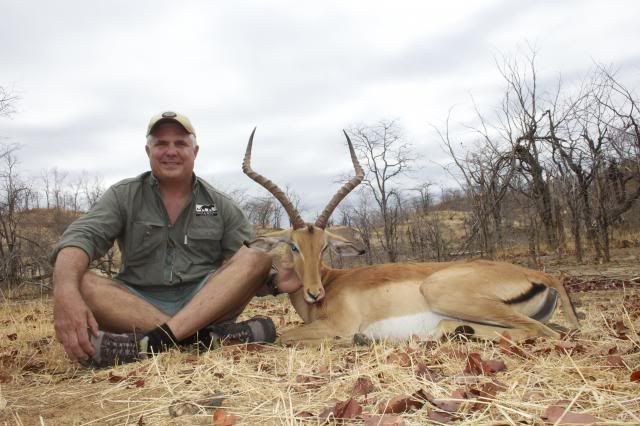 After checking a nearby spring for buff tracks and ascertaining which way the beasties had traveled we settled down for a quick lunch in the shade. About 40 minutes later we were off. We tracked for about 90 minutes and closed on a huge herd of Syncerous Caffer. I mean we were dancing in close. There turned out to be over a hundred buff in this herd but only a couple turned our heads. Of course as Mr. Murphy commands they never presented themselves to the outside edge of the herd facing us. Over four hours we positioned, repositioned and then we now have 2 herds with over 200 buff we are trying to slip in and around. Finally in frustration, we pulled off. We had been up and down hills and for a while and I hadn't been feeling right. Then on the way to the truck, I went down. Heat Stoke, dehaydration sickness whatever you want to call it. They had to bring the truck to me. Africa 1 Pride 0. How embarassing. Richie patched me up and I was relatively decent when when we got back to camp.
Day Three finds Richie, the boys and me looking over a spring in the early light. No ele, but we cut the spoor of a big old dagga boy traveling solo. I still after 10 trips; find myself in wonder as Norest and Taddius followed, lost, found and followed again the lone bulls tracks. An hour and 20 minutes found us tip toeing through some rather thick jess. We bumped a female Grysbok three different times and the third time and old dagga boy was standing and glaring after we disturbed his nap. Richie swears he told me to shoot but all I remember was shouldering my Lott and crouching to shoot through a hole. No time for sticks. James managed to get the camera on and was zooming in when I touched off. Richie asked me "How do you feel about the shot?" "I think we are ok" was my reply. A grunt was heard a short few seconds later. We followed up after a bit and found the sweetest of sights. Expired Nyati. My shot had smashed the front left shoulder and taken off the top of the heart.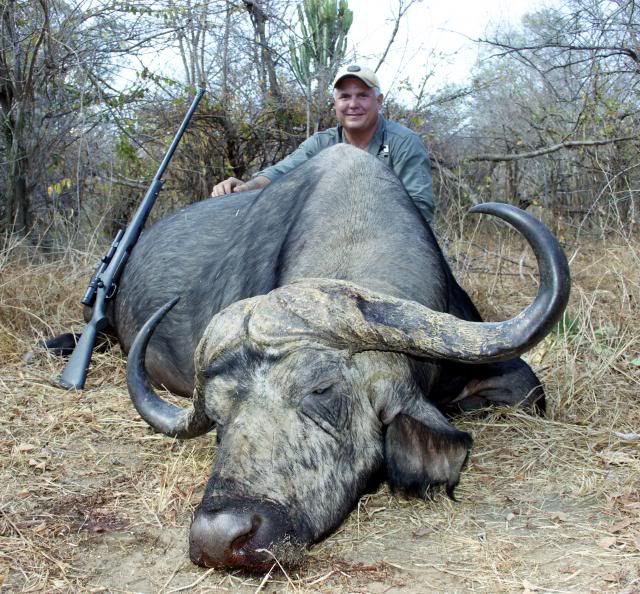 We found ourselves with almost 43 inches of buff with a boss so tight a knife blade could not be forced through it.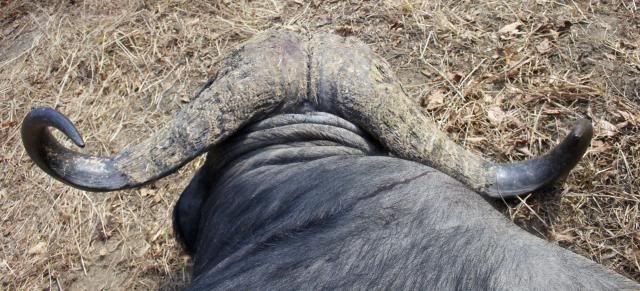 The boys had to cut a 5km road into recover. They were a little bushed.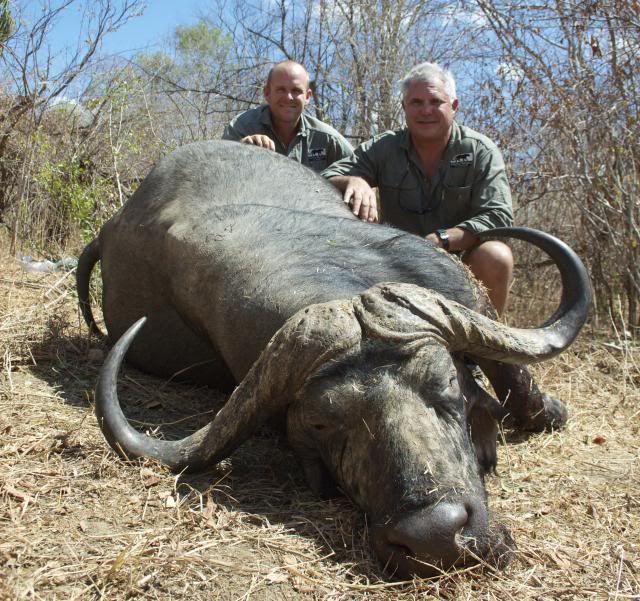 Richie and me.
Day 4 the morning hours find me on a speed boat zipping up current on the mighty Zambezi River. Luke, one of CMS's PH's had told Richie about a trio of bulls that had been seen on the island. Actually there were a pair of islands. We beached at the wind favored end and proceeded to work through the dense jess. Twice we bumped dagga boys who thankfully had other places to be. We tiptoed around and found a group of 5 bulls. One was apprecialbly better than the rest. We backed off and reorganized and then Richie, myself and James approached wtih what passed for stealth in the dry leaves. One of the younger bulls spun and left and the memo went out. Nzhou departure time was upon us. We backed off a few hundred yards to give them time to settle. Upon our reapproach, they were...gone. they slipped past us. How something that big...well nevermind. I don't mind crawling down buff tunnels in the jess. but do we really need to be making new ones for the buff's benefit? We spent the rest of the day playing ring around the islands until we tracked them in the late afternoon to where we had first encountered them. Four left for real this time crossing water to a small jess choked island nearby. We pulled out. Later we determined the bull we were after initially may have held his ground , his breath and done his best impression of a rock while we were present. He them held quiet as we slipped away.
Day 5 finds us in the hills above the Zambezi. The boys have tracked the four bulls, and insist that ours is amongst them. The human traffic along the river including us has encouraged them to seek new digs. Richie however has found a solo track that goes into the hills. At 20 inches he feels this is our ele. We spent the morning tracking the lone bull onto the base of the mountain that froms the Red Cliffs on the Zambezi River. There he joined up with a group of cows. We jumped a ridge over and had them below us, but the only shot was a rear brain shot at too long a distance. The eles sensed something was off and so were they. We caught up to tham a while later with Richie capering through the hills with joy and me following like a wounded hippo. Two ridges away and they sought the shade of a large tree. Our bull was among them. He had great shape more than 3 feet of tusk showing that carried some weight forward. Now the tactical dilema. They were down hill from us and a quick down hill stalk was reqiured among the dead leaves and rocks. Richie took off. He watched the bull and I watched my feet. We could get no closer than 30 plus yards. Up go the sticks, along with my rifle. The bull is facing to the right with a side brain shot avaialable. The only problem is when his head is in the proper position a tree covers the ear slit. Two of the cows leave. I cheat forward and squeeeze. The Lott flattens him but I only hit the front part of the brain. A quick chest shot and one in the back of the head and we are finished. I am always in a sense of stunned wonderment at a time like this. Richie is talking and shaking my hand the boys are all pumping my hand and talking but not a word is heard by me. Sitting here typing it is still sort of a blur.
16 inches at the lip and 45 pounds per side. Almost perfectly matched. I don't care he is my elephant. Earned hard, true and fair.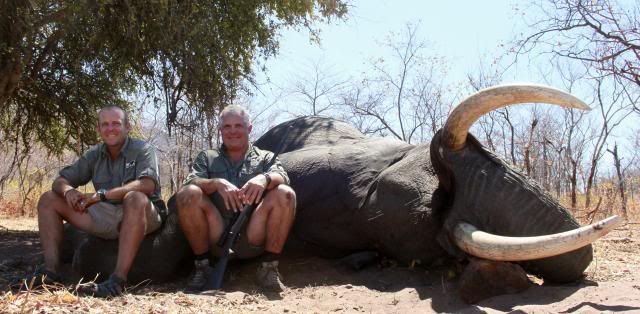 The way Richie rolls. Cool as the other side of the pillow.
We spent the rest of the day recovering the bull. I am impressed with CMS's recovery system. Very efficient and the bush is not left littered with elephant.
Day 6 Richie announces we are going tiger fishing on the mighty Zambezi. We we fished around all day with little success, but it was awesome just to be on the river.
Day 7 We still have another buffalo to secure. We cut spoor and tracked what we thought was a small group. Several hundred yards of butt stalking got us close but we eventually had to close to sort out what turned out to be a large herd. I had a quick shot at a deep drop bull, but he bailed before I could come tight. We close again after another hour and I am on the sticks and looking at this fine bull. I squeeze...and squeeze, Shit the safety is on. Click and now a cow is intersecting my shot. My mathematically challenged brain figures I better hold off. They turn and go. Game over. Total deflation. Richie was good humored at least on the outside. Not so much for me. I was just pissed at myself.
Day 8 finds us back on the trail of the same group of buff. We track them all morning through all manner of thick jess. Closing, but not really seeing. Finally they had enough. We determined where they would water and retired for lunch at camp to let them settle down. After lunch we were heading towards the spring where we anticipated and they had watered and low and behold they were there. We scampered across the river twice and for once Richie can't leave me in the dust. Now comes a driving rain. James is scrambling to keep his camera dry, I can't see through my scope and the buff are leaving the spring. Richie leads us up a ridge and now I have a hard angle on a departing buff. Richie whistles and the nyati bull turns and gives me enough. It's a raking shot going forward. Post mortem reveals the shot took out both lungs and once again the Lott requires no backup. Another fabulous trophy. The rain then clears out to allow photos and recovery.
Cameraman James and me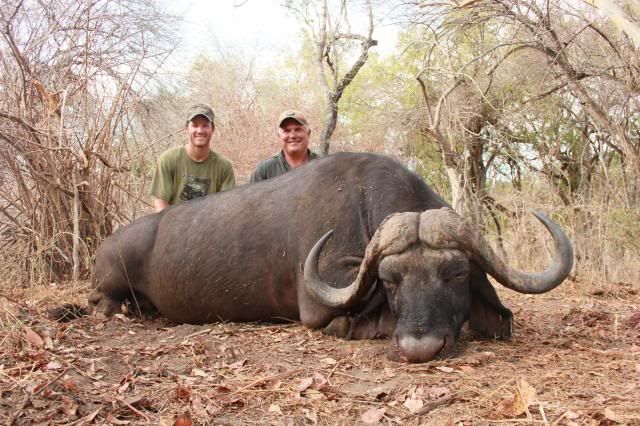 This is what you look like after a day of chasing Richie.
I spent the remaing days trying to track down the elusive bushpig and generally knocking around. I have had so many hunts go down to the wire and taken animals with a boarding pass in my pocket it was rather pleasant to enjoy Zimbabwe with no specific goals.
Richard Tabor is totally switched on. The man is an animal. Quiet, reserved, efficient and funny as hell. You just have to listen closely. I look forward to hunting with him again. Except for Bushpig.
CMS is the most well organized well run company that I have hunted with. They made my 10th trip across one of the best.
James Peters was perfect on camera for me again. I told my 9 year old son that I whacked a big buffalo and his first question was "Did you get footage?" So James was under a lot of pressure with my son to answer to.
My Companions: Larry Shores and Buzz Arthur were a stitch to be with. Larry took a good ele bull, 2 tuskless and a buff. Buzz A. took a crackin Leopard and nice buff.
The entire CMS crew of Buzz Charlton, Richie and Blake were fun, and uncompromising.
The Food: Outstanding. The best of any safari camp ever. Not that it's important to me personally but a shout out is due.
Richie and me. What's with my expression? Looks like I am at the urologist...just sayin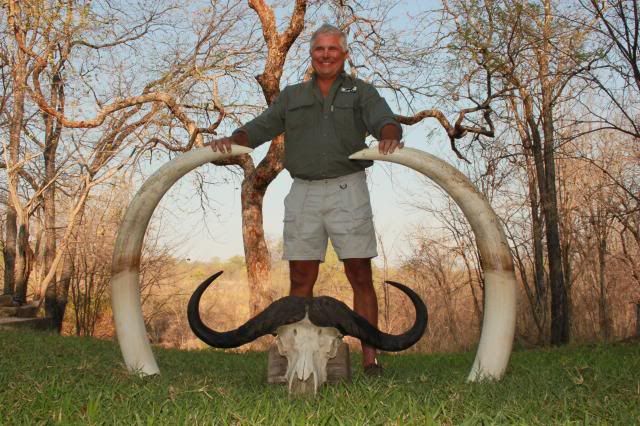 And the Bwana Shot. I never did one of these before. I am truly a blessed man. Moishay!!!!
Respectfully Submitted
Jeff Sevor