Dates: 24th March - 6th April
Areas:
• Umkomaas Valley, KwaZulu-Natal
• East Griqualand, near Kokstad, KwaZulu-Natal
• Stormberg Mountains, near Molteno, Eastern Cape
• Baviaansriver Conservancy, Eastern Cape
Outfitter: Crusader Safaris
PH's: Rad Robertson & Aramant Aucamp
Rifle: Sako 85 Synthetic Stainless in 30.06 fitted with a PES sound moderator
Bullets: Federal 180grain Barnes Triple Shock
Game seen: Nyala, Greater and Cape Kudu, Bushbuck, Zebra, Waterbuck, Impala, Porcupine, Baboon, Hartebeest, Black and Blue Wildebeest, Steenbok, Duiker, Monkeys, Dassie, Spring and Cape hare, Aardwolf, Civet, Warthog, Springbok, Mountain Rhebok, Vaal Rhebok, Common Reedbuck, Blesbok, Bush Pig, Fallow deer, Lechwe, African Wildcat, Bontebok
Game Hunted: Bushbuck, Caracal, Warthog, Blue and Black Wildebeest, Mountain Rhebok, Vaal Rhebok, Common Reedbuck, Blesbok, Springbok, Nyala, Zebra
Game Hunted but not taken: Caracal, Warthog, Nyala,
Our last two trips we had been to the Limpopo but I fancied a change of scenery for 2013; options were explored, and although I would have loved to take a trip to Zim or Mozambique with South Africa another option in the end we decided we just couldn't justify the cost this year and resolved not to go. However, at a rather late stage so we decided to hell with it and to go but with the cheaper option of South Africa. Back in late 2012 I had investigated various options with various outfitters but settled on Andrew Pringle's Crusader Safaris. I had seen some good reports on AR and liked the fact that his three camps covered a large area of very different habitat with a big variety of species to go after – plus he had availability when we had to go, my wife is a school teacher so we are bound by term dates.
Arrival Day
We landed at OR Tambo after the 11 hr flight from London Heathrow with SAA. We were met off the flight by Henry Durrheim of riflepermits.com, who by some magic got us and my rifle onto our flight to Durban despite the far too short a connection time. Note to self and word of advice - get the preapproved permit from him well in advance! Our PH Rad Robinson was waiting for us at the firearms collection area and after a 90min drive we found ourselves in the camp in the Umkomaas with a couple of hrs of daylight to spare. Samantha elected to unpack and have a rest, whereas my excitement had kicked in and I was eager to get the rifle checked; On the range it turned out the Peli case had done its job so we decided to have a quick look round an orange plantation close to the lodge before we lost the light, it was great to be back in Africa and wildlife seem to be plentiful and we saw a group of warthog, a bushbuck ewe and a large group of Nyala ewes with calves up on a grass patch above the lodge. It seemed that we had brought the weather with us from England as it turned to quite heavy rain that evening. Very soon I was tired from the journey and we turned in very early.
Umkomaas Lodge photos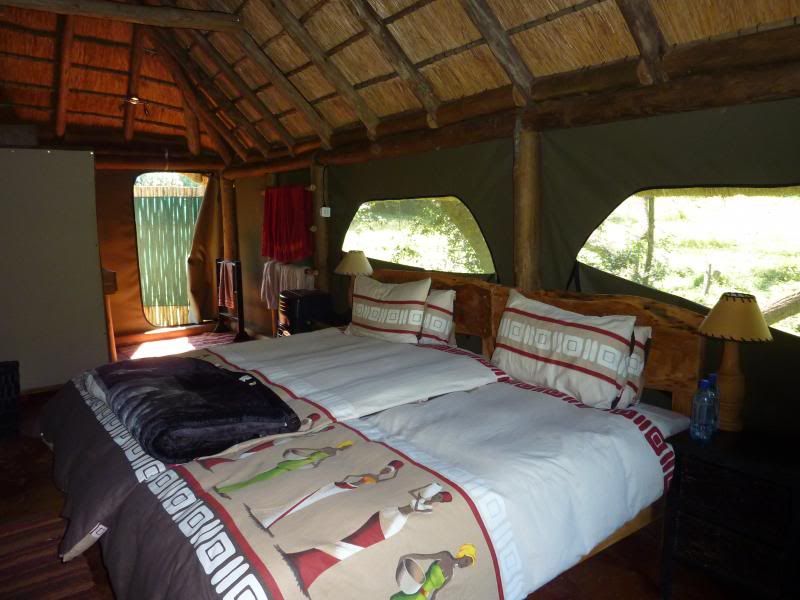 Day 1
My early bedtime backfired when I woke at half two and was unable to get back to sleep and lay impatiently waiting for kick off time. It finally came and we loaded up in the truck pre-dawn headed for a much larger orange plantation a distance from the camp; Andrew had explained before we flew out that they had had a very wet few months, and compounded by the fact they had burnt the grass after last season had meant that the bush was incredibly thick and that hunting would be very tough.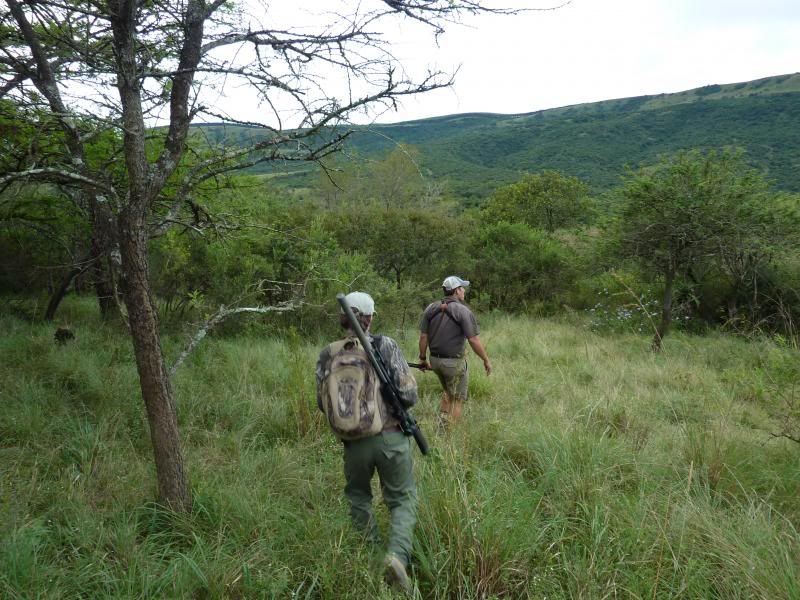 He hadn't exaggerated and even in the grass areas that looked clear enough from a distance the game proved very hard to spot as the grass was so high. The Orange plantation at least gave us a chance to spot the game. Only a short distance from the car we saw our first animal, a Nyala Bull that had no idea of our presence, he was safe from me, however, as I was after a bushbuck, the animal that had eluded me to previous trips. Making our way slowly and quietly through the rows of orange trees we started to see more game, first a Waterbuck bull, impressive but a young animal Rad said. Next we came right up on a group of Kudu, mostly cows I think, but they busted us due the crack of a twig underfoot, not from me I might add! Luck was on our side though and they headed uphill into the thick bush and not ahead into the plantation. Walking quietly down a main ride in the plantation first we got very close to some Nyala ewes, again totally unaware of our presence, we then got our first glimpse of a bushbuck, a young spiker, walking parallel to us. Shortly afterwards he was joined by a friend who got my heart pumping but Rad said he was still young and that we could do much better, he was right of course but having watched him for 5 mins down the scope I was starting to get an itchy trigger finger! They were the last animals we saw in the Orange groves but having started early we decided to try another spot before heading back to camp, as these things tend to go it all happened in a instant, Toolbag, our tracker/ skinner (great name) made a great spot and after a short sneak I managed to squeeze the bullet through a tiny hole in the thick bush and I had the animal I had been after on the previous two trip. A fantastic start, a great old old animal, quite thin, completely bare on the neck with very worn down teeth.
Bushbuck video
https://www.youtube.com/watch?v=3Q-VsCSh0bU
That afternoon we set off for a different area further up the hill, a large grassie area surrounded by Acaca thorns, Rad had seen a monster bushbuck there the season before with 1.5 horns so we went to look for him. Rad and I managed to get absolutely covered in ticks, both regular ones and the tiny pepper ticks, Samantha managed to avoid getting a single one, so we decided that they were all females ticks and we were 'tick magnets'!! Besides a soaking from a rainstorm and a pepper tick removal session under torchlight (Rad opted for washing himself in dog shampoo?!) the rest of the day passed eventfully.
Day 2
After our early success with the Bushbuck we decided to drive down to Kokstad the next morning and try for a common reedbuck. After that hellish drive I have a new rule – no PH's that drive diesel Landcruisers – what an amazingly gutless machine. With no crawler lanes we spent 2.5 hrs stuck behind lorries we couldn't overtake unless we had a mile run-up……..downhill !
Finally we arrived at the farm and were met by the owner, Craig Gilson who treated us to scones and tea before we headed out. Very quickly we saw plenty, including what looked like a spread out group of eight with a couple of good rams in the distance. Irritatingly a rain squall came in and by the time we got there they had disappeared – their ability to hide in relatively modest cover is extraordinary.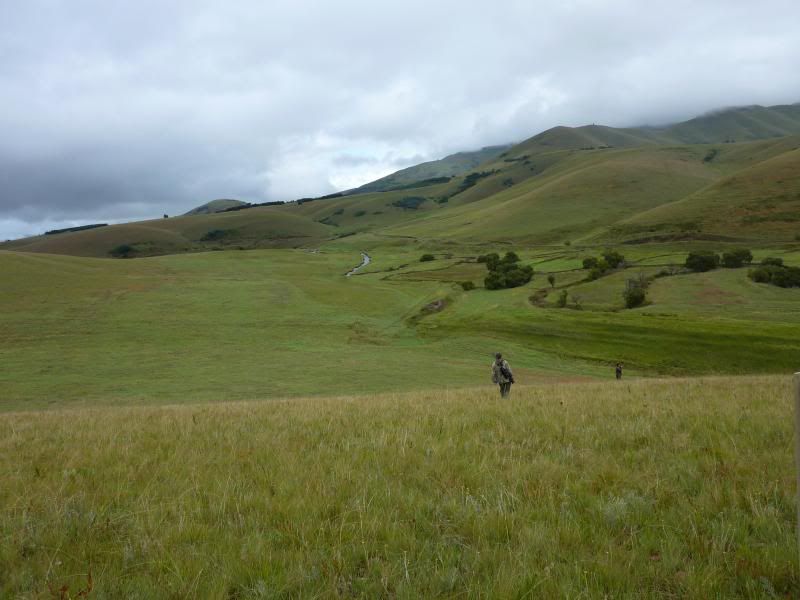 A frustrating couple of hours followed as we struggled to find a single animal, and when we finally did we bumped it out of cover, it was a monster of 16"+ that ran straight over the neighbours boundary without stopping for a second. We then walked a couple of narrow valleys, hoping to find an animal in cover the we could bump and possibly get a shot at but we draw a blank in both. With the wind pounding and more foreboding clouds on the horizon I was starting to get worried as I didn't fancy a return visit in the landcrusier much! In the next spot we settled down to glass as there was a decent amount of cover all over the face above us; I soon spotted a lone female in a gap who shortly after spotted us, Craig had barely opened his mouth to say that she wouldn't be along when a ram appeared to her left, he was clearly spooked and headed uphill so I grabbed the rifle, extended the bipod and lay down ready to shoot while Craig and Rad judged him. I got the go ahead and he stopped right before the horizon, slightly quartering away, with a quick judge of distance taking into account the steep uphill shot I fired. It sounded like a solid hit but he disappeared over the horizon quickly and it was hard to exactly say if it was spot on or not. After a quick check of the range at 251 yards we made our way over the top I was relieved to find he had only gone about 30 yards despite the fact that the hit was a little left. He was a cracker not quite as big or as heavy as the one we had seen that morning but very nice indeed.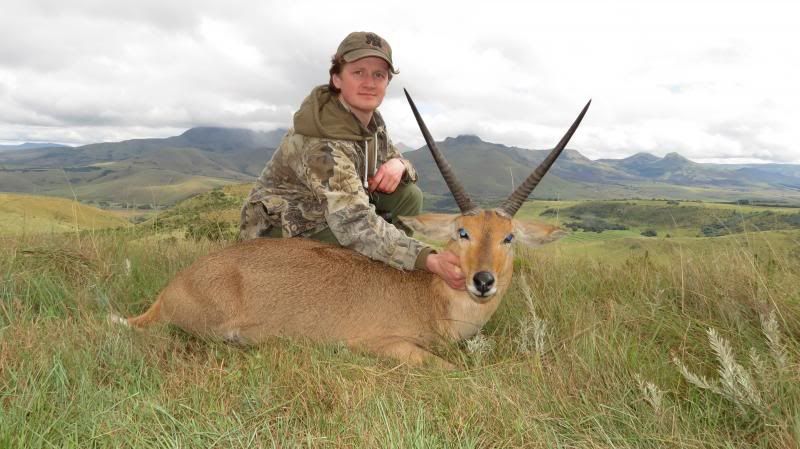 Craig's wife Astrid cooked us an amazing lunch and somehow with the great food and company, a couple of beers we forgot to go out in the afternoon, plus with the prospect of a slow drive back we set off early. As it turned out the drive back seemed to go a bit quicker!
Day 3
Slept badly again and was slow to get up so it was 15mins or so after first light when we left camp. We walked the Orange grove again and saw quite a number of kudu
https://www.youtube.com/watch?v=u69cx0uTBCY
And I very nearly stepped on this brute
https://www.youtube.com/edit?n...video_id=hCCKRYmsLes
We spent the rest of the day trying to find a Nyala Ewe as my wife has taken a major fancy to the rug on the floor of our bedroom – Murphy's law rolled into action and suddenly they all disappeared! We saw bushbuck females round every corner plus Nyala Bulls but the ladies excused themselves for the whole afternoon despite covering a huge amount of ground. We had a short glimpse of a very large Warthog as well. The evening brought a major thunderstorm which knocked the power but that failed to spoil supper, which was the fillet off my Bushbuck from day one – delicious and not too tough despite his advanced years.
Day 4
05-30 start to find Mrs Nyala – We saw Kudu and Nyala bulls, Impala and lots more Bushbuck female but failed to find one. The shot at the Reedbck being slightly left was niggling at me and I checked the rifle on the range to find it was shooting just over an inch left at 100 yards. It normally holds it zero well so before we left I decided to check the scope and found a couple of mounts slightly loose. Somehow, like an idiot, I managed to shear one of them off completely – only to find that I had failed to pack my spare mounts and screws (sat on the kitchen table back in London) – Not happy to say the least.
Damp Morning in the Orange Groves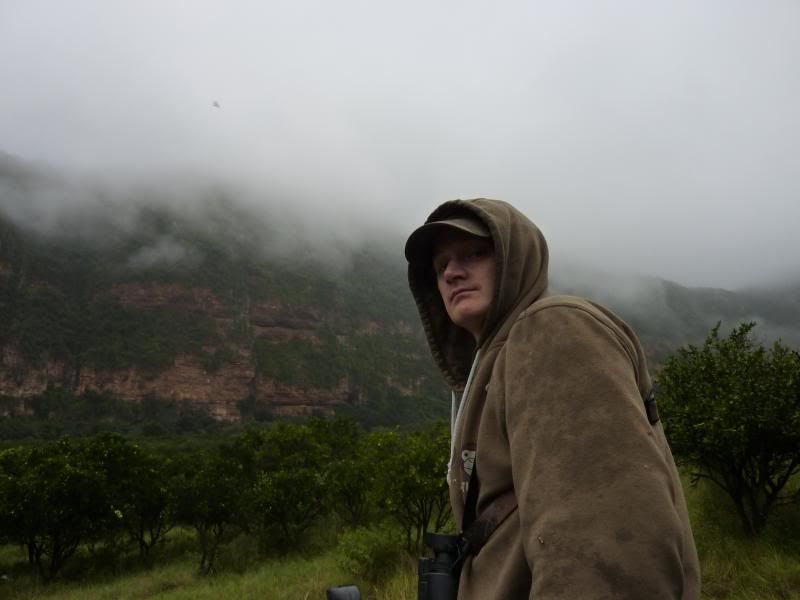 After a quick bite to eat, we then set off for the long drive down to the Stormberg – the first 210km in Rads Diesel land cruiser and the remaining 300km in a Hi-Lux of our second PH Aramant. Needless to say the second half of the journey was quicker!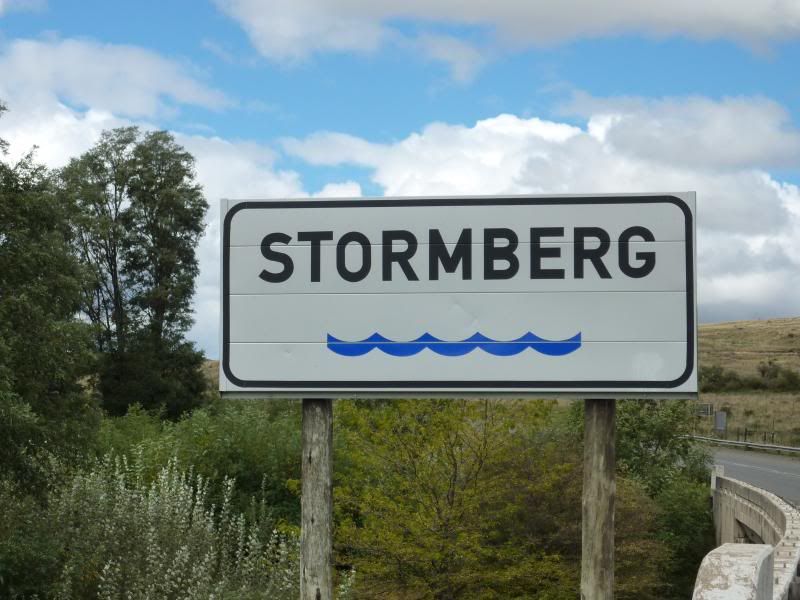 Day 5
With a bad cold front forecast Aramant suggested we made the most of our first morning in the Stormberg so we got up while it was still dark. He knew of a old Vaalie ram that tended to feed on his ground before crossing on to his neighbours mountain to spend the day up on the top. The first job was to check the rifle and soon as we had enough light we checked it, the rifle was ok but tending to 'creep' a bit after each shot so I needed to make the first shot count. Soon enough we were in position to spy having crept over a small rise – using the bushes as cover. We spied for perhaps half an hour, only seeing two mountain Rhebuck bedded down, the Vaalies were not to be seen. Aramant had done his recon well and sure enough they appeared shortly after – feeding quite fast towards the boundary. We rushed fast to intercept them and in fact a couple of them saw us at the last second and they disappeared from slight below us. Joggging to the edge I lay down having already extended the bipod, they were all stationary at about 150 yards but typically the ram was at first hidden behind a bush. They set off running and I was convinced my chance was gone, however, they slowed at just over 200 yards and the ram stopped at 231 yards to do his business. I was rock steady and with the downhill shot I aimed straight at him, the Barnes entered his rear right haunch and exited on his front left shoulder and he dropped on the spot. Smiles and handshakes all round – in the coming days I was to realise how lucky I was, firstly that Aramant knew their movements so well and had got me in on these incredibly elusive animals and that we beat the weather.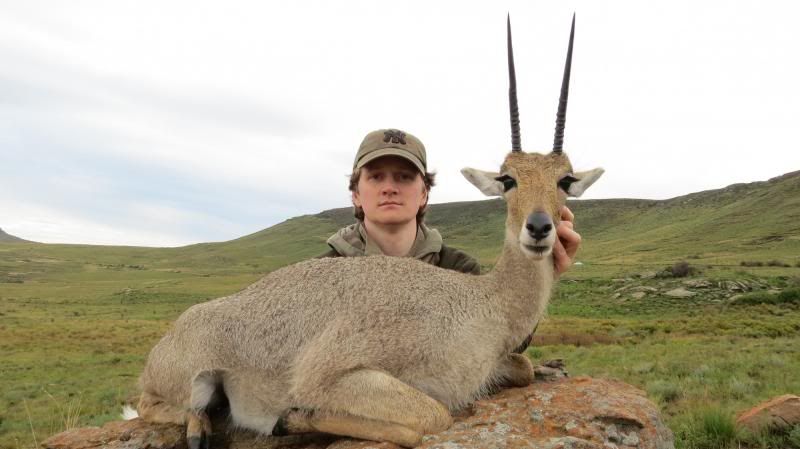 Vaalie video (No shot on camera i'm afraid)
https://www.youtube.com/watch?v=3Aj_6r9zbRE
We retuned for some early lunch and to pick up Samantha and spent the afternoon chasing Springbok with no luck before turning our attentions to a Blesbok Ram that we had seen a couple of times. He was bedded down in the open so it was to be a fun stalk, a 120 yard crawl on hands and knees followed by a further 30 yards on our bellies using an ant hill as cover. Samantha made a great shot just before he was going to run at 35yards.
Blesbuck stalk and shot
https://www.youtube.com/watch?v=FVCX2ynXHBI