Dates: 18th-29th August
Area: Limpopo Province
Outfitter: Askari Adventures
PH: Morne Brummer
Rifle: Sako 85 Synthetic Stainless in 30.06 fitted with a PES sound moderator
Bullets: Federal 180grain Barnes Triple Shock
Game seen: Buffalo, Eland, Sable, Nyala, Giraffe, Kudu, Zebra, Waterbuck, Bushbuck, Klipspringer, Grysbok, Impala, Porcupine, Baboon, Crocodile, Hippo, Hartebeest, Wildebeest, Steenbok, Duiker, Monkeys, Dassie, Spring hare
Game Hunted: Warthog, Baboon, Kudu, Klipspringer, Grysbok, Impala, Gemsbok, Hartebeest, Wildebeest, Duiker, Steenbok
Game Hunted but not taken: Bushbuck, Hartebeest, Wildebeest, Steenbok
This was my first full African hunting trip, I had hunted a couple of animals whilst working on a ranch 10 years or so ago and I had included 3 days hunting as part of my honeymoon in April earlier this year. As I hoped my wife loved it as much as I did and we resolved to make a return visit using the same outfitters & PH, Askari Adventures and Morne Brummer.
The trip out was uneventful with BA from London to Johannesburg, I managed to get a couple of hours sleep – their premium economy seats do make it a little better but I would still have killed to be able to lie flat. Begrudgingly I had booked Air 2000 Hunt Support for meet and greet and transit paperwork, to their credit it was a pain free operation but it still felt like an unnecessary cost to me. With my wife tucked up in bed at the airport Intercontinental hotel I took the very impressive Gautrain to Sandton and did a few hours business before returning and catching the last flight to Polokwane where Morne met us with Albert & Marfella, our driver and skinner respectively, in tow. A couple of hours later and a lots of rubbish talked we arrived at our destination, Popalin Ranch. The Lodge sits on a tributary of the Limpopo River close to the Zimbabwe border and even boasts a golf course! I was shattered and retired soon after we arrived very glad when my head finally hit the pillow.
DAY 1
After a quick shot at a target (the Peli case had done its job and the rifle was still on zero) the morning of our first day passed quickly with only one short foray on foot after some Kudu Bulls. Fairly quickly the bush proved too thick and the ground was littered with nice dry crispy Mopane leaves which made is sound like the proverbial herd of Elephants so we abandoned the idea fairly quickly and continued scouting the area by vehicle. Our PH had never hunted the ranch before so we aimed to cover as much of it as possible quickly so we could work out where best to concentrate our efforts. It is a big place with fairly diverse bush and landscape and I liked the place right away.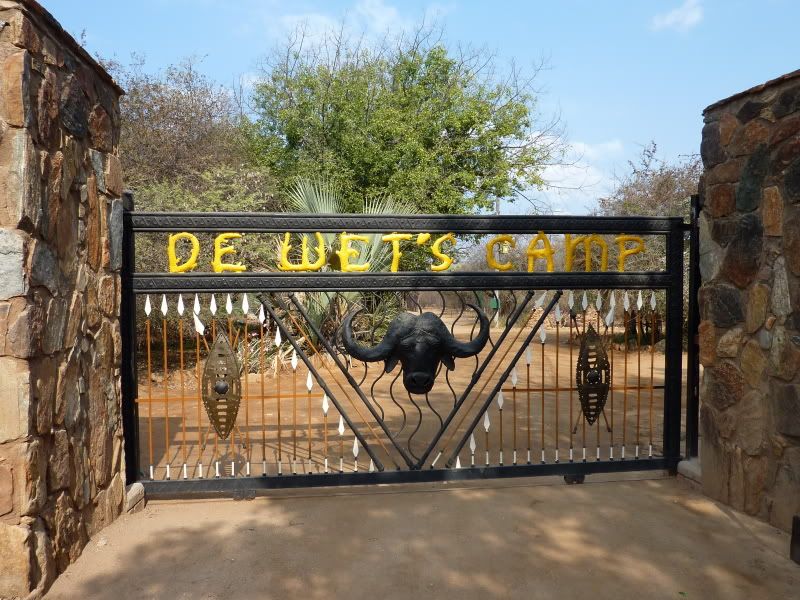 The afternoon proved a little more eventful, as it turned out the ranch manager was not a fan of Baboons and had me shoot one near the lodge shortly after lunch before returning to our scouting for most of the afternoon. Dusk saw us stood on the edge of a large Lucerne field in the hope of encountering a Warthog or Bushbuck. In fact, we did see two Bushbuck, however, the male had two broken horns so we left them grazing in peace. Just before we lost the light we were encourage again to take another baboon from a large troop feeding at the far end of the field. Having closed the distance in the failing light to 170 yards or so I put the rod dot of my illuminated reticule on shoulder of the largest male I could see and my second baboon of the day was down – a real brute as you can see: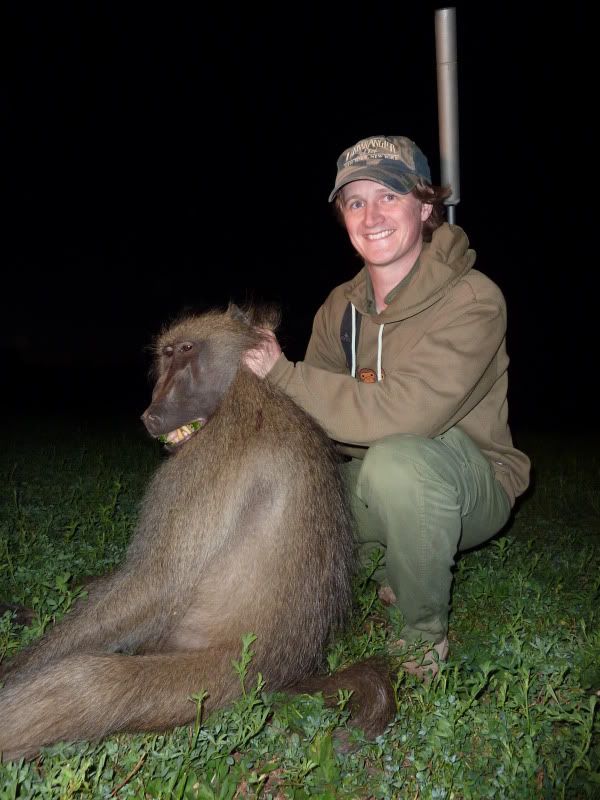 DAY 2
While my wife decided to have a lie in, myself, Morne, and our tracker Trust set off just after first light and quickly came upon a group of three Kudu bulls which we followed managing to stay much quieter than of effort the previous day – despite this they stayed well ahead of us and we heard them disappear over the hill in front of us. By sheer chance I glanced to our right (away from the direction we had heard the Bulls go) and saw a block of colour that merited a look through the binoculars, the block of colour morphed into a Kudu Bull and soon I was up on the sticks with Morne telling me to take him as soon as he cleared. The bull moved up hill away from us and for a second or so I had a clear(ish) quartering away shot which I took. The bullet, a 180grain Barnes triple shock entered through the front left shoulder and exited at the base of the neck on the far side dropping the Bull on the spot. The Bull was exactly what I wanted, not too wide, not too narrow with nice even curls. He made 50" (just) which I was happy with for my first Kudu – one day I can aim for a real monster:
http://www.youtube.com/watch?v=3bTde-QQB1k
After a few pics a road was cut in, the carcass loaded soon we were back at the skinning shed wondering what the next plan should be – We checked a couple of likely Koppie's in a stunning part of the ranch for Klipspringer with no luck and having picked up Samantha after her lie in we decided to walk the Limpopo tributary, the Nwandzi, before lunch in the hope of spotting a Bushbuck. We failed to do so but saw several large Nyala bulls which I had decided were off limits for this trip. In fact, by the end of our stay at Popallin we were almost sick of seeing Nyala – the place is crawling with them including some real monsters !!
Walking the Nwandzi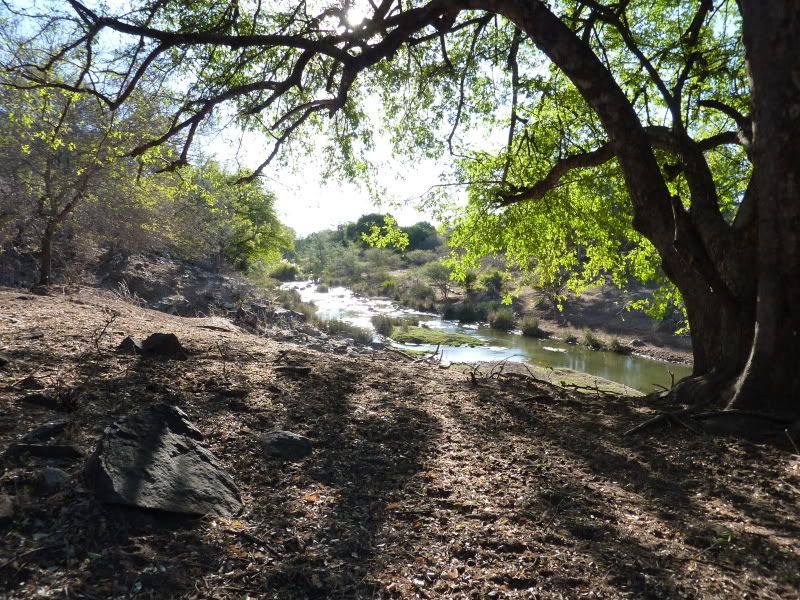 The afternoon proved even more successful with me taking a nice Impala Ram, he was quartering away at a tightish angle but the 180grain bullet proved to be more than enough and dropped him on the spot:
Sam had felt a little nervous shooting at the target on the first day, she is a relative novice having taken a few deer in England and an Impala Ewe back in April, so we returned with a smaller audience for a bit more practice in the late afternoon.
Supper was spent on a steep hill overlooking the Limpopo and Zimbabwe and we were treated to a stunning African Sunset.
The lamp was deployed on the way back to the lodge in the hope of spotting the one nocturnal species I was after and after on a few hundred yards I had my Sharpe's Grysbok – what a day's hunting Day 2 had turned out to be.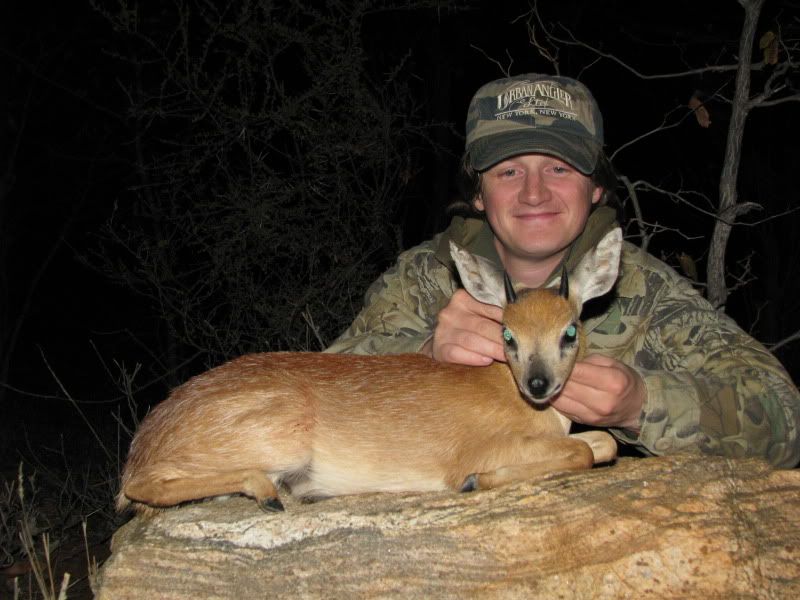 DAY 3
With Sam a little nervous we fed a couple of likely waterholes with bales of Lucerne (Alfalfa to you Americans) in order for her to have a shot at a nice quiet animal and then returned to the search for a Klipspringer. Instead of spot and stalk we now had Peet, the ranch manager, calling them with a predator call. We saw a few in the morning but they were all females or juvenile males, the call works almost instantly and very comically heads pop up over the rocks and check you out. After several blank areas we resolved to try one more area, the highest on the property, before lunch.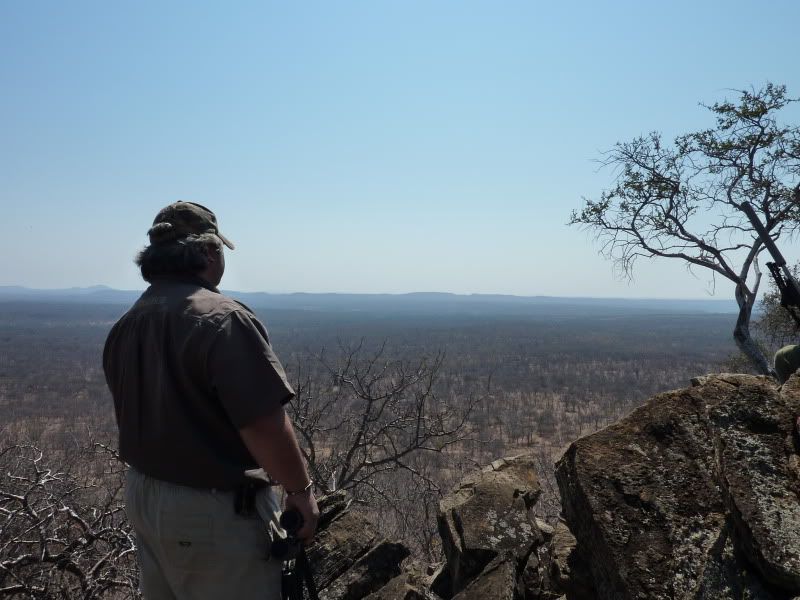 The first calling set on the very top produced nothing but the second set amongst the ruins of an ancient fortification produced the good and I had my Klipspringer whose horns had luckily survived the fall:
What stunning little animals they are.
http://www.youtube.com/watch?v=OjMk4o5Z12U
As it was only lunchtime on Day 3 and already I had four animals off my list we decided to take it easy and do some fishing in the afternoon. Whilst driving in between Klipspringer areas we had shot some doves off the back of the land cruiser for bait that morning so we retired to the banks of the Limpopo till dusk – we caught a few Sharptooth catfish (Some people call them barbel I think) but nothing bigger than a couple of pounds.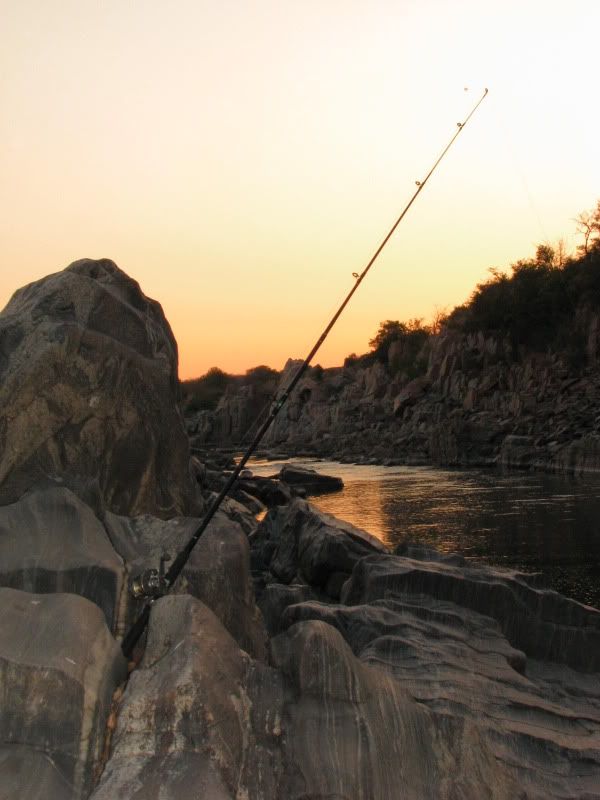 DAY 4
We made an early start to check the Lucerne field and the plantation of palm trees next door to it for Bush buck. We saw plenty, mostly females and a couple of Juveniles. We did see a male with a much bigger body, a very dark chocolate brown colour but he never showed us his head once and that was the only time we saw him.
After our unsuccessful Bushbuck plan we picked up a few bales of Lucerne and went and fed the two waterholes and resolved to spend the rest of the day trying to get Sam a shot. We returned to the first waterhole a while later; we could sneak in on it by climbing a small rocky koppie, frustratingly a troop of baboons spotted us and their alarm calls cleared the Warthogs and Impala that were feeding. Sam was insistant that I take revenge on the Baboons so I took out the lead male who had climbed at tree at what he considered to be a safe distance!
Another big male but old with a mouth full of broken teeth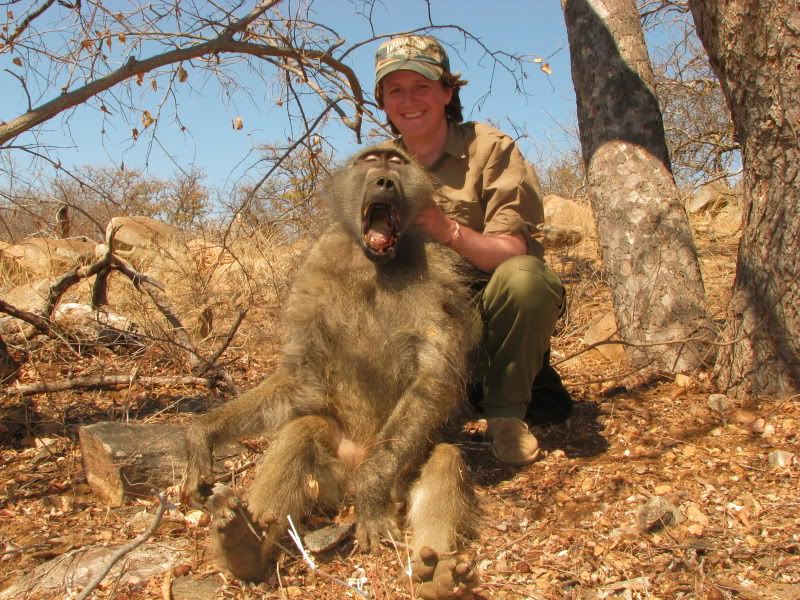 http://www.youtube.com/watch?v=LxrZpQIBuio
The second waterhole we managed to get in unseen despite the presence of another troop of baboons. Sam got her shot off a nice steady rest, at a very nicely shaped Impala ram – a perfect shot through the vitals at about 90yards – he went about 40 yards: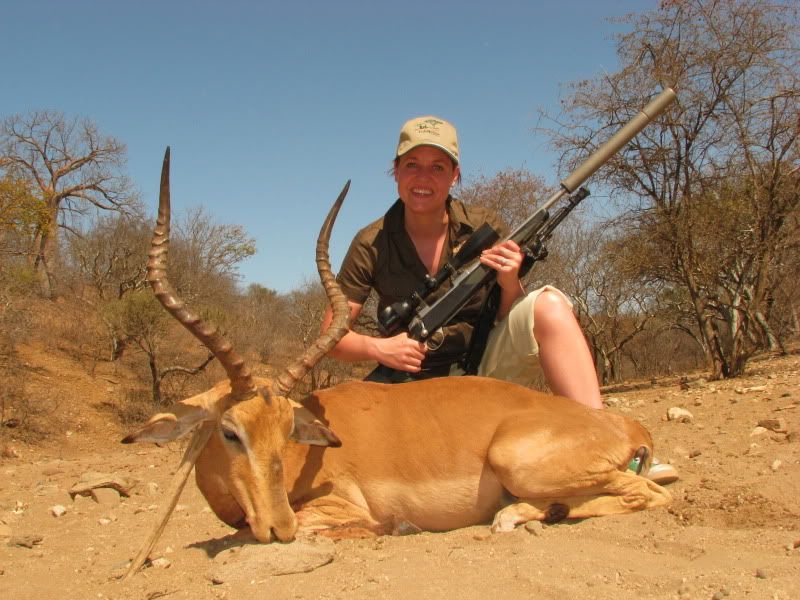 Part I:
http://www.youtube.com/watch?v=fb3ZhtLLON8
Part II:
http://www.youtube.com/watch?v=QG4ZAv3PsRo
We returned to both waterholes in the afternoon. I am not a very patient at 'still' hunting and very prefer walking – even in the UK I avoid sitting in high seats if I can as I get bored quite easily!
The kiddies are bored and can't behave
Sam was very keen to get a Wildebeest for a rug and the second waterhole, which I had nicknamed the 'Great Wall of China', nearly produced the goods with a nice marked stripy Cow but a fickle wind gave us away and the herd were away in an instant.
Sitting at 'the great wall'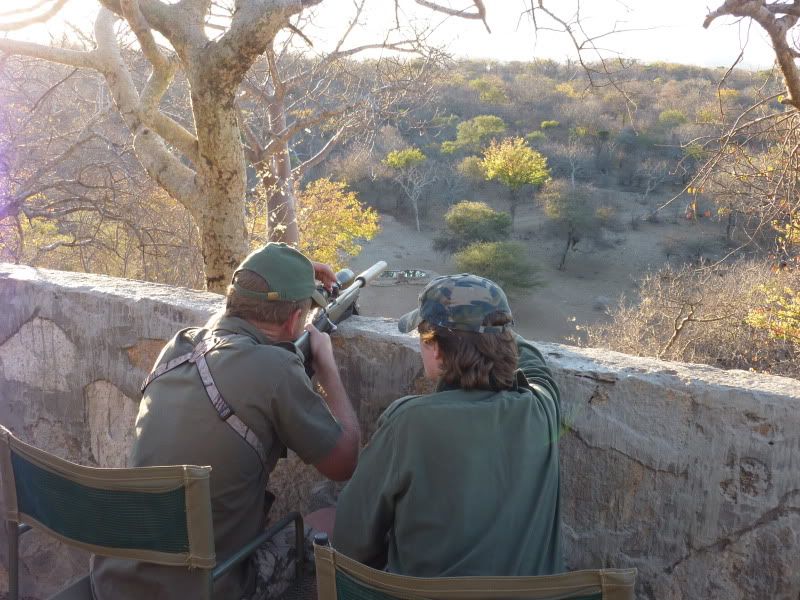 Sam did get another animal on her wish list shortly after though – a fantastic 5" + Duiker: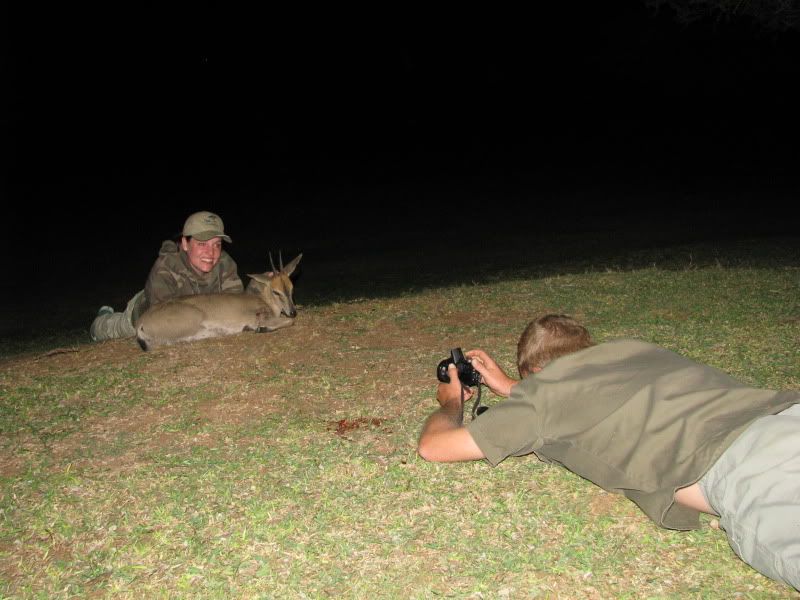 DAY 5
After her success the day before Samantha elected to have a lie in and Morne and I made an early start arriving at the palm plantation just after first light. The palms were full of Bushbuck again, mostly females and young and one immature buck. We continued down the side of the river until we hit the spillway of the dam – we saw another buck there and despite watching him for 10mins I couldn't talk myself into shooting him as he just wasn't what I was looking for as his Lyre shape had not developed and he was still straight at the tops.
We returned to same area visited on our first mornings foray and managed to catch up with a nice 12inch Warthog that had been spotted in the area by the ranch manager. Most likely he had spent the night in the Tomato fields and we caught him dozing in the sun out side his hole – He was a proper old chap and quite thin surprisingly considering he lived so close to the fields.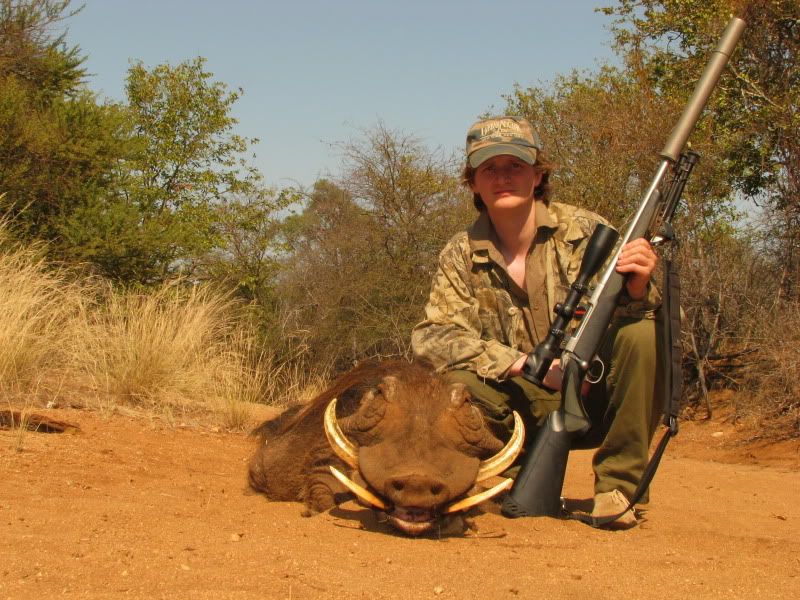 We fed both waterholes hoping to get Sam a shot at the Wildebeest that afternoon – at the request of our host I also shot a inferior quality Impala Ram for meat.
http://www.youtube.com/watch?v=ZJuHmzNPjWY
We returned to the "Great Wall of China" that afternoon and had an enjoyable enough time watching some Giraffe and Impala feed and water but the hoped for Wildebeest did not arrive. Three Eland bulls arrived at dusk – one of which dwarfed the other two, his horns were unspectacular but his body size was enormous. I tried to talk Sam into taking him (I had shot a nice Bull in April) but it had got too dark for her to be confident of a good shot.
DAY 6
The morning saw us continue our quest for a Bushbuck and we walked the whole way from the palms, past the Spillway down the tributary and even just out into the Limpopo River. We saw lots of females and three males that failed again to make the grade
Go and grow some bigger horns !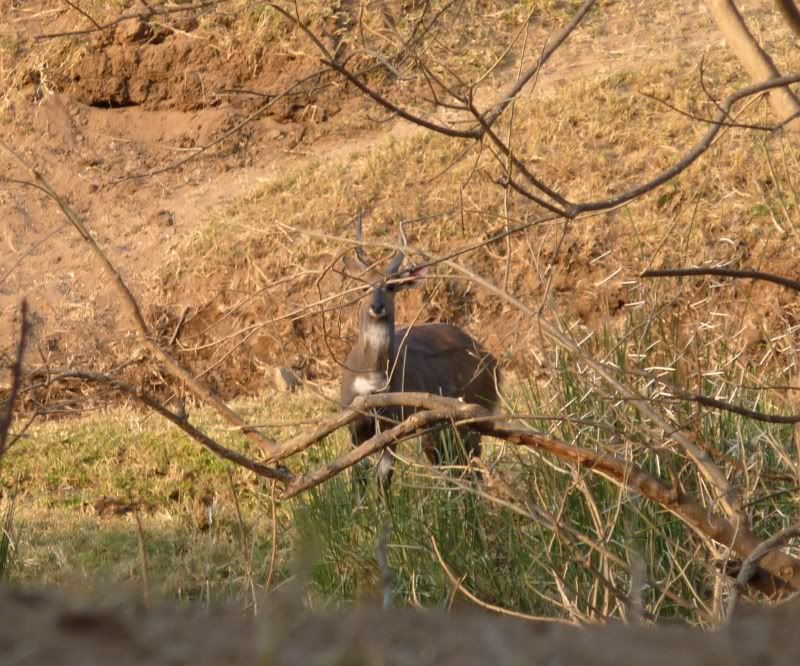 Early afternoon saw us back on the Lucerne field doing a spot of vermin control. Sam took a baboon at 170 yards off the sticks, they moved off but didn't seem to recognise the sound moderated shot and I managed to bag another at 230 yards.
It caused much hilarity amongst the workers – I'll leave it up to you to guess what is going on here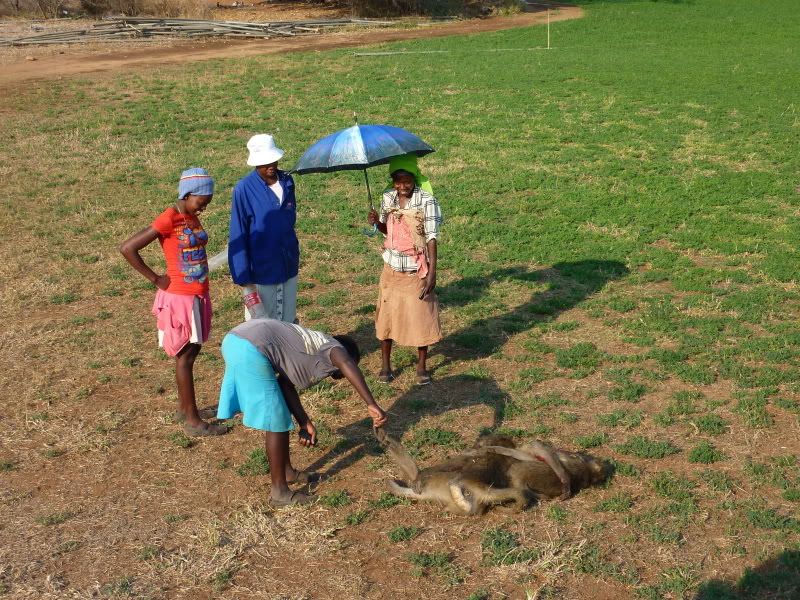 The afternoon saw us back at the "Great Wall of China" – it proved to be incredibly frustrating with the same group of Wildebeest from Day 4 (the distinctive stripy cow that Sam had chosen was in amongst them) returning briefly on three occasions before a snort and a retreat to a safe distance – the same fickle wind had given us away again.
DAY 7
This was the day we moved lodges but did so via an early morning's bushbuck hunting at a nearby Citrus farm (unsuccessful), a visit to a warden's house to get our export permits for the trophy's (Popallin Ranch sits in the TB red zone) and via lunch in Musina (What a charming town !) but we made it over to our second lodge not a million miles away from Alldays.
Our Second lodge: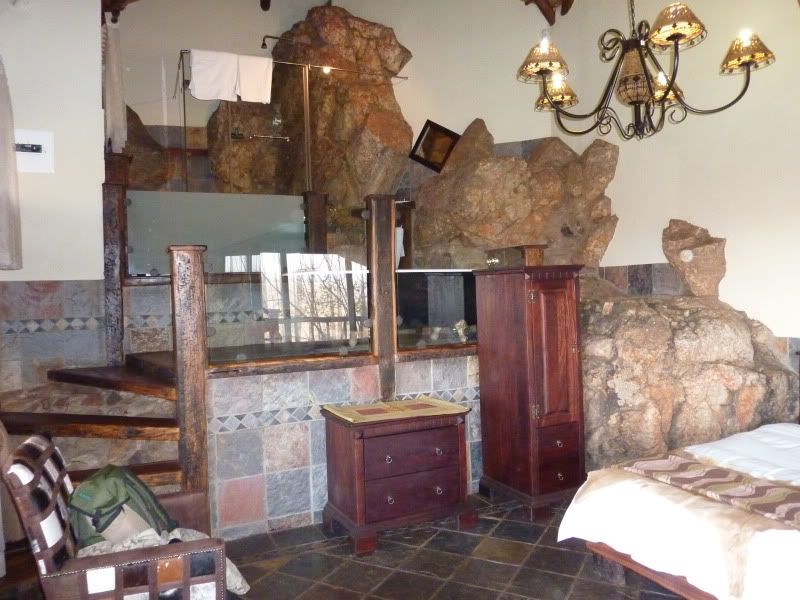 DAYS 8 & 9
A great deal of time we spent walking for very few chances. Sam had a chance at a dam for a half decent Warthog but again the wind spoilt the party at the last minute. We did come across a fresh Leopard drag track mid afternoon on the second day and followed it finding a freshly killed Steenbok up a tree which liven up an otherwise quiet afternoon.
DAY 10
Like the previous day Morne & I had left Sam to have a lie in and made an early start at first light; we covered several miles, with no joy before finally arriving at the Dam where Albert was to drop off Sam. We sat up on top of the Dam wall to have a rest and wait and Morne took the opportunity to make a phone call; a few min past and I occasionally glassed here and there in case a Warthog appeared to have a drink. One area allowed me to see well beyond the end of the dam and into the bush and suddenly the shape of a leg appeared and then the distinctive bottom curl of a Kudu horn with a very thick base. I quickly got Morne off the phone and we decided to have a closer look by skirting around the dam using the wall as cover. We were just making the final manoeuvre into position when Sam appeared behind us having followed our footprints. My first estimation had been correct and it was indeed a bigger bull than I had taken on Day 2 how much bigger was hard to tell in the position it was feeding in. A short conversation occurred as Sam was unsure if she wanted to shoot, as I was laid down behind the rifle I made her mind up but taking the safety catch off and telling her that if she didn't shoot then I would as it would soon be in thick cover and gone !
Needless to say that made her mind up, I rolled off the rifle she made a textbook shot and we had a Kudu on the ground – a very big one at that! Not exactly earned after approximately 2min hunting that morning from Samantha but a great bit of luck that coulnt be turned down
57" horns with 12" bases
My ones bigger than yours!
The afternoon was cooler than most due to the clound cover and we made an earlier start after lunch than usual and managed to cover a great deal of ground but my good fortune from earlier in the trip seemed to have deserted me and our one chance of the afternoon at a herd of Zebra was ruined by a stampeding tower of Giraffes.
DAY 11
Not really supposed to be a hunting day but we made an early start at dawn and walked an area that we had ear marked as having good amounts of grass and lots of tracks from a previous wander. We had one close encounter with a Gemsbok which spooked before I could get the crosshairs on him and I thought my chances of one last animal were gone. With the clock ticking down we pressed on and then suddenly all in the space of a few seconds I had a Gemsbok on the ground. As it turned out it was actually a cow with thick bases and not a bull but we had only had spit seconds to act and it was I felt a decent reward for all the miles we had put in for the previous three days.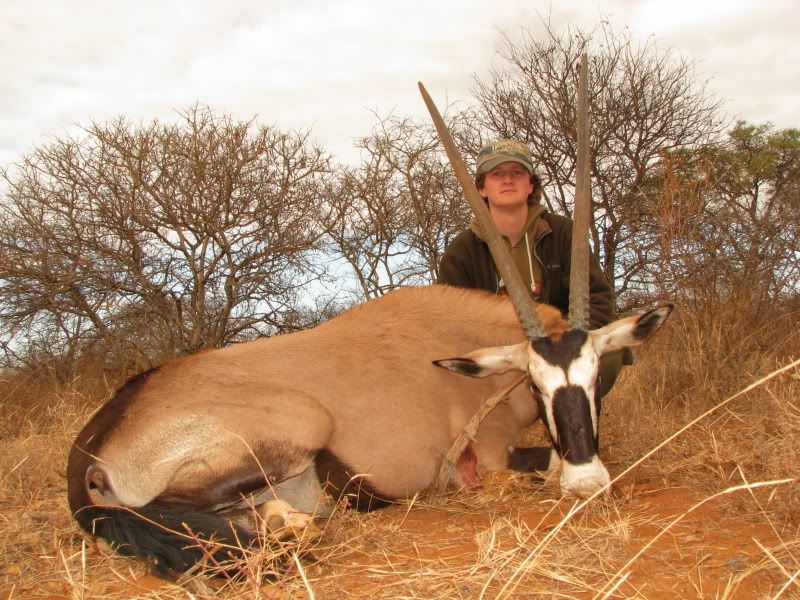 And that as they say was that. We flew back to Joberg from Polokwane and after a few tedious hours in OR Tambo (I did buy some decent shoes) we boarded our flight and BA returned us to London landing at 05-45. By nine I was back at my desk at work and dreaming of a return to Africa had begun. It had been a fantastic trip from start to finish; everyone involved had gone out of their way to make it a success and we had been incredibly lucky.
WHAT NEXT
I do like the look of some of the hunting in the Eastern Cape and KwaZulu-Natal, perhaps a Springbok and a Black Wildebeest. I would love to hunt bushbuck again, hopefully successfully next time, and if I can afford it take a Nyala. Then there are more of the 'Tiny Ten' and the Vaal Rhebok which I would love to hunt up in the mountains.
Or should I take the plunge and move onto the affordable end of dangerous game, a problem elephant or tuskless or perhaps a Buffalo? That brings with it more questions in that I don't own a suitable rifle…….what calibre should I get ……and how on earth am I going to pay for all of this?!