Hobbit Hunt or New Zealand Trip ReportDates
– April 19 – May 2, 2014
Location
– Wanaka, South Island and Tirau (near Rotarua), North Island
Hunting Company
– Telford Hunting and Fishing Services – Gerald and Sue Telford –
www.flyfishhunt.co.nz
– Wanaka, South Island
Kuranui Wilderness Lodge and Trophy Park – Mort and Mel Moon –
www.kuranui.co.nz
– Tirau, North Island
Booking Agent
– none, booked direct on recommendations from other hunters
Travel Agent
– Esplanade Travel – Kit Schultz – 800-628-4893,
www.esplanadetravel.com
Kit specializes in New Zealand travel. She put me onto "Premium Economy" seats on these flights and it was worth it. I would use her again.
Hunt Guides
– Gerald Telford and Mort Moon
Game Sought
– Red Stag, Himalayan Tahr, Fallow Deer, Chamois, Rusa Deer, Possum(s)
Game Taken
– Red Stag (2x), Tahr (2x), Fallow Deer (2x), Rusa Deer (2x), Chamois and Possums
Executive Summary
If you like "no hassle" hunting – you will love New Zealand
If you like great food, great accommodations – you will love New Zealand
If you like no issues with quotas or available game – you will love New Zealand
If you like laid back, fun, easy going guides – you will love New Zealand
If you like spending minimal time in a vehicle- you will love New Zealand
If you really like spot and stalk hunting – you will love New Zealand
If you want to see a lot of game – you will love New Zealand
If you are a sheep hunter or a wannabe sheep hunter – you will love New Zealand
If you like hunting in Canada, Europe or the US – you will like New Zealand more
If you like hassles at the airport – you will hate New Zealand
If you like bugs, malaria, snakes, sweat, dirt, diarrhea – you will hate New Zealand
If you like problems exporting trophies – you will hate New Zealand
If you like hassles with your guns and ammo – you will hate New Zealand
If you like having game scouts and other "hangers on" in your group – you will hate New Zealand
Get my point? I have travelled many places hunting. So far, none exceed New Zealand for a relaxing experience with great people.
We hunted hard and easy. We climbed and crawled. We laughed when we got busted on a stalk. We had multiple shot opportunities every day. We took all of the trophies we were after and a couple we learned to appreciate once we got there.
We did not need to use a helicopter. We climbed and sweated and had a great hunt.
There is not enough server storage on AR to post all of the pictures I took. You need to go and take your own pics. It is a blast.
Background and Research
This hunt was a no brainer. I found that there are 70 hunting outfits in New Zealand. There are many good ones that are steadily on AR and at the shows. I picked Gerald Telford after reading the following hunt report on AR -
http://forums.accuratereloadin...8321043/m/2251045551
I also checked a couple of references, all were good. I then met Gerald at DSC to seal the deal.
Gerald is the President of the New Zealand hunting guides association.
For Kuranui, I asked Gerald who he would recommend from the North Island. He told me Mort and Mel operate a nice, boutique type outfit and that I would enjoy them. He was right.
Comments on Equipment
Rain Gear - New Zealand can be wet either from rain or heavy dew. To deal with "wet", we used Helly Hanson raingear and Outdoor Research tall gaiters over our boots. The gaiters were especially helpful as we spent a lot of time on the sides of hills in wet/damp grass that would have soaked our pants.
Boots – I used Kennetrek non-insulated Mountain Extreme boots (https://www.kenetrek.com/prodinfo.asp?number=KE-420-NI) mainly for the climbing. They were great and stayed completely dry. I will use these on a sheep hunt later this year. My wife bought some boots from REI that served here very well.
Clothing – I used a variety of Sitka Gear pants, light shirts, vest and jackets. All were in the Open Country Optifade camo pattern. If I go again, I will use a camo pattern that is darker or just go with Swazi gear you can buy there. My wife use ladies camo called "OutfitHer" from Cabelas. She was perfectly happy with it. The weather is not cold but it is cool in the mornings and warmed up in the afternoons or while climbing. Dress light and in layers.
Guns – I chose to use their guns but I brought some ammo. With Gerald Telford, I used a Ruger Mark I in 7mm Rem Mag topped with an older German make scope. I brought some Federal Premium ammo on 160gr Nosler Partions. The gun shot perfect. I wounded a fallow but that was due to my error.
With Mort Moon, I used his Remington Model 700 SS fluted version in .300WSM. Scope was a Leupold 4.5 x14 x40. I used his handloads that were 165 gr Hornady bullets at 3200 fps. Everything I shot at was taken.
Binoculars – This is important. I took my Swarovski SLC 10x42's. These were perfect and I would recommend taken 10x to New Zealand as the distances are similar to the western US. Gerald Telford used the Leica Geovid 10x42 HD rangefinding binoculars and they were impressive.
Day pack – For the second time, I used an Eberstock X1A1 daypack (http://www.eberlestock.com/introducing_the_x__project.htm ) with a built in scabbard. I would recommend this as you will be climbing a lot and will need both hands to get up and down the hills.
The Country
What can you say about New Zealand? I have been there several times and always return to the US depressed wishing I had stayed longer. It is green, beautiful, laid back, clean, friendly, has great roads, and is the easiest place to get to for an American other than Canada. The scenery is stunning whether in the sheep country or ski country or coasts. The entire place reminds me of what the US was like in the late 1950's or early 1960's. Cell phones work. The internet works. We never waited in a line. The traffic was easy and polite. I never heard a car horn "honk".
A sign in one store we stopped by –
We were there on ANZAC Day, a day of remembrance for the war heroes from New Zealand and Australia that fought in WWI at Gallipoli against the Turks. People also remember the veterans and war dead from WWII as well. It is celebrated at dawn on April 25th and nearly every town in New Zealand hosts a remembrance and celebration. Gerald and Sue's daughters both participated in a ceremony to commemorate the dead and bravery of the soldiers. I was extremely impressed that the generations in New Zealand that have not known war paused to remember.
Hunt Method
All spot and stalk. Both areas we hunted required climbing and stalking. We got busted several times. The climbs were tough but not impossible as the altitude in New Zealand is less than I thought. The highest we climbed was about 4000'. We took a grand tour of one large sheep station via an ATV and got up to about 5000'. The area in the South Island was open and we spent a lot of time glassing, then making a plan to get closer to check horns or antlers. In the North Island, we were in a closer, steeper, more heavily forested area. We would spot an animal, then glass closely to see what we had. Usually we stalked as close as possible to re-check.
Comment on Helicopters
I have stayed out of the argument on AR as I had no frame of reference. It is a hotly discussed topic as we all know. Here is what I learned on my trip –
1. They are used a lot. We saw them in nearby hunt areas.
2. It is regulated to some degree.
3. The ethics of the individual hunter and guide will dictate the use of them.
4. They are expensive, running about $2000 per hour or more.
5. They are used by "hunters" that cannot or will not get up and down the mountains for tahr or chamois.
6. The tahr and chamois have learned to run downhill toward timber or into deep crags to get away from the helicopter hunters.
7. There are significant accessibility issues in the South Island due to the terrain. I also understood that the Dept of Conservation requires a certain number of female tahr to be removed in relation to males killed. Helicopters are the most efficient method to do this.
8. Due to all of the mammals in New Zealand being introduced and not being native, the view is that many of the animals are nuisances and can/should be taken by any means deemed necessary.
9. If you want to start a debate, start a conversation about helicopters. I suggest you be open minded before speaking on a topic you know nothing about first hand.
10. It is not something I would do, but I would tour around in one. The scenery is stunning.
I am not sure I have stated everything above accurately, but this is my general understanding. Any New Zealand operators that have different thoughts or views, please comment. If any non-New Zealand hunters have any comments, I suggest you re-look at your position on shooting white-tailed deer out of a box blind over a timed feeder (US hunters) or a driven hunt using many if not hundreds of "beaters" to drive hogs or deer or whatever to waiting hunters (Europe) or spotlighting leopards over bait from a blind having used a trail camera (Africa). Enough said on ethics.
Observations on New Zealand Hunting in General
New Zealand is an outdoor activity/work oriented country. The local people are well grounded in ranching, farming and outdoor activities in general. Nearly everyone I met or talked with was a keen fisherman or hunter. Believe it or not, I think pig hunting is more popular than all the rest of the types of hunting. Being a transplanted Texan, I was a bit surprised they actually hunt them on purpose and eat them. In my area, the only good pig is a dead pig and it usually is left on the ground. Anyway, the following are my observations on the business and hobby of hunting in New Zealand.
First, I noticed about three types of hunting operations. First was the large sheep station or cattle operation that has added red deer hunting to their business model. Red deer are raised like cattle and sold for three reasons – 1) for the meat, 2) the antlers are harvested while in the velvet and sold to Asian buyers for medicinal reasons, and 3) sold/hunted by sport hunters. The same thing goes for fallow deer, elk, rams, feral goats other species of deer. The land owner sees these animals as additional farm animals like cattle and sheep. I am excluding tahr and chamois from this as they are not "farmed" like the various deer and sheep.
The second type was the outfitter that leases land owned by a large sheep or cattle operation. He organizes the hunt(s), gets the hunters, charges a day rate and a trophy fee. He splits the fee with the landowner. The outfitter may or may not help in the active management of the red deer, fallow deer, chamois or tahr.
The third type would be a smaller outfit that owns land, farms the red deer or other species and offers hunts. This operation would have a farm nearby where the red deer or others are raised and bred like cattle, then mature animals are placed in hunting areas and others are sold for meat or velvet.
This is all big business and well run in New Zealand. As you know, there are no native mammals in New Zealand. Every mammal was introduced to the island for commercial reasons. Hence, the local hunter or rancher sees his game animals differently than the same person in the US or Canada. His animals are his and he manages them as he chooses. There are no hunting seasons and no limits. The red deer and all of the other animals are "open season".
The question then comes – what about high fence operations? Well, from what I could tell, nearly all of the hunting areas have fences somewhere. The pastures can be quite large and quite small. The two main areas I hunting on the South Island were very large but contained some smaller high fenced areas that had some monster red stags available. We chose to hunt the large paddocks that had a lot of stags but none of the 400+" animals you see in photos. The smaller area I hunted on the North Island was high fenced. It was about 3 square miles (best I could tell). The area was seriously steep and overgrown. I doubt I saw 20% of the area due to the foliage and the steep hills. I never had the sense it was high fenced except driving and driving out through a gate.
The point I am making is that if you choose to hunt any of the deer in New Zealand, you will likely be hunting in a type of high fenced area. Based on what I saw, the reason for the fences is to keep "livestock" separated and to allow some hunters to hump it up and down hills in a very large area (50,000+ acres). Nearly all of the land I saw was shared by sheep, cattle and deer; hence the need for fences.
I am not going to discuss the issue of high fenced hunting. From what I saw in New Zealand, it was completely fair chase and I had a lot of fun.
The Animals
Rather than do a shot by shot or day by day diary, let me just discuss the various animals we encountered and the results.
Red Stag
The question is not "if" you will take a nice stag, just "when". I saw numerous stags each day and passed on many. I asked both Gerald and Mort to recommend what I was looking for as I am not a stag expert. I liked the classic look of the red stag with the high "cup" of points and not the "squished spider" looking stag with antlers sticking out everywhere. At both places, we climbed to vantage points and glassed large areas looking for stags. I was there after the rut with a few stags still "roaring" but by and large, the rut was over and the stags were more interested in eating and putting weight back on after the fighting during the rut.
At the large sheep station we hunted with Gerald, we spotted a number of good stags but nothing in the "classic" look for the first day or so. We drove the roads and glasses a lot of young stags still looking for love. Finally, we spotted a pair of classic stags at about a mile resting on a hillside. We stalked and got busted but finally outwitted one and made a 200 yard shot as it walked away. This stag was down in weight severely from the rut and was very beat up – just what I was looking for.
Pulled a stalk on these high fence stags –
I could have hunted a high fence stag in a smaller enclosure but chose to chase them up and down the hills to find a classic one. We saw numerous 400" to 600" stags in enclosures and took a lot of pictures.
Red Deer at feeding time on the commercial farm
At Kuranui, the stag hunting was a bit different due to the size of the area. Mort and Mel run a red deer ranching operation for velvet and for meat as well as for hunters. The stags he released into the hunt area were big ones. He had numerous big stags in the area but in the time I was there we only saw about 5 different "shooters". He had some shed antlers from several that would shock you, but he said that the older stags disappear into the dense cover after the rut.
Anyway, the stag I killed with Mort was one I glimpsed the first day there, then, did not see for a couple days. He was a classic and just what I like. The shot was 140 yards and he went down. I had the jump on him as I was in the dense cover and he had taken a few steps out in the open at dusk to eat. Big mistake.
Typical Red Stag at Kuranui
Fallow Deer
The Fallow deer rut was "on" at both places. We saw more red deer than fallow deer but we did manage to spend a lot of time glassing bucks of various color phases and antler configurations. I ended up taking two bucks with Gerald as we were able to get up on them and get a shot. Hunting the fallow deer, even in the rut, was more difficult that red stags. This was partly due to the numbers of deer out there but also due to the fact they were with does that were wary of us. We were busted several times and had to do some serious stalking to get close. Both shots were under 200 yards. Fallow deer and the stags tended to behave like mule deer. When they were spooked, they ran about fifty to a hundred yards, stopped and looked back. On several, I could have taken shots if they had been what I was after.
I found I really enjoyed hunting fallow deer. They are much like mule deer or even pronghorn antelope. They are wary, but not so difficult to hunt that you never see them. They were fun to hunt.
I did manage to wound one really nice buck at about 100 yards that Gerald and I both thought should have been dead. I had him broadside twice and apparently missed vitals both times as he dodged us and we never saw him again. The good news is that about two weeks after I left, a bow hunter came in and had a shot at the same fallow deer. He never got the shot but came back with a rifle a couple of days later and killed him. It turns out my first shot passed under the spine but above the shoulders as a through and through wound. The second shot grazed the brisket leaving a non-lethal wound. The deer was grazing and moving as if not wound when he was killed. It is unusual but misses like this happen.
Another good thing about hunting in New Zealand is the guides hunt the same property year in and year out. They know the animals and the land. This helps in following up on wounded animals or in trying to locate something unique.
Himalayan Tahr
I did not get a real taste of tahr hunting on this trip. Gerald took me to his tahr camp on a sheep station about two hours from Wanaka and in an area that he has hunted tahr for many years. I thought, before the trip, that tahr would be the hard animal to hunt due to climbing and access issues. I was somewhat right as the tahr live in a tough area and a very steep area. The terrain reminded me of Dall Sheep hunting in Alaska as the mountains were bare and covered with the shingled looking shale/schist type rocks. I brought my Kenetrek mountain boots primarily for this terrain and the hunt.
Gerald told me that tahr are plentiful and getting one was not hard if you could shoot at longer distances and did not mind a climb or two. He said to expect to see ten to fifteen bulls a day while were there but the issue would be getting close enough for a shot and a recovery. In tahr country, a dead tahr will roll down the mountain a long way if you shoot him on a slope. The idea was to find one on a relatively flat spot and drop him there, so the recovery could be simplified. There are times that the recovery is made with a helicopter due to accessibility. I did not want to spend money to do that.
When we drove to the camp, we arrived late in the day and decided to scout until dark before heading to the bunkhouse. We were driving the main access road up to the basins we hoped to glass when Gerald stopped the car and backed off a hill slowly. He had glimpsed a tahr at the transition of the grassy slopes and the rocks above from a long way out. We quickly backed down the hill, and make a slow climb up to a vantage point looking across a forested canyon to the slopes opposite us.
We duck walked up to the edge of a fairly deep, black woods canyon and spotted four tahr on the hillside directly across from us grazing. Ranging them at 300 yards or so, we set up and looked them over closely to see who the big one was. In reality three of four were twelve inches or better so we spent time checking out the manes on each.
Gerald settled on one and told me to take it. I asked if he was sure. He said he was. I was about to squeeze one off and he said, "No, take the other one." I switched targets. As I was about to squeeze, he said, "No, the other one, he looks longer." So I switched and shot before he could change his mind again. It was a hit and the tahr wobbled about fifteen yards and I dropped him with a second shot.
The other tahr just stood there looking around, not sure what had happened and unable to pinpoint us. It was windy and they could not source the sound. While standing there, Gerald said, "That other one sure is a big one." So I said, "Heck, let's shoot him too. When am I ever going to have a chance to double on tahr?" So I did. At the shot, this tahr sprinted downhill into the black timber. The shot looked good, felt good and appeared to connect, but tahr are like aoudad, thick in the shoulders and tough to bring down.
We backed off the hill and drove around to the other side of the canyon and started to search. We had to side-hill a really steep grassy slope to get to tahr number one. We confirmed he was dead then made a search for number two as it got dark. One of the biggest advantages of using a guide, a very experienced guide is that he knows how the animals react and where they tend to run. We found no blood but followed some torn up ground and found him laying down the slope fifty yards pinned against some trees in the darkest, tangled up mess of timber you can imagine. Only his blond belly was showing when we spotted him. We set him up, took a couple of pictures then left the area as it was getting real dark.
The second tahr in the timber
Next morning we came back and started the all day back out process. Another good thing about New Zealand is that the only predator other than man are pigs. We had no worries that the tahr would be right where we left them.
Double Tahr
We overnighted in a sheep station where Gerald had a rustic but very nice cabin. Sheep stations are large and made for working sheep. This place was ruggedly beautiful and I took a lot of pictures. Gerald uses pictures from this remote area in his promotional material. The terrain is Lord of the Rings beautiful and reminds me of the Scottish Highlands. It is worth the effort to go and see this place.
All in all, I felt a little cheated and relieved on this tahr hunt. Cheated because I had worked to get in climbing shape to hunt them and hoped to spent a couple of days glassing and stalking before ending the hunt. I felt relieved that I did not have to spent a couple of days climbing, climbing, climbing and hopefully stalking to take one. It was fun. I would do it again. I would shoot three if three stood there long enough. Go tahr hunting!!!
Alpine Chamois
For some reason I like chamois. I like their "look", I like where they hang out, I like how they run and I like the fact they are tough and like high up places. While hunting stag and fallow deer, Gerald and his other guide usually keep an eye out for chamois. Of the animals to hunt in New Zealand, chamois are the most difficult. They are in tough to get to places and there no herds of them. There are plenty to hunt, but taking a nice male is tough and time consuming. Gerald told me sweats each chamois hunt because – 1) is the hunter in shape to get up the hills? And, 2) can he shoot when he gets there? And, 3) can we find a nice male in amongst the rocks and crags? We had seen chamois a couple of times from a long distance while glassing for stags and went back to the general area we saw them. On the ram I killed, we spotted him with four females and fawn at about 300 yards on a high grassy hillside. They were grazing and it took quite a bit of time to see if the male was a male and if he was a shooter. On chamois, the old adage, "the big ones look big" does not hold as both males and females have horns. The males have bigger bodies but not always. Anyway, we studied this one for an hour or so then made a detour to another area to check out. We did not find one in the other area, so we returned to this place and made a stalk.
The shot was 200 yards but the target was small. A chamois may weight seventy pounds and the target area is about six inches in diameter. I made a good shot and got him on the ground. It was really cool to see them up close and I was extremely pleased with the ram.
Rusa Deer
Found only in New Caledonia and Indonesia, this deer was my number one quarry on the North Island. Mort Moon had acquired a small group of what he was told were sika deer and actually turned out to be Rusa Deer. He put them on his place and they have thrived. He has the best quality herd of these deer anywhere in New Zealand. I looked a several YouTube videos of rusa hunts and I believe Mort offers a better hunt than what I saw the videos. They are the size of red deer but have antlers like an Axis deer. They are secretive, hang out only in the edges of dense jungle and are very cautious. We hunted them for a couple of days by glassing clearings early and late before we saw a few. Mort had seen three really nice bucks in the days leading up to my hunt and he was trying to keep track of where they were hanging out, but had lost track of them when I got there.
The one buck he hoped to take was a drop tine that was old and very heavy, so we concentrated on finding this one. After a couple of days and some serious climbs to vantage points, we spotted him about one jump from some really dense cover. We were above him and were able to set up on sticks and make a good shot. He was the heaviest antlers buck Mort has seen on his place. He was a super buck and one I will be proud of.
It was so much fun, I decided to hunt a second one as well. The first one had three other bucks with him, two of which were really nice. We stalked another day and found a rough pattern where they were hanging out. We spotted this second one while glassing some big fallow bucks. Again, this buck was with another one and in dense cover. We got winded and watched both bucks jump into the thickest tangles I have ever seen outside of bongo hunting in Cameroon.
Mort said that we should just sit tight and glass the area as he had seen them poke their heads out of the cover to see if the coast was clear on other occasions. It happened this time as well. We sent my wife up the hill to kind of walk above and around the dense tangled brush hoping they would watch her, then come out of hiding. The plan worked and one of the bucks did stick his head out of the tangles to see what was up. He gave me a shot and I took it. It was quite a feat to get to him even though we were 130 yards away. It was fun and perfect stalk.
Group of Rusa we saw one afternoon
On the Rusa deer – if you go to New Zealand, you really ought to try this out. They are as big a mule deer or red deer hind. They are smart and they are tough to spot. It is a bit like whitetail hunting but a bit tougher due to the terrain. They make a beautiful mount and you will be the only one on your block with one!
Possums
Possums were high on my list. First, because I was told there are lot of them. Second, we could hunt them at night with a spotlight. We were regaled with stories of shooting hundreds of possums in an evening and maybe getting fifteen out of one tree. It would literally "rain" possums if we found a tree they liked. These possums look like a cross between a ring tailed cat in the US and house cat. They have claws like a squirrel and teeth like a regular USA possum. Their face resembles a house cat. I guess they looked a bit like the ROUS's in the movie "The Princess Bride" – Rodents Of Unusual Size.
Anyway, we drove the roads and spotlighted several shoot a few and gathering up one. My bride of thirty two years did the honors and double tapped this one in fine form. I may turn her into a hunter yet.
Pros and Cons of this trip
Pros
1. Easy place to get to. No hassles. Great air service.
2. Speak my native language and the water is safe to drink.
3. Plenty of game and is not over regulated.
4. Not a lot of time in the truck. You hunt close to where you stay.
5. Internet and cell phones work.
6. Prices are reasonable and fair.
7. You do not need an agent to do this trip. Go to DSC or SCI shows and book a trip.
Cons
1. I missed the red stag "roar" or rut by a week. Was hoping to hear and see this.
2. Did not get the full dose of tahr hunting. My tahr hunt was over too quick. I would still do it again however as you do not get to pick "easy" and "hard".
3. I did not learn enough New Zealand history prior to the trip and should have so I could hold a conversation at dinner a bit better.
4. None I can think of that were not my fault.
Our Hosts
Gerald Telford is a long time New Zealand hunting and fishing guide. He has been in the business 20+ years along with his wife, Sue. Gerald is a hard core fisherman and a skilled fishing guide. He probably has a stronger passion for fishing than hunting. Another passion is duck hunting. We left just before the duck opener and he was making plans for a big family reunion and duck shoot. His daughters are 15 and 13 and would be shooters for the first time this year. I heard after we got home that they took 375 ducks with 19 shooters on the opening day. Good on them! Both of the young ladies are outdoorswomen and keen to hunt. They are great hostesses and not your typical teenage girls consumed with all things fashion and being "cool".
Gerald's Favorite Backpack
Sue Telford is a very accomplished pilot and tour guide. She teaches flying and takes people up in a single engine plane to see New Zealand from the air. My wife took a day trip to Milford, a nice coastal town with shopping and sights to see on the way. Sue is serious about flying and needs no enticement to fly anywhere at anytime. She had won an opportunity to fly in a P-51 Mustang World War II fighter owned by a local enthusiast in a raffle. This area of New Zealand hosts an air show every year with vintage planes and a variety of other aircraft. I am not into planes and such, but this was a pretty cool and Sue got to ride it for an hour over her home turf.
Sue and her daughter just before taking a flight
Sights on the flight
Mort and Mel Moon were/are a delightfully hospitable couple that we connected with right away. They met and married twenty years ago and decided to do something unique with their lives. Both liked ranches and entertaining so they bought the land on which they built the Kuranui Lodge with the dream of red deer farming and hosting events at a lodge they build by hand. Over several gourmet meals, they told us about how they built this secluded getaway by themselves. They started with a small house at the entrance to the deep valley area where the lodge and guest house would eventually be located. They built fencing, bought red deer and started raising them for meat and velvet. From there, they cleared parts of the dense jungle foliage in the valleys on their property as a site for a lodge and guest house. They chose a perfect area with a small stream running through it designing a lodge that looked like it belonged in Archectural Digest or in a ski resort like Vail or Aspen or Innsbruck.
They rough sawed lumber they cut on their own land using 330 tons of logs and timber to build the lodge and guest house. They then used the old method of insulating the place with straw in the walls covered by five layers of hand trowelled plaster. Mel did the plaster work as Mort did the carpentry and finish work. My wife and I have remodeled several homes over the years and found the quality of this work exceptional. The guest house was built the same and even had heated floors in the bathroom. I was blown away by the beauty and quality of the accommodations.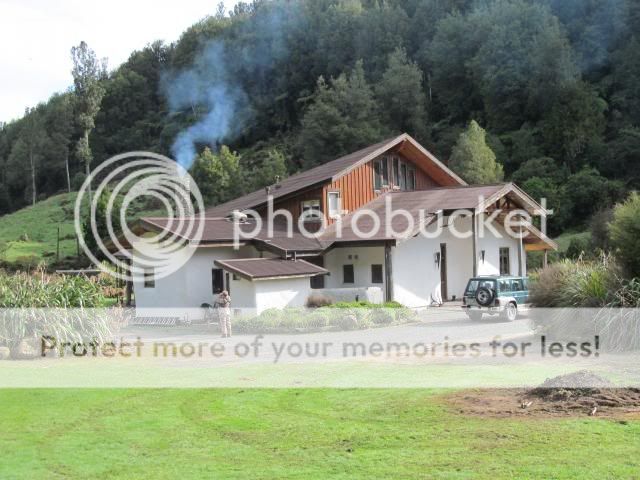 Mel is a super chef as well. Each meal was outstanding. As I mentioned earlier, I delayed starting hunting one morning just to sit and eat.
Mort is a former meat hunter and very skilled. He is a perfectionist with his guns and ammo, reloading exactly what his rifle would shoot well. He knew his animals and how best to approach them. We had the hardest time with the fallow deer as the rut was full on and the females busted us several times. I never took a fallow with Mort but should have. He is personable, knows the history of his country and knows his birds. He is every bit as excellent as Gerald is in his home territory.
I have no negative comments about either guide. They are both professionals and very fun to hunt with.
Summary and Opinion
The big question – Would I do this hunt again? Answer, of course! This was fun and extremely enjoyable. It is very wife friendly and very much a good hunt. If you like sheep or mountain hunting, you will love hunting chamois and tahr. If you like elk hunting, you will like stag hunting. If you like varmint hunting, you will love spot-lighting possums. Getting there is easy. People are friendly. After this hunt, I will struggle to pay for a horseback elk hunt or something that requires sleeping on the ground or eating bad food. For the same hunting dollar, New Zealand offers a lot of fun and relaxation.
The other question is – what would I hunt next time? Answer – all of the same animals. I would likely spend more time after fallow deer as I really like them, but I would hunt any and everything they have… except pigs. I leave the pigs for the local guys that really like them.
The last question is – Would I hunt big or small areas, high or low fence? Yes, all of them. I only ask for fair chase and really do not want to debate what fair chase means. For me, fair chase means the animals are intimately familiar with the terrain, know how to get away and are tough to hunt. I really do not care about the fence aspect of it as the entire country is fenced in one way or another. Would I hunt a monster stag in an enclosure? No. I am not an "inch" guy. I like fair chase and really am not into "gold this" or "silver that".
I go for fun as does my wife. This is only the second place she said she wants to go back to.
Appendix
I am an avid bird watcher. Here is a list of what I was able to identify. I did not work hard at this and missed a bunch of the LBJ's (little brown jobs) that I normally would identify. I was hunting too hard to spend a lot of time on the small birds.
Rosella Parakeet
Pukeku
European Starling
English Sparrow
Paradise Shellduck
Swamp Harrier
New Zealand Gray Fantail –my favorite!
Australian Magpie
India Myna
California Valley Quail
Spurwinged Plover
Grey Warbler
Chaffinch
Welcome Swift
Blackbird
Kereru – Wood Pigeon
Mallard Duck
Silvereye
Black Swan
Black-backed Gulls
South Island Tomtit
New Zealand Scaup
Pukeko
Little Black Shag
Pied Shag
Yellowhammer
Red-billed Gull
Australian Coot
Bush Wren
Bush Falcon
New Zealand Pipit
Hedge Sparrow or Dunnock
Greenfinch
Ringneck Pheasant
Tui
Morepork Owl
North Island Tomtit
Kingfisher
New Zealand Robin
Eastern Rosella Parakeet (stunning!)