The Accurate Reloading Forums
Croc and buff NT--Last Picts 15 Nov
18 October 2006, 01:32
SGraves155
Croc and buff NT--Last Picts 15 Nov
Just returned from vacation to NZ, Aus, and Kauai. Managed to get in a hunt at Carmor Plains next to Kakadu with Matt Kelman. Besides buffalo, we were able to trap a large cattle-catching croc out of a small billabong on Mount Keppler station. Matt has depredation permits for several crocs, but he must do the shooting after the croc is trapped.
The first afternoon at Carmor, we went barramundi fishing on Sampan Creek. Didn't catch any fish, but must have seen more than 100 large crocs in a mile and a half. One big croc had killed a grown buffalo and was guarding the carcass.
With Matt's help, I got a nice buffalo, probably score about 98 points, but drowned my camera during the chase and couldn't get pictures. Did get pictures of other buffalo.
The croc we trapped was 4.47 meters (14 ft 8 inches) but had a very wide head.
On the way home, we stopped for a few days in Kauai. On a 4 hour trip out of Nawiliwili harbor, we caught two Marlin, both about 150 lbs, and one of which was foul-hooked thru the eye socket, so the captain boated it for eating.
Croc in Sampan Creek
Big Cattle-killer. I'm 6'5" in shoes.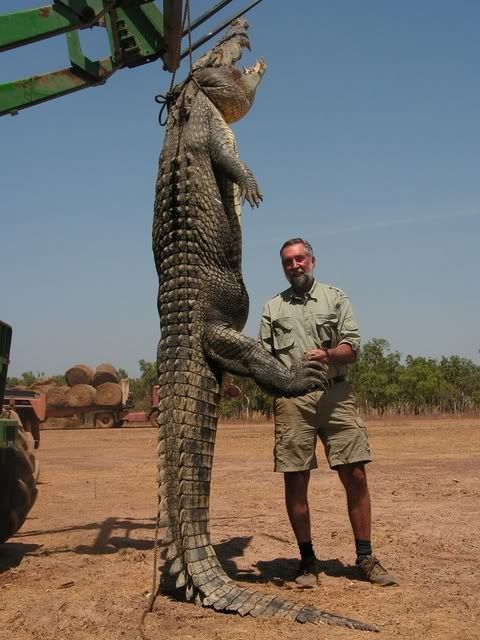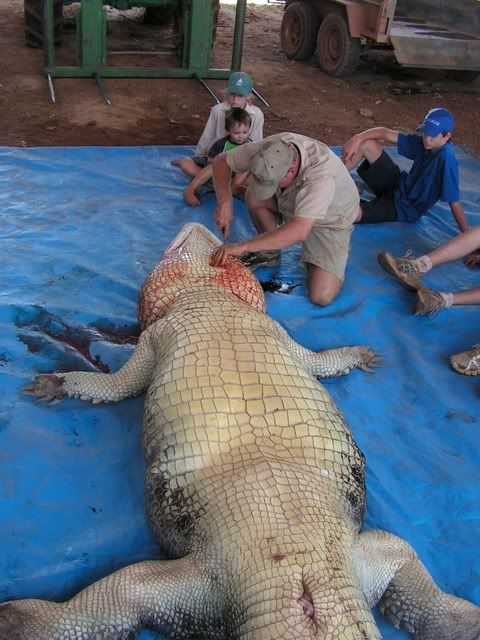 Sampan croc with buff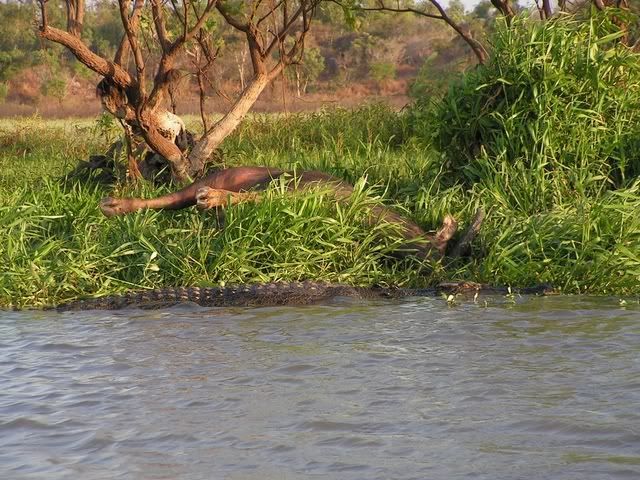 Big Croc
Nice bull buff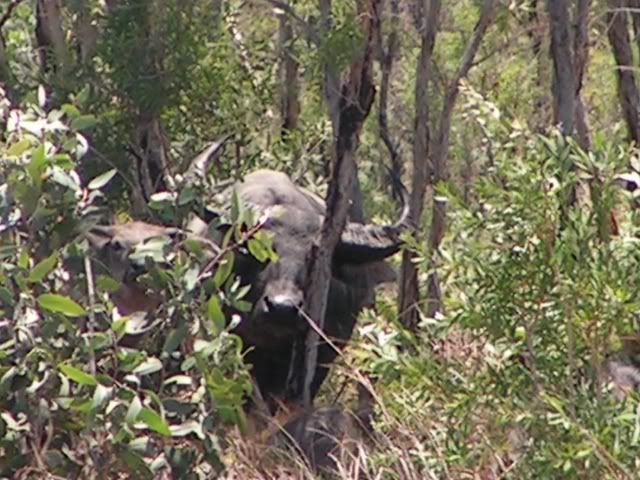 Marlin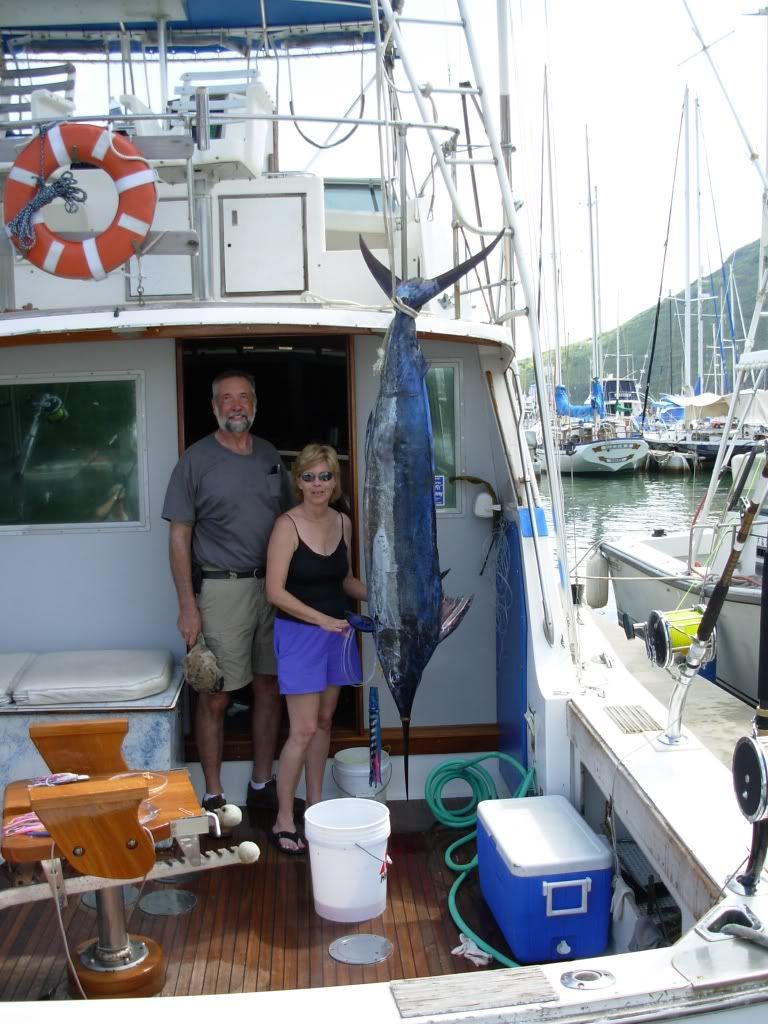 18 October 2006, 01:53
TOP_PREDATOR
What a great trip
Can you tell us more about your buffalo?? what did you shoot it with??


"Never in the field of human conflict
was so much owed by so many to so few." Sir Winston Churchill


18 October 2006, 02:14
SGraves155
TP, I borrowed Matt's 375 H&H Brno, he used a 458 win. Unfortunately, our ammunition choice was slim (no real premium softs, no solids), which led to a wild chase after a wounded buff thru a big swamp. When we finally got the buff, we were 600 yard out into the swamp, with only one round of ammo remaining, and I had drowned my camera. We didn't encounter any crocs wading in or out, thank goodness.
18 October 2006, 03:37
Rusty
WOW, talk about your mixed bag! Great report! Congrats on your hunt!


Rusty
We Band of Brothers!
DRSS, NRA & SCI Life Member
"I am rejoiced at my fate. Do not be uneasy about me, for I am with my friends."
----- David Crockett in his last letter (to his children), January 9th, 1836
"I will never forsake Texas and her cause. I am her son." ----- Jose Antonio Navarro, from Mexican Prison in 1841
"for I have sworn upon the altar of god eternal hostility against every form of tyranny over the mind of man." Thomas Jefferson
Declaration of Arbroath April 6, 1320-". . .It is not for glory, nor riches, nor honours that we are fighting, but for freedom - for that alone, which no honest man gives up but with life itself."
18 October 2006, 03:53
retreever
Steve, welcome home...Very nice trophies...Lots of memories...
Mike
Michael Podwika... DRSS bigbores and hunting
www.pvt.co.za
" MAKE THE SHOT " 450#2 Famars
18 October 2006, 03:58
ErikD
Excellent pictures!
18 October 2006, 05:04
NitroX
Nice sized croc. Looks like lots of fun.
18 October 2006, 08:16
Wiz
Congrats Steve,
You have seen and done many things the vast majority of Australians will never realise we have in own own backyard.
18 October 2006, 12:25
Bakes
Well done Steve sounds like an interesting trip.


------------------------------
A mate of mine has just told me he's shagging his girlfriend and her twin. I said "How can you tell them apart?" He said "Her brother's got a moustache!"
18 October 2006, 17:15
Nickudu
I think I would have enjoyed this particular agenda very much, indeed. Good for you!
18 October 2006, 19:26
DennisHP
Congrats Steve! Nice croc.
BTW, I gave Dean and Delil the knives you sent me for delivery. They liked them very much. Dean didn't remember what your Leopard skull measured however.
18 October 2006, 19:40
SGraves155
Dennis, Thank you. I enjoyed your TZ hunting trip report.
25 October 2006, 02:48
SGraves155
A few more picts--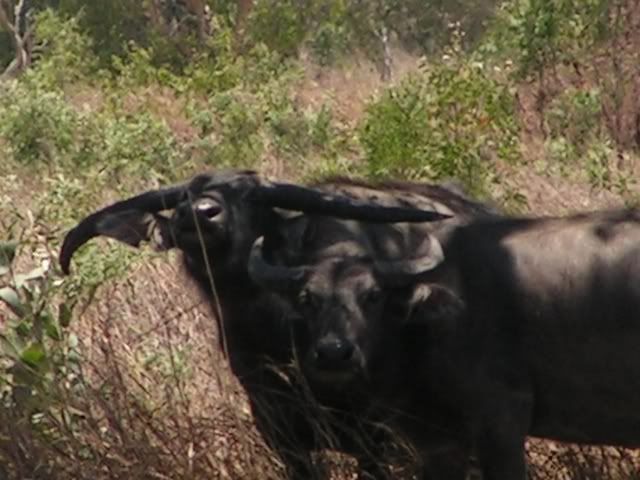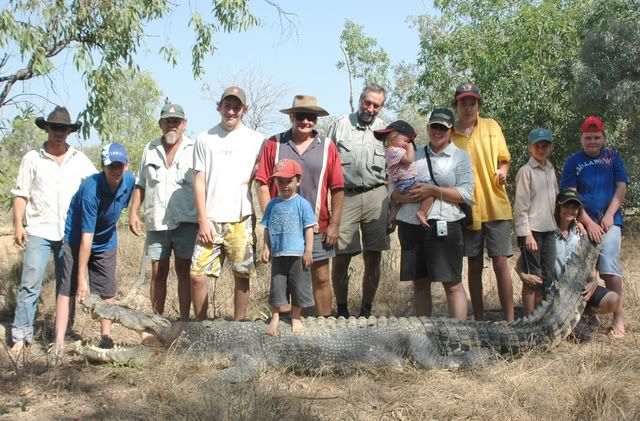 25 October 2006, 22:19
30ott6
GREAT trip Steve! Thanks for sharing with us!
John
26 October 2006, 00:49
DennisHP
Those things sure have a weird wanger. Looks like something that poped out of a chest in a sci-fi movie.

26 October 2006, 01:55
<Hunter Formerly Known As Texas Hunter>
Are there outfitters in Australia offering saltwater croc hunts?
26 October 2006, 03:03
SGraves155
Hunter, croc hunting is not yet legal in Australia. There are depredation permits available for certain areas to residents only, with many restrictions. The croc must be trapped before it is shot, and only the permit holder may then do the killing. Their government is horribly bureocratic and apparently very anti-gun. Big crocs are extremely numerous and present in surprisingly small holes of water. The rules will have to change within a year or two IMO. If you help trap the croc, Matt can sell you the hide and/or skull. It is my understanding that he is the only person who has legally and successfully exported these products to the US.
26 October 2006, 03:11
<Hunter Formerly Known As Texas Hunter>
Thanks Steve. Maybe in a couple of years it will be legal and I'll be able to travel Downunder and hunt crocs. I would really enjoy that.
04 November 2006, 18:24
SGraves155
4 Nov, Matt sent picts of buffalo skull retreival. It took about 4 weeks for the water to go down enough to get the 4-wheeler into the carcass. The horns had good mass and I am told were 47 inches wide.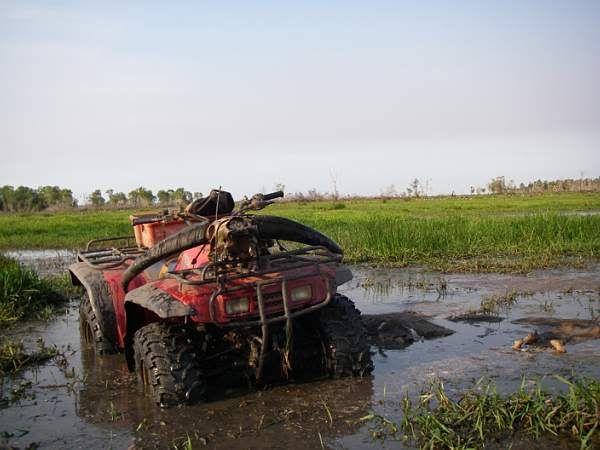 05 November 2006, 09:32
NitroX
quote:

Originally posted by SGraves155:
It took about 4 weeks for the water to go down enough to get the 4-wheeler into the carcass.
Why didn't you just take off the head and carry it back while you were there?
05 November 2006, 16:43
SGraves155
John H.--Good Question.
This buff crossed the trail in front of the Landrover about 500yds after we had given up on a long morning's tracking. He saw the vehicle and took off; we stopped, grabbed the rifles and gave chase--without Matt's kit-bag with our knives in it.
Once we had the buff down ( a couple of miles later), I think Matt thought we could get one of the 4-wheelers in to the swamp to get it, but we decided on the way out that the water was too deep for the 4-wheelers. He usually has an airboat, but it was somewhere else.
I did have a leatherman tool on my belt, but am glad we didn't try to use it for the job-- the "duck-lice"--"swimmer's itch" cercariae that had already drilled into our legs made for more itching and scratching than I usually enjoy over the next 2 weeks.
I saw your buff pict in Nickudu's photo gallery--looks like your's was in a similiar situation. Was that a recent hunt? In NT?
06 November 2006, 12:22
NitroX
My buffalo was shot maybe a couple hundred metres out into the wetlands, but we were only twenty metres or less away in the paperbacks when we shot him.
Matt Graham caped out the shoulders and head which Steve and I carried back to shore, before doing this we removed the head itself. Matt G managed to carry this out most of the way, but then Steve and I came back to carry it between us the rest of the way.
Steve's buffalo was many hundreds of metres out when shot.
Caping out the head of the head skin lightens the load, and we found removing a shoulder helps turn the animal in the water to get at the other side. We were doing shoulder mounts however.
16 November 2006, 03:12
SGraves155
Last few Picts
14 foot Sampan Croc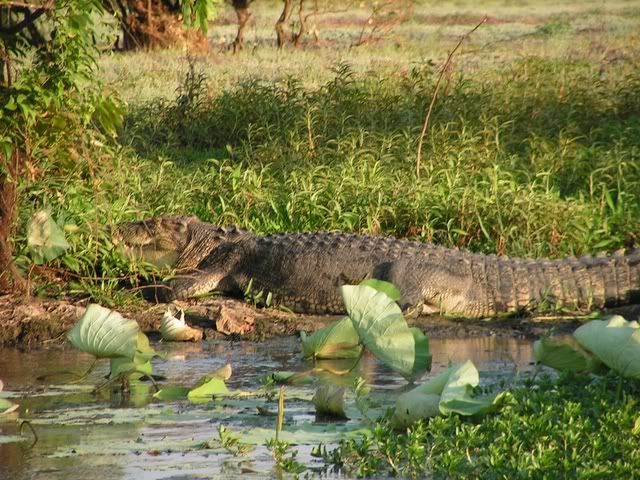 Lots of Sampan Crocs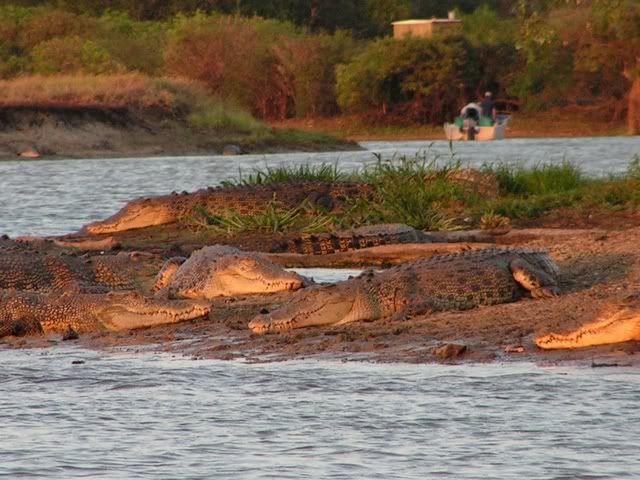 Checking entrance Wound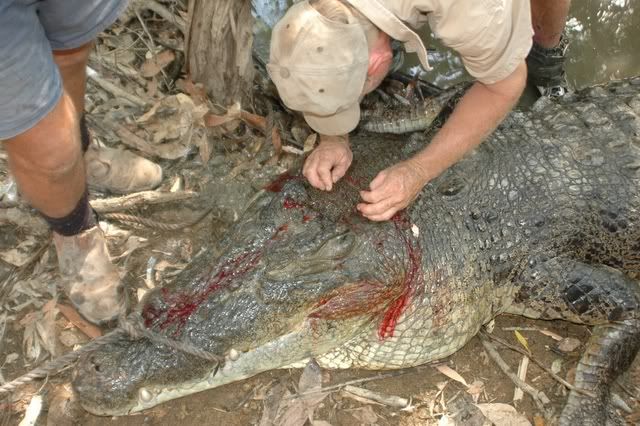 Close-Up of buffalo Killer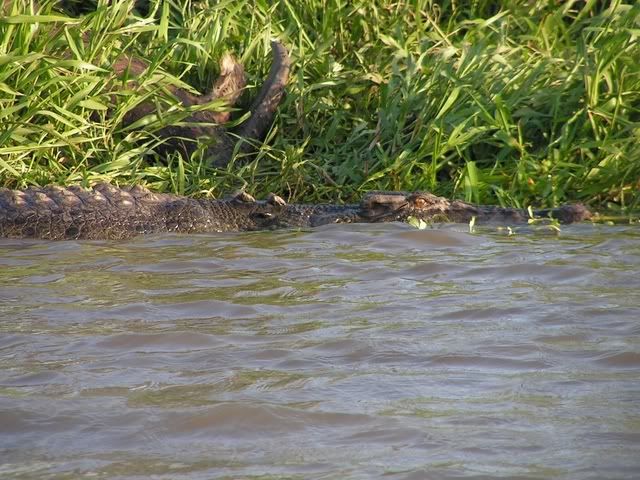 ?Albinos?
29 November 2006, 04:34
bwanamrm
Wow, neat hunt report and nice trophy bull even if recovered a few months later! Those saltwater crocs are HUGE. Couldn't imagine the tussle between the buff and the croc that killed him. Must have been epic.


On the plains of hesitation lie the bleached bones of ten thousand, who on the dawn of victory lay down their weary heads resting, and there resting, died.

If you can talk with crowds and keep your virtue,
Or walk with Kings - nor lose the common touch...
Yours is the Earth and everything that's in it,
And - which is more - you'll be a Man, my son!
- Rudyard Kipling

Life grows grim without senseless indulgence.
21 May 2018, 09:18
georgeld
Great bunch of pictures, thanks for sharing with us. Glad you had a great trip.
With that many of those big lizards it's hard to believe they don't have a legal system for NR's
to hunt or shoot 'em.
George


"Gun Control is NOT about Guns'
"It's about Control!!"
Join the NRA today!"

LM: NRA, DAV, RMEF

George L. Dwight
George - that post is from 12 years ago mate


________________________

Old enough to know better
22 May 2018, 09:52
georgeld
Still NEW to me, as I just saw it the first time.
Thanks for the info though.
Still big lizards!
George


"Gun Control is NOT about Guns'
"It's about Control!!"
Join the NRA today!"

LM: NRA, DAV, RMEF

George L. Dwight
I enjoyed seeing this! I'm glad it resurfaced for me to see.