quote:

Originally posted by Bill/Oregon:
RIP: It's a very forgiving and competitive midrange target and silhouette cartridge. A lot of guys will tell you its lighter bullets don't buck wind way out there where the .45-90s and bigger come into play. That said, a guy running a .40-65 won our buffalo gong match last month and the targets go to 1200 yards.
Very encouraging!

I bet the winner of the buffalo gong match was using 400-grainers, and I wonder how fast 65 grains of BP can make that bullet move?
Supersonic transition required, +1200 fps at the muzzle, or no?
If barely +1100 fps MV and subsonic all the way, is that more accurate to 1200 yards? How many degrees of elevation required?
The 13th Ed. COTW thumbnail for the .40-65 Winchester says the cartridge is also known as the ".40-65 Winchester & Marlin" and was introduced in 1887 for the 1886 Winchester lever action and the 1885 High Wall single shot, then the Marlin 1895 lever action was chambered for it.
COTW Factory Load shown (don't know if BP or smokeless, probably just a lever action usual load) was for a 260-grain bullet at 1420 fps, and they also show a load with 44.0 grains of IMR-3031 doing 1720 fps with 260-grain bullet.
The Lyman Reloading Handbook 49th Ed. says it arrived in 1886 as a BP cartridge, but survived as a smokeless factory load until dropped during the 1930s.
Lyman shows only smokeless loads, with a potentially most accurate 400-grain-bullet load of 32.0 grains of IMR-4895 giving 1483 fps. That bullet is from the Lyman mould #410663 using Lyman #2 alloy.
That bullet sure looks a lot like the "Snover" .408/400-grain bullets from Buffalo Arms, which I have 100 of, impulse purchased at the local emporium, years ago, and yes, by golly, that mould number is on the box: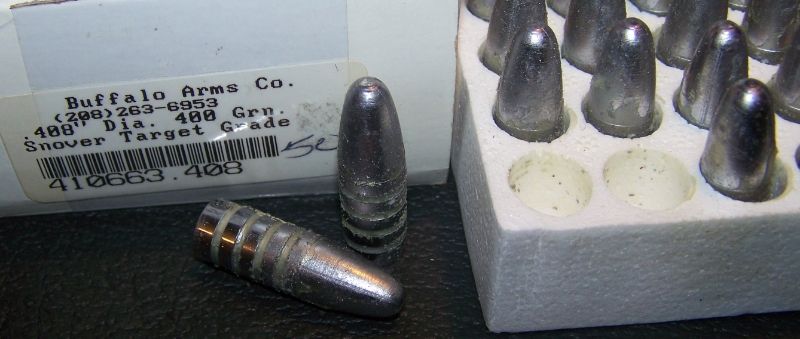 Did you ever buy some cast lead bullets off the shelf and end up with a rifle for them, just because?

A couple of years ago, I bought a used Taylor's (Armi Sport) Sharps 1874 .45-70, because I could get it for 900 bucks with the D. Pedersoli sights attached.
Yesterday I removed those sights and replaced with the original front sight that came with the Taylor's rifle.
Then I got $750 for the Taylor's 1874 in trade toward a slightly used Pedersoli Silouhette Model Sharps 1874, that also has "Dixie Gun Works, Inc." on the barrel.
That rifle came with 80 rounds of Starline fired brass and 20 rounds of handloaded BP ammo with 400-grain bullets,
plus the RCBS 3-die "Cowboy" die set, and a Lyman taper crimp die.
So, for $449 I got the Pedersoli Silouhette 1874 .40-65 rifle, brass, dies, and loaded ammo, plus the Pedersoli tang sight, and globe front, spirit level sight,
in exchange for the Armi Sport .45-70,
which means I pocketed a D. Pedersoli wooden-boxed long range sight set,
for the $150 dollars knocked off what I had paid for the Taylor's Sharps 1874 with those sights:
$900 - $750 = $150.
So I am rid of the Armi Sport rifle (thanks) and have an almost new Pedersoli with two sets of sights and 100 rounds of brass and ammo, plus reloading dies, for $449 + $150 = $599
$599 plus having to hold a Taylor's Sharps 1874 for 2 years was the cost of my new outfit: Not a bad interest rate.

I already had a Lyman 40-cal sizing die for .40-65 Win. and .40-70 Sharps Straight, purchased previously, like the "Snover" bullets.