Dates: 6th April - 18th April
Areas:
• Balule Private Game Reserve, Near Hoedspruit
• Stormberg Mountains, near Molteno, Eastern Cape
• East Griqualand, near Kokstad, KwaZulu-Natal
Outfitter: Crusader Safaris
PH's: Rad Robertson & Daniel Oosthuizen for the Balule and then Aramand Aucamp for the Stormberg onwards
Rifles: Sako 85 Hunter in .375 H&H plus a Sako 85 Synthetic Stainless in 30.06 fitted with a PES sound moderator
Bullets: I used .375H&H Federal 300grain Barnes Triple Shock and Federal 180grain Barnes Triple Shock in the 30.06
Game seen: Elephant, White Rhino, Lion, Hippo, Greater and Cape Kudu, Eland, Caracal, Bushbuck, Zebra, Impala, Porcupine, Baboon, Black and Blue Wildebeest, Jackal, Steenbok, Warthog, Springbok, Mountain Rhebok, Vaal Rhebok, Common Reedbuck, Blesbok, Fallow deer, African Wildcat, Cape Fox, Bat eared Fox, Oribi
Game Hunted: Baboon, Blesbok, Caracal, Eland, Jackal , Mountain Rhebok, Steenbok, Springbok, Oribi, Warthog
Game Hunted but not taken: Warthog, Eland
In a perfect world I was hoping to go to Zim or Mozambique and do my first buffalo but with my wife and I trying for our first child any malarial areas were out of the question so when Andrew Pringle told me that he had managed to secure 5 Bulls in a non fenced area on the edge of the Kruger I was quick to get my deposit down.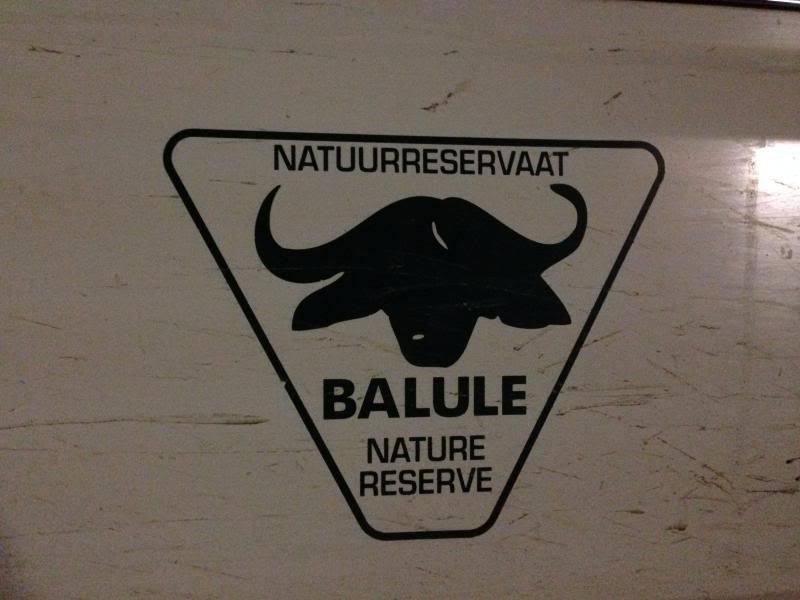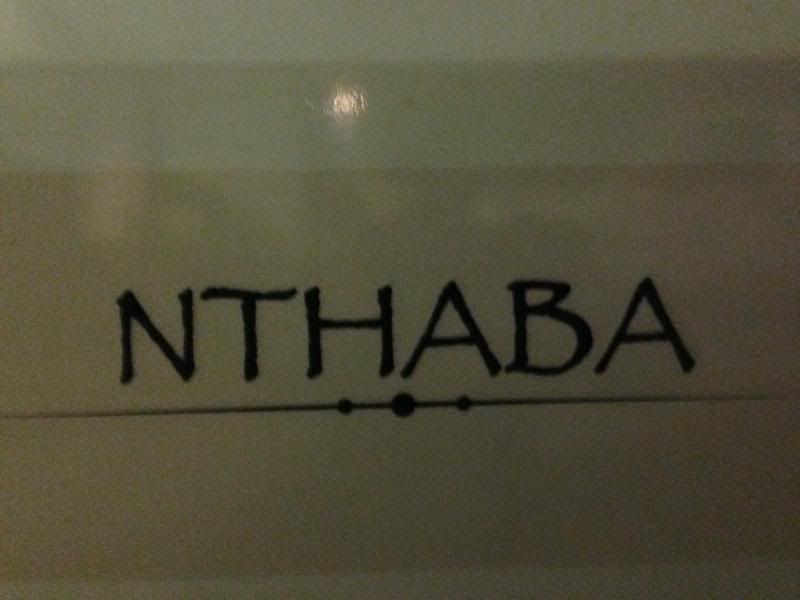 6th April- 7th April
We took the 9pm London to Joberg flight on South African Airways who unlike British Airways do not charge for a rifle (BA is now £50 for rifle case and £50 for ammo box per flight). Plane was a modern Airbus and was as comfortable as economy can possibly be despite this I failed to sleep a wink. We landed pretty much on time and were met off the plane by a representative of Henry Durheim's riflepermits.com and whisked through customs and immigration. On this occasion I had got organised and sent my details in advance so I had a pre-approved permit so we were through the police station in less than 5mins.
We met up with Rad our PH and set off for the drive to Hoedspruit. It should take around 5hrs but took longer in his Diesel Landcruiser. We signed in with anti poaching on our arrival in the APNR but had not enough light left to sight in the rifle so settled into Ntaba, a comfortable private bush camp.
Day 1
After a sleepless night on the plane early bed was in order and I was asleep by half past nine. I awoke at half twelve wide awake as my body clock was screwed up after a trip to the US a few days before. Lying awake I got the full authentic 'African experience' with a lion roaring ever closer as the hours went on. On getting up that morning I found a young male and a female just 50 yards behind the hut who were shortly after joined by a monster black manned male who proceeded to attack the young male in the bushes behind our bedroom which gave my wife a rude wake up call
We started the morning sighting in the rifle, the Peli case had done its job though and it was still 'dead on' at 100yards and required no tweaking.
With that job done we started checking water holes for tracks. It became evident by the end of the morning that the Buffalo were fewer in number and not moving as much than the hunt that Rad had done there some three weeks earlier. He had seen 800+ buffalo on that trip including several large herds, lots of bachelor groups and lone bulls but the weather had been much hotter and the buffalo were moving to water more.
It might be useful at this stage to outline the rules we were under:
1) We were after a <38inch bull
2) We were not allowed to shoot a bull from a herd
3) We were asked if at all possible to take one from the Ntaba side of the property as the previous two bulls had been taken from the Mveni (spelling) side. With no fences and only 5 Buffalo on licence a year this seemed slightly unnecessary but it was only a request rather than a rule.
4) I added to these by explaining to Rad that I was not fussed about spread but was rather after a really old bull, if possible with big bosses. Rad produced a rather fuzzy photo of a bull he had seen on his previous hunt that had been survived a lion attack. It was exactly what I was after and as it turned out had been seen several more times recently by APNR employees. We were to use that photo as our yardstick when judging other bulls.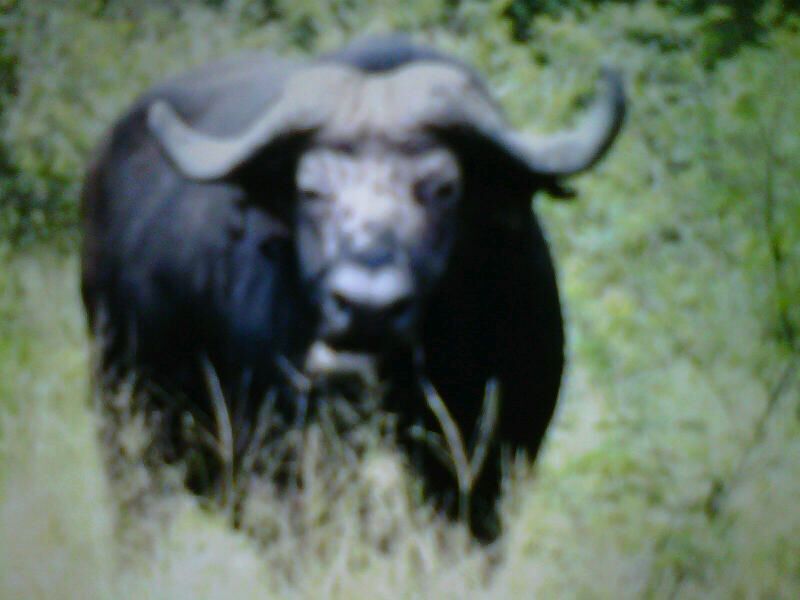 Most of the 1st day was spent in the truck checking all the water holes and which were being used. The day was relatively uneventful buffalo wise and we only got a good look at two bulls which were both only just hard, there was no sign of the herds at all. We did however see a solitary Hippo, 4 Rhino and couple of Elephant bulls.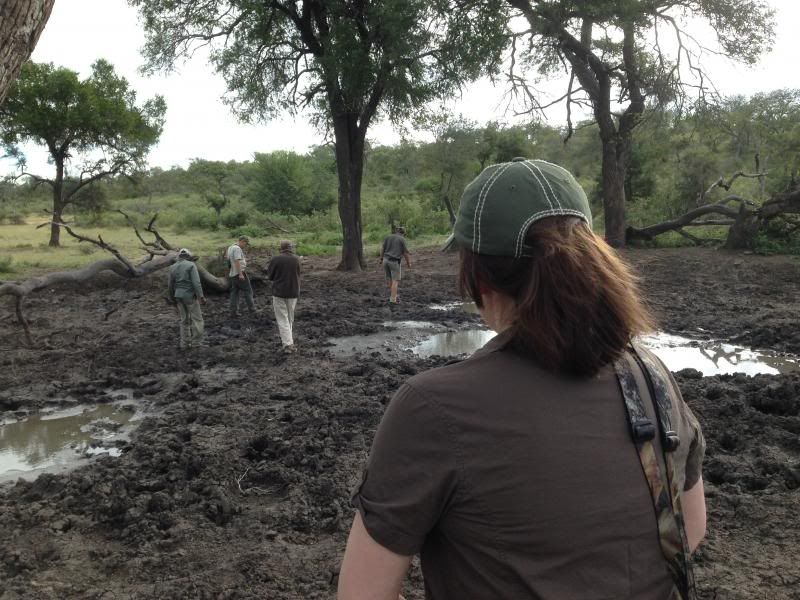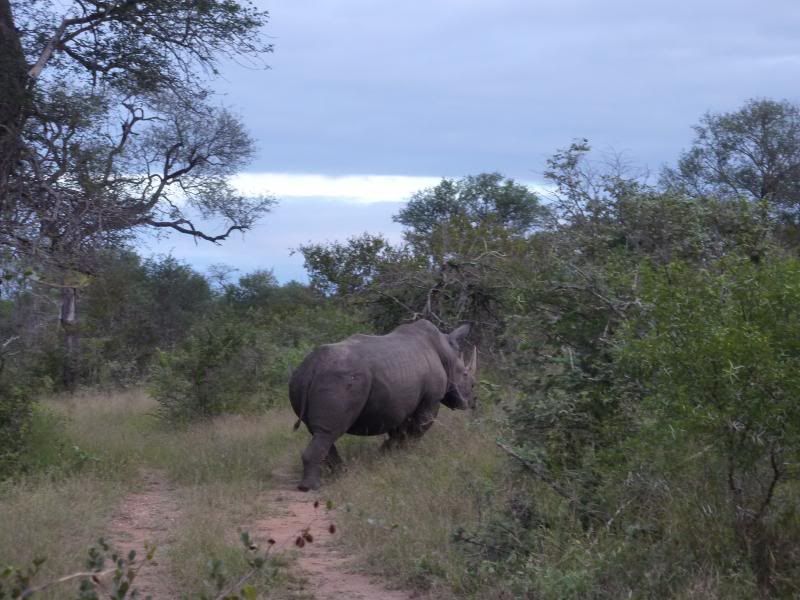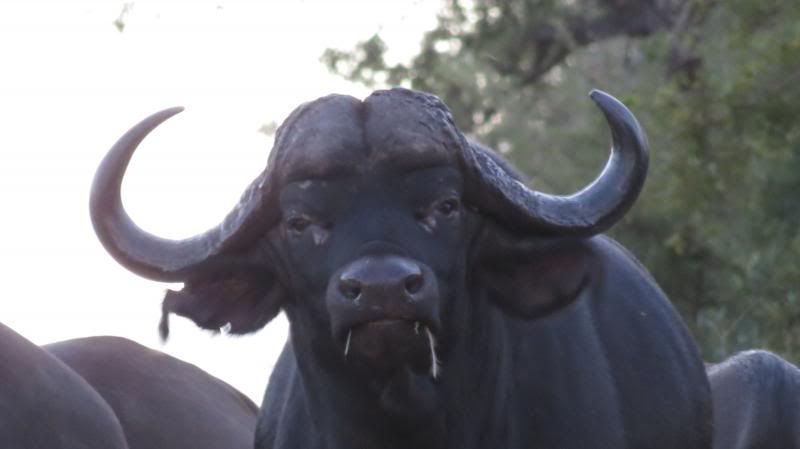 Despite being very tired my sleep patterns continued to be odd and I woke up in the middle of the night and failed to go back to sleep
Day 2
Overnight there had been some drizzle and the morning was overcast and cool. First thing we saw a great old bull in the river which we watched for a long time. We decided he was not the bull in the photo but a great contender should we see him later in the week: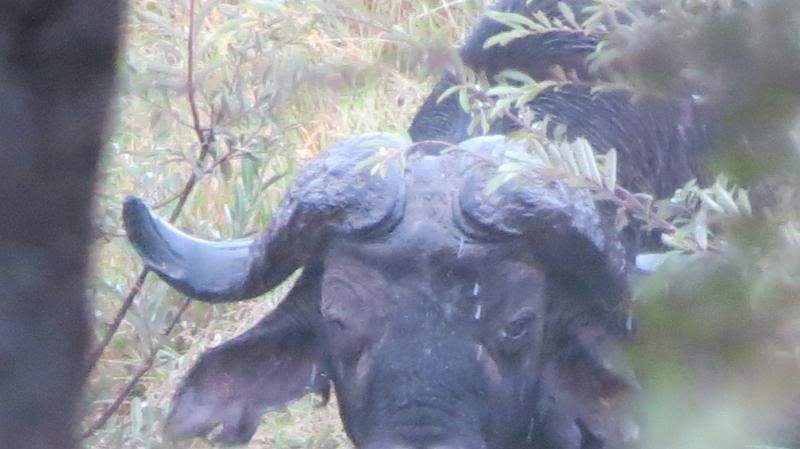 With the cooler weather no much was moving but we did manage to catch up with a group of three bulls later that morning, one old 40"+ bull and two younger companions.
After lunch we kept checking water holes and found a pair of bull tracks that led down into a small valley that ran parallel to the boundary. We followed the tracks for ages but eventually lost them in the thick stuff due to the large numbers of other tracks, some old, some fresh. This was clearly a bedding area for quite a few bulls, there was also a couple of defined routes through the area.
We returned to a water hole that we had seen fresh lone bull track on the day before and sure enough the bull had returned a few hours previously for a drink and a mud bath. We took up the trail and had probably gone the best part of a mile with the tracks getting no fresher and the mud on the bushes still dry when we heard a snort just in front of us, we instantly fanned out guns ready but the bull crashed off after a few seconds. Exciting stuff – it turned out we had got into just 14 yards from his bed.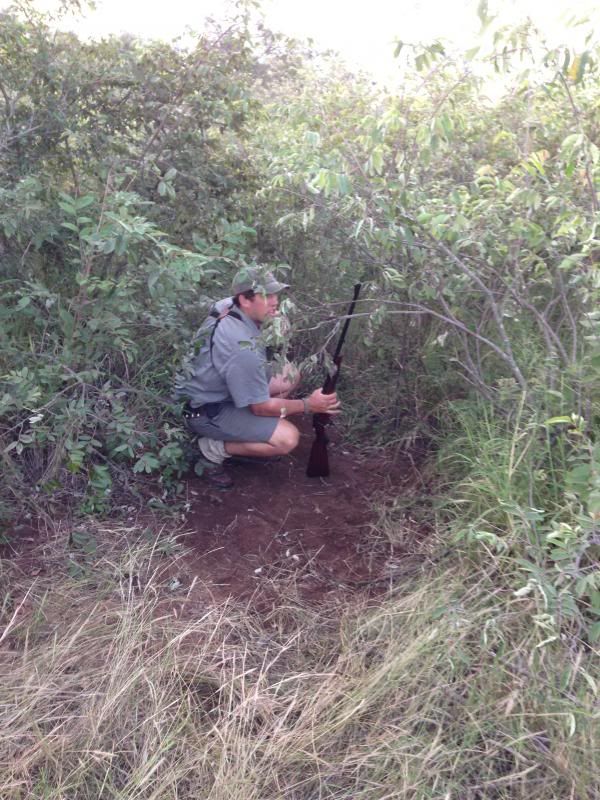 On our way back to camp in the truck we were treated to a great view of the dominant rhino bull for that area, the biggest one I have ever seen and certainly the closest. Later that evening sitting in the camp drinks area we heard a single shot ring out in that direction and about that distance (we alerted the anti poaching team) so fingers crossed he is still around.
Day 3
Much to my annoyance I awoke (feeling rather groggy having resorted to a sleeping pill) to find it was raining again. We picked up track of a lone bull early and the tracker and Jark, the representative from the APNR did a great job of staying on them in the rain. We bumped the bull but saw enough to see he was good and old and worth following. We bumped him twice more as he had a habit of turning downwind every so often. Having bumped him three times it had crossed my mind that he might be getting a tad grumpy so when Daniel shouted 'he's coming he's coming' we all instantly had our guns ready. As it turned out we had walked right into two rhino's not our buffalo but it certainly got the heart pumping when it crashed through the bush 30 yards in front!
With our bull increasingly headed downwind and us thirsty and slightly tired after a long walk we returned to the truck. We were soon checking another water hole and on the tracks of another bull. As it turned out it headed for the same thick area that we lost one the day before and sure enough we lost the tracks again. Making our way to lunch we were joined by my wife and James Campbell the owner of the camp. The plan was to have lunch on a hill above the river and hopefully see some buffalo coming in for a drink while we ate.
On our way to lunch we were told that two old bulls had just been seen in the river bed so we decided to delay lunch and check, we arrived to see them leaving the river bed and were soon following. After a short walk across a fairly open area we heard a noise in front of us and figured we had spooked the pair of bulls. As it turned out we had just heard them dislodging stones crossing a small ravine. Upon reaching the ravine we had a clear look across and two the two bulls both of which were old but one particularly so. I was on the sticks with the bull in the crosshairs twice at about 45 yards but in both cases he had trees across his vitals.
The bulls moved off and we followed, it was very hard to go quietly on the loose rocks but when we got up the other side we had only gone a few paces when one of the two was visible and the sticks went up. 'Is that the old one' I asked Rad and split seconds after he confirmed I squeezed the trigger. He was quartering on to us and the first shot on his left shoulder rocked him hard (As it turned out it had taken out the top of his heart). He surged forwards in the direction he was facing with his head down so I quickly put another shot into him, the way his head was I had to put it high but it rocked him really hard again and turned him so he was heading straight towards us. With his head low I aimed for the spine on the back of his neck, my shot was a couple of inches to the side but put him down.
Walking towards him he sounded his death bellow, nevertheless to be sure I skirted behind him and put a final shot in the back of his neck. And my first Buffalo was done.
Forgive the indulgent amount of photos: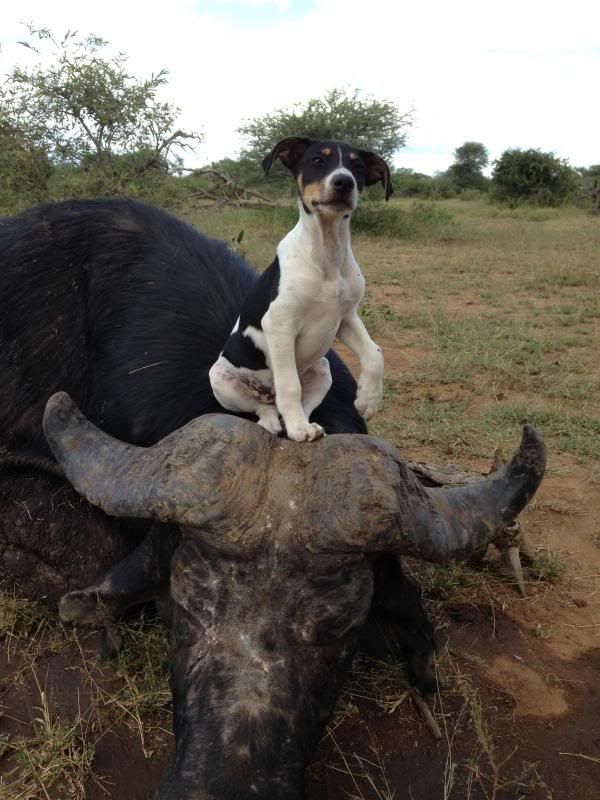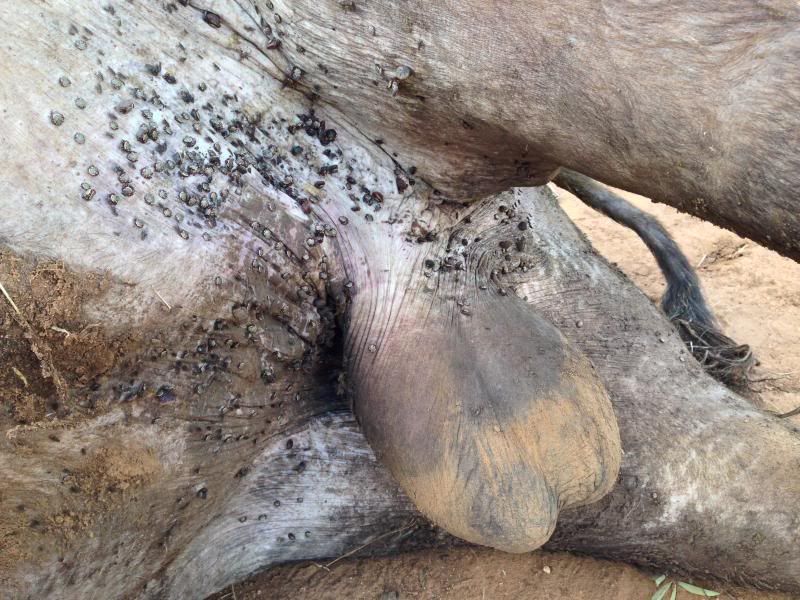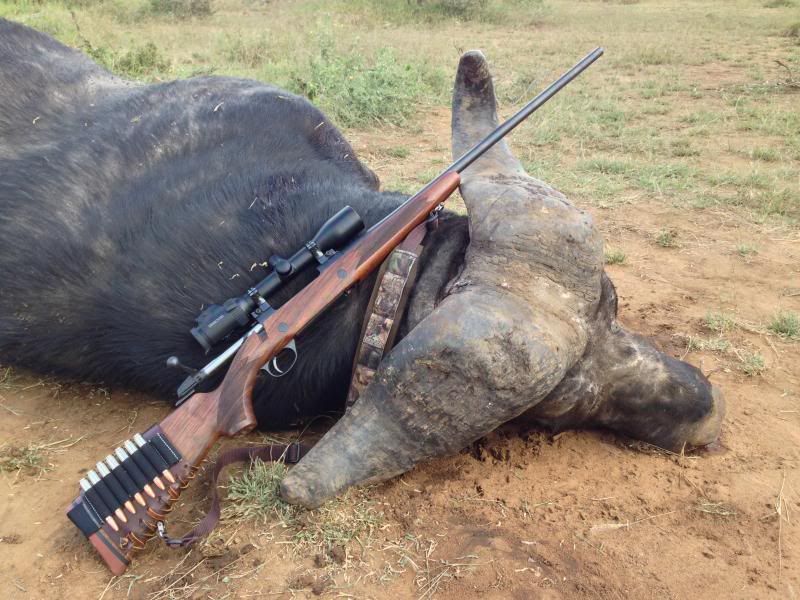 As you can see he was everything I was after – super old (anyone care to add their guess?!) with loads of character. Upon comparison with the pictures and turning him over to reveal the scar from the lion attack it was amazingly the Dagga boy which we had been looking at the picture of for three days.
Lion attack scars
Back at the skinning shed the congratulation continued with everyone enthusing about him. He certainly looked a bit different to the other bulls in the salt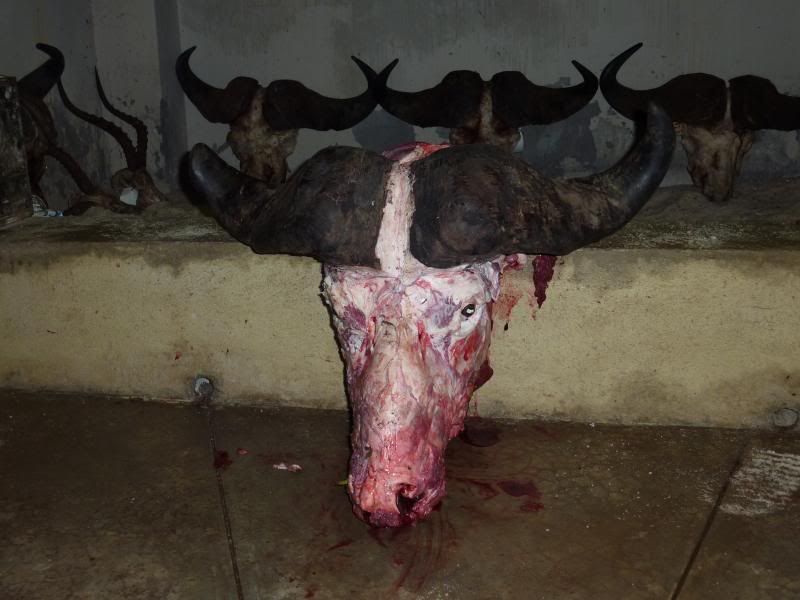 Day 4
The previous evening we decided against the long drive to the Stormberg so had booked flights from Hoedspruit (Eastgate Airport) to Joberg and then onto East London. Sadly our first flight was so late we missed the connection to our second flight. Luckily we got on the later flight standby and made it rather later than intended to Easy London where our PH Aramand was waiting. After a uneventful 3 hr drive we were back in the Stormberg.