Date: May 16 - 22
Booking Agent: Crosshair Consulting - Wade Derby 925-679-9232
Safari Outfitter: Kei River Hunting Safaris 011-27-438-31-2024.
Www.keiriverhuntingsafaris.co.za
PH: Andrew Renton
Lodge: Maweni Lodge
Travel Agent: Wild Travel - Kathi Klimes 708-425-3552
Permits: Hunters Permits Africa - Adel Janse van Rensburg. 27-76-611-9991
Area: East Cape, South Africa
Firearms: Winchester Mod. 70. 30.06 with Burris 3 Eliminator 3x12. Winchester Mod 70. 375 H.& H. (Didn't use).
Species Sought: Kudu, Wildebeest, Impala, Blesbuck, Warthog, Gemsbuck.
Species Taken: All the above plus a Springbok
We departed Los Angeles on May 13 and flew Emirates to Dubai and then on to Johannesburg. Met by Adel with Hunters Permits and flew through the SAPS and checked in with South Africa Airlines for a short hop to East London. We collected our luggage and were promptly met by Andrew Renton. We hit the ground running and Andrew had my firearms collected and we were off.
This trip was booked last fall and I was going solo. About a month prior to departure, my fiance Tina, was layed off of work and was now able to accompany me on my first trip to Africa. She is not a hunter but she respects the sport and understands the importance of hunting in relation to conservation. However, I was a little concerned on how she would react when being present at the taking of and animal.
As we departed the airport I advised Andrew we needed a grab a couple items that the airlines wouldn't allow. Andrew got on the phone and found what we needed and on our way out of town.
We checked zero on the rifles that afternoon and we're set for the following morning hunt. Andrew advised that we needed to focus on getting the Kudu secured as it could be the toughest hunt, but he assured me he's been scouting the area and has seen several good Kudu and we just needed to locate the best one.
The first morning I was taken back by the amount of wildlife Tina and I were seeing. Too many to list but we knew we were not in California anymore! We came across several Kudu that all looked great to me, but Andrew assured me they weren't what we were looking for. Andrew explained that we were only going to take mature animals, and only the top 10%. I totally agreed with this practice as a tool of conservation and appreciated his knowledge of what a top 10% African animal should look. In the late afternoon of the first day we found a "Proper" Kudu. He was across a canyon with a hot cow and she was leading him all over the place but where we needed him. We put together a stalk with hopes they would drop down to where we would set up and wait. Unfortunately they stayed high on the ridge out of sight. During the stalk we encountered Bushbuck and Nyala. As we started back up the hill, Andrew spotted a nice Blesbuck at 88 yds. I was up on the sticks and it was over as soon as he cleared the brush.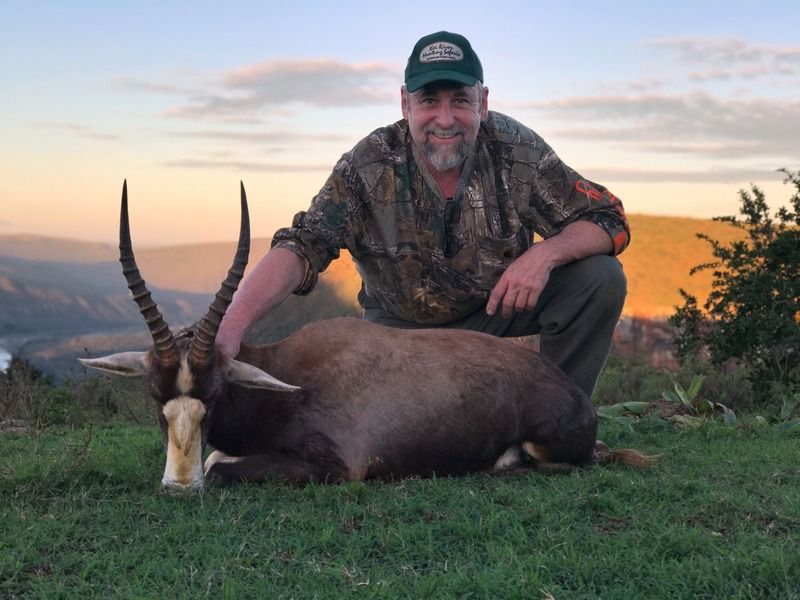 Day 2 was a lot of glassing and looking over several Kudu, but Andrew couldn't get "That One" Kudu off his mind.
Day 3 we went out at first light to the Kei River valley and look over a Kudu we didn't get a good look at the first day. As we entered the valley we came across a group of Kudu with a couple small bulls up on the hill above us. Then out of a small draw up walks a "Proper" bull. We slid down the river bank to hide ourselves and sent the truck with Tina and the tracker back from where we came from after herd got a little suspicious. They settled down and I first ranged him at 370 yds and I felt good, but Andrew wanted me to wait until he was a little closer and broadside. Finally at 328 yds Andrew whispered "Shoot him when he's clear of the bush". He cleared and I sent the round just over his back. I quickly jacked another round in and pulled down slightly and down went the Kudu. I was congratulated and soon the truck arrived with Tina and the tracker. Andrew advised that with Kudu we send a dog in first to make sure it a done deal. Dog run up the hill, finds Kudu, bites downed Kudu in the ass and Mr. Kudu is up and off the the races. Dog is howling, brush is breaking and Kudu busts out running right toward us. Now remember, Tina has never been on a hunt before, let alone one that rapidly going sideways. The Kudu runs right past us at about 30 feet. I can't shoot because the scope is at 8 power, and not sure where everybody is located he ran past and is headed for the river with the dog on his heels. I quickly collected myself and Andrew and I are now running after Mr. Kudu. Fortunately he fell in the reeds on the rivers edge and we cleared the dog and I could get another round in him. I was worried that this being the first for Tina was a terrible experience. The first thing she said was "Wow, that was exciting". At that time I knew she was ok, and Andrew teased her about not capturing it on video!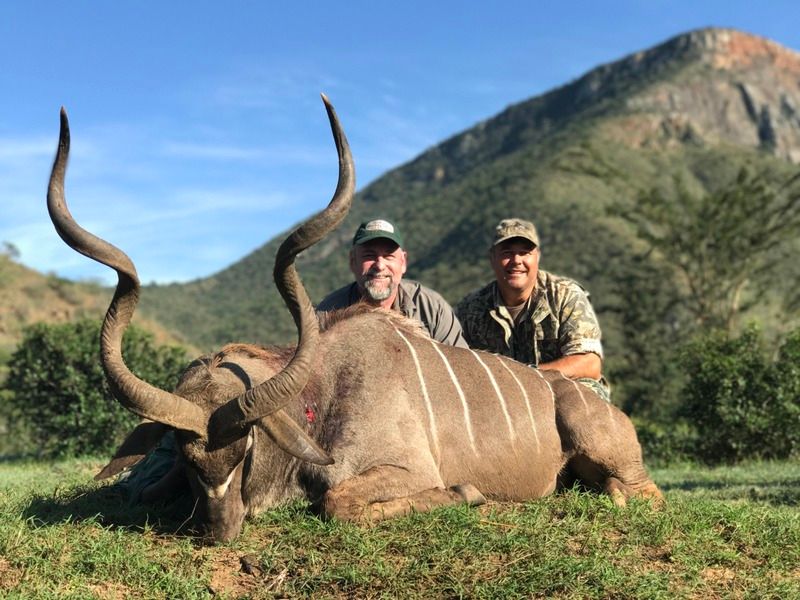 Now I will now bore you with the other hunts and stocks for except the warthog.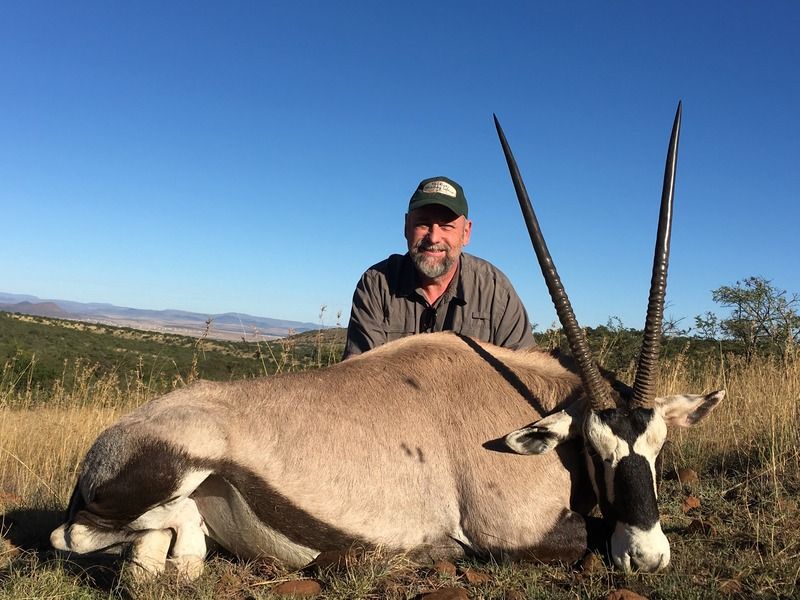 Gemsbuck. 318 yds.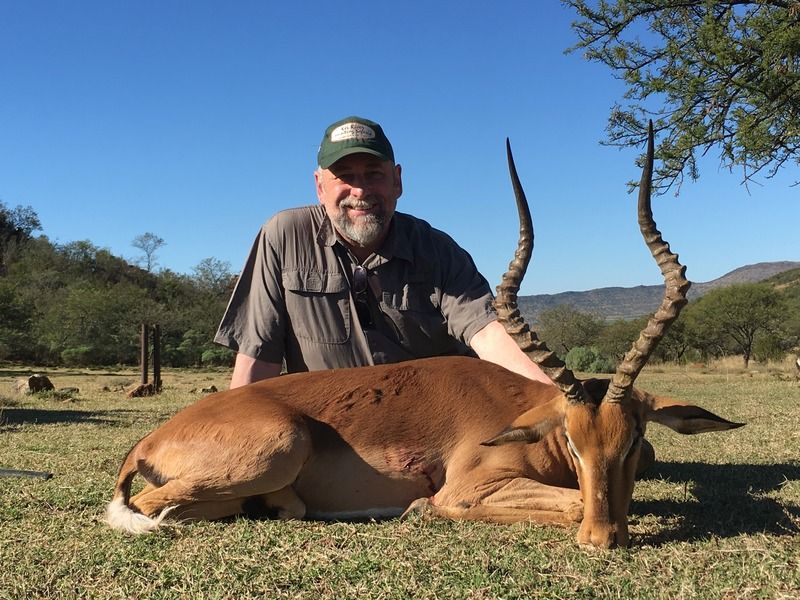 Impala 254 yds.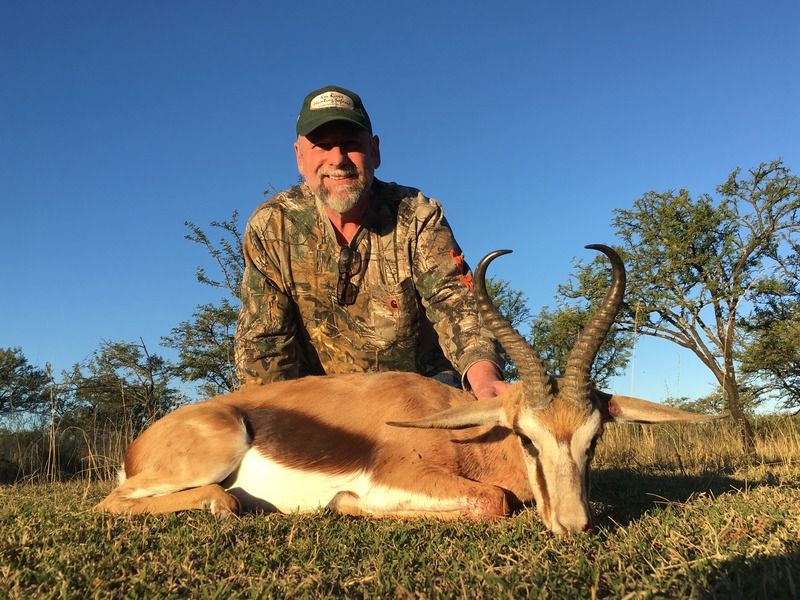 Springbok. Andrew challenged my marksmanship. I think it was 300 yds.
Wildebeest 175 yds.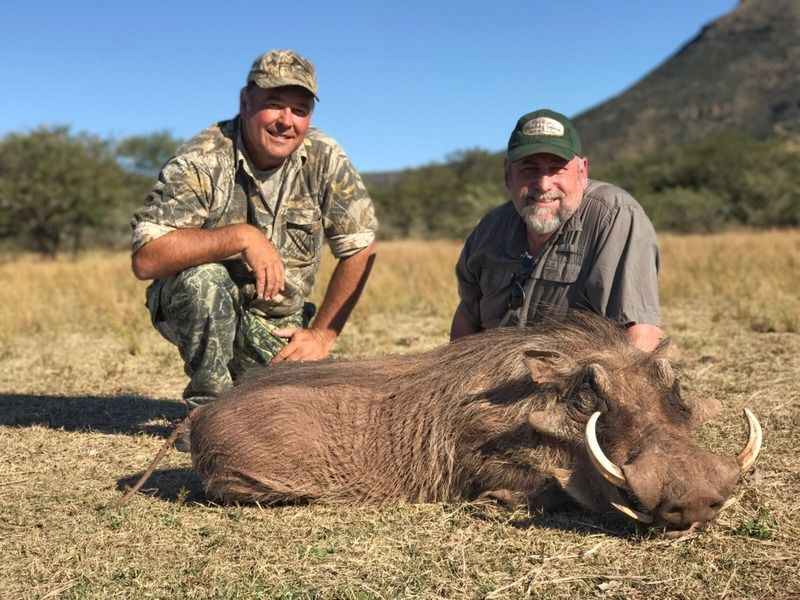 Warthog 258 yds.
Now the interesting thing about the warthog. As I walked up the the deceased piggy, I saw something shining on his shoulder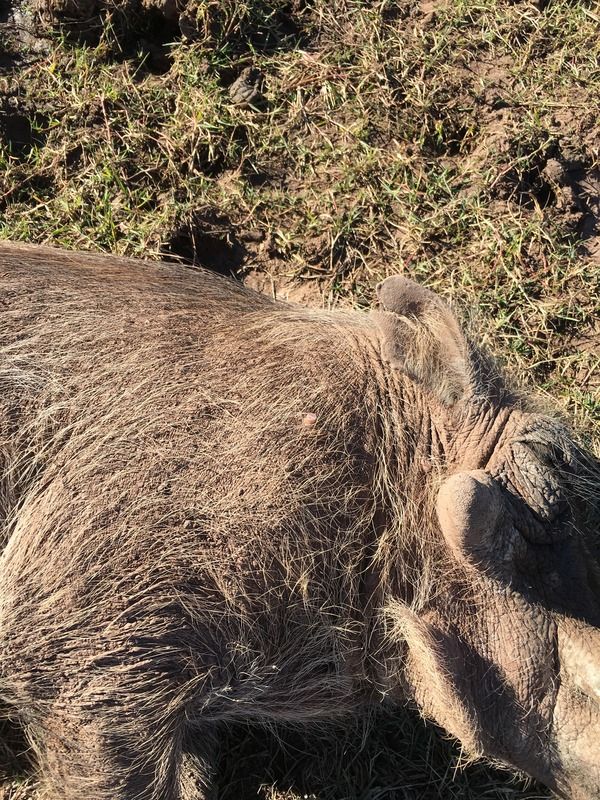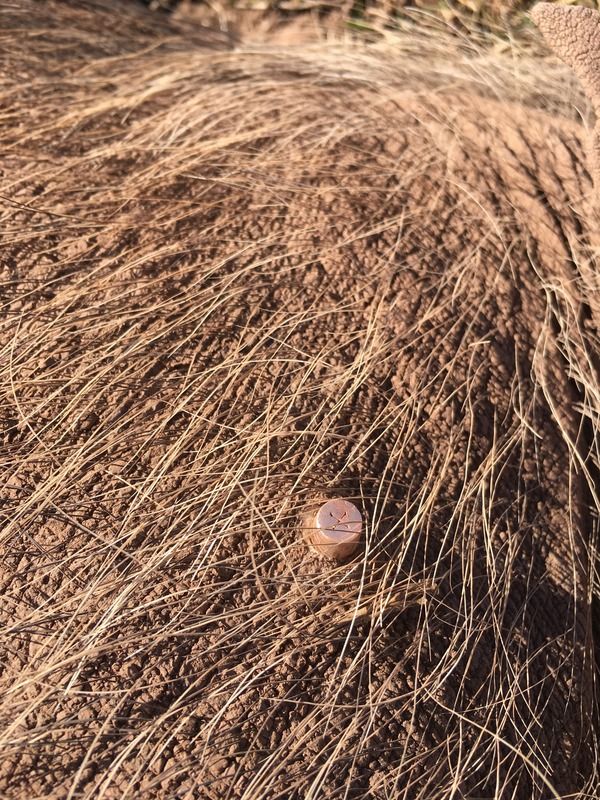 This is the ass end of a Barnes 168gr. TSX bullet. The bullet pass through the shoulder and tumbled and got hung by the mushroom on the skin. I have never seen this before. Found several under the skin, but never with the backside of the bullet showing.
We finished our hunt a day and a half early and Andrew made arrangements for us to stay on the beach in Morgan's Bay and put our feet in the Indian Ocean. So beautiful that it's hard to explain this coast. So tropical and so many shells and the best beachcombing I've ever seen, which is Tina's passion.
Words can't explain how professional and personal our first trip to South Africa was due to having Kei River Hunting Safaris, Andrew Renton and his right hand man Sutu as our guides. 100% first class education, hunting, conversations and friendship. The accommodations, lodging, food and service at Maweni Lodge were 5 Stars all the way and Mrs. Miles has a special way of making you feel like family.
We both left South Africa knowing we experienced so much more than expected and are forever grateful to Andrew, his family and friends for making this a trip of a lifetime.
On the return home, all went well. At the baggage claim in Los Angeles we were met by a fellow from Emirates that remembered us and remembered that there were items we were required to leave behind. Emirates secured the stuff and were able to collect easily before leaving airport. Five star service. Then there was customs. TSA and Customs suck. 2 hours in Customs with the guns. I asked why when we are using forms they prepared? Response, "Computer is slow". They are worse then the DMV. Oh and TSA gave me some shit on the departure for packing my ammo in a locked box in my suitcase. They wanted it in with the guns. WTF?
Now being this is my first trip to Africa I have only North American hunting to compare it too. With that, every aspect of this trip gets 5 stars. Andrew Renton is a true gentleman with the highest knowledge and ethics. Andrew took time to answer the many questions and went the extra mile on everything. The Maweni Lodge is outstanding. Food, accommodations, atmosphere, and fellowship is second to none. Dagmar is the most gracious host and made everything perfect.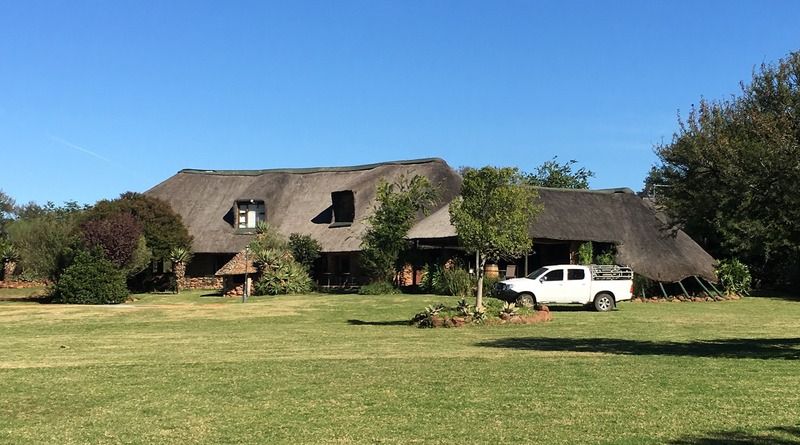 I really want to thank Wade, Kathi, and Adel for putting this together. Also thank you to JDollar for introducing me to a new addiction. Also thank you to the others I spoke with prior to this trip.
If your considering a trip to Africa, you must go. It's a tremendous value and you can not go wrong with Andrew Renton and Kei River Hunting Safaris.
The only thing "I" would have done differently is I would have invested in 50% Deet and took a 14 day course of Doxycycline, as both Tina and I got a good case of Tick Bite Fever. Not really dangerous, just an inconvenience. This is totally my fault for not taking Tick bites seriously.
Lastly, I can say Tina and I have made a friend with Andrew and the memories we will have forever, are thanks to him and his wonderful family. I'm already looking to return for another adventure with Andrew and Kei River Hunting Safaris.
....and thank you for Tina, for proof reading and correcting my jacked writing.