Dates- 23 March- 10 April
Outfitter: Cam Greig
Rifle: Weartherby in .375 H%H
location: northern Cameroon near Ngaoundere( hereafter called NG)- i think it was zone 10
WARNING: this is NOT your usual body count hunt report because this was not your usual safari.i will be somewhat detailed in the description of day to day happenings simply because that is what made this more of an adventure and less of a "got there- shot this" narrative. if you only want pure hunt details, scroll down and look for a picture of something dead. also because ii am the world's slowest typist, this report will be filed over several days. if this all intrigues you, by all means read on and hopefully enjoy.
Day 1-2 off on time from home but things quickly went south. my flight from SLC was 3 hours late leaving( Delta=Delay Every Last Time- ALWAYS).it meant i had to overnight in Paris, then catch a flight on Air France( hereafter known as Aw F--ked) to Yaounde via Bangui, CAR. so i have already 1 day of the trip.
Day 3- i was the first person in line early AM and checked my 2 bags- which contained literally EVERYTHING need for a DIY hunt- food, hammock, first aid, plate, cup, knife, clothes. you get the picture. 2 hours out of Bangui i happened to look at my luggage claim checks. imagine my surprise when i see someone else's name and a Bangui destination!. i immediately talked to the head cabin steward and showed him the problem. i asked that hue radio ahead and be sure my bags DID NOT LEAVE THE PLANE! oiu, monsieur, i will that it iix done. 30 minutes out i went back to the same jerk and asked if he had made the call. oui monsieur, i have personally seen to it . no problem. well, you can guess the rest. no luggage/gear for the entire hunt( and it is still MIA 3 weeks later). merci Aw Fu-ked. as an aside, the safety issue of hunting CAR was raised a while back and several people here seemed to indicate that it might be OK. trust me, from what i saw flying into Bangui( heavy UN peacekeeper presence and huge refugee camps all around the airport), i wouldn't go there if they paid me.
on arrival in Yaounde(hereafter NSI- airport code), it took over an hour to file a lost luggage report- in French of course, which i don't speak. went to the hotel and met Brian in the bar , then collapsed. Brian had arrived on time the day before and hung out in NSI waiting for me to catch up.thanks again DELAY and Aw F--ked
view from hotel bar of downtown.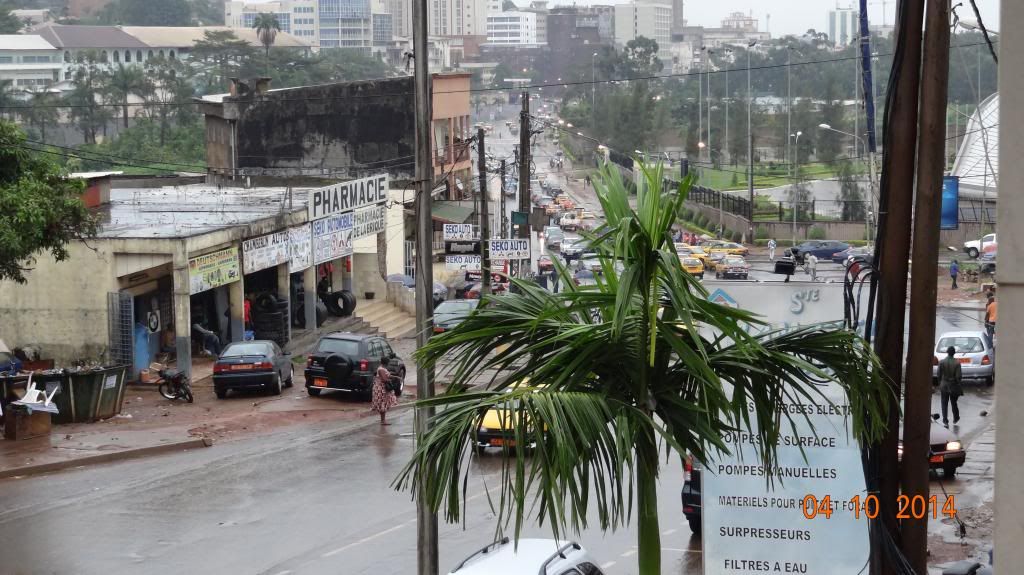 Day4. shopped for a few clothes. luckily i wore my hunting boots and a pair of kaki pants, so i bought another pair of pants( way too big) and a tan shirt( marked XXL but actually a small- i wear a medium). this 3 items and a borrowed Texas Tech Red Raiders T shirt were my wardrobe for the next 12 days. off to the train station about 4 PM to catch the 6 PM train north. we sat in a little bar/shabeen across from the station drinking warm Castle with all the locals until departure. train left on time and we( myself, Brian, and Daniel Sodea-Cam's in country trail boss) shared a 4 bed sleeper with a stranger. dinner early in the restaurant/bar( which sold no alcohol), then tried to get some sleep. not easy to do during a 16+ hour train ride that stops about every 30-45 minutes.
Day 5- we arrive about 11AM and go to Daniel's house for a few hours of R&R. leave again about 2, make a few stops for supplies, then head to the jumping off point in the mountains. 1 hour out of town, the Hilux looses it's brakes. 2 hours later after much morning with the master cylinder, only partial success. Daniel hitchhiked back to town and returned after dark with Land Cruiser SUV. reloaded all the gear, then drove 4 hours to the village. pitched a temp camp and prepared for early AM departure on foot into the mountains.
loaded down truck just prior to departure. you can see where Cameroon gets some of it's fuel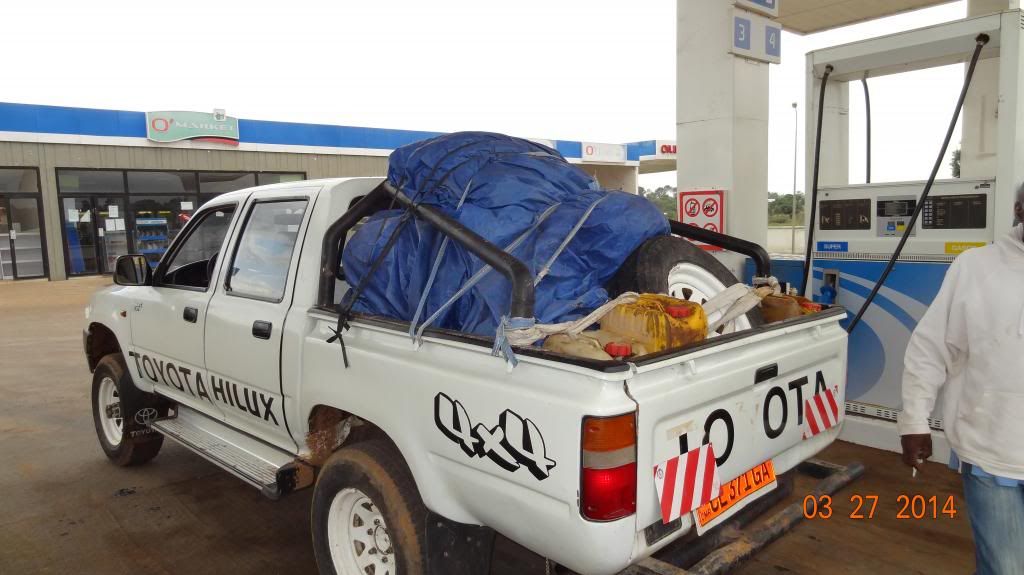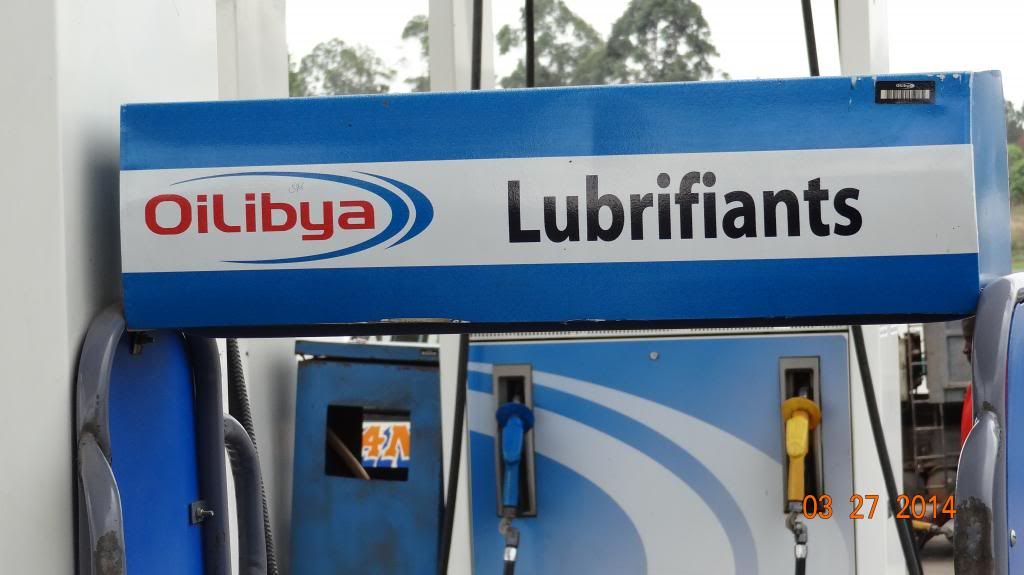 Day 6. up early, the porter drift over and the load packing began. each guy( and the cook- Daniel's wife, Howa) each carried about 50 lbs of stuff.
it was about a 6 mile uphill walk that took about 6 hours to get to campsite- frequent rest stops for the tired white dudes...the guys set things up quickly( wasn't much to do- just string up 2 hammocks and spread a few tarps). Daniel loaned me an old hammock. no mosquito net but beggars can
t be choosers. my 2 trackers( Jonas and Remi) were keen to start hunting so about 3 PM, off we went- straight up more mountains. the altitude was low( 3500 at camp and topping out at 4200') but the gradients were steep- 10-45+ degrees, very rocky and fairly heavily forested. we covered about 3-4 miles in a large circle. saw an eland bull about 125 yards away but we spotted each other at the same time and he ran off through the trees. no shot. back in camp at dark, quick supper, off to "bed". i had severe leg cramps all night and spent most of it in and out of the hammock trying to walk them off.all my electrolyte replacement was in mmy lost bags. even though i was drinking 1 1/2-2 gallons of water a day, without salt replacement( especially K+), i had such leg and arm cramps for the first 5 days that i got a total of maybe 8-9 hours sleep.
our hammocks under the plastic. it showered a few times but mostly was hot( 92-95F) and dry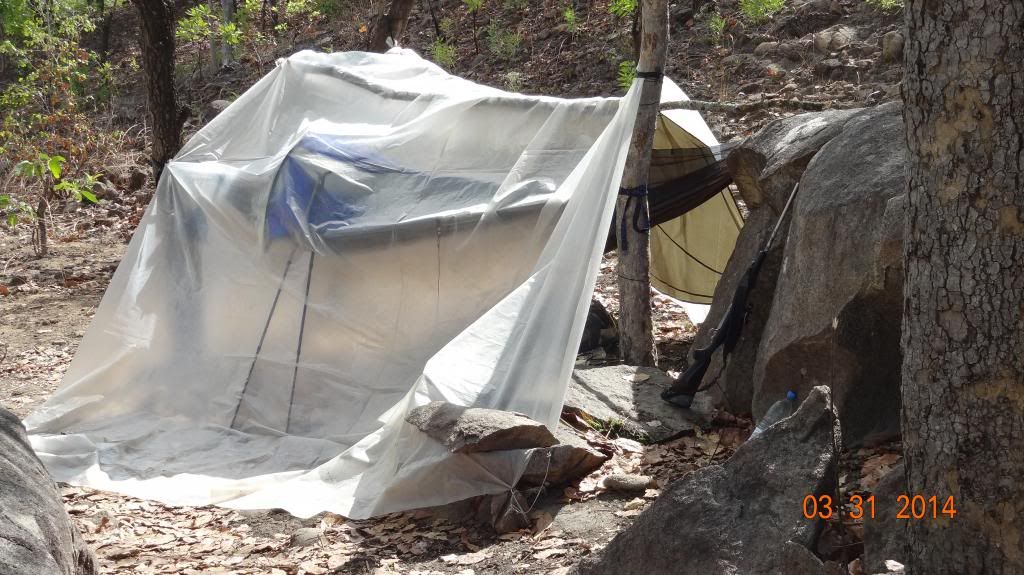 Day 7. up and out at 6AM. found a lot of fresh eland tracks and dung and followed them. saw a number of red and green duikers which the trackers said i could shoot for camp meat free but i didn't want to disturb the area. saw 2 bushbuck rams( 1 a shooter) but again i passed. we took a 4 hour mid day break by a mountain spring( it was way too hot for game to be moving), then cranked up again about 2:30. an hour later while moving along a ridge we saw 2 eland cows coming down the opposite hill into a ravine below us. we hunkered down, they crossed, through the brush and stopped about 40 yards from us in the open. a minute later, a massive bull with a thick black neck/face and huge horns comes down the hill following the cows. he was just about to break out of the brushy ravine 50 yards away when the cows finally spooked and ran, taking him with the. if the damned cows had waited even 5 seconds, i would have had an easy 40 yard shot. oh well..... i have to say though, that bull was maybe the most magnificent, regal animal i have ever seen.
some of the terrain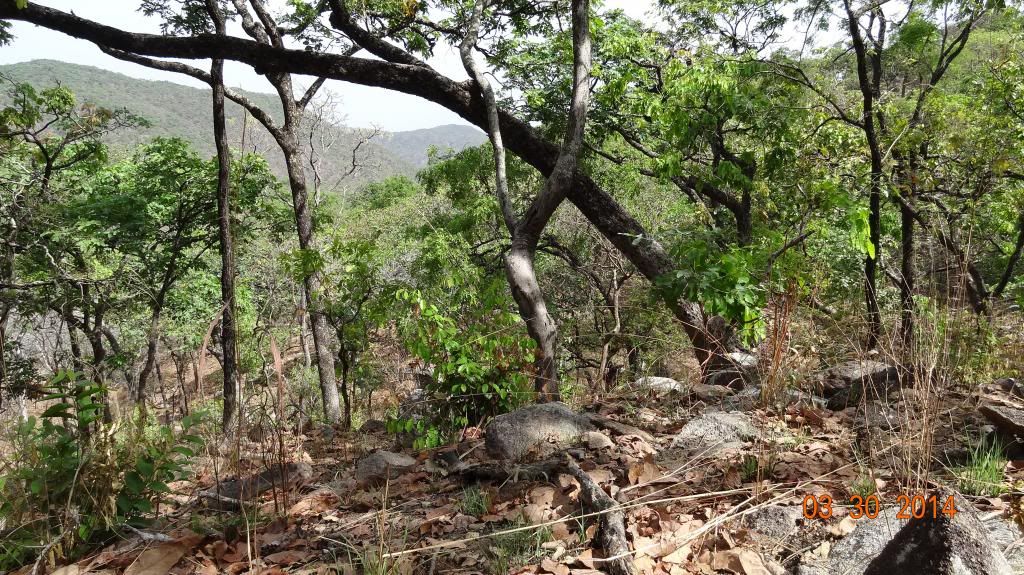 Day 8-same routine. off at 6 AM, make a 3-4 mile hike out, rest, then hike back. about 9 this AM, while tracking an eland bull( screaming fresh sign) we bumped a lone young buffalo bull. forget the eland, a new game is afoot. we tracked him back to his herd and slipped up to about 75 yards away with them heading peacefully in a brush ravine at a steep angle below us. as they were feeding uphill towards us, we just sat and waited, while picking out the best bull. they decided to bed down for a while, so we pulled back off the ridge and dropped down to come out at a level closer to them. again we picked out the best bull. luckily he was 2 toned in color- black on the front and red behind the ribs. as we sat, i watched 1 old solid black cow turn and look me right in the eye. i tapped Remi and pointed. he nodded and we figured things were about to et interesting- and they did. she jumped off and took off running down the ravine, taking the herd of 12-14 with her.luckily the bull was well below her and somewhat in the clear. finding him in the scope was made easier because of his color. a snap shot at a steep down hill angle going away took him high through the left lung and exited his right lower neck in front of his R shoulder. big dust cloud beyond him was encouraging. we baled off down the 30 degree slope on a dead run trying to catch him in a opening in the trees. how i didn't break my neck i will never know. i pulled up at a spot where i had a slight opening in the trees. sure enough in a few seconds he came barreling through. another snap shot at a going away target broke his left hip and continued forward. another mad dash 75 yards downhill and pull up again. this time when he passed through the opening he was going much slower. another raking shot, this time from the R and another lung down and exit the neck. another dash to the bottom of the ravine. we looked for blood where he had to have exited the brush and found none. OKEY DOKEY!! the old boy was somewhere above. a quick walk up the ravine found him stone dead, laying in a rock pile. i love it when a plan comes together. as the pictures show he was an old bull but in good condition. hardest trophy i ever got and i feel it was well earned. we caped him, completely cut him up and hung all the meat in trees, except for the backstraps and loins. by then it was 11AM and smoking hot, so found a shady spring, waited for 4 hours, then headed back to camp carrying the head, cape, and backstraps/loins. there were some REALLY happy porters when we showed up with fresh meat. Brian and i ate part of the fillets with pasta- delicious.
where we found him. you can see the frothy entrance wound from the first shot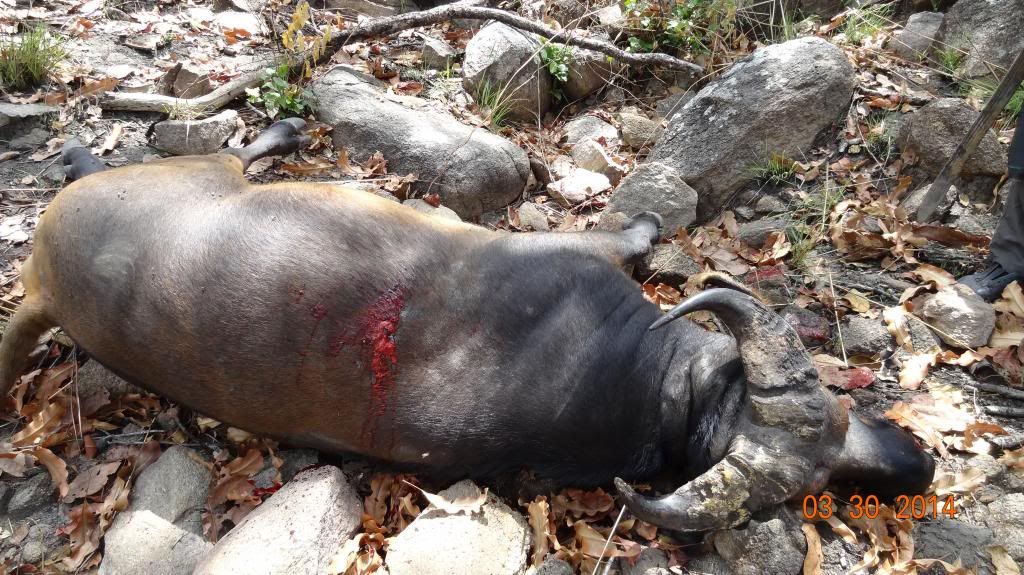 the crew- Teodure( water carrier), Remi and Jonas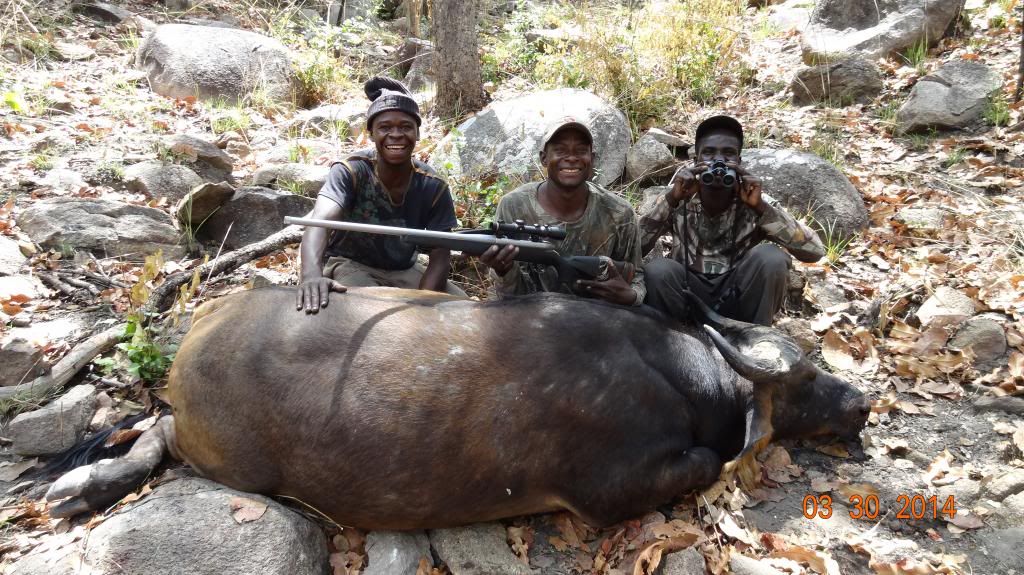 the old white guy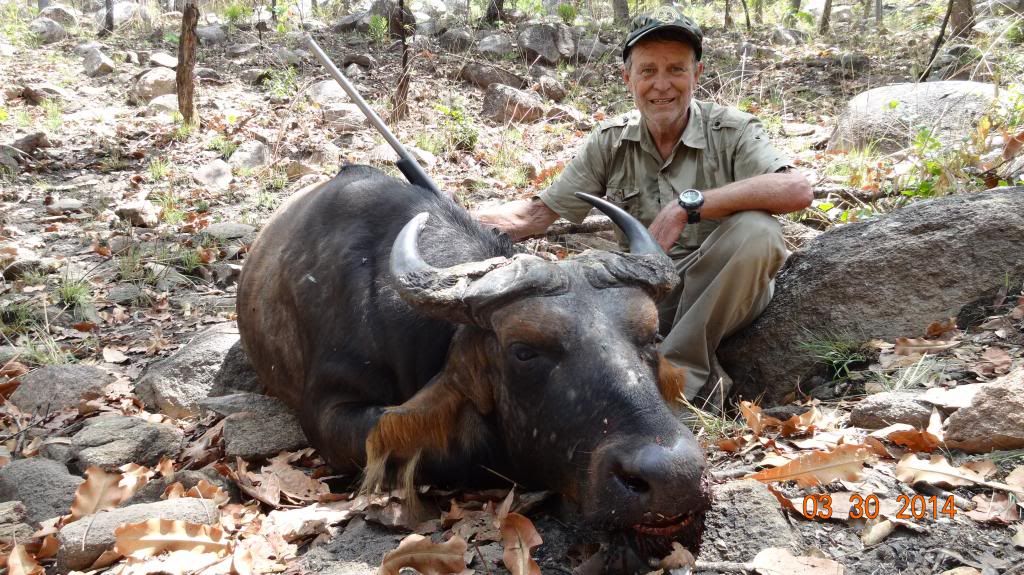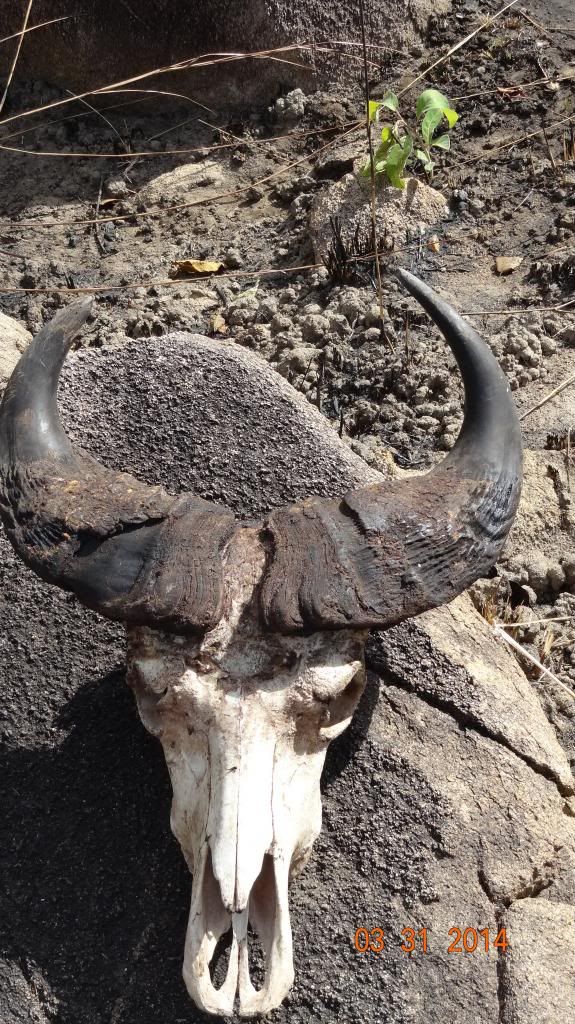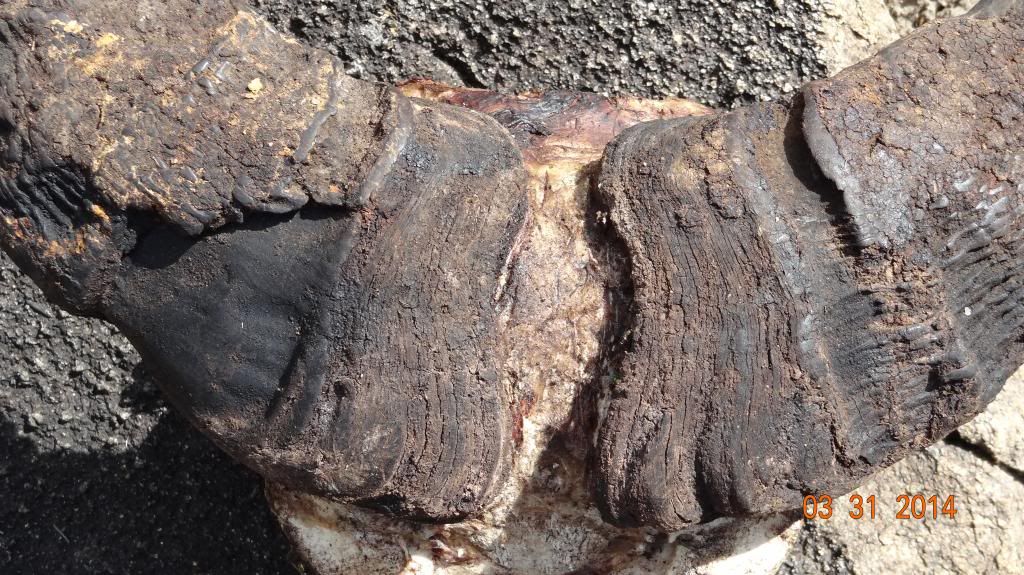 More to come but it has taken me 3 hours to get to here and that's enough for now. ENJOY,I hope