This is a primer for people who struggle with their computer, like me. For all you gearheads, go read something else.

FIRST.
You need to download your pictures to your computer. Whether it is directly from your digital camera or via a scanner for print pictures. There are too many softwares/cameras to tell you how to do this. So, you will just have to figure it out.
If you don't already have a folder called "My Pictures" (or similar) then open a new folder just for your pictures. It is generally also good to open a new sub-folder in the My Pictures folder for each set of pictures, like "Zimbabwe 2005" or "AR Miscellaneous" or "Rifles. You get the idea. Better to set up a different folder for each set of pictures than try to sort through all of your pictures (after a while you will end up with so many pictures in My Pictures folder that it will be hard to sort them with out seperate sub-folders).
SECOND.
To Direct Link (post pictures on websites like AR) you need to have your pictures "hosted" on another website.
There are many image hosting websites. Some are free, some cost money.
The term "Direct Linking" means that you can post the URL (internet speak for "address" or "location") of a picture that is stored on one website to another website.(Direct Linking is sometimes called "Hot Linking" but there is a difference in that Direct Linking is allowed by the website where Hot Linking is posting a picture from a website where you don't have permission to do so.)
Some image hosting websites allow Direct Linking others do not. Read the website's rules to see if they allow Direct Linking. I know that Imagestation, Webshots and Yahoo do not allow Direct Linking.
How to choose an image hosting website? Again there are so many that it is hard to select one. Each one will have its own limitations and advantages.
I selected
www.photobucket.com
They are free but limited (in number of pictures and number of times those images can be accessed). Because of the number of pictures I host, I went ahead and got their unlimited Premium Account for $25.00/year.
I am sure there are other very good image hosting sites. I just don't have the time to research them.
You can start with a free account on Photobucket and upgrade later if you want.
From here on out, I will be giving instructions for hosting pictures on Photobucket. If you use another image hosting website, its procedures may be different.
THIRD.
Now that you have downloaded your images to your computer and opened an account with Photobucket, you need to resize/compress your images into a size that is easily downloaded (especially for those either downloading or viewing pictures on a dial-up connection versus DSL or other faster internet connection). [I used to use Imagestation and they automatically resized your images to the proper size. So check with your image hosting site and see if they automatically resize].
From here forward I am going to use the following abbreviations:
"LC" means place your cursor on the item and single Left Click on your mouse.
"PB" means Photobucket
NEW *** NEW -- Photobucket now has a new feature. You can download photos and Photobucket will resize them for you. At the bottom of the Upload Images & Video box, click on "Uploading Options". Then click on "Message Board (640 x 480)". When you download your photos, they will be resized to 640 x 480.
OK, how to resize/compress your pictures? You should have some kind of Photo Editing software on your computer. There are so many different softwares that I can't give you the exact steps. But your goal is EDIT your pictures to approximately 448 x 336 pixels (approximately)[no larger than 640 X 480]. My software has several settings that allow you select the size for Web Pages.
You will want to save your original picture so you can make print photos from it. So, open a new sub-folder for your resized/compressed pictures. For example, I download pictures of my rifles from my camera to the My Pictures sub-folder called "Rifles". I then also open another sub-folder called "Rifles-web". COPY (do not "Move") the specific images you want to post from your Rifles folder to your Rifles-web folder.
Open your Image Editing software and the select your Rifles-web folder so those images can be edited. On my software you first select the image by LC on it, then LC on "Edit Pictures" then you have the choice of Resizing or Compressing (on my software you can select either one). Then select the size, my software has several options for sizes. Then SAVE the edited image. On my Image Editing Software, you can also select all of the images and resize all at once.
***Some of our Members have suggested some free image editing software (freeware) that is available on the internet. I have not used any of these programs, so you may want to research them and see which is best for you:
PAINT.net
IRFANVIEW
Also see this post
Image Resizing
FOURTH.
We now have uploaded our images to our computer and resized/compressed them.
We have opened an account with PB.
We now need to upload our images to PB.
Step 1.
Add Sub Album to your PB account. Name it "Rifles-web" and LC on the "Create" box.
Step 2.
LC the Rifles-web album to open it. It will say "Photo album is empty".
Step 3.
Either LC on the Browse button if you want to add one image or LC on the "Submit Multiple Pictures" and then LC on the number of pictures you want to upload.
Step 4.
A window should open up and you need to open your "My Pictures" album and select it so that so that your pictures show up in the window. Then LC on your Rifles-web sub-album and LC on the "Open" box.
Step 5.
LC on an image of your rifle (it should highlight it) and then LC on the "Open" box. The window should close and you then LC on the "Submit" box on PB.
FIFTH.
Now you will see a picture of your rifle with 3 boxes below it. Url box, Tag box and Img box. [For posting pics to AR all you need is the Img box, so I LC on the blue box "Account Options" and then LC on "No" next to both the "Display Url" and "Display Tag", then LC on the "Update" box.]
The picture you see is only a "thumbnail" size picture. To see the actual picture that will post on AR, LC on the thumbnail. [My browser won't allow me to use the Back arrow to get back to the previous screen when I am in PB, so I have to LC on the word "Rifles-web" located in the upper left hand corner of the screen].
SIXTH.
You need to have two windows open, one with AR and one with your account in PB.
Type a response on AR and where you want a picture to appear you just need to Copy and Paste the info in the Img box on PB.
You Copy and Paste by LC on the Img box, that should highlight the info in the box (on my computer it turns blue). Then, with your cursor in Img box Right Click. A window will open up, LC on "Copy".
Now all you have to do is Right Click in your post on AR and then LC on "Paste".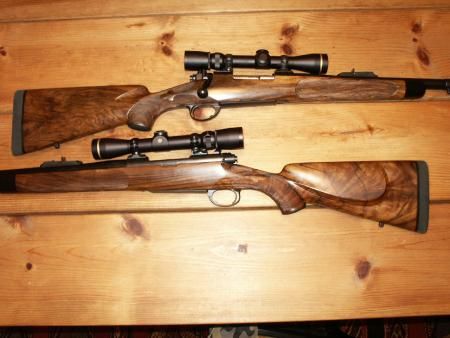 And there you have it.
Regards,
Terry
P.S.
Put your cursor on the image above and Right Click. A window will open up, LC on "Properties" and you will see all the information for that picture.