I just got back from Namibia a few days ago after hunting with Vaughan Fulton's Classic Safaris. I don't think I could not have asked for a better hunt. This was my first trip to Africa and I have to give a big thanks to Wendell Reich of Hunter's Quest International for helping me get organized, putting me in touch with a travel agent, sending me all the necessary documents and answering all my questions (some of which bordered on stupidity). Thanks again Wendell!
I hunted Vaughan's concession area near Etosha National Park in northwestern Namibia. While I was not able to hunt with Vaughan, I got to spend time with him before and after the hunt in Windhoek and really enjoyed his company. He paid very close attention to what my goals were and wanted to make darn sure I was satisfied before I left. Vaughan set me up with a PH by the name of Thorsten Meier. Thorsten in an excellent PH and truly loves spot and stalk hunting, which is exactly the way I wanted to hunt. I credit Thorsten with the quality of the trophies I got and my overall African experience. Not only is Thorsten an excellent hunter, he has a great depth of knowledge of Namibia, its people, history, customs, animals, etc.
The camp was a tent camp with only generator and battery power but very comfortable with running water, flush toilets, hot showers, daily laundry and housekeeping (or is it tent-keeping?) and three well prepared hot meals per day. This area is very remote and we saw numerous elephant and leopard tracks and saw both lions and elephant near a water hole on the adjoining concession. All the hunting was by spot and stalk. The concession is huge. We hunted hard and travel a lot of ground while I was there, but bet I did not see a fifth of the concession area I was on.
I was after kudu, gemsbuck, Mountain Zebra and springbuck and was successful on all the animals. I was fortunate that I shot very well and took each animal cleanly with one shot each from my Winchester Model 70 chambered in 300WM shooting Federal 180 gr. Trophy Bonded Bearclaws.
I shot this nice stallion on the first day of the hunt after luck swung my way. On the left is my PH - Thorsten, my tracker - Elia and me on the right. As I mentioned, I got lucky and got him on the first day. We had started a few stalks before this one which ended almost as soon as they began with extremely wary animals picking us off soon from distances of up to a mile away. We stalked up to within about 30 yards of the herd this stallion was in but had to move around the mares to get a shot at him. We got about 1/3 of the way around the mares without being detected when luck went my way. The stallion started to walk around the top of the herd and then moved straight towards us. I took him at about 70 yards.
The next day I took this fine 16.25-inch, old springbuck. He had a large herd of females with him and you can see by the scars on his face that he has done a lot of fighting. I shot him at about 180 yards after a long stalk that took us up and over the top of a mountain (a hill by my PH's standards) while trying to intercept the herd, which stayed down on the plain.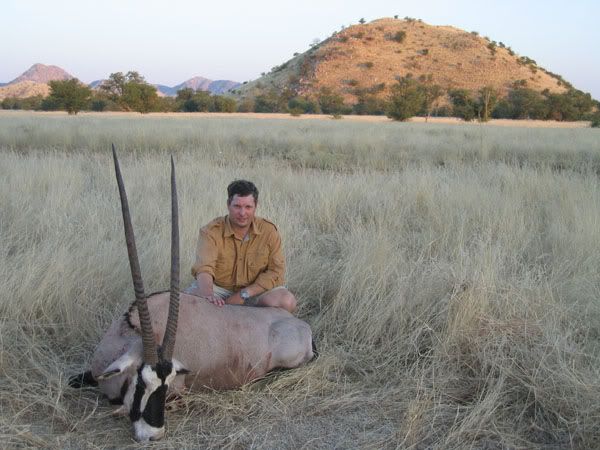 On day 3 we located an exceptionally large kudu bull with several cows and a young bull, but we lost them after stalking for a couple of miles. The next day (4), I took this great gemsbuck. He had 38†and 40†horns but what impressed me most was the size of the bases. This was the shortest stalk of only several hundred yards over about 30 to 45 minutes at the most. However, the last couple hundred yards was duck walking through deep, loose sand in a dry creek bed to within 150 yards and a wait for him to turn broadside that seemed like and eternity.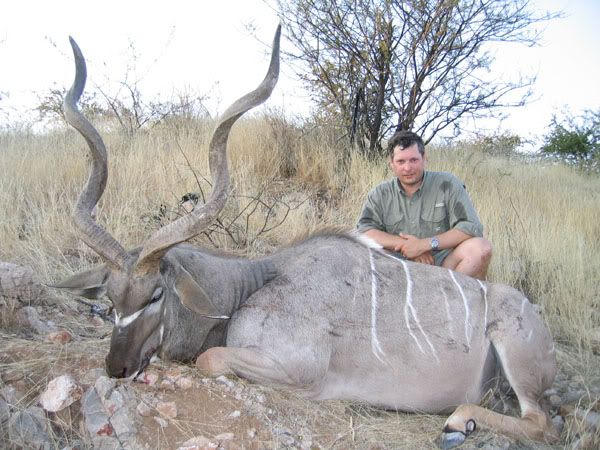 I got this kudu on day five. I was sweating it because we had already had a couple of blown stalks on previous days and passed up several that were slightly longer but younger with shallower curls. He only went 50†but was a nice old bull and is a great trophy. This stalk was the most difficult of all of them. We spotted them about 300 yards away as they were coming down a mountain. However, the turned and started back up the mountain. It was getting late in the day and we had to do something quick. We stalked slowly out of the herd's line of sight and ran, trotted, climbed and scrambled as quickly as possible up the mountain. About an hour later we got on a ridge that extended perpendicular out from the mountain about midway up it and found the bull on the same plain as we were at about 150 yards away and facing me. The wind was in our favor and we had the sun at our back making it difficult for him to tell exactly what we were. I made a straight on shot which dropped him quickly, although he got slightly banged up as he tumbled down a short rocky shelf just below him. It was late in the day and we had just enough time to cape him out and get down the mountain to the landcruiser by dark. The next day we returned with some villagers from the area and packed the rest of the meat off the mountain, which they kept.
I decided that I wanted to mount my springbuck male on a pedestal with a female and took this mature female on the last day of my hunt off a ranch near Windhoek.
All in all, I don't think the trip could have gone any smoother. While I would have liked to take a larger kudu, it was not below the minimum size I was willing to take. I plan on returning to hunt eland in the next year or two and will be looking for another kudu as well. They are too much fun to hunt just one time.
I highly recommend Vaughan Fulton's Classic Safaris. Especially to those who want the experience of hunting a remote tent camp and the challenge of spot and stalk hunting.
George


"...Africa. I love it, and there is no reason for me to explore why. She affects some people that way, and those who feel as I do need no explanation." from The Last Safari