The Accurate Reloading Forums
Poitahue in Las Pampas Argentina-Updated to "Been There-Done That" Report!
04 March 2014, 20:57
Pulicords
Poitahue in Las Pampas Argentina-Updated to "Been There-Done That" Report!
I'll be heading Estancia Poitahue in a few weeks to hunt red stags, perhaps mouflon, and if time permits do some bird shooting. I've read some old posts on the operation. Have any members been there recently that can post their experiences/pics? My wife will be going on this trip with me and expects a bit of an easier time of it than our last safari (in the Selous).
http://www.poitahue-hunting.com/Big-Game-Hunting/
20 March 2014, 19:55
SkiBumplus3
I hunted there in 2009. Was a wonderful time. Great food, great hunting and great people.
Ski+3
20 March 2014, 21:54
juanpozzi
Excellent game ranch you will not have any problems ,many many trophys to choose most of them gold medals
www.huntinginargentina.com.ar
FULL PROFESSIONAL MEMBER OF IPHA INTERNATIONAL PROFESSIONAL HUNTERS ASOCIATION .
DSC PROFESSIONAL MEMBER
DRSS--SCI
NRA
IDPA
IPSC-FAT -argentine shooting federation cred number2-
21 March 2014, 02:23
juanpozzi
quote:

Originally posted by juanpozzi:
Excellent game ranch you will not have any problems ,many many trophys to choose most of them gold medals
21 March 2014, 02:24
juanpozzi
The atention is first class ,excellent guides ,the best wines beer and meals ,many many game to choose .Its one of the best game farms in Arge

ntina.
25 March 2014, 06:56
Pulicords
Thanks for the info. I'm counting down the days now!!!

13 April 2014, 01:15
Pulicords
Got home a few days ago. Its so nice to be dry! We had rain from the time we arrived on 4/2 until our last day in Buenos Aires on 4/8. The hunting was good though, as the stags were roaring quite well during our entire hunt.
On Day 1, my guide (Cochango) and I made a very enjoyable stalk on what proved to be a young stag. The wind was right and we followed the sound of roaring until we were about 75 yards away from a hind that was walking towards us with the stag right behind. Neither of the red deer were aware of our presence and the stag walked up to a spot no more than 15 yards from us, then put on a show by digging up the ground with his antlers. At one point, he even went down on his belly to thrash the soid, which was quite an interesting exhibition. After about five or ten minutes of this, there was the sound of a vehicle that appeared to be a few hundred yards to our side. The stag took notice in that direction and hastily got up and took off the other way. Pretty cool! (He had no idea we were there at any time.)
On Day 2, we saw a real nice boar, but I didn't take him as wild pigs like these are quite common where I live (in So. California) and I'd just shot a larger one a few weeks earlier. We also got in close to some waterbuffalo, but I had no interest in taking one of those either (spoiled by hunting Cape Buffalo in Africa?).
During the afternoon hunt on Day 2, my guide and I were walking up a low rise when he stopped and excitedly pointed to a white fallow deer buck that was below the crest 40-50 yards away. I'd mentioned that I wanted to take either a good fallow deer or blackbuck antelope in addition to a red stag, so I didn't hesitate to take the off-hand shot with my Ruger #1B in 30'06. The buck went straight down and I had my first fallow deer!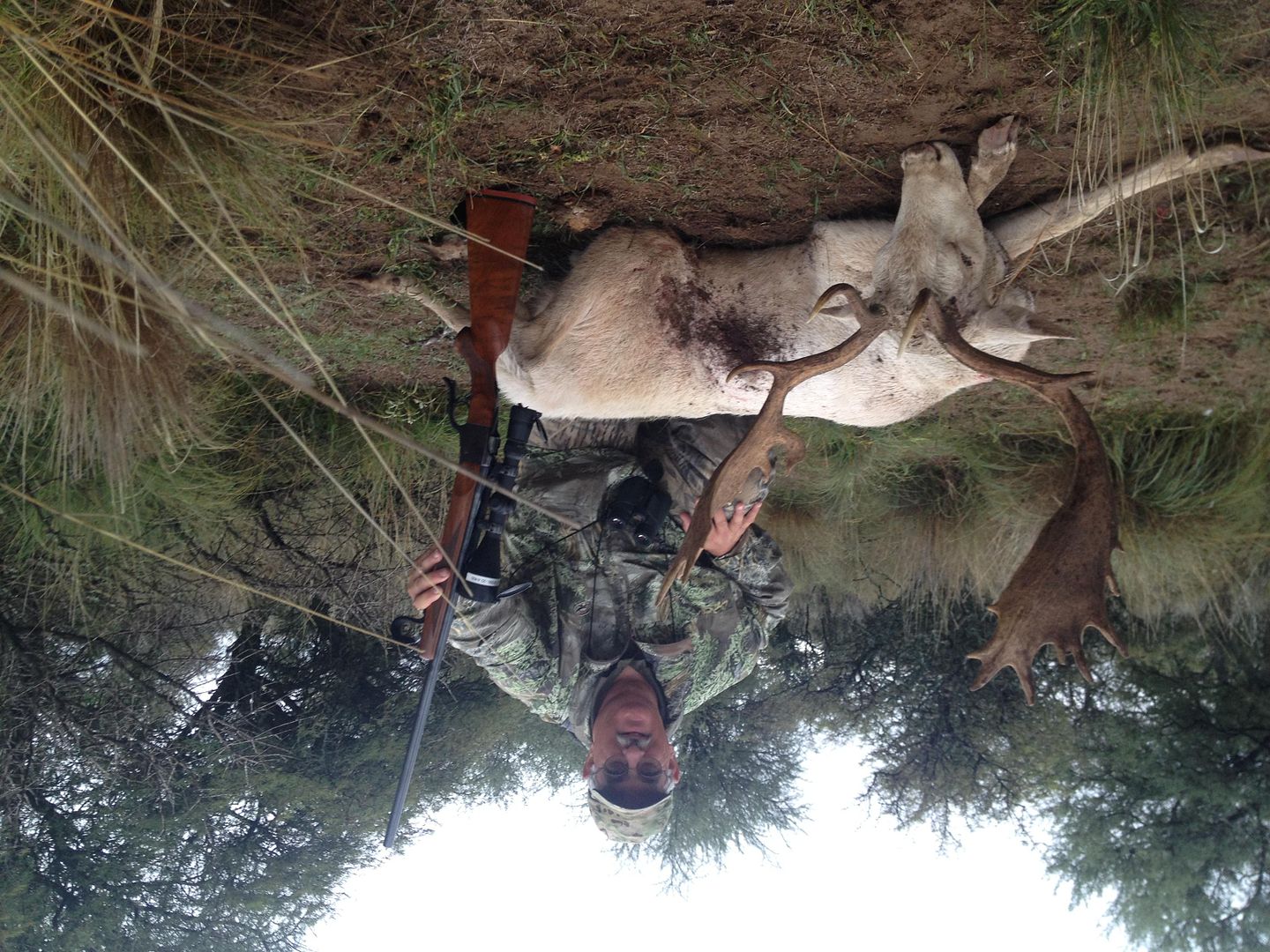 When we returned to the camp, the other four hunters there (all Argentinians) and our camp manager (Santiago) were all pretty excited about the buck. I was told that of the multiple color phases these deer are found in, white is quite uncommon. One of the other hunters said he'd only seen one other white fallow deer (a small non-shooter buck) in about 14 years of hunting on the property. To top it off, my buck had really nice antlers with some impressive palmation. Frankly, I'm glad I didn't know how good my buck was before I'd shot him. Maybe I'd have blown the shot?

On the morning of Day 3, Cochango and I had done a number of stalks, but the stags we'd found were all too small to take. I'd had an opportunity to take a good nine pointer, but Cochango suggested that an eleven point or better stag was certainly a good standard for the time we had left in my 4.5 day hunt.
Near the end of the morning's hunt, we could hear another stag roaring on the wooded side of a 4' high barbed wire fence. I told Cochango that I felt climbing over the fence would make too much noise and probably spook the deer, so he suggested that I stay where we were, watch the adjoining senderos, while he'd retrieve the truck. We were at an intersection where two open areas adjoined, bordered by the described fence and a low single strand wire barrier about 2 1/2' high formed the base of the "T". My position would allow me to watch the open areas to my left, right, and straight ahead for several hundred yards.
About five minutes after my guide left me, I saw two pigs run across the sendero on my left, 400+ yards away. I thought I'd get the shooting sticks that I'd placed to my right and prepare if anything else interesting followed the two pigs, but when I reached for them I saw that a nice looking stag had just walked into the sendero in front of me. The stag was quite some distance away and I estimated the yardage by figuring the distance between each of the wooden poles that supported the single strand of wire leading from where I sat, to where the stag stood. 9 fence poles between us, each about 30+ yards apart, I guesstimated the stag was nearly 300 yards away and held 10-12" above his right shoulder.
When I pressed the trigger, I was rewarded by the sound of a "smack" and the sight of the stag stumbling backwards through the lens of my 3.5-10x Leupold VXIII scope. I chided myself for admiring the reaction (instead of reloading) and inserted another round after grabbing it from the shell holder on my belt. When I looked back in the direction of the stag, it was nowhere to be seen. Ten or fifteen minutes later, Cochango returned with the truck, I told him what had occurred and we drove to the spot where I shot the stag. There he was! He'd fallen not ten feet from where he'd been hit with my 180 grain Remington Core-Lokt SP.
The stag certainly wasn't the biggest one on the property, but he was a good, mature animal with 11 points and he was mine. I'd hit him dead center in the heart (probably a bit of luck with that!), from a distance we could now verify (with the rangefinder Cochango had been carrying for me when he left for the truck) as 320 yards. The wooden fence posts were 37 yards apart, so my estimate was a bit off, but (as they say) 'close enough for government work!'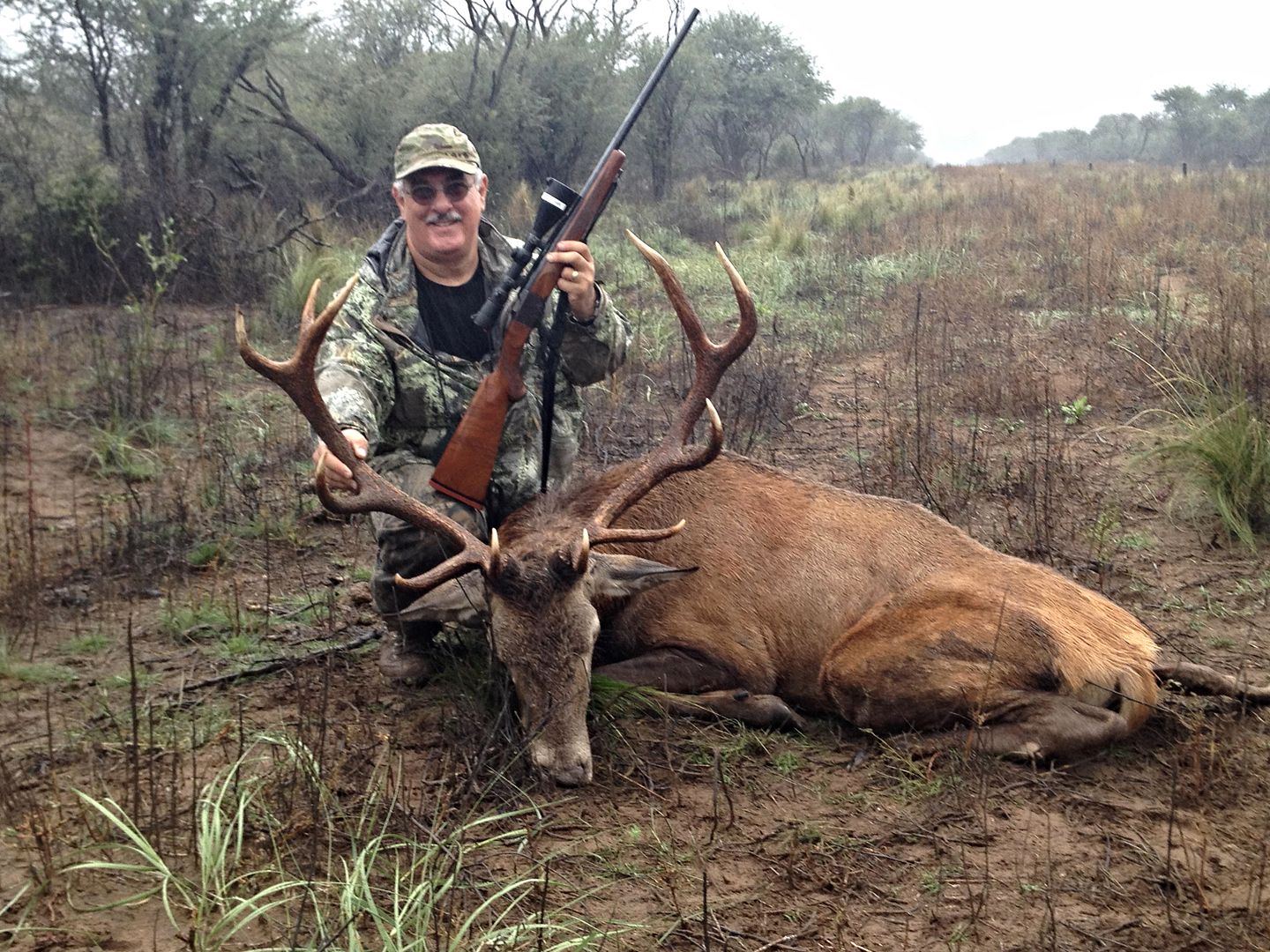 The next day and a half was spent chasing giant perdiz (I shot one out of about seven I shot at!), and unsuccessfully attempting to get within range of a good blackbuck. (They act very similarly to our pronghorns and run nearly as fast!)
The food was great, even though we couldn't enjoy BBQ due to the constant rain and our chef (Juan) did a stellar job considering the situation. We had pizza (shown), lasagna, venison, and other great dishes, including my stag's heart sauteed with garlic and onions.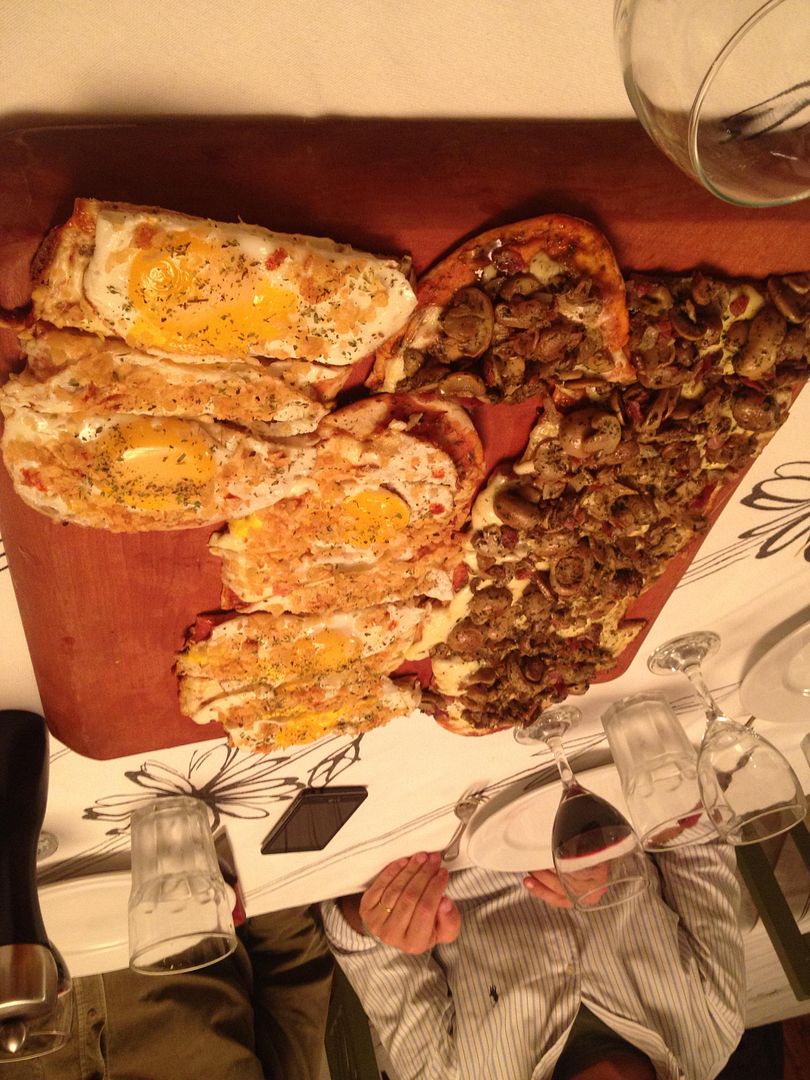 The owner of Pointahue (Alex) was there for our first couple of days and he was a real gentleman that I hope to see again soon. The ranch manager (Santiago) also spent some time guiding me during the last couple of days and he did a fantastic job making my wife and I feel at home on the property.
13 April 2014, 06:46
Dogleg
I was up there at the same time as Skibumplus3 and Chopper. I'd have to think for awhile to remember a trip that was more fun, or that we laughed so much. All around it was a fun trip, 3 stags, 3 buffalo, sheep, goat, blackbuck, pig and doves. The other guys shot some stuff too.

01 June 2014, 18:29
Bill/Oregon
Pullcord, thanks for your fine report. Two fine trophies, two excellent shots. That food looks unbelievably good.


There is hope, even when your brain tells you there isn't.
– John Green, author
20 July 2014, 00:57
Santiago_DM
Thanks for the report Pulicords. Feels good to see that out guests enjoy the service and the hunting. Ur white fallow is still one of the highlights of the pasts seasons and believe me it will be remembered for a while.
We are improving year after year based on our guests feedback and experiences so reports are very useful.
Dodgled we are waiting for ur return. Mencho, Ruso and Cochengo keep asking about ur return.
BTW, I can anticipate that we are thinking in a "friends of the house" promo pack for 2015 and 2016...
Our guests are our future seasons ambassadors and we want to treat them so.
Pictures of 2014 stag season to come. We are now hosting two demanding mixed hunt groups ( exotic plus wings ) but I will post a summary asap. Excellent big game season so far.
​OUR CLIENTS SPEAK FOR US,
Santiago Diaz Mathe
Co-Founder & Manager
Poitahue Hunting Ranch
SDS Outdoors Obsession
Phone: +1 214 329 9013
Skype: poitahue.hunting.ranch
Web:
www.poitahue-hunting.com
Web:
www.sdsbiggameobsession.com
Address: Argentina - La Pampa - North Patagonia
Dallas show: DSC 2020 Booth #2228
Reno show: SCI 2020 Booth #234
20 July 2014, 14:33
Dogleg
A promo-pack has my interest. It would be fun to get back out there.
Mike