this recipe might be frowned upon by the hardcore chili-ologists, but it works and feeds two adults and four kids with some leftovers for the next day. it is not meant to be a historic, authentic, definitive or "gourmet" recipe, just some very good work-night eats. due to what's in the pantry or to the mood at the time, we do not use all listed herbs and spices all the time, but it seems, to me, to be much more interesting when we do. for a smaller number of people, cut recipe in half.
2 large + 1 small cans of diced tomatoes
2 large + 1 small cans of chili beans
2-3 pounds of ground meat or meat cubes (hamburger, deer, elk, chorizo, anything. i tried 1/2 ground pork and 1/2 hamburger once and it was great!)
2 small cans of tomato sauce
2 small cans of tomato paste
1 large yellow onion, diced
4 garlic cloves, chopped fine
*optional - a dash or two of liquid smoke
combine all these spices in a container and set aside:
3 Tbsp. Chili powder (or to taste)
1 Tbsp. dry oregano (or to taste)
1 Tbsp. cumin (or to taste)
2 tsp. coriander (or to taste)
2 tsp. freshly-ground black pepper
4 beef bullion cubes, crushed (or equivalent amount in granules)
brown the hamburger with the onion and garlic on high until the "juice" is gone and you've got nothing but meat and fat left. some people like to drain the fat, some like to leave it in; i prefer to drain it. if you use meat cubes rather than burger, brown them in 2 Tbsp. of hot olive oil. add the spices and stir well, then add tomatoes and beans and cook, stirring constantly, until juices reduce down. add tomato sauce, tomato paste and liquid smoke (optional). bring to boiling, stirring often, then reduce heat down to low and simmer until you can't wait any longer.
this recipe relies on store-bought chili beans, which might be a no-no to the die-hards, but is essential to working parents with 4 kids. keep in mind that these store-bought beans usually already have a bit of seasoning and chili powder, so the amounts i suggest reflect that fact. this recipe also does not have jalapenos, green peppers, cayenne peppers or habaneros, although you may certainly add them if you want to.
i really like cumin, but mrs. tash doesn't, so i often leave it out. i did add a bit of liquid smoke once, and got a great outdoors flavor that i really liked and my wife really hated. give it a try at your discretion.
if anyone tries this, let me know what you think of it. here are a couple of pictures of the chili i made a mnth or so ago using this recipe (of the listed spices, we only used chili powder, salt and pepper for this one) with a combination of antelope, mule deer and whitetail deer (all freshly-ground) as the meat: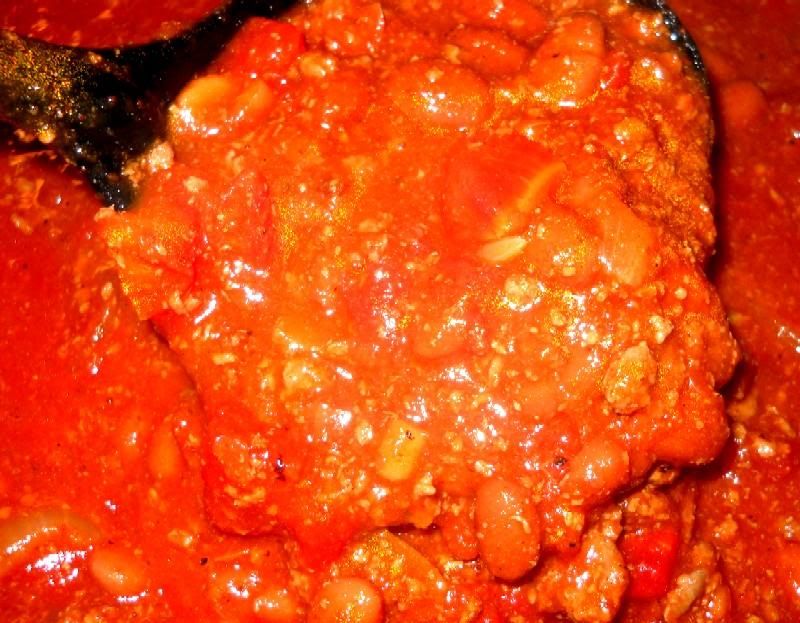 we made this again the other night using the same recipe and venison. no pictures, which is too bad because it got a chance to simmer longer and was much darker and thicker - and therefore richer and tastier!