Folks,
As some of you may know I took more North American hunters to Burkina Faso than everyone else combined and many of you on AR have hunted there with me! Unfortunately Burkina is now closed for hunting with the Jihadist problems! What the future holds is unclear. Outfitters in Benin next door are going ahead with hunting plans for 2020 (and I can set you up with a hunt there and the hunting there is also very good), but the serious problems in Burkina are 50 miles away, a different country but still very much in your neighbourhood, across a porous border! This leaves Cameroon as the only safe bet left to hunt Western Savannah buffalo, Western Roan and plains game unique to West Africa. And of course Lord Derby Eland as well.
So anyone who has any desire to hunt these species should seriously consider postponing their 20th cape buffalo hunt and shoot their first savannah buffalo before its a thing of the past! They are a neat animal and range from black to red and every shade in between. The hunt is the same as the Cape buff a tracking hunt, and I have found them to be just as tough! Cameroon also has a lot of roan. The trophy fees while higher than Burkina and Benin is still very affordable when compared to other countries in Africa. You can also shoot Hippo but I am not sure if they are importable in to the States, if anyone is interested please let me know.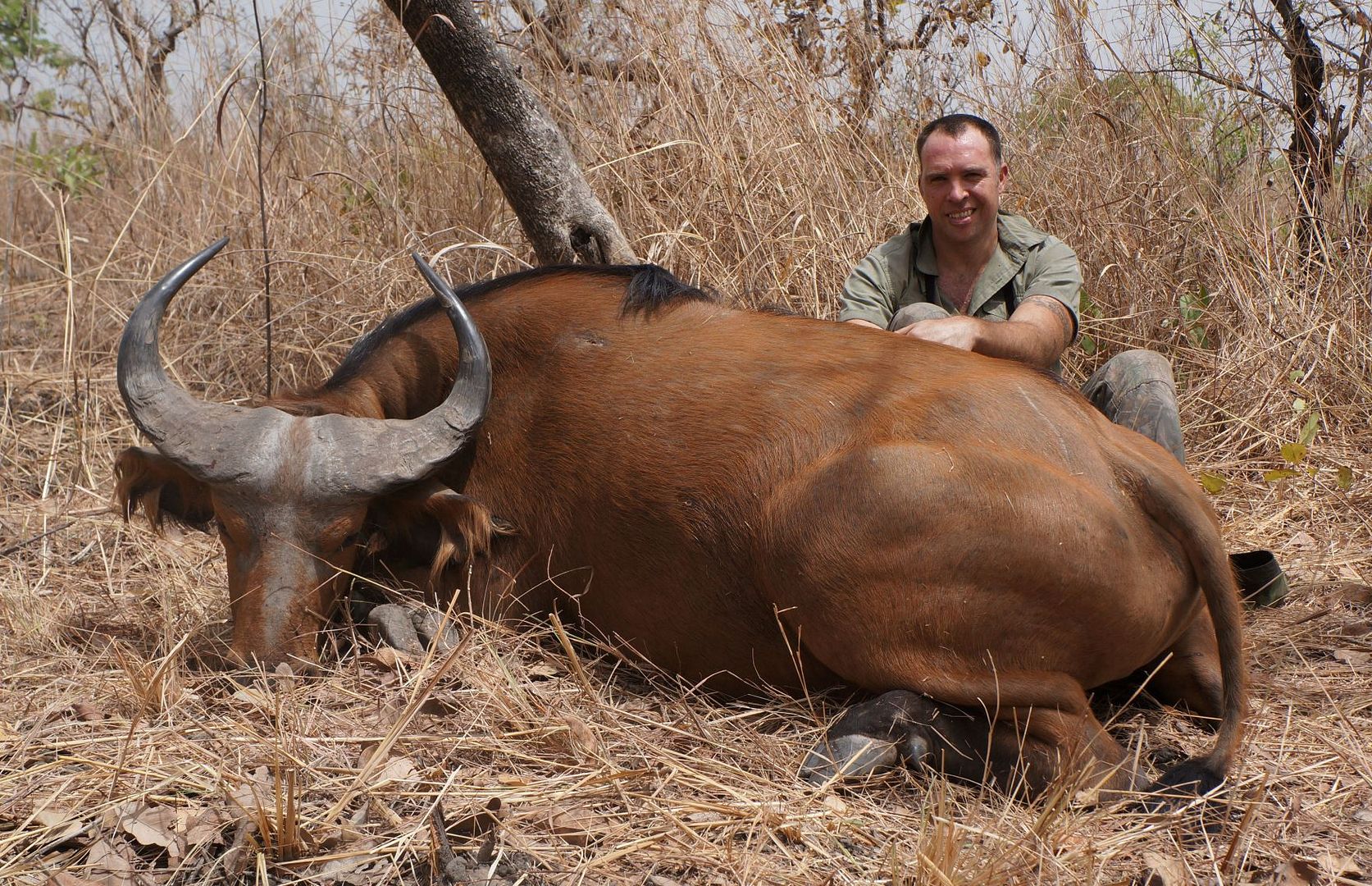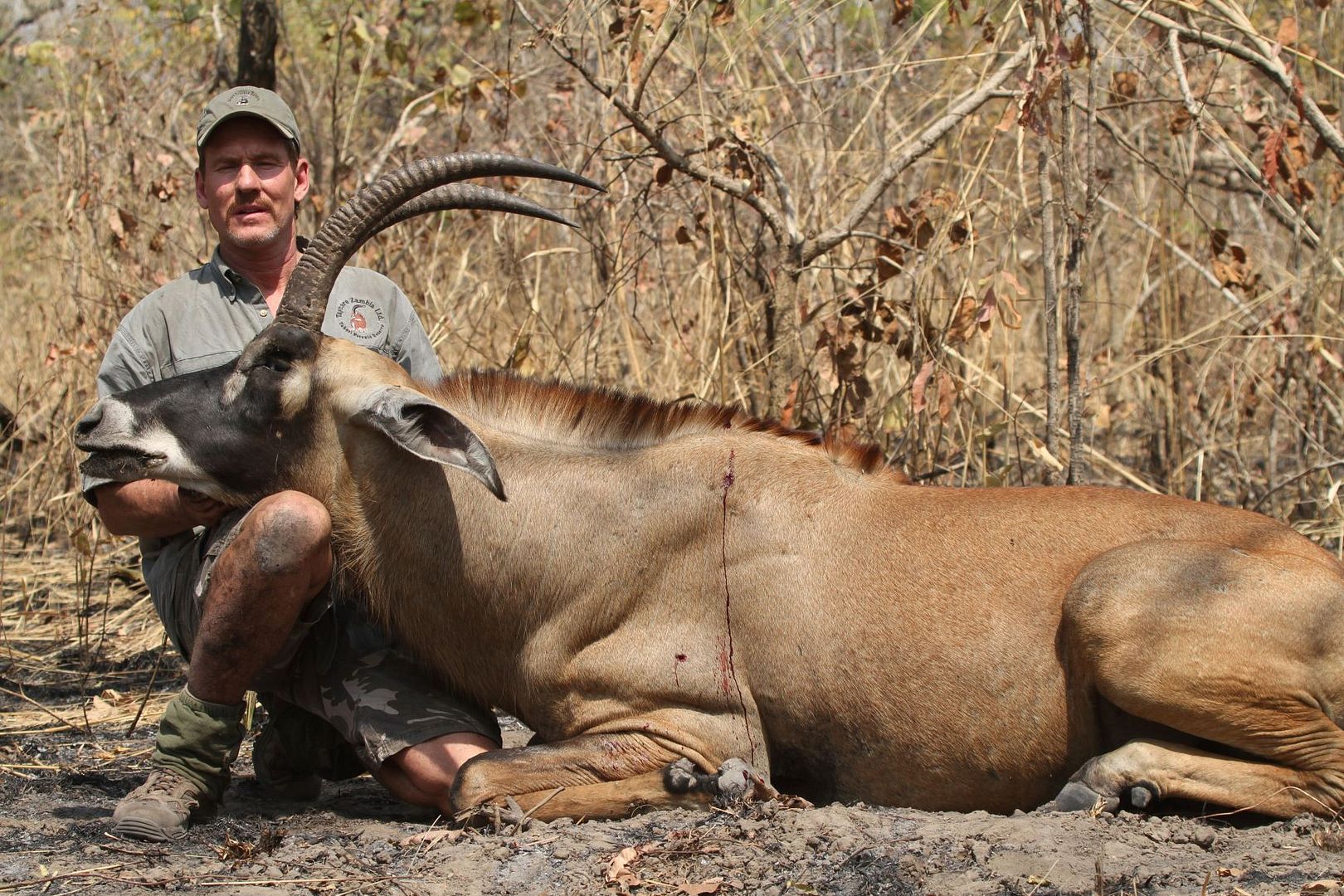 For 2020/2021 I can offer the following rates:
Buffalo, Roan, waterbuck, bushbuck + 4 species from B&C group (*) €12,500 euros
Buffalo + 4 species from B&C €10,500 euros
The number of hunting days depends upon the local Camair airline schedule and varies from 9 to 10 hunting days. Which is enough.
Price includes:
• PH and hunting team 1x1
• Hunting vehicles
• Daily laundry
• Accommodation and meals
• Water, soft drinks and bar
• Hunters liability insurance as required in Cameroon
• Pick up and drop off from airport in Ngaoundere or Garoua
Price does not include:
• Hunting licence 1,200 euros (*) 2 licences required if hunting bush buck and/or waterbuck in addition to buffalo and roan
• Trophy fees as mentioned below
• Dip and pack and paperwork 850 euros
• Cameroon visa
• Meet and greet in Douala
• Hotel in Douala
• Local flight from Douala to Ngaoundere or Garoua
• Tips and gratuities
• Shipping home of trophies
• Gun permit
Trophy Fees in Euros
Species Trophy Fees CLASS
Buffalo 1.500 A
Roan 1.500 A
Sing Sing Waterbuck 850 A
Harnessed Bushbuck 800 A
Bushpig (red river hog) 500 B/C
Western Buffons Kob 450 B/C
Baboon 150 B/C
Patas Monkey 150 B/C
Bohor Reedbuck 400 B/C
Hyena 700 B/C
Western Hartebeest 750 B/C
Warthog 400 B/C
Oribi 300 B/C
Grimms Duiker 350 B/C
Red Flanked Duiker 350 B/C
Python 450 B/C
* Trophy fees are government controlled and subject to change without advance notice. In Cameroon a big-game licence allows you to take 2 class A + 4 class B/C species, hence 2 licences are required for taking waterbuck and / or bush buck in addition to buff and roan.
We hunt from 22nd December to end of April. January and February are the cooler months.
Typical Itinerary is fly to Paris and then from there to Douala where you will be met, assisted with clearing of your rifles and taken to a hotel to spend the night.
Next day you will fly commercial to Ngaoundere or Garoua, where your PH will meet you and drive you 4 hours to camp
Your hunt will start the following day
On the day after your hunt ends you will return to Ngaoundere or Garoua and flyback to Douala in time to catch the night flight back to Paris and then to the States.
I will recommend a travel agent who will handle all your flights, visas and gun permits. Except for a couple of dates, we are pretty booked for 2020, so now mainly booking 2021.
Thanks,
Arjun Reddy
Hunters Networks LLC
30 Ivy Hill Road
Brewster, NY 10509
Tel: +1 845 259 3628
2020, DSC booth # 2350
2020, SCI booth # 3167