THE ACCURATERELOADING.COM FISHING FORUM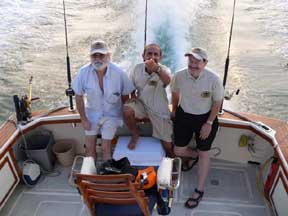 Accuratereloading.com

The Accurate Reloading Forums

THE ACCURATE RELOADING.COM FORUMS

Nature, Animals, Space And The Sea

Fishing

Bass Catching Lure
| | | | | | | |
| --- | --- | --- | --- | --- | --- | --- |
| Go | New | Find | Notify | | Reply | |
one of us


| | |
| --- | --- |
| | posted |

This lure is my favorite for topwater fishing.

This lure will call out the BIG BASS! fished the Baby Torpedo for years and its a great Bass Lure but this one catches the bigger fish.

This lure works well for me with the stop-pause-twitch and hang on. It can be reeled fast as a quasi buzz bait if the Bass are in a chasing mood.

The Red Head color works great in the spring and the black/ silver / clear model works great in the summer and early Fall..

https://www.basspro.com/shop/e...n-wounded-zara-spook



Some Days You Are the Windshield and Some Days You Are the Bug.
one of us


| | | |
| --- | --- | --- |
| | posted | |

| | |
| --- | --- |
| Posts: 2717 | Location: NH | Registered: 03 February 2009 | |
one of us



| | | |
| --- | --- | --- |
| | posted | |

Oh come on Norton.

He is willing to stump for the lure company or big box store . . .

Best big box store got bought out by one so gonna have to find a new place to buy things for the prices one used to find.




Don't limit your challenges . . .
Challenge your limits




| | |
| --- | --- |
| Posts: 3961 | Location: TN USA | Registered: 17 March 2002 | |
one of us



| | | |
| --- | --- | --- |
| | posted | |

I don't know about the propeller version but the regular spook is usually the second lure I try on my home Table Rock lake.

It has been a go-to since the lake was built.



ALLEN W. JOHNSON - DRSS

Into my heart on air that kills
From yon far country blows:
What are those blue remembered hills,
What spires, what farms are those?
That is the land of lost content,
I see it shining plain,
The happy highways where I went
And cannot come again.

A. E. Housman


| | |
| --- | --- |
| Posts: 2251 | Location: Mo, USA | Registered: 21 April 2002 | |
one of us



| | | |
| --- | --- | --- |
| | posted | |

As far as effectiveness goes, isn't the "Spook" one of the go to lures the folks use for Trout and Redfish?




Don't limit your challenges . . .
Challenge your limits




| | |
| --- | --- |
| Posts: 3961 | Location: TN USA | Registered: 17 March 2002 | |
Copyright December 1997-2021 Accuratereloading.com


Visit our on-line store for AR Memorabilia