In September of 2006 my wife and I booked our first safari to the Gras Ranch through Wendell Reich at Hunter's Quest. We arrived in Windhoek on July 8th and were met by our professional hunter Errol Lambrechts. We headed straight to the ranch however we did stop when we crossed the Tropic of Capricorn to take a photo. Our first day consisted of introductions and sighting in the rifle.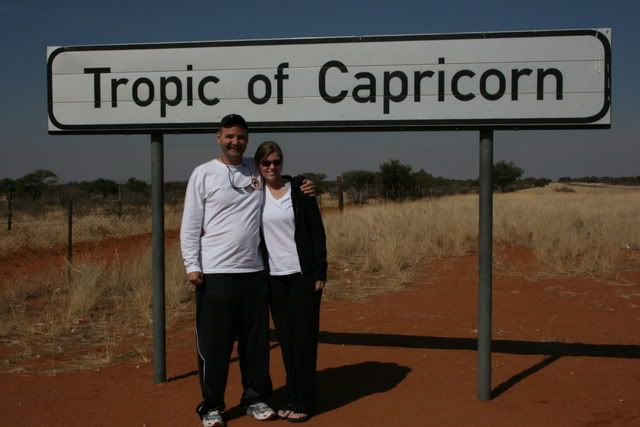 Equipment Used:
Rifle: Kimber 8400 Classic - .300WSM
Ammo: Federal Premium/Barnes MRX 180 Grain
Day 1
After a wonderful breakfast, we were met by our driver and tracker and set out for our first day of hunting. After a few hours of driving we spotted a herd of Red Hartebeest, at which point we got out of the truck and proceeded to stalk them on foot. After about 2.5 miles, Errol pointed out a nice bull; I made the shot at about 250 yards and dropped my first African animal!!!
In the late afternoon we caught up to a herd of Blue Wildebeest; we proceeded to stalk the bachelor herd for 1.5 miles at which point I was given a shot opportunity. The animal was quartered toward me when I took my shot; it entered the right shoulder and the bullet was later recovered in the left hind-quarter area. The animal began to run so I took a follow-up shot which entered the right hind-quarter and the bullet was later recovered in the left front shoulder.
Day 2
The second day started out very exciting when we spotted a large warthog. As the animal ran up the opposite side of the ravine, he paused long enough for me to get in a quick shot. The bullet struck the warthog high in the shoulder and exited the opposite shoulder. The shot was well over 300 yards, which is a very long shot for me!
After we loaded the warthog, we continued our hunt. About an hour later, we spotted a herd of Blesbok. Again, Errol pointed out a nice mature animal for me to take. The shot was approximately 175 yards. The bullet entered and exited both shoulders.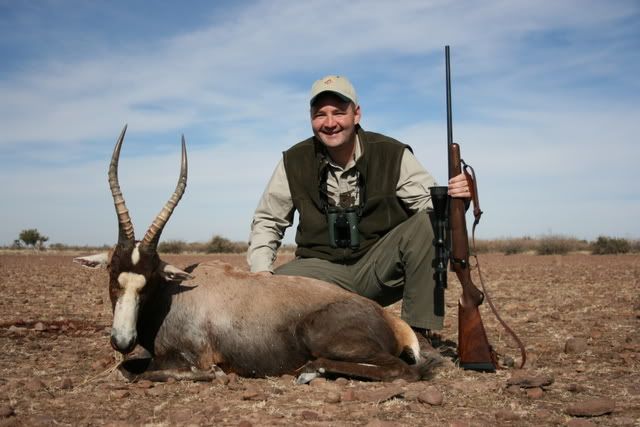 Later, we came upon a herd of Gemsbok. Errol pointed out a nice mature bull for me to take. I had the bull in my scope, but in the excitement of the moment and the movement of the herd I ended up shooting the cow that was next to the bull. This was my first and only screw-up of the safari. However, the cow still proved to be a great trophy.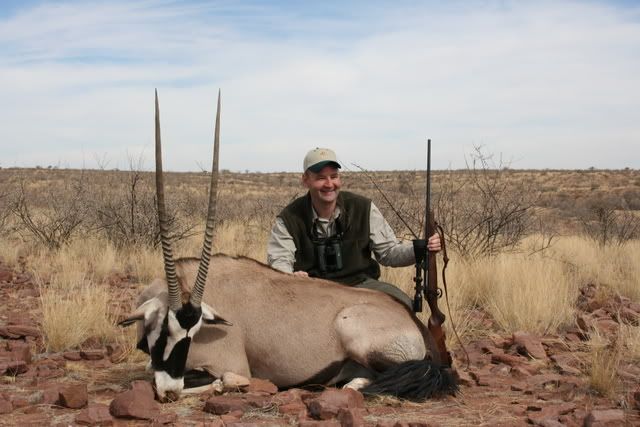 Day 3
Day three started off with something a little different; we were invited to take part in a springbok round-up. Jannie (the owner) had already corraled about 45 springbok to be loaded and transported. This proved to be a very exciting event. Although my wife did a great job taking pictures inside the corral, it was a little too exciting for her!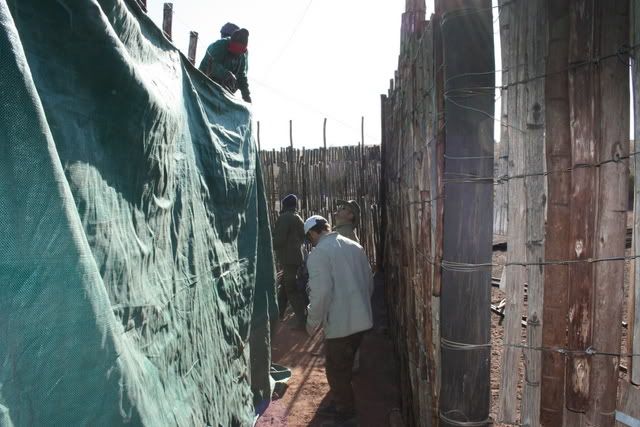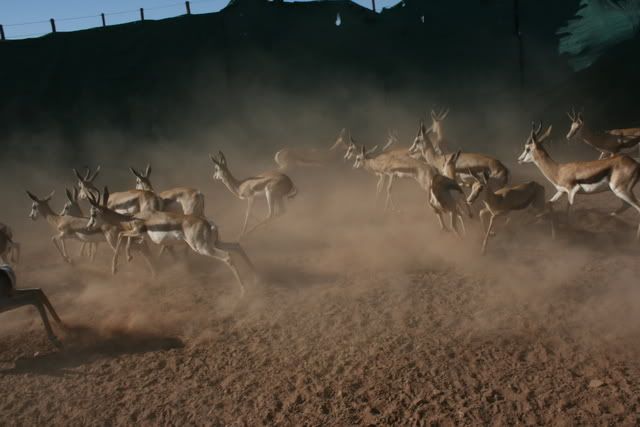 It was now time to concentrate on the Hartmann's Zebra, which was my most desired trophy. We hunted hard the rest of the day. After a few failed stalks, I was finally rewarded with a broadside shot at about 250 yards. Once again, the bullet entered and exited shoulders.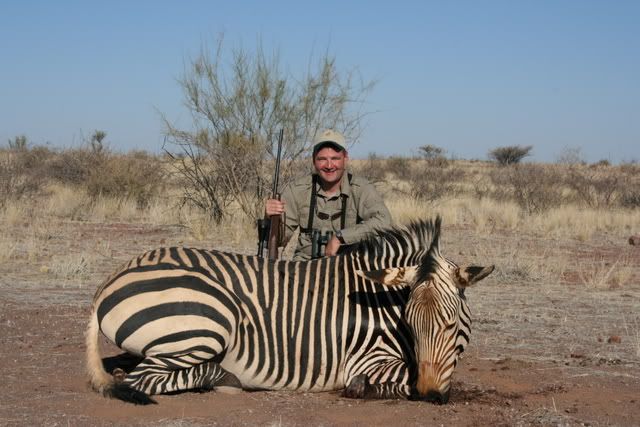 After I took the zebra, they asked my wife if she would like to cull an old Blesbok. She was very nervous because she had never taken a big game animal before; however, she made a nice 200 yeard quaretering away shot.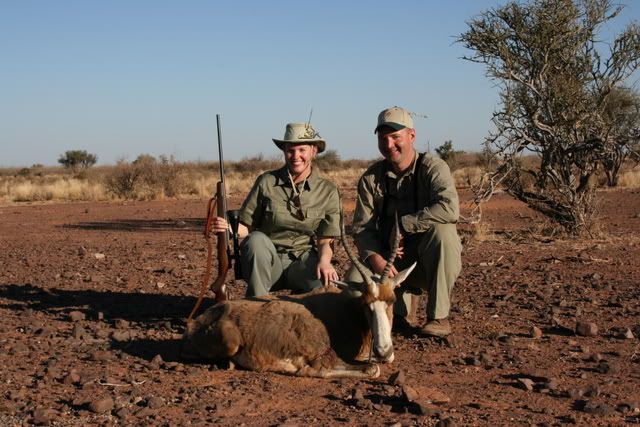 Day 4
We started the day looking for a trophy springbok. After a few hours Errol pointed out a nice one which I shot at about 200 yards.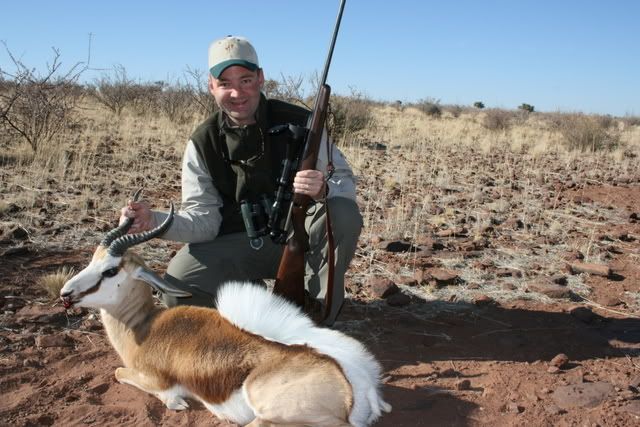 I was given the opportunity to cull some springbok later that day.
Day 5
Earlier in the week it was decided that my wife would take a Gemsbok (a mature bull this time

). The morning was spent stalking a herd and she was finally given the opportunity on a mature bull that had broken away. She took the shot at about 250 yards and dropped it. The bullet was later recovered.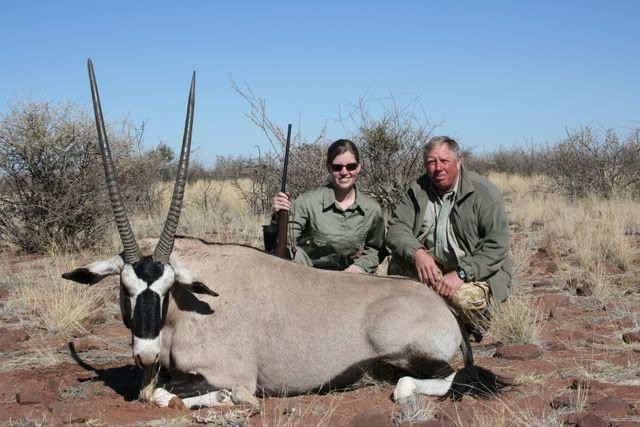 I was than invited to participate in a springbok cull which was a lot of fun and afforded me the opportunity to continue to hone my shooting skills, as most shots attempted were head shots. Between all participants of the cull, approximately 200 springbok were taken.
Day 6
All of the primary animals I wanted to hunt were now in the salt, so I told Errol I would like to look around for a nice Kudu. After a few hours of glassing canyons, we spotted a bull that was between 52 and 54 inches. I attempted a long shot (400+ yards) across the canyon. There was a cross breeze that I didn't compensate for and my bullet struck in front of the Kudu. I ended up taking a much smaller Kudu - boh Errol and I thought it was bigger than it turned out to be as most of his horns were obscured by the brush he was standing in. However, it is my first Kudu and will make a nice European mount. I guess I have another reason to go back to Africa!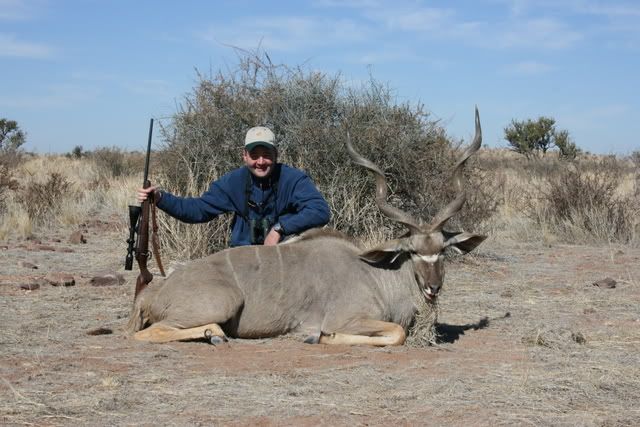 After we loaded the Kudu, my wife decided she would like to take a springbok, so we can began searching. After a few hours we came upon a herd and located a mature ram - she made a perfect 200 yard shot through the lungs.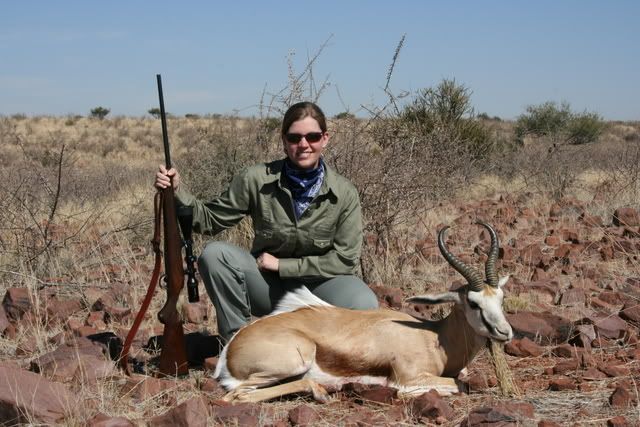 Day 7
Our last day was very laid back. I borrowed a .22 to hunt Guinea Foul in the riverbed. They are very challenging targets, they never hold still for more than a few seconds.
To sum it up, our first African safari was more than we could have hoped for! Errol was an excellent PH and put us on beautiful trophies! The Spangenberg family were excellent hosts! The accommodations were beautiful and the food was spectacular! It was a wonderful experience and we can't wait to go back!