Buffalo and elephant bull hunt with Buzz Charlton
1 – 14 November 2012
Area hunted: Chewore South
Rifles; Sauer 202 Take Down .416 RM and Verney-Carron Azur Round Body 500 NE.
Hand loads; .416 RM; Rhino Soft 400 grain with 76 grain Norma 203-B, Rhino Solids 400 grain with 75 grain Norma 203-B,
500 NE; Woodleigh soft 570 grain with 97 grain N140 and Woodleigh solids 570 grain with 96 grain N140
PH: Buzz Charlton
Video: Justin Drainer
Trackers; Criton and Scombosa (Nyati)
Driver; Eddy
Game scout; Gerald
Boots; Courtney Selous and Nike trainers
Antimaleria medication; Malerone
Weather; Hot and sunny. Most days 47 C (117 F) in the shade
Background; this was my ninth safari and my fifth to Zimbabwe. Some 15 years ago I shot an elephant in Cameroun. That hunt was an utterly disaster and although I did shoot an elephant I never got the tusks. As the last year or two has seen elephant poaching increasing I thought it might be time to take a trophy elephant before the opportunity passed.
I like my hunting to be fair chase and physical demanding with trophy size secondary to the hunt itself. After reading hunt reports here on the AR forum and seeing "The essence of elephant hunting" there was no doubt that I would hunt with Buzz Charlton in Zambezi Valley. The "up close and personal" was just what I wanted. Buzz didn´t have any elephant bull left on quota for 2012, but managed to get one in Chewore South together with a buffalo. Due to different commitments I was only able to hunt start November. This could give problems with the heat and early rains, but I was determined to hunt this year.
As everybody knows ☺ the only suitable gun to hunt elephant is a 500 NE double. So this was the next item to solve out. I found and bought an old English box lock double at Holts auctions. It was a Mcloughlin 500 NE. The gun looks and feels great but try as I could I could not get it to regulate satisfactory. One day my wife mentioned that she was worried for me hunting with such an old gun. I took that as an ok to buy a new double (it turned out that that wasn´t quite what she meant but then it was to late ☺). With less than 6 months to my hunt ordering a new rifle turned out to be difficult, but after some pressure on Guillaume from Verney-Carron I got their new Azur Safari Round Body 500 NE within 10 weeks. I used the following months to develop loads and practice with it. It handles and shoots very good. In the meantime my Mcloughlin began to behave but after some consideration I decided to use the VC.
During planning for this trip my father said he wanted to come with me. Although he has done some hunting with me on previous hunts he would not be shooting on this trip. He is 78 and has a prostate cancer but is still in god shape. I was a bit worried with how he would cope with he heat but it turned out fine.
The flight with SAA from Denmark to Johannesburg was fine. Due to the arms ban EU has on Zimbabwe it is not possible to check your gun all the way through to Harare. So it is necessary to collect your gun in Tampo and check it inn again to the flight for Harare. This exercise is very much easier if you use an agent in SAA. I used Riflepermits who are very good and I recommend them to anybody doing the same trip. On the last lap from SA to Harare I flew with BA. I will not tire you with all the problems BA can and will give a passenger traveling with a gun. But I will say; if you intend to travel with a gun never fly with BA and never transit Heathrow on your way home!
In Harare Buzz picked us up and within a few minutes we were on our way to Zambezi Valley.
My last trip to Zimbabwe was in 2008. At that time the hyperinflation was killing the economy. People then looked sad and it was nearly impossible to buy any goods at all. The change now after the transit to US dollars was amazing. The traffic had increased 10 fold. New shops and restaurants had popped up everywhere. And people looked satisfied again.
The trip from Harare to the Valley takes approximately 6 hours. It was 2 a clock when we left Harare so I was glad that we reached the escarpment before dark. The view from the top of the escarpment overlooking the Valley has always been very special for me. Deep down below the bush stretches on and on as far as you can see. From here it looks barren and without life but you know that down there is real big game country full of danger and excitement. Standing and looking my heart beats faster and the anticipation for the coming hunt fills every cell in my body. First now do I fully realize that I am back were I love to be. I am happy.
Once in the valley the temperature rose noticeably even if the sun had gone down. Soon it was pitch dark and when we picked up our famous crew; trackers Criton and Nyati and driver Eddy the only thing I saw was an outstretched hand. But having seen them 100 times in "The essence of elephant hunting" I felt I knew them already. We carried on to our destination that was Buzz´s fly camp in Dande on the Mukanaga river. Being so late in the season all the camps in Chewore South were shut down. This was to be no problem as the fly camp is just on the border to Chewore.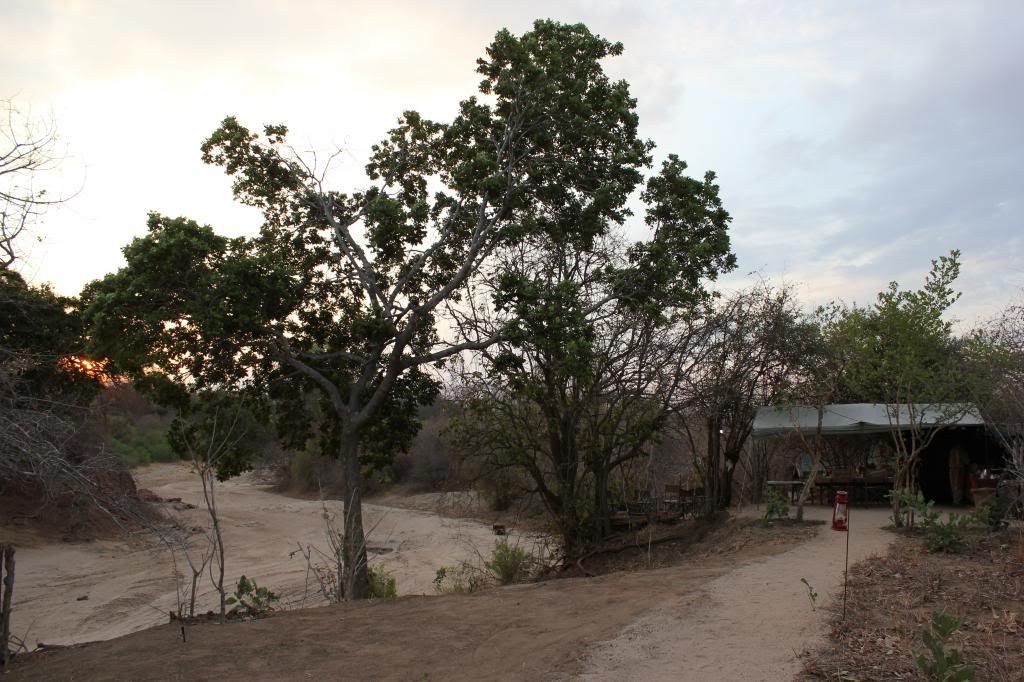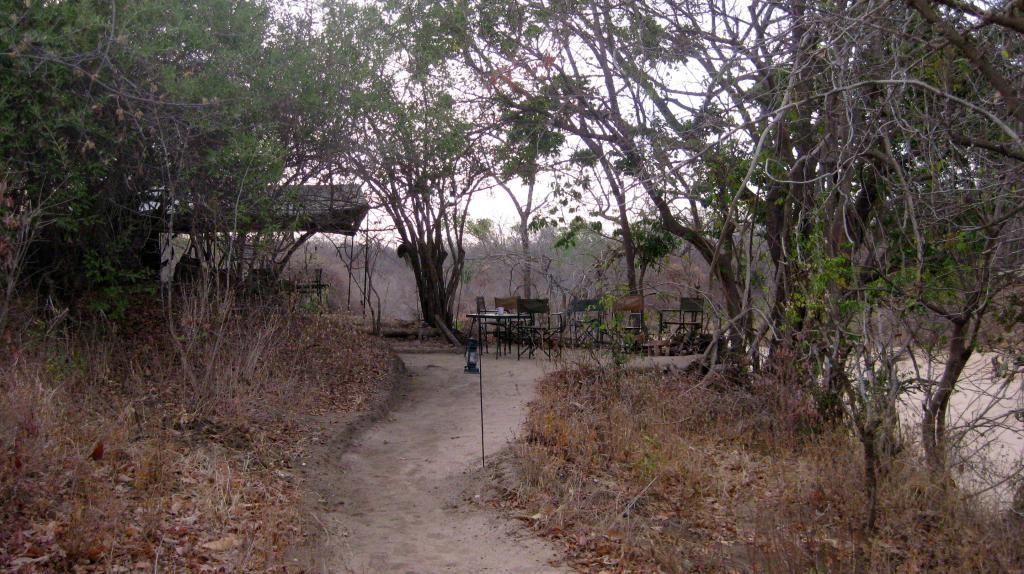 The Mukanaga river camp is basic but with everything you need if you plan to use your time hunting and not hanging around camp. I would not recommend it if you were bringing nonhunting family or friends. I mention this, as I will bring my family on future hunts. Before my kids were born my wife came with me on my hunts. I find that it is so much more enjoyable if you have somebody to share your experience with. My children are now 5 and 8 so on my next trip they will be old enough to come along together with my wife.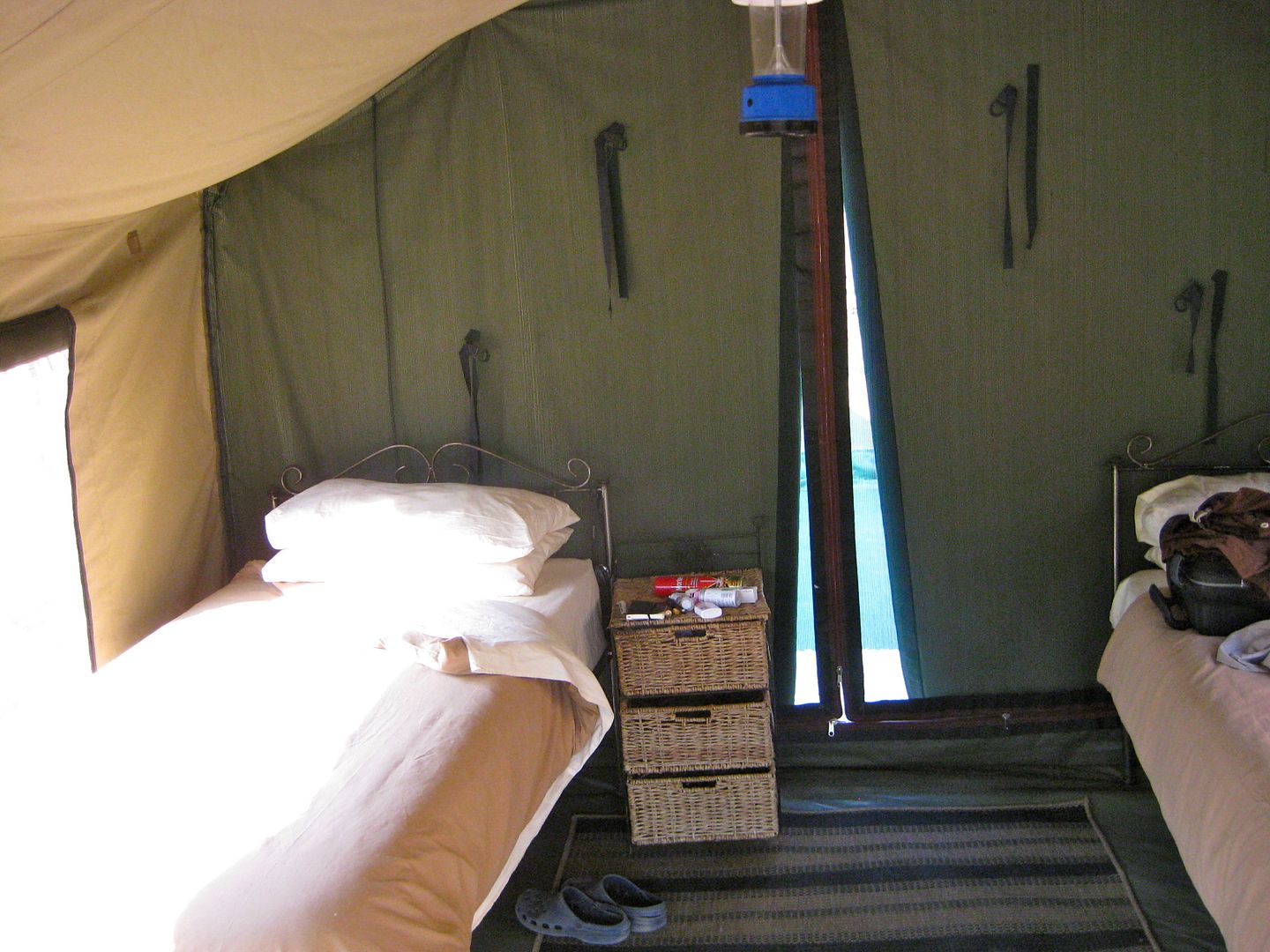 In camp with us the first 5 days or so was Allan Shearing together with AR member Klein. They were hunting 3 tuskless on Klein´s first African hunt ever. I do not think I would be mentally able to do DG on my first hunt, but that was no problem for Klein. He has posted his hunting rapport a few days ago. And as you can read there he wounded and lost one of his elephants. Although we knew he was feeling really bad about it he was still a real gentleman in camp without any complaints or head hanging. Well done Klein.
Day 1; Wakeup 0530. Took a few shoots with the .416. I find this one of the most stressing moments of the whole safari. Everybody's eyes are on you to see if you can shoot or not. Didn't shoot very well. Didn't shoot the double. As Buzz says; a double shoots as a double shoots.
Drove towards Chewore River. On route we see a big warthog standing on the road. His tusks are shining in the morning sun. He looks fantastic. A short stalk and while standing on high ground we bump him. He runs off but stops broadside at 150 meters. At the shoot he falls down on his chest but gets up and runs off. The shoot feels good. He has run 200 meters with a perfect shoot on the shoulder. We find him a few meters from his borrow. Luckily he hasn't had time to go down into it. Great to start a safari with a good shoot and it makes up for my poor shooting when checking the rifle earlier this morning.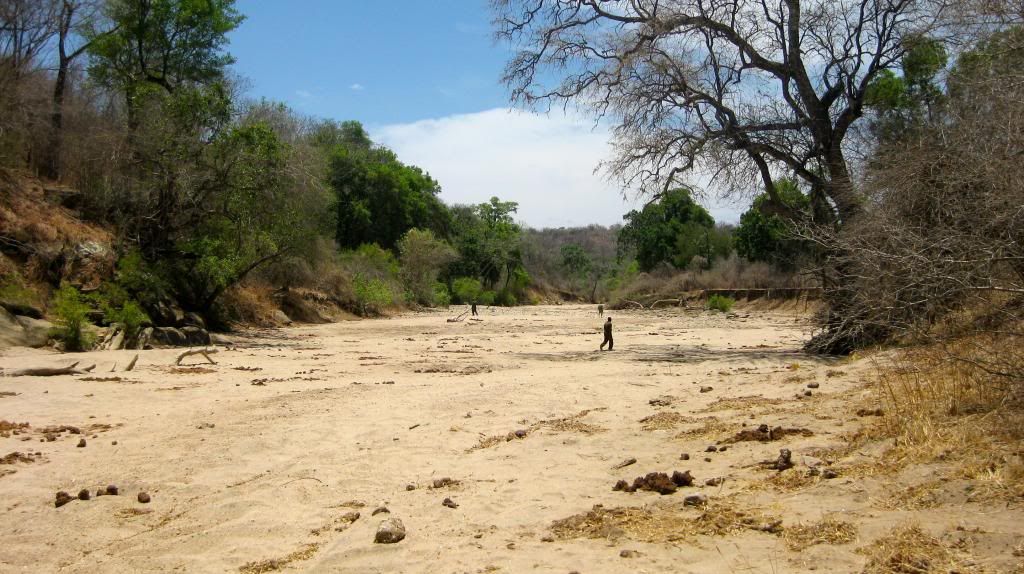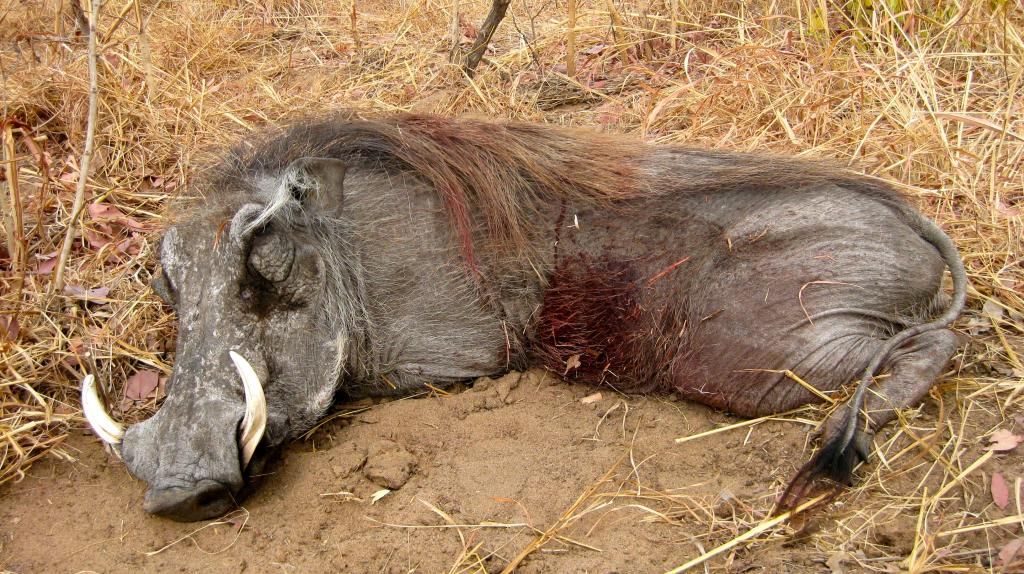 Hog trophy!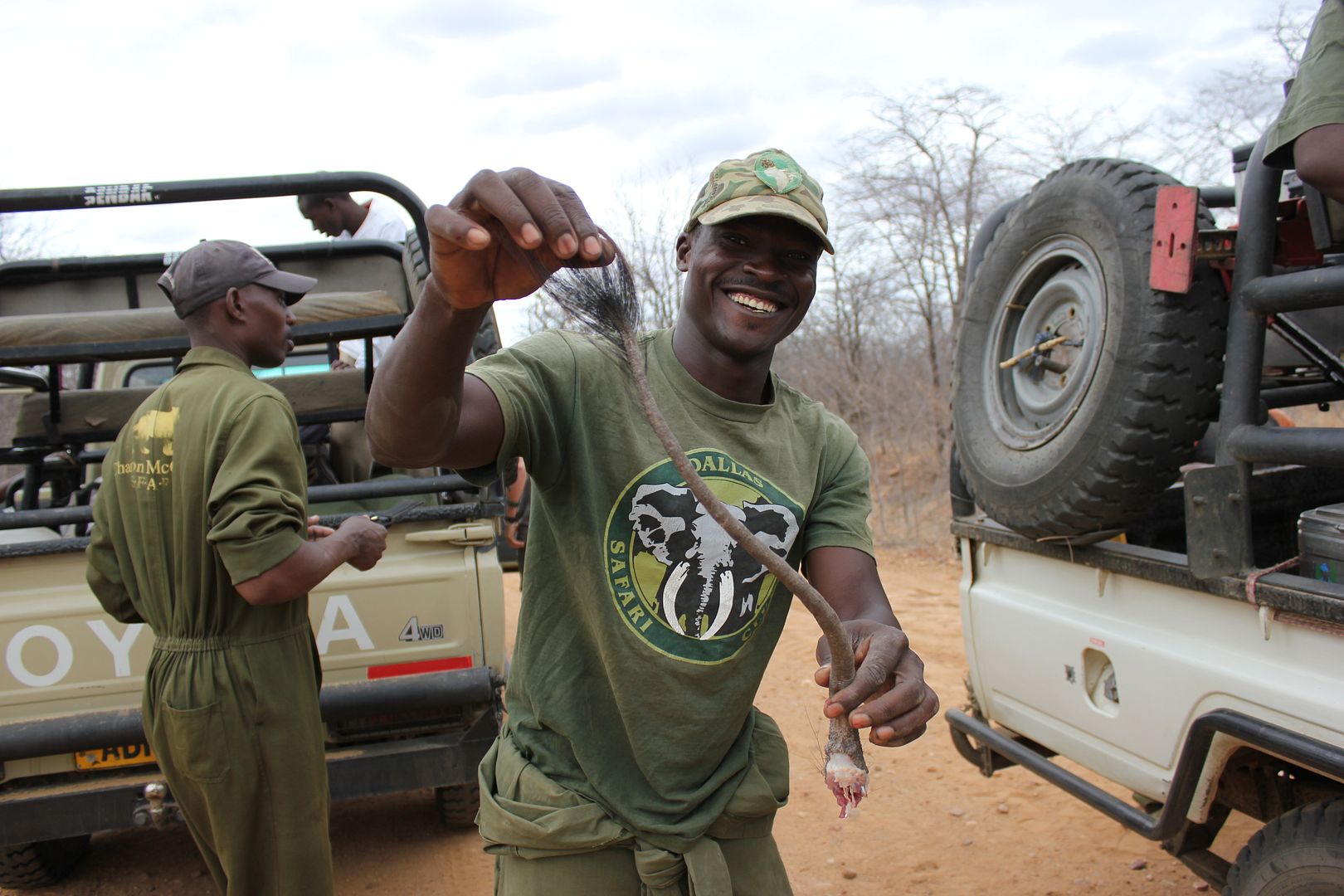 Owain Lewis was the ph that was killed this year by a buffalo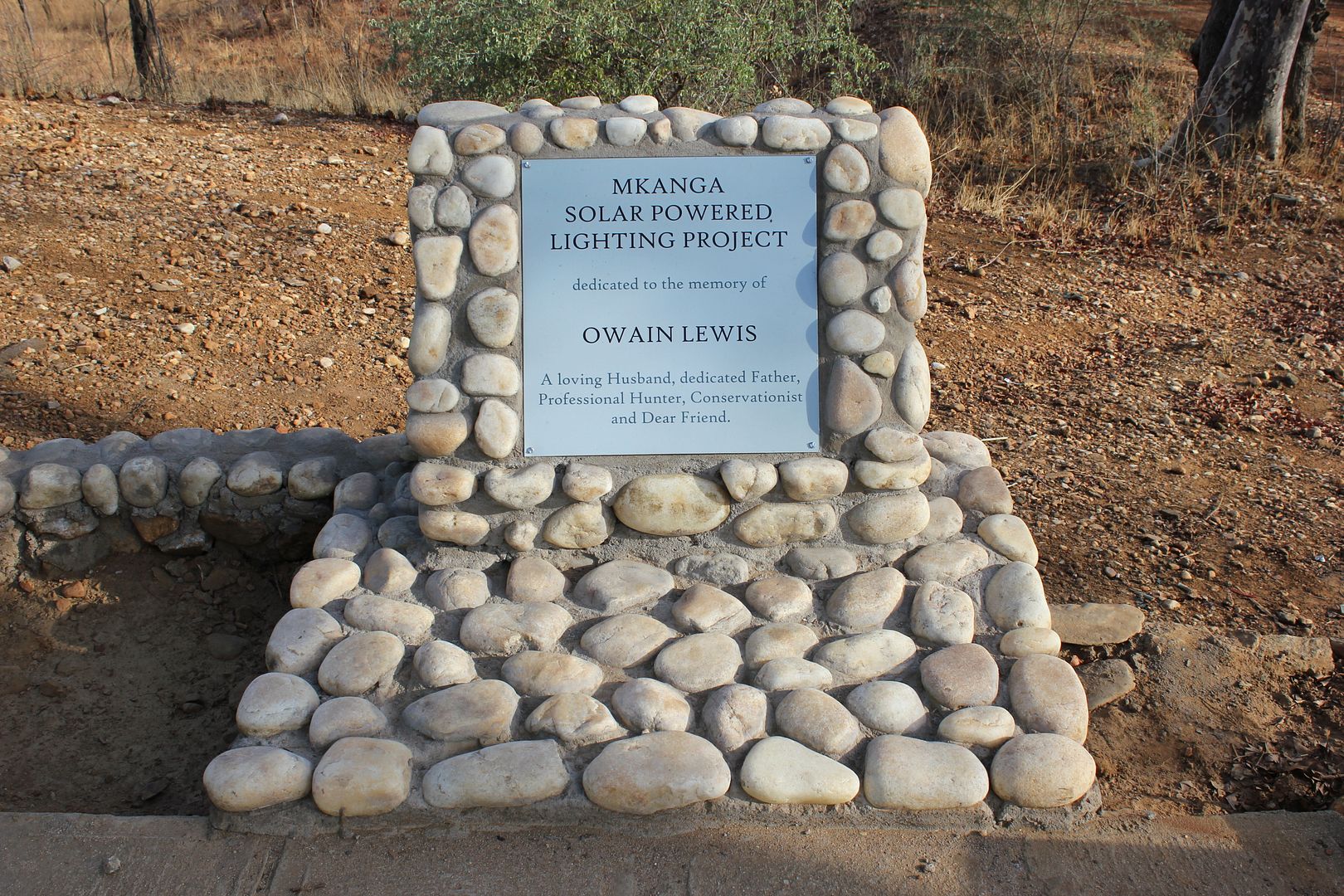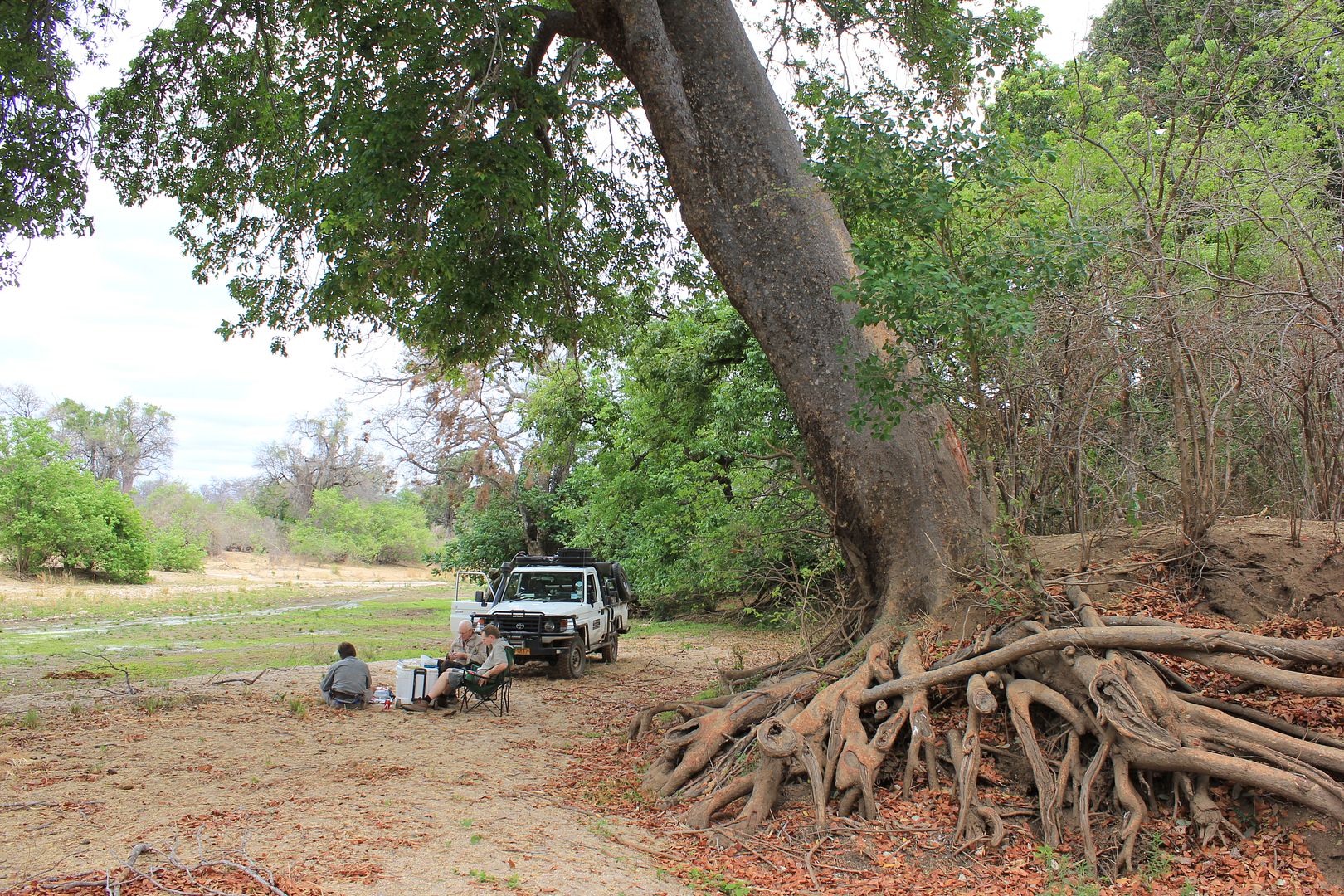 After loading the hog we carry on to Chewore River. I have been here before. 20 years ago I hunted Sapi and drove down the same dried out river. We find 6 elephant bull tracks but all go into Sapi. 20 years ago I recall all the tracks going from Sapi to Chewore! I guess that's Murphy´s law?
We follow 2 dugga boy tracks but soon see lion tracks on top of them. The guys can see that one of the buffaloes are wounded by the lions. So we leave them. On the way home while passing one of several bridges we see an old tuskless cow by her own down on the riverbed. Buzz is convinced that she is sick since it is unusual that a cow would be by her own. We decide she is a shooter and walk down to the river to what we think is an easy kill. This was not to be. On our way down to the riverbed we bump a warthog. She immediately knows something is up and departs. We follow right behind her but to my amazement she just disappears in front of us in the bush. The dark stops any further pursuit.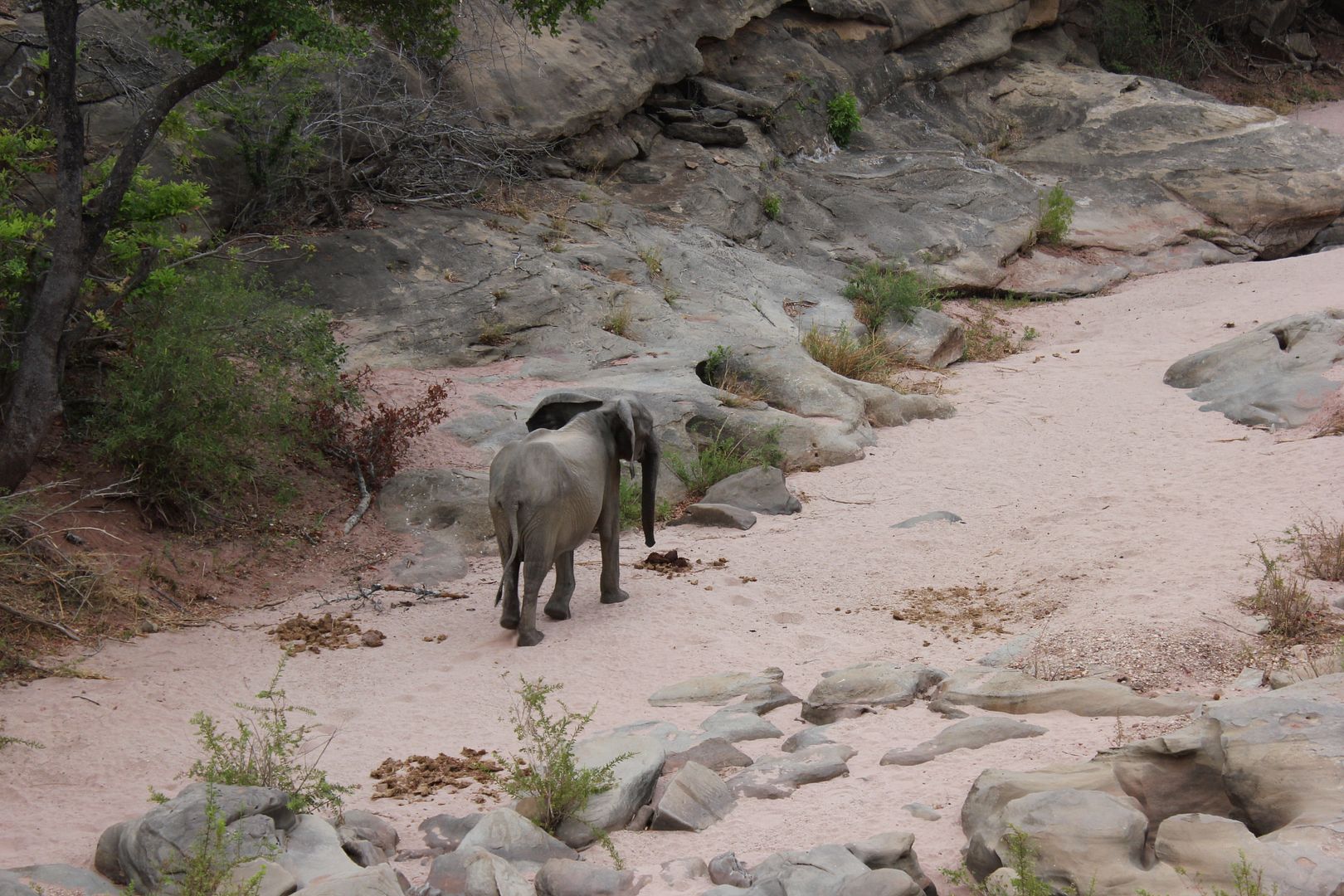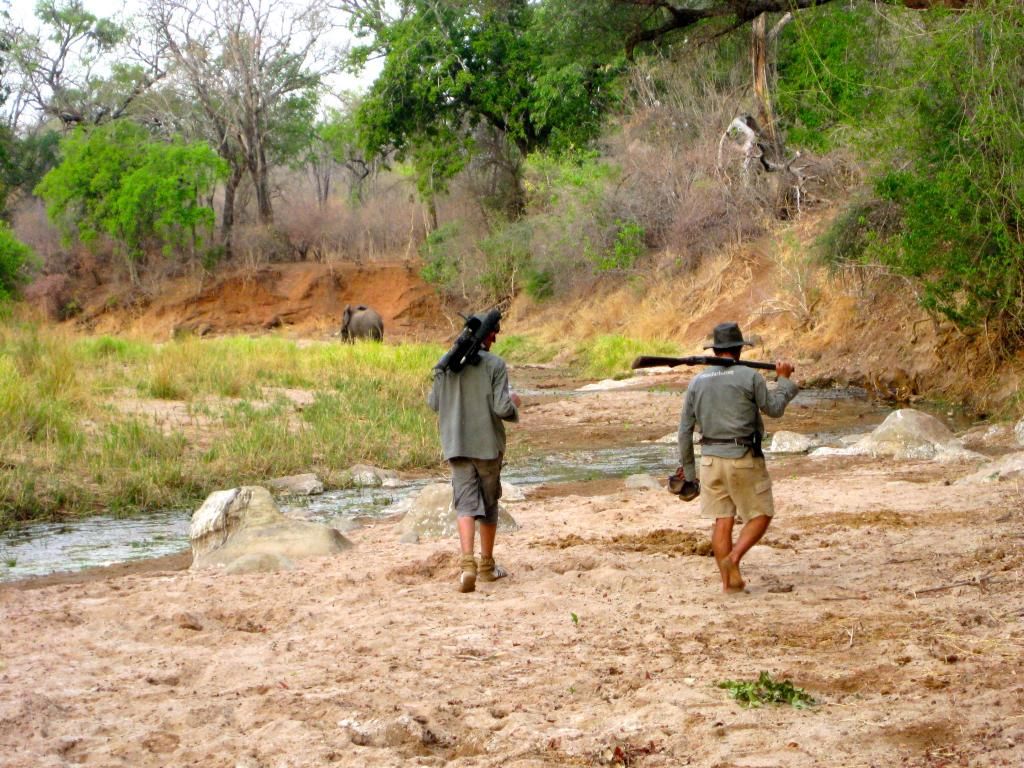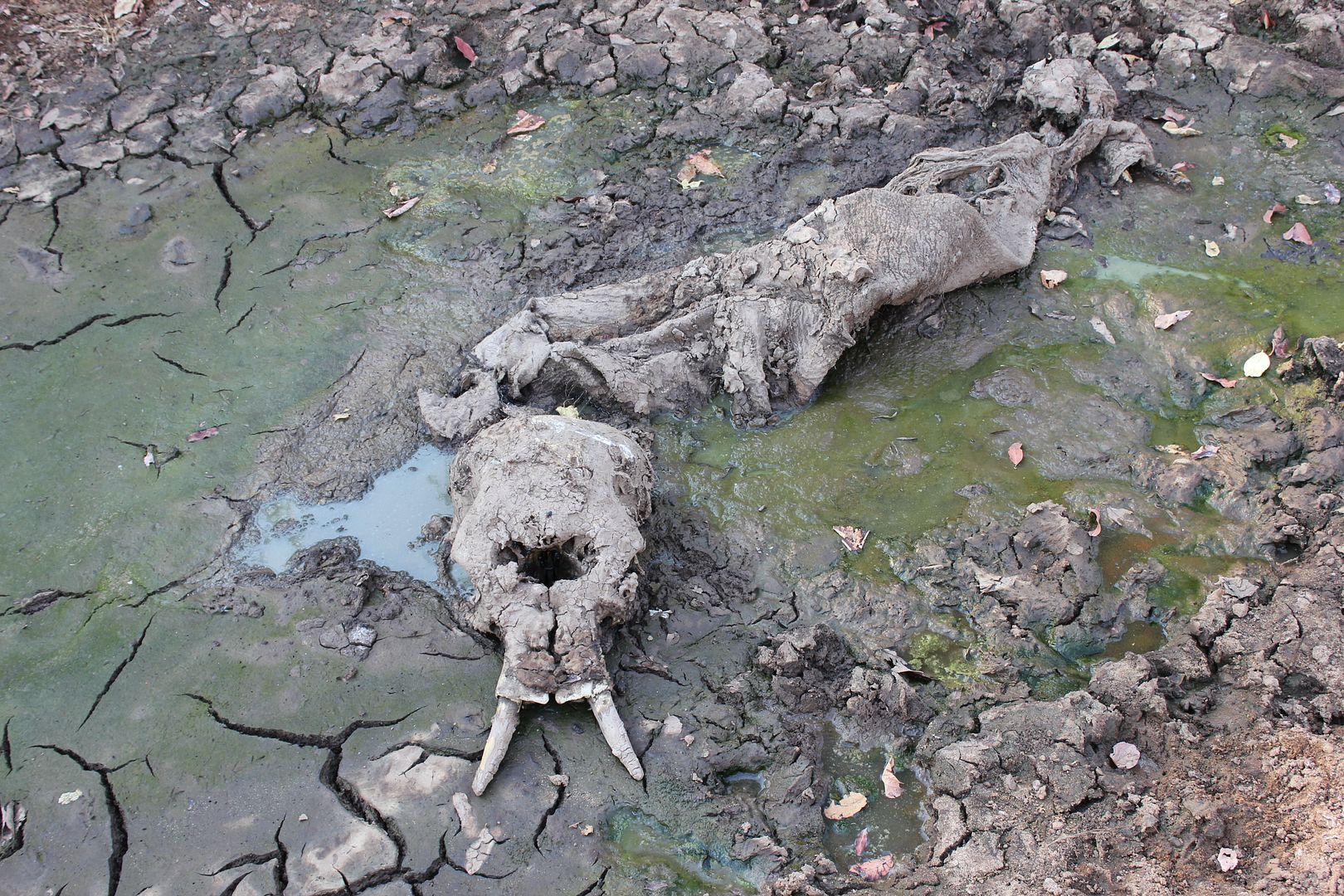 Day 2; Today we track our first 2 elephant bulls. Both are around 30 pounds and thus to small. Late afternoon we are doing a random walk down one many springs when we come across what will be the biggest elephant bull we see during our hunt. Walking up to him I am hoping he isn't a shooter but he is. This is when Buzz shows that he has real class and why I did right in choosing him to hunt with. He says without hesitation that we will leave him because he wants to give me more elephant experience before I shoot my trophy. I am sure many other ph´s would have taken him and been happy with the miles and work saved. This was the right decision. In the end I shoot a smaller elephant but had a far better hunt than if I had shoot thins one.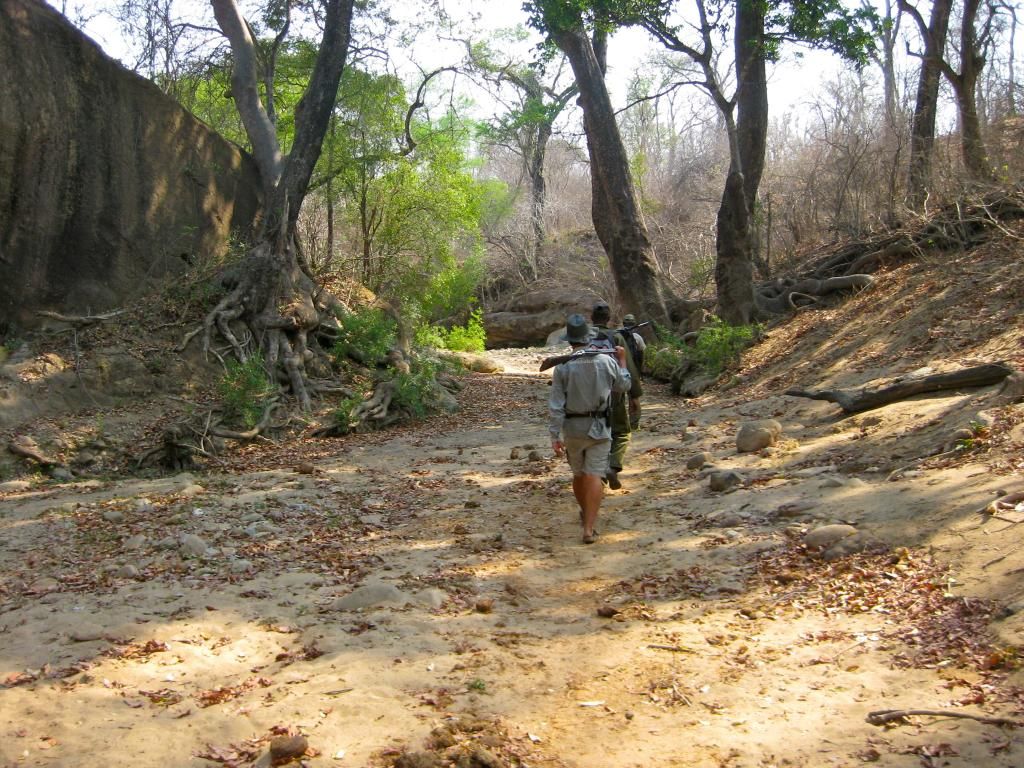 On our way home Buzz sees a hyena down in a deep gorge. When it sees us it runs off on the opposite side of the gorge. I make a running shot dropping it in its tracks. I am over the top. Hyena has deluded me for years. It takes 4 men to drag it up. It is huge.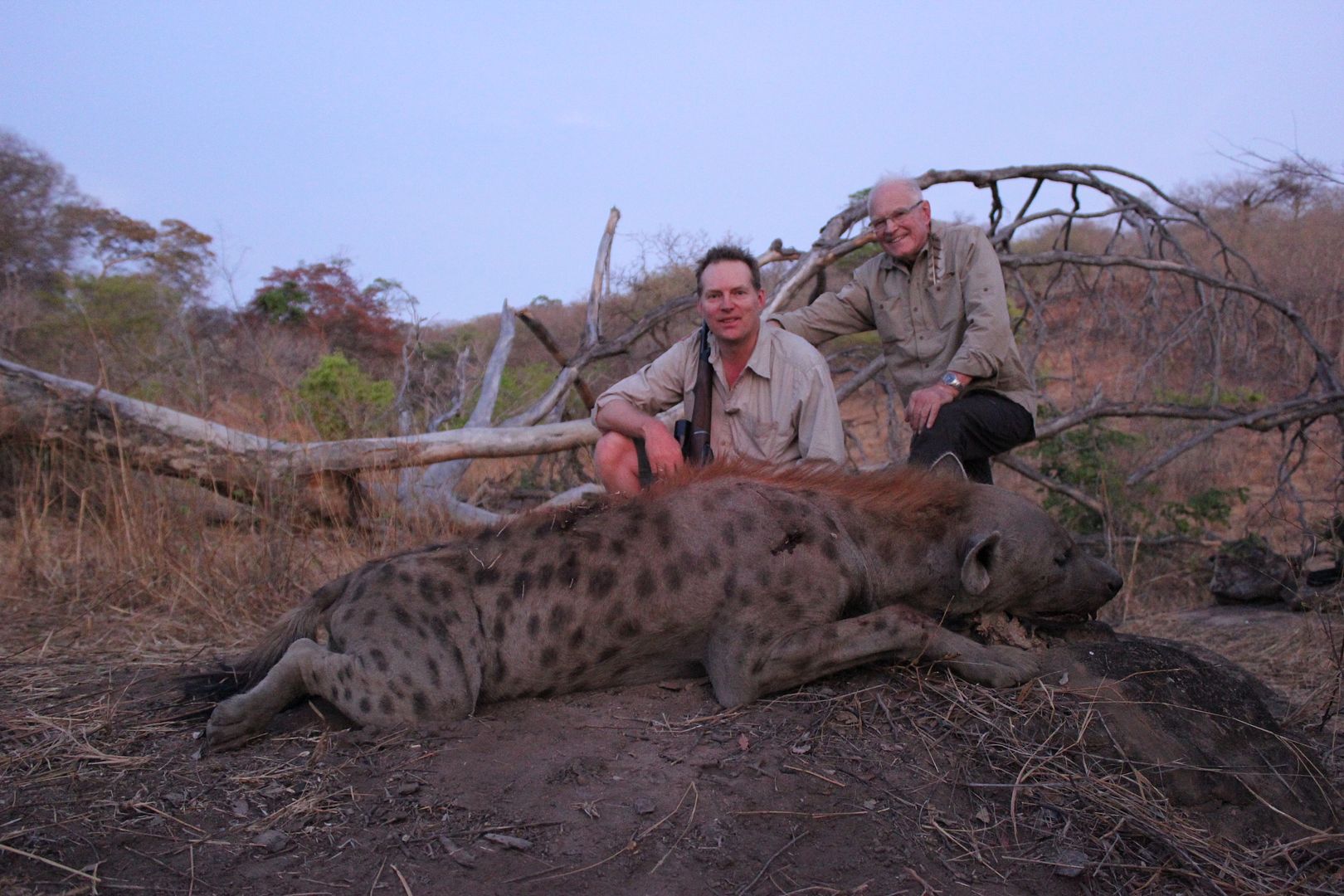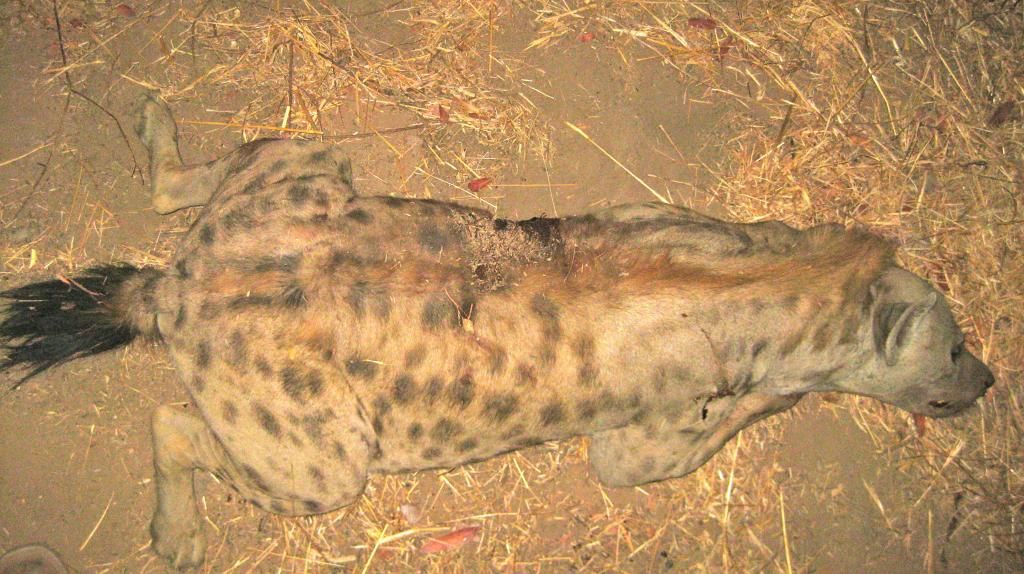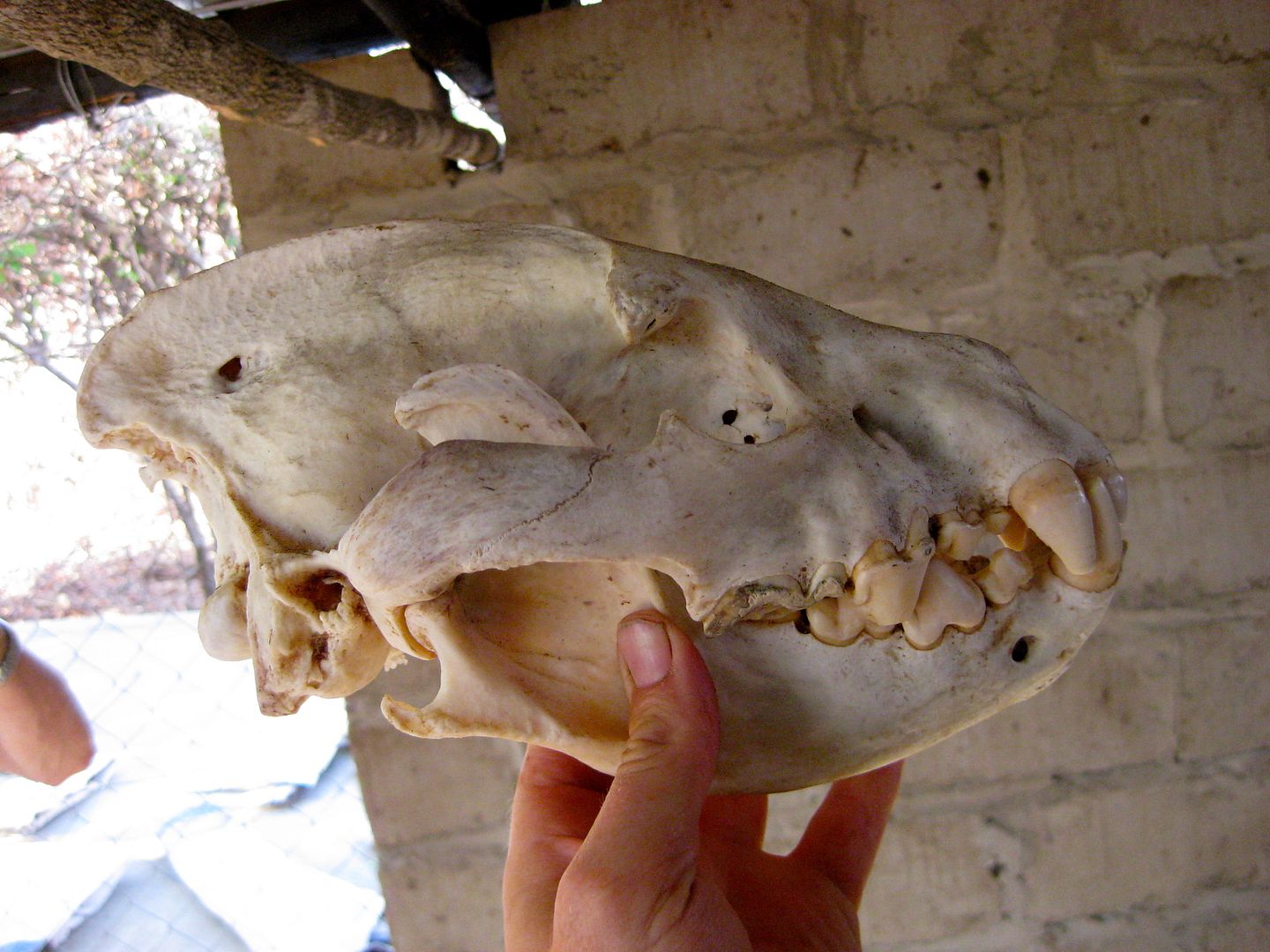 Day 3; Found the tracks of 5 dugga boys and followed for several hours. The biggest one is 42 inches and Buzz and I manage to get very close. But one of the smaller bulls on the side sees somebody from our party that is trying to get a better view of the action! They all run off without a chance for a shot. We follow and bump them again twice the next hours. By now my father is finished so we have to leave them.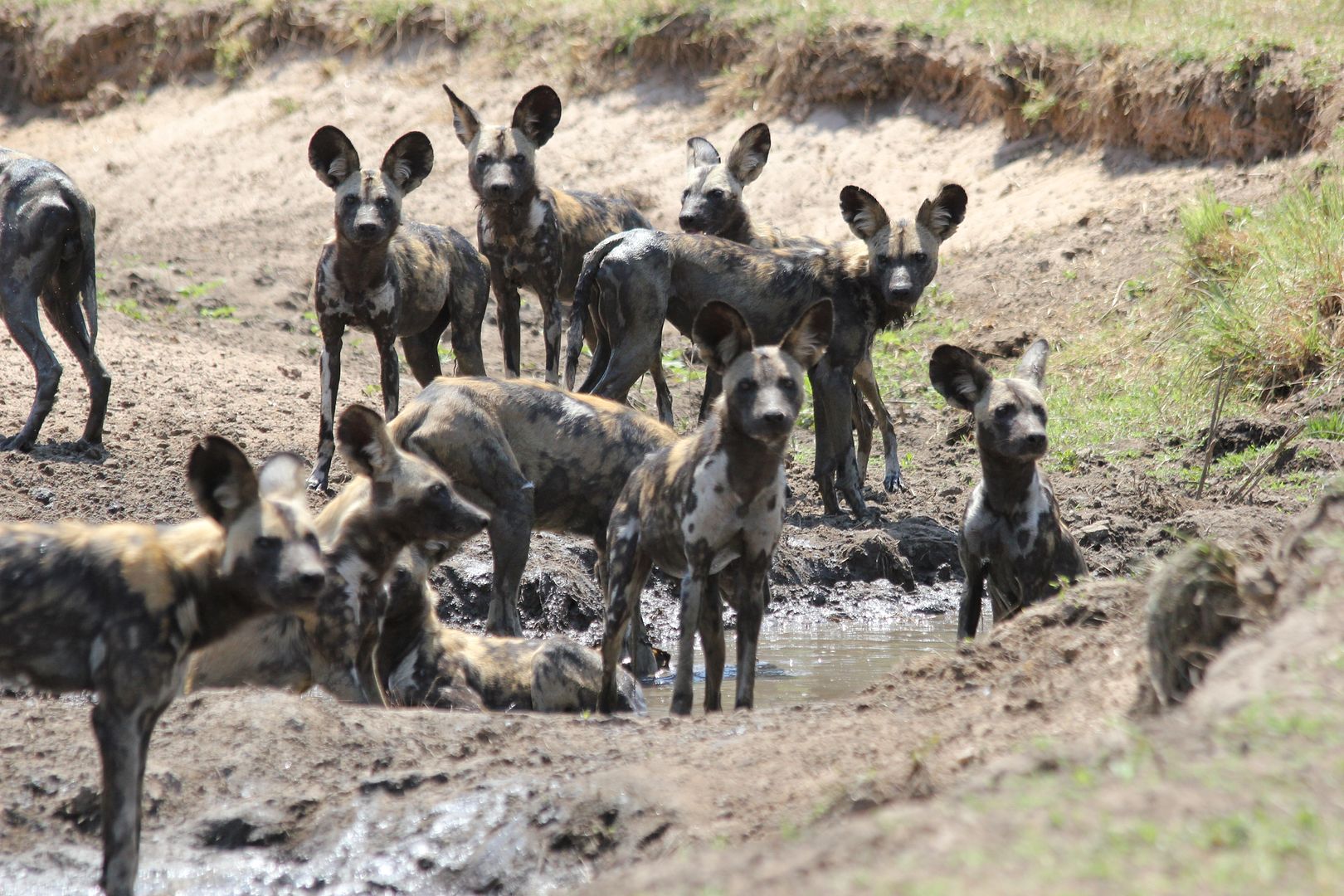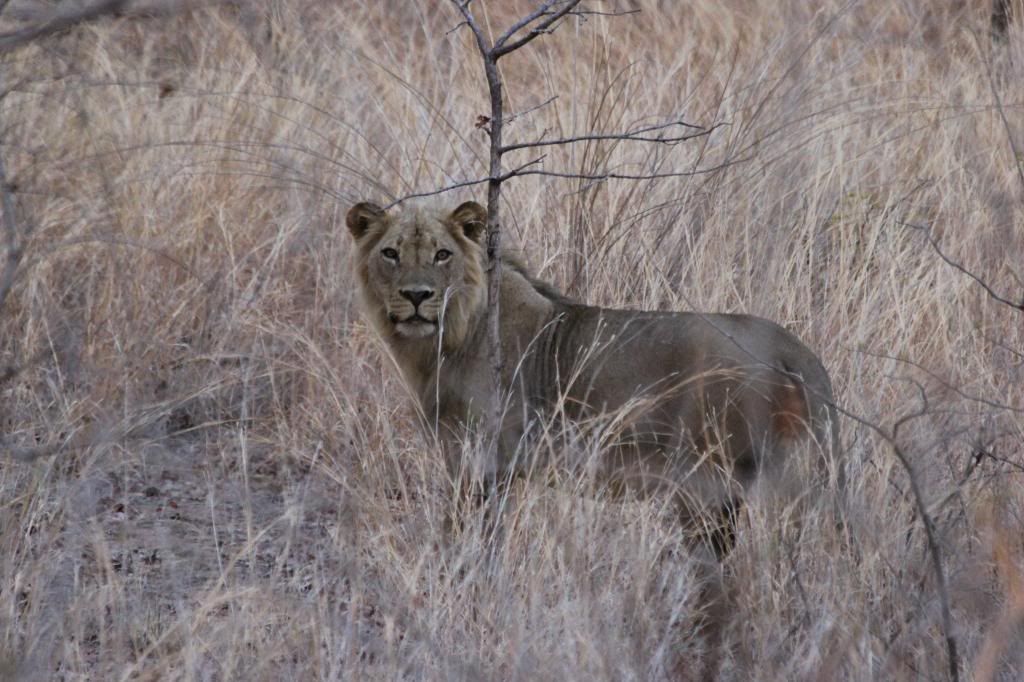 Day 4; Found bull tracks early and followed. Lost the track several times when bypassing cow elephant. The bulls were both in the 30-pound class. During the tracking we had noticed a very big buffalo track and decided to give it a try. This buffalo kept walking the whole day. We are sure that he is carrying enormous horns and have thus been hunted million of times before and got very smart. When we finally get up to him he is a total scrumcap! I am sure I saw him laughing when he trotted away.
On road out we see fresh tracks from a small mixed buffalo herd. After a short walk we find them lying up in some high grass. We get to 25 meters and glass them but cannot locate the bull. As yesterday we have asked father and Nyati to stay back. But my father not satisfied with the view tries to get up to us. This time I am ready and as the herd spots him and get to their feet we locate the bull. At the impact from the .416 the bull shudders and runs off with blood spouting out of both nostrils. I take the double and go after him at once. I hope he is still on his feet so I can finish him off with the 500 NE. He has run 100 meters and is dead but I shoot him twice anyway. He is a good bull with a broken horn that gives him some character. This is my sixth buffalo but I still want to shoot more.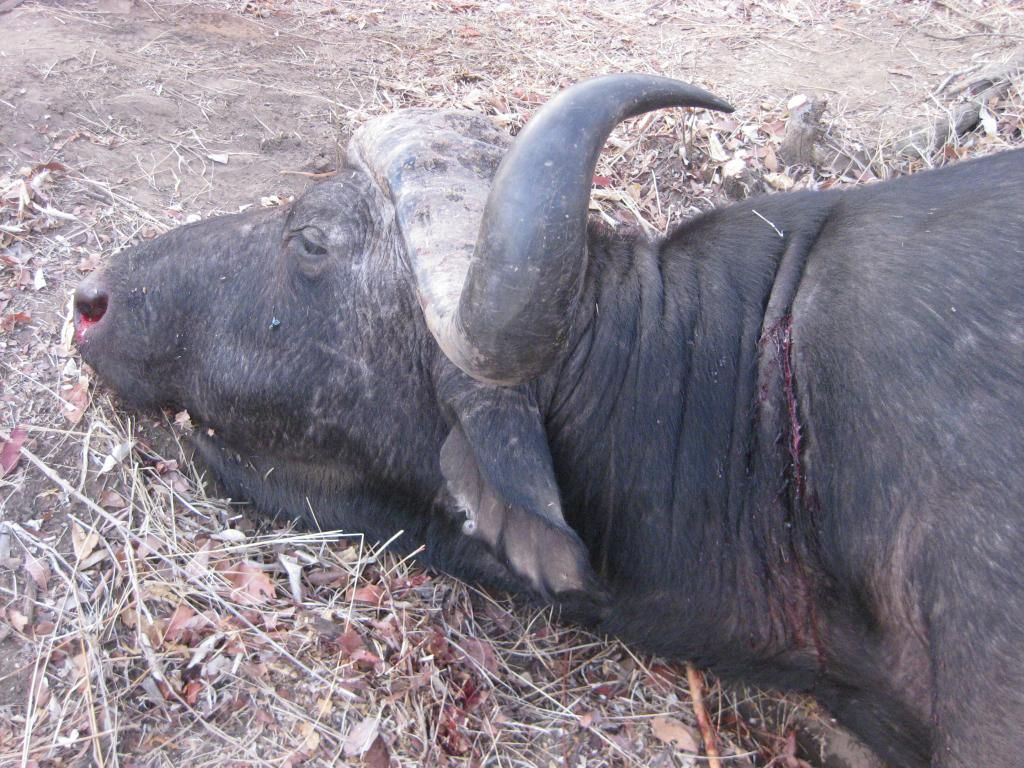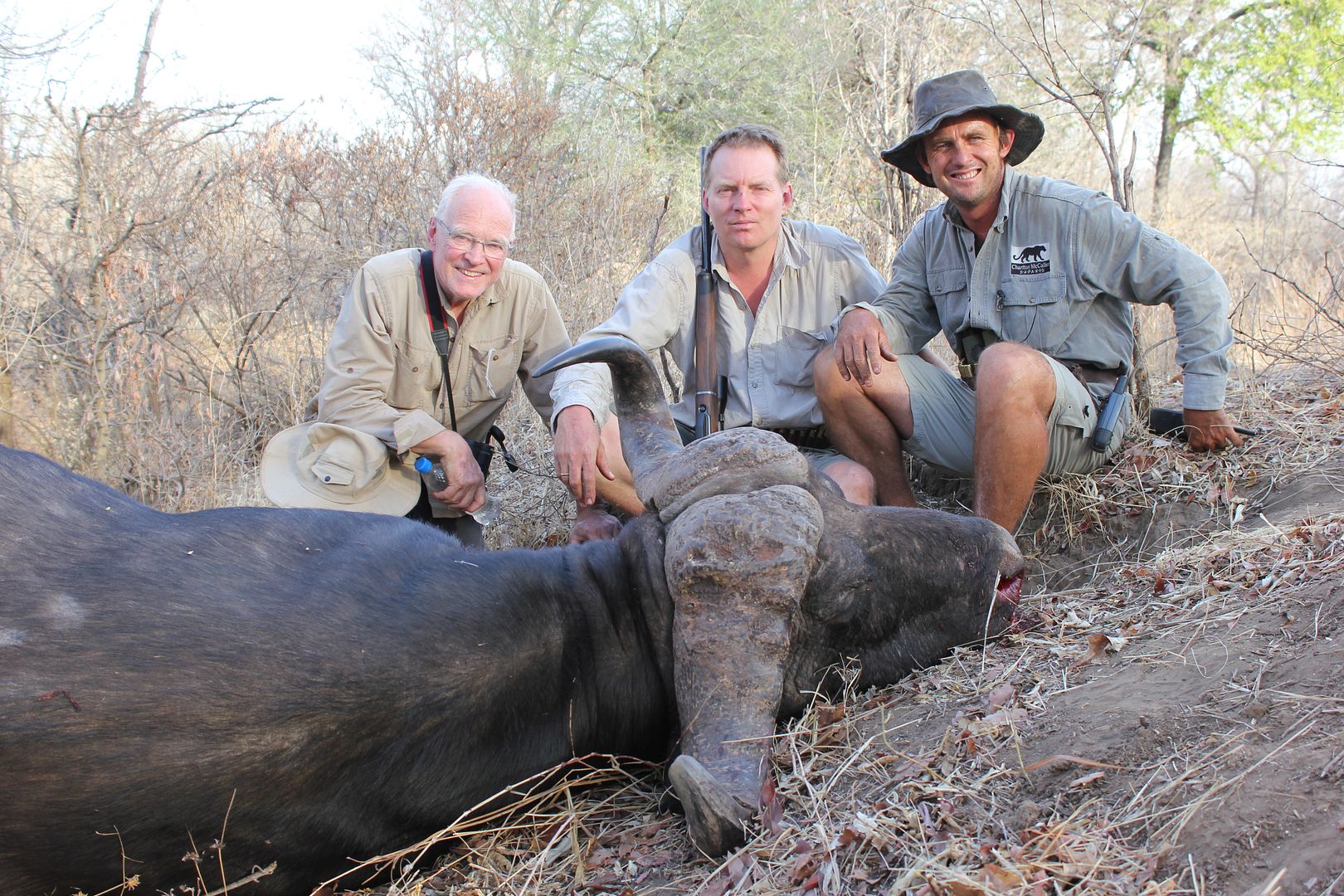 Click photo for video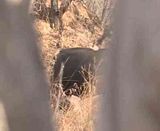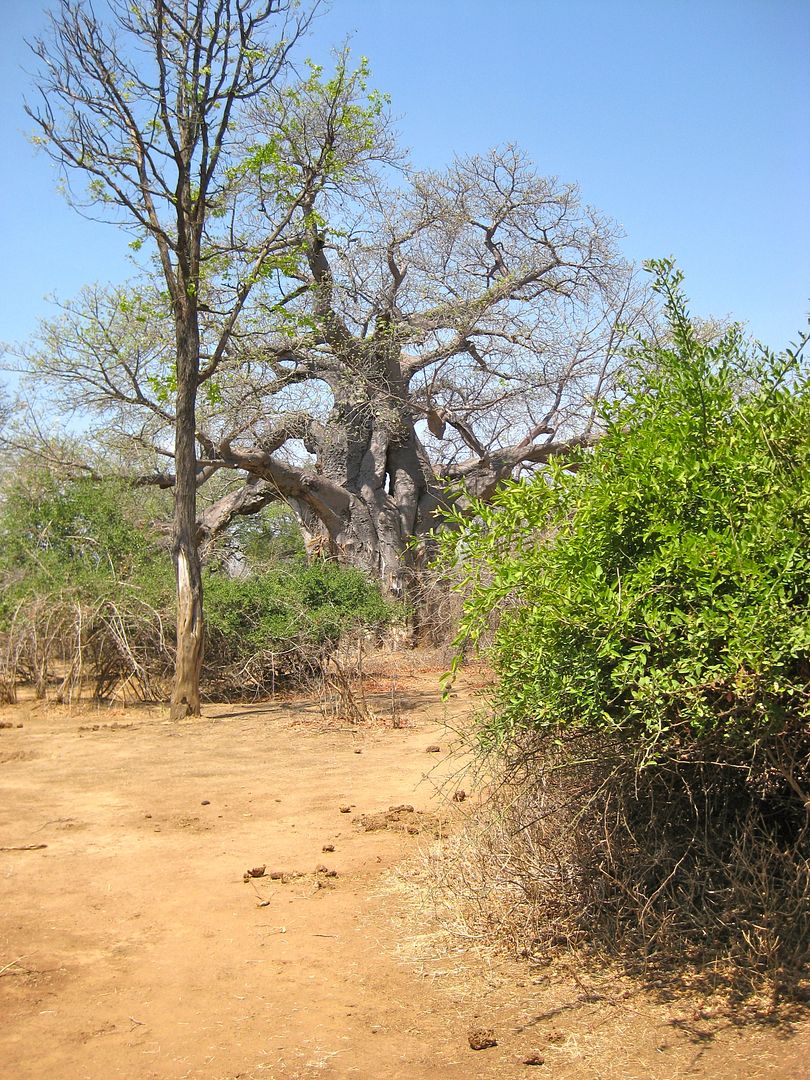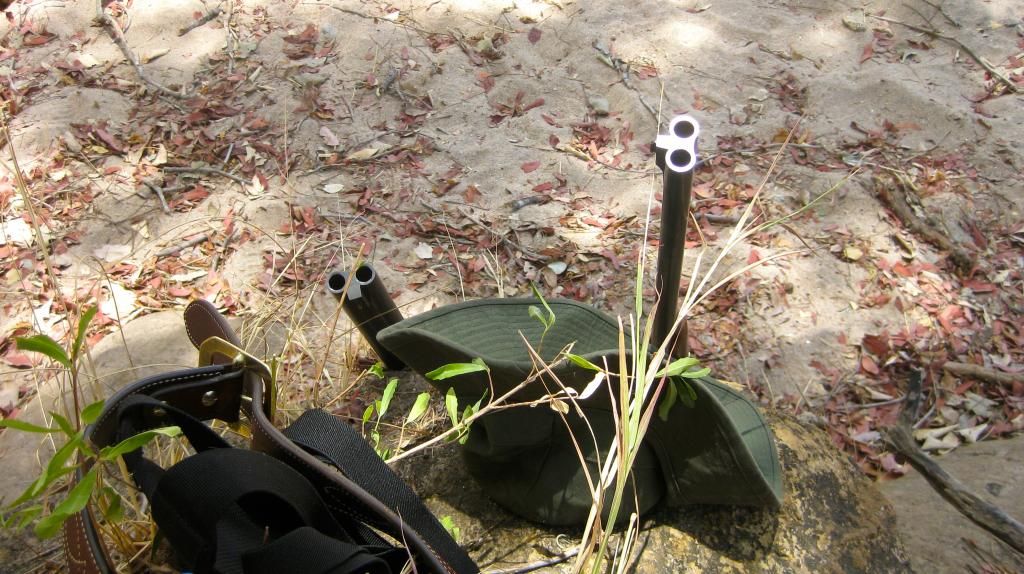 Day 5-12; Up at 0400. Drive until we find a bull elephant track that is worth following. During this time we locate and evaluate 46 elephant bulls. Some are close but none are quite what we are looking for. I am beginning to think I will go home without an elephant. We are hunting hard and determined. Walking between 15 and 25 km every day. Twice we find very big tracks with deep cracks in them and are sure that our luck has changed but both are big in body and small in ivory!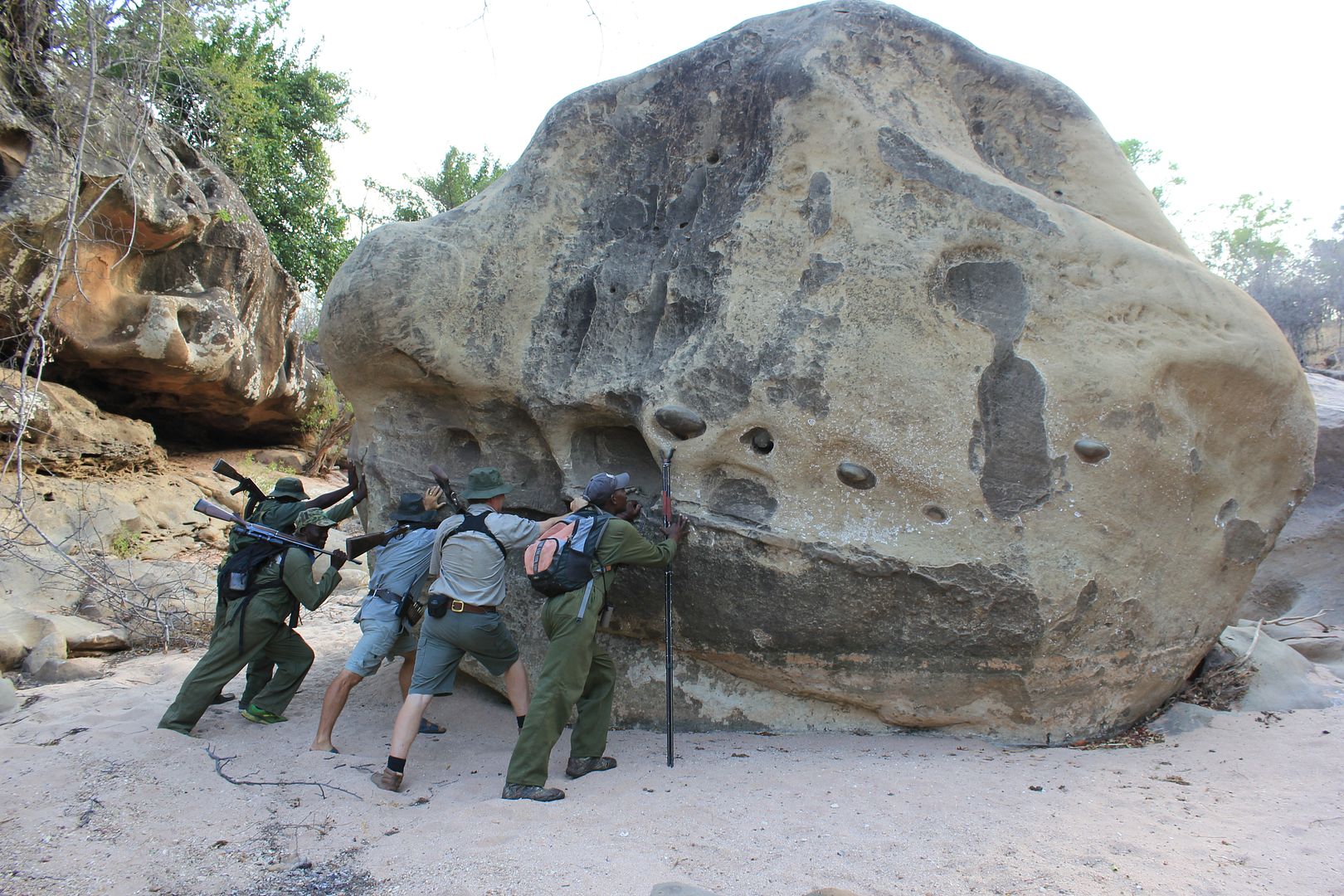 One of the bulls we follow gives us a charge. Buzz gets me to shoot over its head at 15 m. At the shot it stops and turns. Before the hunt I thought I would be scared to death but with a 500 in my hands and Buzz on my side I feel confident but still it gets your heartbeat up!
Click photo to see video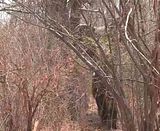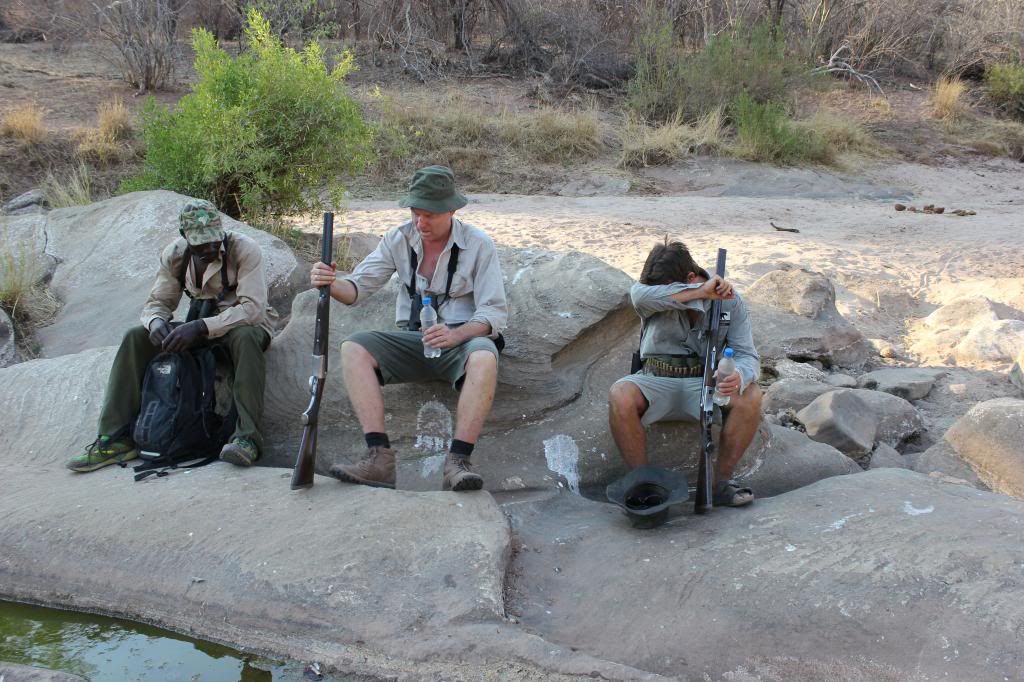 Got stung by a scorpion while getting drinks at the camp. It hurts quit bad but only for about a day. Luckily it's a not one of the small ones. They are apparently much worse.
The guilty one on the left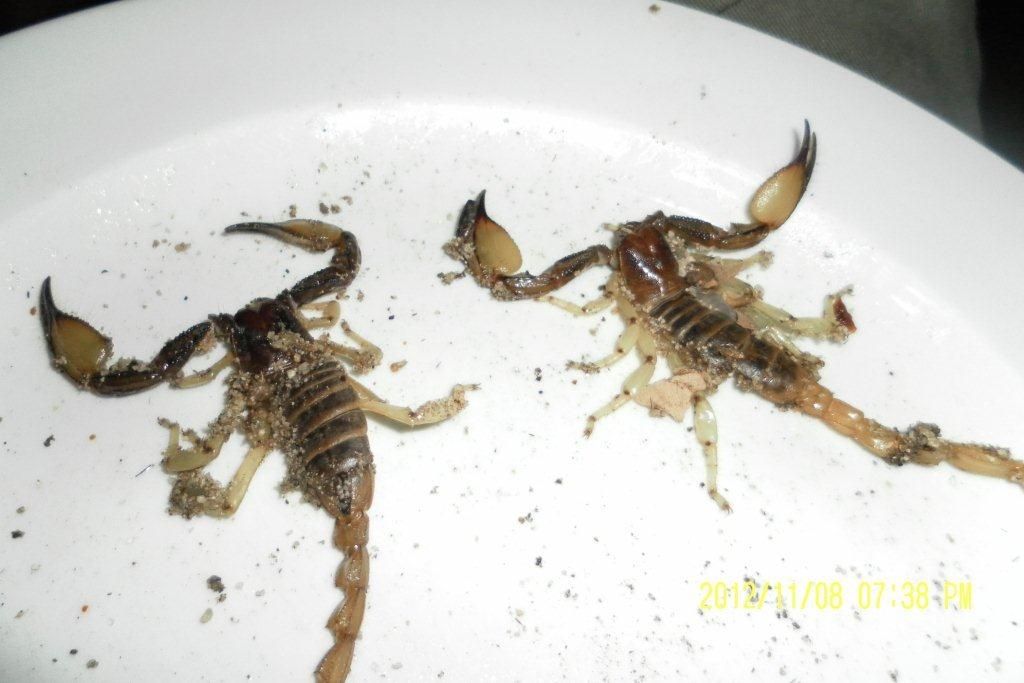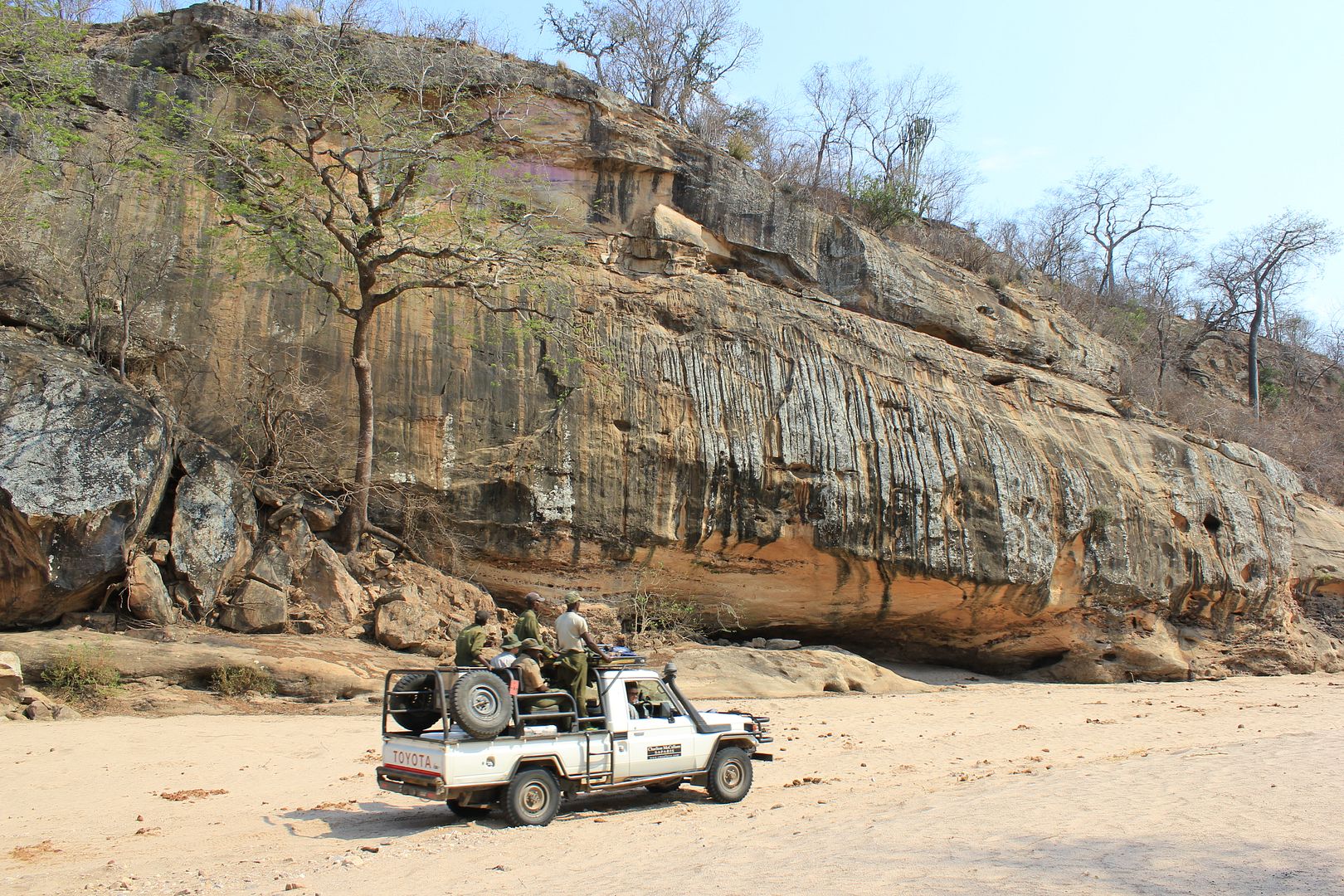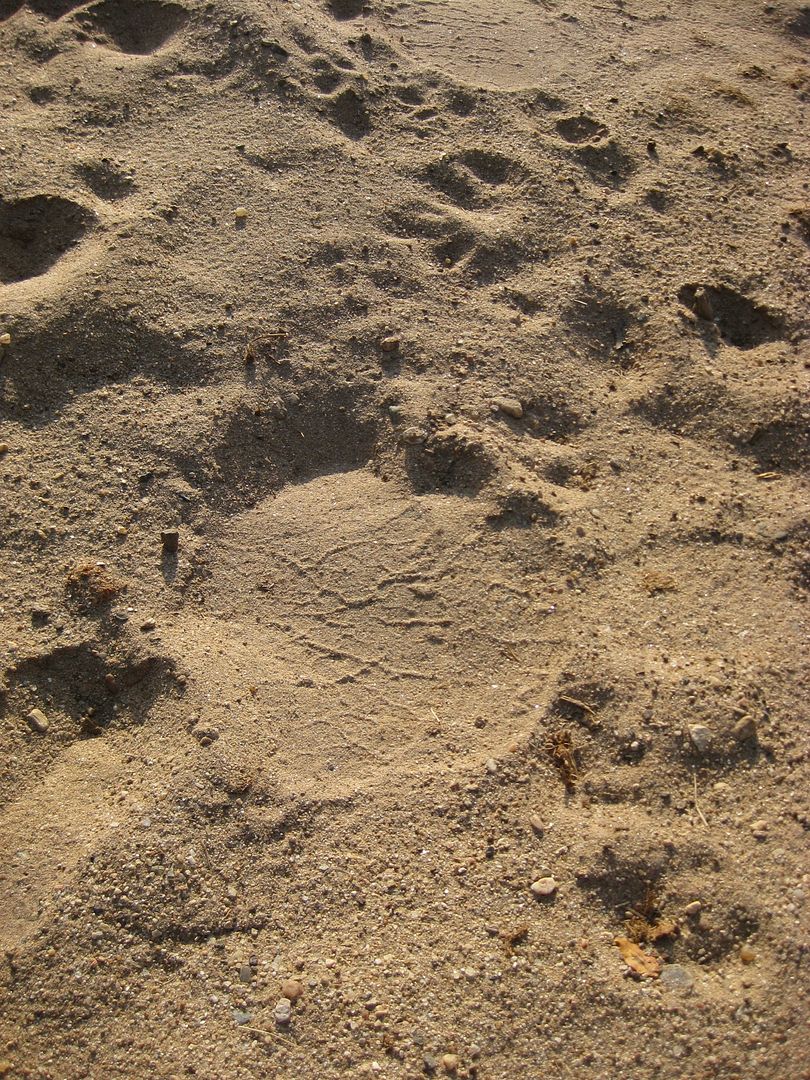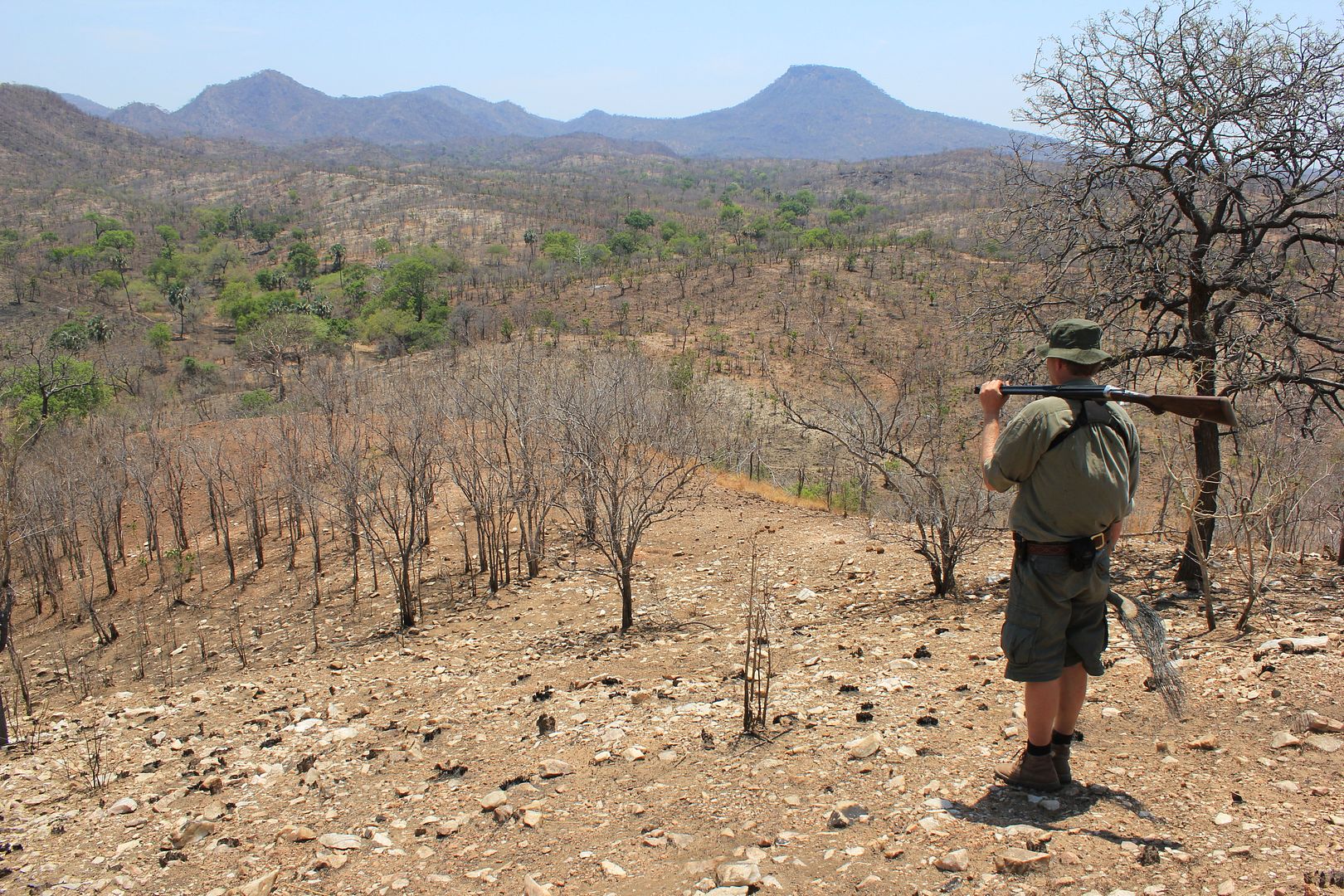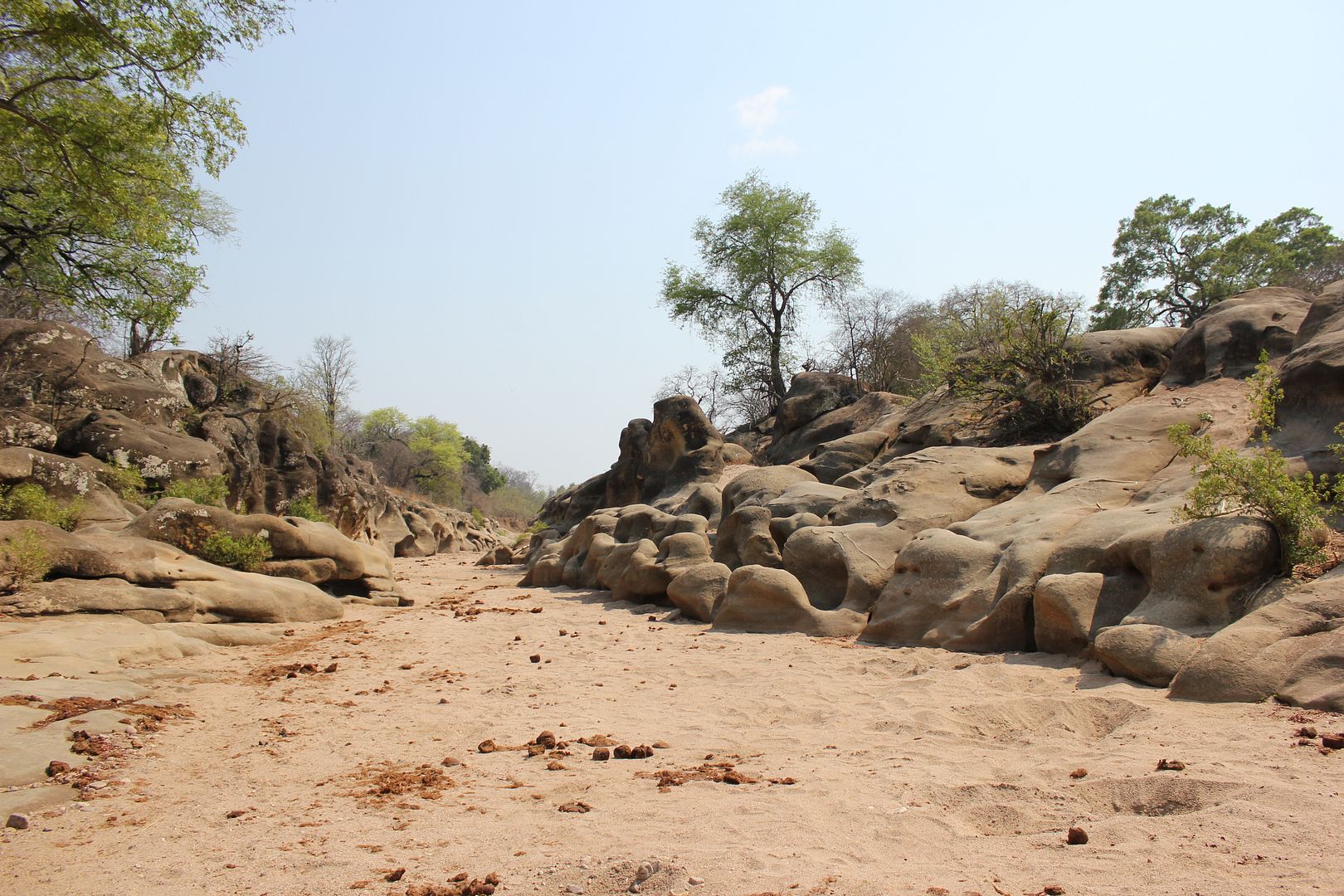 Day 13;
We pick up a track not super big but with nice cracks. It takes us in to an area we have not hunted until now. We follow it up a large gorge. It is full of cow elephant making the tracking difficult. At last we come up onto a plateau. The dung seemed hour old so we thought we were still far behind. But walking into a palm ticket we bump an askari bull. Our bull sensed the danger and went straight up a mountain. As the bull went up my heart went down. By experience I knew it would be hours walking before we came on him again. In desperation we hurried up the opposite side of the mountain in hope of intercepting him. As I got up on the top my legs were wobbling and I was out of air. At first we saw nothing probably because we didn't really believe he would be there but he was. He was looking over his back down to the palm thicket below. Not seeing us he carried on. We were standing at 30 meters with him broadside. I shoot him twice on the shoulder with Buzz shooting once. At the shoots he shakes, turned and came towards us. I do not think it was a charge but him trying to get away from danger. I quickly reloaded and brained him at 15 meters. Two more in the chest for safety and it was all over.
To say that I was happy would be a huge understatement.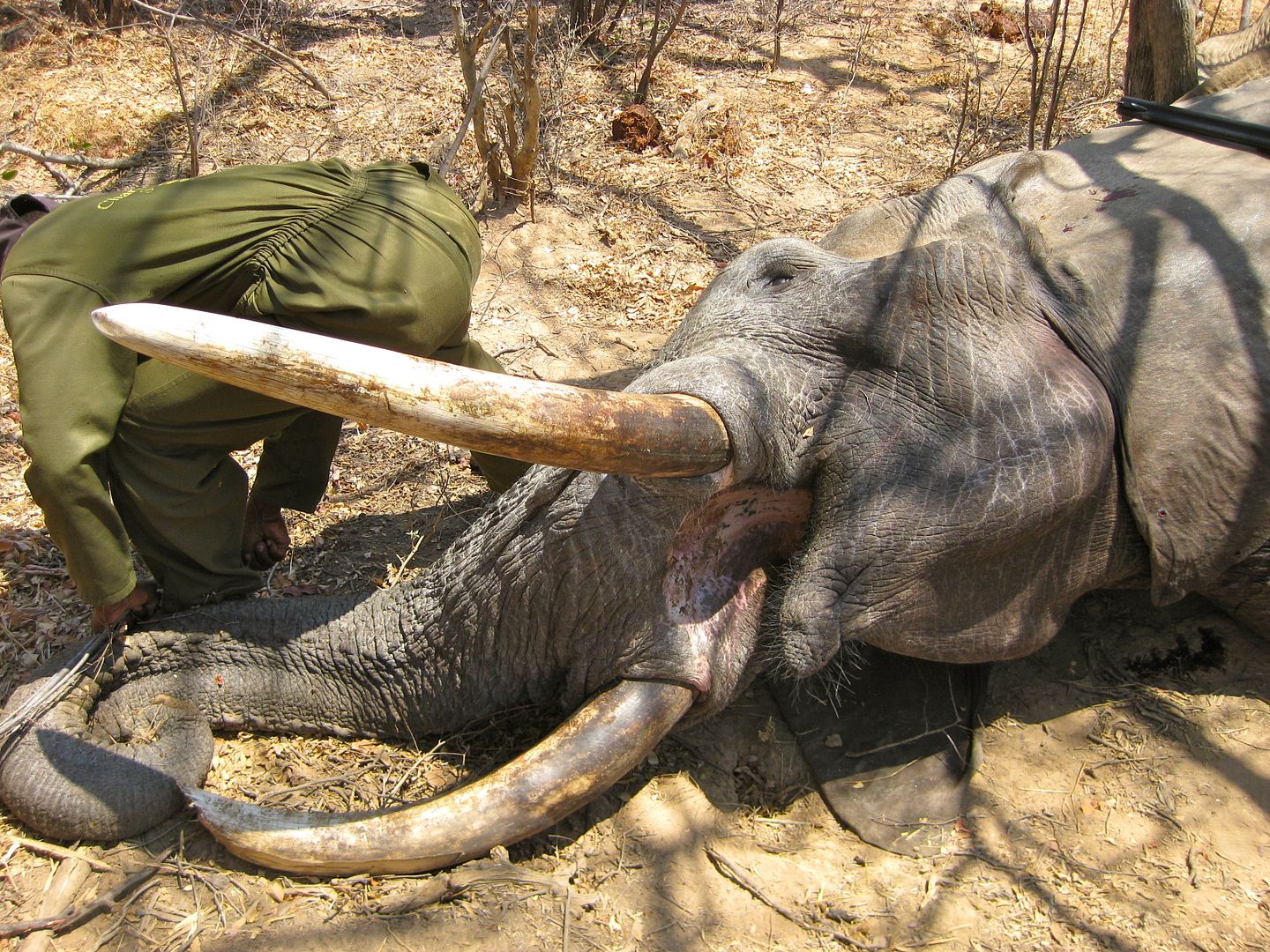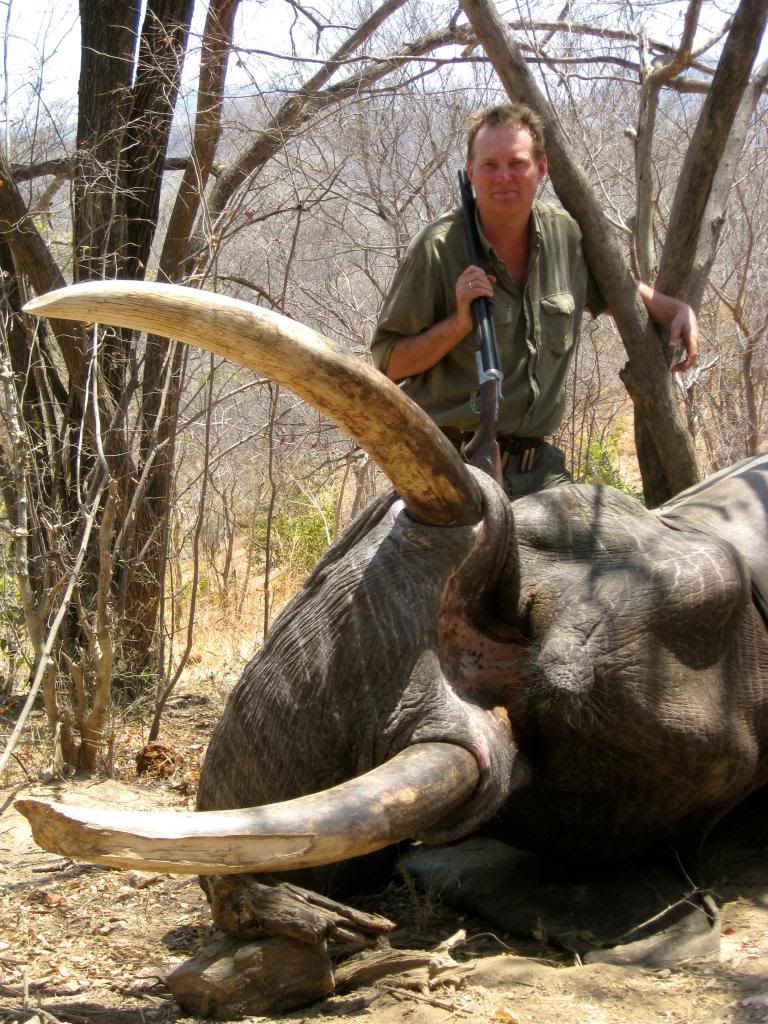 Brainmatter coming out of the ear
Click photo for video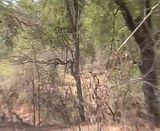 Recovered 500 bullets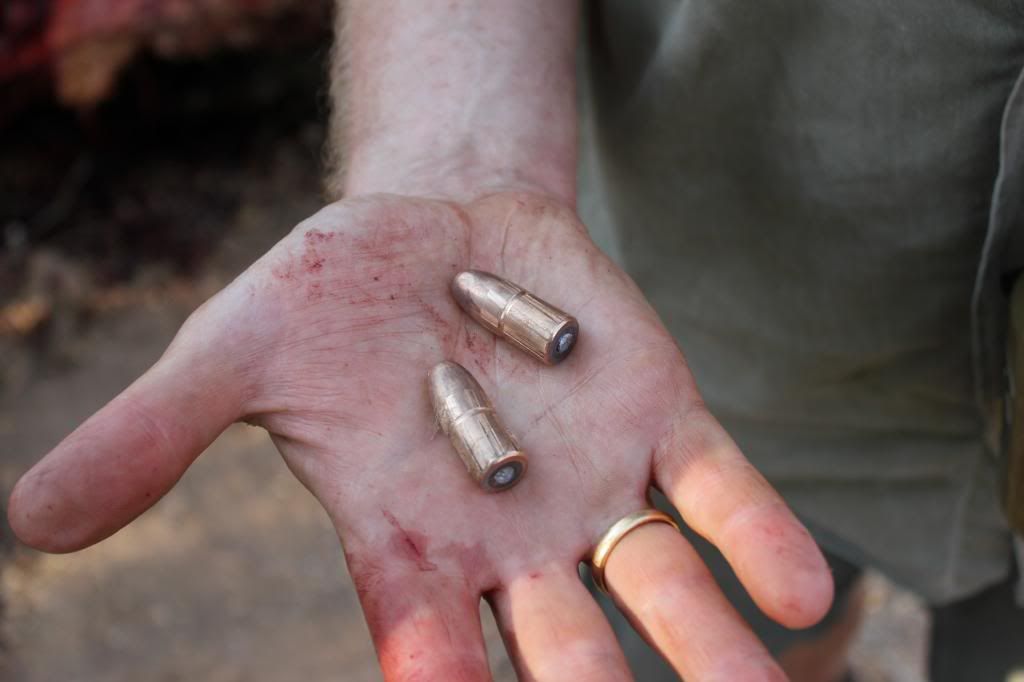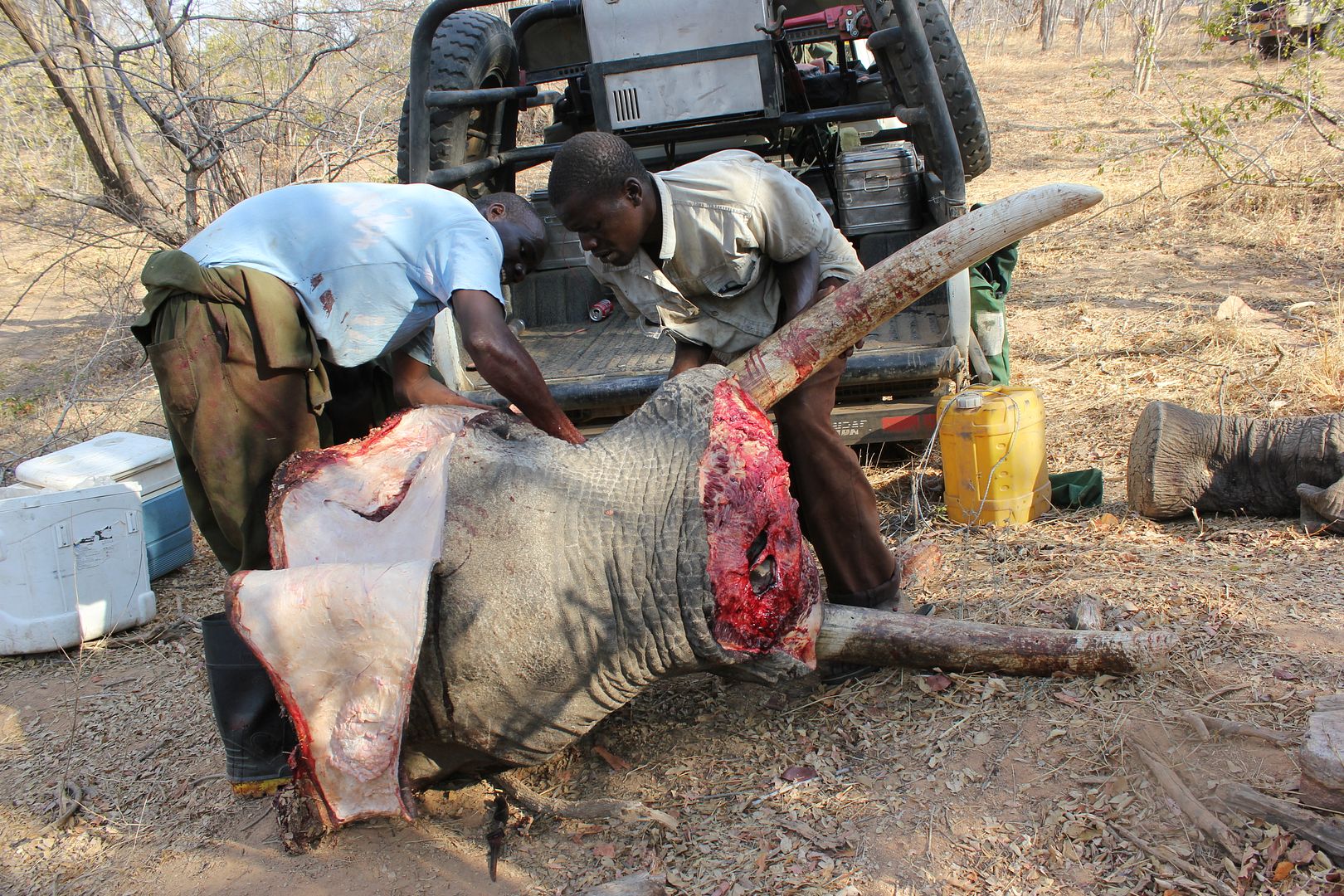 Often when shooting big game I get a bit remorseful and I think many do especially with elephant. But with this elephant I was not. He had really punished us and I felt that I deserved him.
We had shot him a few meters from the top of one of the highest mountains in Chewore. We had a fantastic view and we enjoyed our lunch looking at the scenery and our elephant.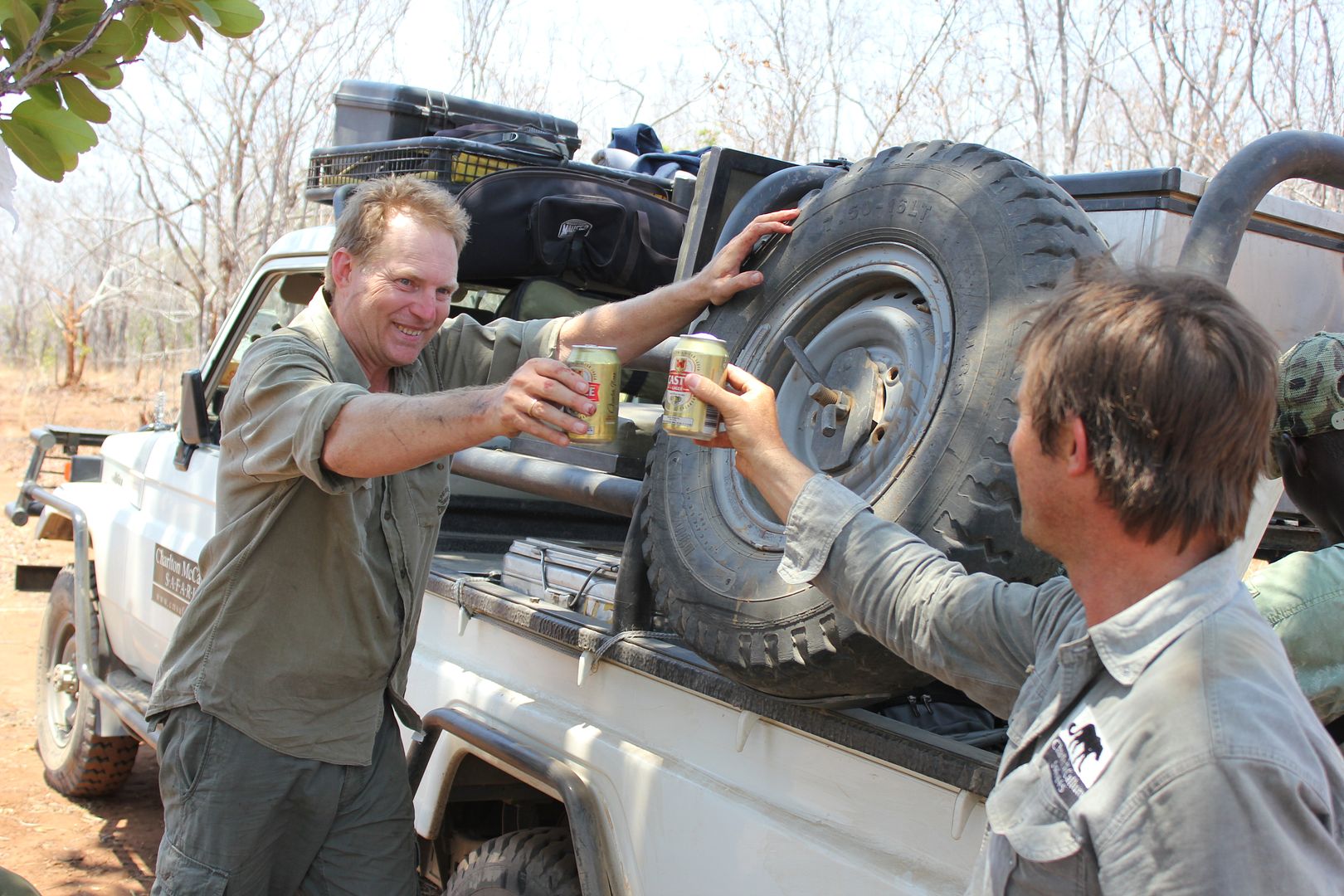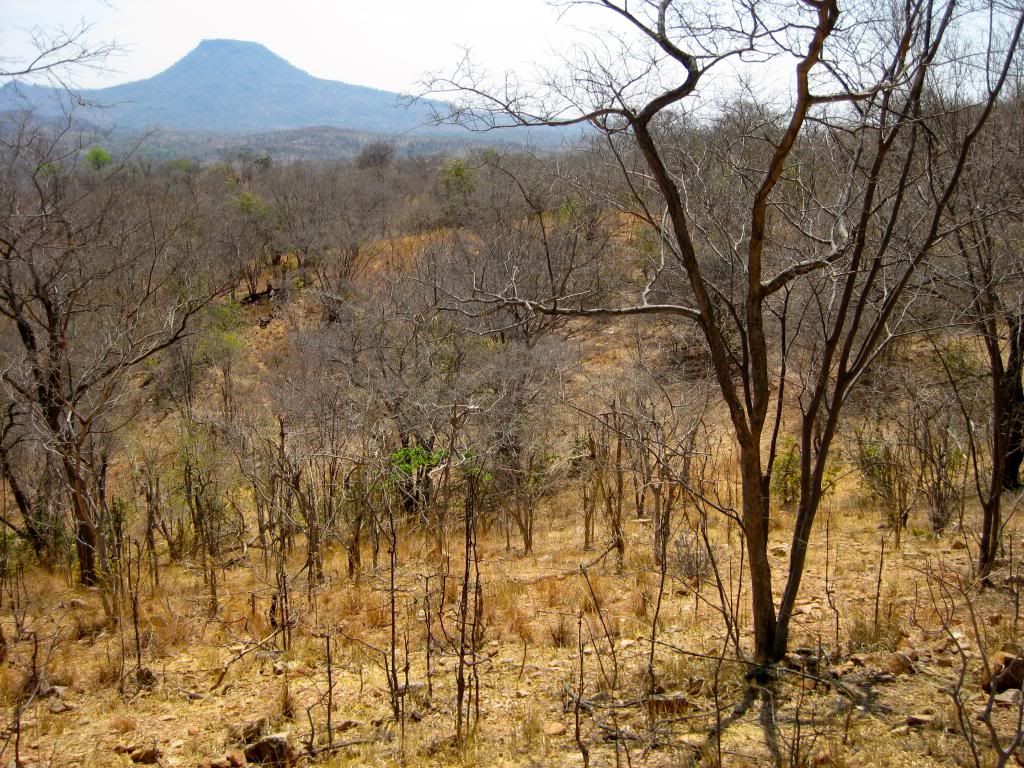 Fresh dinosaur track but unfortunately none left on quota!
Day 14; We dedicated the last day for a tuskless cow. We had seen tuskless cows almost daily and today was no different. After following the herd with the tuskless for a while we managed to sneak inn and take her from 6 meters. We were standing above her on a brink and maybe because of the unusual angel I missed the brain on the first 2 shoots but the 500 dropped her.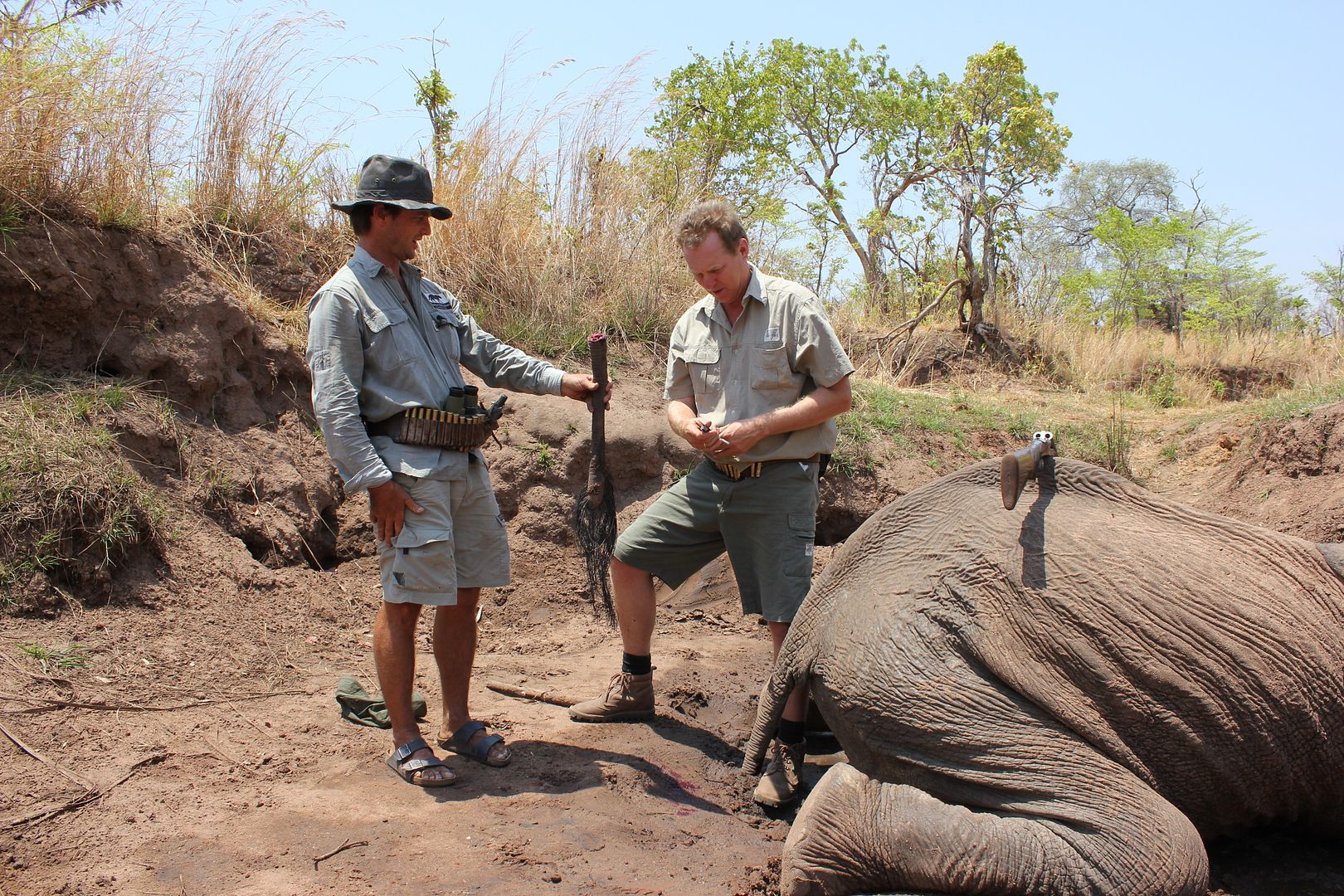 Click on photo for video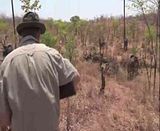 As always after a safari coming home is difficult. So here I sit and count the days to the next hunt.
Thank you Buzz for a perfect hunt. We have a plan and I hope time will pass fast until we hunt together again.
Man or beast?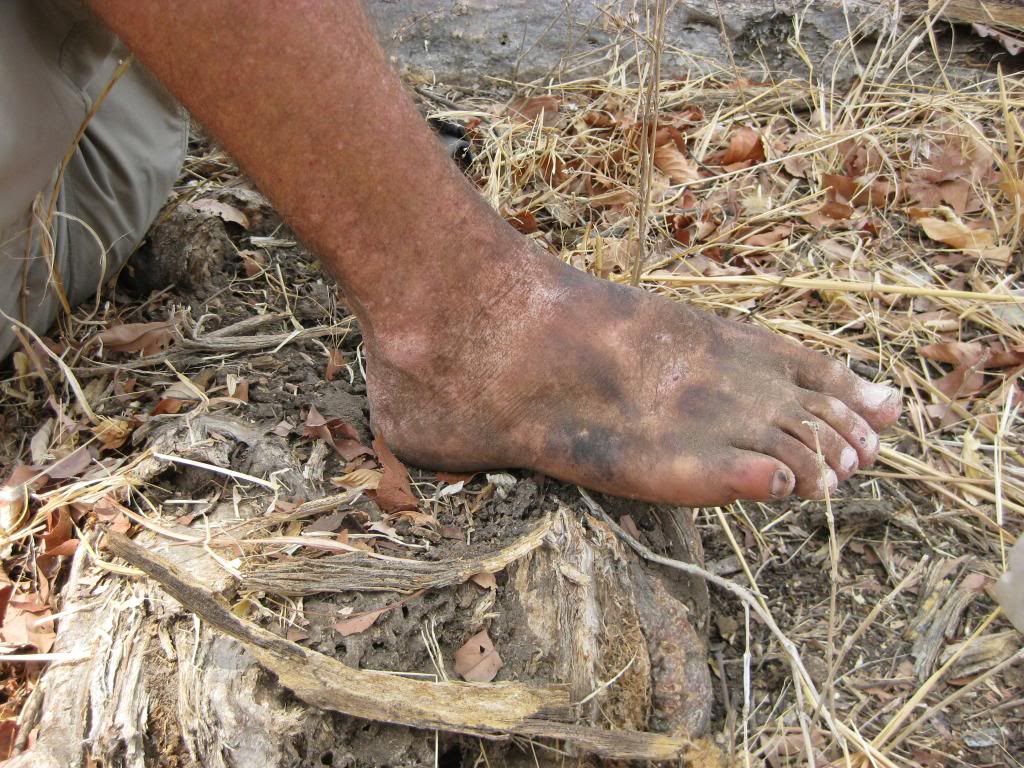 The team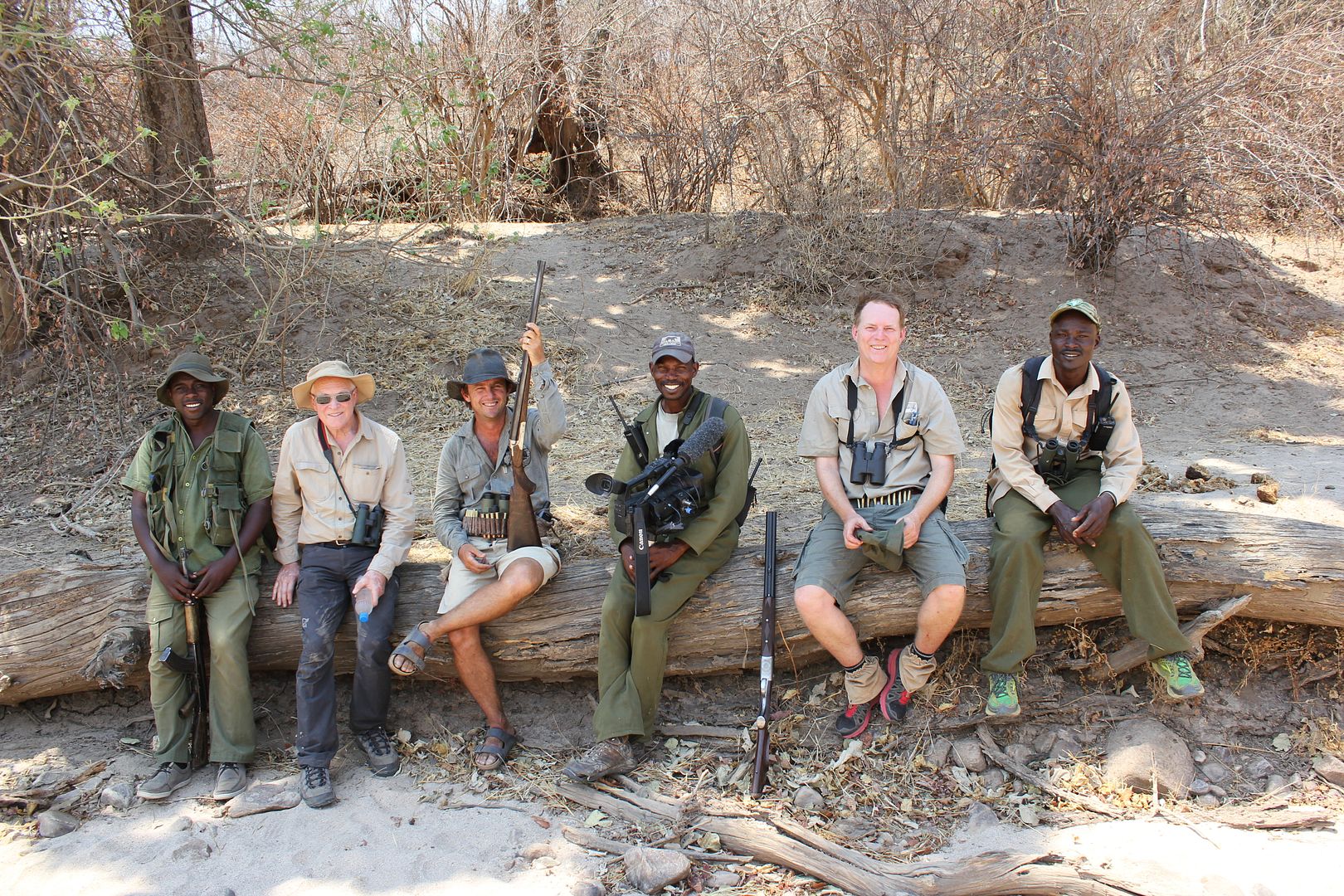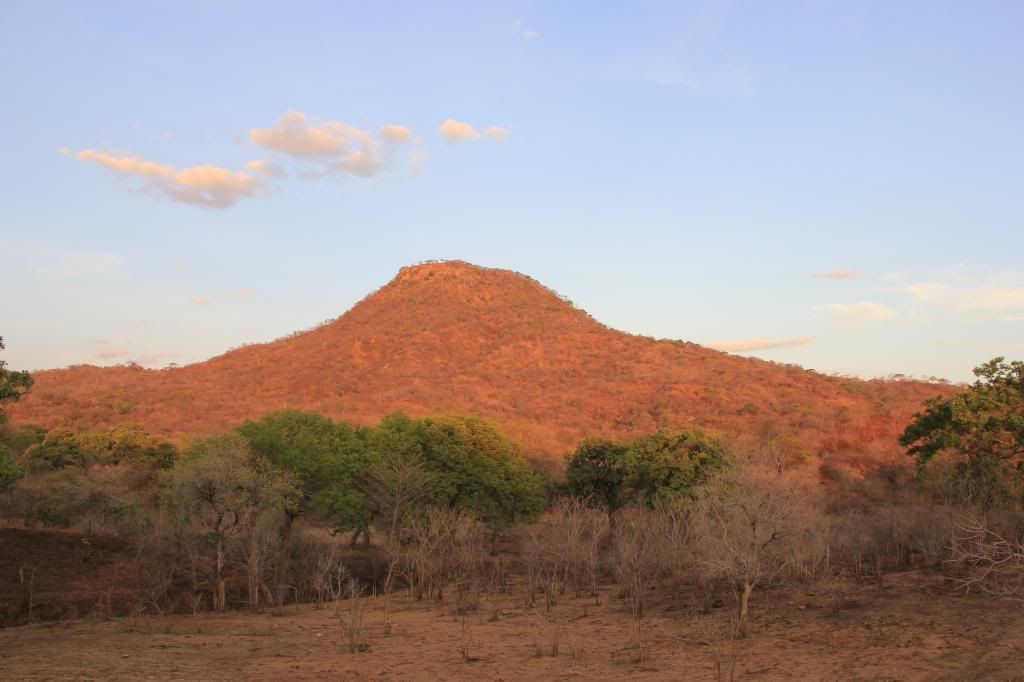 A bad day in the bush;
http://forums.accuratereloadin...811035831#4811035831
Good hunting
Carl Frederik