This is a report on our hunting trip to Namibia, Africa in August of 2006. A group of six (three hunters and three observers) spent 7 days hunting plains game at Gras Hunting Ranch.
I have have lived in Alaska for 26 years and have taken most of the big game animals Alaska has to offer. Moose, black bear, brown bear, and dall sheep some with gun and some with bow. I have hunted some of the most remote, God forsaken places you can imagine. I don't give out recommendations lightly.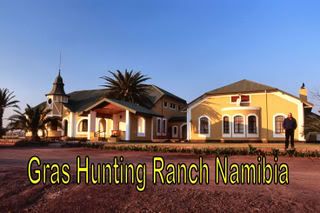 What a fantastic experience we had in Namibia. "The Gras Hunting Ranch is 145 miles (232km) south of Windhoek, the capital of Namibia. The hunting territories cover over 37500 hectares (92800 acres) of arid bush land with Savannah. It is known for its abundant wildlife and majestic views. Gras Hunting Ranch is considered to be one of the most beautiful game ranches in Namibia.†The lodge was built in 1906 and has been meticulously maintained. The accommodations are superb.
Our PH Errol Lambrechts is a first rate guide and will see to every detail of the hunt. Jannie Spangenberg the owner and his staff at Gras Hunting Ranch are experienced and provide a superior hunting experience.
info@zingelasafaris.com
Over 6 days of hunting I took 7 very nice trophies. (I could have taken much more)
2 Springbok, one measured 16 ¾ in.
Kudu
Gemsbok, over 40 in.
Mt. Zebra, very large
Warthog
Blue Wildebeest
Daily rate:
$230.00 US for 2 X 1
$310.00 US 1 X 1
$120.00 US observer/non-hunting guest
Trophy fees are very reasonable.
Accommodations are fantastic.
Game was every where. From one high lookout by the Fish river we saw a mixed herd of planes game to numerous to count. Springbok, kudu, wildebeest, zebra, hartebeest and baboon all were feeding together along the river. It was like a scene out of Jurassic Park the movie. Even Jannie the guide and host of the ranch remarked "Wow, that's a lot of animalsâ€. Everyone on the truck sat and watched in awe as the morning scene unfolded before us.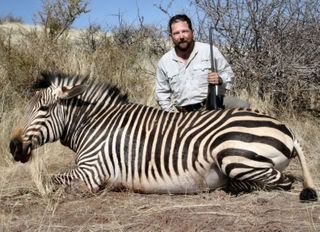 If you like to see lots of game and like to hunt "big open spaces†this is the spot for you. You can get some very nice long range shooting in Namibia or hunt the water holes from a blind.
Namibia is a thriving tourist destination with a stable government and has great hunting to boot. English is the official language. We give this outfit a 5 star rating.
If you ever get the chance to visit Africa I would recommend a hunt at Gras. Jannie, Errol, and the staff will make your stay comfortable and your hunt exciting and memorable. They are without a doubt "world classâ€.
Greg Rodgers
Eagle River, Alaska


GLRodgers