The Hunt:Day 1 -
The wake-up "call" came at 5:30 AM. We met at the dining tent at 6:00 AM and enjoyed a delicious breakfast. We were then loaded up in our respective trucks and on the road by 6:30 AM as it was just getting light enough to spot game. This would be our routine pretty much every day.
On this day our first task was to ensure that the rifles were still shooting to the right place. About 1 km from camp we stopped near a convenient termite mound, and Saeed, Nelson and Roy each shot a round or two.
With that out of the way, we went off in search of buffalo for Nelson. With a 10 day licence, 2 buffalo, a zebra, a kongoni, a warthog and an impala were on the menu. On the side, we'd also be placing and checking on baits for Saeed's lion and leopard. This proved to be extremely interesting, as I'd never done that before, and had not been exposed to many cats on my previous trip to Tanz in '06.
We happened to bump into a small group of about 5 dugga boys almost right out of the starting gates. We jumped out and tried to stalk them but they were aware of our presence and the wind was bad. Since it was so early in the hunt, we abandoned the chase and moved on.
The concession was quite visually impressive. The scenery is much like I saw in LU 5 in the Selous, but no river, and many more little valley's etc. The amount of game we saw was also impressive.
Timber poaching is quite extensive in the Kizigo concession. The poachers are after "Minga", which grows throughout the area, in relatively small quantities. Being from the forest industry I was quite impressed with the little "saw mills" that they would construct, and the sheer distance that they would have to transport the boards they cut (up to 80 km one way from what the Anti-Poaching Patrol told us, with 3 or 4 boards carried on a bycicle while the owner pushed it to town). Here are some typical "mills"...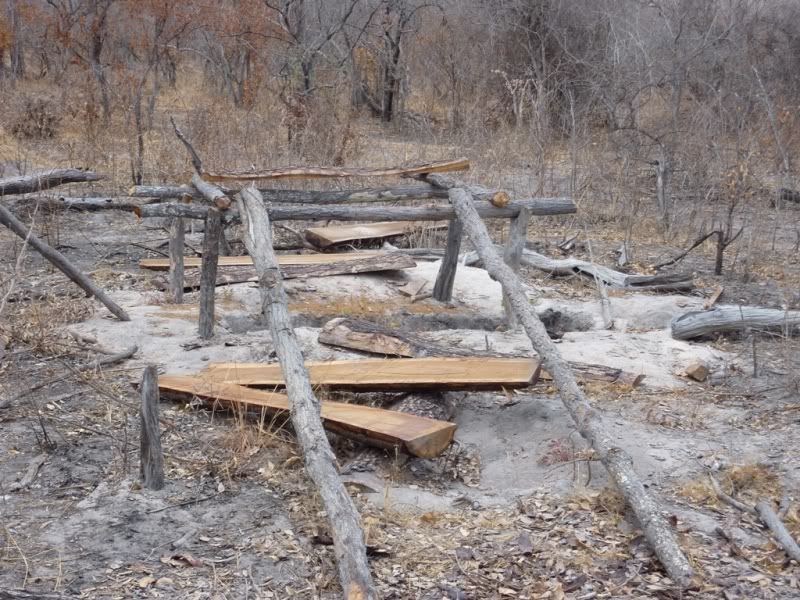 Here is stump that Saeed and the Vincent's found. Apparently it is a note from the poachers. Loosely translated I was told it says "We are here. Sorry for taking your wood. We need the money and will keep doing it."...or something like that (anyone able to give a more official translation?).
We had a nice lunch and carried on our search for buffalo. About mid-afternoon we were driving up to a spring and discovered a herd of buffalo that had just drank. When they saw the truck they got up and started moving off. We fell in behind and started tracking. It didn't take long to catch up (about 2 km). You can see them moving to the right a couple hundred yards in front of us in the grass...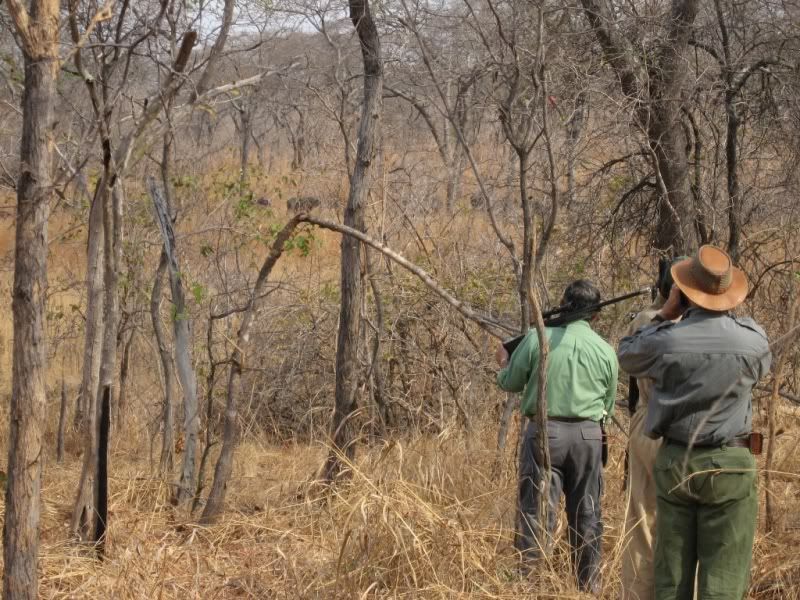 After about an hour of trying to get in close and sort out a good bull as the herd moved along and fed, Nelson finally got a good chance and drew first blood on the hunt with this nice buff...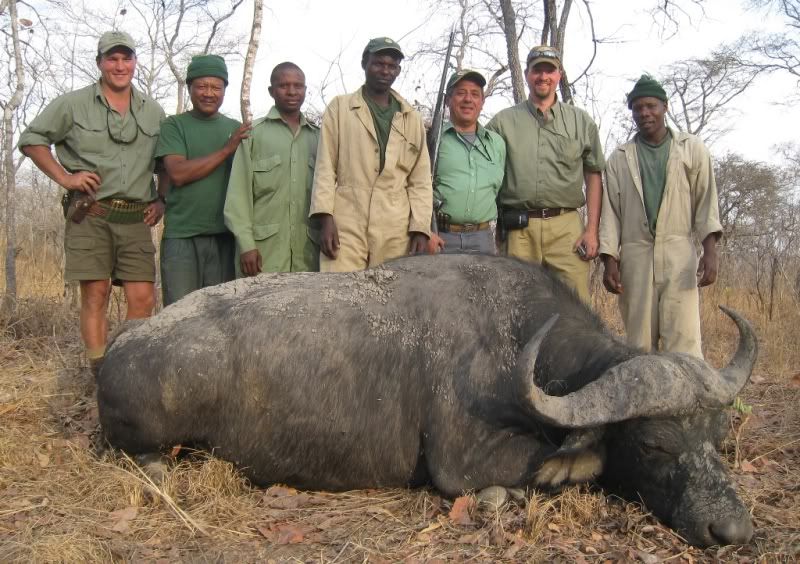 It took us till near dark to get the truck to the bull and get it loaded up. We were about 50 km from camp, so it was a pretty long drive back in the dark.
Dinner back at camp was smoked ham, pan fries and 3 bean salad. It was very good washed down with a cold Tusker, and a cognac by the fire ended a great first day.
Day 2 -
We were off at the usual time, with 2 buffalo halves in the truck to set up as bait sometime during the day.
We covered a fair bit of ground again. We saw a number of roan and kongoni. Nelson and Paul made a couple attempts at kongoni but they didn't work out.
About 11:00 AM we were descending into a little valley when we spotted some zebra out in an open area not far from water. Nelson, Paul, Wayne and Emmanual took off on a stalk. After about a 1/2 hour they managed to get in on the herd and got a good shot on the stallion. Nelson hit it well and it was down very quickly.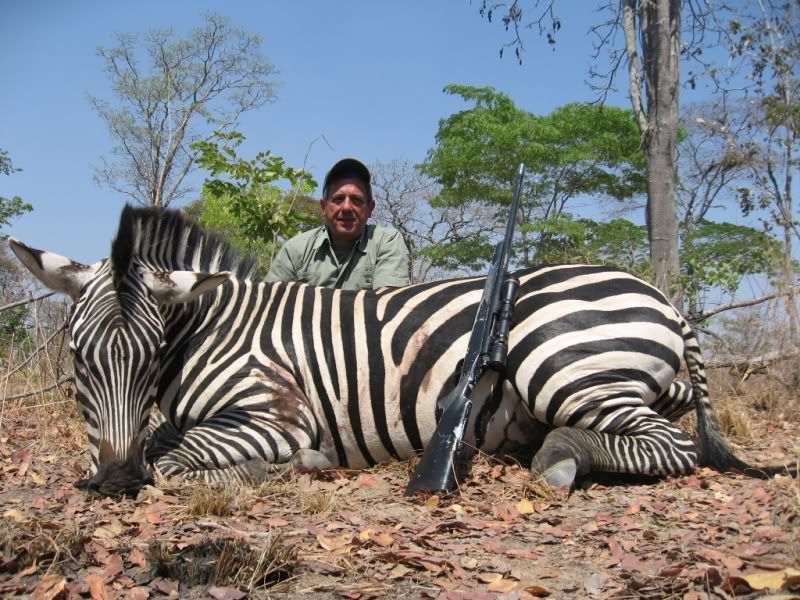 Once the boys had the zebra skinned out and loaded in the truck (more bait!), we had a nice lunch under a shade tree.
That afternoon we set up two baits. A buffalo hind for lion and the zebra front for leopard.
On the way back to camp we disovered an interesting kopje (really, just a huge chunk of granite) and walked up on it to watch the sunset. We decided we'd come back another evening when the moon would be full so we could watch the sun set and the moon rise properly (with sundowners!).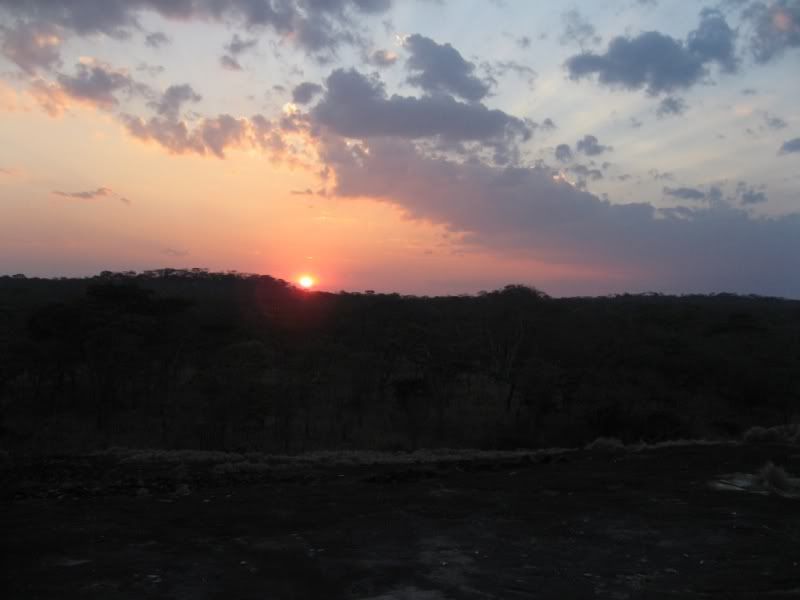 At camp the usual cold beverage awaited us on our arrival, and we had cape buffalo oysters for a starter. Surprisingly good! Dinner was fresh kongoni filet, beef, rice, okra in a red sauce and salad. We were eating like kings and it continued like that daily. I can say unequivocally that the food on this hunt was 10x better than I'd experienced in Tanzania before. That the staff tried so hard to use wild meat every meal was very much appreciated by me.
Day 3 -
I will note breakfast because it was the first that offered buffalo liver and onions. Along with eggs, bacon and sausage, I probably ate enough for the whole day!!
I'll also take this moment to say a few words about the weather. The daytime highs while we were there ranged from around 30 deg C up to 38 deg C. The average would probably have been 33/34 or so. For a guy from the mountains in Canada, that's really friggen hot!! We only get a few days of that temperature here each year, and our nights are much cooler, so the daytime highs don't last very long.
At night it would get down to about 15 deg C. Apparently to some folks thats cold!

I found that I needed nothing more than a sheet to sleep under, and having morning coffee before heading out for the day was by far the most comfortable part of the day. Can you tell who's from Canada, and who's from Dubai in the pictures below?
Today was mostly spent looking for and stalking hartebeeste and checking baits. We had a couple of unsuccessful stalks on the kongonis, and found only hyena tracks at bait #1.
We set up another bait that afternoon at a likely looking waterhole where lion tracks had been spotted previously. We saw a couple big kudu bulls on the way in to the waterhole and moved a nice lone ele bull off of it when we arrived.
This nice baobab is from the little valley where we set up the bait that afternoon...
Day 4 -
Today Paul decided would be an impala day. We took off early knowing that it would be a long day. We had a 100 km drive one-way to get to the river where the impala live.
There are very few baobabs in the high part of the concession. Once you get down to the bottom near the river there are quite a few more. On the way however, we stopped to take a few pictures of this big old baobab...
Here's one of our trackers, John, with a few fruits from the tree...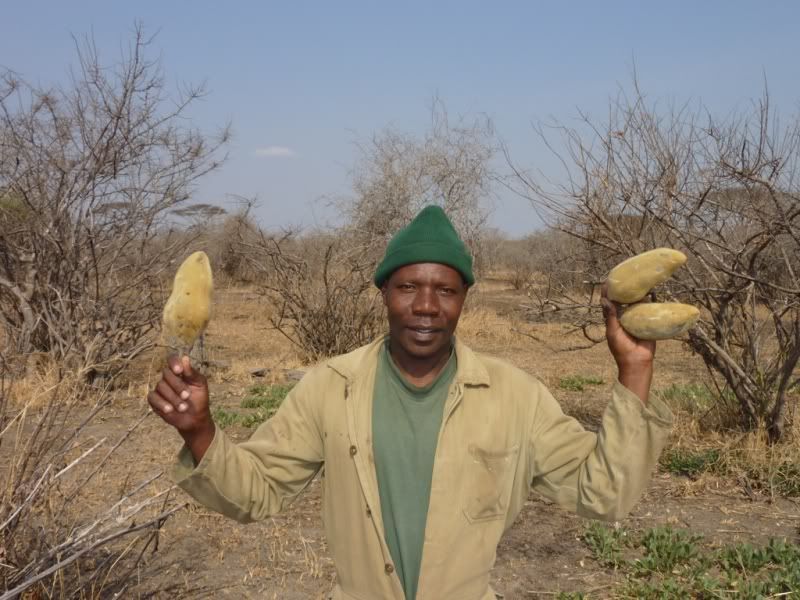 Shortly after stopping for the photo-op with the baobab, we had to stop to let this little guy cross the road...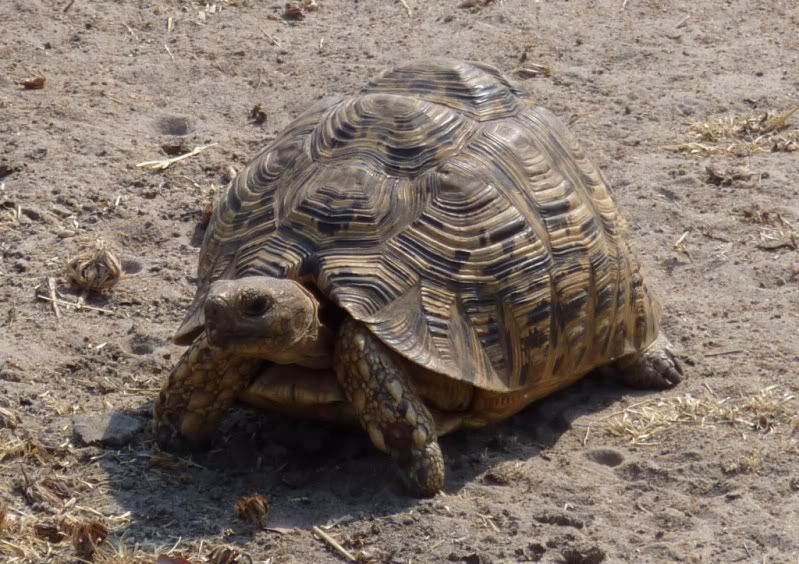 We saw quite a few impala but did not find a good ram for Nelson. We covered a lot of territory though and saw some really interesting country, and lots of game. This lion kill was only about 50m from the road...
On the way back towards camp we got word that a lion had been spotted at the bait we hung the day before. Paul decided if we put pedal to metal that we would be able to get there before dark and hopefully get a look at that cat and see if it was worth getting Saeed and Alan excited about. We ran the "Kizigo 500" and made good time. Sure enough when we got there, the lion was still there! We got a pretty good look at him, and unfortunately he was still a little too young. Paul estimated him at 4 yo. Here's a pic of him through the foliage...
We got back well after dark, but made it in time to enjoy Walter's first BBQ of the trip. We had BBQ Kongoni, french fries, and a tomato salad. Mmmm.
It had been a long day, and was testament to the sheer size of the concession...
Day 5 -
We were on a mission to find buffalo today. We got started at the usual time and we only got about a half hour out of camp when we found fresh buffalo tracks. It looked like a small herd of about 7 or 8 daggaboys. It didn't take long to decide to go after them.
We were only on the tracks for about 20 minutes when we bumped them. The circled through some thick cover and long grass in front of us, so we didn't get a great look at them - but it looked like there were a couple mature bulls in the group, so we carried on tracking.
We caught up to them in about another km. This time they were wanting to bed down in some tall grass. We were hidden behind a termite mound, while Paul surveyed the situation and tried to come up with a plan to close in. The wind swirled and another small group of buffalo we had not seen got our sent and stampeded past towards the buffalo in front of us, taking them with...
We kept on the track for another few kms, and bumped a giraffe and later some zebra that both spooked the buffalo. After a total of about 5 kms and about 4 hours, we caught up the buffalo contemplating bedding under a few trees in some grass. Paul, Nelson, Emmanual and Wayne had to "butt scootch" close to 125m in order to close the distance across some open ground, and then crawled there way into position for a shot. Nelson creeped up on to the sticks when a good mature bull showed his vitals, and made a great shot. The bull only went about 100 m before dropping and breathing his last.
It did not take long for the vehicle to show up and for the buffalo to be cut up and loaded in the truck. We headed back to camp for a late lunch and an afternoon rest.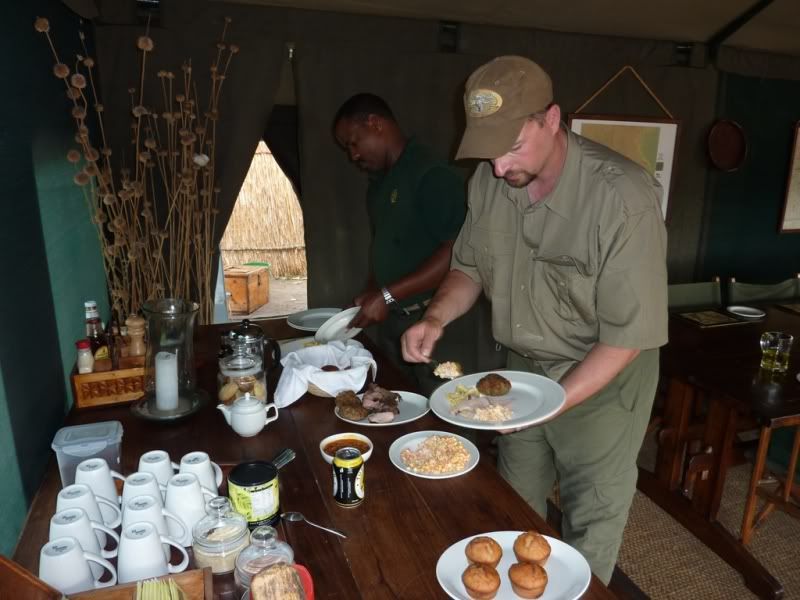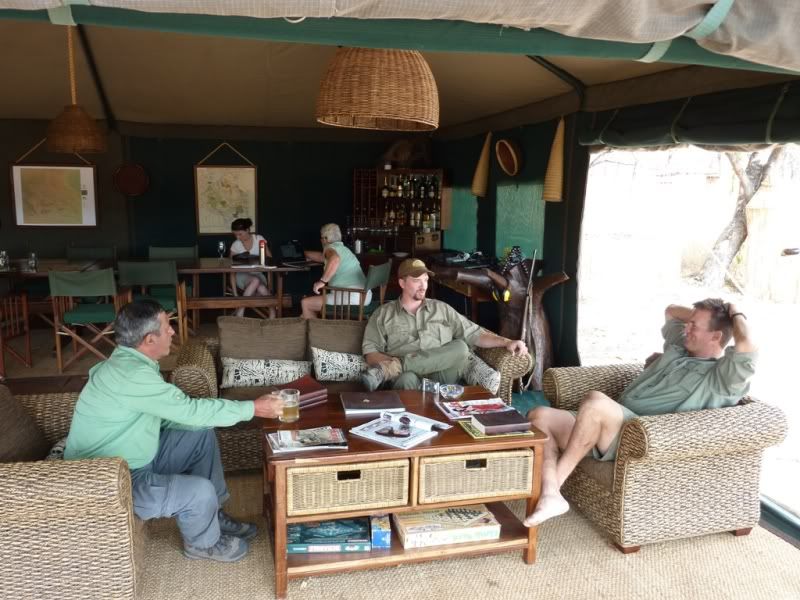 Tonite would be the full moon, so after a brief rest we headed out with a well stocked cool-box to go for a "chicken hunt" that would end up at dusk where we had found the nice rock outcrop from a couple days earlier. Rene joined us for our relaxing evening hunt.

Nelson got a couple of francolin on our drive, and then we went to "the rock" about 1/2 hour before sundown.
(If you look in the background, you will see the game scout. He is talking with his wife in Rungwa on his cell phone!!)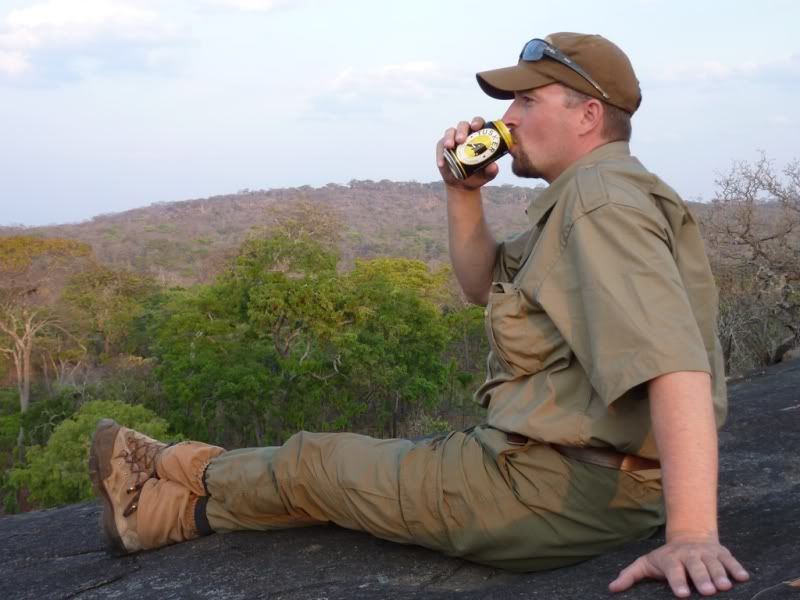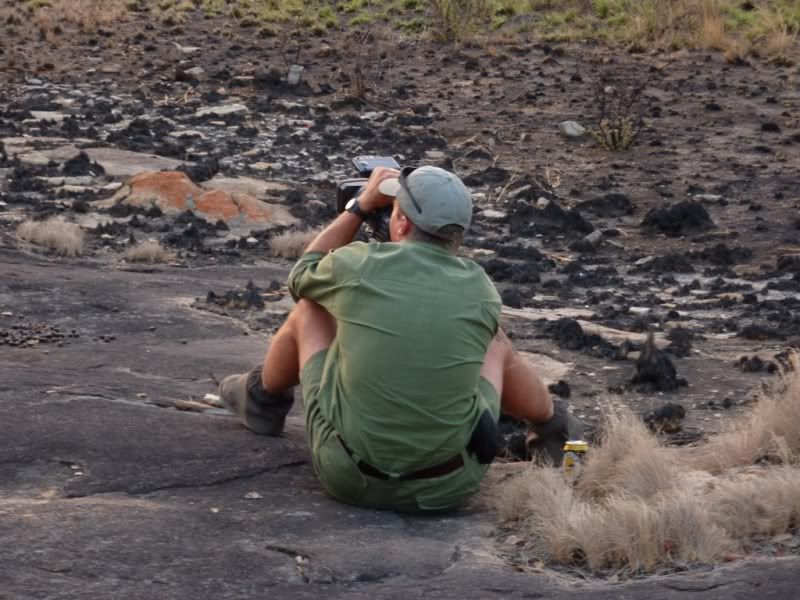 We were rewarded with this beautiful sunset!
We got back to camp shortly after dark. Saeed and the Vincents had a big day...Roy got a buffalo, and Saeed got a buffalo, a Roan and a Reedbuck!!
Dinner that night started with buffalo-tail soup and the main course was kongoni filet.
Day 6 -
Today the "A-team" (Paul, Nelson and Wayne) were going to look for a warthog, some more guinea fowl and set up a trail cam at one of the lion baits that were getting hit.
Saeed asked if I'd like to join him, Roy and Alan that day because they had an opening. Apparently Walter had been voted off the truck the previous day!

Of course I jumped at the opportunity and away we went.
We were only about 10 mins from camp when one of the trackers spotted a leopard sitting on a large limb near where a bait had been hung, about 350 m from the main road. It was a nice looking tom, but we couldn't judge well how large it was. It was my first time seeing an adult tom leopard in a tree and it was fascinating. He sat there for a few minutes watching us before he casually got up and walked away. The light was still low, so the pics didn't turn out well, but if you look close you can make him out clearly...
Alan decided he'd go back in the early afternoon and set up a blind, and he and Saeed would sit in it that evening.
In the meantime, we went looking for a buffalo or something. We took the same road that Nelson had got his buffalo from the day before and did not go much further before zebra were spotted in an mbuga, and Alan, Saeed and Roy were quickly out of the truck making a stalk. About 20 minutes passed while they worked their way into position, sneaking through some whistle thorn and other brush to get to the edge of the opening.
While the were sneaking in, I was able to keep an eye on the stallion with a pair of very good binoculars. I was not able to see the guys anymore, but the anticipation built as I knew they must be getting near where they could take a shot. After what seemed like forever, while I was watching the stallion, I saw the impact of the bullet and its exit, followed by a "boom"! First time I've ever witnessed that so clearly! The zebra ran off but you could see he was hit hard. It only went a couple hundred metres before piling up in some trees.
We spent the rest of the morning looking for buffalo and went back to camp for lunch. I spent the afternoon catching up on notes, organizing photos and writing a short report for AR.
Alan and Saeed went to sit in the blind at 4:15pm. Unfortuntely they did not get a look at him that evening, but they heard him just as they were leaving the blind. They would go back the next morning.
That night we had Eland Filet Steak with corn fritters and biltong appies.
NB: Saeed and Alan had spent the morning in the blind again, and got a very good look at the leopard. Alan said it looked big enough in the tree but not as big when it was on the ground approaching the tree, so they decided to pass on it.
Day 7 -
Today I was hunting with the "A Team" again

. Breakfast was hi-lighted by kongoni liver and onions.
We headed south towards Atwell Fly Camp...very beautiful country. The road takes you around some very scenic rocky ridges and green valleys, and through a cool low pass. We were looking for warthogs but did not find any shooters. We did see a lot of game, including a herd of eland with more than 80 animals, and a herd of buffalo that had a bull in it that Paul was convinced would go 44 to 45"!!!!
After a delicious lunch (empinadas and buffalo soft tacos) and a short nap, we went to check a few baits. While we were checking a bait near a main road not far from the Kilumbi air strip, Alan, Saeed and Roy happened to show up with the same idea. They pulled in and we walked over to see how their day had been going so far. After a couple minutes I saw Saeed say to Alan, "Get your camera going", and then jump out of the truck. He walked over a little ways and started looking under a tree at the litter on the ground. I saw him take a handful of something out of his pocket and sprinkle them on the ground. Then he picked one of them up and called the Game Scout over and showed him what he "found" then asked if it was OK to eat it? The Game Scout looked totally confused, so Saeed popped it in his mouth and chewed it up and made a show of how good it tasted. Then he looked around on the ground again, found another one and offered it to the Scout...who ate it and liked it too! Pretty soon all the trackers were over there looking for nuts that supposedly had fallen out of the tree.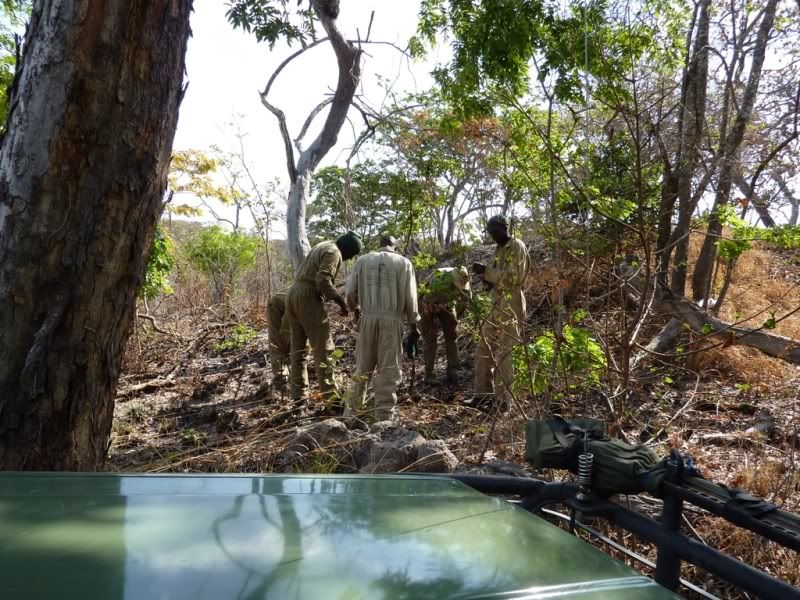 Some of the guys were looking up into the tree with binoculars trying to see if there were more nuts. I was laughing so hard that tears were running down my cheeks. The nuts were pistachios, and one of the guys ate one including the shell. They were convinced that the nuts had come from that tree, so I am sure Saeed has probably caused these guys to stop at every one of those trees in the future. I don't recall laughing as hard on any hunt before...Saeed and Walter had me in stitches most of the time.

Afterward, we're back on the road looking for warties. We did not have any luck, but we did find a petrified Barney! Check it out....
Dinner that night was buffalo oyster hors d'ouvres and buffalo-tail stew for the main course.

As my Zimbabwean friend would say, I was "properly chuffed" with all of the wild game on the menu.
Day 8 -
Today was a camp day. My back was giving me some trouble from bouncing around in the safari truck and I thought it would be a good chance to rest it a little before it was my turn to hunt. Paul, Nelson and Wayne would be going down to where the impala are again, so they'd be having a long day. And besides, today Walter was staying in camp to do another one of his famous BBQ's...how often do you get a chance to help out with something like that?!
It was a very relaxing day...gotcaught up on my notes and organizing pictures etc. Learned some Kiswahilli from the camp staff. And one of the hilights of the day was discovering "Pink Gin"...they are darn good!!

About mid afternoon Walter and Rene got the oribi nicely timmed up and rubbed in Rene's homemade conconction.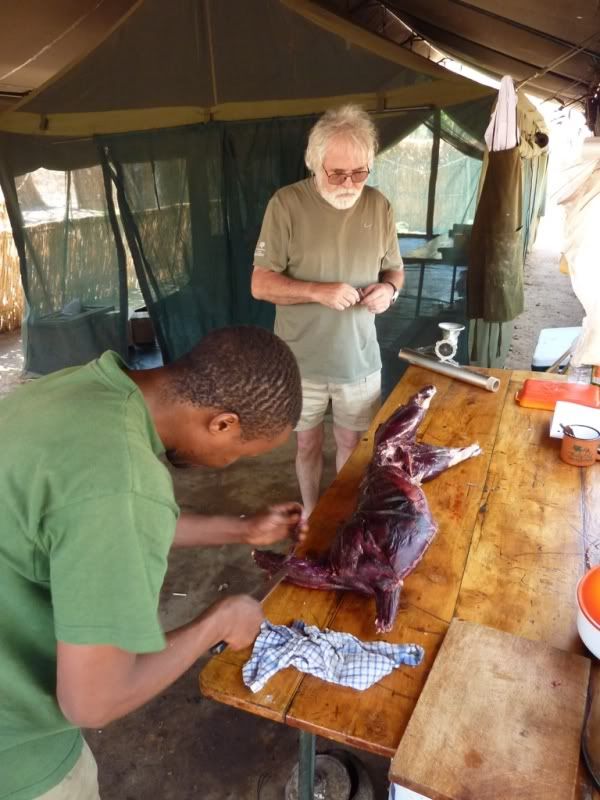 Then the boys got it on the spit
and cooking over the fire. This really is the life!!....
Basting with Tusker...
When Saeed and crew got back we found out they had gotten a beautiful sable and a nice kudu bull.
Nelson, Paul and Wayne cruised in to camp very late, with a nice impala ram in the back of the truck! Here's a picture from earlier in the day...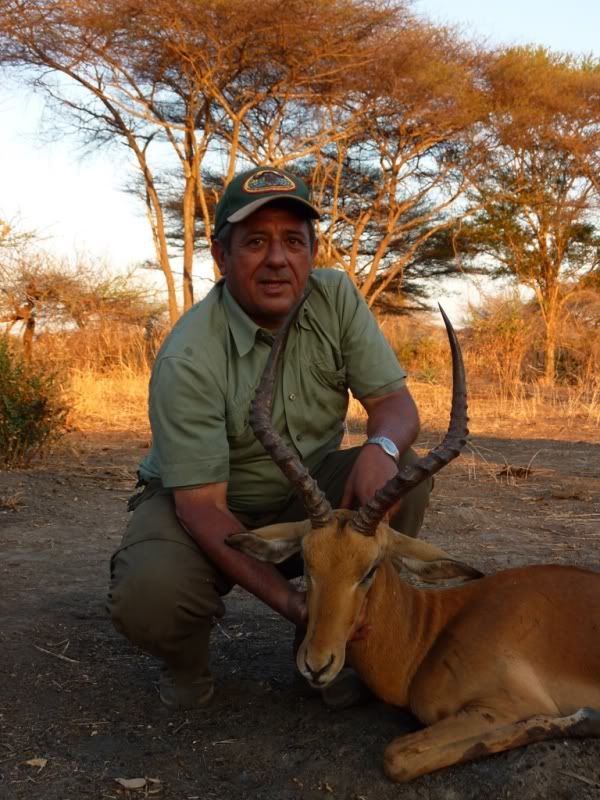 An excellent day all around!
Day 9 -
Saeed invited me to hunt with him, Roy and Alan again and I gladly accepted. We were after buffalo and found tracks in the Atwell Fly Camp area a long ways south of camp. We tried to sort out the tracks for most of the morning, but couldn't freshen them up enough. We went around a large kopje toward the area where we had seen the 44+" bull two days before. Just as we were getting close to a spring, we cut another set of buffalo tracks...much fresher this time.
Roy, Saeed and I hung out at the truck while Alan and the two trackers tried to sort the tracks out and figure out where they were going.
I recall two things very clearly...it was bloody hot, and Saeed gets bored pretty quickly.

Its no wonder he and Walter get into so many antics!
After an hour passed it was approaching noon and our stomachs were growling, so we decided to move the truck closer to the korongo under a shady tree and break out the lunch box. Alan showed up just as we were set up so we had a relaxing lunch.
Alan and the trackers had run into tracks crossing every which way and were not able to sort out what direction the buffalo had gone. So while we were enjoying lunch, the two Vincents were discussing strategy. It was very interesting and entertaining to watch.

Alan really wanted to climb up the rocky ridge on the far side of the valley to look down into some of the mbugas along the dry river. Roy didn't think it would work and ended up talking Alan out of it. It was really hot, so it would have been a tough climb up there anyway.
After lunch, we jumped back in the truck and followed the road up the valley. It actually crossed the korongo just up from where we had lunch and then climbed a ways before crossing over the end of the ridge that Alan wanted to climb. Since we had gained some of the elevation anyway, there was no stopping Alan now. He got out of the truck and started climbing the ridge. We all had that look like, "well, if you can't beat him, might as well join him" and we got out and followed him up the hill.
After about a half hour of climbing we were only a little ways shy of the highest part of the ridge, but we got a good view of the valley below. Sure enough, there were about a half dozen buffalo grazing in one of the openings about a km away!!
The buffalo are in the narrow opening you can see in the middle of the picture...
Alan had a big smirk on his face....I am sure he wanted to say "I told ya so!".

You can see the smile in this picture..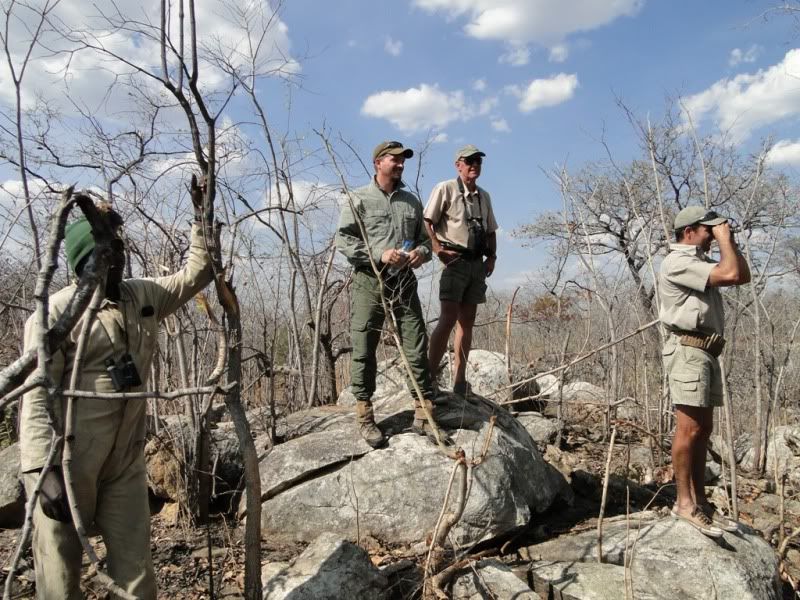 So we sent one of the trackers back to the truck, and the rest of us bailed off of the ridge down in to the valley bottom. Once we got down, we met the truck where we had lunch and grabbed some water, then took off in the direction of the buffalo.
After about 800m, we could see a couple of the buffalo in some grass in an opening. Roy was the hunter, so he, Alan and Saeed stalked them while the tracker, Scout and I hung back. They were only gone about 10 minutes, when we could here a bunch of buffalo coming through the bush towards us. It sounded like they were feeding and we were between them and a spring behind us. So we retreated again. It turned out that the buffalo messed up the stalk for Roy and crew, and the buffalo got spooked and ran off a ways going away from us.
So, we got on the track and followed them. We were on the track for about a km when we caught up to them again. They were milling around in some shade, getting ready to bed down. Alan and Roy snuck in as close as they could get, and Roy got a shot at the nicest one just as it was about to lay down.
It took off at the shot, and everyone took off running after it. After about 200 m, Roy, Alan and Saeed caught up to it and Roy took another couple shots at it as it ran off. And the chase started again.
Another 100m further, they caught up to it again...it was down in a little depression, looking sick. Roy took another shot at it, and it ran off into a little waterhole where it got mired in the mud. Roy gave it another couple shots and finished it off. It was a heckuva fun hunt to be part of!!
So, now we've got a dead buffalo, stuck in the mud in a little waterhole/stream bed. Saeed had a lot of fun giving it back to Roy after years of recieving it. It was too funny. Roy handled it very well too.

I nearly tore a muscle from all the laughing. Right then, I honestly could not think of another place in this whole universe that I would have rather been!
Here's Roy's buffalo...
It took quite a while to get the truck in, and then when it arrived we had to winch the buffalo out of the little ravine that it was in. And sure enough, a tire went flat while we were at it!
After we got the buffalo loaded in the truck, we drove back to camp 50 km in the dark.
Supper that night was Impalla Carpaccio, followed by buffalo lasagne and avacado salad. I think I gained 3 or 4 lbs.

Day 10 -
Nelson's last hunting day.
We were on the hunt for chickens and warthog. First order of business, however, was to check on baits. We headed out to one that was near to the "sunset rock" that lions had been hitting and where they had set up a trail cam the day before. When we got there lions had been on it again, and had almost pulled the bait completely out of the tree. We wanted to get a look at the pictures on the camera, so we decided to quickly run back to camp and download them onto a laptop.
The pictures on the camera were great. A nice lion with one lioness and two cubs. The lion was a little young unfortunately.
After that, we hit the dusty trail again. We saw lots of game and quite a few warties, but no shooters. Nelson did fill up his quota of guinea fowl though...
Later in the morning we found a troop of baboons. Nelson had never taken one before and had been toying with the idea of taking one on this trip. Since it was his last day he decided to go for it and take his first. Paul and Nelson made a short stalk and got a shot at the biggest male in the troop.
We covered a fair bit of country but just couldn't turn up that nice warthog that we were looking for.
We did see what may have been the last oestrich in the concession and this nice kudu, just before dark....
This was a common scene just before dinner, or first thing in the morning...Saeed at his "office"!
You would not believe how much effort Saeed put in to getting and collating everyone's pictures, and keeping everyone at AR updated on our daily adventures. Saeed would take advantage of every spare moment, and stay up late in his tent, to type up notes from the day, and then log on to the site with the sattelite modem. He has more energy than anyone I know!
Dinner that night was more Impala Carpaccio followed by delicious Sable Meatloaf.