Outfitter: CharltonMcCallum Safaris
Area: Dande Ward 2 and Ward 11, Zimbabwe
PH: Rich Tabor
Dates: 1 - 10 November 2013
Species sought: Tuskless for myself, buffalo (and leopard on optional quota as a last minute add on) for my wife
Weapons: Myself Winchester Model 70 in 416 Rem Mag with a Trijicon RMR sight and Trijicon 1-4 x 30 as back up sight.
My wife would use her custom 500 NE falling block with RMR sight.
Her Ruger No 1 in 416 Rigby with Zeiss 1.2 - 5x scope would serve as precision weapon for both of us.
Ammunition: CEB Safari Raptors in 370gr and Barnes flat nose solid in 400gr for the 416s
CEB Safari Raptors in 475gr and Safari Solids in 510gr for the 500NE
Airline: SAA from Johannesburg to Harare
This is a hunt that we had been looking forward to for 2 years, especially in the light that it would be the inaugaral dangerous game hunt for the 500NE that my wife had built for her.
I am always ready to hunt tuskless and we had decided on buffalo as the most appropiate kick off for the 500's dangerous game career.
No reward in life is handed out easily. A custom gun build is a long and arduous process, the SAPS in all their wisdom refused to issue a gun license for the 500 on the first go. We had planned a pregnancy for the 2 years between our last Zim hunt and this one - we were rewarded with twins and my wife's hunting career was nearly cut short by the pregnancy.
As a final bonus buffalo prices jumped in Zim and the Rand collapsed by 30% against the US$.
Therefore we were relieved to move into our hut in Mukanga Camp at last, eat your hearts out - 6 hours from locking our front door to opening our front door for the next 10 days.
I was especially relieved - try 118 degrees F over the Zambesi Escarpment in a Cessna 206, that got me terminally airsick. Myles was also glad to feel solid ground under his feet!
That afternoon we launched a couple of bullets to check zeroes, all the rifles had survived the travel with their zeroes intact. We could feel the apprehension in the air about a 110lb lady pitching up with a 8lb 500NE with buffalo in mind. Lorinda acquitted herself well and left the impression that she was in control of the 500 and not vice versa.
Rich explained to us that as were late in the season the buffalo was to be shot in Ward 2 and the tuskless and leopard in Ward 11 as their quota had basically been finished. Numerically the Wards seem to be very distant but they are actually adjoining areas. I immediately took a pain tablet as Murphy always travels on my heels, the Border War was upon us. A line was drawn in the sand for our hunt and the animals would play it to their advantage, we were going to play a lot of chess in this hunt to deliver the invitations for a ride in a Toyota to our designated prey animals.
Despite the fact that we often hunt in summer in the South African Lowveld the first day hunting was tough on the system. We were keeping up but needed to settle in the game.
We played around with a big buffalo herd and nearly had a shot opportunity, maybe fortunately it was not to be. Not exactly the bull Lorinda was looking for, too far for the 500 and it just didn't feel right. The morning illustrated that buffalo physics are still different to Newtonian physics, the vector diagrams just don't work. You spend more time walking away from buffalo than to buffalo but still end up getting closer to the buffalo.
The afternoon Murphy accompanied us to the Angwa River.
We were looking for 3 things in no particular order:
1)bait
2)male leopard tracks
3)elephant tracks or elephants
We found 1 and 2. Murphy helped with the bait. We find a herd of impala in the river bed and sneak closer. Rich throws open the shooting sticks, I peek at the tiny looking impala through the scope and think are you f@$&king serious? He moves me to a boulder a bit closer, a bit better but I don't have a clear shot. We sneak closer still and get on the sticks, this looks better, I think it is about 160 yards and am happy. We identify the ram and I squeeze off a shot. The ram drops at the shot. And so does the ewe behind it. Oops, neither of us saw it. Well two with one shot or maybe three, does a fetus count? Don't really like doing things like this but at least we can start swinging some meat.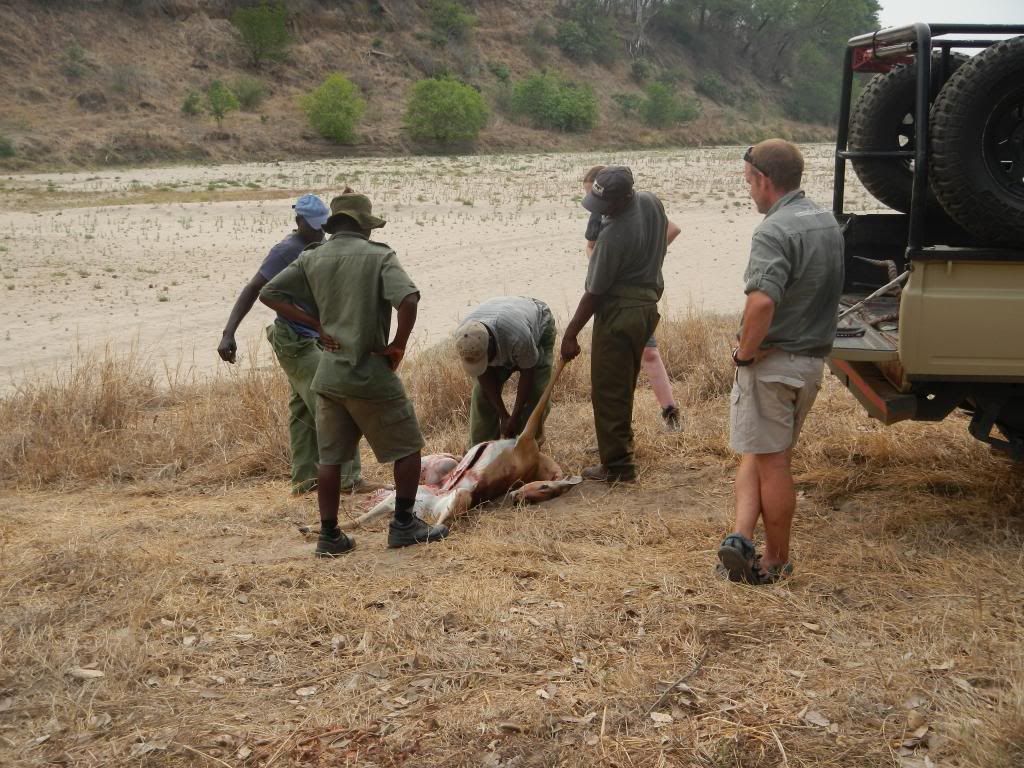 Day 2 to 4 we settle in a bit of a routine every day. We do ward rounds, just like doctors. We check Ward 2 for buffalo sign, the trackers get us on the herds, we sort the herd and never find a shooter. We check Ward 11 for activity on the baits, we check for elephant tracks. No positive results on either of the rounds.
For Lorinda the Angwa River also delivers her first blood for the hunt, a walking baboon gets invited to the Toyota with a good 160 yard shot. The baboon receives instant promotion to scent drag duty.
I am offered the opportunity to perform a gentlemans civic duty. We go for a walk in Ward 11 hoping to cut fresh elephant sign, we however find fresh poachers, they run, the trackers and scout give chase, I shoot one of their dogs. I always feel as if I have accomplished a great deed if I can shoot a poacher's dog. Rich ignores me when I ask for a full mount to be skinned, WTF no sense of propriety!
(Lesson: when your master flees, flee faster)
Lorinda transfers an impala from Ward 2 to Ward 11 for leopard bait.
On day 4 Mike Jines and Buzz get their lion and cluster of bushpigs. We enjoy a festive mood around the camp fire. We ate bushpig for 3 days...
Day 5 - elephant contact.
I get the impression that Rich and Buzz are worried a little bit about the lack of elephant activity in Ward 11. I am stoic, it is hunting, somewhere we'll connect with opportunity, lets just keep on hunting. Buzz sends Myles a message to ask for quota transfer of tuskless to Ward 2 from Ward 11.
The afternoon we cut elephant tracks in Ward 11 and follow, they lead us down to the Mukanga River and cross into Chewore South, did I expect anything else? Rich starts heading downstream, I am thinking Lorinda is not going to like this... The soft sand plays havoc with her right knee.
After walking a couple of kilometres we bump a herd of 18 elephant drinking from holes in the sand. There is no cover, the left bank is a 30 metre wall but the wind is favourable. We sneak in closer, the sticks go up. I take a peek through the RMR, no go, I am uncomfortable with the shot, it is too far. I ask Rich too move us closer, I peek again and feel confident.
There is a single tuskless and we wait for an opportunity, a side brain shot presents itself and I take it. The elephant drops at the shot but we all know I fluffed it, the tuskless just didn't drop correctly. Confusion descends as the elephants start running, the tuskless gets up and is swallowed by the herd. I think harsh thoughts. Fortunately we could follow the progress of the tuskless, she drops behind and I can send a shot into her pelvis. Immediately following a 500 bark on both sides of me, a wonderfull sound. I manage to pump another shot into the abdomen as she ascends the right bank.
We follow up immediately, I am feeling better - at least we have got 4 shots into the body and she will slow down. We find her right on the bank lying on her left side, still alive but barely. Rich guides me in behind her and I end her life with a shot between the ears.
My imperfectly executed brain shot went perfectly into the front of the chest. No excuses - I made a poor shot, back to the rifle range for me boys and girls.
Opinion: On dangerous game Lorinda and I always try to back each other up. We leave our egos at home. There is only 2 kinds of trophies - those that ride on the back of the Toyota and those that don't despite the drops of blood. Despite my poor shot this elephant didn't need their shots but I was sure gratefull for the extra holes in my minutes of despair. Their shots had increased our probability of finding the elephant many times over.
I felt hugely relieved when we found the tuskless down. I have faced a handfull of charges with deadly intent in my life and will do so again if need be, the element of danger is exciting in dangerous game hunting and that is why we do it. My heart will be empty when the unarmed trackers have to take up a blood trail to find my ego.
Besides we both get more trigger time and that is fun.
Day 6 - Elephant recovery
We are up early to start recovery of the tuskless. It is a boon that she is lying in an accessible river. Buzz and Mike Jines are friendly enough to help with the recovery and as an added bonus they check our baits for leopard activity.
Lorinda fires a 475 gr Safari Raptor into the elephants pelvis and the bullet is recovered from the stomach. All the shots from the previous day gave complete penetration. My failed side brain shot hit the aortic arch. I pace off the distance - 60yards, maybe too far but then again you have to capitalise the opportunities on offer.
With Buzz and Mike checking our baits we are freed to go to Ward 2 and continue with the buffalo quest, after playing with some buffalo we go back to Ward 11 to swing some more leopard bait.
Day 8 - the day of the buffalo
While doing ward round we get the heads up from Alan about a small buffalo herd that has crossed a road in the eastern part of Ward 2. On the way there the trackers spot a set of dagga boy tracks. They display excellent skill and we jump him beneath a baobab tree, he runs stops and look at us and vanish into the shrub. A lovely old boy but just no chance of a shot. On te way back to the Land Cruiser the trackers apprehend 2 poachers, they have axes and snares but no hard evidence of poaching and they get sent home minus their tools.
We pick up the tracks Alan alerted us to. It is a short follow up but it is blistering hot, the wind swirls and the small herd run. Rich is reluctant to waste time on the herd in the prevailing heat and swirling wind.
We spend the middle of the day having lunch at a pool in the Urere River. A poacher's dog visits us and gets whacked. I don't even ask for a full mount this time.
We follow buffalo tracks from the Urere River, it is blistering hot. Lorinda is overheated, fed up and ready to send buffalo hunting in November to hell, but still we trundle along. I experience it as a tough walk, we are dehydrated despite drinking as much as possible, the earth radiates heat like a furnace. The rifle barrel burns your hand when switching position and my enthusiasm has petered out.
Stumbling along behind the trackers I notice a bull track in the sand, it looks promising. We are close to the crest of a rise and a typical resting spot for buffalo. My interest is suddenly piqued. The guys find the herd and Rich identifies a shooter without a tail. After a bit of maneuvering they jump up, the bull runs, turns broadside and looks at us. Lorinda takes a broadside 50yd shot with the 500. As the buffalo vanishes into the brush I take a swing with the 416 Rem Mag and connect it somewhere.
We wait 5 minutes and follow up, a sick buffalo is standing in the brush. Rich IDs it as the right bull and we start pumping bullets, barrels are boiling and 4 416's and 5 500's later the buffalo is down.
The grand old boy had the attitude of a real fighter glaring down at us. Lorinda's first shot was a solid double lung hit and my swipe through the brush broke the left back leg, he just didn't have anything left to charge with.
He is a grand old warrior - his tail has been bitten off, there is an abcess next to the tail and he is covered in old lion scratches. It was a privilege to see such a monument to the species being taken by a woman who loves hunting with her own custom rifle in a old classic calibre.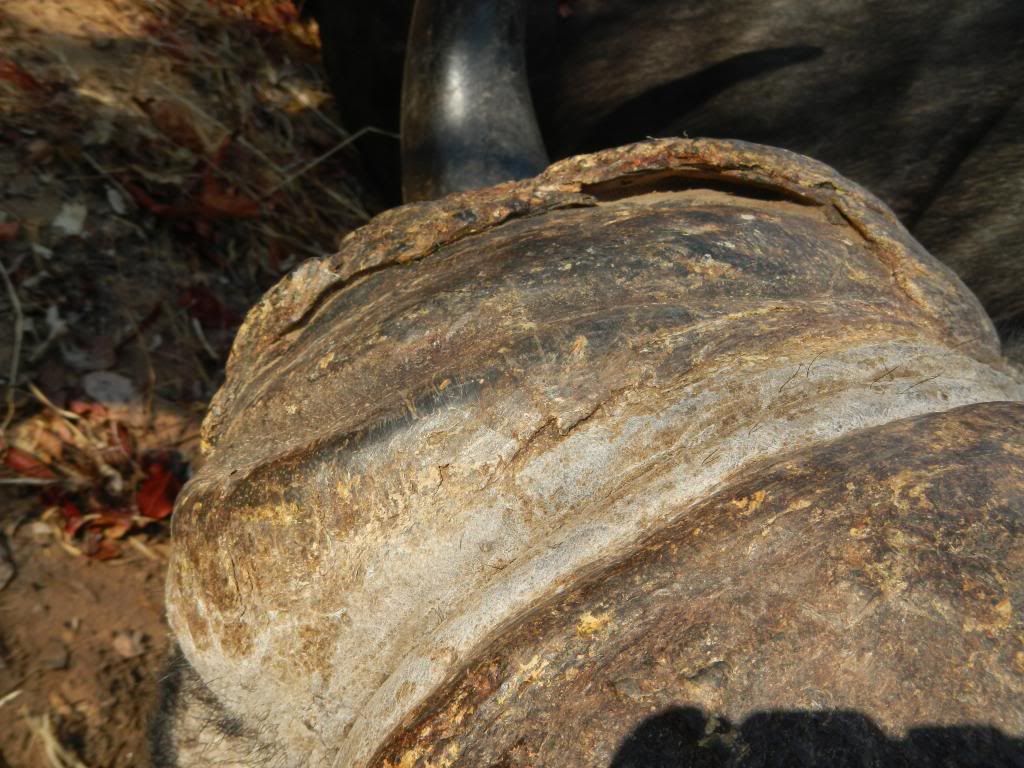 Day 9 - We didn't really think about kudu.
We check baits, the only activity the whole time. has been 2 female leopard and a couple of lion pottering about.
Late afternoon we bump 2 beautifull kudu bulls in the Mukanga River. They run and stop broadside, Lorinda crashes onto the sticks and wings a hollowpoint. She bags a 56.5" kudu with the shot.
Positives of the trip:
- seeing a Barred Owl which completes my list of Southern African owls
- seeing a pangolin in the wild
- I like Trijicon RMR sights
- shooting an elephant, drinking a G&T and smoking a cigar next to a fire on the same day
Negatives of the trip
- Lorinda gets a rash from tsetse bites
- You have to concentrate when using more than one single shot rifle, you can end up with a gun without cartridges in your hand.
- we haven't booked a return trip yet