Hunt Dates: September 1-10, 2011
Outfitter: Charlton McCallum Safaris
PH: Richard Schultz
Country: Zimbabwe
Area: Ward 11, south of the DSA
Game hunted: Buffalo, Lioness, Plains Game, and had the opportunity to add Leopard at the last minute
Game taken: Kudu, Baboon, Hyena, Cape Buffalo bull, Cape Buffalo cow, Bushbuck, Lioness
Other game seen: Klipspringer, Grysbok, Elephant, Warthog, Impala, Waterbuck, White-tailed Mongoose, Jackal
Rifles: .375 H&H CZ 550 by AHR Schmidt &Bender 1.5-6x42, .416 Rigby CZ 550 by AHR Trijicon 1-4x24
Tavel Agent: Travel with Guns, Steve Turner
I'm struggling with jet lag and trying to catch up at work, so please bare with me as I try to get this report posted in pieces as I have time.
This was my first trip to Zimbabwe as well as my first trip to Africa. I was extremely lucky on this hunt, but also realize that I was hunting with a top notch outfit in a good area surrounded by areas run by other outstanding operators. I booked this trip 1 1/2 years ago directly through CM Safaris.
August 29...
I left Charleston, SC travelling to Harare via ATL & JNB on Delta and South African Airways. No trouble with my flights; departures and arrivals were all on time.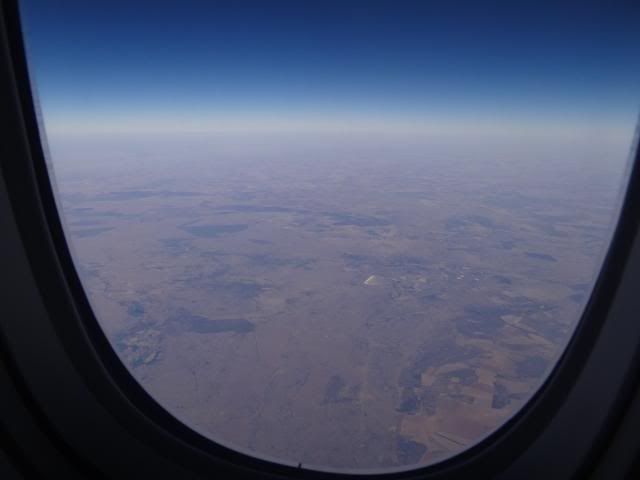 August 30...
On my flight from JNB to Harare I had the pleasure of meeting the son-in-law from the documentary film "Mugabe and the White African". We had a nice discussion. I wished his family well and he wished me luck on my first safari.
I arrived on time in Harare, and as I suspected might happen, my rifles did not make the flight out of JNB. I filled out the missing baggage paperwork and made my way through customs to find Myles McCallum waiting for me. We were off to a b&b run by Karen Harrison for the evening where I would be meeting another client that I'd be sharing a charter flight with the next afternoon.
August 31...
It was nice to wake up refreshed and find that the accommodations were fantastic. When I arrived the night before, things were a bit foggy and a couple of beers put me right to sleep. The other client, Paul, and I had a nice chat over breakfast and Myles came by to pick us up around 11am to head back to the airport. A flight was coming in from JNB at noon, and we hoped my rifles would be on board.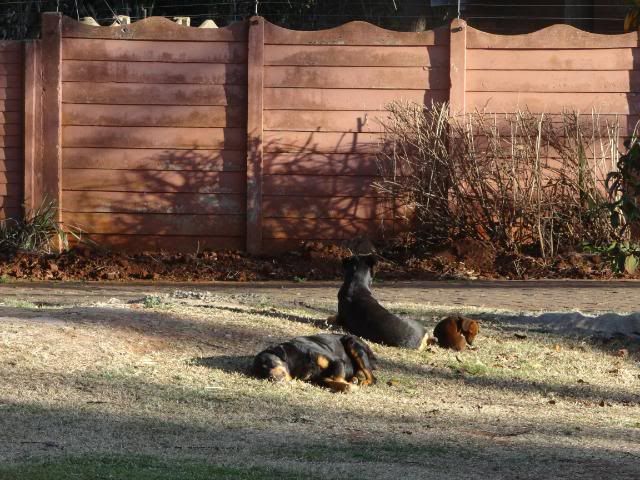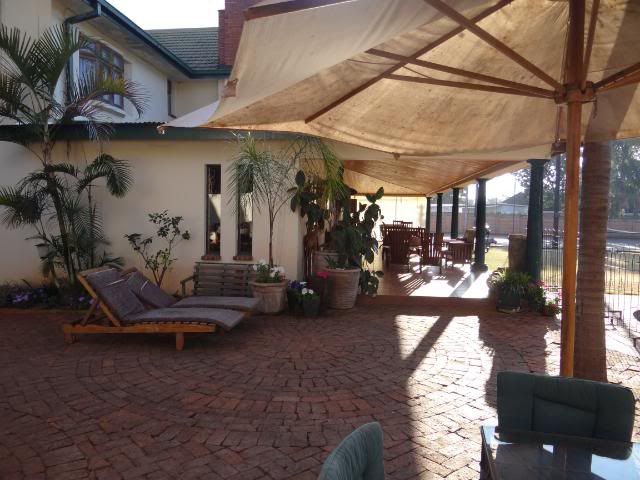 Ran into Buzz at the airport, and then found that my rifles had indeed shown up. I went through the process, showed the officer checking my ammo how to count boxes of twenty instead of counting each individual round, and we were off with the charter pilot to fly into the airstrip by the Pedza camp. Paul would be hunting at Mururu in DSA, and I would be heading to Ward 11 in the communal area.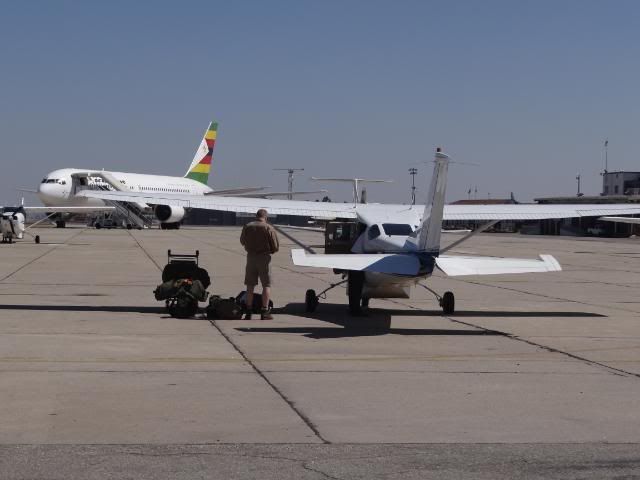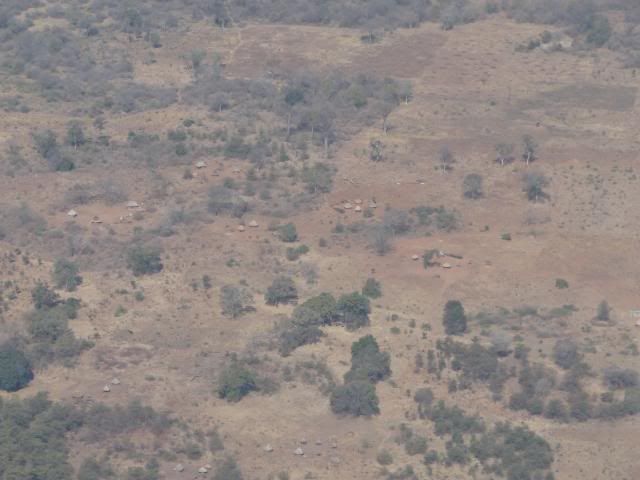 The charter flight was about an hour and was a better ride than I expected. I was now dreading having hired a cameraman… when I exited the charter plane, my foot got stuck and I fell into the dirt, quickly stood up to shake it off and banged my head on the wing. At least my son will have a laugh when he sees the footage, and at the time my PH Rich was probably wondering what kind of bumbling idiot he'd been set up with guiding for the next ten days. Rich and crew were waiting at the airstrip and we loaded up the cruiser to get moving to camp which was a little over an hour's drive to camp.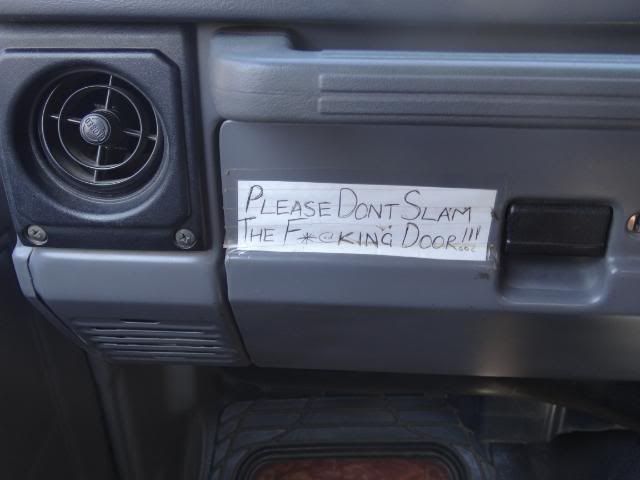 Great camp... For me it felt like more of a bush experience than the thatch roof chalets. Canvas tents, thatch walled toilet flushed by dumping in a bucket of water, walled shower, with dining area and fire pit overlooking the Angwa River (sand at this time of year). Camp staff area and kitchen was slightly offset from the main camp. I really enjoyed my time here, but think I might prefer the en suite toilet and shower on my next trip.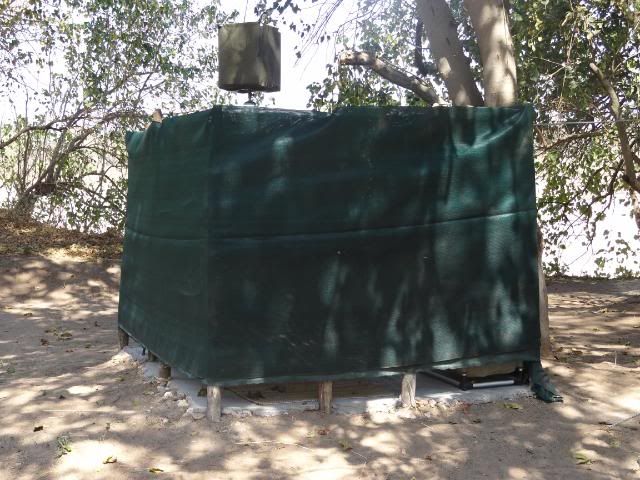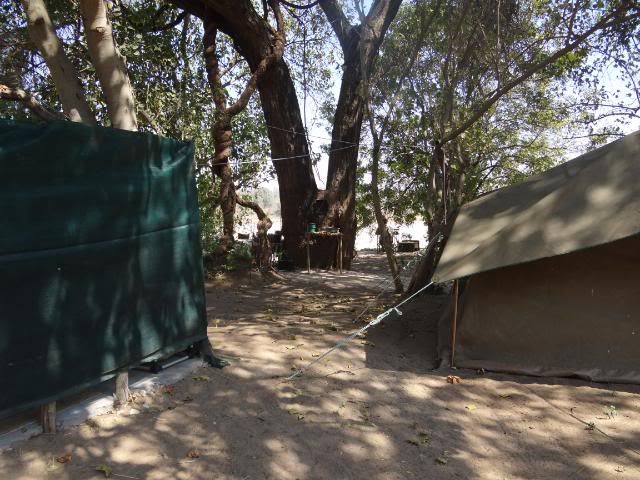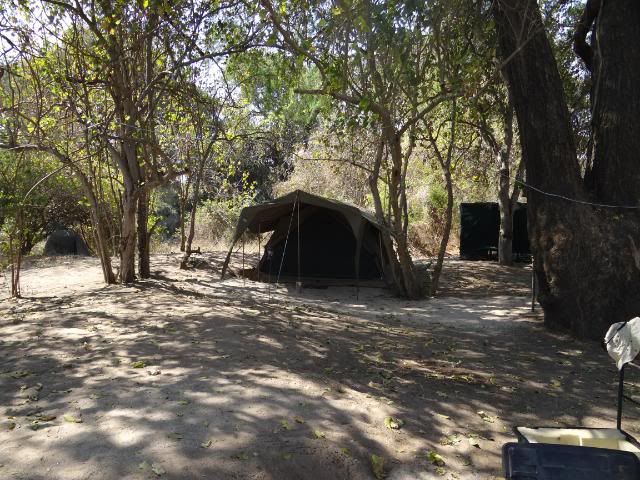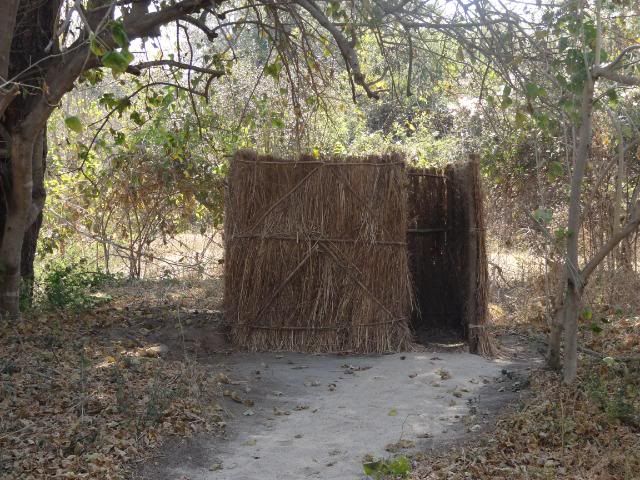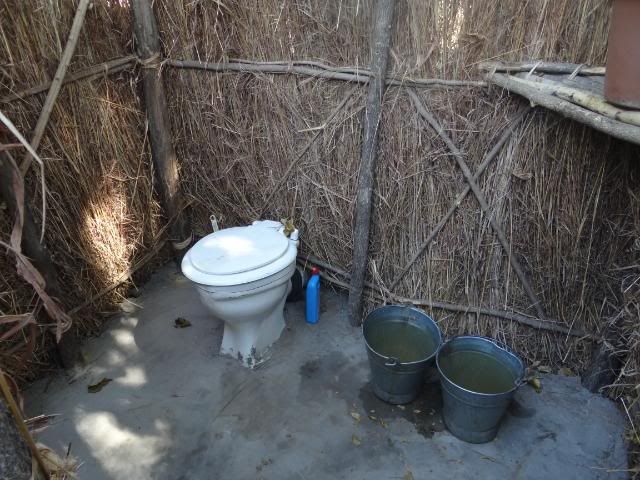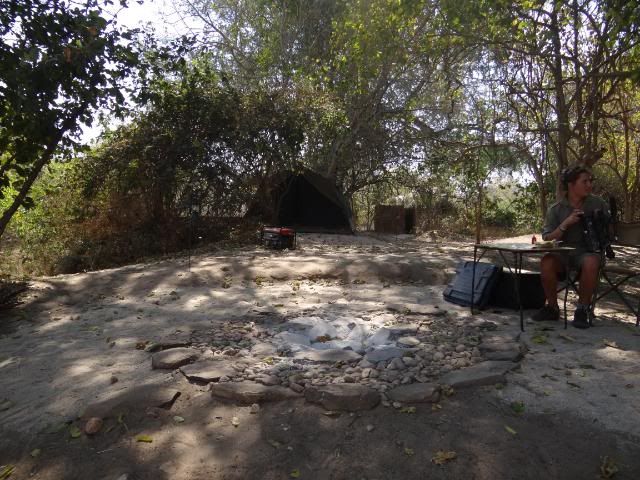 I met the staff and got settled. It was starting to get late, so we found a suitable tree to make sure my rifles and scopes survived the baggage handlers. Everything looked good, so I had my first fire pit sundowner, a great dinner, and got to bed early (anxiously awaiting my first hunting day in Zimbabwe that I'd dreamed about for so long).
Day 1 of 10 - September 1…
I got up with the camp staff around 4:15 even though Rich and I had planned on sleeping in until 5ish. I think between the anticipation and noises so unfamiliar to me, I only slept and hour or so that 1st night. I somehow managed to get up refreshed and ready to go.
Our first priority was bait since cats were on the menu. Leopard or lion bait… didn't really matter, but being only a 10 day hunt we needed to get meat up a tree fast. Just out of camp that morning we saw some nice impala and jumped out to make a stalk. We made our way after them and I was about to have my "Welcome to Africa" moment, that made me wonder if I'd gotten in over my head.
As we followed the impala and were trying to get into position for a shot, we noticed a young elephant bull about 50-60 yards to the east. Rich thought we had a good position on the impala, but the young bull decided we were a little closer that we should be and didn't realize we had no elephant on license. Before I knew what was happening that bull came to 15 yards, Rich grabbed his 500 A-Square, and shouted the bull down. The shooter impala ran off, I changed my underwear, and we headed back to the truck to continue our drive looking for spoor. I'd never thought that a .375 loaded with softs would feel like such a small caliber.
We spent the rest of the morning following old buffalo tracks. It seemed most of the tracks we found were leaving the small concession, but new it was just a matter of time before the herds came back in. We came across some impala around 10am, and my first shot in Africa was a miss. Unfortunately, not a clean miss. I wounded an impala, and we weren't able to catch up to him. The bright side was that Rich and the trackers were confident I just nicked the animal. The trackers followed as long as they could and we had only found a handful of tiny drops of blood.
On our way back to camp for lunch we took a short walk into a spring, and our cameraman spotted a kudu. I hadn't seen it yet, but Rich knew instantly it was a shooter. He pointed out an opening in the bush and said that the big bull would step through it any second. I got on the sticks and when the bull stepped through, I confirmed it was him and pulled the trigger. One shot through the heart and the bull only went a few yards. Kudu are one of my favorite animals and I was ecstatic to have such a great trophy on my first day. The bull wound up measuring 56" with a metal tape and our camp manager was sure that with a better tape he would be closer to 57".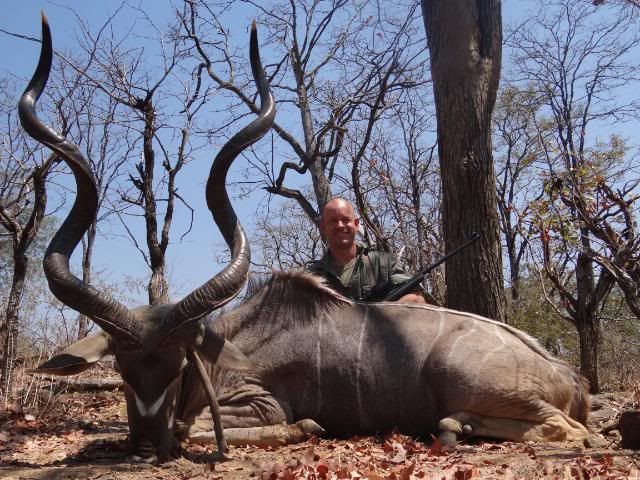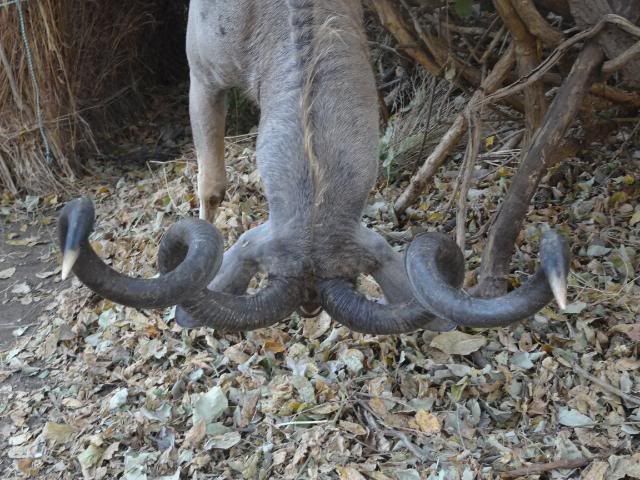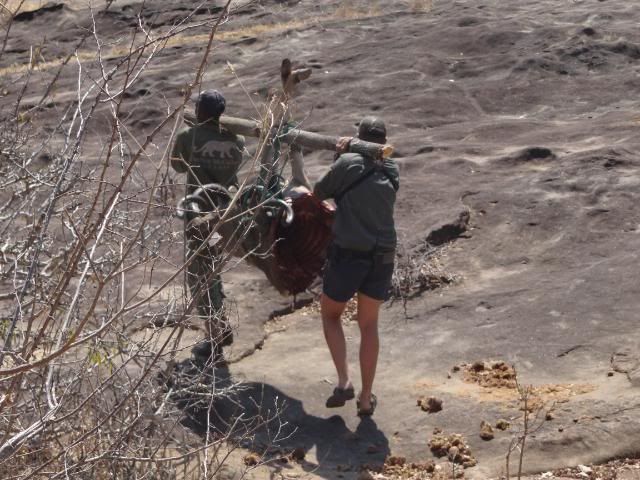 After lunch, we spent the afternoon putting out baits. One was hung upriver from camp on the Angwa, and one near the spring where we shot the kudu. I also spent the afternoon missing shots at 2 baboons and was having serious doubts about whether my preparation and shooting were up to par.
Back to camp after dark, 6:30ish. Had drinks around the fire, showered, and had a nice beef stew over rice for dinner. Kudu liver appetizer, that I thought would be horrible, was well done and very enjoyable.
September 2…
We're off early to check the baits. After that we'll run a route looking for fresh buffalo spoor or other game to get more baits up. The first bait site was pretty well hammered. I'd brought Rich two new trail cameras and one was there to capture a young male lion feeding and some hyena activity. We put up some new branches to hide the meat from vultures, did some more dragging, and hoped the male would bring a lioness in with him over the next couple of days. 2nd bait had seen no action at this point in the game.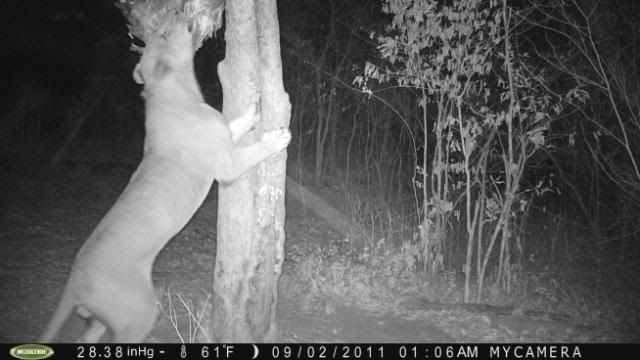 At this point I started feeling pretty awful. Dehydration, fatigue, intestinal issues are getting to me. I drank a couple of Gatorades, and continued on. We went along our borders looking for spoor, chased a bushbuck, missed another baboon. Here on day 2, the baboons are laughing at me… that's 3 misses in less than 24 hours.
We headed back to camp for lunch. I took some meds for my stomach and passed on lunch, opting for hydration instead, but nibbled on some fresh banana bread prepared by the camp cook. In the heat of the day we decided to rest for a while and as I headed to my tent, Rich tiptoed over and whispered, "The baboons won't be laughing very long. I just spotted one wandering around the toilet. I told one of the trackers to bring your rifle." I grabbed my .375 and we snuck around looking for George the baboon. He caught sight of us and ran off, but once he felt he was a safe distance from camp he stopped to look back. By that time I had a solid rest in the crook of a tree and flattened George with a Swift A-Frame.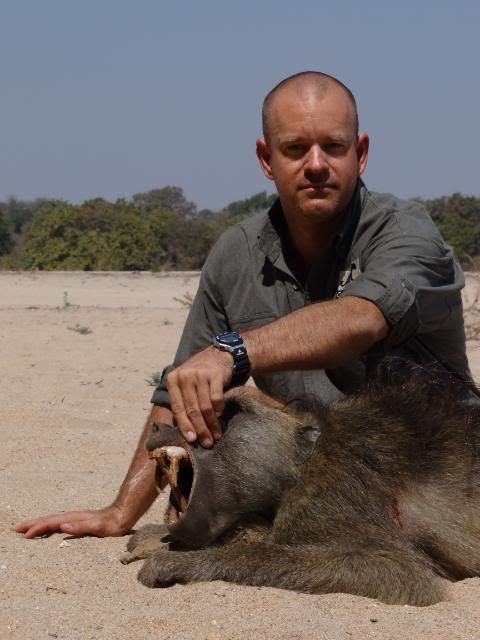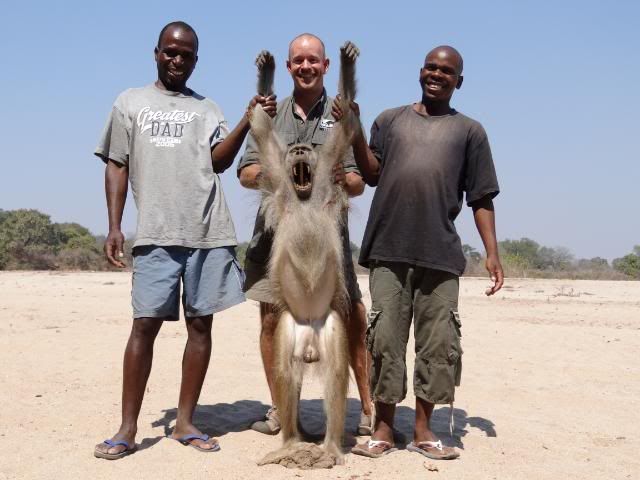 That afternoon, we had a walk down the dry Mukanga River edge of the concession, that borders the Chifuti Safaris concession. I got another close elephant encounter, but this time it was much more pleasant and we watched a young bull drinking from some holes he'd dug into the dry river bottom. He alternated drinking from the different holes as he'd empty them and then they'd refill.
We decided to have a sit that evening over the active bait. We weren't going to stay long, but figured it was worth a shot and at the least I could go ahead and take a hyena if one showed up early. Hyena was pretty high up on my wish list. It had just gotten dark and almost immediately there were hyena moving around us. I decided I wanted to go ahead and take one, so Rich lit him up with the torch and I hit him with a frontal chest shot from my .375 dropping him in his tracks. I tried to shoot the other one, but he got away too quickly. We quickly had the boys bring the truck in and load the hyena before any other predators came sniffing around. To our surprise, when Rich touched the hyena's eye, it blinked. The boys pulled him back out of the truck and I put a .357 slug from Rich's pistol into the hyena's vitals. Scary thought that there were four guys in the back end of that cruiser with a live hyena. We reloaded the hyena and got away from the bait site for pictures. Bonus!!! The trail camera had taken pictures of a hyena w/ a snare around its neck on night 1, and that's the one I killed on night 2. That snare came home with me and will add a lot of character to the life-size mount once it's finished.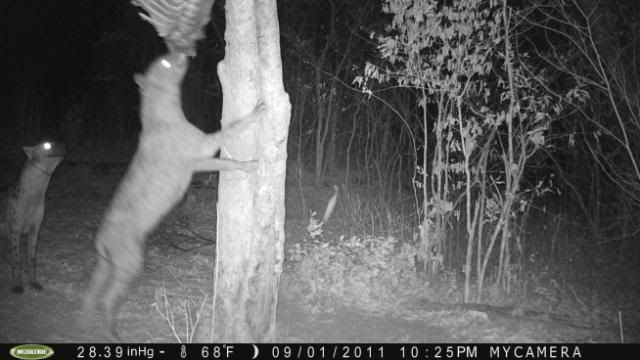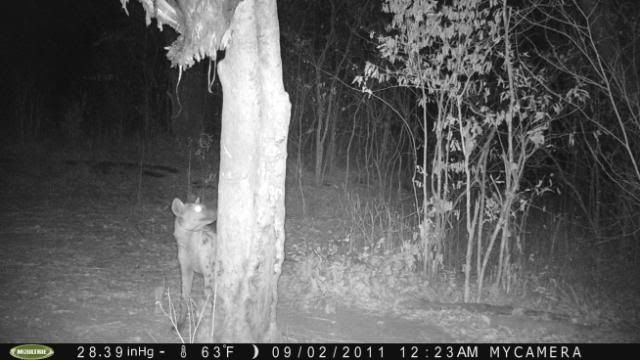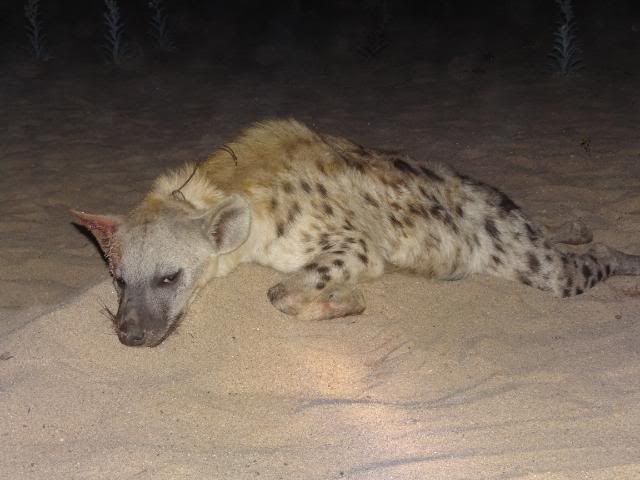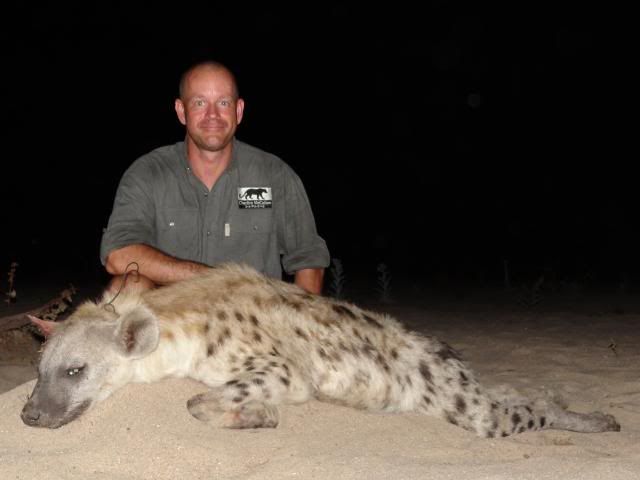 September 3…
At dinner the night before, I had told Rich that my expectations for my first safari had already been exceeded. At this point anything was a bonus. I never dreamed I'd bag a kudu the size of mine and I was overjoyed. The hyena on day 2 topped it off since it was on my priority list. I was now just enjoying the ride and I was feeling no pressure. I wanted Rich to know I was happy with the way things were going and wanted him to trust his gut… no pressure from me, and I hoped none from his employers. Even though he never said it, I had a feeling that the office was itching to see a lioness get put in the salt. Up at 5 again, and on the road at 6:30am. Our mission on this day was to be buffalo. Up until now, all the tracks we'd found indicated herds leaving the concession. Rich knew it was just a matter of time, and the herds would be crossing back in. We needed bait, we needed to check baits, and our luck on buff was due to change any time. Off we went in the Cruiser up the Angwa River to check the first bait we'd hung and look for spoor along the way.
300 yards upriver from camp we hit fresh tracks and dung. The boys are getting excited and Rich tells me to load up the .416 Rigby as we're going to kill a buffalo.
Time to start walking. Coming out of the riverbed it got fairly thick with vegetation, but as we went further it opened up into hilly, scrub mopane. The dung was warm and we were getting close. Over the next hour we closed the gap, but the herd took off over the next ridge. The wind was good, and we started after them again. A waterbuck stood between us and the herd watching our approach. We were afraid he would bolt and alert the herd, but eventually he walked away after a lot of swearing and hat waving on Rich's part. We almost get into position and a grysbok decides to pull the waterbuck stunt. He, too, walked away after a little prodding. At this point Rich had seen a few bulls, but only one was a shooter. We closed in to about 60-70 yards and Rich told me which bull to take and to shoot when he turned broadside. We were about level with the bull, but the ground under our feet was sloping towards the buffalo, and the herd was on ground sloping towards us. At the shot, the bull came down the hill towards us and one more shot put him on the ground. We ran up and I put another one or two into his vitals for insurance. Upon examination, the first shot would have killed him, and the second spined him and put him on the ground. Buffalo down, but almost 2 kilometers to the closest road. Time to get the rest of the guys from camp and cut in a road. It's 8:30 in the morning on my third hunting day and so much has happened I feel like I've been in Africa for a week. I never thought I'd harvest a buffalo like the one I was blessed with. It was exactly what I imagined the "perfect" buffalo to be, and now it was mine. We had no tape in camp, but estimated the bull to be 41"+ with 14" bosses. At this writing, the CMS website has a photo posted stating 42.5". I feel like I'm dreaming.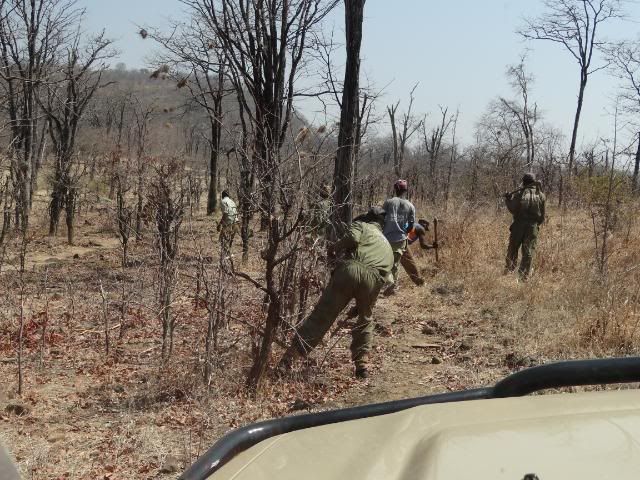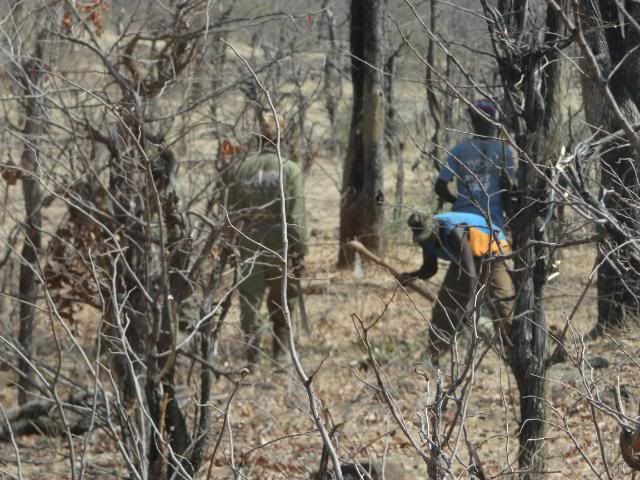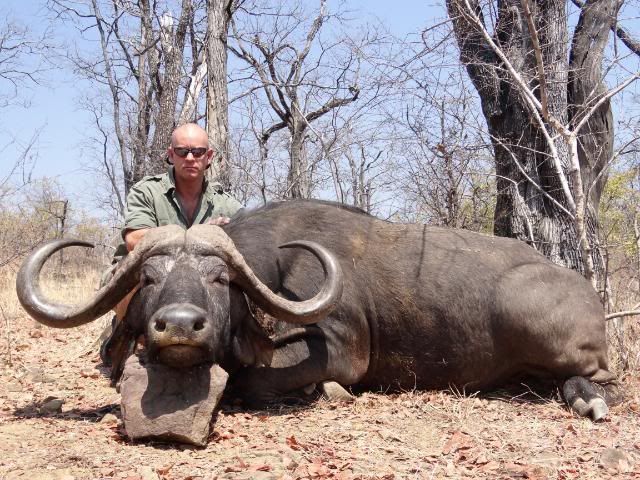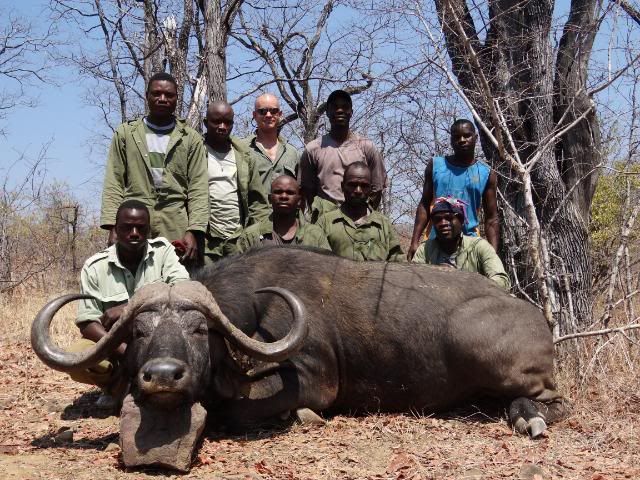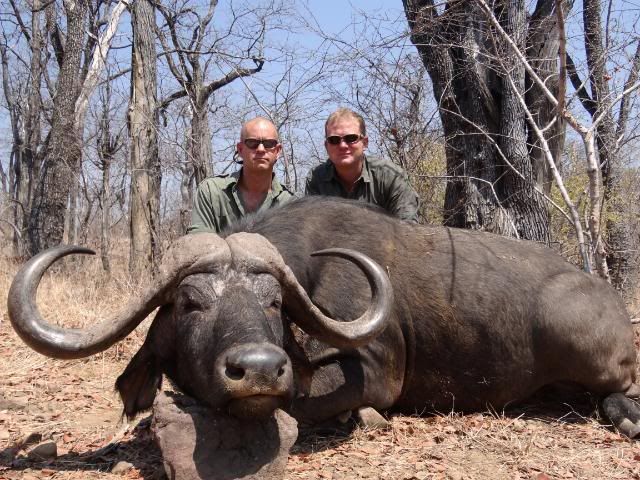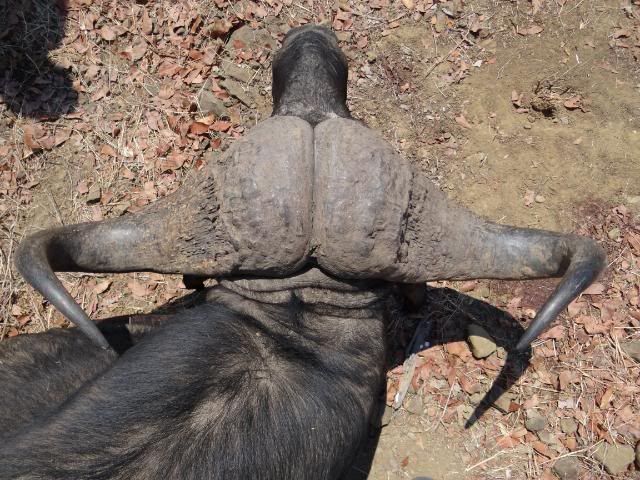 The boys took my buff to the Pedza camp to be cared for by the skinner located there. We had a lazy afternoon since they were away with the Cruiser. When they returned, we hung another bait on the Angwa River with the buffalo and checked the camera at the other bait on the Angwa to find a surprise visitor sniffing at the kudu legs.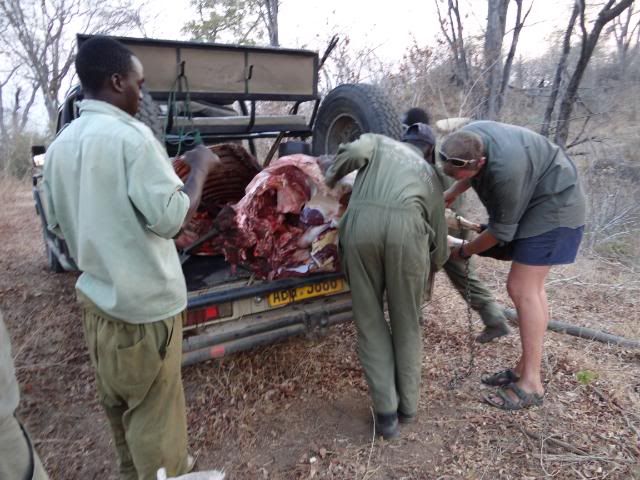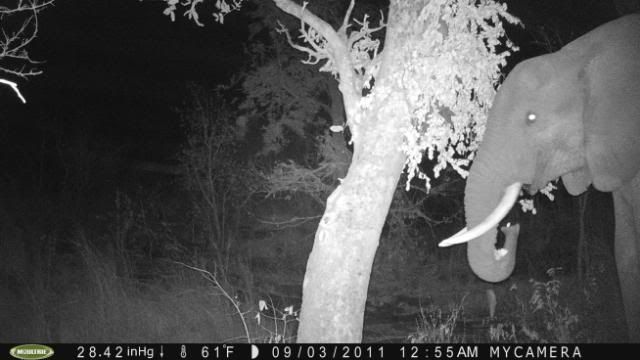 We retired early that night after the long recovery on the buffalo.
September 4…
Checking baits and cutting a new road in to the Mukanga River to find a new bait site. We now have 3 baits up (Angwa #1 and Security Rd baits put up on day 1, Angwa #2 put up on day 3), and we're putting up a 4th.
On our way to the Mukanga side, we're able to have a brief visit on the road with Rich's mother. Rich's parents work for Chifuti with whom Ward 11 shares a border. Mom sends her boy off with a big box of dry wors sausage, and it's apparent that the term "mama's boy" is universal and can even be used when referring to a Zimbabwean PH with balls of steel.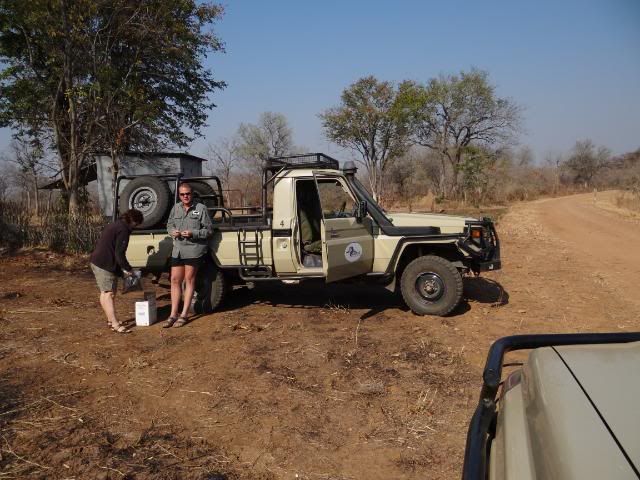 As I write this, I'm looking at my notes from this 4th day of my safari… At this point of my trip, I'm absolutely blown away by the experience. I've seen elephants every day, and elephant dung is everywhere you look. Lion tracks are found multiple times throughout the day. I'm adjusting to life in Africa, and didn't even wake up when the hyenas started wooping the previous night.
No baits were hit overnight, and we got our bait up on the Mukanga, so we headed back to camp for lunch and a snooze during the mid-day heat. Not much to do when you're cat hunting and the baits run is finished, so Rich decided that after our siesta, we'd try to find a bushbuck along the river.
Sure enough, maybe 5 minutes from camp we spotted a female bushbuck emerge from the thick riverine bush. She walked out to a small waterhole for a drink and about 30 seconds behind her a male came out with the same idea. We hopped out of the cruiser, and sprinted up the bank into the bush to try and make a stalk into shooting range. We finally got to inside 100 yards, I set up on the sticks waiting for the male to turn broadside, and he turned and bolted out of the river and into the bush. We followed, and while I was convinced that bushbuck was gone, the boys kept plugging along, winding around, up one hill, down another. As we reached the top of another hill Rich put the sticks down pointed out a landmark and said to shoot him quick. I made a quick shot and spined the bushbuck. We ran down and I put in a finishing shot.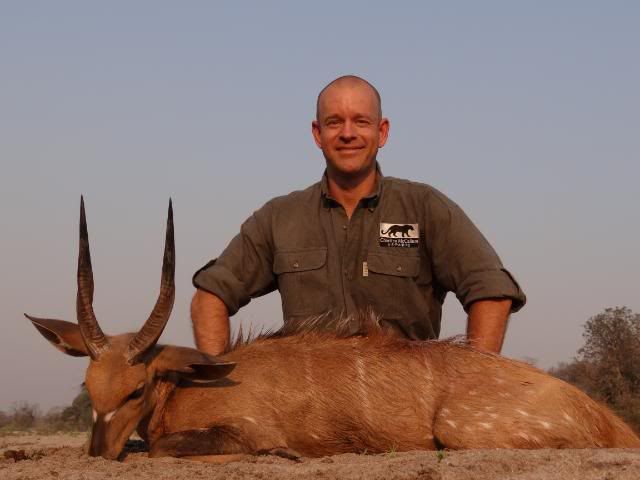 5 animals in 4 days. I must be dreaming. This hunt couldn't have been scripted better and I was starting to wonder if there was an animal handler strategically releasing animals in front of us to ensure I got my trophies. I took a close look at the bushbuck and noted to myself that there wasn't a tag in the ear… We had luck on our side and we'd been able to be in the right places at the right times so far on my trip.
September 5…
On the 5th day, we woke up to find a lioness had walked through camp and down to the sand river heading in the direction of a couple of our baits. Hopes were high that she'd have found the drag and be on one of our cameras when we got to check them.
We started our bait run. Angwa bait #1 was hit. Unfortunately the trail camera fell off the tree so we had no photos. By the looks of things, we were guessing it was a young male lion, but there were also some tracks that appeared to be from a female leopard.
Angwa bait #2 was hit by hyena and a female leopard.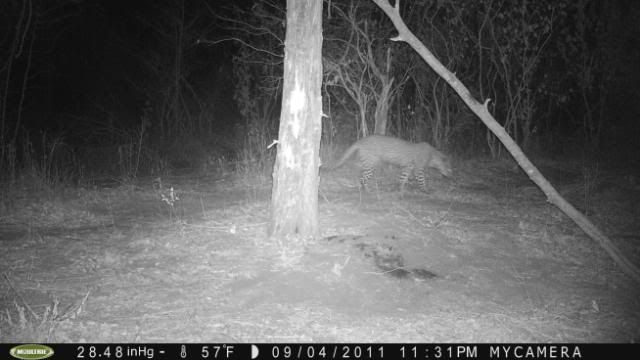 Nothing active on the Security Rd and Mukanga baits. Looking for something to kill the time, so that afternoon I asked Rich if we could drive to "town". Town consisted of the game scout office, police station, a little retail shop, medical clinic, and a cell phone tower being built by the Chinese. We took a tour of the clinic… my advice if you are in the area is "Don't get sick".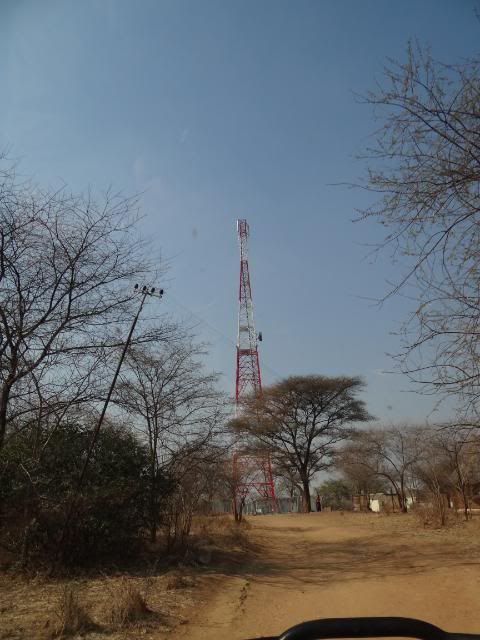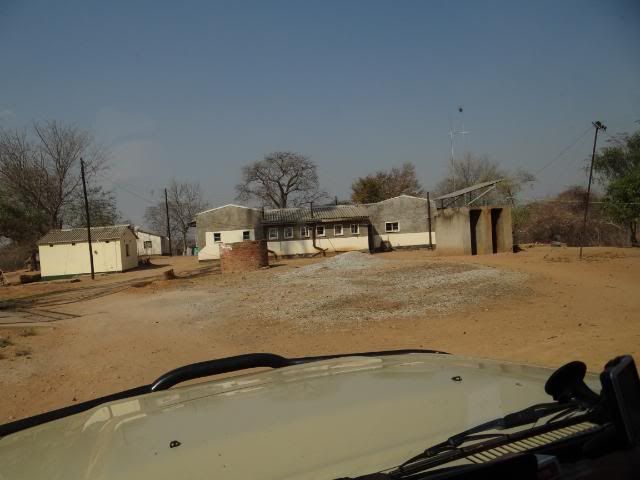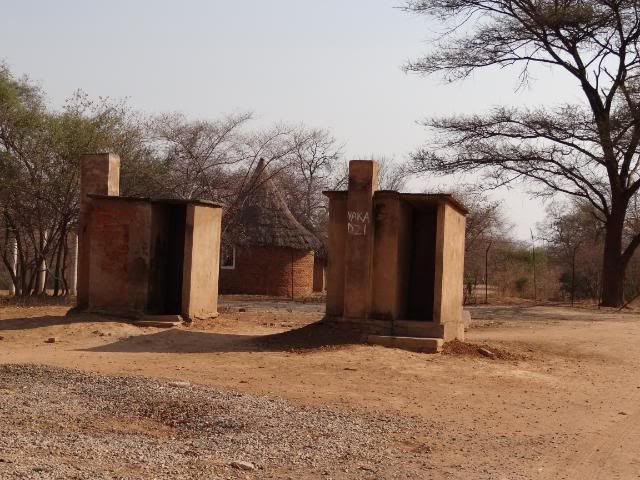 September 6…
Bait run. Nothing at the Security Rd bait. Heading to the next bait we come across some wild dogs with pups. What a sight… one of the most memorable parts of my trip was seeing this. One decided to come give us a closer look.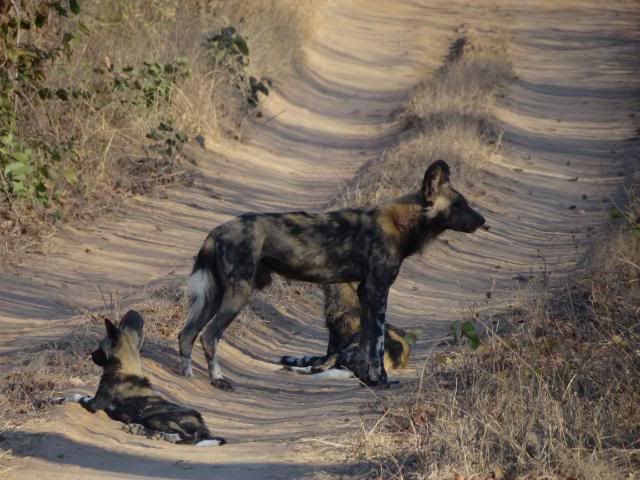 We get to the Mukanga bait and find it's been hit by a honey badger.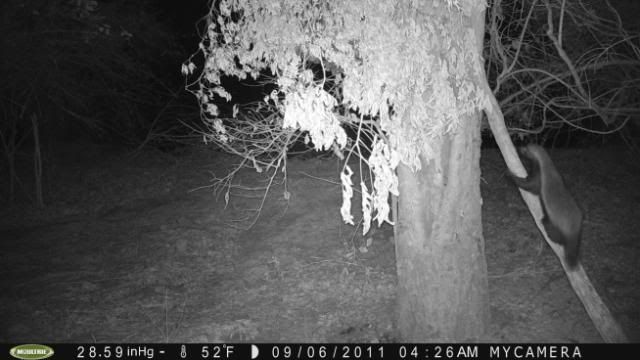 The young male lion is still on the Angwa #1 bait. Angwa #2 is still getting worked over by the female leopard and hyena.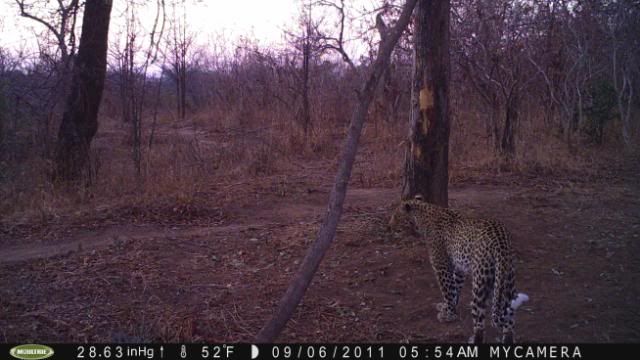 I'd come to the realization that cat hunting isn't for me. The reward when cat hunting is huge and worth it, but I couldn't do a dedicated 14+ day cat hunt. The daily grind running the baits, re-dragging, adjusting baits, moving baits, the smell of the rotten gut bucket in the back of the cruiser, the smell of guts from the gut bucket infused into your hands because you want the boys to see you're willing to get dirty just like them. For me, I got the most out of being on foot. Its official, I'm addicted to buffalo hunting. I'm glad I had the opportunity to include cat hunting on this trip. I originally booked this trip for buffalo – I added the lioness at the DSC show – and leopard was added on a couple weeks before my departure.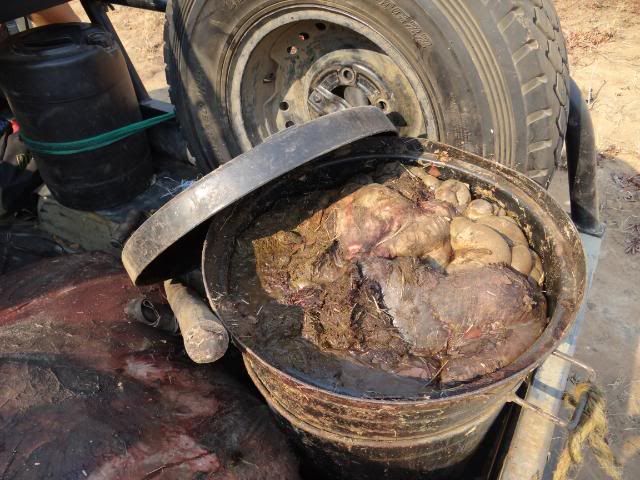 September 7…
Day 7 of 10. This is the way it goes… male lions on bait when you're after a lioness, female leopards on bait when you're after a male. Amazing how things work out this way. We need to get more bait up to see if we can make something happen. Before we left camp this day, Rich said that we'd be trying to find a buffalo cow for bait since one was still on quota. We took off in the Cruiser towards our baits and cameras hoping to find fresh buffalo sign.
Just like day 3, we run into fresh buffalo tracks crossing into the concession almost immediately after driving out of camp into the riverbed. The adrenaline started to flow, I loaded my cartridge belt and grabbed my .416. As we followed the tracks into the thick riverine growth, the tracks took us down into the river again and crossed back into the neighboring concession. Rich's driver could see us 50 yards ahead scratching our heads as we crossed back into the river so he drove up. We unloaded our rifles and got back in the Cruiser to continue towards the baits.
What a roller coaster… 50 yards further and the buffalo spoor crossed into our side of the river again! The dung was still warm, but the wind was working to the advantage of the buffalo.
7am and we were on foot after the herd. We finally caught up to them at 10am. It was getting hot at that point and the buffalo were in some pretty thick stuff trying to lay up for the day. We bumped them a couple of times, and spent the next hour trying to get into position for a shot on a cow. We caught a glimpse of what looked to be an injured cow with a significant limp, set up the sticks and I let it fly when she stepped out from behind a tree 40 yards away. At the shot she ran and I put a solid up her rear end. This is where the trackers earned their pay. Follow up was intense. What seemed like an hour to me was only about 20 minutes. We caught up to the cow, she was paired up running with a bull now. Rich put a round into her and she ran again. At the next ridge I put another solid into her, and a second .416 solid dropped her. She started to get up so I gave her a 3rd. We closed the distance and gave her 2 insurance shots at close range. We had our bait, so back to camp we went to gather up more hands to cut in a recovery road. It felt good to get that injured cow out of the herd.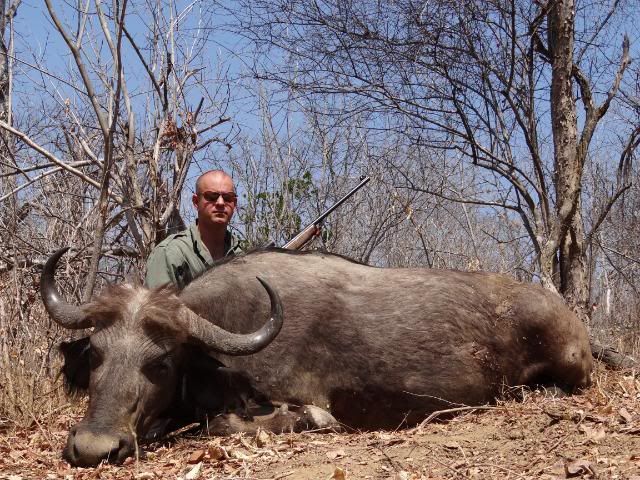 That afternoon/evening we got the buffalo cut up and headed toward the junction of the Angwa and Mukanga Rivers to find a new bait location.
I have a nemisis and its name is Impala… I missed… again. I was letting doubts creep back into my head about my shooting. Between the injured impala, missing shots at baboons, missing another impala, and having to put so many rounds into that buffalo cow, I figured it was time to have a chat with Rich and voice my concerns. As we drove, I told him I was concerned with my shooting and the last thing I wanted to do was wound a cat. Not only did I not want to make an animal suffer, but I didn't want to put the safety of others at risk and I said I would only continue working the baits if he had confidence in me making the shot if we were lucky enough to get a legal cat on bait. Rich assured me I'd be fine, and insisted we keep trying. The conversation lifted a lot of weight off my shoulders and we kept plugging along.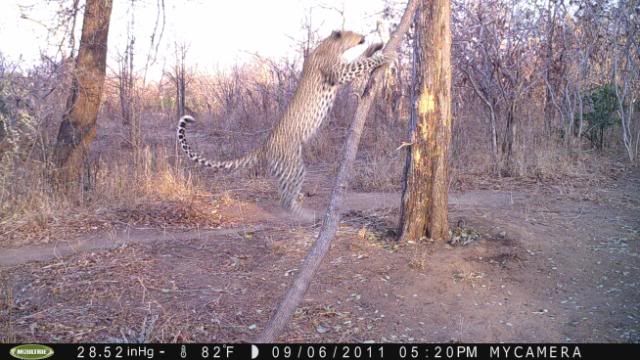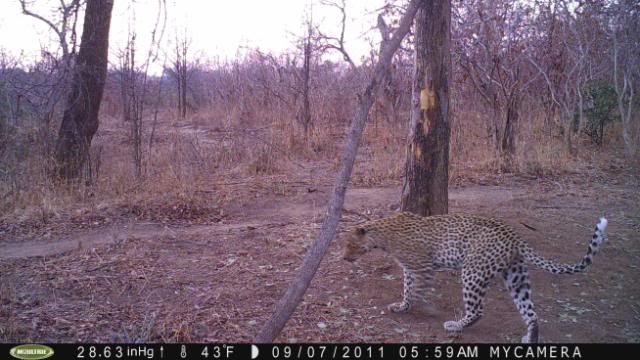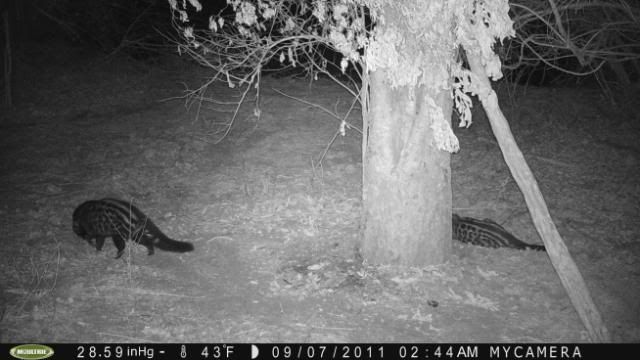 September 8…
I added leopard to this hunt simply because it was only a 10 day hunt and I figured having both lioness and leopard on license would increase my chances of bringing a cat home with me. As I've read in so many other reports, it's a chess match with the big cats and we were coming close to the end of my trip. I hadn't given up, but I was feeling like the cats had won this round and I may have fired my last shot of the trip at the buffalo cow. I told Rich, I didn't want to hunt on my last day. I wanted a day to just relax and take everything in. We'd drop the baits the morning of September 10th and then enjoy the rest of the day and have some fun. I wasn't upset that the cats weren't cooperating. I just figured that's how it goes, and I had nothing to complain about with the trophies I had taken early in my hunt.
Another round of checking baits and hanging a new one in a tree by a spring off the main road. The Mukanga River bait was visited by hyena, civet, honey badger, and a female leopard with 2 cubs.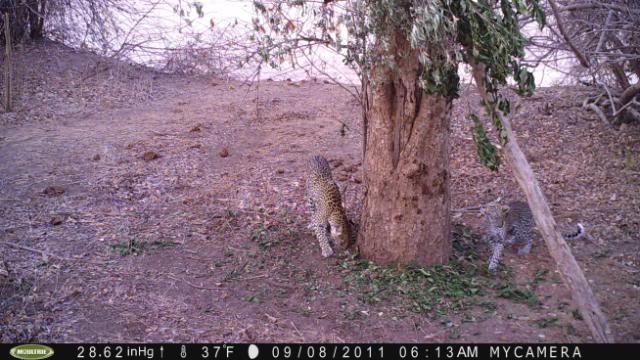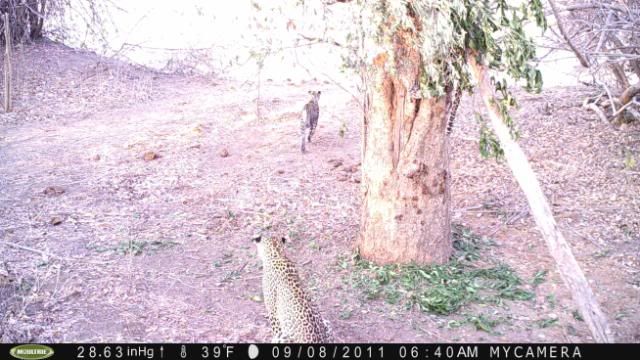 The new bait at the Angwa Mukanga junction caught civet, hyena, and a tuskless on camera. After leaving this bait we stopped at a village so I could purchase an axe to bring home. $10 and it was mine... We drove by a couple hours later and it was apparent that the $10 bought quite a bit of the local brew.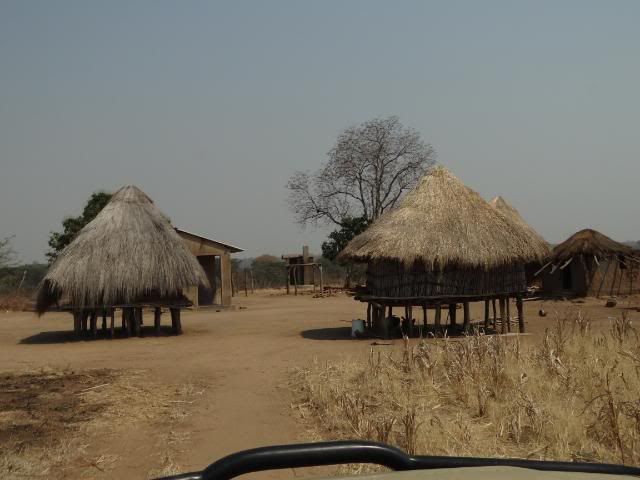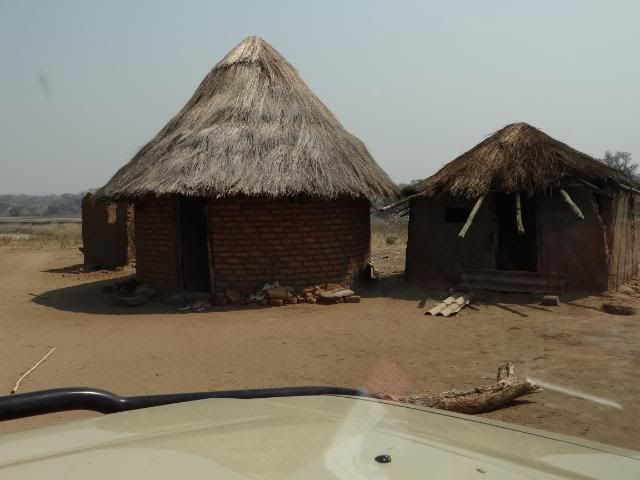 The Angwa #2 bait is still getting hit by hyena and a female leopard. We had hoped a male would have come in by now.
Impala… 3 stalks on impala this afternoon and busted every time without getting a shot off.
September 9…
What I determined would be my last day of hunting on this trip to Africa... As we turned onto the road that comes near the Mukanga bait, the trackers started tapping the roof. Lion tracks! Fresh, and headed towards the bait, we found the tracks of a big male and 4 or 5 lioness. We got to the bait tree and found the trail camera had photos of a single lioness. We would sit here this final night and see what fate had in store for me. The blind was set, the truck would be close by, and I was a nervous wreck. It was a long day waiting around camp until it was time to go and sit.
We got in the blind at 5:00pm. I don't think I've ever had butterflies like I did that evening. We got one snapshot of her a few minutes after 6:00pm on the trail camera as she came to the tree, but she kept on walking, just as the sun was going down. It was getting dark fast, but the moon was just about full. As quickly as she appeared, she was gone.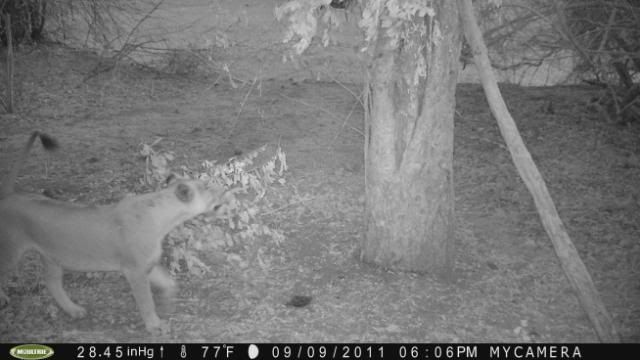 At 6:30pm, the cat made a mistake… She came back and was fully aware that we were there, grunting and staring us down as she walked towards the tree again. She stopped, 28 paces from the blind, perfectly broadside, and turned her head towards the bait tree. Rich switched on his mag-lite, I squeezed the trigger of my .375, and the lioness ran to our left into the thick scrub and grass. There was no back flip, no chasing her tail, like I've seen in the videos I'd watched over the years. She just bolted out of view and I was afraid I'd made a huge mistake. Rich asked me about the shot… I'd felt good about it, but didn't like the reaction I saw out of the cat. Some growling was coming out of the thicket, the truck pulled up and we climbed onto the bench in the back. Rich directed the driver towards the thicket and we made our way closer to the snarling lioness. Now the sound had turned into a gargling growl. That was a good noise to hear I understand now, but I was still on edge and trying to be ready for anything. We were catching lots of eyes from the spotlights, and we were wary that the other lions could be close by. Little did I know it at the time, but the eyes that were making me soil my pants were bush babies, not other lions looking to eat me. Finally, Rich caught an eye with his mag-lite, but he couldn't find the other eye. As we crept in closer, we realized we were looking in the wrong place for that 2nd eye. The lioness was dead under a tree, laying on her side, so her eyes weren't next to each other, the eye we were trying to find was in the dirt. We got that lioness in the truck fast and got the hell out of there.
I cracked open a cold Castle lager on the ride back to camp and toasted Rich. I told him, "Thank You, for giving me one of the most memorable trips of my lifetime." His response was, "Thank you, for killing that lion with one shot."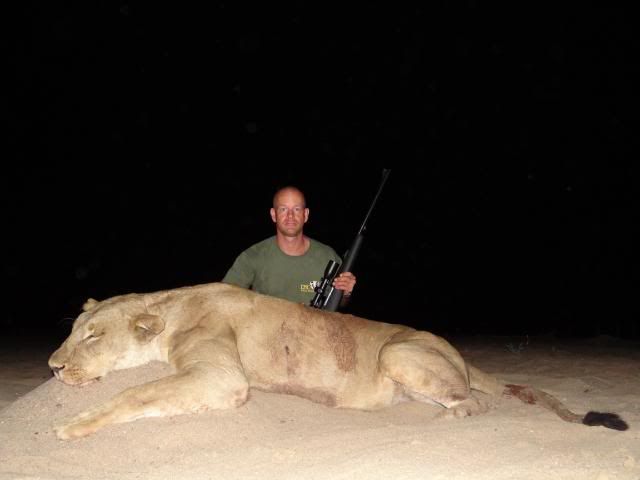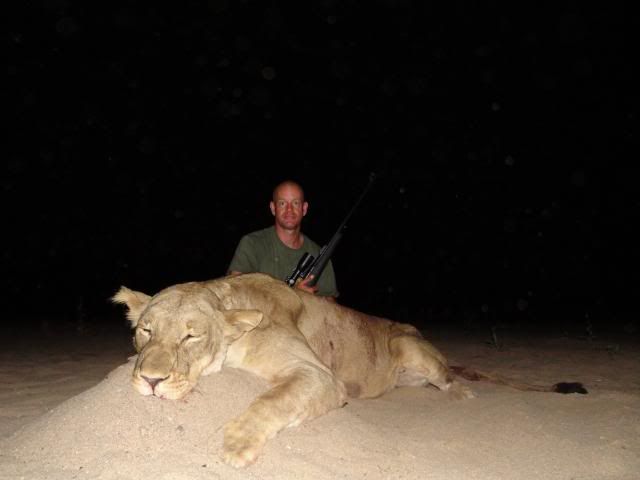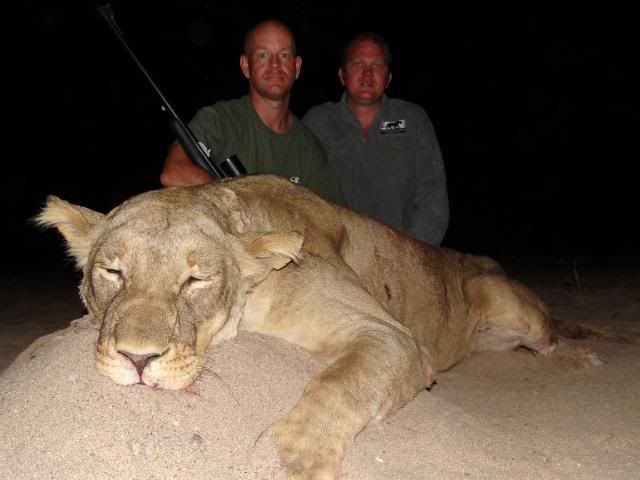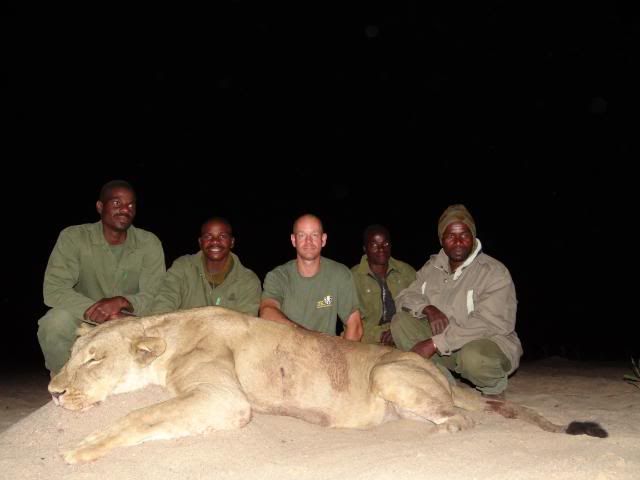 September 10...
Handed out candy to village kids.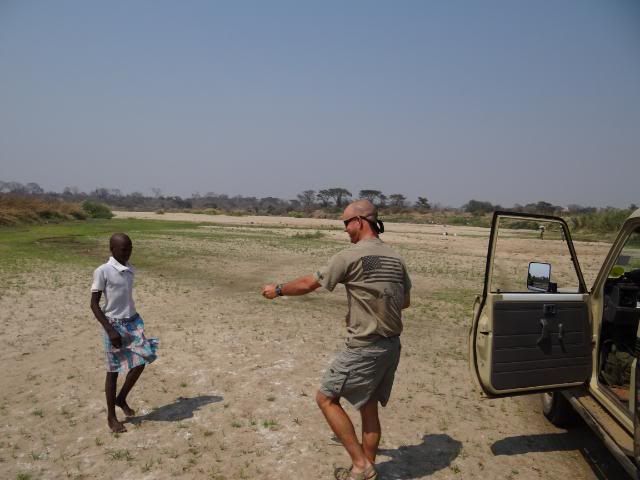 The boys cut off a chunk of rotten buffalo bait. When Rich gave them hell about eating something so rotten, they said that it wasn't for them. They wanted to take it to an old woman in the village where we bought the axe. She had no teeth, they said, and this meat would be soft enough for her to chew.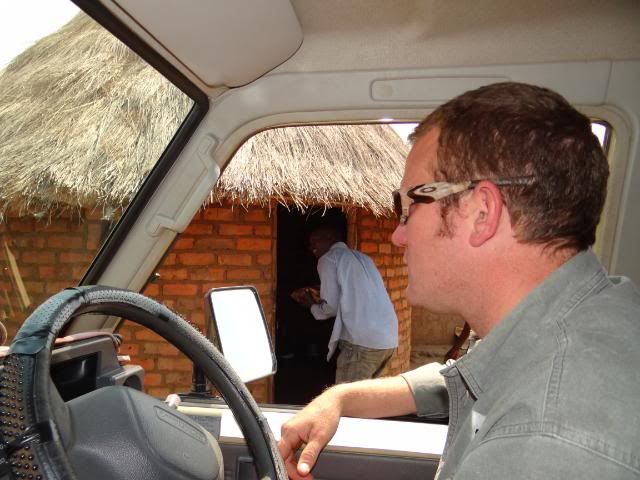 Shooting competition with my .416 Rigby
Justice, the game scout won.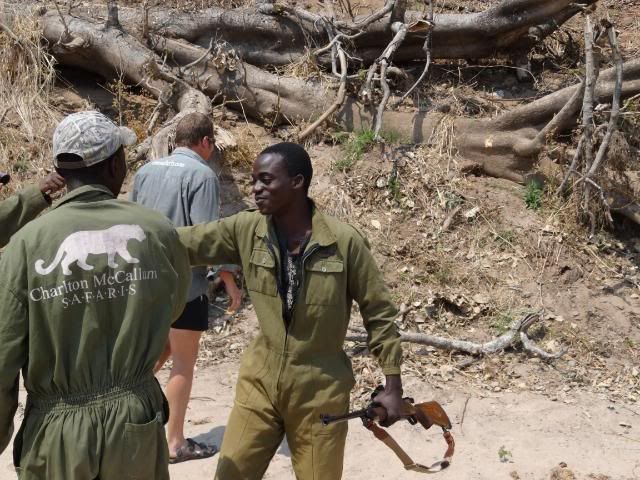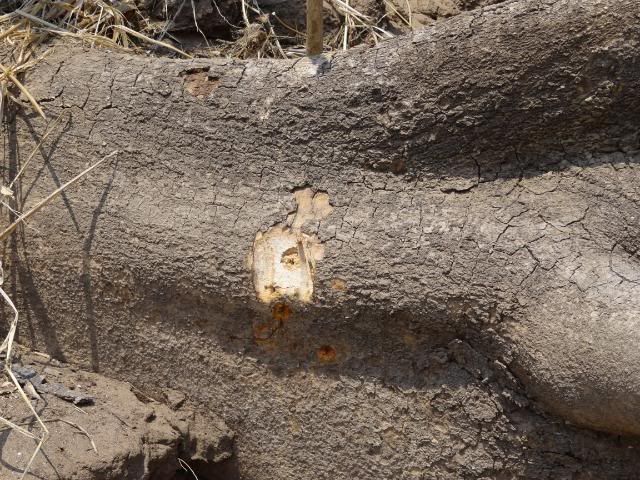 September 11...
Time to get back to the USA. I miss my seven year old boy back home.