The Limpopo Leopard
Dates: September 11-25, 2012
Outfitter: One on One Safaris, Anton LeRoux, Outfitter and PH
Area: Rankin's Pass, Limpopo Province, Republic of South Africa
It all started out innocently enough, just an ad on the "Offered Hunts" section of AR. Hmmm, a leopard permit is available in Limpopo, at a very nice price along with a few head of plains game. Fourteen days (sounds like plenty of time). I wonder….I'll be in SA the early part of September anyway on another safari with a friend, introducing him to the enjoyment of safari hunting. If I could add the leopard hunt to the other hunt, that might be do-able. I mean, after all, the two previous hunts in Zim with leopard on the menu had come up empty. Lots of fun, with buffalo and elephant in the salt, but no leopard. I had done some checking around a couple of years ago about the leopard permit situation, and knew there were plenty of spots in SA.
A phone call to the outfitter, Anton seemed to be in order. Of course, I figured the time difference backwards and ended up waking him up (twice) before I got it right. Things sounded good. He had received a returned leopard permit from the government after someone who had drawn it on the initial draw early in the year hadn't been successful, and he had only a short time to put a hunter's name on it and had to conduct the hunt on his ranch before the end of the year. Males and females were both on license, since they're trying to help the ranchers with depredation. Also, hunting at night was permitted, and common. Gee whiz, since I'll already be there, and since Anton assured me the dates would work fine for him, it seemed too good to pass up. After I checked with another outfitter I trusted and got the 'all clear' concerning Anton and his area for cats, I didn't pass it up!
Anton met me on the highway at Vaalwater, a wide spot in the road boasting only a curio shop and a co-op on the day my buddy was heading home from our first hunt. (He had taken the first-timer's share of trophies: kudu, impala, zebra, blesbok, and warthog. All were very nice trophies (thank you Quagga Safaris). I had taken the one animal I wanted, a super nyala. I hitched the ride to Vaalwater with Quagga's driver.
Anton's 'camp' is situated in the Waterburg Mountains. He lives there with his wife, Sharyn, and two children, Leann and Pierre. Oh, and three great dogs: a Jack Russell (Sally), a bull terrier (Bushman), and a great boerboel pup (Clara); all very friendly. And the staff of the ranch as well, all friendly and busy! Anton raises cattle (Brahmas) and farms a little, as well as catering to local hunters and campers who frequent his ranch. Their house is on the other side of the road from the hunters' housing, which is a very nice two-story lodge with an extra chalet overlooking a lake in the back yard. Great setting! Anton's parents were visiting for the spring and his mom is one whale of a cook and hostess; his dad taught me what he could of rugby.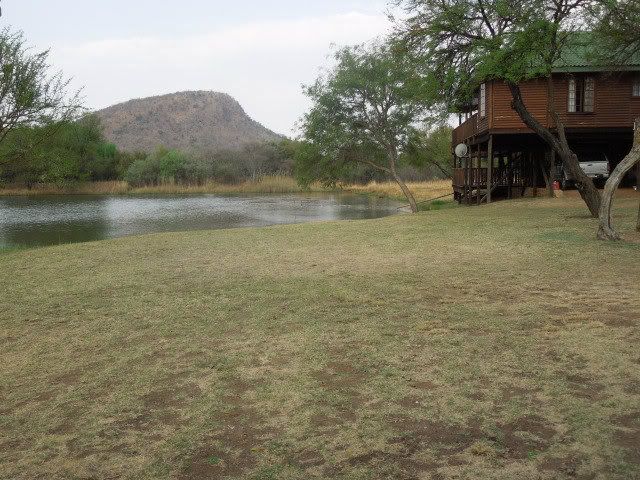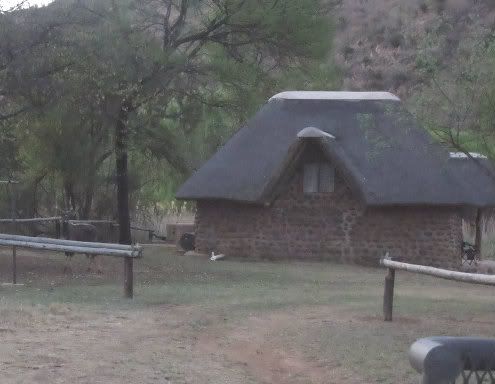 (Can you find the nyala?)
After getting settled in, we took a drive to collect more baits. After adding an impala to the larder we headed back to camp where Anton had a nice surprise for me. He had been seeing a serval on one of the baits he uses for bushpigs, so a permit was purchased and we added that to the menu as well, and we'd set out that night for the cat! Anton's blind consisted of a well-constructed, low blind which is designed to be laid in, on mattresses, no less. Quite comfortable, but unfortunately only honey badgers and bushpigs came in that night. Back to the camp around 3am, then to bed.
The next day (actually day one of the hunt) we hung the impala and checked the rest of the baits he had already placed; nothing but more honey badgers. Deciding we needed more baits, Anton called a close friend and rancher who was having trouble with warthogs eating in his cattle feeders, so we went to help him out. After meeting him, we were able to take two warties who were hanging around the feeders. The drought was really bad, and the cattle were in pens up around the house so he could feed them and certainly didn't need to have warthogs throwing feed all over the place. Thank you

. The rancher friend went with us to help out with hanging the warthogs over at Anton's. Super nice guy, and in great condition for helping haul warthogs through the rough, rocky terrain to the bait trees Anton had selected.
The next morning we checked the baits (no hits, of course) and put out another impala in a different spot hoping the serval would find it before the badgers did. We drove a lot just looking around and enjoying the scenery. There were lots of animals about, including nyala, kudu, and impala right in the camp area. It was fun to watch them all day long. Anton decided we should give the serval a night to find the impala bait, so it was a 'regular' evening around the firepit with the proper beverages and some of the cigars I had brought from the US. (Note to self: don't depend on the duty free in Joburg to stock up on cigars. They've changed the duty free layout and the big humidor is not available to arriving passengers.)
Third day, check all the baits. The only hits were from badgers (yep, they can climb). Again, time to drive. We were able to pick up a couple of baboons for bait, and placed them at the bushpig site. That night, we laid out at the new serval bait, but no show.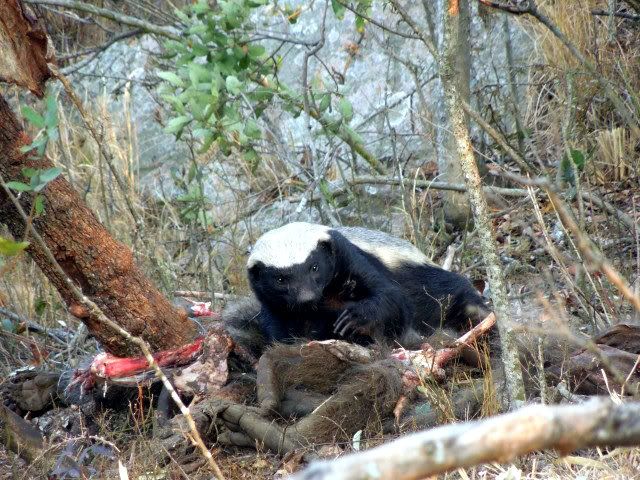 On day four, Anton came to my chalet about 6:30 and told me there was an urgent email from home on their email address. There was nothing I could do then so, as normal, we got up and checked the baits close to camp; no hits. We had a bit of b'fast then I went to check on the emails. The office had emailed that the bank had closed my personal account due to someone trying to drain it. Not a huge problem, but then, it was a relief after trying all morning to figure out what the email would be about. After emailing the bank, we went out to check the other baits.
The second one, one of the warthogs, had been hit…hard !
By then it was about noon, so Anton figured we had to be back at the bait by 2:15 to set up the light and get settled in. Anton totally changed personality at that instant

. We made a flying trip back to camp, had a quick brunch, Anton picked up the equipment and we were back at the bait site at 2:10. We put up the light, checked it, and all was set. We got in the blind (a great lay-down blind 50 yds from the bait tree) at 3:00pm, settling in for a long wait in the heat.
But everything changed at 5:30!
I looked out of my shooting hole and saw a leopard on the bait! One second it's not there, the next it's there standing on the branch with the bait. Beautiful sight, especially after all the time and effort spent in getting here. Anton saw it about the same time, looking out his hole. I carefully moved my rifle into final position and started watching the cat through my scope. It was absolutely beautiful; just lying on the branch one minute, sitting or standing up looking around the next, then lying back down and starting to feed. We couldn't tell sex for sure but Anton said it was either an average tom or a very large female. We had discussed male/female issue before: the permit was good for either and they need to take some females also due to the population boom in that area. I still wanted a male, but it's harder than it looks on TV to see the sex organs. I decided I would take it!
I made the final slight adjustment with the .375 (minimum for leopard in SA), turned the scope up to 10x, and settled in for the shot. Everything looked good and I squeezed. At the shot I couldn't see anything due to the recoil but it looked good when it went off. I automatically reloaded (didn't even know it) and let everything settle. I could immediately hear some brush crashing (bad sign) and then heard a hoarse growl (good sign, hopefully). Anton and I got out of the blind after waiting another few minutes and he went uphill behind the blind with his binos and started glassing for it. In a minute he came back down where I could see him with a big grin and a thumb held high! The cat was down!! And at 5:40 in the afternoon, in full daylight!
We went down toward the tree and Anton pointed the cat out to me lying about 30 yards from the tree, in the open up the creek. "Are you sure it's dead?" "Yes, as dead as it can be." WoooHooo!!!
We approached the dead cat and I was startled by the size and beauty of it. After assuring myself that it wasn't going anywhere, we examined it. Indeed, it was a very large female. Since leopards don't even mate until October/November, we were in great shape taking this one. The hide was a gorgeous cream color with a darker streak down the top of the head and the back with a very long tail. We rolled it ever and I was amazed at the beautiful white underbelly hair. The shot was picture perfect. At that point the emotion hit and my composure, dead calm throughout the spotting and the shot, went straight to hell.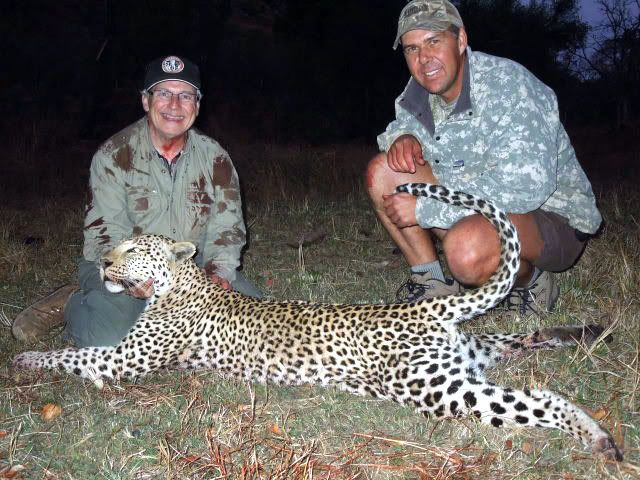 Then came a ton of pictures, including the obligatory ones of me with the cat held up in my arms and the ones with it draped over my shoulders. It hadn't bled out so when Anton put it on my shoulders all the blood came streaming out and covered me! You couldn't tell who got the best of the encounter except for the fact that I was still standing and the leopard wasn't.
After the endless pics, Anton draped her around his neck and we started the trek back to the truck and on to camp for all the oohs and ahhhs. We then took it to the skinning shed and supervised the skinning. That night I got to smoke my special Trinidad fundadore cigar and drink (several) Havana Club rums around the campfire amid the partying and celebrations. A long night, indeed.
The next days were spent plains game hunting (boy, does he have some nice kudu) and evenings laying out for the serval and spotlighting for varmints. One of the last nights we were to another ranch where the rancher was having trouble with jackals predating his cows and newborn calves. We were glad to help him out! I picked up a nice zebra as well, after an arduous climb up and down mountains to get into the herd.
Anton has a great operation! Lots and lots of game, nice accommodations, and some of the nicest people you'd ever hope to meet. I was also able to help (well, I thought it was helping) with the cattle calving and picking oranges and macadamia nuts in his orchard. I and the other couple in camp ate like kings and thoroughly enjoyed the ambiance and camaraderie around the evening firepit. One evening we were entertained by a couple of brothers who live 'down the road' and who happen to be South African recording artists! Another looong night. The other couple in camp were from Kentucky and were bowhunting with their own PH. Anton specializes in bowhunters, but welcomes rifle hunters as well. Steve took a very nice eland, along with other animals, and Karla got a magnificent 55.5" kudu with her bow, as well as a few other trophies.
Anton is starting to market his hunts over here in the States, and offers truly authentic, highly ethical hunting in this region. The region itself is quite a lot different from most of Africa I've hunted, being mountainous and quite scenic. His home ranch is over 6,000 acres of hills and rocks plus he has numerous other larger ranches nearby with exclusive rights to hunt. He's going to be offering a plains game hunt for 2013 here on AR, and it'll probably be a great hunt at a super price. If you're thinking about this type hunt (families welcome) this will be hard to pass up. Heck, I'll be back just for the fun of hunting with Anton and seeing the other folks again. Besides, there's a monstrous kudu we saw one evening with my name on it! A client took a 62" kudu with a bow a couple of years ago (our own Matt Moore, here on AR). I don't think you can go wrong!