Date: 30 June – 9 July 2011
Outfitter: S&S Safaris (Namibia)
PH Buzz: Willem Serfontein
Location: Waterberg Plateau, Namibia
Species Taken: Oryx, Springbok, Warthog, Blue Wildebeest… Girlfriend (more later on that)
Species Not Taken: Brown Hyena
Have recently returned from a great trip with my girlfriend (now fiancé) to the Waterberg Plateau region of Namibia. This was my girlfriend's first safari and our goal was really for her to hunt some PG and get a feel for Africa.
Flying to Namibia was a bit of a pain the way we did it (Paris –> JoBurg –> Windhoek); next time, might try the route through Frankfurt, as a 2hr layover is not really enough time, even having bought the "through-ticket" (which means no change of terminal and everything is supposed to be handled – which it was not). In any event, we made it, both ways, which as OK. The drive from Windhoek out to the Waterberg is really amazing, and with the arrival in Windhoek early afternoon, the drive was done during the dusk hours, with lots of animals lining the road in the various farms passed along the way.
The house we stayed in was very nice and well appointed. Very much what I was hoping for in this first safari for her (no sneaking off to the toilet in the night with a flashlight… and the game-scout not far behind…)
Right off the bat, first morning out, we went to the range to check the zero on the rifles… and no kidding, this is what we saw (see targets in background…)
We got right to it the first morning, with a nice spot & stalk into her first Oryx, a very nice and heavy male, which she put down with a very well-placed shot.
We spent the rest of the day walking and driving around the place looking for a Warthog, but didn't find what we were looking for. Very beautiful though
We also spent time during the day scanning roads and known "hang-outs" for Brown Hyena tracks, and having come across some, we started "ringing the dinner bell"
The following day, still out looking for her Warthog, which we didn't find, we did come across a super old bull Oryx, which after a nice one hour stalk took. Great afternoon and everything I love about hunting in Africa.
Saw some nice animals in the evening as well.
Next day, early morning came across a nice Blue Wildebeest, which had been on my "wish list" for the trip.
Notice the Bavarian Mountain Hound, patiently sitting next to "his" Wildebeest? We had started to walk off to get the truck, and she just stayed there patiently. Great dog the whole trip! That breed is great. My girlfriend has wanted one for a year now, and looks like we finally may be getting one in the very near future.
Spent some time in a blind, looking for a good Warthog (who know this would be this difficult to find…) and we saw other animals
This does not look comfortable!
And this was plain rude (look @ the tongue)…
Also, we were quite amused to see a number of very young Oryx, born probably only a few weeks before. Quite interesting: Oryx are the only animal born with their horns already out; this one was no more than 2 weeks old.
Anyway, we're now about halfway through the trip, and having bought the engagement rings (yes rings, she is Swedish, and the tradition is the other way around, with "the rock" only being presented on the day) a week before the trip, it was time to pop the question. I'll spare all you big softies the details, but under the African stars, she said yes. How could I not: she's been on quite a few hunting trips and never complained about the sub-zero temps and rain, nor the hours spent in blinds; she passed her Swedish hunting exam, and was doing really well in Africa… a keeper in my book.
Now, the next day, that done, it was back out to the velt…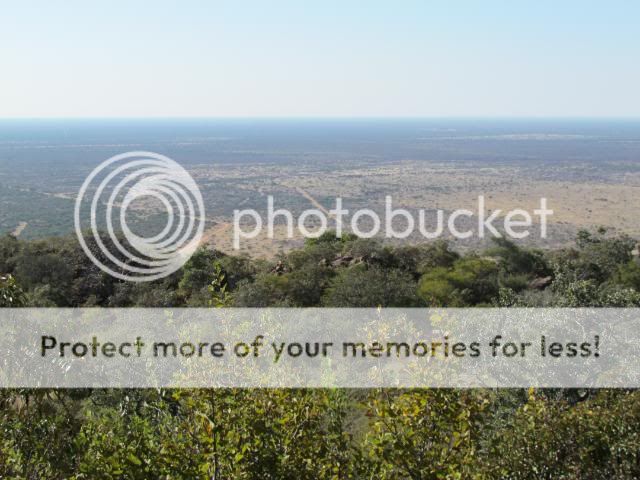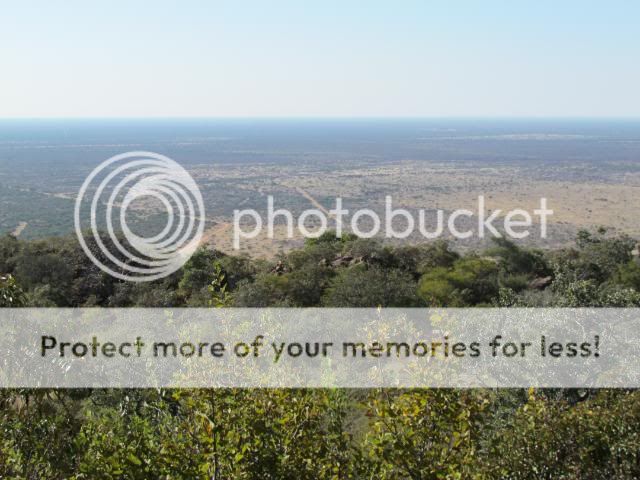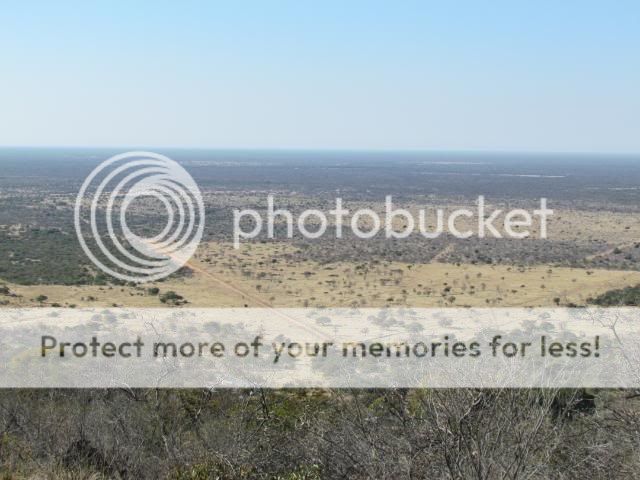 And, having found some promising Brown Hyena tracks, we started getting ready to sit for her (yes, based on track size)
We also finally were able to get two Warthogs, one each, which were not big, but fun and we both enjoyed our stalks into them
Now, that evening, we started to sit @ around 4:00pm, thinking that on this first night we'd not have a great chance, but I was quite excited, never having seen a Brown Hyena before. And, at about 6:45, just as the last light was almost gone, while just chatting away, she walked in… Now, this is why I love hunting so much… I was super exited (and while it's not "buck" fever, I had it bad…). We were pushing the limit of the light, and I thought / had been told that they were quite skittish… and I screwed it up! I took an iffy shot, which I thought was only through a few blades of long grass, but was actually "through" a heavy bush. Needless to say, it went about two yards high, and the Hyena was gone. Now, I was super upset with myself as I usually don't rush shots at all, but I did it. It was a mistake, and I paid for it. But, it's also why I still love hunting so much… still gets my blood pumping.
Anyway, we sat the rest of the evenings, but never did get another one to come in. I great reason to go back though, as would definitely like to hunt Brown Hyena again, as well as Cheetah (which we didn't see a single one during our stay – although the previous group did…).
We had to go to another farm for the Springbok, and ended up having a really lovely early-morning stalk into a good ram. A very happy huntress with probably the animal she was most interested in hunting during the trip.
All in all, we had a great trip. Magda and Willem, along with the whole team, were great and made the eight days super enjoyable and relaxing, all the while providing some great time in the velt and lovely animals. This is definitely a great first African trip for a new hunter, and I obviously should calm down too… A memorable trip on so many levels. And I came out of it with engaged to a wonderful woman, and hunter to boot.
… oh, and she had already agree to spend our honeymoon on safari, so while I get pounded with questions about flower-arrangements, menu selections, and bridesmaids' issues… I will be planning our next trip to most probably Tanzania or Zambia (which let's face it, is a much better use of my time).