On some occasions, I write hunt reports and others not. On the last couple of trips, I've decided not to do so. Recently, I was fortunate to have the opportunity to hunt the Upper Lupande through Buzz Charlton and CMS. So in an effort to do the right thing by CMS, the concession holder, and the professional hunter, below is a brief overview of my recent hunt. I don't have time to make this an exciting, well-edited-read. Hemingway would be ashamed. But this report is free, so you'll get your money's worth.
Hunt dates: July 31 – August 9. Due to some family issues in the states, I only hunted July 31 – August 5.
Outfitter: CMS (Buzz Charlton)
Professional Hunter: Manlio "Mario" Grassetto
Area: Upper Lupande, Zambia
Game hunted: Leopard, hyena, hippo, buffalo, Cookson's wildebeest, and puku.
Game successfully taken: Leopard, hippo, hyena, and puku.
Game observed: Lion, leopard, elephant, hippo, croc, roan, puku, impala, zebra, buffalo, giraffe, hyena, warthog, bush buck, and kudu.
Travel: Travel w/Guns (Patrick), NOLA – ATL; ATL – JNB; JNB – Lusaka; Lusaka – Mfuwe; 45 minute drive to camp. Overnight at Africa Sky on way to camp (VIP service).
Rifle: Winchester Model 70 CRF
Caliber: 404 Jeffery
Bullets: CEB Non-Cons 375 gr. at 2400 fps (Now called Raptors?) - dead made easy.
No big issues with travel. SAPS had the wrong serial # on my pre-approved transit permit, but the VIP service w/Africa Sky straightened it out in short order. I can't see any reason not to use Africa Sky in JNB. My hunt included a meet in greet in Lusaka and that was helpful to make sure I had no issues on arrival or return. But plan to pay ProFlight (Lusaka to Mfuwe) a few extra bucks for gun handling and baggage weight (approximately $100 extra total).
The Upper Lupande camp is large with several chalets for clients as well as those for professional hunter(s) and staff. There are dedicated facilities for the dining room, kitchen, skinning shed, office, etc. I was the first client to hunt the Upper Lupande in years. The camp was rejuvenated recently under the guidance of resident professional hunter Manlio "Mario" Grassetto. Some improvements remain underway, but I was comfortable at camp and enjoyed my stay.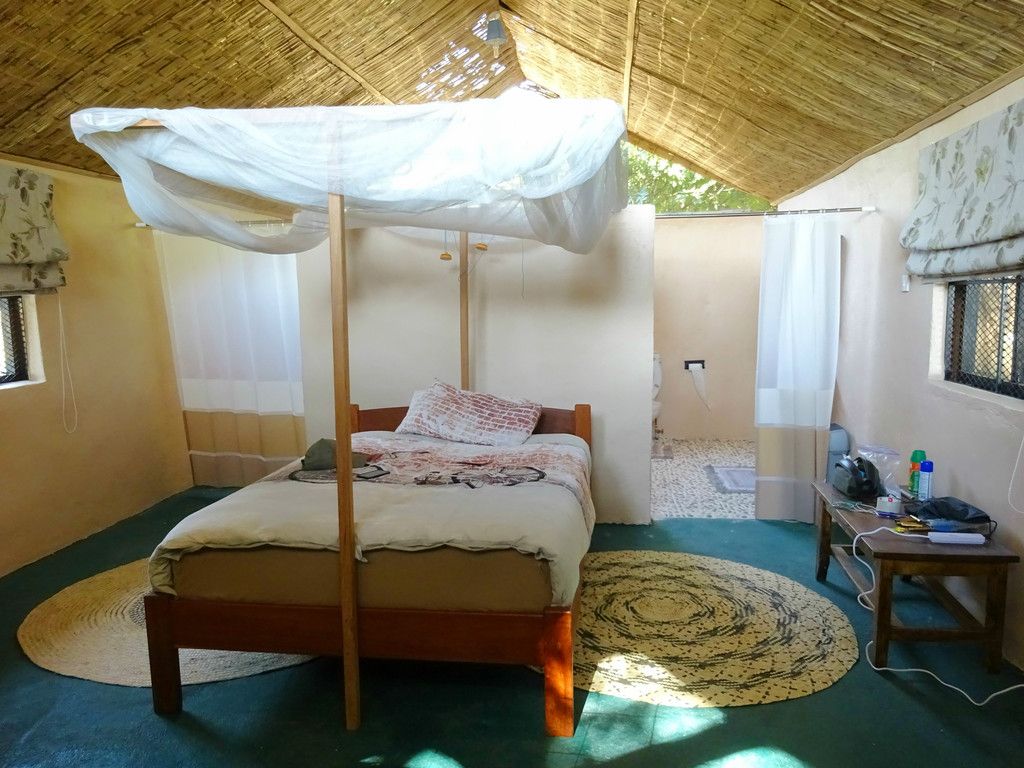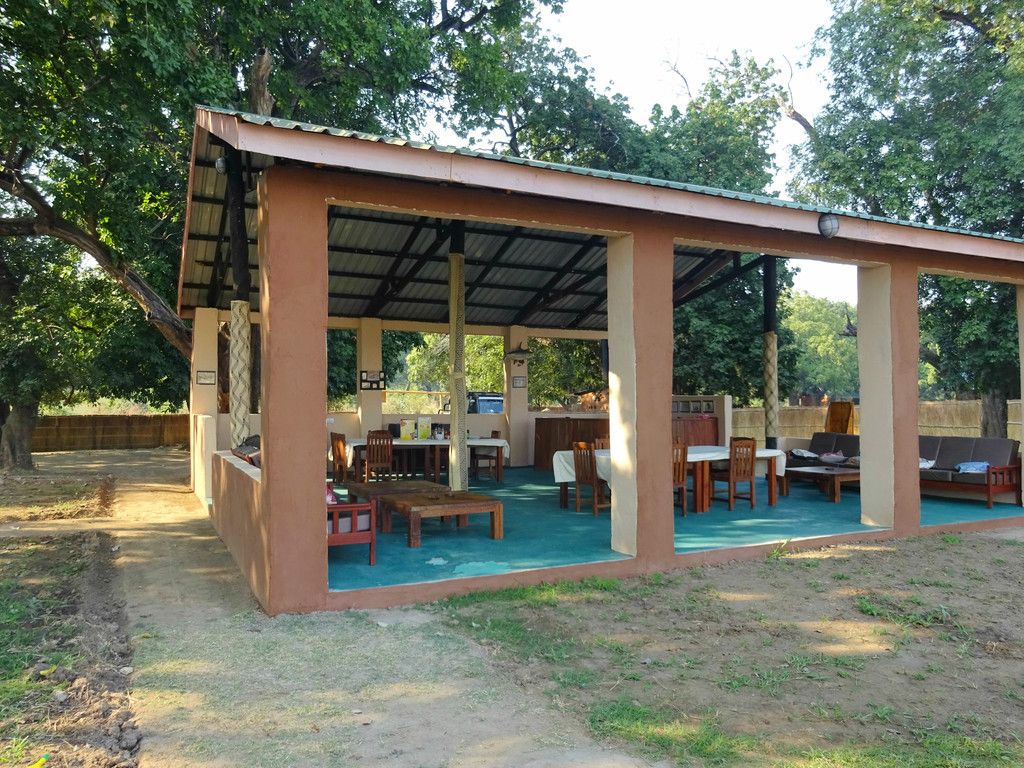 Day 1:
The game scout is hours late. But Mario stays on the issue, and we get the scout to camp by 10 AM or so. This is a dedicated leopard hunt, so we need bait asap. We look for hippo and after a few stops, we spy a big-bodied, old bull. The problem is he doesn't want to hang around in typical range. A almost fully submerged hippo at well over a hundred yards? We're running late, and I practice a lot. No worries – sorted, and we have bait! This guy is a load. Even after enlisting the aid of local fishermen, we can't get the bull on the beach. His teeth and tusks were worn down and broken off, but you don't hang tusks in trees ….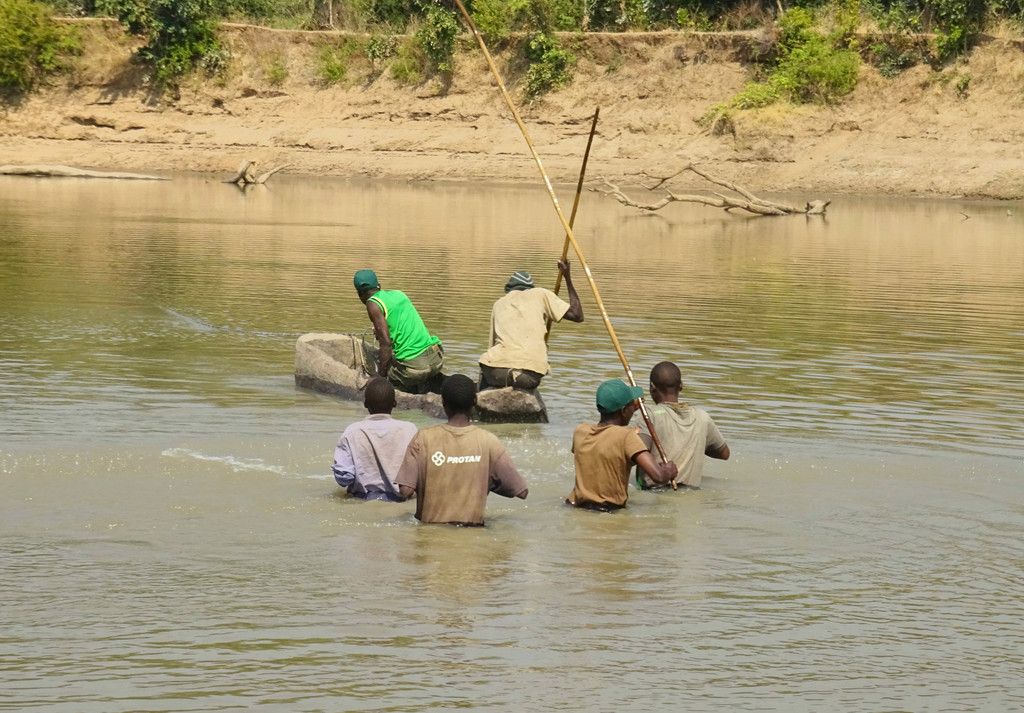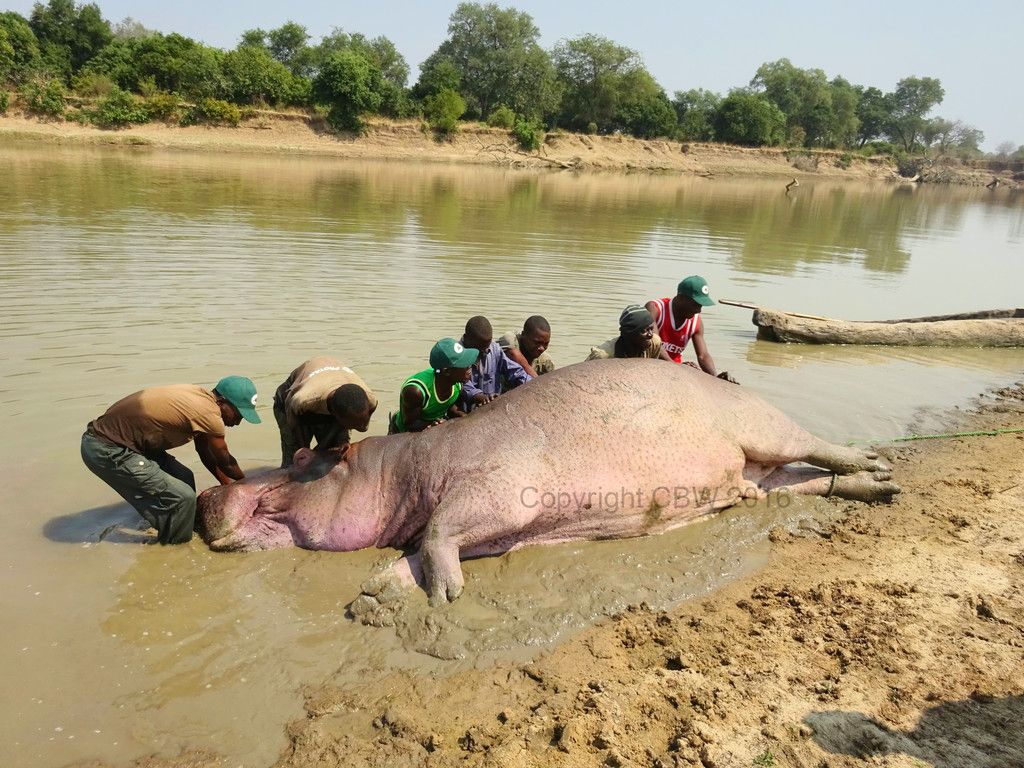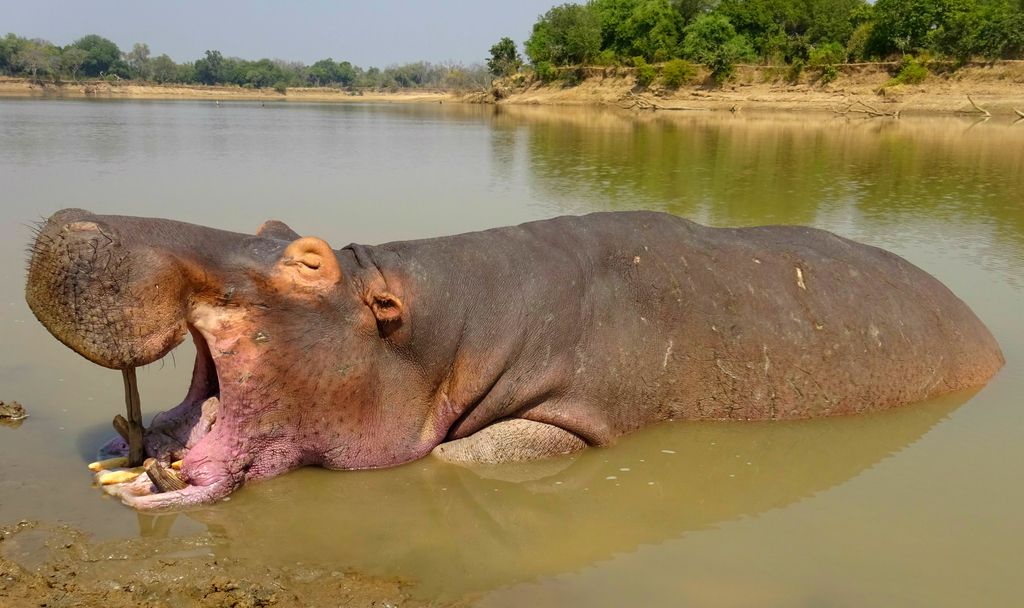 Hours later we wrap up the butchering and manage to get a couple baits up.
There were plenty of hippo carelessly lounging around the area throughout the hunt.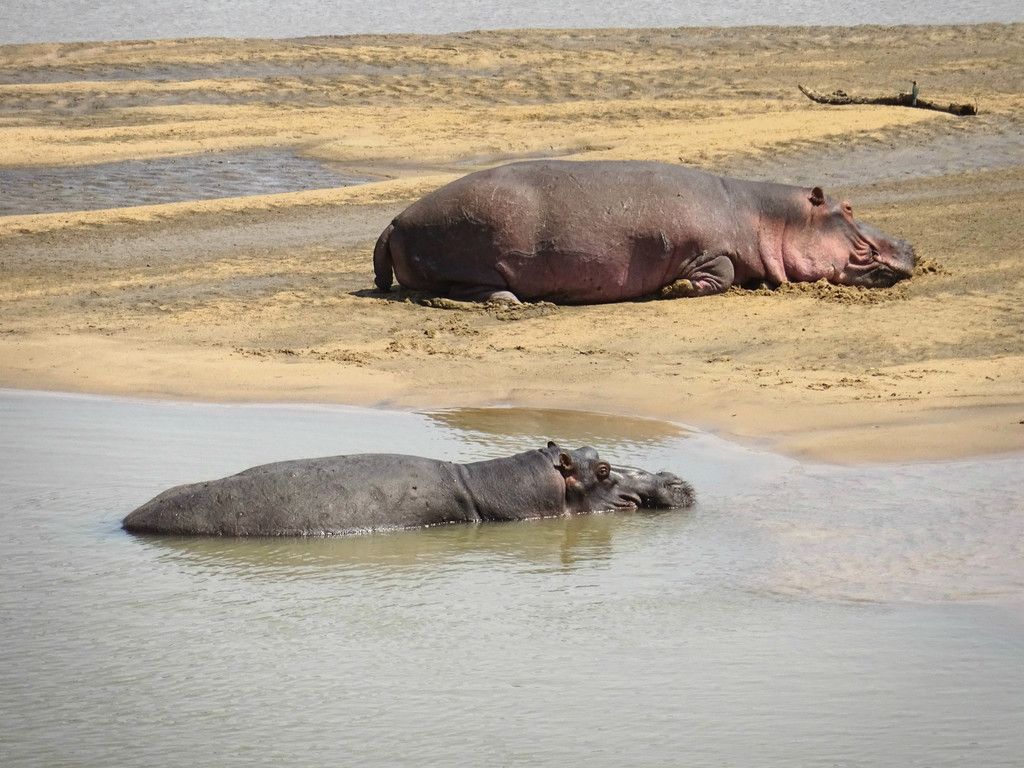 Quote of the day: After we spend the day shooting and butchering a rather large hippo, and we load up the truck with bait, our head tracker, Jeff, says: "Hey Boss, you know leopards like zebra?"
Amusing moment: Our head tracker, Jeff, borrows a fisherman's boat to paddle out to check on the shot, but submerged hippo. He paddles up to the nervous water (where the hippo remained submerged), and he pokes the hippo with a 4" pocket knife to make sure it's dead. I wish I had that on video.
Day 2:
We leave camp for a long boring day of hanging baits.
Is that a hyena in broad daylight at 50 yards? Hyena realizes this isn't such a good idea and runs off. We give chase on foot for 200-250 yards. As we break into an open plains area, there he is, but much farther away. Hyena stops to see if we're still behind him. Good for me, bad for hyena. He's old bruiser and survivor of a neck snare. Daylight hyena – sorted!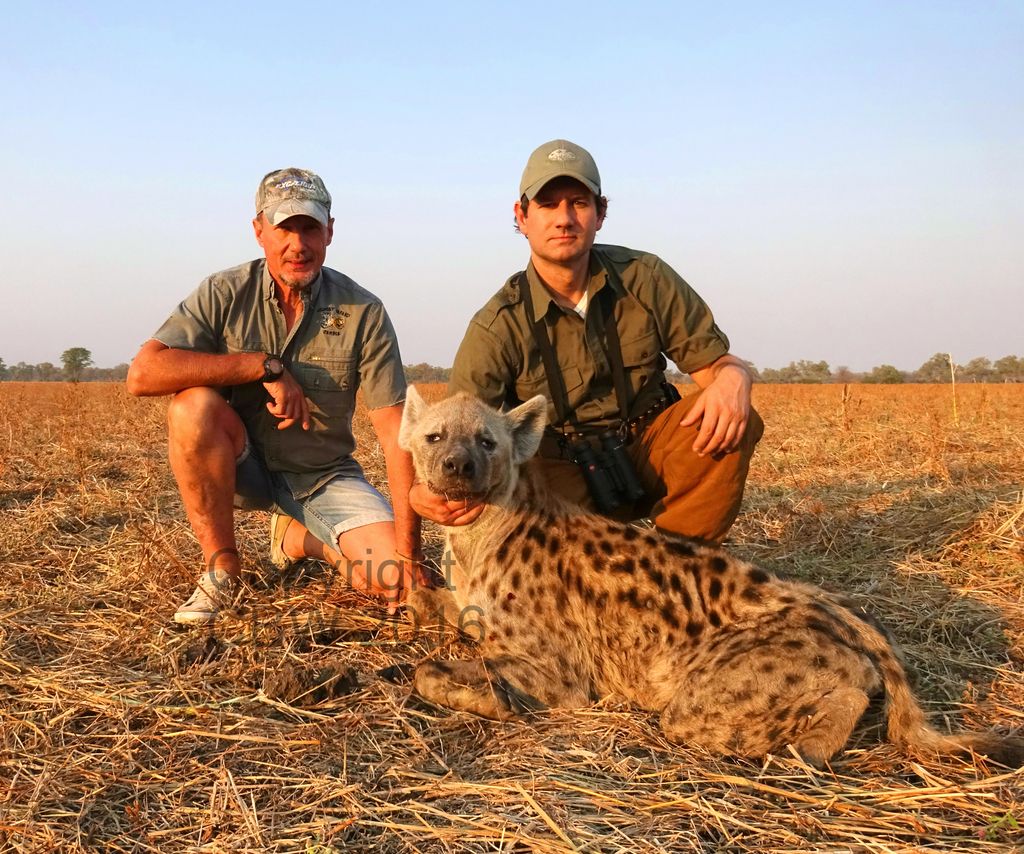 Over the course of the next several days, I would see several more hyena during the daylight hours.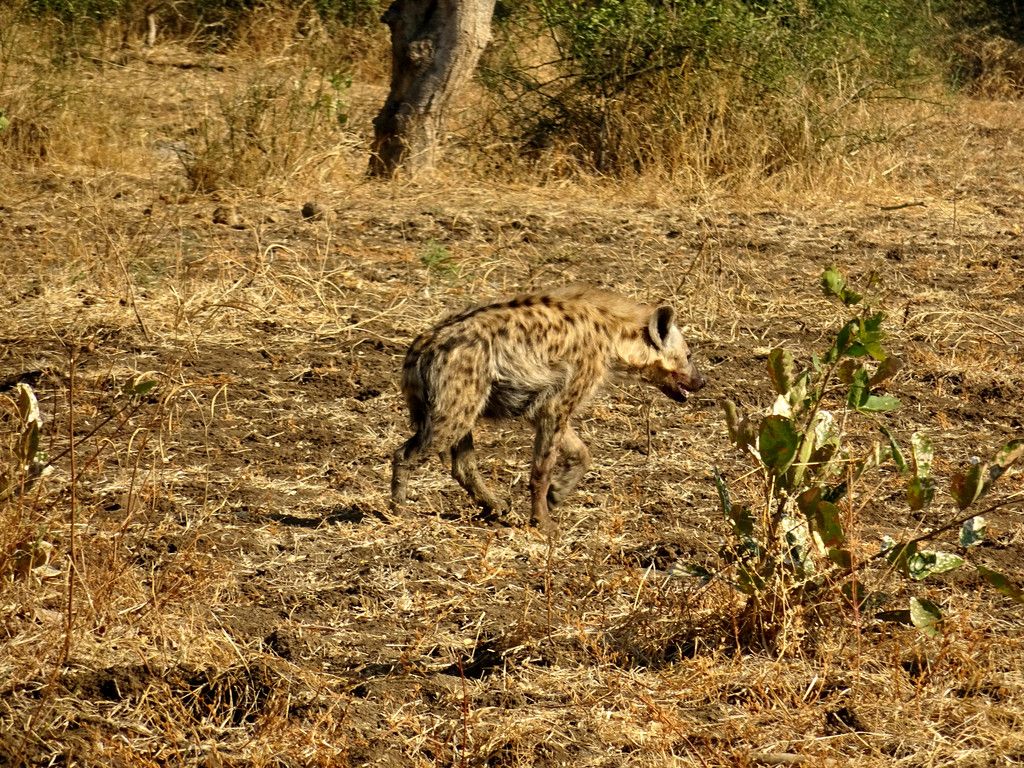 We drop off the hyena at the skinning shed and return to the bush to hang baits. Is that a nice puku on the plains? In my limited experience with them, puku don't strike me as the wariest of creatures. Time for a short stalk, and then the puku is in the salt.
So, by 10 AM on day 2, we now have our bait hippo and nice hyena and puku. We hang 4 more baits, bringing our total to 6.
Around 7:30 PM that night, the trackers say there's a big leopard in camp by the skinning shed. Sweet, because the last bait we hung was ½ mile from camp, and we drug almost all the way back to camp due to recent leopard sightings.
Quote of the day: After we sprint 200-250 yards after a hyena and I'm breathing heavy on the sticks, I complain that the hyena sure is a long shot. Our head tracker tells me: "Hey Boss, he ain't getting any closer."
Runner up quote: Head tracker to me: "You run pretty good [for a fat guy]."
Day 3:
A leopard hits our bait close to camp. At 7 AM, we rewire the remaining bit of bait and replace the grass cover on the tree. Then we go back to camp for more bait and to cut grass for a blind. When we return to bait around 8 AM (an hour later), spots has returned and ripped the last of the bait from the tree and carried it off into the high grass. Yes, this all happened in broad daylight after we had already been to the tree.
We arm ourselves and wade into the grass to reclaim our bait, so the leopard won't hole up with it instead of coming back to the tree. Spots decides discretion is the better part of valor, and he drops the bait in the grass about 120 yards from the tree. I mention this cat must be a cheeky bastard. Mario agrees ….
The trial cam video confirms the cat is a very nice mature tom.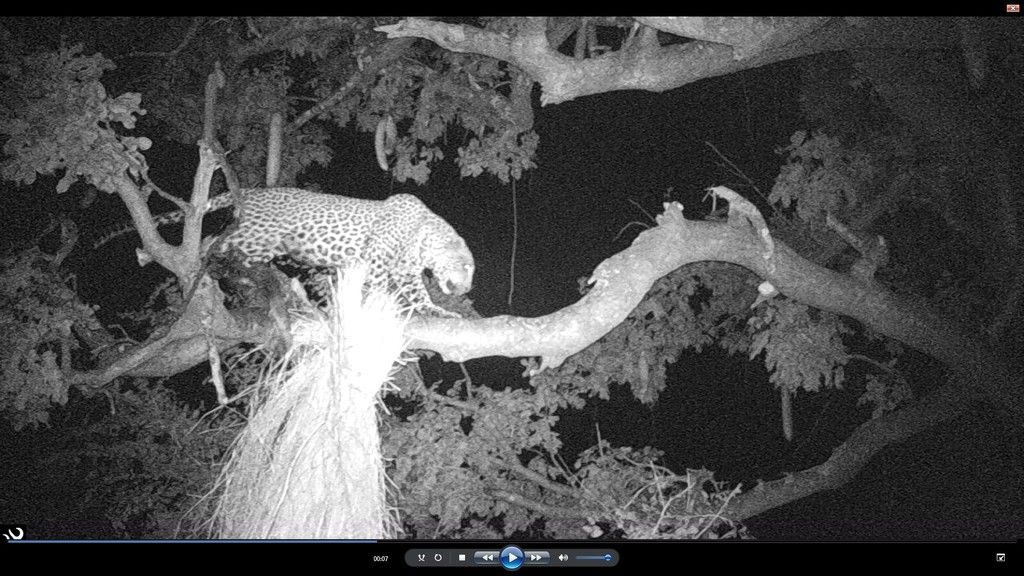 We collect natural grass and build our blind with the plan to sit late in the afternoon.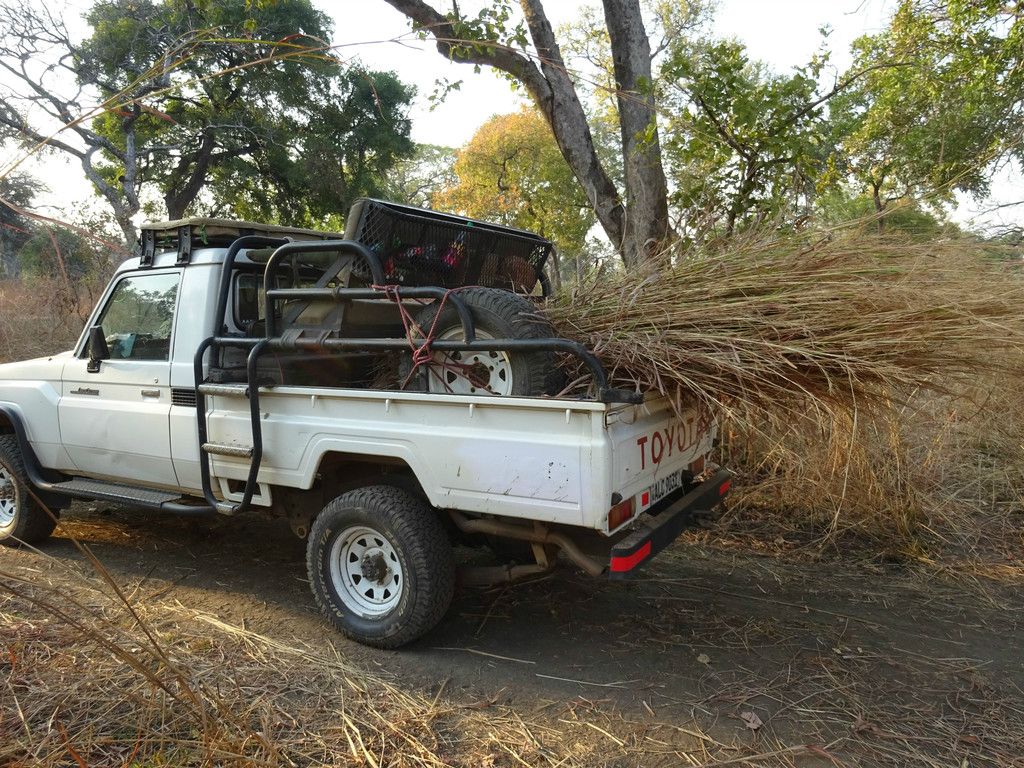 As we check the other baits, there are two more hits. But we already have a blind and a plan.
However, spots does not like our plan. We hear him cough behind us a few times, but he doesn't show up in the tree before dark. Oh well, back to camp – we'll try again in the morning.
Well after dinner, I'm sitting by the campfire making a few calls when a couple of lions walk past in the river bed. I throw more firewood in the pit (now I have a proper leg hair melting fire) and quickly wrap up my calls. As I'm about to retire, one of the staff stops by to tell me the leopard is back in camp by the skinning shed. I have a torch, so I investigate. Yep, it's a leopard. Yes, I'm in my shorts and tennis shoes, but leopards are scared of people. I hit him with the torch beam, and he stares back at me. He doesn't run – he just stares at me. I click off the torch and then the light is back on again. He's still there staring at me. Again – same result. I confirm this cat is a cheeky bastard.
I'm no novice hunter or bed wetter, but spots doesn't act like he should. I retreat to my chalet, but pray to see him in the morning under different, more favorable, circumstances.
Day 4:
After two prior unsuccessful leopard hunts in Zim, this was a long time coming. He's everything that I could have asked for and even stared me down the night before. Admittedly, this was a bit of an emotional experience for me. My morning leopard: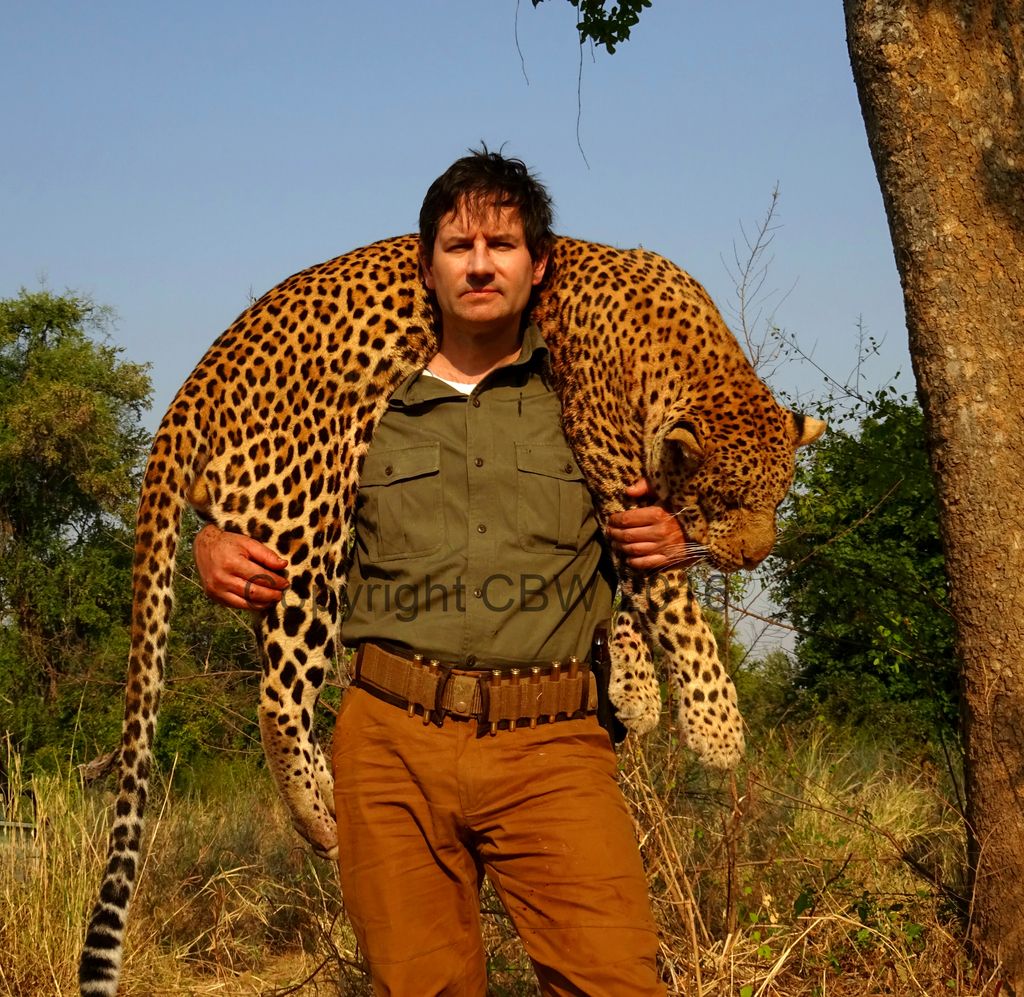 The cat is over 7' long and built solidly. Although neither Mario nor I are competent photographers, we take lots of pictures. There's a celebration, and we relax the rest of the day dropping baits and exercising our livers.
That night I hear about some family stuff back home.
Day 5:
We hunt big buffalo and Cookson's wildebeest. I've been fortunate enough to take some nice buff on prior trips, so I'm looking for something exceptional. We see nice buffalo, but not the "one." I also see lots of quality plains game and tons of elephant, but no wildebeest.
I was fortunate enough to photograph this lion at only 40-50 yards or so. He's a beauty, and Mario tells me one of five big males that utilize the concession. The lion wasn't even remotely scared of us and growled at us several times – absolutely awesome. We encountered this lion without the benefit of any baits – we were both hunting buffalo.
Same issue back at home, so I need to wrap up the hunt early. We'll have one more hunting day.
Day 6:
Same story as Day 5. We end the day looking over a herd of a couple hundred buffalo as the sun dips below the mopane. This was my last hunting day, and I hit the long road home on Day 7.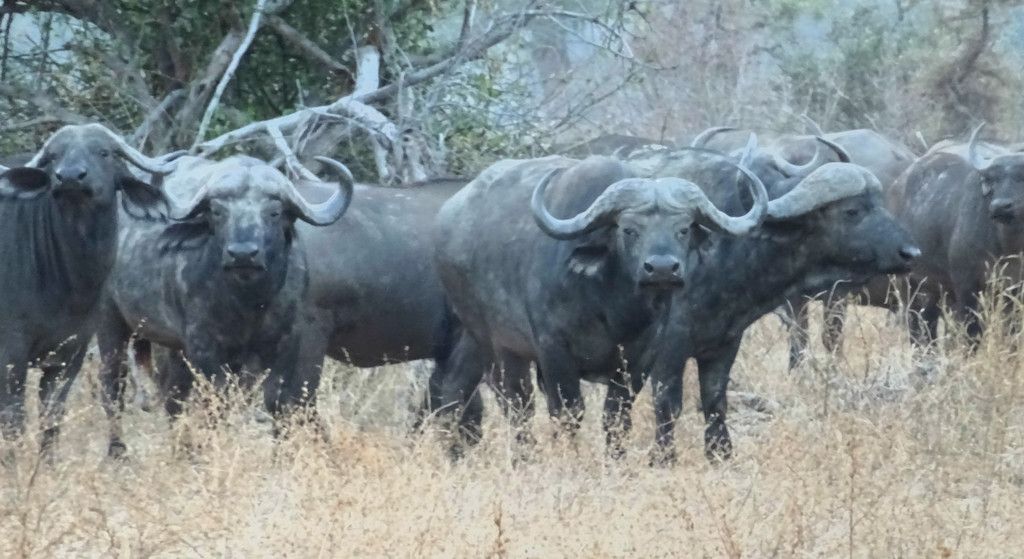 I'm aggravated and I think my luck ends on the long Delta leg to Atlanta as I'm situated between two significant men in economy. This is what happens when you jack around with your reservations last minute …. But at least they were nice and thoughtful guys in addition to being significant. As it turns out, my luck might not have been so bad after all. By returning early, I missed the massive Delta computer screw up.
In conclusion:
I'm not going to attempt to explain how significant getting this leopard in broad daylight was for me. I won't lie and say I put more blood, sweat, and tears in on this hunt than all of my others. I've had those hunts before, and this one was more relaxing – we never had to force anything. May be the law of averages was catching up with me in a good way. But I can't help believing the combination of circumstance, area, PH, and hunting team was well in my favor from the beginning on this hunt.
The Upper Lupande is a game rich concession with calm, unmolested game (excepting some limited poaching). Out of 6 leopard baits, I had 3 hits in 4 days. I saw many elephant, although I wasn't hunting them. I understand that once the pools and lagoons dry up in mid-September, the buffalo and other game concentrate along the river and the plains in the concession. This drives up the game numbers dramatically. If there is that much more game later in the year than I saw in late July/early August, then that would be certainly something to behold. I would be pleased to hunt the Upper Lupande again and hope to do so.
Mario Grassetto is the resident PH and conducted the hunt for me. He was raised in Zambia and is of Italian heritage. He knows the area and what he is doing, and I'd also be pleased to hunt with him again. Jeff is the head tracker, and he's the best tracker I've had the pleasure of hunting with.
My involvement with Buzz and the CMS team was in the booking process. Buzz and company ran all of the traps for me and answered all questions timely, fully, and honestly. I understand Buzz still has a couple hunts left for the Upper Lupande for 2016 at significantly reduced prices – these strike me as very good deals. If you're looking for a daylight cat in a game rich environment, definitely consider the Upper Lupande, Zambia. I'm happy to serve as a reference if anyone has questions.