Operator: Charlton McCallum Safaris
PH: Pete Barnard
Safari Area: Dande North, based at Mururu Camp
Dates: September 23-October 2, 2011
Rifles: Rifles, Inc. Custom in .416 Rem Mag, Ruger M77 in 7mm Rem Mag
Ammo: Handloads: .416=Barnes 400 gr TSX and Banded Solids; 7mm=175 gr Nosler Partitions
Trackers: Manager and Emmanuel
Game Scout: David
Animals seen: Civet Cat, Buffalo, Impala, Bushbuck, Baboon, Kudu, Zebra, Leopard, Elephant, Duiker, Eland, Grysbok, Klipspringer, many birds (doves, sand grouse, guinea fowl among others), Monitor Lizard, Warthog
This hunt was booked at SCI in Dallas in January of this year. CMS came highly recommended from some close friends that had hunted with them previously, although my friends encouraged me to talk to several operators. I felt the most comfortable with Myles and Buzz so I booked with them. My primary targets were, in order of priority, Buffalo, Kudu, and Zebra, with other plains game as the opportunity might arise. Prior to booking the hunt I commissioned Lex Webernick of Rifles, Inc. to build a safari rifle in .416 Rem for me. My plains game rifle was to be my 41 year old Ruger 7mm which I have used to take half a dozen elk and numerous whitetail deer and hogs.
Tried to get in decent shape before the hunt (like most Americans my age (58) I am overweight) and had worked up to 4-6 miles/day 4-6 times per week until about six weeks prior to leaving when I was blessed with severe plantar fasciitis in my right foot. Fortunately I know my orthopod pretty well and he was amenable to injecting a steroid into my foot a week before leaving (not a fun experience).
I took CMS recommendations to use Gracy Travel for everything, as it was my first trip and I was traveling alone. I have to say it was some of the best money I spent. Their people made things go smooth and saved me so much time and grief it was unbelievable.
I had been to Africa in May-June of 2009 on a mission trip (southern Sudan) so I was aware of the jet lag. I decided to take my time going in to minimize that, so I left San Antonio on Monday morning, September 19, flew to Atlanta, then on to Joburg. After overnighting in Joburg I flew to Harare the next day. Buzz met me at the Harare airport and took me to a very nice B&B. I stayed there Wednesday night. Buzz picked me up the next morning and took me to their office where I met my PH, trackers, and photographer. We then drove in to Mururu on Thursday. I could have flown in and saved a half day, but I wanted to see the countryside. It also gave me a chance to share my desires and hunting philosophy with Pete (mature animals, no tape measure). We picked up our game scout, David, along the way.
After arriving at Mururu mid-afternoon we unloaded, settled in, and then went through the stressful (at least for me) sighting in of the rifles. Fortunately my TuffPak was padded enough that neither of them had moved zero, but due to typical "first timers" nerves I didn't shoot the 416 nearly as well as the 7mm. Pete seemed OK with my shooting, so I felt good about starting the hunt the next day.
First day was spent looking for buffalo tracks. We saw an Eland cow early on, but no bull. We tried to get on Zebra that we ran across at least 2-3 times, with no success. I did not go to Zim with any preconceived notions, but it became evident very quickly that the Zebra, which I had erroneously assumed would be the least difficult to take, would actually be the hardest (and it was!).
At lunch we visited with another PH and client who had already taken their buff and had seen a few dagga boys close by. We happened on them fairly soon after leaving camp, but they saw and smelled us and were off. We circled way around them and the PH sent one of his trackers up a tree to try and spot them. He did, so off we went.
We found their tracks fairly quickly, and pursued them. After several hours of tracking up and down gullies, rocks, etc., it started to get dark, so we knew we were about out of time. I was starting to run out of gas myself, and for a fleeting moment was wondering if the trackers really knew what tracks they were following. I barely got the thought in my head and three dagga boys materialized in front of us. Unfortunately, they saw and smelled us and were off. The trackers are unbelievable!
On the drive in to camp, right at dark the trackers spotted a civet cat. Pete told me to "just get out and shoot it" so I did. After an evening of pleasantries and a great meal, we all retired for an early rise.
Day 2 arrived early. We had coffee and toast and were in the cruiser hunting by 5:30 a.m. The other hunter in camp was hunting leopard exclusively, so he and his PH were long gone by the time we left. Late morning we decided to walk a riverbed to look for tracks. I jumped a nice bushbuck but rushed the shot (basically shot before Pete told me to) and missed cleanly.
After hunting hard all day without cutting a fresh track we could follow, we were on our way in to camp in the late afternoon when we happened on to a herd of buffalo. We bailed out and circled way around them to get the wind in our favor. After working closer and closer to them Pete determined that there was one shooter bull in the herd. We worked our way closer and closer until we were with about 80 meters. Pete made sure I knew which bull to shoot, as at least one of the young bulls had a very wide spread, but his boss was not hard. Pete got me on the sticks and I squeezed one off. All of the buffalo took off. Pete initially thought I had missed, but Manager said no way, he heard the shot hit solidly. We walked down to where the bull had been standing. No blood at first, but after walking a few steps blood was evident, and then within about 10 meters hunks of lung tissue were all over the ground. I have never been so relieved in my life! We followed the bull down into a gully with thick brush. A younger bull complicated things by circling the down bull and acting very agitated. Pete reassured me that he did not think the young bull would charge us, but you never know. The younger bull finally took off. We could not see the downed bull's head, so Pete had me put a solid in his rear to see if he could get up. He didn't. We cautiously approached closer, and then the younger bull came back. Pete had me put one more solid in my bull to scare off the younger bull. At the sound of the shot he left. When we approached my bull's head he was barely breathing. Pete had me put one more soft in the bull's heart and we were done. I had my first real African trophy! By this time it was almost totally dark, which is why the picture looks like it does. The guys cut a road to the bull for retrieval, he was winched up in to the cruiser, and off we went. I was able to recover 3 of my four bullets (the fourth was probably in his paunch) and they performed flawlessly.
The next day we hit it hard early again, with several stalks on kudu and zebra that were not successful. Late in the afternoon we came across a herd of kudu cows that happened to have a good bull with them. I had been previously told that this time of year the kudu bulls were exclusively in bachelor groups, so this was an anomaly. The bull looked to be a shooter in Pete's estimation. We worked our way around them and found that I was going to have a very short window in which to try and shoot the bull as he walked through the brush with the cows. I got on the sticks with my 7mm and when he crossed the opening I shot. He ducked and ran over a rise in front of us. When we followed up, we found blood, but not a lot. Pete thought I hit him too high, although my sight picture when I fired did not agree with that. If anything I was low and/or too far in front. The trackers did their magic again and we were off to find him. It soon became evident that he was dragging a front leg, but he was still staying well ahead of us. Damn, these African animals are tough! We tracked him for at least 3-4 km and the blood was getting fresher, but it was also getting dark. We made the decision to back out and hope that he stiffened up without getting eaten by hyenas overnight. Needless to say, I had a sleepless night. It agonized me that such a beautiful animal was out in the bush severely hurt and I couldn't end it.
The next morning we were back on the track as soon as we could see. We quickly came to a spot where he obviously spent the night up on a big flat rock, as the pool of blood was in excess of a meter in diameter. Off the trackers went again. After a couple of hours of up and down the blood spoor was getting fresher. Pete opined which way he thought the kudu was going and started to go after him to cut him off. About then we bumped him and the kudu took off. Pete outran everyone in the group (especially me) and put a 416 from his rifle into the kudu, which put him down. When we approached he was still alive so I put a 7mm in to him to end it. Next to seeing the lung tissue from my buff, this had to be the second greatest moment of relief in my life! Turned out my first shot had shattered his left humerus and he still went over 8 km before we put him down for good. After pictures the crew butchered him and packed him out at least a km as there was no way we were going to get a vehicle anywhere near him.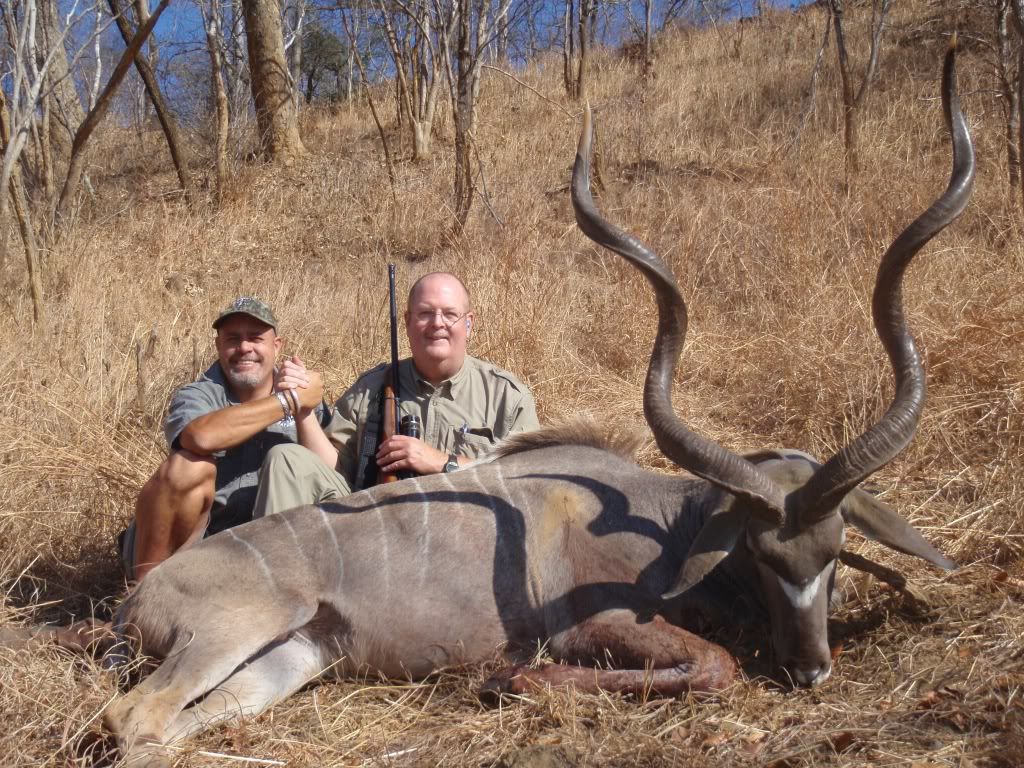 The next day, with two of my personal "big three" in the salt, we thought we would have some fun and pop a couple of baboons. It amazed me how they knew to all get out of the trees and in to the thick brush when a vehicle drove by. I ended up shooting three, but will only have two shipped back, as I blew the lower jaw out of my third one. Oh well, the vultures need to eat, too.
The subsequent days kind of ran together for me, I was having too good of a time to keep specific track of what happened when. While checking out a riverbed for baboons, we observed a herd of impala crossing it. Pete determined that the herd ram was a shooter, so I waited until he crossed, prayed for a good shot and took his heart out. What a redeeming feeling!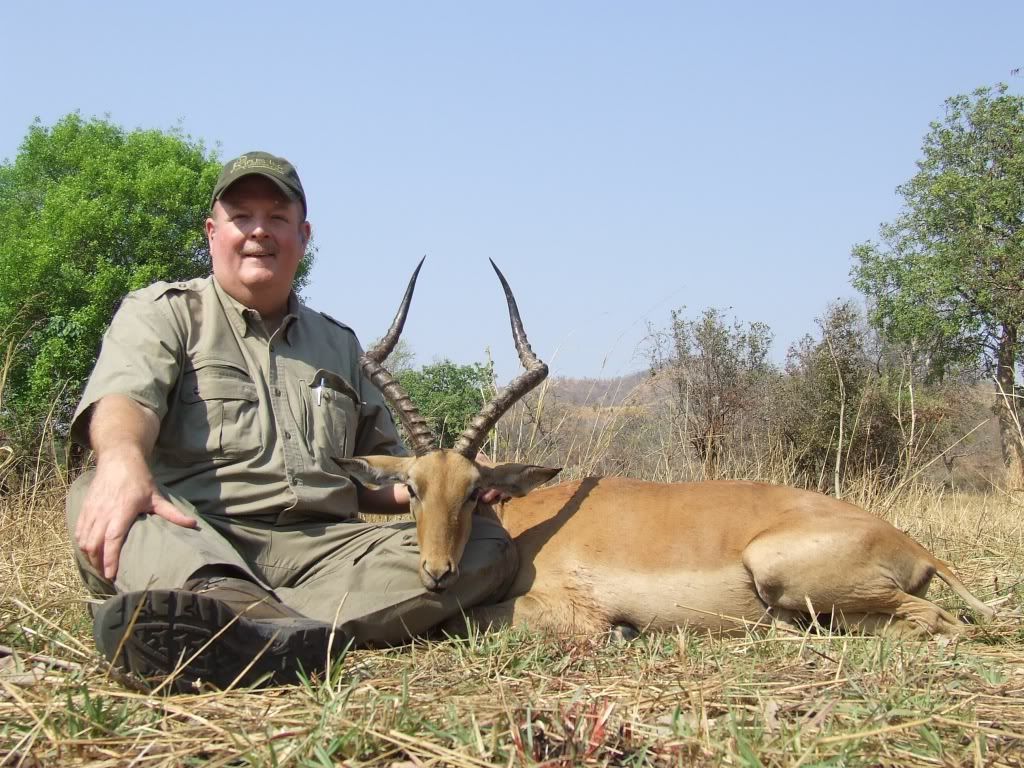 That same afternoon, late, as we were driving in, a bushbuck rocketed across the road in front of us. We bailed out and followed him, and he was in the brush broadside. The 7mm barked again and took his heart out as well. What a day!
Saturday morning-next to last day. Main focus now=Zebra. I was given the opportunity to change camps at the end of my safari to possibly shoot a hippo, but I still didn't have my Zebra, and that was a priority over hippo. We had some crazy stalks on Zebra-for example, one day at lunch we were getting close to camp and had just passed the sign saying "NO SHOOTING" and I remarked to Pete that it would be poetic justice if we saw a herd of Zebra close to camp. Pete said if that happened he would have me shoot one in a heartbeat. I barely got the words out of my mouth and the trackers banged on the roof of the Cruiser-"Mbizi!" After a short stalk the Zebra consistently kept heavy brush between them and us, so no shot was possible. Pete told me at lunch that he wanted me to carry the 416 from now on. That morning Pete had the trackers check a water hole for fresh tracks that we could follow. Not finding any, right before lunch he had them check the water hole again and step in all the tracks so that when we resumed hunting after lunch we would know that any tracks that were there were fresh. After lunch we all decided to check the water hole. At first the trackers didn't say much. As we were climbing up the bank to return to the Cruiser they got all animated. Pete at first thought that they were pulling his leg, but we went back down to look and saw a small herd of Zebra leaving the water hole. I got on the sticks, picked out a large one, and let fly. It turned almost broadside but angling away. I shot again and all the Zebra climbed out of the water hole. We followed up and found a fair amount of blood with some intestinal contents. Needless to say I was not pleased with the shot. We track for about 80 meters and see it standing broadside. Another 400 gr Barnes puts it down. Turned out to be an old, barren mare. First shot took out her liver which is why she did not go far. She ended up being fairly close to one of the camps and cutting a road to her was minimal work. Sure beat having to skin her in the river bed and packing everything uphill. Pete said she was one of the biggest zebra he had taken in a while-we had to use the winch to load her after six guys couldn't put her in the bed of the Cruiser.
A couple of side notes: I was fortunate to shoot a few birds as well, and we came across a large cow elephant one day that had fallen to poacher's bullets. We recovered the ivory.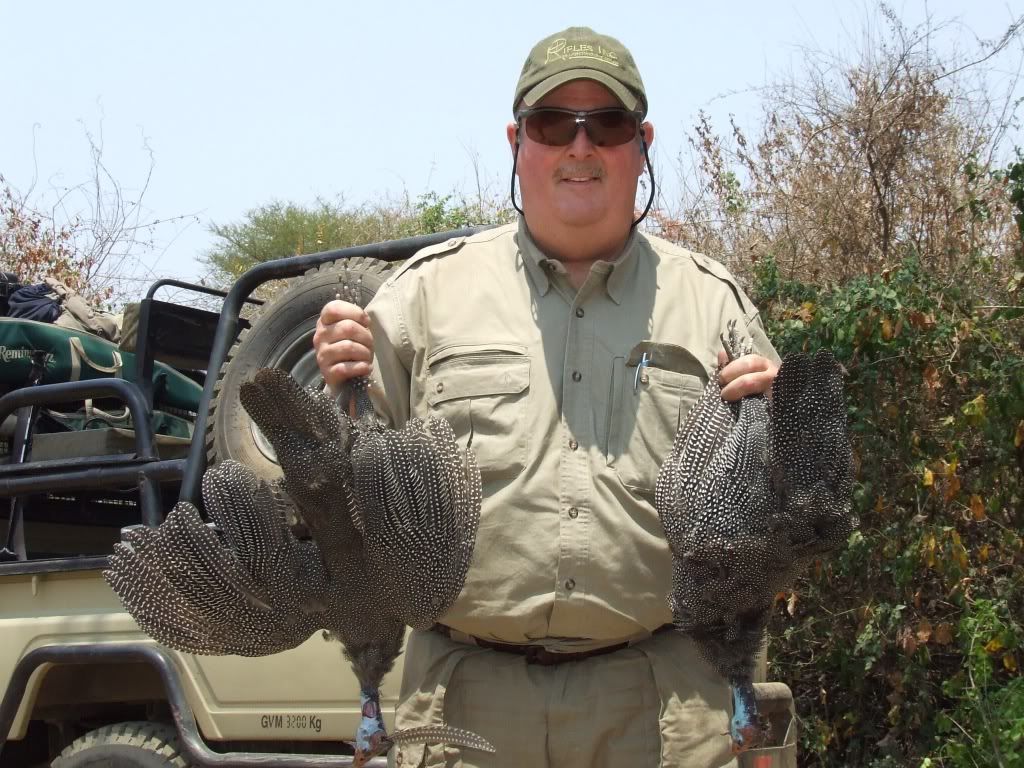 All in all, a fantastic trip with memories I will take to my grave. I have to say that the knowledge I gained on this website helped me in no small way.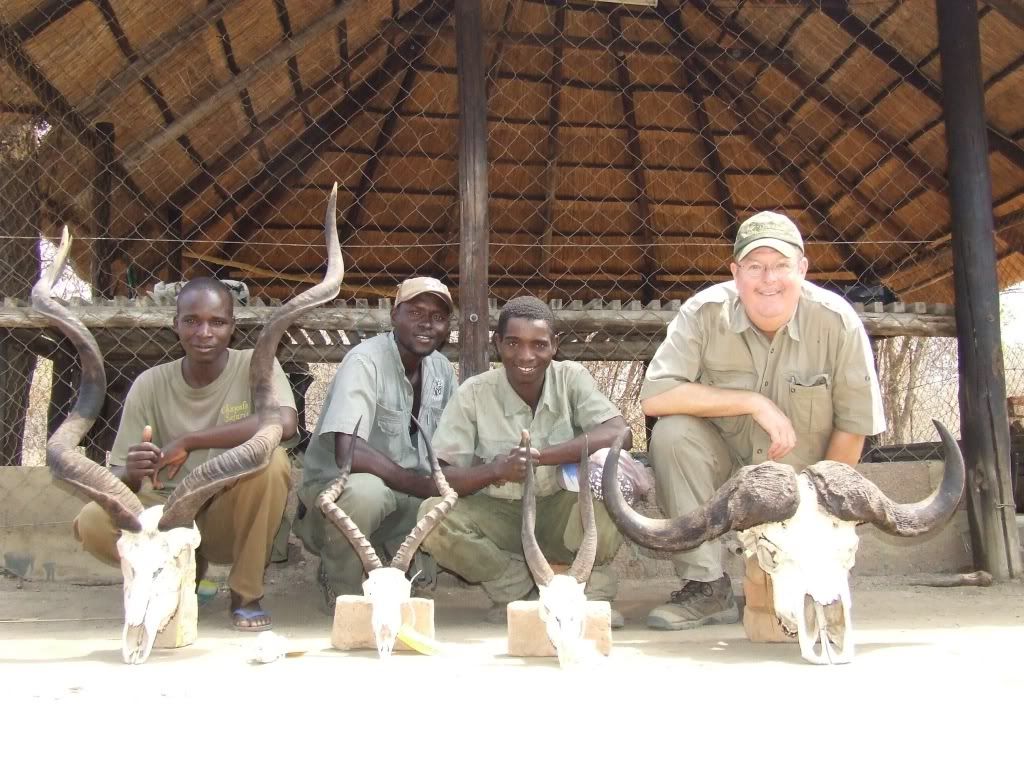 Johnny Johnson


"Never, ever, book a hunt with Jeri Booth or Detail Company Adventures"