Hi Wink,
Nice rifle! I especially love the side panel carving. Is any other part of the stock carved as well?
I love the model 99. I've got one early 99F in 22 Savage HP from 1925. Sweet little rifle – takedown, 20†barrel. Unfortunately it's been refinished, has a repaired crack through the forearm and was drilled for scope mounts. Still sweet though. I've got another 99 EG in 300 Savage on the way from the States. Still looking for a (late model) 99-F in either 300 Sav or 308 Win.
Getting a peep sight for that rifle should be a no brainer. There are always various sights going on Ebay at any moment. – E.g.
THIS
(this is a good price if it doesn't double in the next two days. I paid a lot more for my Redfield peep)
You'll be looking for one of the following: -
Lyman No. 1
Lyman No. 1A
Lyman No. 2
Lyman No. 2A (all of these non-windage adjustable)
Lyman No. 29-1/2
Lyman No. 30-1/2 (both windage adjustable but both are collectable and expensive)
(Application code "SA†for these sights. Should be stamped on the underside of the base)
Marbles Automatic Flexible (application code S1)
Redfield No. 70
Redfield No. 80 (both application code L - "LH†or "LT†for Hunter or Target knobs respectively)
There are also the Williams "Foolproof†and "5D†sights for your rifle but I'd prefer one of the above mentioned.
Photos of some of these sights can be found
HERE
Here's a mint Lyman 30-1/2. I have a similar sight that is also mint but with some light engraving on it. Just waiting to get a nice collectable 99 to mount it on. -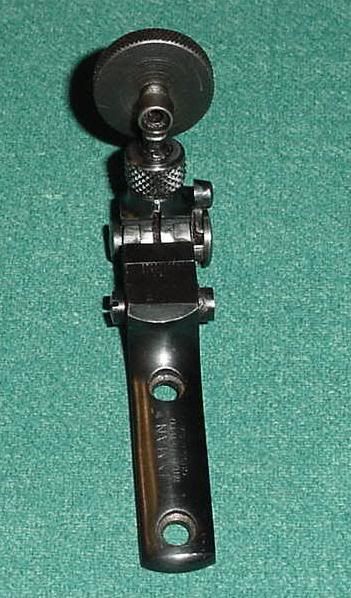 Claret – sorry for the thread hijack. Got a bit carried away seeing Wink's rifle.
Cheers,
- stu