This year my fiancé and I decide to do a "Scandinavian Safari" in lieu of the more traditional summer holidays. The plan was to start in Norway with some Reindeer hunting in the mountains, followed by a return trip to northern Sweden for Capaercaillie, Black Game, and Ptarmigan. So, this will be a two part report:
Date: 20-23 August 2011
Outfitter: Breheimen Safaries
PH: Kolbjørn & Knut
Location: the Breheimen mountain range, between Lom & Skjak, Norway
Species Taken: Reindeer
Day Zero: the outfitter recommended we come in the day prior to opening day, to hike (pack would probably be the more appropriate term) into the area, to be on the ground for opening day. We flew from London to Gothenburg, to drop off some more gear for the second part of the trip, and on to Oslo on the Thursday, finishing it off with a 5.5hr bus ride into Lom. We were recommended to stay at the Touristhotell in Lom, and try the restaurant (Fossheim), whose chef is a friend of the guides'. Wow! We are lucky enough to travel around quite a bit, and eat some pretty good food, but this guys has some mad skills! 1 Michelin Star would be easy for Kristoffer! If ever anywhere near this town, do make the trip to try the food.
Kolbjørn, one of the guides picked us up from the hotel on Friday morning, after we'd done some local sightseeing at the local fjell museum and an 800+ year old church.
Beautiful old church
We made a grocery run for the 4 days and were off to pick up Knut our other guide. It was a long drive to grab Knut, our other guide, and into the drop-off point. Where we arrived looked like something out of a Sci-Fi set, completely desolate beauty; what was left behind by a glacier some year ago.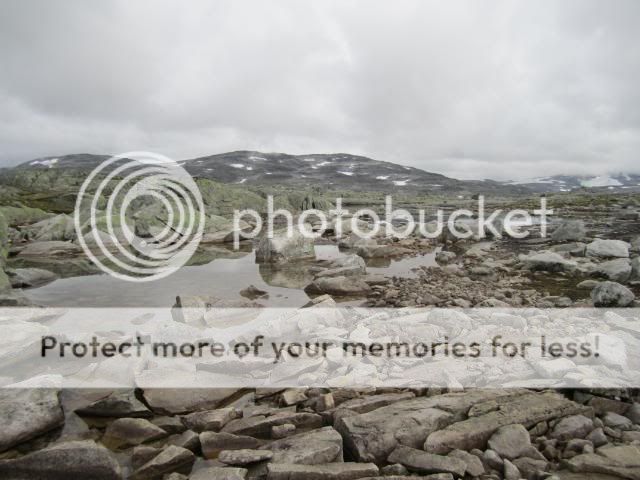 After a brief 3hr hike into camp, we were able to settle into our new home for the coming days.
A very well appointed and stocked cabin, with room for 15+ we're told; although it would only be the 4 of us. The Norwegian Tourism board operates these and this one was fully stocked with firewood and food. We prepared a late meal, and got our heads down at about 1am, dreaming of the reindeer hunt to come.
Day 1: we got off to a late-ish start, as the fog had rolled in and the visibility was nil, along with a light but persistent rain. In the end, we only packed down to a comfortable vantage point from which to glass the 3 mile long valley below us
We made out a small herd of 7 reindeer about 2 miles away, along with a lone buck, towards the end of the afternoon. We also spotted 2 different groups of hunters trying to stalk in, but they only succeeded in pushing the heard up the valley onto a glacier out of their reach. We thought about making a stalk over and into the heard, but since the hunt must end, by law, at 7pm, we packed it in, with high hopes for the following day.
Day 2: up at the crack of oh-my-god its 5am, we were out the door with packs fully loaded for whatever. The plan was to make the 2 mile stalk down to where we'd spotted the deer feeding the following afternoon. In the end, it was a 3hr grueling stalk across some really tough terrain, with Rebecca and I taking the hurt. But, god is the scenery worth it!
Finally, not too far from exhaustion (as it had gotten quite hot and the packs weighed more than they should have), we made it to where we thought the herd would be. But, turns out we weren't alone, and 2 other groups were making a mad dash for them. Long story short: one missed ridiculously long off-hand shot from some other guys (we never met), and a spooked herd. Our shot was blown.
We did get them run by us at ~300yds. Our first sight of wild reindeer. Man are they beautiful when they're running in a herd! About 21 males all running together, with 2 very good bulls in there. An impressive sight.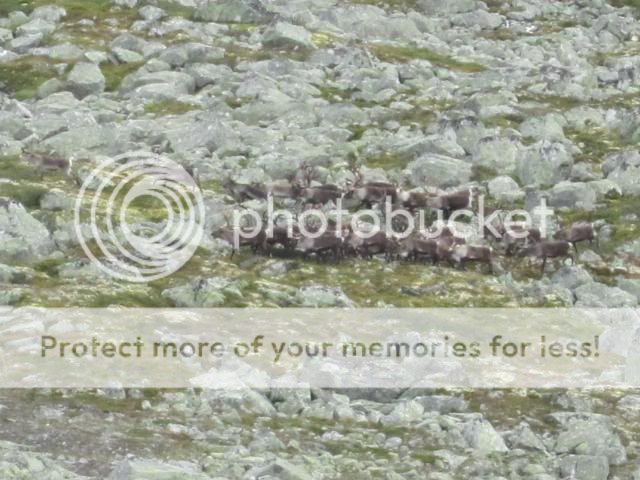 We decided to stick it out down in the valley for a while, have some lunch, and see what happened. A bit tired after our light lunch, we decided to take a quick nap in our "wolverine bags" (these things are awesome!)
Rebecca taking a quick snooze
In the end, it rained (hard), and the herd disappeared over a 2,000 meter pass (never to be seen again) a we had an eventful boat ride (almost) home. The engine quit on us about 2/3rds of the way home, with the wind howling and raining pelting us in the face. Forced march home in the inclement weather for another 2.5hrs. Got home soaked to the bone. And bone tired.
After a warming meal, we made a plan for the following day. We would move down to a new cabin at the other end of the valley, in the flats, about 3 miles away
Day 3: up early, fully loaded packs, we set off for the other cabin. The engine was still dead on the boat, so Knut rowed us about 1/2-way there, before we tried the engine again, it works! We made the cabin by a little after noon. We discussed over a quick meal what the plan would be, as we hadn't seen a single reindeer all day and now the valley was completely empty of other hunters / people... weird. So, we had 2 options: a) sleep in the cabin, and attempt the following (and last) day, a 12 mile trek, with ~ 800 meters of vertical climb (just at onset, not counting the ups and downs of the trek across passes and ridges)... or b) trek 10 miles down to the road, go sleep at the guide's home, and try a completely different area for the following day. A gamble...
Considering how already physically tired we were, and knowing we couldn't make option a, even if we'd wanted to, we opted for a very long and tiring walk, but a hot shower and night's sleep in a bed. Tomorrow would be a new day and beginning (or end...)
Day 4 (last chance...): up at 5am, and after a quick coffee and toast, and short drive to the new area, on the trail by 6:30am. Not 10 yards from the car the slope is very steep, and even with the "light" packs, looks a real knee/feet/ball-buster! But, the sun is shining and things look like they could be turning for the better
At around 900 meters, having started at ~620, the trees thin out and we're met with an amazingly beautiful valley before us, and a steep climb!
At this point it's tough mentally and physically; after 3 intense days, including the trek of the day before, it's a challenge to keep going. But, we're positive, gotta trust the guides, no choice. So we continue to climb, making progress, while enjoying the magnificent day, weather and scenery around us
We spot a small herd of reindeer towards the top, just under the small glacier. They're probably up there due to the warmer weather, which brings on the insects which drive them mad. This is the best chance we've had the whole trip, and maybe our last, time to make a move!
We finally make it up to ~1,300, and hear that the herd is only another 2-300 meters up the slope. It's amazing the effect is has: legs become lighter, heavy packs forgotten, and our minds focus on our goal. We have 2 tags in our pockets (+ an additional one, as we've been told there is a cancellation, so we can take 3 should we want to) and its time to make this happen. We get to the flat up top and start moving around, to gain a better wind (as their sense of smell if the reindeers' most important & difficult for the hunter). We're pumped, as this could be it, but are also distracted by how absolutely beautiful it is up here, just a few hundred yards below the top of the mountain and its small glacier.
It's like walking on eggshells in all the small rocks/stones, trying not to make a sound, as we move into position. Our first 2 attempts are in vain, as the herd is starting to move towards the glacier; as the temperature continues to rise, they're going for the peace of the glacier. We finally think we have their path figured out, and I settle onto a nice large stone slab that's nicely angled for me to lay prone on for a shot if they walk past us. After only ~30 seconds, we see the lead bull cresting the ridge with the herd in tow. I am pumped, this is it! I pick out the biggest bull I see toward the front of the herd (as the middle is just a mass of bulls all bunched together, which means no shot), once he gets clear… I take the second one from the front with a shot, and he's down. The animals don't spook (very helped here by the moderated .308 rifle), so I have time to center on a very old bull away from the rest in the confusion. Another shot, and he's down. As the herd turn, I see a set of bright blood-red antlers that look amazing, just the sight of those in the scope within the scenery is awesome. Another shot, and he's down too. It's over. In > 30 seconds we finish what has been the toughest hunt for me yet. And we have 3 amazing reindeer on the ground!
The first big bull
Thick OLD bull
Last bull with those beautiful bright blood-red antlers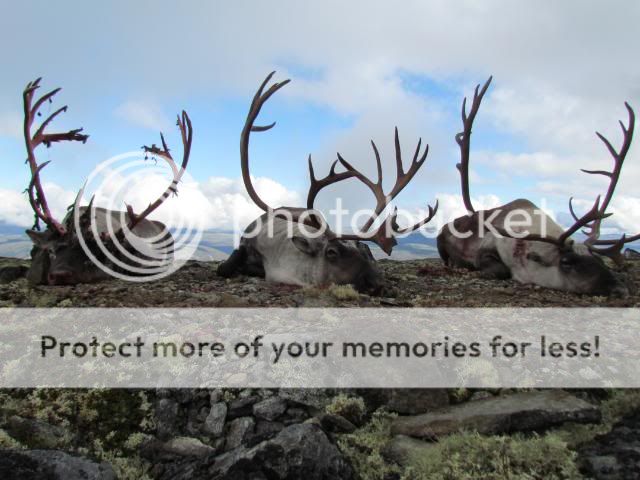 I think this one says it all
What a wild 4 days! It has been an emotional, and physical, rollercoaster. By far the physically toughest hunt I have ever done. We were definitely not prepared. Backpack hunting is not to be taken lightly! When, not if, I do this again, there will be a lot more research and preparation involved. Better gear and some really good physical training months before we leave.
Reindeer hunting is a tradition in Norway; one which is near and dear to local hearts, and I now most certainly understand why. For only a few weeks a year, we are privileged enough to be able to take to these beautiful mountains in search of these amazing and intriguing animals. A hunt I will most certainly never forget. Our guides, Kolbjørn and Knut, did wonderful job showing us their mountains and the breathtaking views, getting us through the physical side of the hunt (which is no small feat...), and sharing thei love of this hunt with us. Both are real outdoorsmen and gentlemen.
A trip of a lifetime!
Some more pictures of the scenery and reindeer herd
They did move to the glacier after the shots: