Hit the coyote with the .257 Wby in the neck at 263 yards, Bullet turned 90 degrees and went through the back of the skull into the nasal cavity. Impact velocity was around 2700+fps with a beginning velocity of 3,650.
The Mark v Deluxe .300 Wby Coyote was right at 100 yards. 180gr Norma Spitzer. Saw him around 500 yards sneaking around and did a short 3-4 second sequence with the hand call. He looked like he was leaving after I did that. Ended up circling wide trying to get the wind right...but still popped out in-front of me. 12" exit wound.
The photo of the 3 coyotes together was the 263 yard, 106 yard and 212 yard .257 Weatherby dogs. That cartridge works like a champ.
Coyote with a 100gr Interlock in its nose.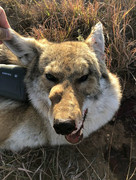 Recovered bullet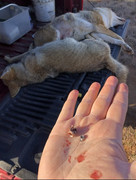 212y frontal chest shot, no exit (257wby)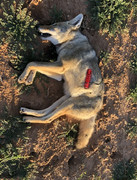 Coyote with the .300 Wby Deluxe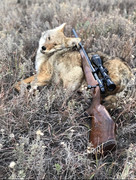 One day's total with the .257 Wby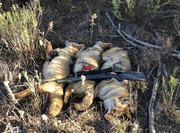 .257 Wby Entrance wound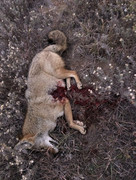 The hand call is a Kettle Creek Call Backstabber. It is my favorite...with a Rabbit distress on one end and a mouse squeaker on the other. I used it on each coyote (While Deer hunting) to get them in for a shot. I've kept it in my Alaska Guide Creations binocular chest pack so I always have it. The owner of KCC was a member here for a short period of time as well as Texas Predator Posse...but FoxPro made him an offer and bought his business (and patents), and started making their own version of the Backstabber. I hope he is in good health and doing well.
Hope you enjoy the long read
Justin