Lucretia bound:
The old girl held together!
The 444-grainer (Lyman 515141 cast 1/20 and sized to .512"),
with the wrong lube and with only 65 grains of FFg,
bumped up enough to show the old girl might shoot with what is left of her 3 grooves.
However, the harder and heavier 480-grain Lee bullet cast in Lyman #2 alloy keyholed,
and maybe the 1:42" twist is not enough for it?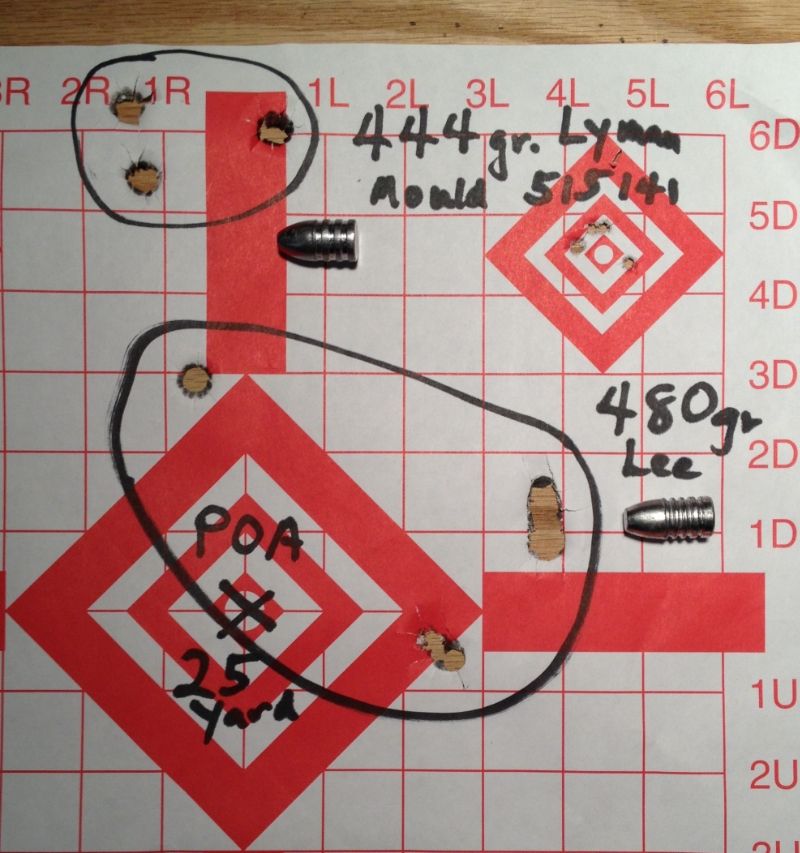 It is interesting that one of the 480-grainers did not keyhole and shot closer to POA.
There might be hope for that one too if cast in soft lead.
Maybe actually slug the bore from the muzzle end
and get a mould sizeable to whatever diameter needed?
I couldn't bear to hurt Lucretia any worse than the last 148 years have.
Who knows, slugging from the muzzle end might even damage the crown!
I will cast the Lyman 515141 in pure lead and expect it to weigh about 459 grains.
Maybe 1/40 tin/lead would be exactly 450 grains.
I will not be able to add more powder unless I use a single thickness of waxpaper (like sharpsguy), or no wad at all,
instead of the 0.065"-thick fiber wad used this time.
I also need a blow tube, number of breaths between shots determined by ambient humidity ... something else to get habitual.

Also a suggestion by roughone: FFFg by weight might not need as much compression as FFg.
I used Starline brass (1.745" long with F215 primer) and a 26" drop tube and still ran out of space with 65 grains of FFg.
Shooting the 450-grainer faster (with 70 grains) ought to make it shoot lower, with barrel time less, bullet exits earlier in muzzle rise,
so sights might be right on with the right load.
Might even be supersonic in the long-barreled Lucretia.

Fired brass is dropped into a water bottle at the range.
The black and sulfurous rinse water may be considered as a mountain man's substitute for Tabasco sauce.