Here is the cartridge, I took possession of 20 of them when I bought the rifle, secret recipe of previous owner:
I shot 19 of them, dissected one of those BP loads,
also dissected a Ten-X factory load, smokeless "Cowboy" load with 350-grainer.
I was shocked to find the mystery BP handload contained a bullet that weighed
440.4 grains!
(including lube on bullet that looks like SPG).
The powder charge had a lube-cookie between it and the base of the bullet.
All the BP plus the lube-cookie that I could recover weighed only
35.3 grains!
Surely a powder charge of less than 40 grains of BP,
on right below: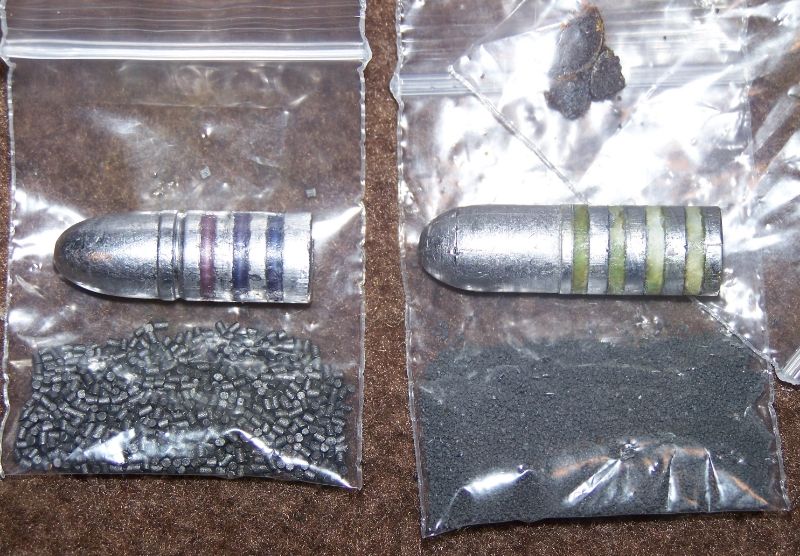 The Ten-X factory load (on left above) had a 350-grain cast lead bullet lubed with red lube, and a smokeless powder charge of only 23.5 grains. But who cares about that ...
Back to the BP handload with 440-grainer and 40 or less grains of BP:
Here are the 5-yard chronograph velocity results, outstanding uniformity with Sd = 11 fps for a 10-shot string,
average velocity 1046 fps: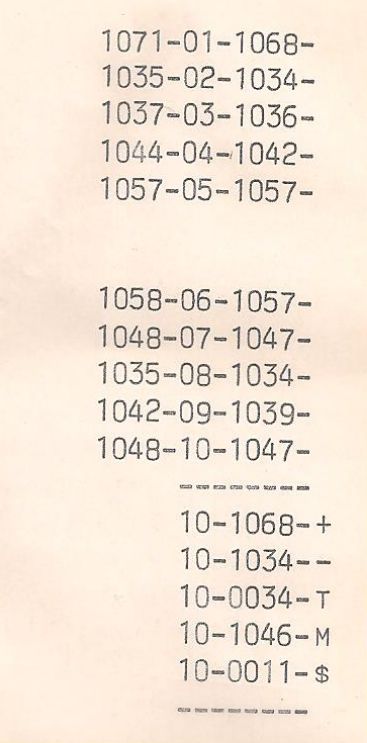 I was dialing in the sights for the first time on my training wheels BPCR, and chronographed at 25 yards,
then moved to 100 yards for the final 4 shots on target below: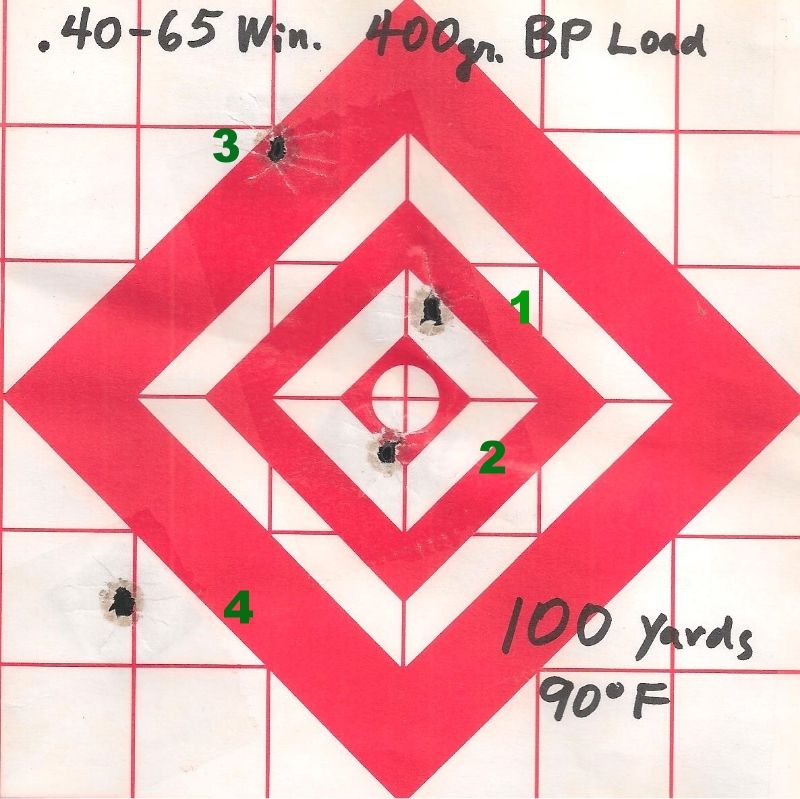 Two shots were almost bullseye, but all the bullet holes are slightly oval: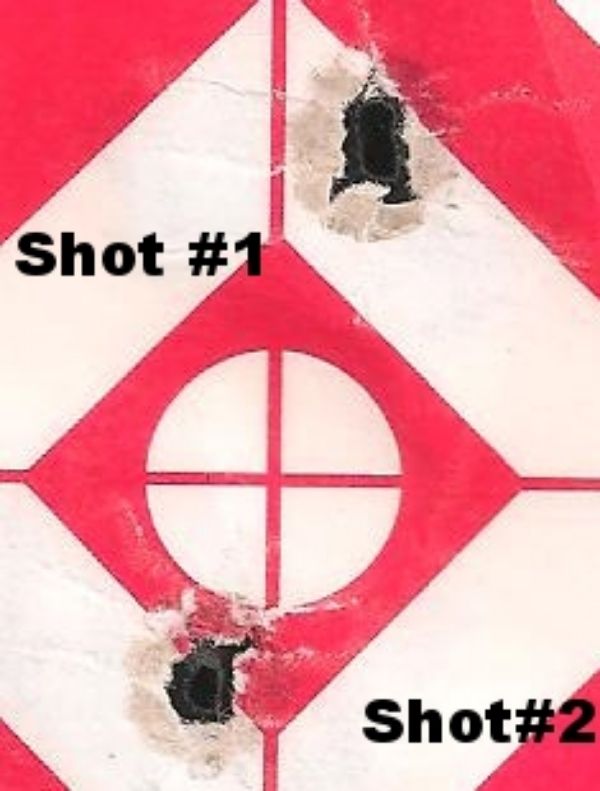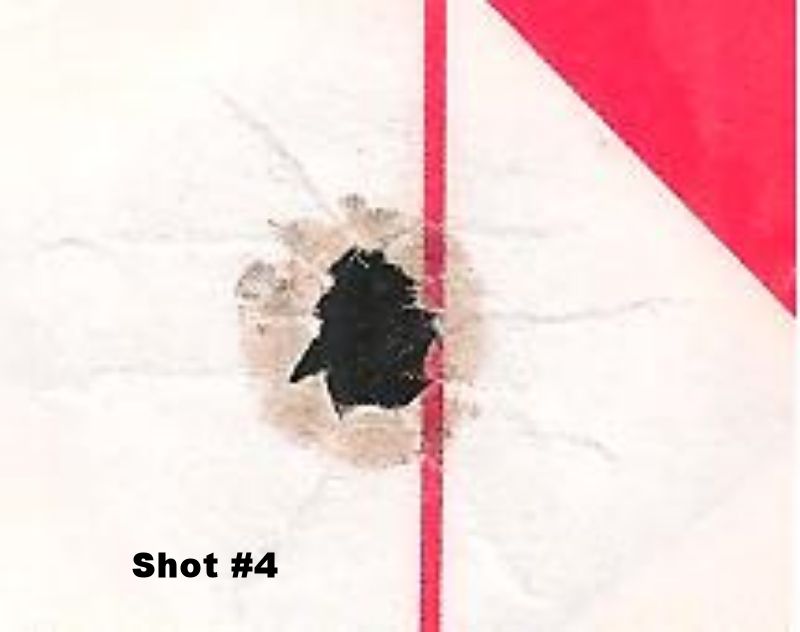 Not bad for a start on sighting in.
I will adjust the sights to my own handload: With a lighter and faster bullet, and a greater charge of powder, I am pretty sure, will be used!!!
I do not blame the rifle for anything, so far.
Is this bullet just too heavy/long for the 1:16" twist?
The mystery bullet was sized to .409" diameter, for the rifle's .408" grooves.
Maybe a .408" diameter bullet will be better?
Sharpsguy has given me some pointers on moulds, and I am considering several 400-grain moulds.
I had 3 eye-piece cups with pinholes, until I drilled one out as big as I could go (still have a fourth, a "Hadley" peep, occular disc with "dial-a-pinhole"),
front sight was a simple crosshair, training wheels: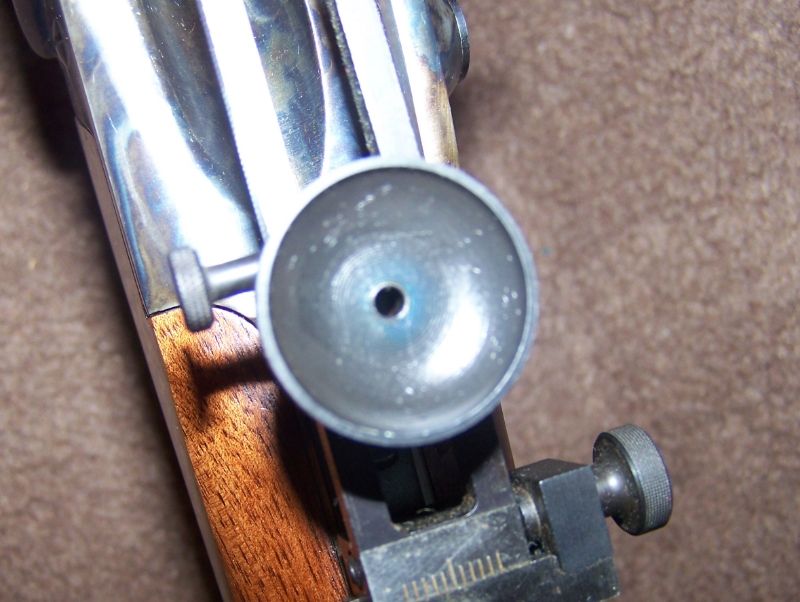 After all my adjusting, I ended up right back at the previous owner's elevation setting, for the 100-yard shooting: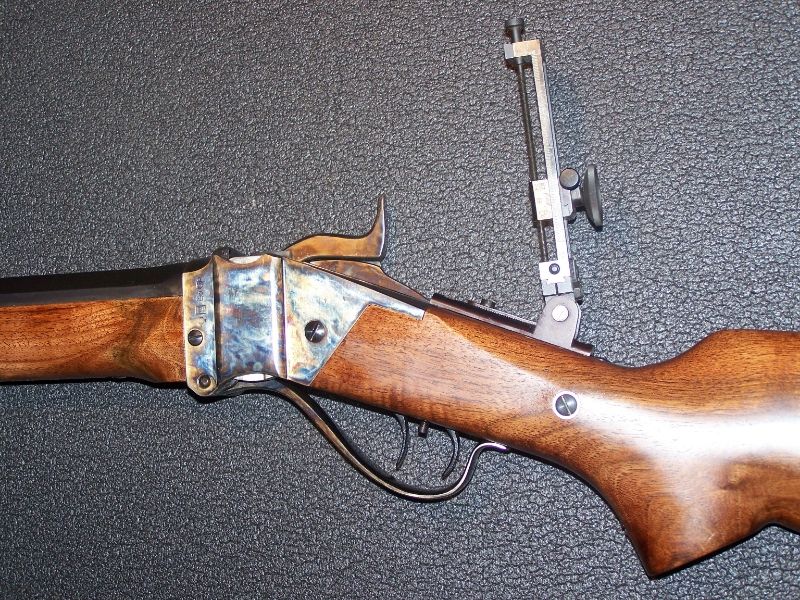 I did however move the windage to right by 1/2 of one graduation.

Rifle good, .409/440-grain bullet too heavy?
BTW:
5-yard chrono for 3 shots only of the smokeless factory load with 350-grain bullet, 1398 fps average,
11 fps Sd for 3 shots only, not as significant as for 10 shots with BP load giving same Sd:
I did not have a blow-tube, will have one next time I shoot this 40-65 with my own handloads.
Blowing between shots decreases fouling buildup with BP and might be an accuracy improver, so I hear.
Smaller pinhole rear peep and a peep-hole front globe insert needed too.

Maybe targets in sun instead of shade would help?