Sir,
You mention that you will be using the knife you are planning to purchase for " mostly deer sized field dressing/skinning/etc."
A few thoughts.
I have several items of the KOA line. The Yukon belt knife, the Ulu and the wood/bone saw combo. I like D2 steel. Both the Yukon and Ulu are made of D2. Both of mine have the "sure grip" scales, which work well when your knife handle gets bloody. They take a good edge and hold it for a while. Full tang knives. I don't care for a big knife when skinning, and I like the angle/shape of the blade for skinning/caping. I skin hogs and deer, not elk or moose though.
Here is another knife that I used quite a bit last year.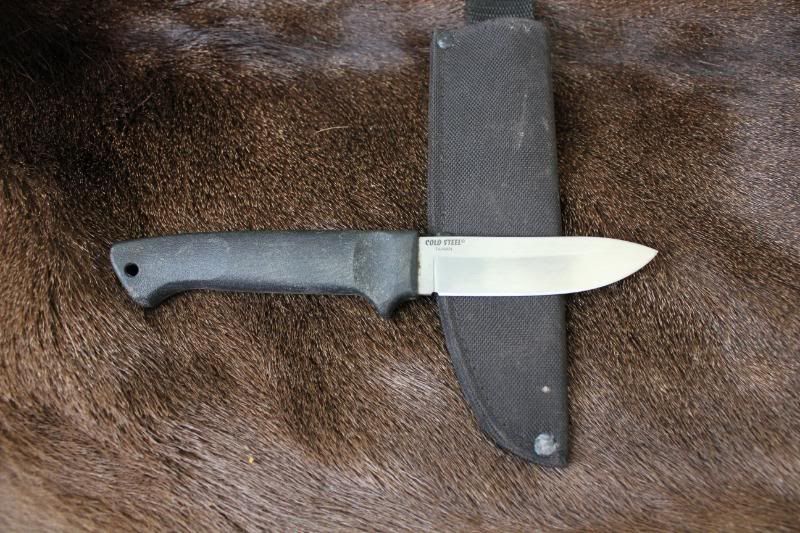 Used it on at least three deer and 10 hogs during the season along with several others. It is a Cold Steel Pendleton "Lite Hunter". IIRC, I paid around $18 for it. At that price you can own a couple. The steel is "416 Krupp". It wears well and sharpens with a few liks on a steel or diamond hone.
Here is a link to a review.
http://www.coldsteel.com/pehu.html
The following may come under the heading "Too much Info: but what the heck.
I do quite a bit of skinning and I find it hard to find one knife to "do it all".
I typically hunt out of a camp, or take my gear with me in my truck. I don't do much backpacking so I don't have to go in light. The following pix shows some of the combo of gear I use when skinning deer and hogs. Where I hunt it is usually important to get animals skinned, cleaned quartered and on ice in relatively quick fashion. Many times this means within a couple hours of the time the animal is killed
I don't leave home without these Items in my skinnin' bag.
GWB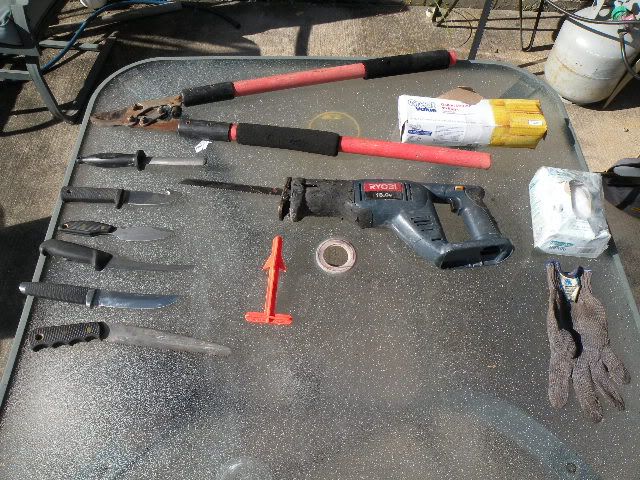 Loppers,cut proof glove, latex gloves,
bone saw, sawzall, knives for caping/skinnning, breakin' brisket etc. gallons storage bags, and a "butt out" tool. Makes for quick and efficient game care.
Best
GWB