Since Rob is okay with sharing the details of the knives he commissioned, I thought I would start a new thread.
As Rob shared, he commissioned five knives, four of which he will be giving to his daughters. I was asked choose a wood with the same first letter as their names. For his daughters I will be using Tamarind, Amboyna, Eucalyptus, and Bocote. I am wavering a little on the selection of Bocote. It's not quite as "fancy" as the other woods and I want each knife to be special. When I have time, I am going to do a little research and see if I can't find something a little nicer. Rob also wanted a knife and since he is paying the bill, his was made first! Below is Rob's knife.The scales are Redwood burl.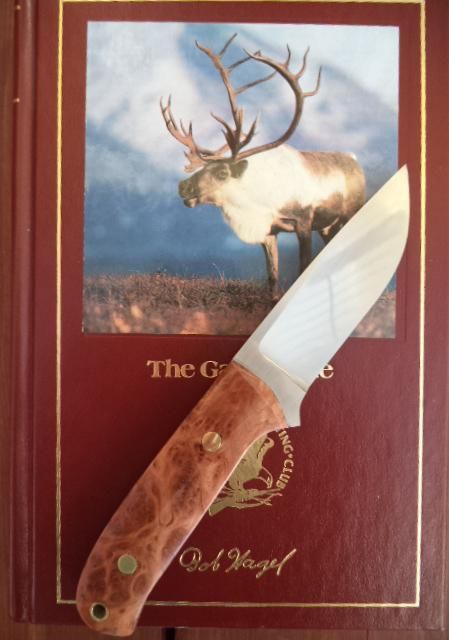 This morning I was up and working before it got light. I cut the appropriate lengths from a 36" long piece of precision ground O1 tool steel, profiled the blades, drilled the necessary holes, and counter bored the holes. The larger (3/8") diameter holes were drilled to remove weight from the butt end of the knives.
I had taken a photo of the pile of steel I ground off and drilled out, but once again, my photography skills are lacking. I can, however, tell you it was a helluva pile.
From here, I will grind the initial bevel, walk down the street to my friendly neighborhood blacksmith and have the blades heat treated.
If there is interest, I'll add additional pictures as I progress.
Lee
baumgartknives@gmail.com
http://baumgarthandmadeknives.blogspot.com/