One thing I've enjoyed in dealing with Dale Howe is that he does not mind stepping outside his "comfort zone" when it comes to taking on a project. In fact he has done that for me several times. Consequently when I get a wild hair, Dale is one of the makers I call.
I've mentioned on several occasions that I've become enamored of the Nessmuk style blade. Probably about a year ago I asked Dale if he would consider taking on a "Nessmuk" or even a modified Nessmuk of the Loveless persuasion as a project. I sent him a few pix of the blade shape I was thinking of with the only caveat was that I wanted to use A2 steel. We kicked it around and he decided that it might be an enjoyable task.
Dale came up with a couple "protos". One was a typical Nessmuk shape, the other was "stretched" a bit. I liked both enough and asked if he would do one of each. After a few "mods", we finalized the shape. I had originally decided on black jigged G-10, but Dale mentioned that he had done a couple knives in "weathered elk", and that although hey were a time consuming "bitch" to do right, they sure looked swell. So off he went.
I got these a couple days ago and I could not be happier with the set.
I happened to have the head of a hoglet I'd snared a while back just a "chillin" on ice in the cooler. So what better way to ruin the collector value of a custom knife than boning out a hog skull.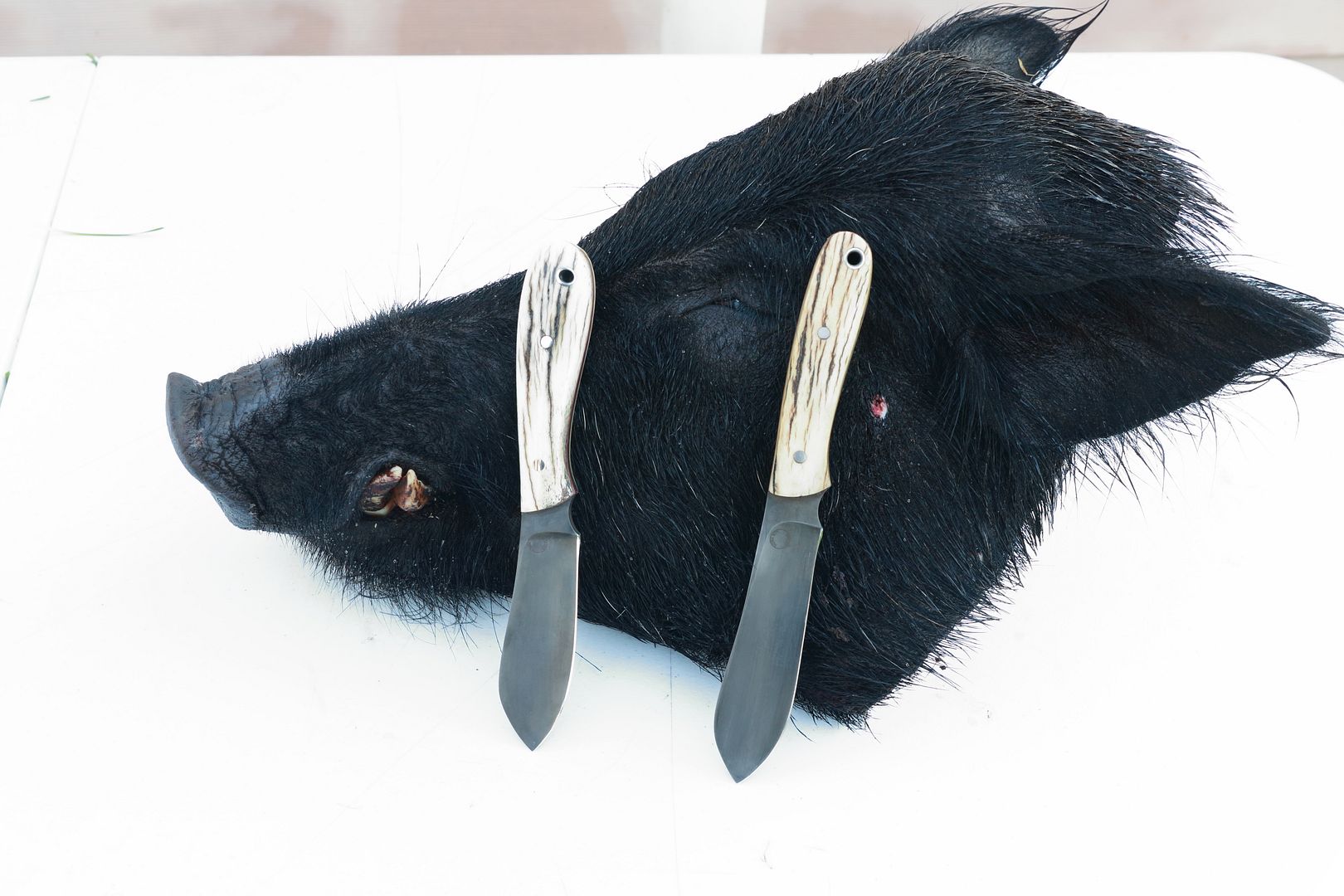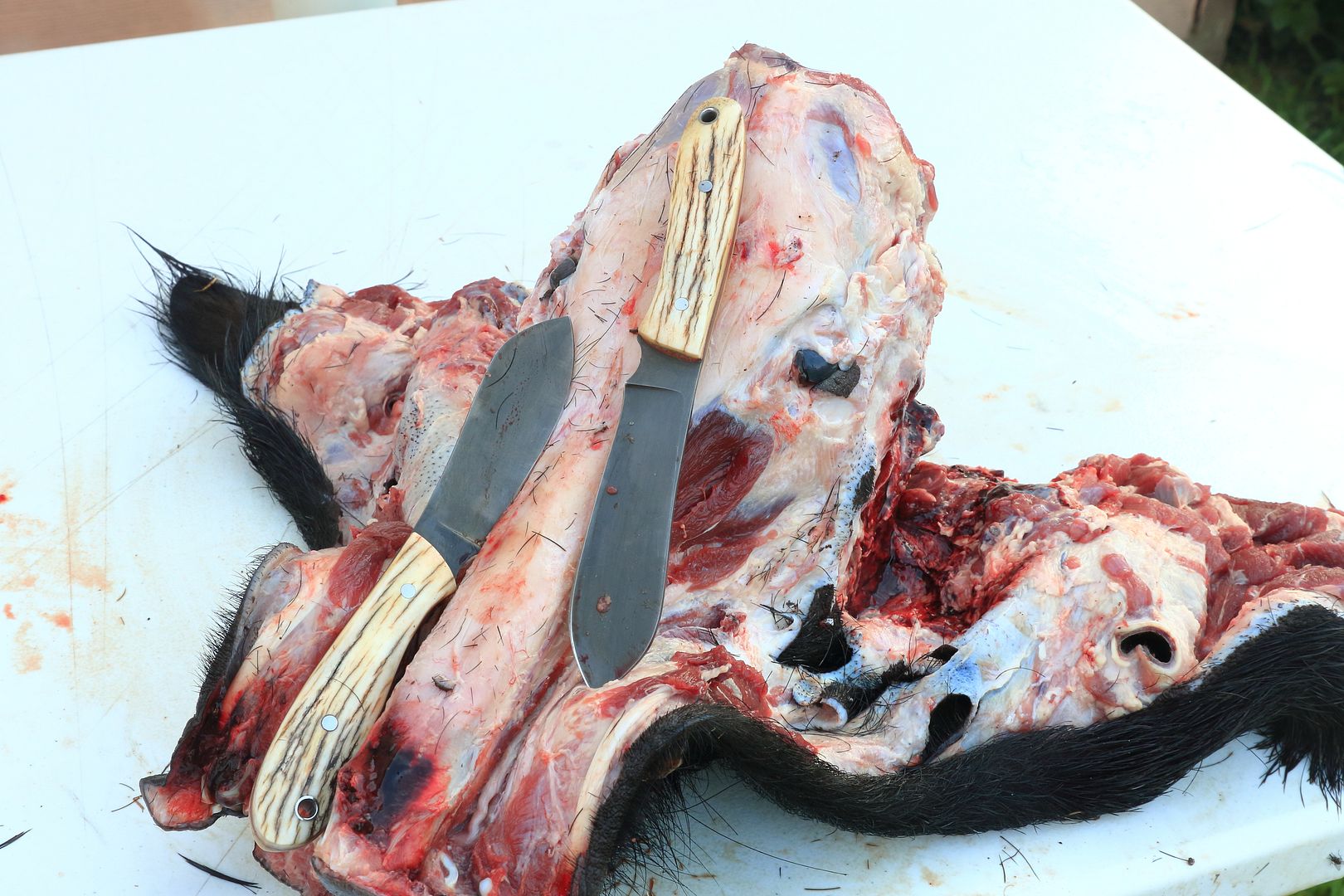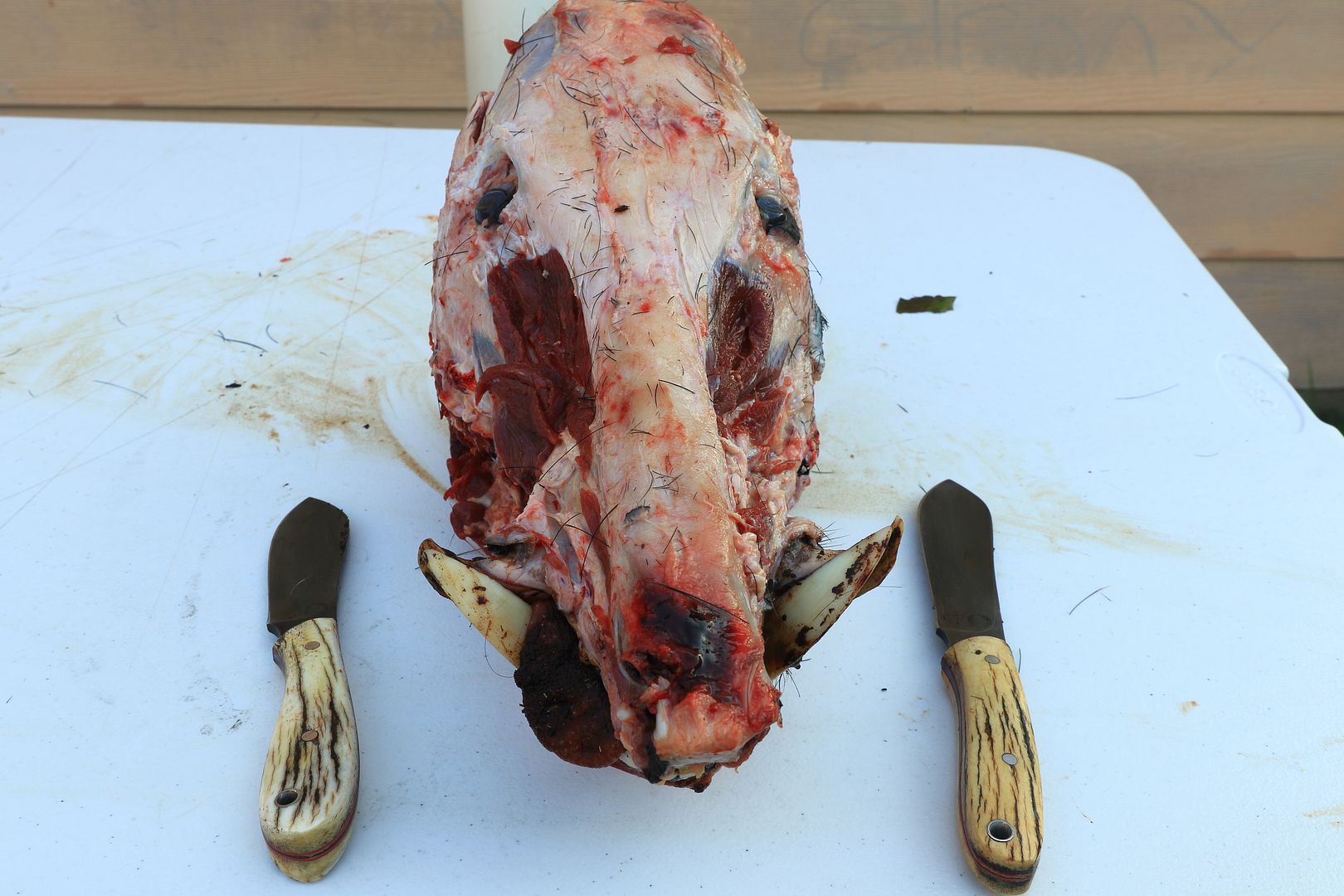 And jest' fer schitz n' giggles…………
Dale told me that the blades tested at 62 Rockwell C.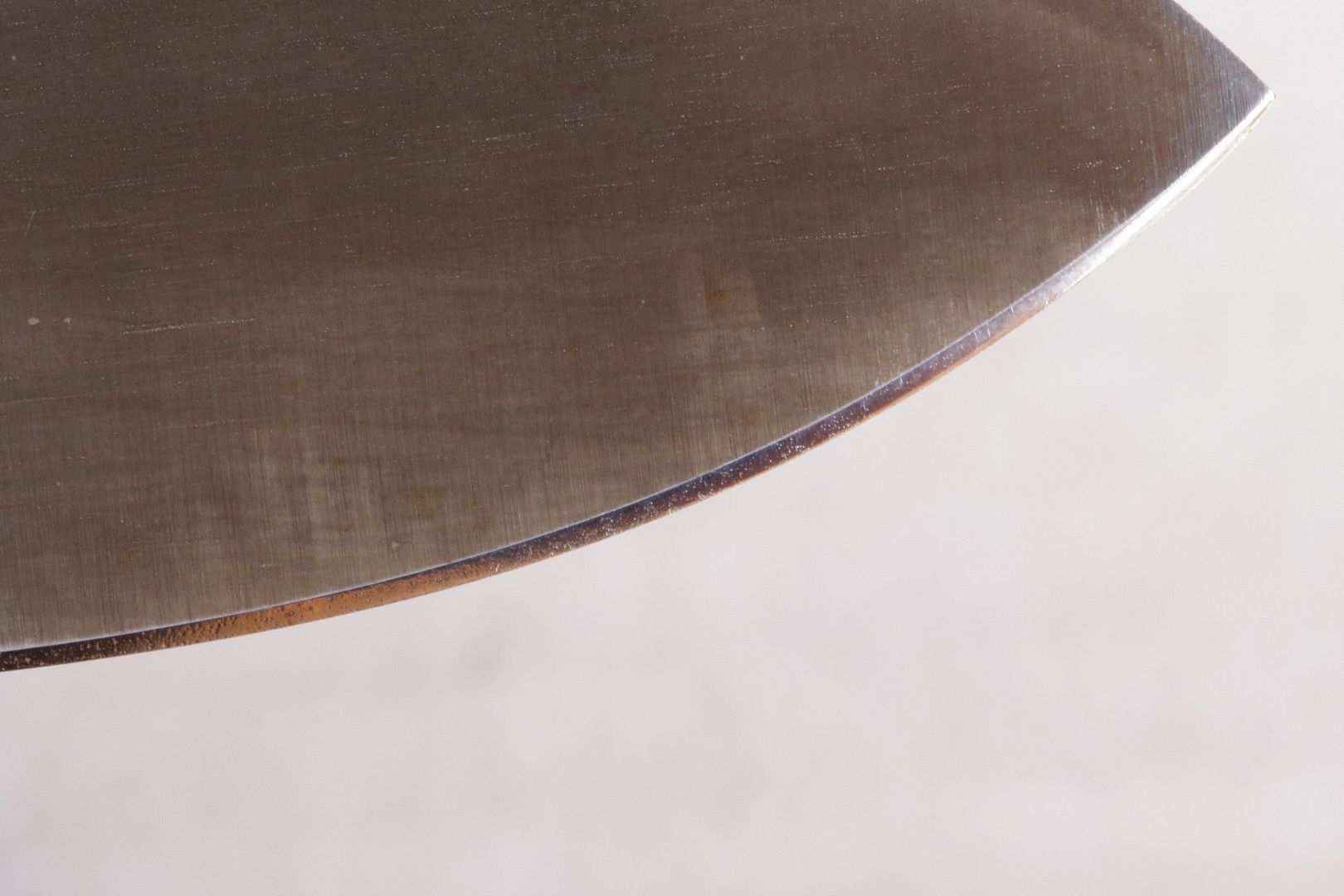 I know that skinning out the heads was not a major workout for these blades but when you're scraping on bone, lotsa times there will be micro-chipping.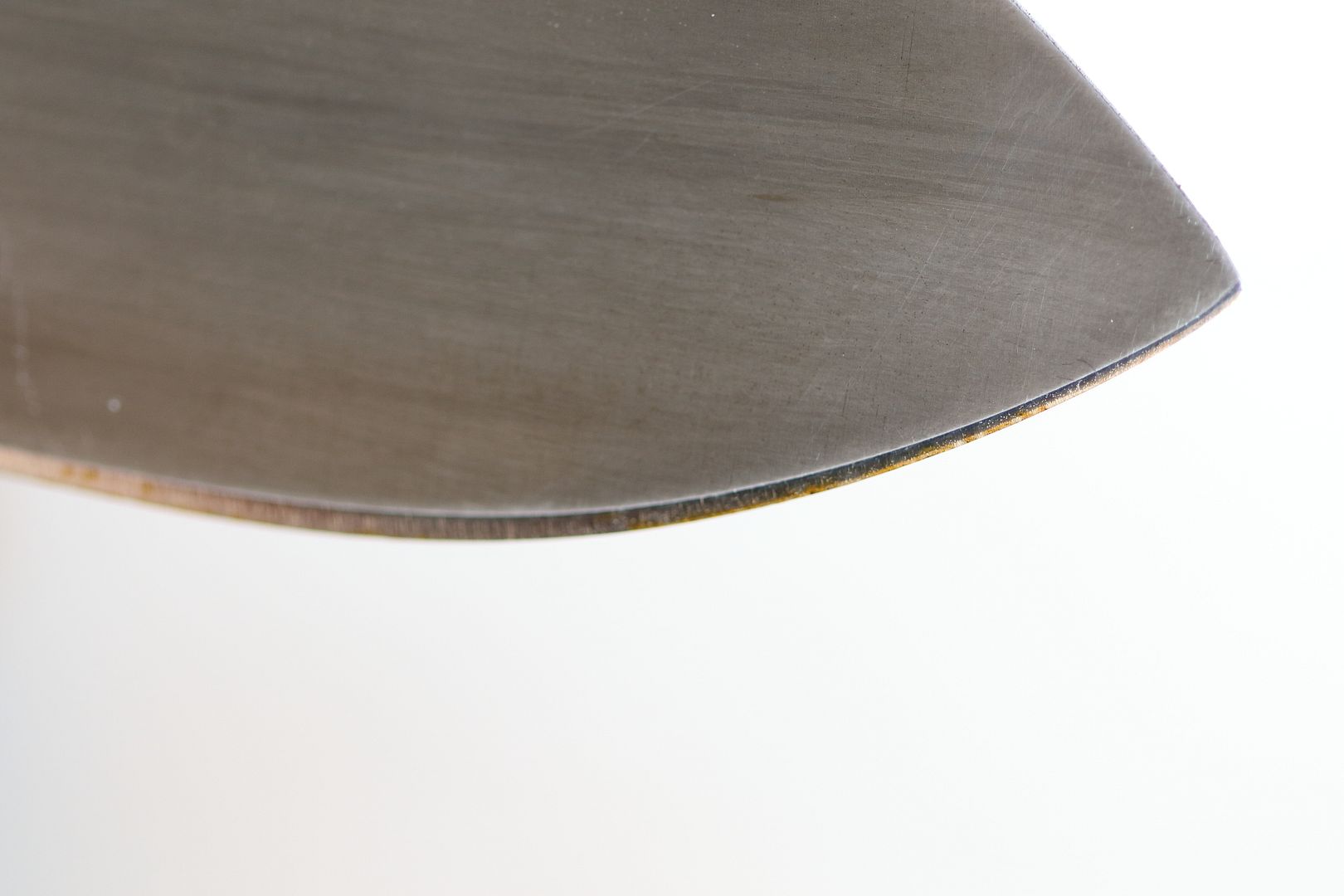 Not with these babies! Evidently he nailed it on the heat treat and temper.
Not too shabby. A touch-up and they will be toothy-sharp!
Thanks Dale!
ya!
GWB