Well, Brown Beach week 2015 is here and going by quickly. Too many years of sun and fun , too many cases of heat prostration/exhaustion, and I don't enjoy the heat and sand as much as I used to.
These days I hunt quite a bit, and I don't fish much now, but that was not always the case.
I watched the astronauts walk on the moon while at the beach in Galveston Texas in 1969. My whole extended family spends a week in July there each year. Like I mentioned, I used to fish a lot, but these days, not so much.
I got the filet knife from Rocky Menefee a while back and he sent me a a ram's horn skinner and the the jigged dumplin' last week. I haven't been to my lease lately, and am sufferin' from SDD (Skinning Deficit Disorder). Since I didn't figure on shootin' or snarin' porkers at the beach, I left the Ram's horn skinner at home. I did bring the filet and the dumplin'.
So when my oldest son caught some fish, I figured what the hey, not hoglets, but better n' nuthin...........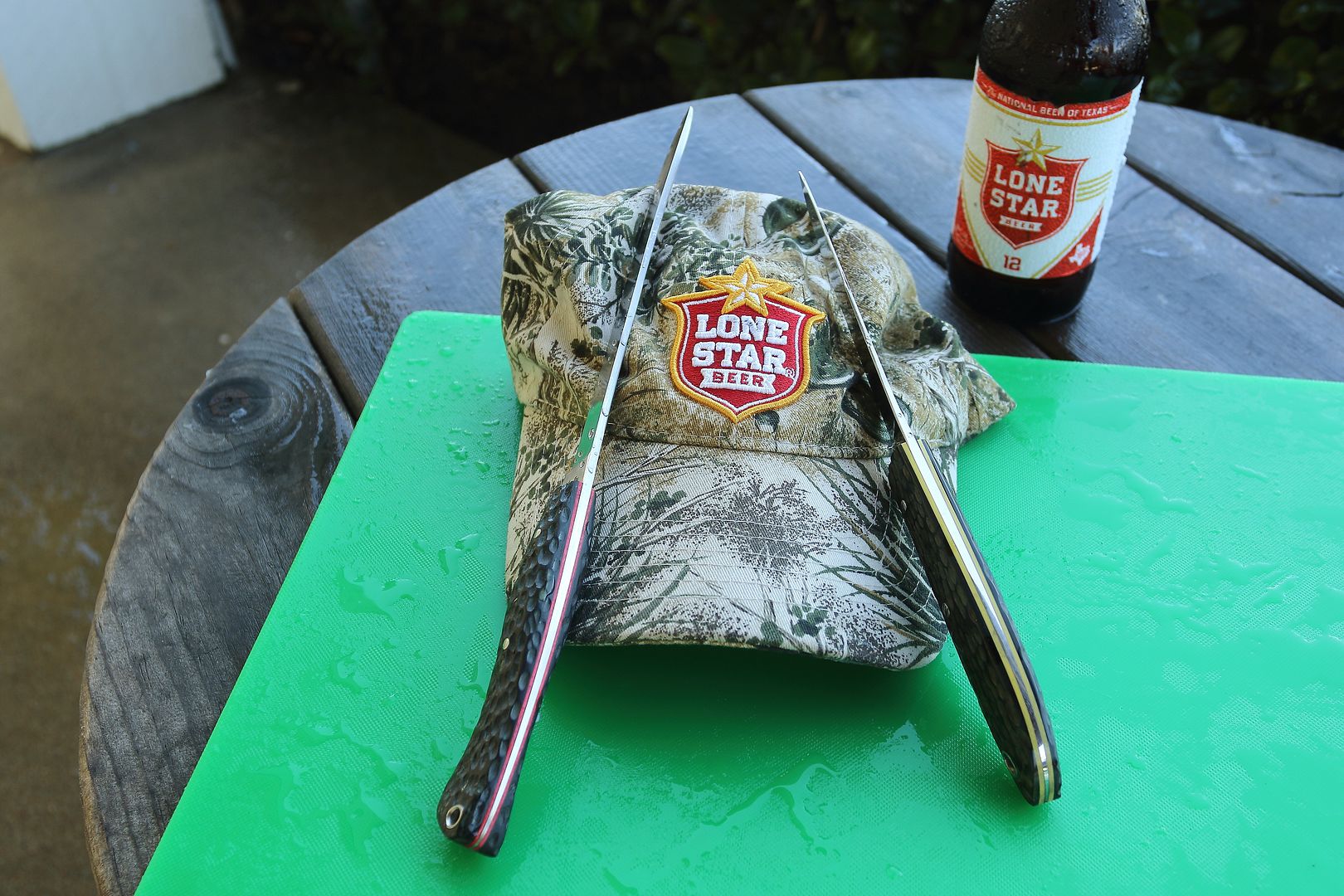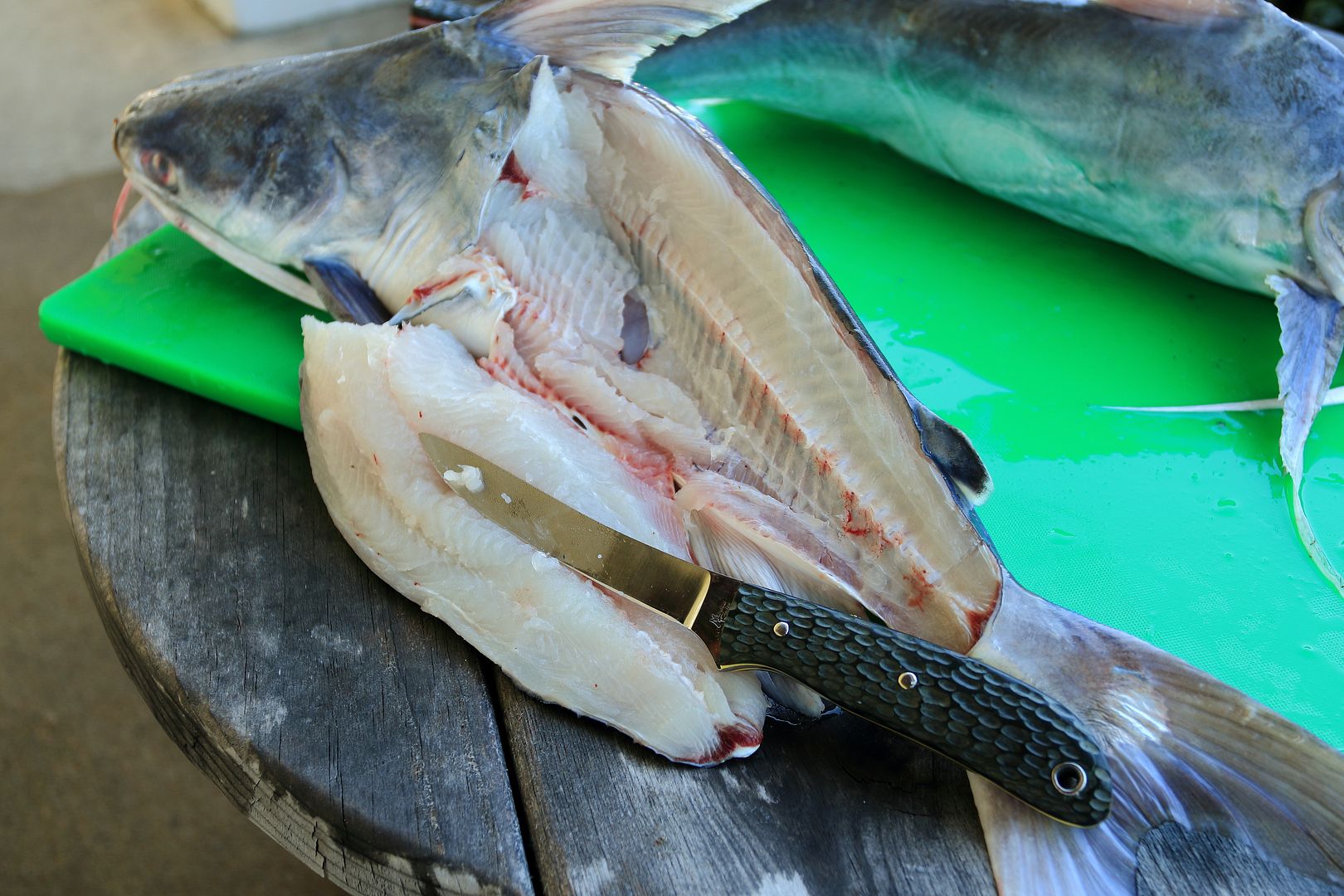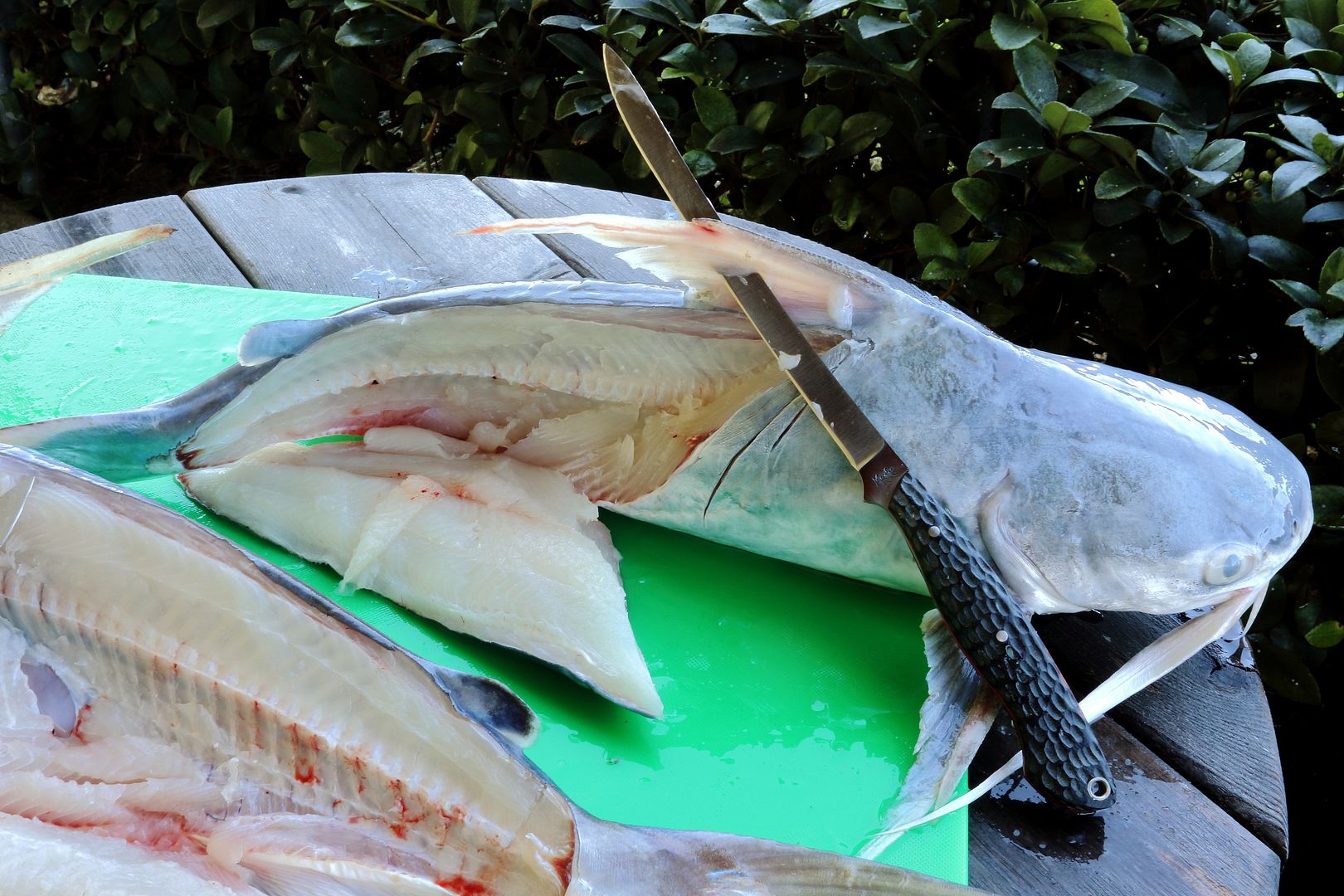 Its a pleasure to filet with a sharp knife. The dumplin' is shaving sharp, and the filet is no slouch. Like the proverbial "knife through butter". AEB-L and jigged g-10.
For those who don't fish the Gulf of Mexico, those are Gafftop catfish.
Anyhwo, the first day here, my oldest son took his son Jacob down to Sea Wolf Park fishing and caught those Gafftop catfish. I hadn't seen a Gafftop in a coon's age.
Wow, does that bring back fond memories.......
When I was a boy we would fish the piers and jetties at Sylvan beach in La Porte, at Rollover Pass in Bolivar, the pleasure pier in Galveston or jetties at Port Isabel. Use dead shrimp, squid or catch piggy-perch and use em' for cut bait.
Around the piers and rock groins there was always a hoard of hard-head catfish, which were bait-stealers and were trash fish that only blacks ate. However Gafftops were prize.
Both Gafftops and hard-head catfish wriggle like hell when you grab them to take the hook out. Their pectoral and dorsal fins have a poisonous spines and you had to be careful not to get stuck, because if you did, it always got infected. Then you had to go to the doctor and get a tetanus shot.
We always went bare-footed and folks would throw hard-heads down on the pier/jetty or cut their throats so they would die. Had to be careful not to step on one or kick it with your foot.
Like catfish they got a hard head and tough mouth and sometimes its easier just to cut the hook than to try to get a hook out (as in the picture above). I used to be pretty good at sliding the dorsal fin between my big toe and second toe, pressing down and then taking the hook out.
Hadn't thought about that in years. My grand-pa was a non-union barber so he closed his shop on Wednesday rather than on Monday as all union shops did back then. Jesse, my grand-ma and I would leave early Tuesday afternoon and make the trip to Galveston, take the ferry across to Bolivar, then head to Rollover Pass. We would fish all night till about 9 AM the next morning. Then we would make the two to three hour drive back to north Houston. I'd crash and he and my grandma would clean the fish.
Back in the fifties' the pier at Rollover Pass, for a boy, was the Holy Grail, and fisherman's heaven. Jesse was tight with a buck, but when we went to Rollover Pass, he would spring for live shrimp (something as a boy I never had enough money to buy).
We would "free shrimp" with long cane poles. I'd catch the schitt out of "Specs" and sand trout, and now and then even a gafftop. Folks would come up and say to my Grand-pa, "what bait" is that boy usin'. He would look at me and smile, then look back at the person asking the question. "It ain't the bait", he'd say, " that boy just know's how to hold his mouth right", and we'd both giggle to ourselves, cause we both knew that answer frustrated the hell out of folks.
Best,
GWB