A joke in the humor forum got me to thinking about the game of American football in the Victorian era.
From the Wayback Machine at New Mexico State in Las Cruces: Mesilla Park, NM, 1897.
Pretty sure player No. 11, Ed Wayland, is my great-great Uncle Ed, who would have been 22 when this photo was taken. The forehead, the mustache and the serious tone seem to fit.
Note on recto of print ''N.M. A. and M. College, 1897 Territorial Champions: No hired men, No headgears, No games lost, No pads, No substitutions except for disabling injury, 2 line substitutes, 1 backfield substitute, NO SISSIE'S: N. End Miller Field: Presented to Athletic Dept. by Bill Sutherland, '98, 1954,'' Portrait of football team, 1. G.M. Williams (time keeper) ('98): 2. Charles M. Barber, RHB, Coach: 3. Walter E. Holt, QB: 4. Morgan O. Llewellyn, F.B.: 5. W. A. (Bill) Sutherland, LHB ('98): 6. Eugene E. Casey, Mgr.(Died in Spanish War) ('98): 7. Sam Laird, Line Sub.: 8. Chas E Mead, R.E. ('98): 9. Henry Jarrell, line sub.: 10. Gene Baird, R.T.: 11. Ed Wayland, R.G.: 12. Pelham Winter, Mascot: 13. Burt Stevens, Center: 14. Geo Gamboa, L.G.: 15. Guy Rausch, L.T.: 16. Wallace Baird, sub. back: 17. I. H. Stanley, L.E. ('98).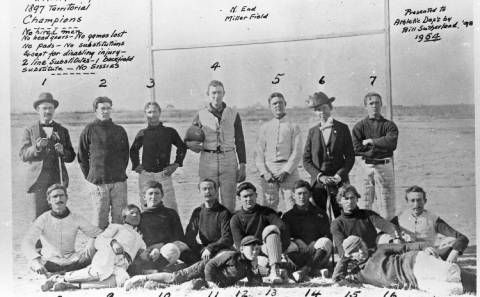 There is hope, even when your brain tells you there isn't.
– John Green, author