GREAT CONDITION - THOMAS BLAND & SONS - THE "EUOPLIA" - 12GA PARADOX GUN
** 1/3/21 UPDATE ** THOMAS BLAND & SONS - "EUOPLIA" - 12ga PARADOX GUN"

[b]TAKE A LOOK AT THESE POSTS IN THE CLASSIFIED SECTION ABOUT MY MAKING A CUSTOM PARADOX CRIMPING TOOL

http://forums.accuratereloadin...2711043/m/4541057552

THANKS TO ALL THAT PURCHASED MY CRIMPING TOOLS - YOU HAVE ALL HELPED TO OFFSET THE COST OF THIS GUN
Hello All,
Not sure where to list this - Double Rifles, or Combination Guns. So, I'll list it in both.
If it belongs in a different forum, please et me know.
I took a gamble on a Paradox Gun in an auction listing, that had a very skimpy description.
This picture below was the only information that was listed about the gun.
.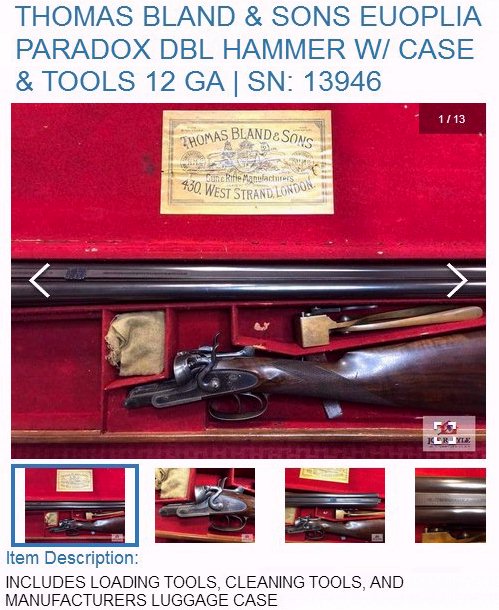 .
I didn't want to ask too many questions before bidding, because in the past it resulted in the Auction House updating the listing which made it more desirable, and caused the price to shoot up beyond my budget. So, I bit my tongue and took a gamble. The RED background photos are from the auction listing. The others are mine.
Well, the gamble paid off in spades. I received a absolute MINT condition Paradox Gun, Factory Cased with matching bullet mold, loading tools, and cleaning accessories. Its hard to believe this is 127 years old.
Here's the specs:
28" Barrels - 13-7/8" LOP - 7 lbs 6 oz - Rebounding Hammers - 2-Leaf Express Sight marked "50" & "100"
Rib is marked "The "EUROPLIA" Ball & Shot Gun" - "T. Bland & Sons 430 West Strand London"
Barrels marked "A&T" (Adams & Tate - maker) - Birmingham Proofed
Matching Bullet Mold - Casts a Conical bullet - 790g RN & 730g HP
Misc. Tools, Powder/Shot Measures, Loading Tube/Rammer/Decapper, Capper, & Wad Punch
What's really amazing is the condition. All original finish in nearly 99% condition with full case-color remaining. Bores and chambers appear to be "un-fired". The only defect I could find was a small 1/16" chip off the tip of the toe of the horn butt-plate.
My only question is: the end of the cleaning rod handle has a leather washer pinned to its end. What is this for? ... and, does anyone know who Mr. Shields might have been?
As always comments are welcome.