Nice pictures of your Manufrance. I've two, both are the Model 28E. One in 12 bore and one in 16 bore. Both barrels in each gun are smoothbore "lisse" not rifled "raye".
I paid UK £40 for the 16 bore maybe now twenty to thirty years ago. The 12 bore was UK £240 but two years ago.
As with the USA here in the UK French shotguns aren't really that much loved nor liked. Strange really....but it is as it is.
The Model 32E-S (which yours is) dates around 1930 to 1931.
You'll often find the exact date stamped in ink on the back plain face of the buttstock if the buttplate is carefully removed.
As you've no doubt found to great delight the spring and rod under the barrels gives a self-opening/easy-opening ability to the gun.
The E for "ejector" and the S for "supra" (the rifled barrel)
The rifled barrel is NOT however primarily intended "for slug" as is often wrongly noted. And to the best of my knowledge they are all full length rifled. Not part length like a Holland's "Paradox". I think the French book is therefore wrong.
So these are not as such "cape guns" for big game but for something much much smaller. Rabbits and/or woodcock. I even have seen one...yes the one...rifled in both barrels.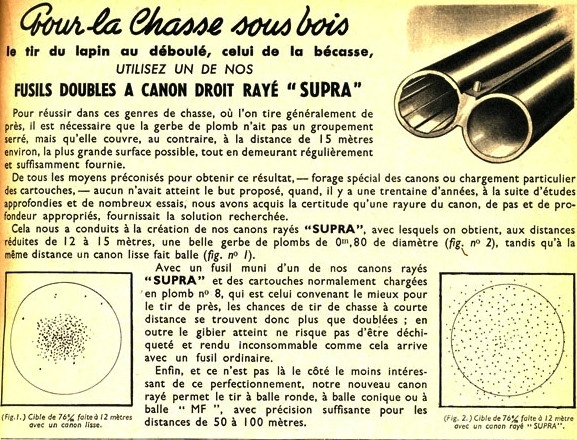 But features can and do become benefits!
So as the advertising leaflet notes: "Enfin....." or roughly: "Finally, and a no less interesting side to this improvement our new rifled barrel allows shooting round ball, conical ball or the "MF Bullet" with precision, sufficient for distances from 50 to 100 metres."
Thanks for sharing your experience with the AR members. The only thing I'd add is that AFAIK (AND I MAY BE WRONG) the chambers are 65mm in these guns...including yours? I am told that the best spread with the rifled barrel for shot may be using fibre wads instead of plastic cup type wads?