BBC NEWS Today
http://www.bbc.com/news/world-africa-33469042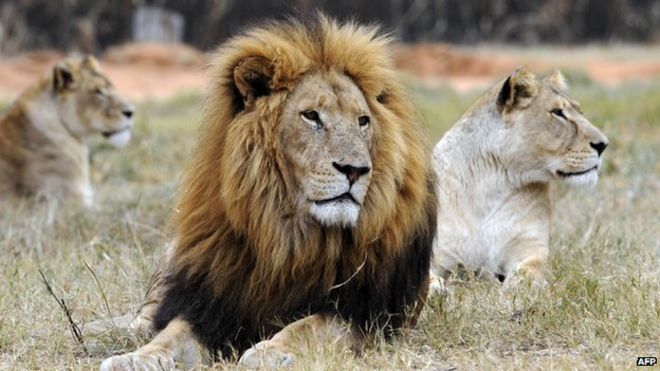 Mozambique lion numbers 'grow as elephants poached'
• 9 July 2015
• From the section Africa
Lions are found in most countries in sub-Saharan Africa
The lion population at Mozambique's largest game reserve has risen partly because they are feeding on elephants killed by poachers, a conservationist has told the BBC.
Lions at the Niassa National Reserve also prey on baby elephants orphaned by poachers, Colleen Begg said.
Poachers kill the elephants to remove their tusks but leave the carcasses.
There is huge demand in Asia for tusks, which are used for medicinal purposes and as ornaments.
Mrs Begg, who heads the Niassa Carnivore Project, told the BBC the number of lions at the game reserve had increased over the last decade to between 800 and 1,000.
"The death of 6,000-7,000 elephants since 2011 has resulted in a large amount of meat that was previously unavailable," she said.
"In 2009, we recorded our first calf eaten by lions and this has also steadily increased as these are orphans that are easy to catch," she added.
The heavy poaching of elephants has benefited lions whose populations increase quickly if there is more food, Mrs Begg said.
On average, a lion eats up to seven kilograms (15 pounds) of meat a day while a female elephant provides them with 3,500 kg, she added.


J B de Runz
Be careful when blindly following the masses ... generally the "m" is silent